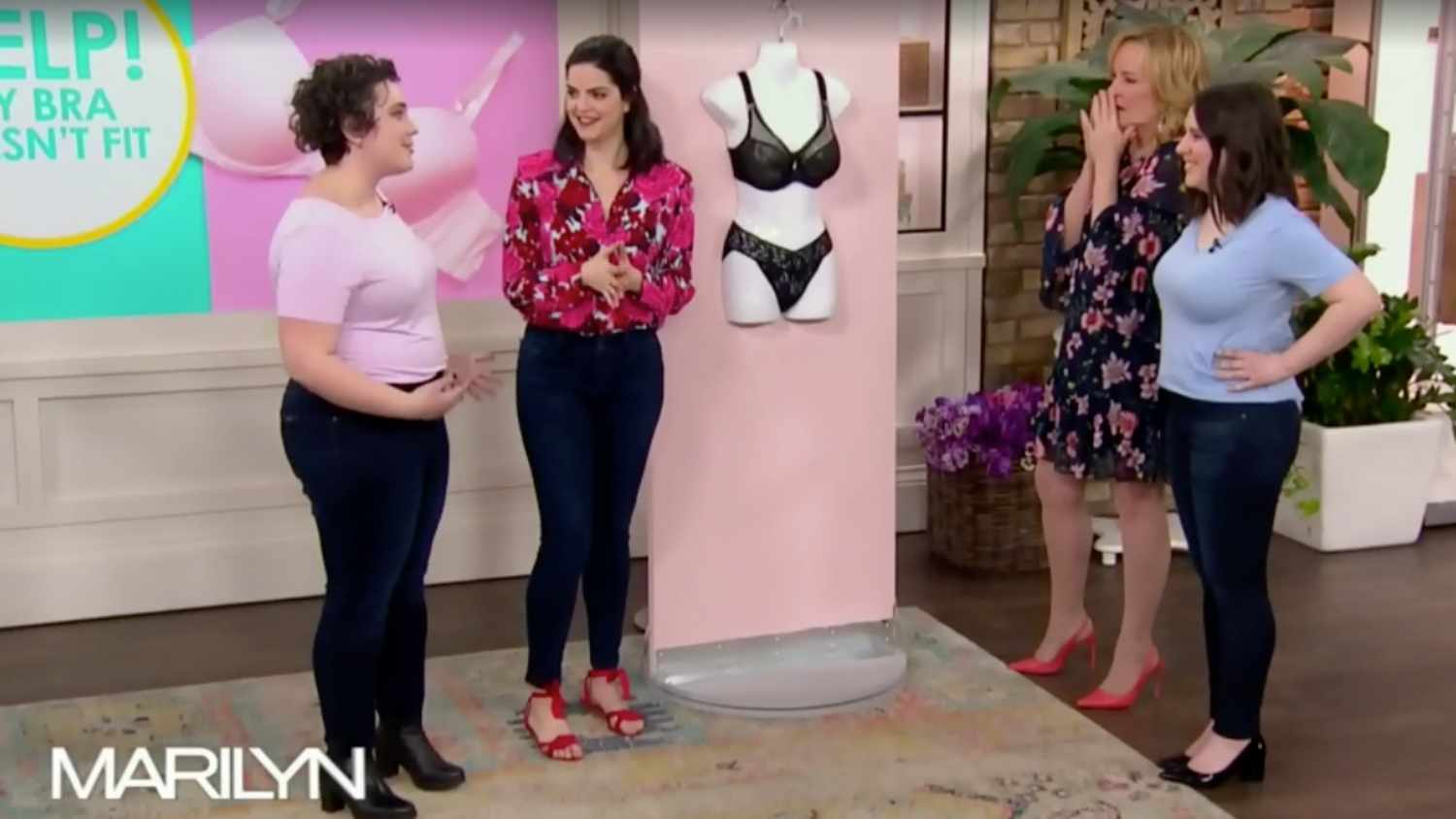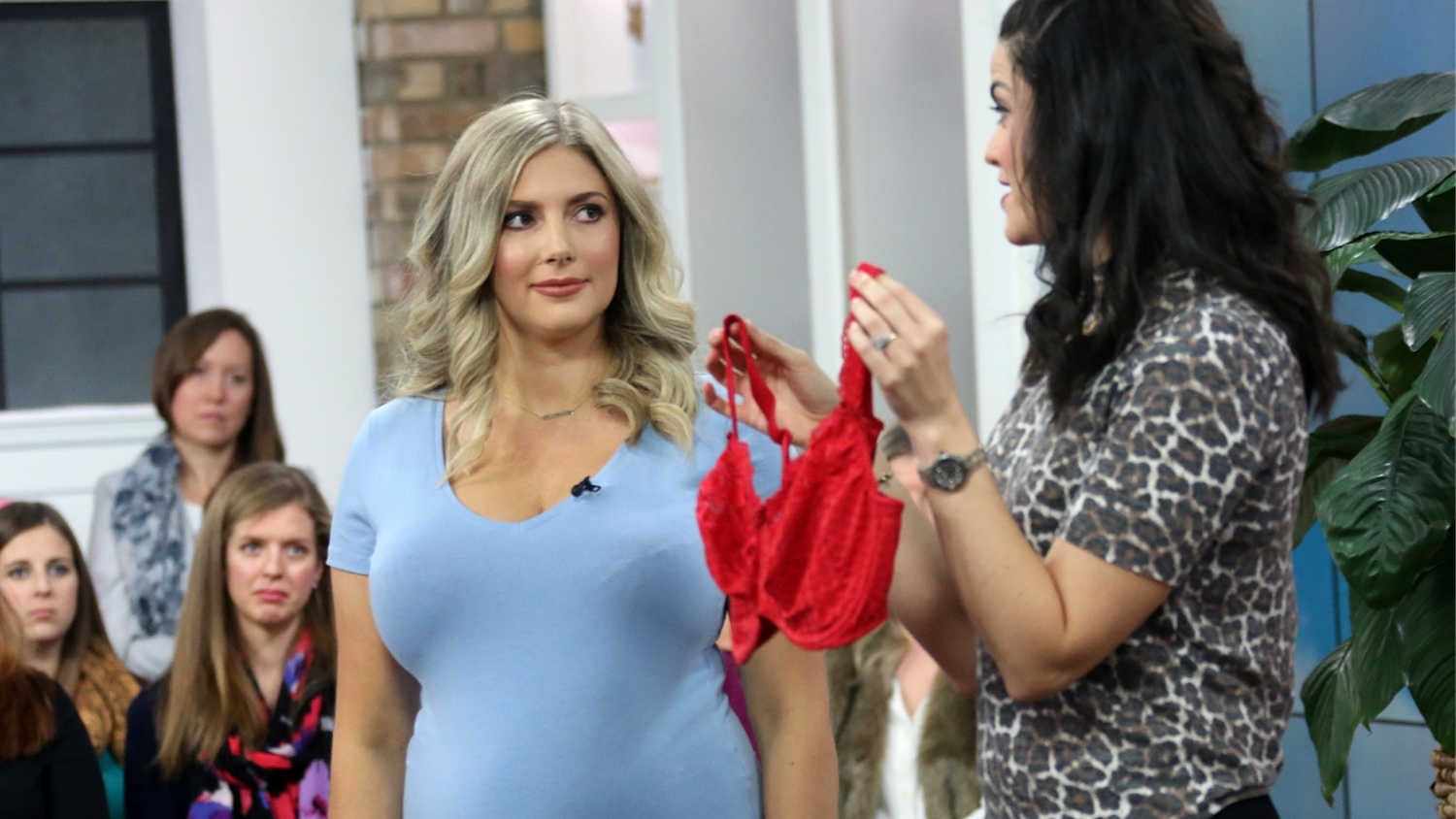 Kimmay on The Marilyn Denis Show
Come along with Kimmay Caldwell, bra fit expert, Undergarment Educator, and self-love coach on The Marilyn Denis Show! Take a glimpse at the recaps of some of her latest appearances, shop the styles shared on the air, and get extra tips and advice that didn't make it to the show. Hurray!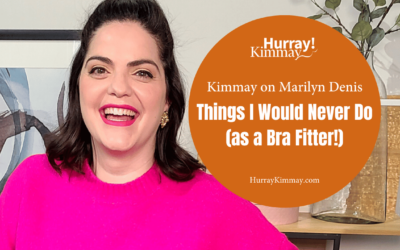 Hurray! As a bra fitter since 2005, I get asked a lot of questions about bras, bra fit, bra care, and where to shop for bras. And most of the time those questions are about what I would do, or what I would wear. So I'm extra excited to share some things I would never...
Free Bra Class
Want to wear a bra without ripping it off at the end of the day? Watch How to Find a Comfortable Bra Fit For Your Body WITHOUT Wasting Your Money on Bras You Dread Wearing! Plus, you'll also get Kimmay's Bra Fit Guide, and a taste of Bra Confidence & Comfort™. Watch now and don't spend another minute feeling uncomfortable in your bra.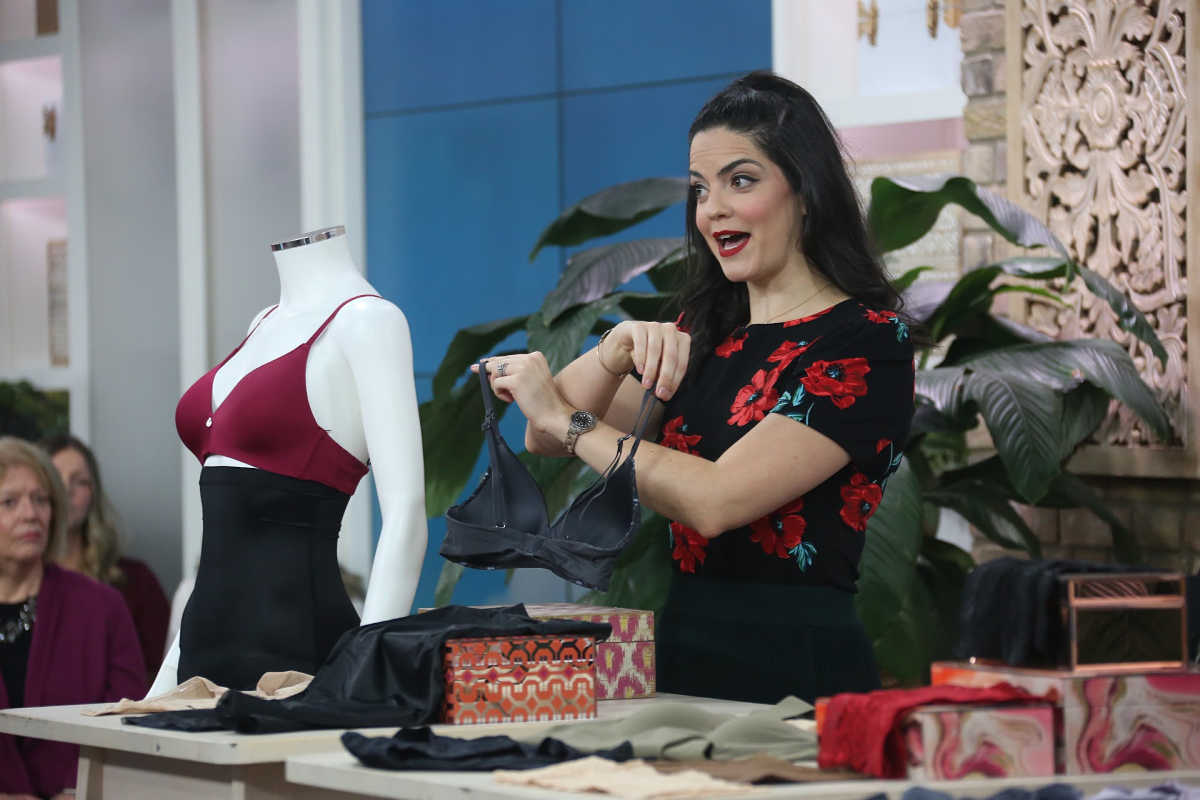 New and Innovative Undergarments
This segment aired on The Marilyn Denis Show on CTV November 20th, 2018. Kimmay shared some the most amazing undergarments out there that you can try yourself. From period-proof underwear and sweat-proof shirts, she showed Marilyn and the audience how to say hurray for (the coolest, new) lingerie!
Watch the video or get more info over on Marilyn.ca or below!
Click here to read the Innovative styles and information from the show!
Bras are a great place to start! Want a deeper level of support? I'm here to help.
More
Kimmay

on The Marilyn Denis Show!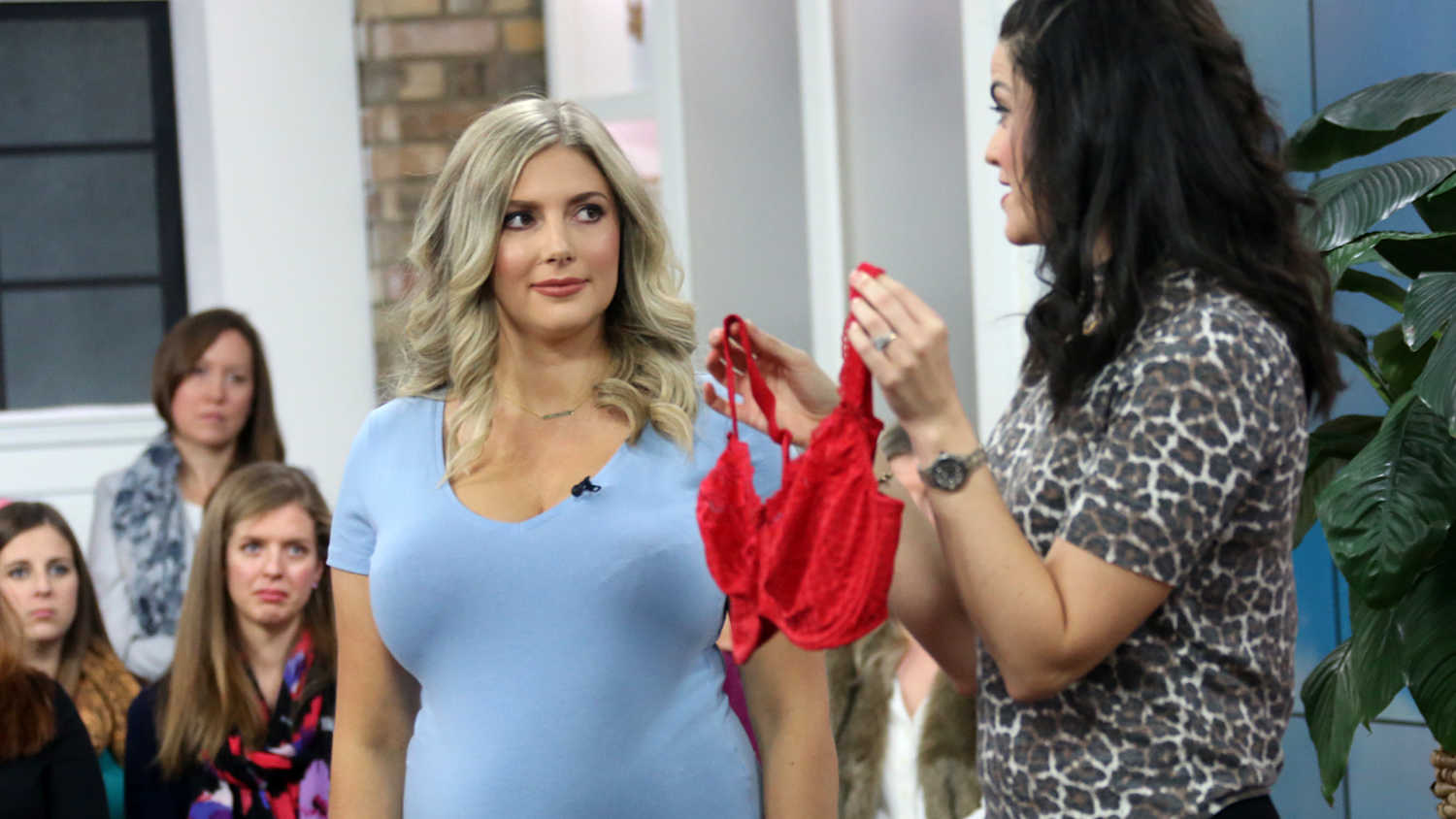 Maternity and Nursing Undergarments
This segment aired on The Marilyn Denis Show on CTV November 9th, 2018. Kimmay gave bra makeovers to two amazing women – one who is expecting and one who is nursing – and she showed Marilyn and the audience some of her best tips for bras, underwear, and sleepwear when nursing and expecting (along with plenty of advice for just about everyone!).
Watch the video or get more info over on Marilyn.ca or below!
Click here to read the Maternity and Nursing styles and information from the show!
Jessica
: This gorgeous mom is expecting her second child. At 26 weeks, her bust is full and she was looking for maternity bras that are supportive and beautiful – just like her. Working with a fitter can make navigating a changing body and bust easier during pregnancy. You can also check in on your bra starting points yourself. With the help of the amazing inventory at 
Melmira
 in Toronto, I helped her find the
Prima Donna Madison
 in a new size and red hot color. The supportive cut and sew cup, and stretch lace edge makes it a great option for a fluctuating and full bust.
In addition, I helped her find a supportive, stylish (important to this stylin' momma!) full bust bralette. Wire-free bras during pregnancy are fantastic for many reasons. First, it's easier for the bra to fit when your bust is changing sizes and avoid digging underwires. Second, if you are carrying high you can avoid underwires in your bump. Third, you can wear a wire-free bra to sleep, which some expecting moms find supportive. I chose the pretty and supportive 
Panache Andorra Wire-free bra
 in size 36G. Jessica was thrilled and supported! Hurray!
Phey
: This stunning mom of two is currently nursing and was resorting to ill fitting sports bras to hold her nursing pads in place. I completely changed her size and opted for a 
Paisley Nursing Bra
 from Anita that was smooth for underneath her t-shirts, supportive, and a fun print. Plus, it has a flexible underwire so it can give her the shape and adjust with her body and her bust.
I also showed her how the wire-free 
Mayana Geneviere Nikki bralette
 can function as a nursing bra without clips, and double as a sassy camisole or lace top! She was in love with this sexy nursing bra.
Most of these styles above are available at the Melmira shop in Toronto, or check a boutique near you. They may also available online, and at Amazon.
Want a great bra fit? Take a cue from the tips in the video, and check out my Top 5 Bra Fit Tips video (and handy PDF guide) and get to know your bra size starting points.
Also featured:
Maternity bras are worn during pregnancy. Typically the most rapid change in bust size happens during the first trimester. Continue to check in on the fit of your bras with a fitter, or yourself. I suggest fitting a maternity bra on the middle hook in the back so that you can adjust in if it stretches, and out if your body (and bump!) expand. You may also want to go wire-free and stretchy cup so the bra can move with you as your body changes. Watch the clip for my tips on maternity bras, or stay tuned for an upcoming blog post! A few to try:
Montelle Cup-sized bralette – I am in love with this bra myself! It's also great for maternity use because it's a pretty bralette with adjustable straps, a supportive band, and made in a cup size range for a great fit.
Fortnight Vera Longline – Another one that anyone can wear, this wire-free longline bra has stretchy cups that adjust with your growing bust, and a wide, supportive band. I've been told that some moms pull down the cups and nurse in this one, too!
Miel LeLe bra – Many expecting moms want to sleep in a wire-free bra, and this stretchy style is soft and can move with you while you sleep. So cozy with a soft yarn and an antimicrobial material as a bonus!
Nursing bras come in various shapes, styles, and functions. I highly suggest getting fit for several nursing bras around 30 weeks into your pregnancy. Typically speaking, you'll also want a stretchy style with lots of room in the cup for the engorgement just after giving birth. Then when you are back onto a regular feeding or pumping schedule, breasts tend to settle into about the size they were at 30 weeks. As for style, nursing bras have come a long way! Watch the clip for my more tips or look for a blog post coming soon.
A few great nursing bras to try by Anita:
Other great styles included in the segment: 
Style notes: I'm wearing a top from Zara, pants from Carmen Marc Valvo, and shoes from Amazon.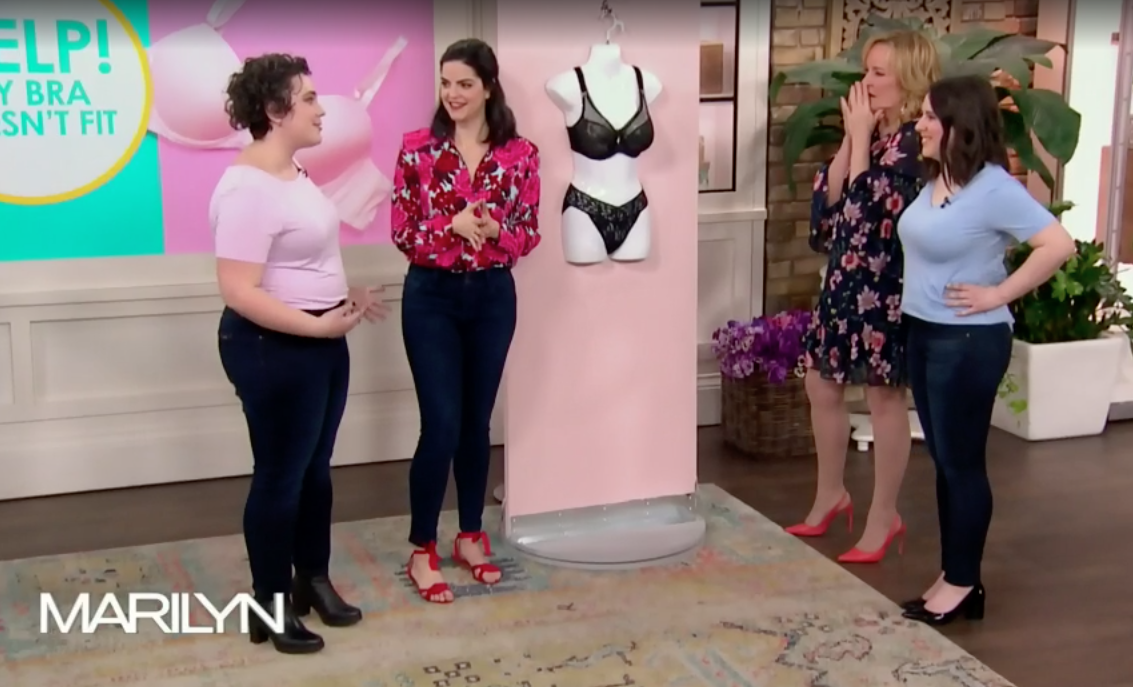 Sister Makeover and Tips to a Great Fit
This segment aired on The Marilyn Denis Show on CTV June 15th, 2018. Kimmay gave bra makeovers to two amazing sisters, and she showed Marilyn and the audience what to look for in a good bra fit. Use these expert tips to check in on your own bra fit!
Watch the video over on Marilyn.ca!
Click here to read the information from the show!
Rachel – This sister complained about straps that kept slipping off. She was told she had "sloping shoulders". And while every shoulder shape is unique and may have different needs, I didn't find this to be true. Believe it or not, the straps of your bra often slip or fall if the back band is too big! When your back band is too loose (either because it's a size or two too big, or it's stretched out) it will rede up. This means the straps no longer have anything to which to anchor and will slip and slide all day. Starting with a firm band did the trick for Rachel – even when we tried a balcony style with far set straps! Learn more about how to tell if your bra fits (including the band).
Rachel's bras: Empriente Grace in black from Melmira |  Simone Perele 12E334 in Nude from Melmira
Dayna – Dayna had that common issue of wearing the "right size", but it wasn't fitting her at all. The cups were falling away, or she would spill out of them. And she was super uncomfortable! After some soulful bra fitting together we found a style that worked for her petite frame and full bust! Not only did it have a flexible, molded, 3D spacer cup so it gave her a seamless look, the Panache bra also has a j-hook in the back so she can wear it as a racerback. Hurray! And because Dayna is a sassy person, we found her a gorgeous printed lace and cut-and-sew bra that fit her like a glove (and helped her say hurray!).
Dayna's Bras: Panache Cari 7961 in nude from Melmira |  Panache 6951X in light blue from Memira
Next I gave Marilyn the low down on how to tell if your bra even fits. Maybe you bought it online and have it at home and aren't sure. Maybe you bought it a long time ago and wonder if it's still a good fit. Or maybe you're in a dressing room and wondering how in the world to tell if your bra fits or not! I hear you. Take a cue from the tips in the vide, and check out my Top 5 Bra Fit Tips video (and handy PDF guide) and get to know your bra size starting points.
Also featured: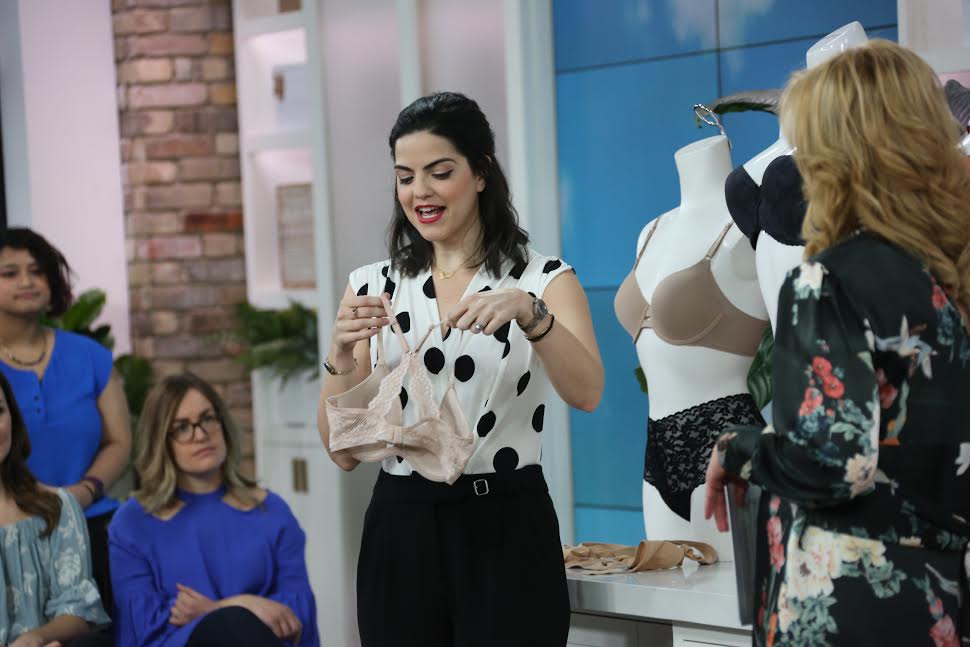 This segment aired on The Marilyn Denis Show on CTV May 1st, 2018. Kimmay showed Marilyn the 5 kinds of bras everyone needs in the wardrobe, along with some important bra style tips along the way. Plus, she discusses how to care for your bras – from hand washing, drying, and even storing them properly!
Watch the video and get some great tips in the full article on Marilyn.ca!
Building a Bra Wardrobe
I always suggest having 5-7 great bras to rotate in your bra wardrobe. If your bras no longer fit, or they don't suit your style – get rid of them! Make room for and invest in styles that help you look and feel your best. You can find more information on what to look for in the most common types of bras in my segment with Marilyn above, and in this Hurray for Lingerie Q&A Video. Below are some of the styles that I shared, which are great examples of each.
Build Your Bra Wardrobe
Basic Bras:
Convertible or Strapless Bras:
Sports Bras:
Wire-Free Bras:
Hurray bras:
Next up: How to Care for Your Bras! 
Once you've found your 5-7 great bras, you need to take care of them. I share some of my favorite tips for this in the segment, and I've got some additional resources and the scoop on the stuff I shared on the show below.
How to Care for Your Bras
Hand Wash and Air Dry:
Get to know my lingerie wash of choice, Soak.
In fact, I created an entire video series with this fab Canadian brand. Find videos and information on how to wash your bras, including my favorite accessories for drying them, plus Quick Care Tips for washing everything from swimsuits to shapewear on my Care page.
Store them properly.
Don't fold one molded up into the other!
Learn how to do it the hurray way in my recent LiveAbout article.
Rotate their wear.
Never wear the same bra two days in a row. Let the elastic relax.
Make sure you have enough styles you love to wear in your wardrobe.
PS:
for those who asked my "top" is actually a
bodysuit from Zara
, my pants are from a European shop,
Camaïeu
 during my #HurrayVacay in Paris. My shoes are from a second hand store.
Bonus!
In Kimmay's first appearance on The Marilyn Denis Show, she shows two fabulous women how to use their bra measurements to find a bra that fits well and feels great. Watch the reveal and educate yourself with her expert advice! Check out the clip and read the
full article
on the Marilyn Denis Show website.