Hurray! I'm back on my favorite Canadian lifestyle show,
The Marilyn Denis Show
! This is my 8th or so time on the show, and I'm so grateful to be back. This time Marilyn and I (with the help of two wonderful viewers), played a fun game to bust some bra myths! Below you'll find some of the best questions and answers about some of the biggest bra myths. Hurray!
Psst! Some of the brands linked here are proud partners of mine (and I'm grateful to share them with you!) or I may get a small thank you if you purchase through me. Your purchase through those links like these helps a lot in keeping articles like this coming your way. I always, always share items that I truly love and can help you say hurray!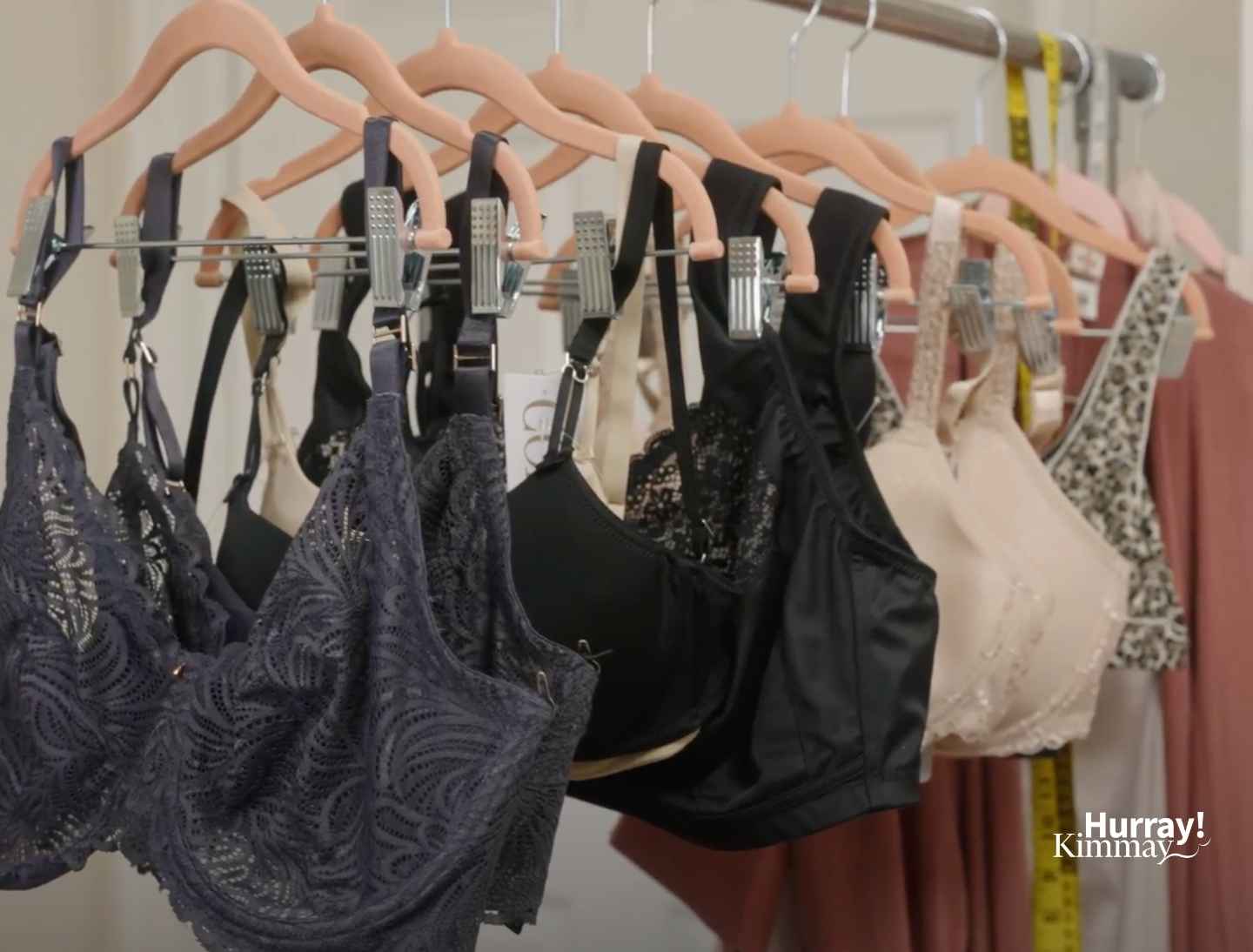 In Canada? Check out the replay of the show (when it's available) on the Marilyn site.
True or False: The average, most common bra size is a B cup.
Answer: FALSE
The truth is, the most popular sizes I've fit on thousands of folks are F and G, which in North America is common DDD or DDDD!
Lots of folks think that full bust sizes are "too much" or "not normal" but they are very common and totally lovely! Don't be fooled by "mainstream sizing". Big box department stores often only stock sizes B-DD, but the bra fitting alphabet goes from AA to O cup (and beyond). Great news! Bra boutiques and online options have opened up the options.
Don't be alarmed if the cup size that fits best is beyond a B or a DD! There are plenty of supportive, gorgeous options out there for all sizes, so wear what fits first.
In fact, on the show, I shared a 32F and 34G in the London Fog Muse bra from Canadian brand, Montelle. Get to know it below!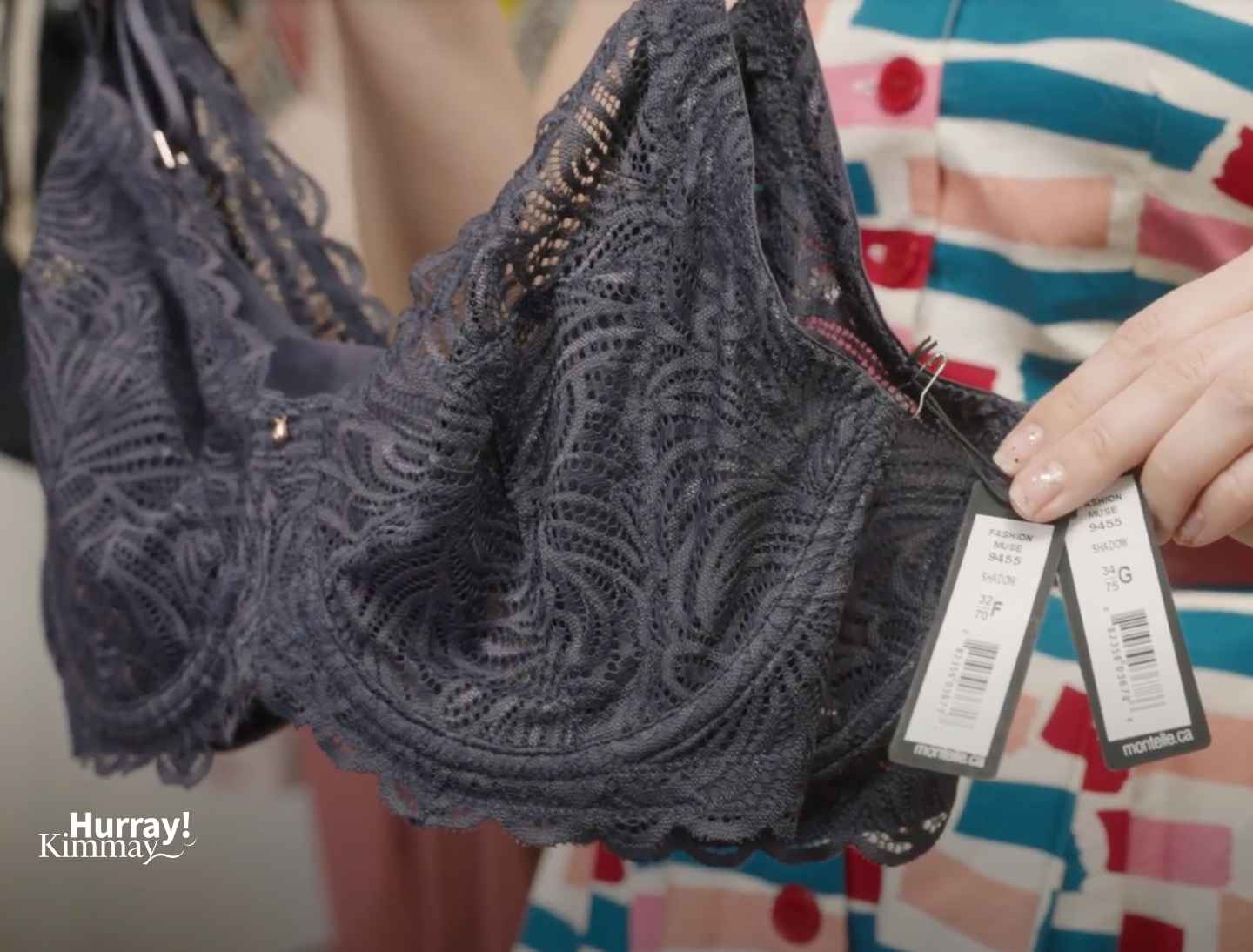 Montelle – London Fog Muse Bra
This style is so great for this bust range!
Stretch lace (which can really accommodate YOUR shape)
Supportive seams (which are like the support beams on a bridge)
Adjustable band and straps (for a great fit)
Full coverage cups are lined for support
Band lined with power mesh
Sizes 32-40, European cups D-H
True or False: A DD is considered a large bra size
Answer: False!
Ok, listen. "Big" is relative… and so is cup size! Cup size is relative to the band size, that is. A DD, for example, gets smaller or bigger with the band size. So a 30DD is much smaller in size than a 40DD.
Lots of people think "Dolly Parton" when they think of "DD", but Dolly, who has a very small band would be more like a 30K!
And that also means if we used "sister sizing" to find the cup size equivalent in a different band size, a 30DD has the same cup size volume as a 32D, 34C, 36B, or 38A! This is something we go over in the Bra Confidence & Comfort Course in detail and is so important for every bra wearer to know.
To help the Marilyn viewers understand, I bought a 30DD (or E in this brand) and 36B from Corin. When I lined up the cups of the Virginia Push-Up Bra (a great basic bra with a little boost) everyone could see that they are equal in volume and when I lined up the band, one was bigger than the other. Remember, cup size is relative to band size!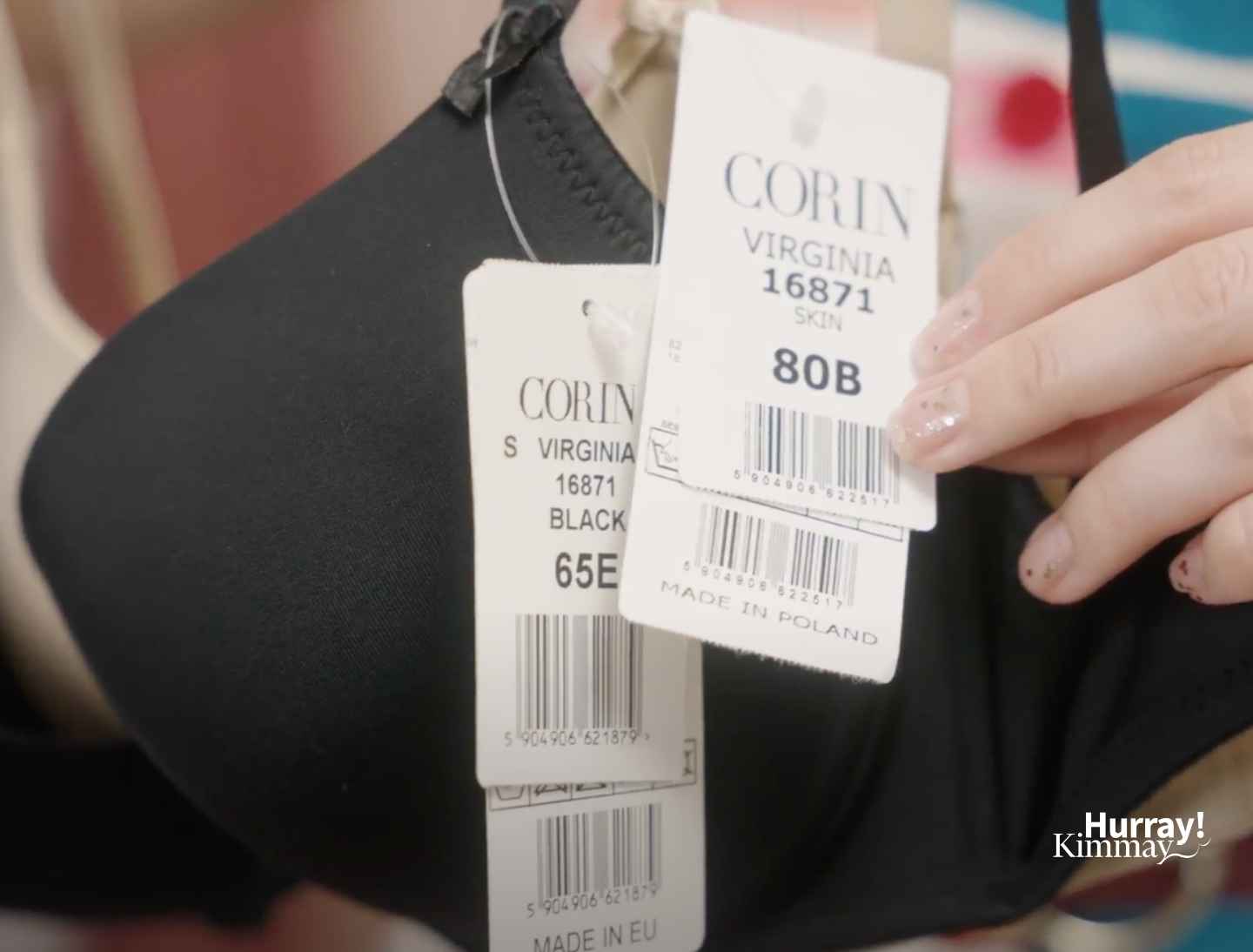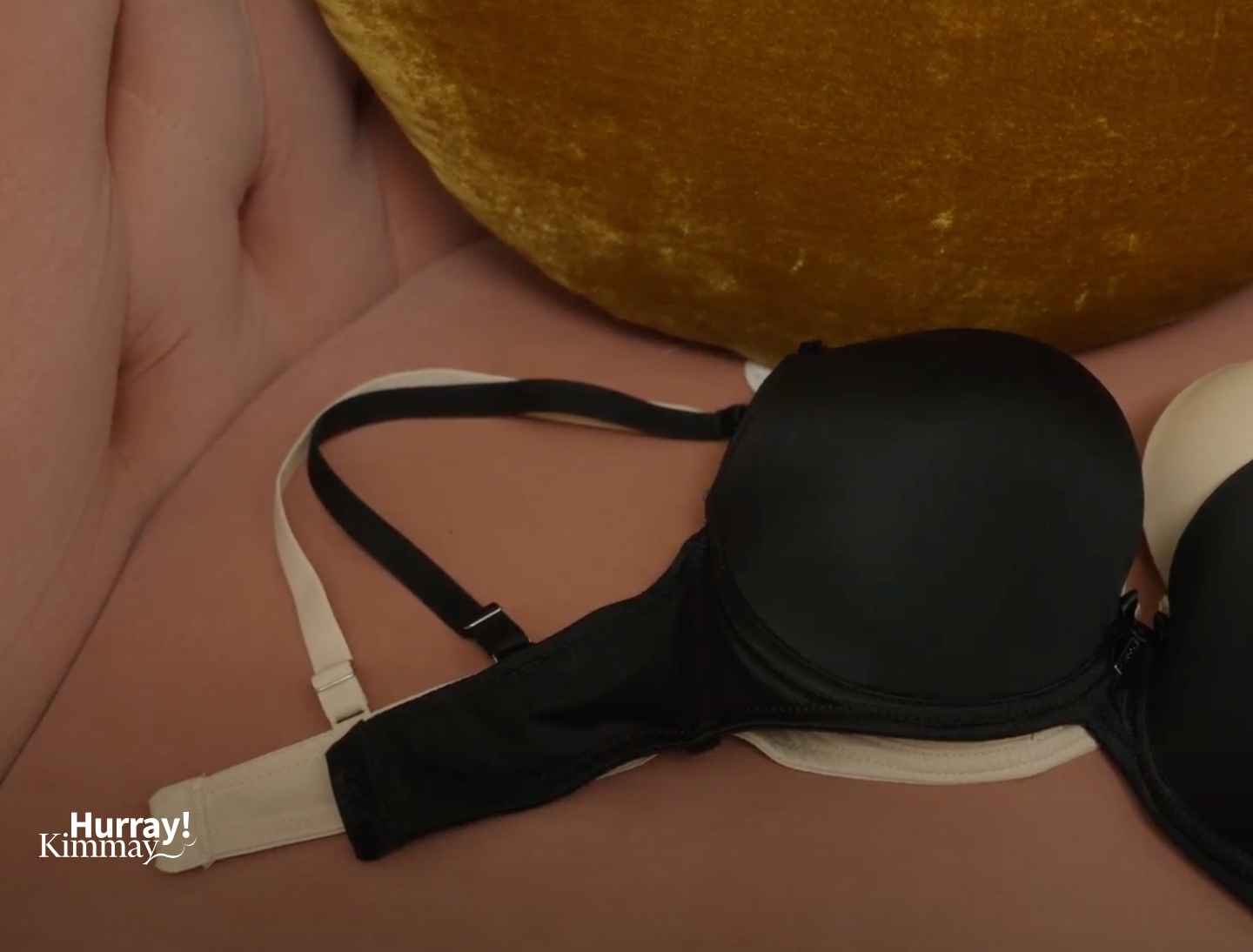 Corin – Virginia Push-Up Bra
Smooth t-shirt cups look sleek under tops.
Ultra light 3D spacer foam is very light and feels great on
Graduated push-up padding gives a your bust volume a boost
Deep plunging neckline creates a revealing neckline
Adjustable straps and band for a great fit
30-38 bands, European sized C-G
True or False: This bra is an A cup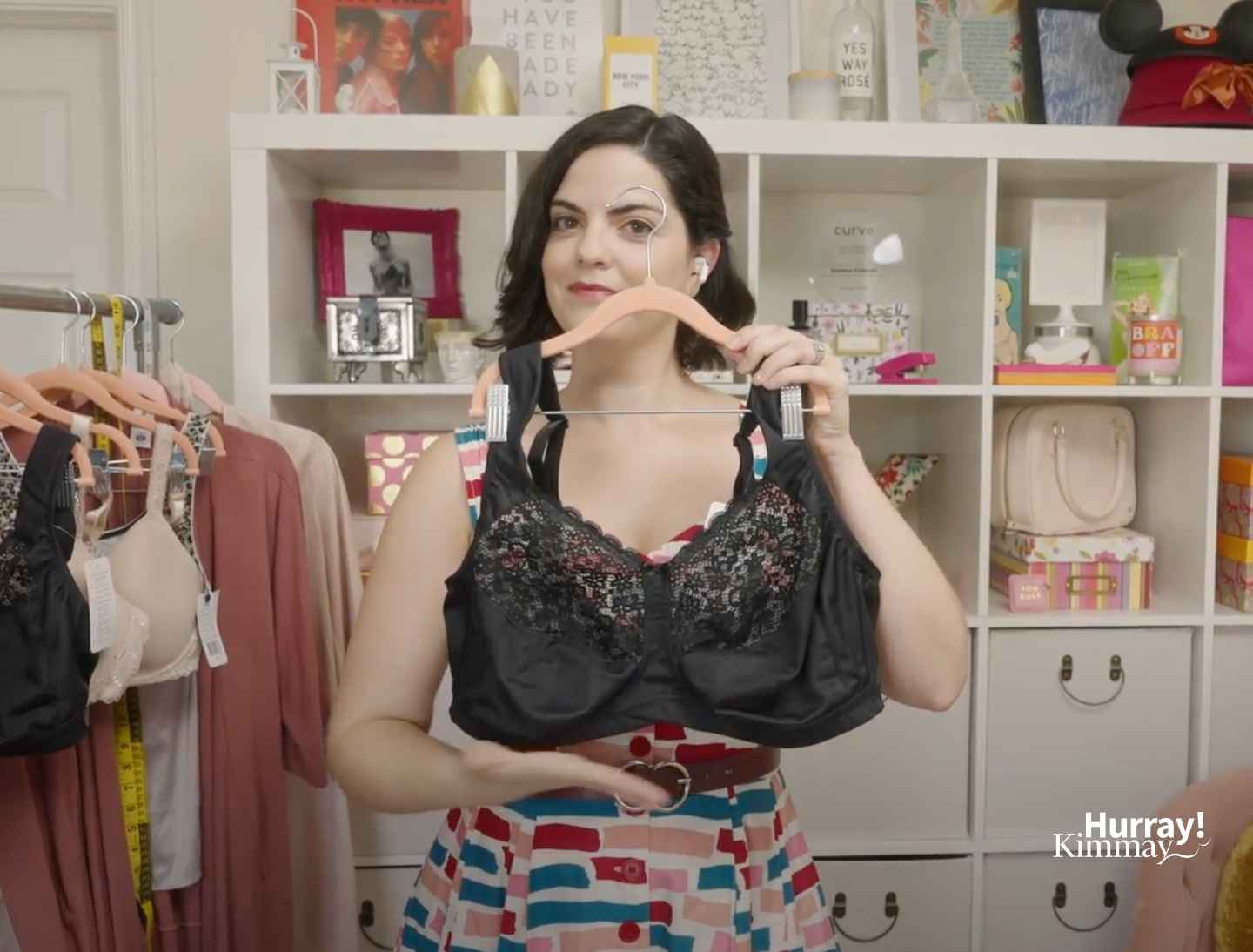 Answer: TRUE!
This bra is an A cup! Can you believe it? This wire-free Havanna style from Anita is supportive and comfortable, and a godsend for folks with a fuller band and smaller bust (a very underserved size range). But then again, this A cup isn't very small at all! And that's because it's also a 48 band.
Because of that "sister sizing" and the cup being relative to the band thing I mentioned before, that means this same cup size volume would be equivalent to an H cup in a 34 band.
On the show, I held up two of the same bras, one in 34H and one in 48A, and so viewers could see that the cup size is equal and both cup sizes need secure support. So just like a DD can be petite, an A can be full!
If this is blowing your mind and making you wonder about your size, I'm here to help and you can always shop local with a trained fitter at your local boutique for well fitting brands like Anita. Learn more about this amazing style below.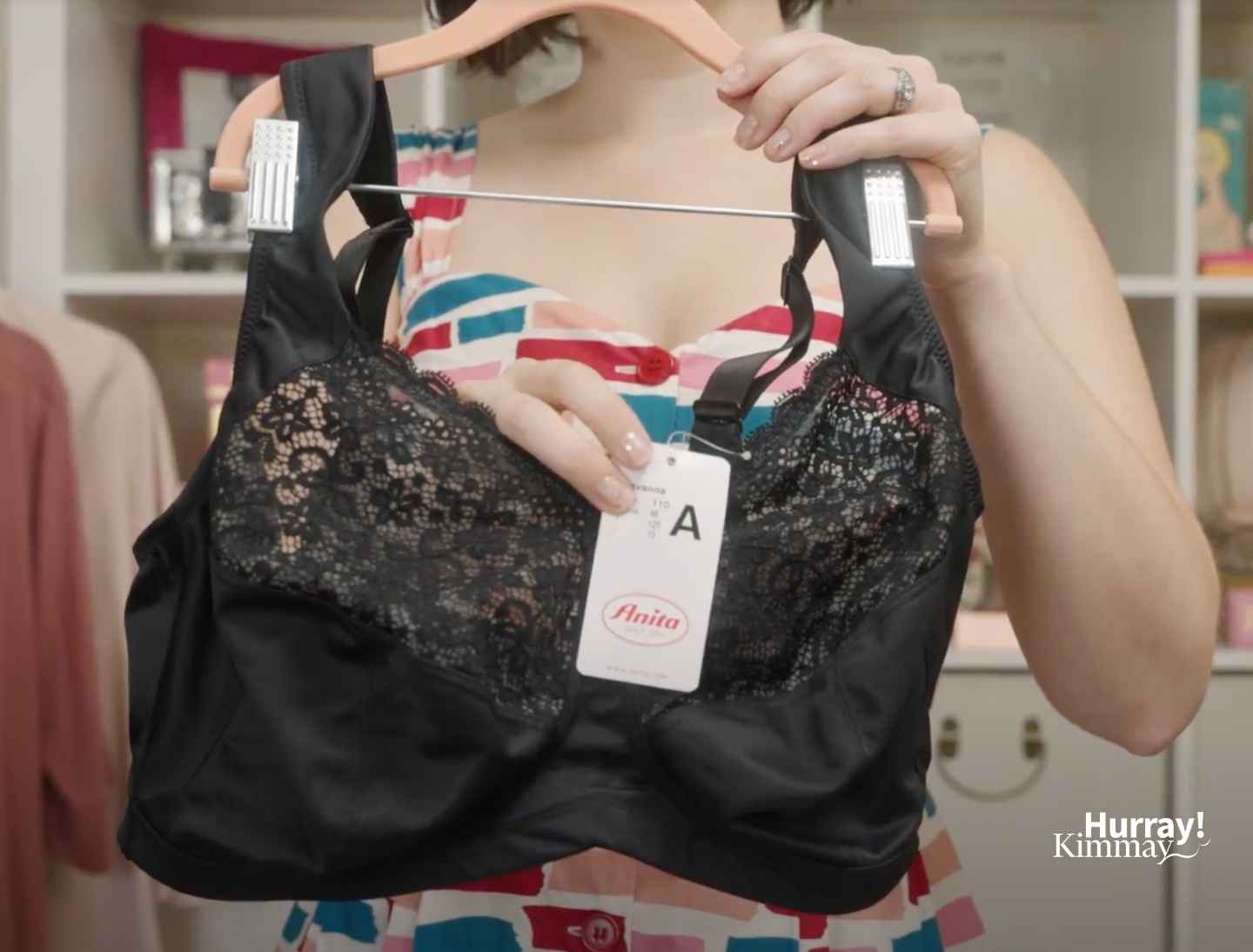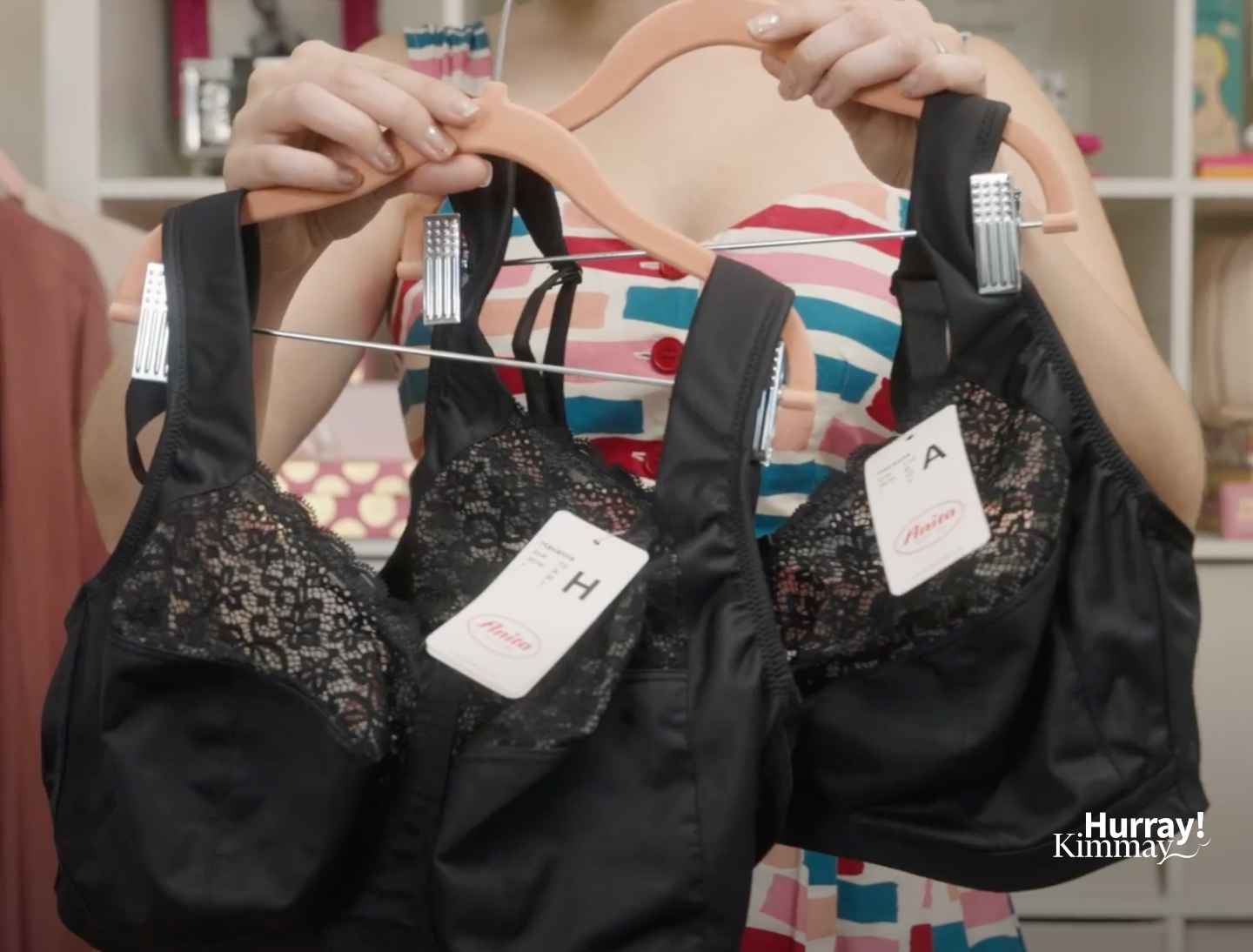 Anita – Havanna Wire-Free Bra
Wire-free bra cups with super supportive seamed cups for great lift and a rounded shape
Center gore (though wireless) helps to separate and define breasts (no uniboob look!)
A wide band and soft, cushioned straps helps to spread support and take the weight off your shoulders
Comes in a few colors (the black is classic!) and an amazing size range!
Sizes: 34-50 bands, European A-H cups (for real!)
True or False: Once you get fitted, that is your size!
Answer: False!
Lots of folks I've fit think once you're measured you're just that size in everything, but that's not the case. Bras are similar to jeans. Each style fits a bit differently, and it's totally common to leave a bra fitting appointment or shopping trip with bras in several sizes that all fit.
The material of the bra, the cut or style, or even how the manufacturer decided to make it will all affect the size that will fit you best. This is why I teach the Comfort Fit System™ within the Bra Confidence and Comfort Course – because size is just the starting point. Fit is the real focus!
And keep in mind that our bodies change a lot – mine did especially during the pandemic! And as our bodies change, so does our bra size. It's OK! Go get a fitting or check in on your size at home.
Another reason is because some brands label their bras using different sizing methods. The most popular are European, North American or US, and UK sizing – which diverge greatly once you get to DD!
To prove my point, I share a DD and and E in the Ana bra from UK brand, Fantasie, which are two different sizes, while in the US and EU a DD and E are the same. I know it sounds complicated but it's quite easy once you know it, and so worth it! UK bras like this Ana bra are really known for great fit, construction, and support. The important thing is to wear a great bra (like this one here) that fits. So knowing which bra alphabet your bra uses is key.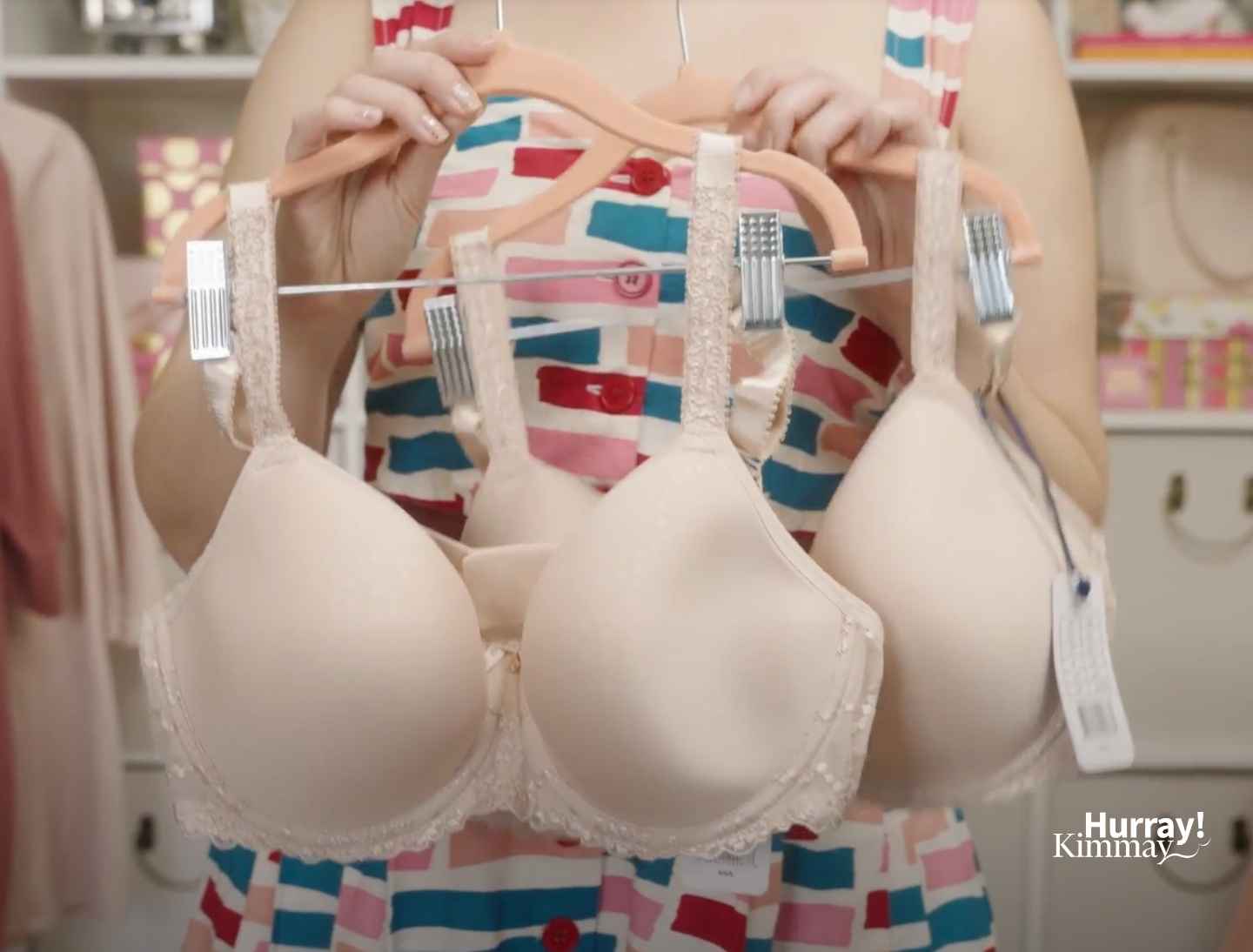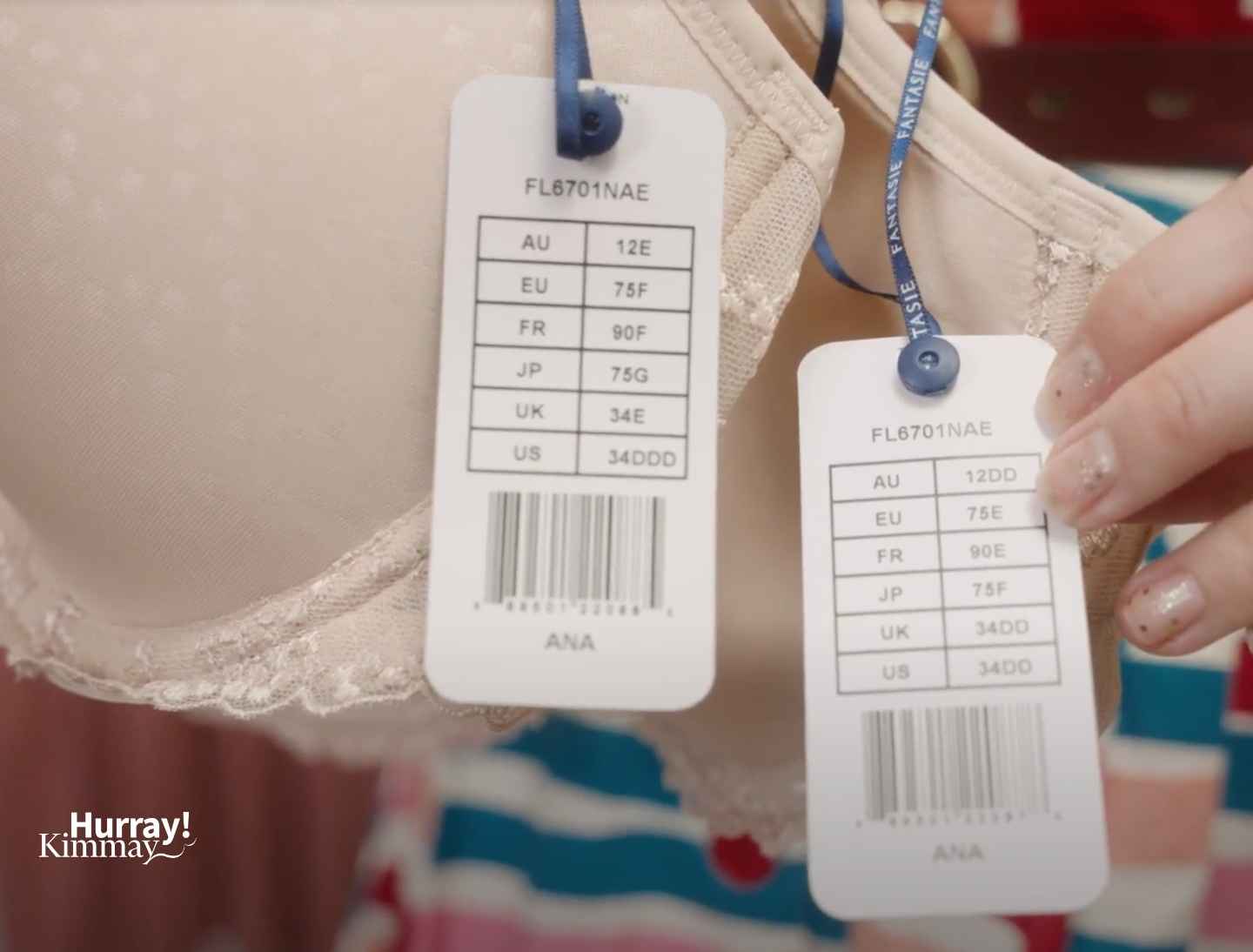 Fantasie – Ana Spacer T-Shirt Bra
Smooth t-shirt bra engineered with lightweight, spacer fabric that keeps you cool with the breathable knit material
Underwires offer a great shape and the cups are full coverage
Stylish (and smooth) jacquard pattern fabric of the outer cup
Adjustable band and straps and amazing size range for a great fit!
Size range of 30-40 bands, and UK cups of D-H (and an H is like a K cup in US sizing!)
True or False? Wire-free bras and bralettes are appropriate for work.
Answer: True!
OK, OK, OK, listen up: not all wire-free bras are made the same! But there are some styles out there that are really great for lounging and low key activities, and some that have more support and shape! And especially because so many people are working from home right now, we can rewrite the rules on the level of support you need for work! It's really up to you.
Each of the brands I've mentioned above make very supportive, firm support, wire-free bras that are just as awesome as underwire styles. And, if you want something more casual, there are options, too!
I brought an example bra from Canadian brand, Elita, which is super soft and wonderful for at-home or low key activities.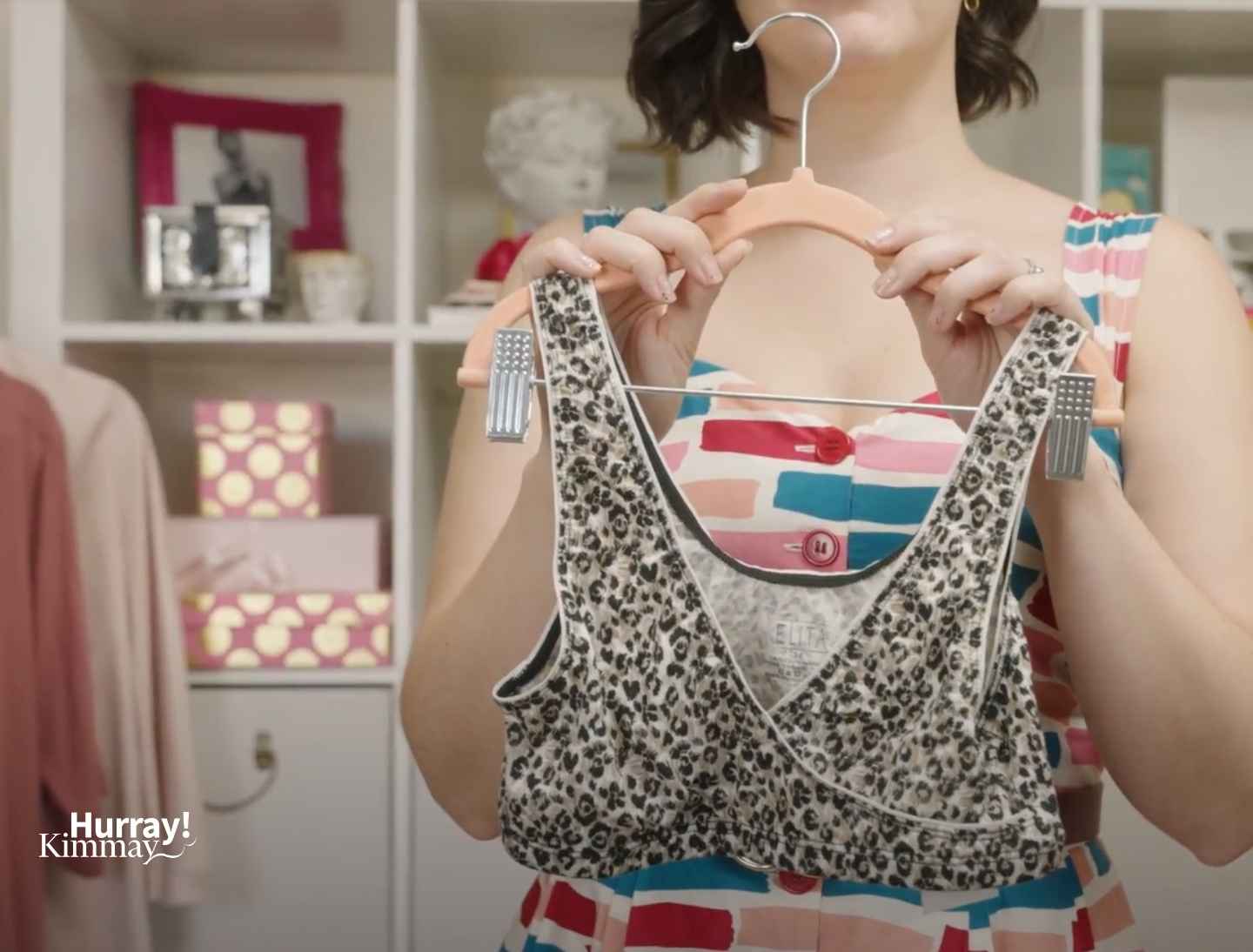 Elita – Bamboo Crossover Bra in Leopard
Made from an ultra soft natural bamboo and spandex material
Low support and designed for a natural look.
Metal free, no hook and eye nor adjustable straps.
Perfect for leisure or sleeping in, but can also be worn for work if that's your jam!
Cross front design provides some bust shape and easy access for nursing parent
Available in a few colors and this fun print!
The best part? I got to surprise everyone in the virtual audience with this Elita bra of their own! Hurray!
It was such a joy to be back on the show and I can't wait to support Marilyn viewers and the folks in Canada, again. (And of course, you too!) Hurray!
Remember that even the best bras out there need to fit in order to feel comfortable, and that comfort will provide you with all day (and night) confidence! If you wear bras, grab a spot in my Free Bra Class to check on the fit of your bras and take your first step toward saying hurray inside, outside, and underneath™!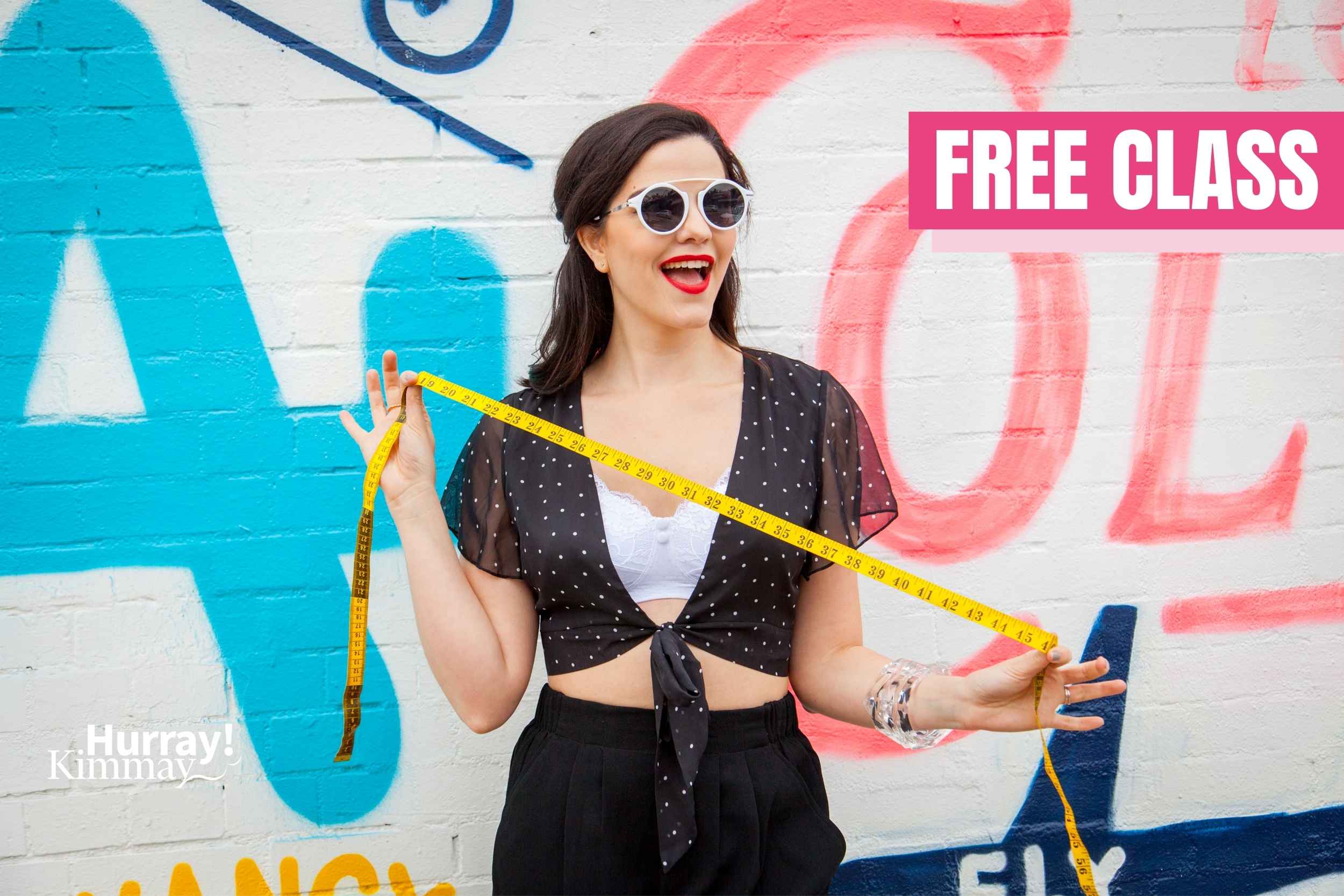 Free Bra Class
Want to wear a bra without ripping it off at the end of the day? Watch How to Find a Comfortable Bra Fit For Your Body WITHOUT Wasting Your Money on Bras You Dread Wearing! Plus, you'll also get Kimmay's Bra Fit Guide, and a taste of Bra Confidence & Comfort™. Watch now and don't spend another minute feeling uncomfortable in your bra.
Your turn:
How did you do in this pop quiz? What did you learn? Which styles do you want to try for yourself?
Share your thoughts or experiences with me
@hurraykimmay
on Instagram!

Credits: Special thanks to videographer and photographer, Nathan Holliday of Story Co. and huge hurray and thank you to The Marilyn Denis Show for having me on again! Can't wait until next time!