Hurray! I love working with great TV shows to bring you my heart and expertise – especially The Marilyn Denis Show up in Canada! I've already visited this popular set to film 5 segments about all manner of things lingerie and support in the past. For the 6th time – we did it virtually! That's right, we got together live to tape this one while I was in OK and Marilyn was in Canada, and 25 audience members Zoomed in, and the production staff worked their magic from their own homes. Hurray!
I was blown away by the resourcefulness and skill of their team and so glad we could make it happen. In fact, I had to get creative myself. Something you won't hear on the show is that my internet speeds were a little slow in my home studio (one of the ughs about currently living in a rural town) so I called up the local Tech school to see if I could swing by to film there. Not only did they allow me to do so, they also went above and beyond to get me set up! When the first location wasn't quite right, we hustled to move my "set" to a tiny copy room, which we turned into a real lingerie TV set. Complete with lights, a monitor, and some of my office and studio decor. Yes, that pink chair and everything you see is mine and I brought it over to create the set!
Work from Home Bras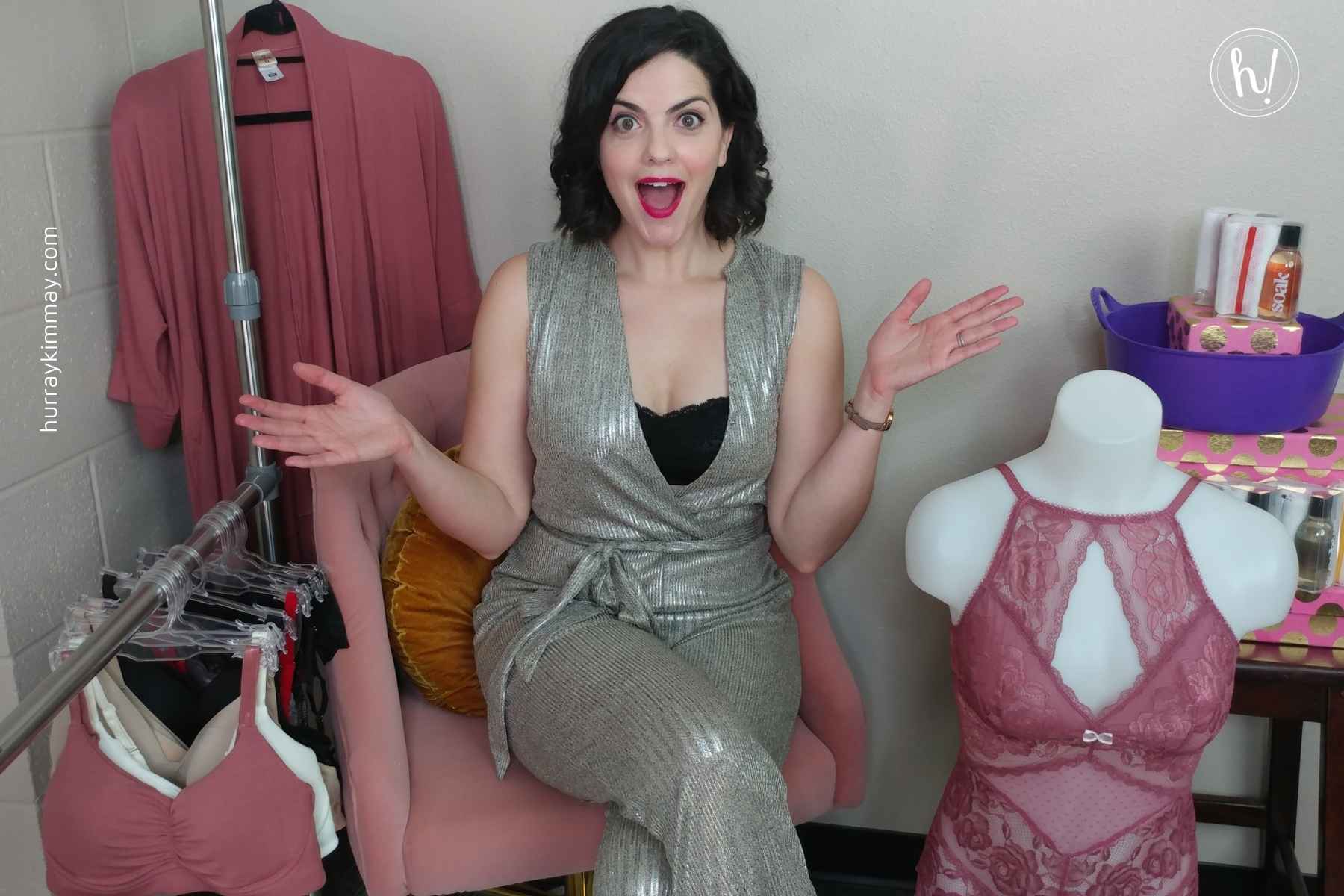 SO thankful for all of the support to create this TV segment because that way I was able to bring to your attention some of my favorite bras and my best advice for feeling comfortable and looking your best in your bras while working from home. Yep! In the segment and below you'll find work from home bras for several sizes and style needs, including full bust wire-free styles, comfortable lounge bras, and gorgeous lingerie styles just for fun. (Because we all need some hurray in our day.)
If you're in Canada you can catch a glimpse of this segment over on The Marilyn Denis Show website once it's up! Look for Season 11 Episode 57 in the "Full Episodes" section, or stay tuned for a direct link. (PS: if you're in another country you can use a VPN and set your location to Canada!) If you watch it, let me know how the copy room looks 😉
Want more info, or not in Canada? No worries! Below is a recap of the styles I shared on the show, along with some details and behind the scenes stuff we didn't have time for on the show. Shop the styles below and let me know which make you say hurray!
Psst! Thankful to partner with some of my favorite bra brands in this segment! All of the styles below are excellent examples, and I've tried and tested them myself. A few of the links are also affiliate links, which means I may earn a thank you commission if you shop using that link. So, thank you! Paid partnership or not, I always share my honest opinion and expertise. With over 15 years of bra fitting experience, it's always my goal to help you say hurray inside, outside, and underneath™. Hurray!
Cozy Wire-Free Bras That Feel Like a Hug All Day
At the beginning of pandemic times, pretty much everyone reached for comfy and cozy bras (or no bra!). They still serve a really great purpose in any bra wardrobe, and especially for work-from-home styles. Want some for yourself? Try soft materials, flexible design, a bit of stretch, and a yummy feel.
Warning: Don't be tempted by those stretchy over the head styles. They work okay for some people, but in my experience most clients actually find them to be a bother. That's because you can't adjust them to get a good (aka comfortable) fit! I HIGHLY suggest something that is adjustable so your bra isn't riding around, digging in, or drooping. A good fit always equals comfort. 
To demonstrate on the show, I brought an example from an amazing brand partner of mine, AnaOno. All of their styles are wire-free and comfortable because they were actually designed with post surgical customers in mind, including those who had breast cancer. That type of client needs super soft non irritating materials, so these are great for ANYONE looking for comfort. In fact, immediately after the show taped I fit my expectant friend who was busting out of her usual bras. She LOVED the soft material and adjustable fit so much. Maybe you'll love it, too! Check it out for yourself.
Monica Full Coverage Bra from AnaOno
The softest modal material you'll ever feel – it's like wearing a hug! Our bodies and minds have been through a lot so give it some care. This bra is a multi-tasker and great for many purposes –  wear it to sleep, to lounge, for work and video calls, or even for at-home yoga sessions! Features:
Wirefree cups that stretch and move with you includes removable modesty pads
Alpha sizing S-3X with adjustable 4-Hook back closure
Adjustable and convertible straps – wear criss cross if you want!
Wide back band anchors for additional support without digging in – super comfy!
Pocketed to fit expanders, prosthesis or lightweight breast forms – but anyone can wear this style!
Bonus: AnaOno makes a yummy robe from the same material. I have it in dusty rose and you can see it hanging up behind me in the segment! Try it for yourself.
Wire-free Bras With Professional Shape & Coverage
A lot of my North American clients want a little shape and modesty from their bras. Sports bras can tend to squash or just feel like too much bra. And flimsy bralettes don't provide the shape they want. And since Zoom calls are from the chest up, some are concerned about modesty. If that's you, too, you can always use some nipple covers – or try a bra with built-in a little lining like the two I brought to share with Marilyn! Something with a little bit of foam lining or molded cups is a great option for those who are used to wearing an underwire t-shirt bra but want something wire-free for at home.
Bliss Perfection Contour Soft Cup Bra from Natori
OMG I looooove the soft, stretch foam cups and super comfortable lace on this wireless Natori bra. It gives all day comfort so you won't want to take off. Here's how:
It uses a wide, flat (and super soft) elastic which is hidden at the bottom band for support without wires
Molded cups offer shape, smoothness, and modesty (no nipples showing!)
Comes in sizes 30-38 bands A-DDD in most bands; a 30A is hard to find and GREAT for petite ladies! (this is my size, 32DDD!)
Features a clean finished sweetheart shaped neckline which virtually disappears under clothing for a smooth look under professional blouses
The 4 row hook & eyes provide adjustability, which means great fit and support when the bra stretches or if your body changes!
And the fully adjustable matte straps mean no falling and no worries!
Bonus: Natori offers great fashion color options, as well as several skin tone variations!
Wire-Free Plus T-Shirt Bra from Montelle
Montelle makes some great styles and I was excited to showcase this newer flexible bra which is made to support fuller cup sizes but without underwire! Work from home dream come true. Here's the scoop:
Features light molded cups made of 4-way stretch foam so you get modesty and flexibility
The plunging wrap-front shape cradles your bust, complete with sassy (and supportive) powermesh trim to keep everything in place
It's ethically made!
The adjustable straps and band equal a great fit
Available in band sizes 32-38 and C-G cup sizes, so it's a great full bust option!
Offered in two basic colors – the classic black is sleek and sexy!
Bonus: Montelle is a Canadian brand, just like The Marilyn Denis Show!
Beautiful Lace Non-Wire Bras
Work from home bras do not have to be boring or "too casual", or "saggy" as some of my clients say! Most have been wearing old high impact sports bras or their regular underwire bras while at home and it's just not cutting it in the style department. You have options, ya'll! If you want something comfortable, and beautiful, try these. 
Cup-Sized Lace Bralette from Montelle
Also from Montelle, this gorgeous Bra Sized Bralette is a true favorite of mine. I wear it ALL the time. In fact, I wore in the black underneath the plunging neckline of my sparkly jumpsuit on the show!
Ruched front in all over lace, has a lightweight mesh lining for a soft but supportive lift and shape
Unlike other bralettes that don't adjust, this one has an adjustable band, and fully adjustable, convertible straps. That means you can even wear this criss-cross in the back! THIS is how you get a good fit with the look of a bralette, ya'll!
It comes in cup size ranges of B/C, D/E, and F/G. Wow!
No wire, no digging – just soft and supportive lace with a lower band to keep it anchored in place
Comes in tons of fun colors, like the festive red and almond spice I shared on the show!
Bonus: Let it peek out like a camisole like I did on the show or keep it hidden, just for you 😉 Either way – Hurray!
Muse Full Fit Wireless Contour Bra
This one is BRAND new from a go-to brand, Natori, and I'm so excited about it! It's perfect for holiday time or as a work from home bra for moderate AND full busts!
Ultra-thin foam cups for soft support without a wire (and provide modesty and shape  for Zoom calls!) Not "too much bra" but still great support.
Gorgeous cross-dyed lace overlay with scalloped edging and a mesh center (looks like a camisole if it shows!) is breathtaking (I tried it myself!)
Available in band sizes 32-38 B-G (in most bands)!
Built-up lace back is lined with mesh to smooth and contain and adjustable for a great fit and way more shape than most bralettes can give
Adjustable, convertible straps can be worn regular or criss-cross!
Stabilizer side sling and plastic bone at side seam anchor the bra so no rolling or bunching
Bonus: the matching thong has a wide, lay flat band made of gorgeous lace. Wear it around the house and feel like a goddess!
Wire-Free and Sexy at Home!
Real talk: do you wear sexy stuff around the house just for fun? If so, you're not alone! At the beginning of the remote work boom, most people went for cozy stuff. And some people still do. But there's a HUGE new trend starting. My colleagues and I have seen people ordering and buying very sexy, over the top styles. One retail store owner told me that some clients who have never worn them before are purchasing garter belts, daring styles, sexy shapes – you name it! And that includes those who have a partner at home or not. It's time to feel good again and lingerie is a great way to say hurray!
Moonlight & Roses High Neck Bodysuit from Montelle
I loved showcasing this stunning bodysuit on the show! You, too, can test out something sexy by wearing a beautiful and very comfortable bodysuit like this lace Moonlight and Roses high neck bodysuit from Montelle.
It's SO gorgeous to show off, or can be worn to lounge around.
You can even pair it underneath a blazer or your work from home outfit.
I love the keyhole front is daring but also supportive. There's a light support bralette built-in, with an adjustable hook & eye back for lift!
The Brazilian style back is sooo cute! The scallop lace lays flat and is really soft.
Don't be afraid to try something new and exciting – we can all use a little pep in our step this year 😉
Bonus: the softer, calming hue matched with the send-your-pulse-racing design is a great combination!
Delilah Soft Support Bra
Remember, you get to decide what's sexy. If traditional lingerie isn't your jam, try something else! Whether it's something more casual or it's something really luxurious from Paris, it's up to YOU! Choose the color and material that makes you feel like a million bucks. Then wear it around the house as your little work from home secret. Hurray!
ThisDelilah bra from AnaOno may not be "traditional sexy" but it may be your match!
Once again it's in made with that yummy modal, and super soft lace
The straps are wider so they don't dig in, and can criss-cross in the back
The back also has a really pretty sheer mesh detail
The long band is cozy and sexy
Bonus: wear this as a top with some sassy leggings or thigh high stockings and say hurray! 
Care For Your Delicates
Self-care is especially important this year, and so is caring for your delicates! Make sure you hand wash or at least use very gentle, made for lingerie detergent, like Soak. It's like skincare for your bras and lingerie.
Soak Wash
Soak wash works gently on your delicates to keep fibers lasting longer! That means less stretching out, warping, or sagging.
Soak offers some gorgeous scents (or scentless!) so washing your bras can be a pleasant and sensual experience.
They also offer basins in different sizes – including their new mini! I have all three sizes and use them to wash and store things all the time. Even my husband is hooked on hand washing with Soak.
They make it easy to take care of your delicates, knits, workout wear, and even your masks! One of my friends sent me a photo of her hand washing her reusable masks and line drying them over the shower curtain rod like she's done with her bras in the past. Soak is so great for SO many uses!
The Soak Set that I got to giveaway on the show makes a great gift! It includes a small Soak bottle and eco wash bag. Gift one and get one for yourself.
Bonus: I love Soak so much and believe in the importance of care that I made a whole video series on caring for your delicates. Check out all my quick tips at HurrayKimmay.com/Care!
What an experience and a pleasure to share my heart and expertise on The Marilyn Denis Show once again! I hope you learned a lot about your bra options for working from home whether you could catch the show in Canada or not. By the way: it's always up to you how you adorn and support your body, and it's my pleasure to help you make a loving and informed decision – from right here in rural Oklahoma to all over the world!
Of course I can't wait until we can work together in person and I can visit Toronto again. It's one of my favorite cities! But for now, I'm so thankful to work with such fabulous people in such new and inventive ways. And then bring it to you. Hurray! 
Your turn: What kind of bra (if any) are you wearing while at home this year? Which of the styles above do you want to buy and try? Did any of these options make you say hurray? Tell me everything over at @hurraykimmay on Instagram so we can say hurray together!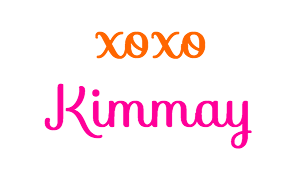 Credits: Photo by yours truly. Yep! I took it herself 😉 Underneath the jumpsuit I'm wearing a Montelle Cup-Sized bralette (details above). Thanks to the brand sponsors mentioned here for their support and partnership in such a strange year. Truly thankful! And Special thanks to High Plains Technology Center and their welcoming, hardworking staff for their support of this segment. I couldn't have done this without you.