Kimmay Caldwell, photographed by Bret Josephs. Hair and Makeup by Jen Brooks Washburn.
Hurray – it's my birthday!
Today, January 9th, 31 years ago, I was born into this world. Sometimes that feels like a long time ago. I feel wise, and accomplished, and experienced. Other times, I still feel like a kid. Anyone else? To celebrate, I'm doing (or did) a few things.
I'm taking a look back on my 30th year with some special memories, and looking ahead to my 31st with some exciting goals. Take a look below!
My honey took me on a trip to a beautiful bed and breakfast. It is called The Caldwell House – which is my married last name – and I have been wanting to go there for years! It was a gorgeous train ride away from our NYC home, and a beautiful night. I took a long soak in the tub, had dinner at the Irish pub, some special time with my honey, and watched NetFlix (my choice was the 30 for 30 Documentary on The Four Falls of Buffalo. I'm a true Buffalo Bills fan!) It was sooo wonderful!
I'm hosting a giveaway! That's right. In honor of my birthday, my friends at Soak, Fleur't, and She Takes on the World have agreed to gift some of my favorite things to YOU! All of the details are on the giveaway page, including how to enter, the prizes, and entry dates. Hurray!
Many people do a "year in review" post on New Year's Day, but because my birthday is on the 9th, I typically wait until then to look back on the previous year. 30 was the best – I mean the BEST year so far. It was not, by any means, the easiest year. But holy hurray did I have a good one. Here are just a few of the highlights from year 30:
Filming a Warner's Bra Commercial:
Just after I turned 30, I was asked to film a commercial for Warner's Bras – it was so exciting! A colleague of mine passed along the casting request, and within just a few days, I was signed up and ready to film! This was Warner's first national commercial, and you could feel the electricity on set. We filmed for two days in NYC, and I fit almost 40 women for bras… on set, on camera, in front of a huge crew. I've fit thousands of women for bras, but this was the first time I had a camera crew asking me to hurry up, or inviting the women to share their feedback on camera like this.
It was such a special time because the women I fit were truly thankful for my help and ranged in age, size, and even nervousness! Some had never had a bra fitting ever – so a lot of my job was off camera, helping them feel calm, safe, and assured. The commercial first aired in May of 2015, and it's been airing over the holidays again (I keep getting texts and messages from friends and family who are seeing it!). If you haven't caught it on air, here it is:
O Magazine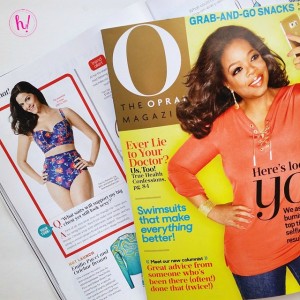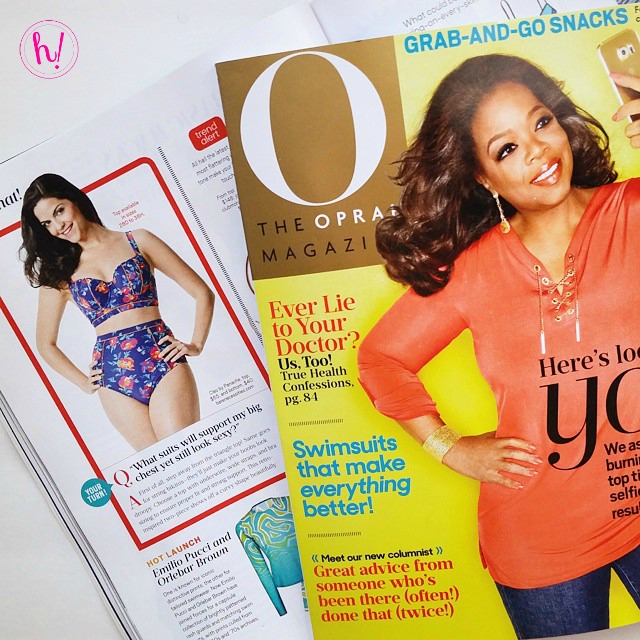 On a whim, I wrote in to a call for swimsuit models for O Magazine. I have no idea what possessed me to do this! It was meant to be a before/after article, but I have helped so many women shop for swimsuits that they love, so I thought for sure they'd pass on me. But after stopping by the O office, meeting the wonderful team, and trying on bathing suits in their GIANT closet (this is was dreams are made of – swimsuits and fun accessories for days!) I got the call that they wanted me 😀 It ended up being a very bittersweet day. My lovely grandma, whose birthday is actually just one day after mine, passed away on the day of the shoot. Talk about an emotional roller coaster. I shared my behind the scenes experience, along with my emotions in a post. This was such a powerful lesson in how to handle ups and downs in life, and as tough as it was, I'm so thankful for it.
Florida Trip and Road Trip Giveaway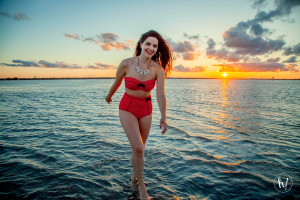 Bathing suits were quite the theme in 2015 for me! I worked with Bare Necessities on a giveaway and bathing suit campaign last year that was one of the most memorable things I've ever done. It taught me a lot about my business, my body, and loving each.
Working with my colleague and friend (those are the best kind!), Becky, from Around Digital Media, I modeled bathing suits at Disney World, at sunset in the middle of a river, and bareback on a horse. I mean, it was one of those experiences I will just never forget! What's more, I got to visit my family – and they even pitched in on the shoot. I couldn't have done it without them! Plus, I was able to gift a $150 gift certificate to a lucky reader and see where everyone else was going on their Hurray Road Trips. You can see the beautiful results and learn my favorite bathing suit and body positivity tips here:
About.com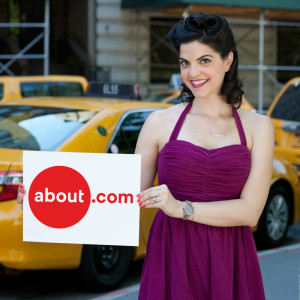 One of the biggest surprises of the year was being asked to be the lingerie expert for About.com. A colleague suggested that I submit for the open position, so I said: "why not?" It's been a wonderful way to reach & help more people say hurray for lingerie. It's also opened up so many doors for me – introducing me to new brands, designers, and industry professionals. After being in this business for 11 years, I already knew a lot of people. But there are always new relationships to make and wonderful new brands to work with. I shared my first 10 articles in a post, and I'm writing more and more. If you have a particular question about lingerie, ask me here, and it may be answered in one of my articles!

Hosting Events
Every month in 2015, without exception, I hosted two women's events in NYC. For one, I partnered with BIG: Believe Inspire Grow, to help professional women connect, and learn. Being a BIG leader was one of the coolest things I've done. I learned a lot and met some of the most supportive women I know. Unfortunately, I had to let go of my position for 2016. Fortunately, it's because I have so many great things to look forward to, and had to give up something to make space.
Another wonderful monthly event I hosted was a women's circle for The Wild Woman Project. I had been going to circles for years, and when my leader left for California, I took up the call in my heart to lead circles myself. I never thought in a million years I would be pulling Goddess cards and doing group meditation and journaling… and now I actually lead women through it! Guiding women through visualizations and creating a space for them to dive deep into their hearts and connect with one another has been a blessing. I am continuing on as a leader for 2016 and you're invited to join us.
Inner Work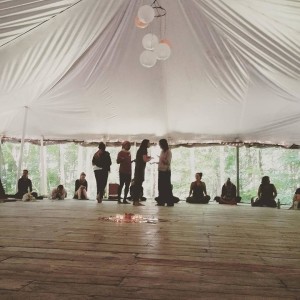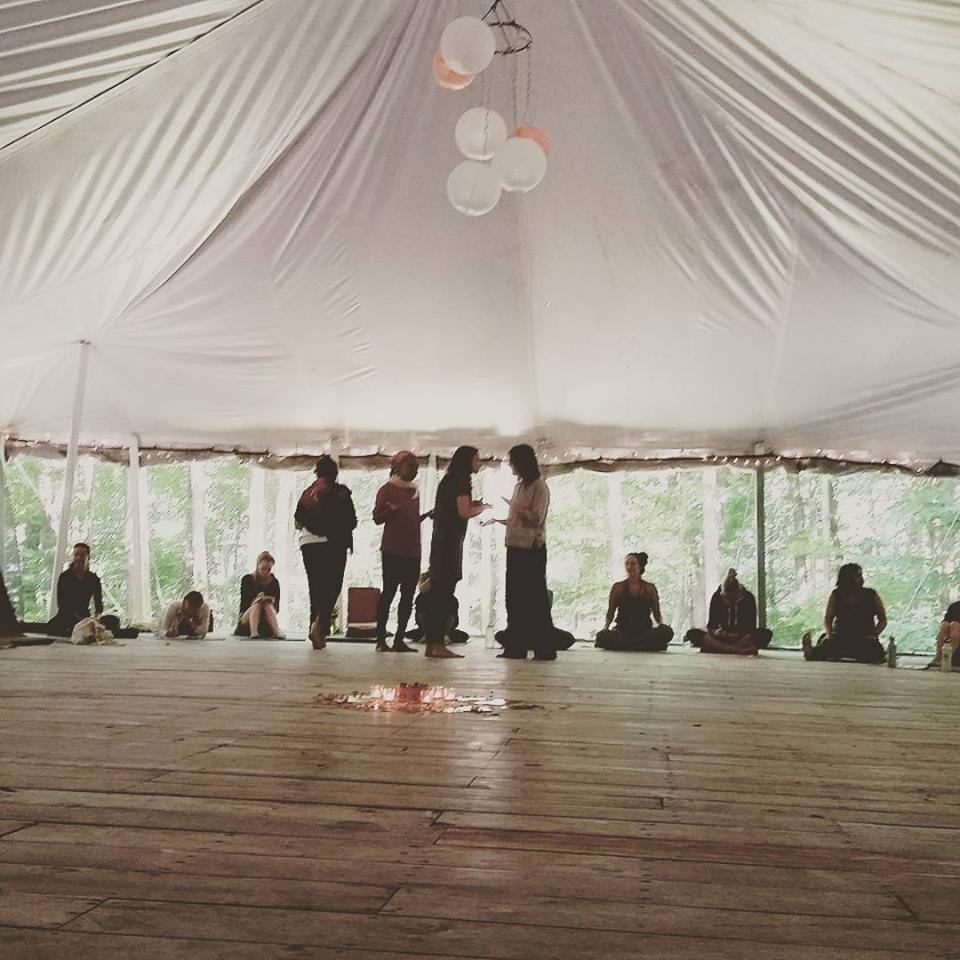 I am a big believer in looking inward and digging deep, but my 30th year was ALL about that. I have never intentionally grown so much as a person, or gotten to know myself so well as this year. My inner work added up through all of the things I was doing last year. Things like building my business (wow, does being a business owner teach you some things about yourself!), connecting with the most wonderful women, reading amazing books, traveling to conferences and fests, learning new skills, surrendering, trying new things, stepping outside of my comfort zone, becoming a leader, and probably most of all: putting myself first. This is something I am still working on with the help of my coach. I'm learning how to lovingly self forgive, let go of my judgements about myself, embrace myself as I am, not be so hard on myself (boy, my standards are high and when I don't meet them, I'm pretty mean to myself about it), and make space in my life and my days. Working on this has been difficult – some of the lessons learned were not easy to swallow. And some of the things I went through to learn these lessons were pretty crappy. But I've learned to navigate them with grace, and in the end… it's been wonderful. It has also been THE most amazing gift I've given myself.
Business Boom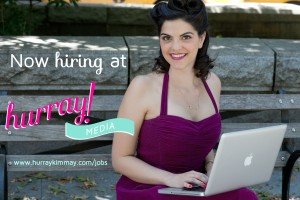 This year my business, Hurray Media, grew and grew and grew. As a lingerie marketing company, I partnered with brands on content creation like social media, blog posts, videos, and events. It's been so fulfilling to watch these clients grow because of my work with them! In addition to my ongoing client work, here are a few other hurrays: I was a guest teacher for several online courses with some of the coolest stylists, I got to do an event with the WNBA prepping rookies for the draft, I got to connect with influencers at a beach house on Long Island, I cast bra fit models for a new bra brand, I brought a new company from Ohio to NYC for their first PR event, I worked behind the scenes on dozens of product videos that are now up on major websites like Kohls.com, I wrote a LOT, I hired an assistant…
I'm learning not to place my worth on "doing" and things I've done… but looking back, that's a lot. I'm going to give myself some credit here. Beyond the things I did, I can see the growth and the learning that went on within these tasks, and I can hear the "thank you's" and feel the gratitude from the people I worked with. Cheeseball alert – but that matters the most to me, for sure!
Saying Goodbye and Hello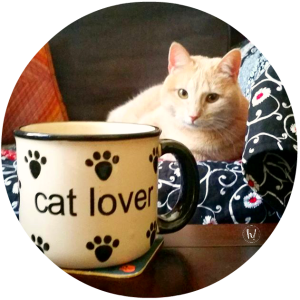 I had to say some hard goodbyes in 2015. The toughest included my grandma passing in February and my beloved cat, Bella, passing in May. These things truly broke my heart, and I had some mending to do. I also had to say goodbye to some coaches, colleagues, opportunities, and employees – and that was tough, too. It's never easy to say goodbye for me, It's one reason that saying "hello" is so hard, too – because I worry about the possible eventual goodbye. One piece of advice I got when hiring my second assistant was that "you'll find the right person for right now. She may be the right person for a month or for 10 years. But that doesn't matter nor is it up to you. She will be perfect for you and your business right now." That took off some of the pressure of having to find the perfect person forever and ever.
I also said hello to a new cat, Sunny. I was tempted to say no, knowing that I would have to say goodbye again eventually – knowing how horrible it was with Bella. But I lovingly surrendered to the opportunity to adopt her. I can tell you right now, welcoming this strawberry blonde fluff ball to our lives has been such a beautiful blessing. I'm learning to lovingly release and welcome people, opportunities, and even pets into and out of my life as they come and go. Psst you can see more photos of Bella and Sunny on my Instagram page. They are the cutest!
What a year!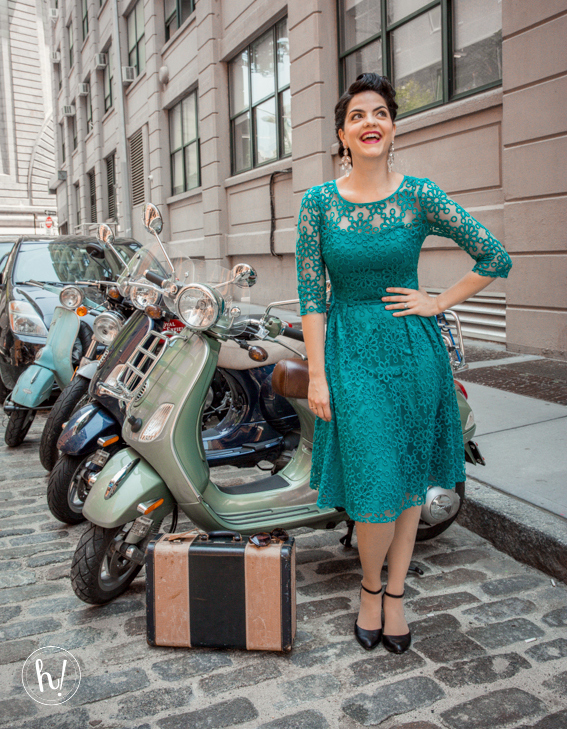 What I'm looking forward to at 31: Honestly, 30 was a great year. It's going to be hard to beat. And, I know it's possible. I can see the possibilities ahead of me and I'm embracing them – I'm coming for you, 31. Here are just a few things I am looking forward to:
Inner work: more! I have a feeling this will be something I'm excited about year after year. As a birthday gift to myself, I bought Danielle LaPorte's The Desire Map and The Fire Starter Sessions and I'm continuing training with my coach and learning from life. I am putting an emphasis on what I want to feel this year, and letting my goals stem from that. It's a far cry from my "do do do and go go go" mentality. Let's see how it goes!
Business: I just turned down a major opportunity for a full time on-camera and video job with a huge company. Eek! I'm so excited because I really want to grow Hurray Media and Hurray Kimmay. In fact, I just invested in an office space (I start in March in a new building!) and I have some big plans mapped out for 2016. Plus, I just entered my third year with The Conquer Club – and so far it's been the best yet!
Travel: I have so many fun travel plans this year! Between friend and family weddings, business conferences, and (dare I say it) just for fun trips – I can hardly wait! Look out for photos of my travels, including Tulum, Mexico, Florida, Boston, Ohio, and more.
Events: I am super excited to continue hosting Wild Woman Circles in NYC, and I'm thinking about going to more and hosting more events. Gathering people together for a good cause, to support each other, or to learn makes this extrovert super happy. Stay tuned.
Bras, bras, bras: Besides writing for About.com about lingerie aaaaalllll the time, and working with my lingerie marketing clients, I am looking forward to helping more women say hurray for lingerie. Being a bra fitter was my life for many years, and sharing my experience is really on my heart this year. I'm starting by sharing a Q&A Video series. There's much more in store here, so stay tuned.
The Unexpected: I'm a planner – it's the Capricorn in me. And I realized last year that leaving some room for the unexpected and creating space for opportunities to arrive is extremely fulfilling. God has so much more in store for me than I can ever imagine. Surrendering to the unexpected, trusting in His plan, and being open to possibilities is scary and exciting at the same time.
Here's to turning thirty-onederful! (And thanks to my friend Angie for that phrase!)
Want to celebrate with me! Enter my giveaway or send me a tweet to say hurray.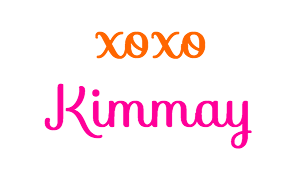 Save