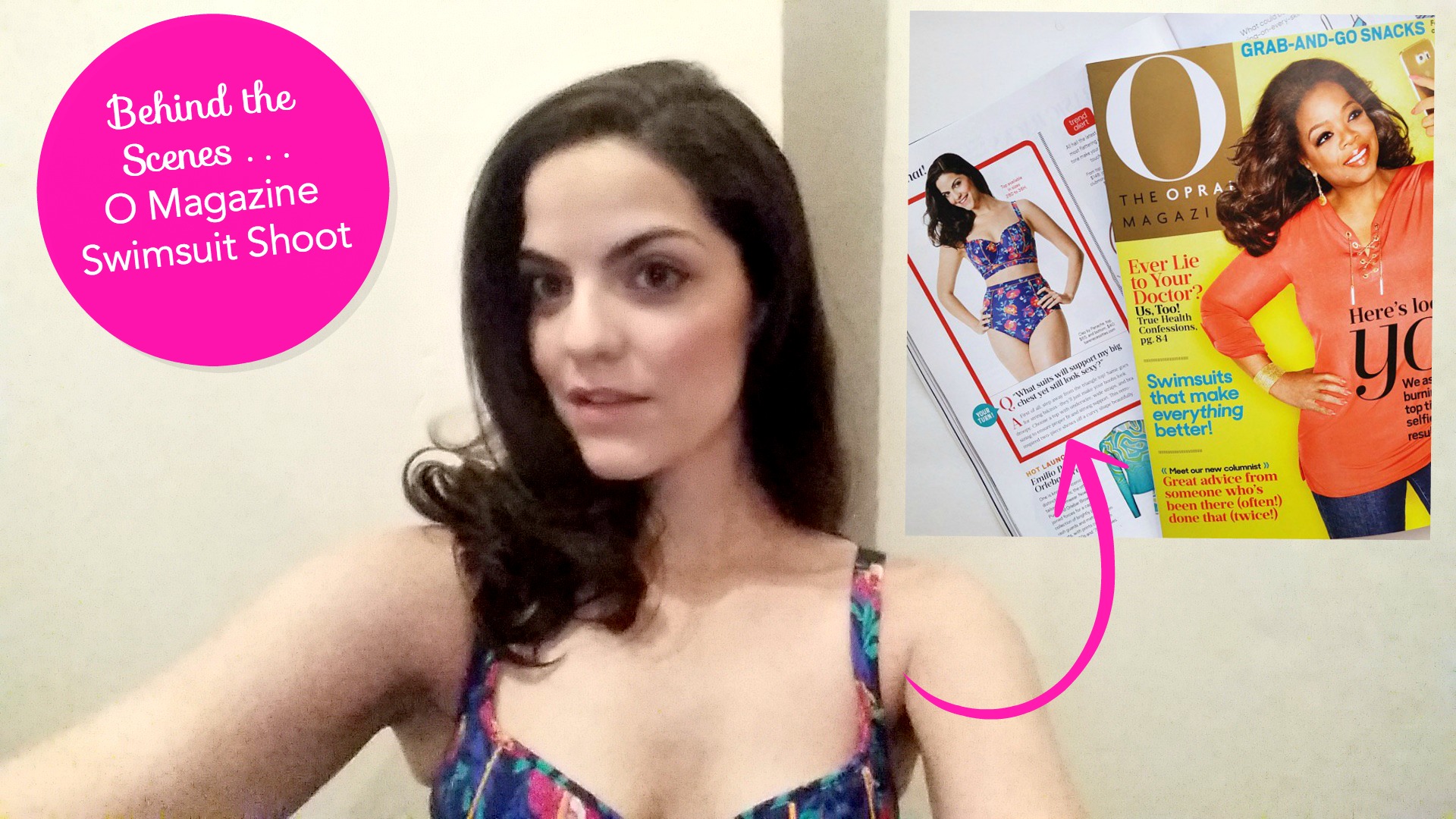 Hurray!
I'm so excited to share this post today. I'm pretty excited to share all of my posts, but especially this one. I've been waiting for the June 2015 issue of O Magazine to come out for almost a month.The magazine recently celebrated its 15th year in print. 15 years ago, I can remember my mom owning stacks and stacks of O Magazine. I would carefully flip through the thick, glossy pages to discover Oprah's ah-ha moments, favorite things, and life advice. I never thought I would be in the magazine myself… let alone, in a bathing suit! But flash forward to the June 2015 issue, flip to page 52, and there I am. Hurray!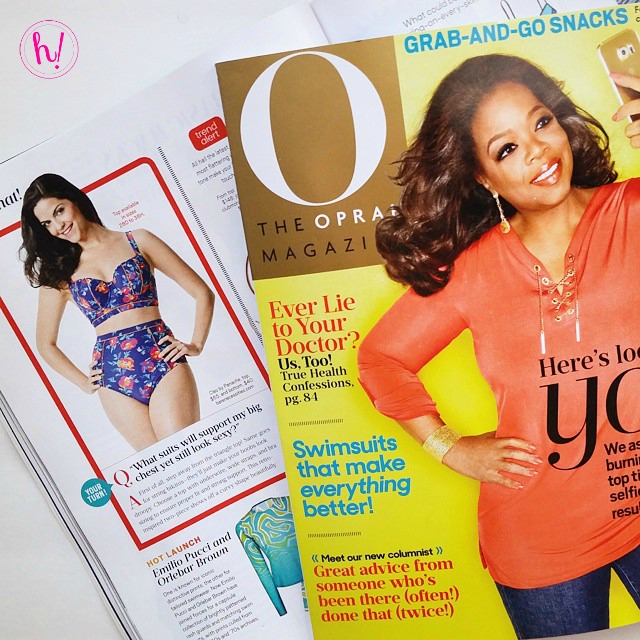 I'm tempted to say something here: I am not a model. I don't make a living posing for the camera, but I sure love to do it! The other ladies in this shoot had modeling agents and everything. I do not. In fact, I was a little intimidated to work with such professionals. Yet, here I am wearing this swimsuit in a big magazine. I pose for photos on my own site all the time. I work with brands to represent their products often. So… am I officially a model now? I'd say historically and traditionally: NO. But it was fun!
At the fitting in the giant Hearst building in midtown Manhattan, I had a blast trying on bathing suits. There were racks and racks and racks and racks in a giant room filled with bathing suits in every color of the rainbow, from a million different brands, and in lots of sizes. It was bathing suit heaven. Wearing a swimsuit that fits well, supports my bust, and ups my confidence is supremely important to me. I have come a very long way in my journey to love my body. But that doesn't mean I wear just anything or show everything off. I take pride in carefully choosing the items that I wear. And that means wearing something that makes me feel great, and reflects my own personal style.
So when the gals at O pulled out this Cassie high waist, long line, underwire bikini with cup sized support, from Cleo by Panache I squealed with delight. I've helped literally thousands of women shop for bathing suits, and many of them into supportive styles from Panache and Cleo by Panache. (Note: Cleo by Panache is a sub brand that, in my opinion, is a little more youthful and peppy than its sister brand.) They're supportive, stylish, and offer a range of coverage options.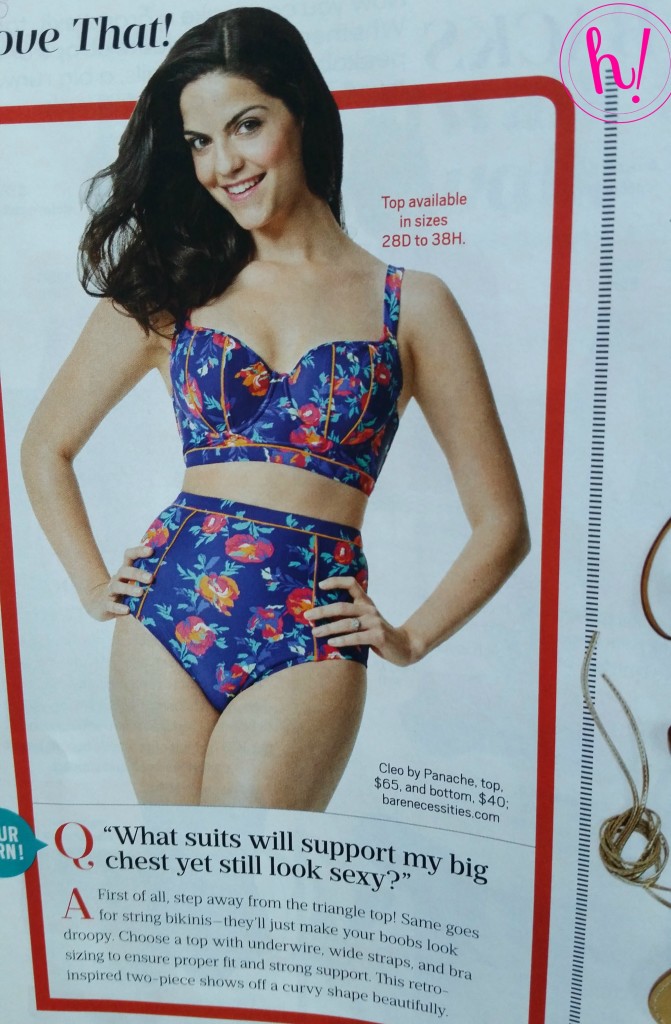 A note on the phrase "big chest". So, I've fit women for bras ranging in size from AA-N cup, with the most popular sizes being 32F and 34G (alllll day long). "Big" is really relative. I wear a 30DD or 32D in most bras. This Cassie top was a 32E. Typically in Cleo by Panache swimwear, I fit best into a 32DD. The 32E here, was almost too big… until the day of the shoot, thank you PMS boobs. That may "sound big" to some, but not "look big" to most. Keep in mind, a bra's cup size is all relative its band size. Same goes for cup-sized swimwear. So that 32E is one cup size smaller than a 34E, two smaller than a 36E, three smaller than a 38E… etc. In the grand scheme of things, I wouldn't consider myself to have a "big chest". But I do crave support. I'm so used to a well fitting bra and love the confidence and comfort that I get from a supportive style, that I want the same thing on the beach. With underwire, cup sized swimwear like this, that's exactly what you get.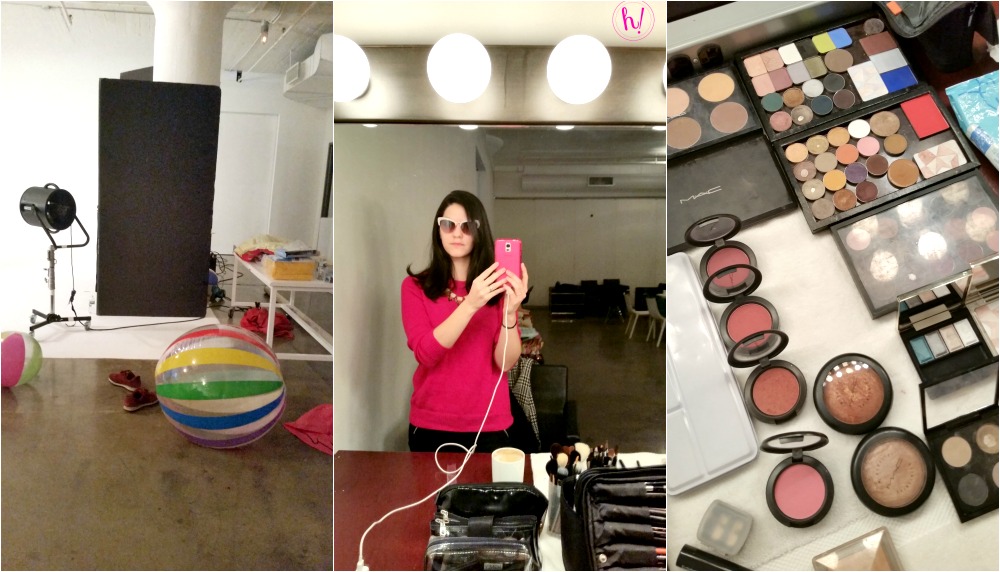 On the day of the shoot, I had such a fun time getting my hair and make done, my nails painted, noshing on the snacks, and playing dress up with the hats, sunglasses, and accessories on set. I have never seen so many beautiful straw hats in one place!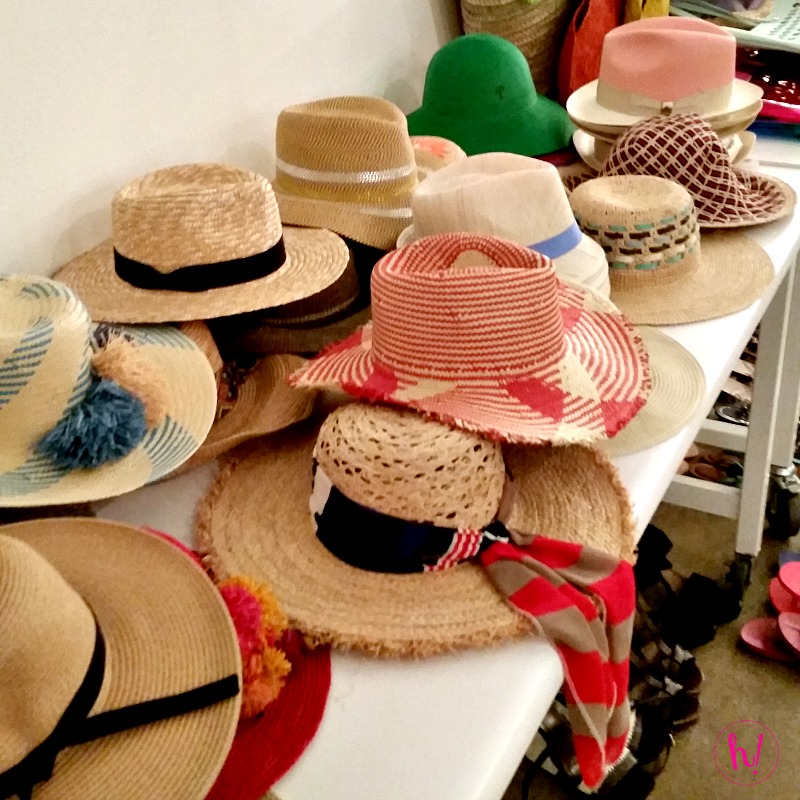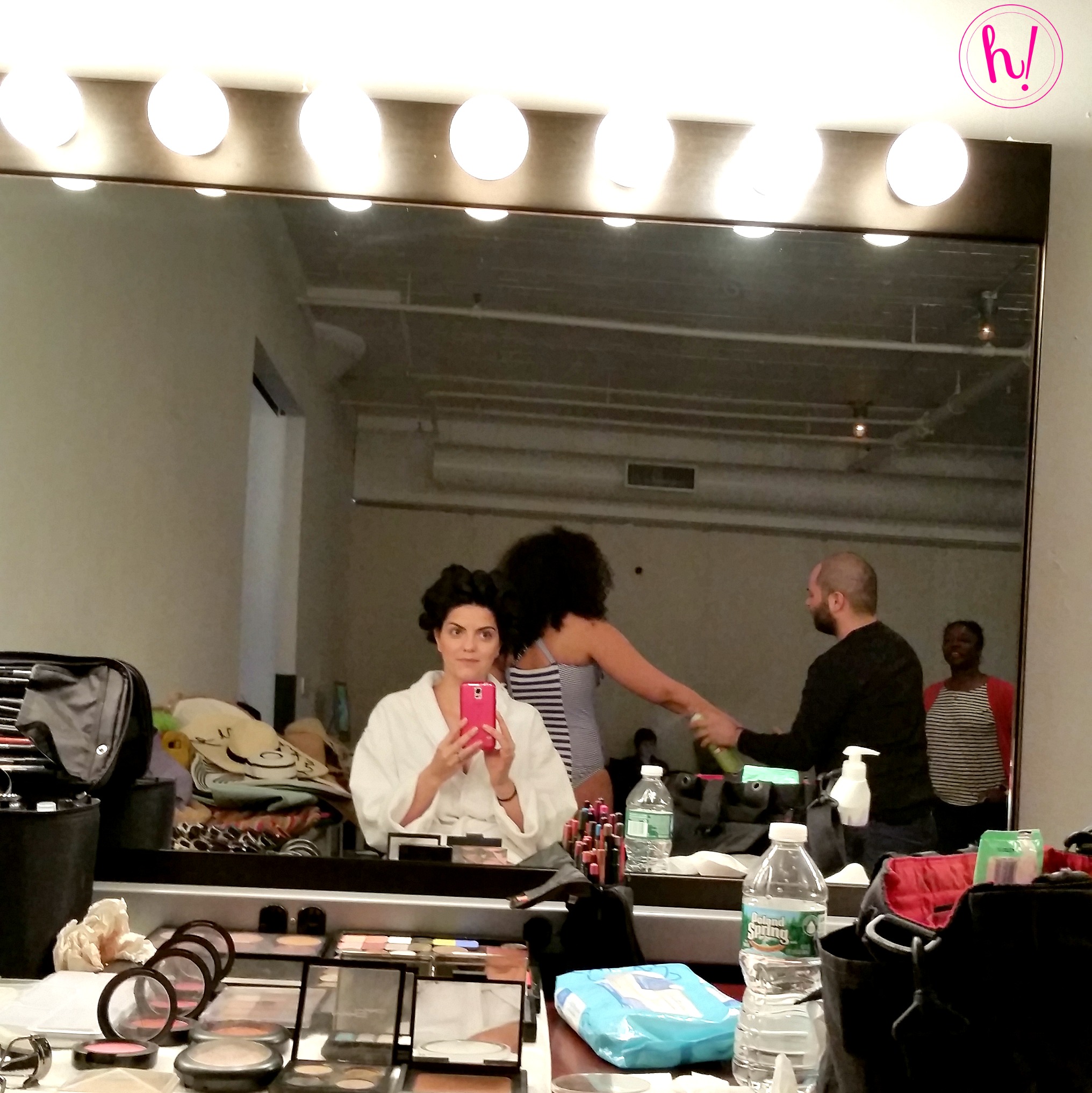 FYI, in the photo above, the model is literally getting sprayed with coconut cooking oil. I was next. I'm now hooked.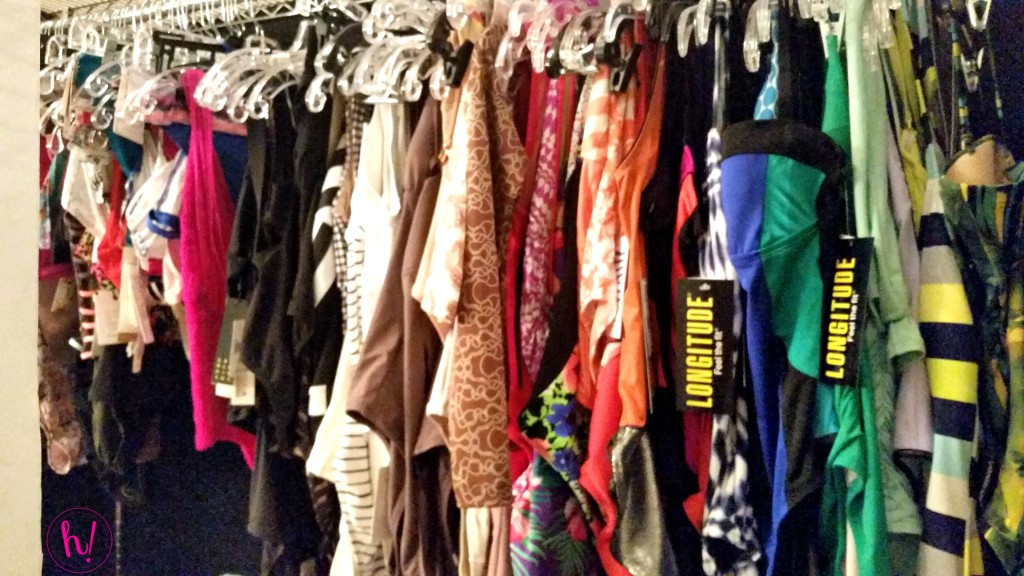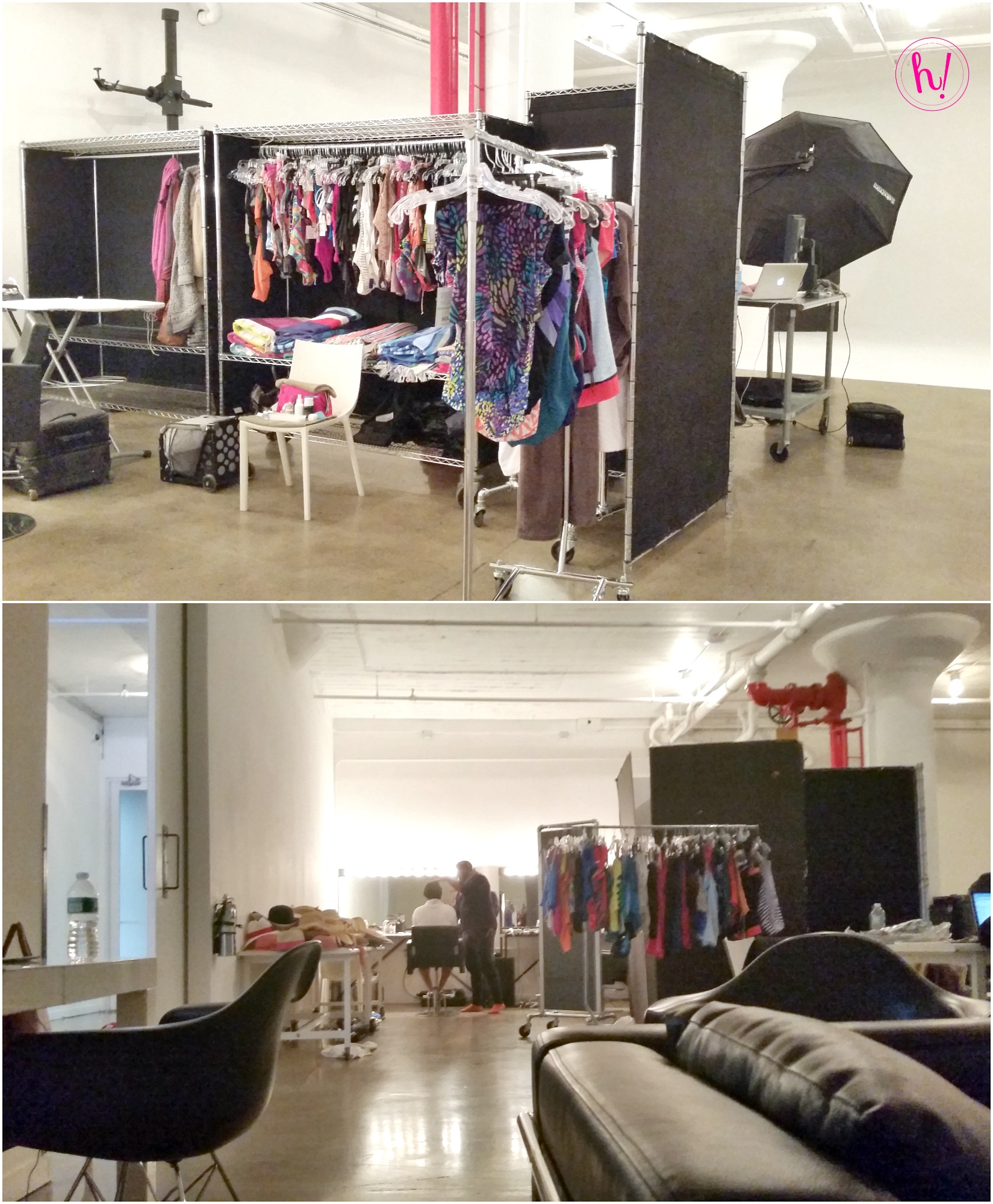 I especially had a fun time jumping around and posing in front of the camera. I even got to play with giant beach balls and had a snazzy Beyonce style wind machine to blow my hair during the photography session.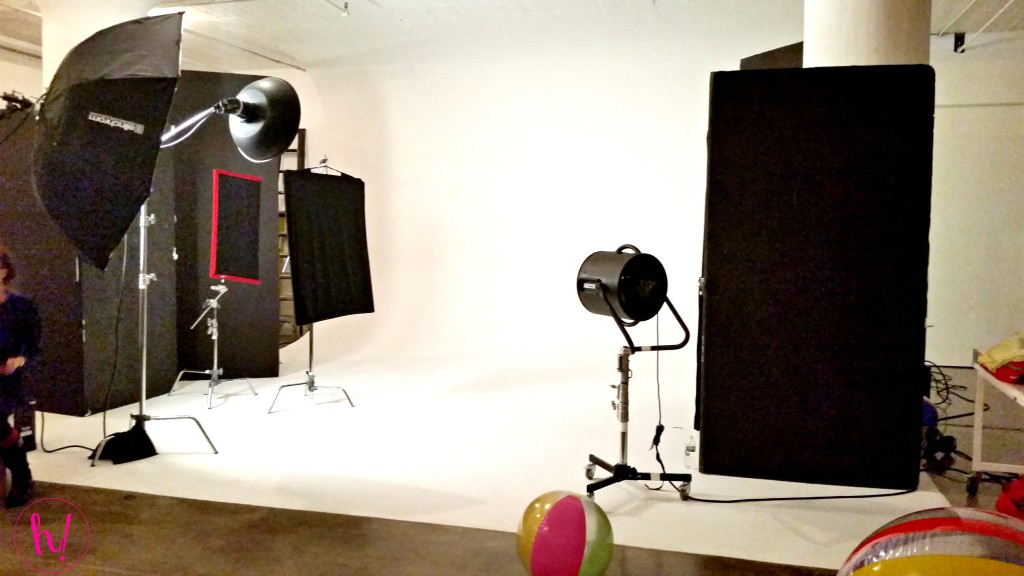 But despite all of this joy, I was feeling pretty blue. The night before this shoot, my Grandmother suffered her second stroke. Walking up to this photo shoot, I was filled with mixed emotions both for Grandma and for myself. I felt like this was finally it for Grandma. I thought how ready she was to make her journey to heaven, but how much we would miss her. I thought about how excited I was for the shoot, and how nervous I was to work with professional models. I thought how far I've come in my journey to love my body that I'd pose in my swimsuit in a magazine, and how bloated I felt because my period was going to start the next day. (By the way, that was not helping with all of the emotional stuff.) And I thought how proud my Grandma was when I was quoted in Real Simple magazine, and how I'd never get to show her my photo in O Magazine. There was a lot going on all at once. Have you ever felt this way?
I tried to keep busy and make small talk with the crew. I tried to focus on the fun in the day. I remember the stylist saying "You're hair and make up are all done, you should totally go out tonight!" That didn't happen. When I got the word that Grandma had indeed passed, I stayed home and sobbed and sobbed and sobbed and sobbed. 
In the weeks that followed, I traveled to Florida to see my family. My Grandma's funeral also happened to be the week of my brother's wedding. Did I mention there was a lot going on for my family? Needless to say, it was a week of emotional ups and downs. But the biggest lesson I learned: life does not stop for death. It became so clear to me that even when someone dies, the world continues, life continues. Because in essence, death is part of life. In the busy weeks after the funeral, I fondly remembered Grandma, cried here or there, smiled a lot, and . . . life went on.
I don't believe in coincidence. So it was rather fitting that I got word from a family friend that she spotted me in O Magazine the day before Mother's Day. This was my first Mother's day without a Grandmother to celebrate with, and the first for my Mom without her mom. What a joy to call my mom up and tell her that my photo is in the current issue of O Magazine! Mind you, I've been on TV several times, quoted in magazines many times, on the radio, in a commercial… but every time I'm in something it's like the biggest deal in the world to my family, especially my Mom. And that just makes my heart burst with joy.
I say HURRAY for being in this issue of O Magazine. Hurray for how far I've come in my journey to love my body. Hurray for wearing a supportive, cup sized swimsuit top. Hurray for retro high waisted bottoms. Hurray for confidence from a swimsuit. Hurray for meeting O Mag artistic director Adam Glassman and his fabulous team. Hurray for sharing this with my family. Hurray for sweet memories of Grandma. And Hurray for life not stopping for death.
This was an exciting and difficult post to write. Have you ever dealt with bittersweet emotions or ups and downs? Share with me here or send me a tweet @HurrayKimmay.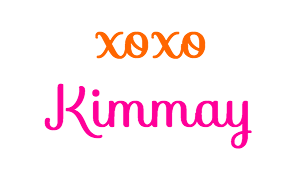 Save