Do you sleep in a bra? Should you sleep in a bra? Is it safe to sleep in a bra? Hurray for these amazing questions that I get all the time. As a bra fitter for over 14 years, it's my pleasure to help you navigate the pros (or hurrays) and cons (or what the heys) of things like sleeping in a bra. By the end of this blog post, I hope you'll have some great advice so that you can make a loving and informed choice about what you put on your body. 
First: it's important to tell you that I am not a doctor. The suggestions below are based on my experience with thousands of bra clients and my own experience. For any medical advice please talk to a licensed healthcare professional! 
Also, some of the links included in this post are affiliate links or brand partners. I am so thankful for the support from partners like these, and as always I share my honest opinion and what truly makes me say hurray. 
As always I'm here to support you to uncover your confidence, stand in your power, and learn to love yourself inside, outside, and underneath™. Along with coaching and educational workshops, undergarments just happens to be one of my sharpest tools to do so. And making sure you get great sleep is top of my self-care tips! Ready to dive in? Let's go. Hurray! 
What is a sleep bra? 
A sleep bra is a bra that is meant to wear to bed while sleeping. Sounds simple enough, right? But there are some things to consider. First, a sleep bra should be wire-free. That is KEY! Because our body is in a very different position when lying down and sleeping than when standing of sitting upward, a wireless bra design is imperative. That means certain bralettes are great for sleeping!
In addition, to give your body some breathing room, a sleep bra is typically looser and softer than a regular, supportive day bra. That may mean it's made of a stretchy or super soft material that can expand with your body as you sleep. 
If wearing a separate bra underneath your nightgown isn't ideal, you can also look for something with built-in support! A simple shelf bra may do the trick for some, and other companies specifically design nightwear with a bit of a boost. See examples below of each of these styles to buy and try yourself below!
***
Now that you know what a sleep bra even is you can read up on some of the reasons that you may want to try one yourself. Read the pros and cons below and make the most loving and informed decision for you!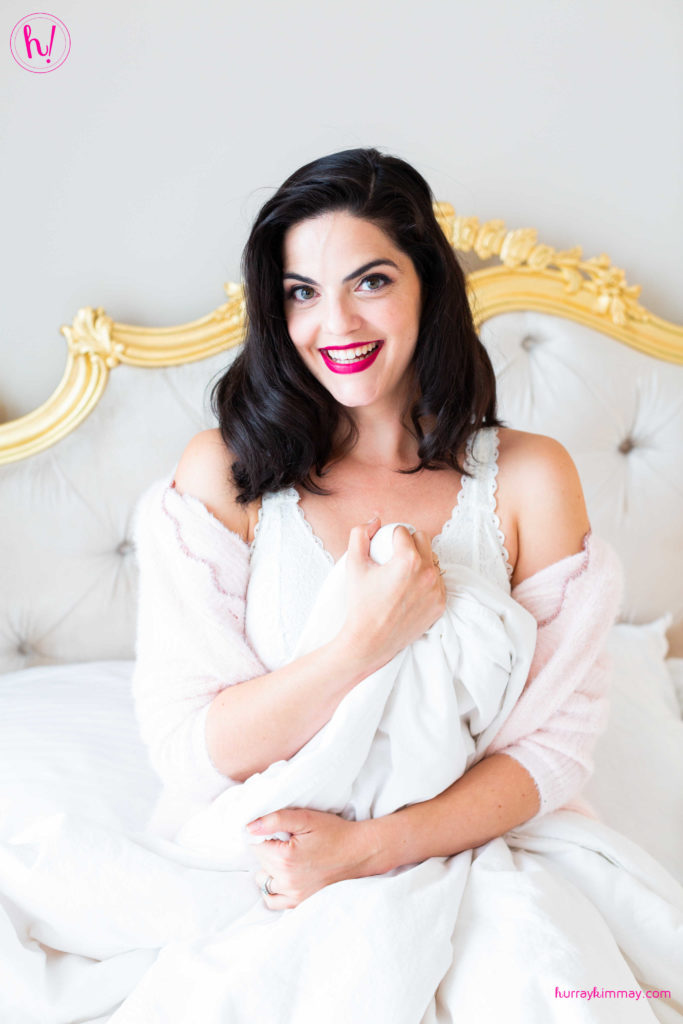 Wearing a Parfait Adriana bralette in Paris. Photo by Laura Boyd. 
Pros (Hurrays) of Wearing a Sleep Bra 
Full bust comfort – I support a lot of people with very full busts and many have told me that wearing a bra to bed helps with their comfort! Because a full bust can move quite a bit during sleep, it can be difficult to find a good position for sleeping without the bust either moving around, getting in the way, or flopping (I say that lovingly) over without discomfort. A soft, stretchy sleep bra (like a full bust bralette or wire-free bra) is a wonderful solution to keep a full bust centered and in place while you rest. 
Pregnancy and nursing – I've helped hundreds of people through pregnancy and into nursing, and this is one of the best times for a sleep bra. Because breasts grow a lot during pregnancy, I highly suggest a soft sleep maternity bra. It's been a life saver for many of my expectant clients! In addition, wearing a soft nursing bra can help for those middle of the night feedings. And a nursing bra can keep nursing pads in place so they can soak up leakage (which doesn't stop just because you're in bed). And since having a newborn means grabbing any 15 minutes of sleep you can, wearing a stretchy sleep bra style nursing bra is a great option during those first few weeks (or months or years or however long!). 
PMS – Raise your hand if your breasts get sore before your period arrives. Meeeee! I wear special underwear during my period, and I wear certain bras during that time of the month, too. Hormones cause breast tissue to swell which means they can be both bigger and heavier than usual, along with a great deal of tenderness. Sometimes it's so sore that leaving my breasts to free fall (even if I'm in a horizontal position) feels really painful. During that time I'll slip on a sleep bra for a dose of comfort while I doze. 
Modesty – One reason I wear a sleep bra is to protect my modesty. Yes, even I am a modest gal sometimes! This is especially true if I am staying over at my in-law's house and want some coverage under my PJs while lounging, having breakfast, or if I get up mid slumber to use the toilet or hydrate and run into someone else. Another reason is if I'm sharing a room on a retreat or group trip. Some people don't mind at all and there's no judgement either way. But if you'd like a little coverage and modesty underneath your nightgown or pajama top, a sleep bra is a great way to get it. 
Security – One of the reasons I love wearing a bra in general is because I feel held, supported, and hugged by mine. When I'm feeling a bit anxious, sometimes I go for a loose bra so I feel free. Other times when I'm depressed I reach for a firm bra so that I feel held. Bras have both a physical and emotional job to do. Since they rest right over your heart, there's a lot of potential for different kinds of support. You can get the kind of security you want at night, too, as long as it's not too tight! 
Surgery – For those who have had breast surgery, a post-surgical bra is a big help in the healing process – even at night. There are certain bras designed especially to help with compression to promote healing and well being. Always follow doctor's orders on when to wear these and get a fitting with a pro. 
Perkiness – This is debatable and has caused all sorts of controversy in the lingerie business. Ay! The summary here is that some people believe that wearing a bra to bed (and bras in general) help breast tissue maintain its shape, elasticity, and perkiness. Because breasts are made of fatty tissue and connected to the body by ligaments, once the skin or tissue stretches out there is no easy or clear way to regain that lift again. So the thought here is to prevent sagging by defying gravity – even while sleeping. For those whose breasts are full or soft enough that they tend to fall over or get squished during sleep, this could make sense. I have a bra fitting friend who swears by this! In the end, I don't think there is much evidence to prove either way (see below) so it's up to you.
Price – typically speaking, a sleep bra is made with less hardware and design elements and can be made from less expensive, soft material. That means you can budget less for these types of bras. Hurray!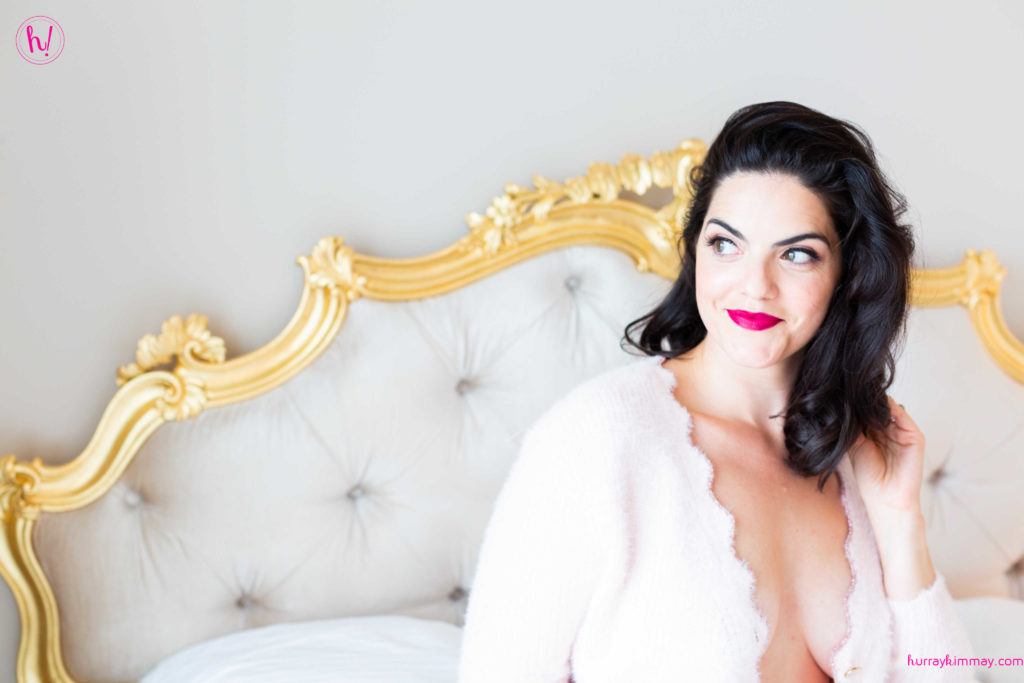 Wearing no bra while in Paris. Photo by Laura Boyd. 
Cons (What the Heys) of Wearing a Sleep Bra 
Circulation – One of the biggest reasons not to wear a bra to bed is to allow your body's circulatory and lymphatic systems to do their thing. There are some people who believe wearing a bra at all is bad for these systems while others maintain that a well fitting bra is not harmful at all. In this case, I go back to my original suggestion of wearing something without a wire that is both looser and softer than a typical bra. 
Perkiness – There was a French study done years ago that made the rounds in the hot button journals and shock-style newspapers that claimed not wearing a bra was actually better for breast tissue retaining its perky look. I will say that this study was not very scientific and not very inclusive of different breast shapes and sizes. I'm only including the summary of findings here because everyone's body is different, and you may find that going sans bra helps your bust or not. 
Freedom – Sometimes wearing a bra at all, but especially at night, can impede your freedom! This could mean a range of motion or the energetic feeling of being free and alive. It could also mean a feeling of tightness that impedes your ability to fall asleep with ease. Of course, that's why wearing something less structured is important at night! 
***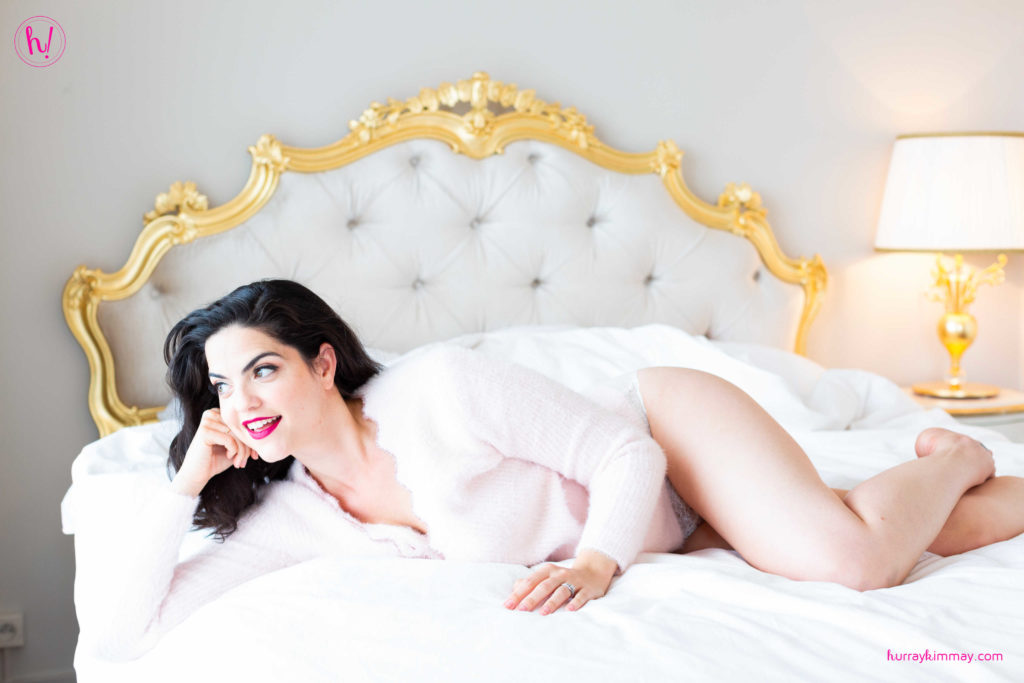 As always, you do you! Wear what makes you say hurray. So if wearing a bra to bed doesn't feel great, skip it! And if it lights you up and helps you feel your very best, go for it! 
Sleep Bras to Buy & Try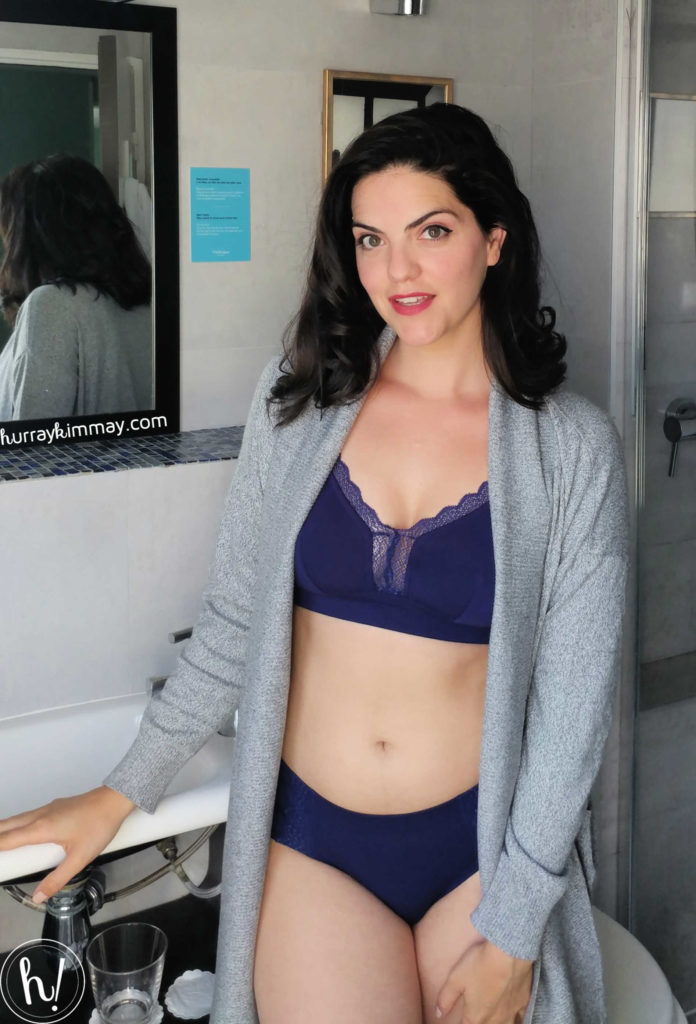 Wearing the Parfait Dalis bra and matching bottom, with a Fleur't robe while in Paris. 
Parfait – If you have a fuller bust or want firmer support that is also super soft, try the Parfait Dalis bralette (seen here). It does have adjustable hooks and eyes and straps and is by far one of the most supportive brands on this list. That being said, it can be a great comfort to those who need more than just a stretchy, zero support bra. The Adriana bralette (seen in the images at the top) is also a great option for a wire-free bra with a bit of support, and they offer the same bralette with a chemise attached.
Miel – The soft knit fabric of these anti-microbial bras are a go-to for me for traveling and could be a great option for sleeping for some people! Their racerback bralette has no hardware (except adjustable straps) and is super cozy. They also have a great camisole with a shelf bra.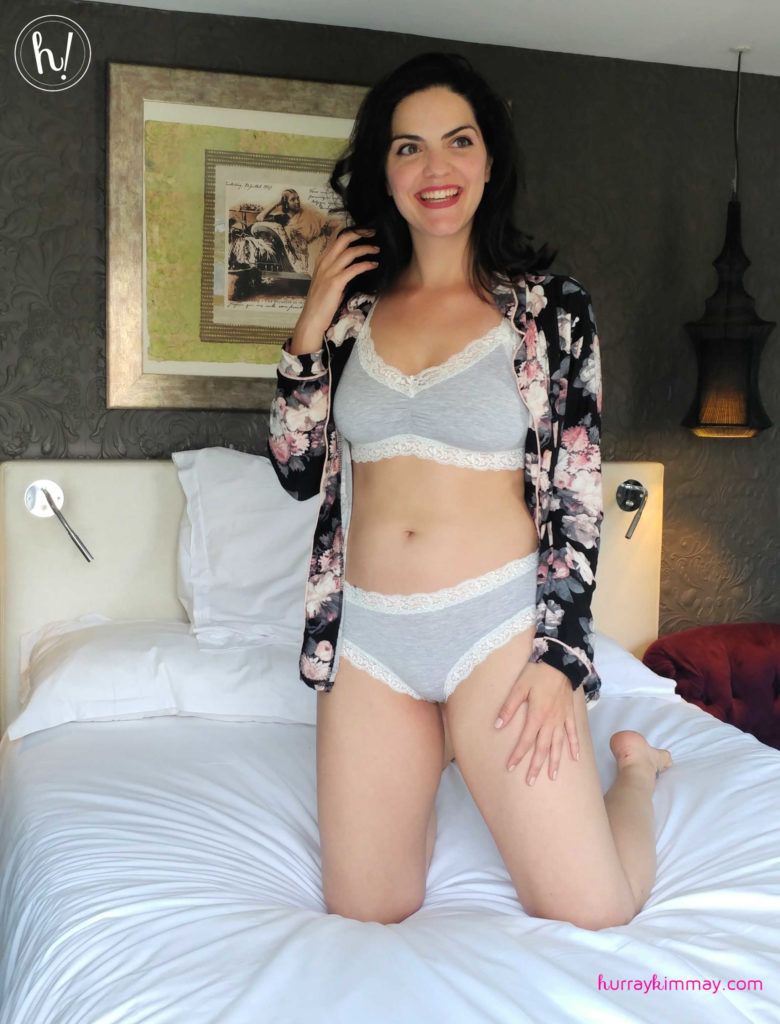 Wearing a Fleur't bralette and matching bottom, with a Jessica Simpson sleepwear top while in Paris. 
Fleur't – This company has some soft bralettes, luscious nightgowns, and cozy PJS to try. Most of their styles are hardware free or avoid metal since they are geared toward lounging and sleeping. And several of their sleepwear options include a built-in bralette or shelf bra. I suggest the soft bralette you see here, or one of their several chemises with a shelf or bralette built right into the design!
Calvin Klein – This easy going brand has a lot of soft options and their logo-elastic racerback bralette is a go-to for casual days and sleepy weekends. Lounge or sleep in it (but know that it's not adjustable!).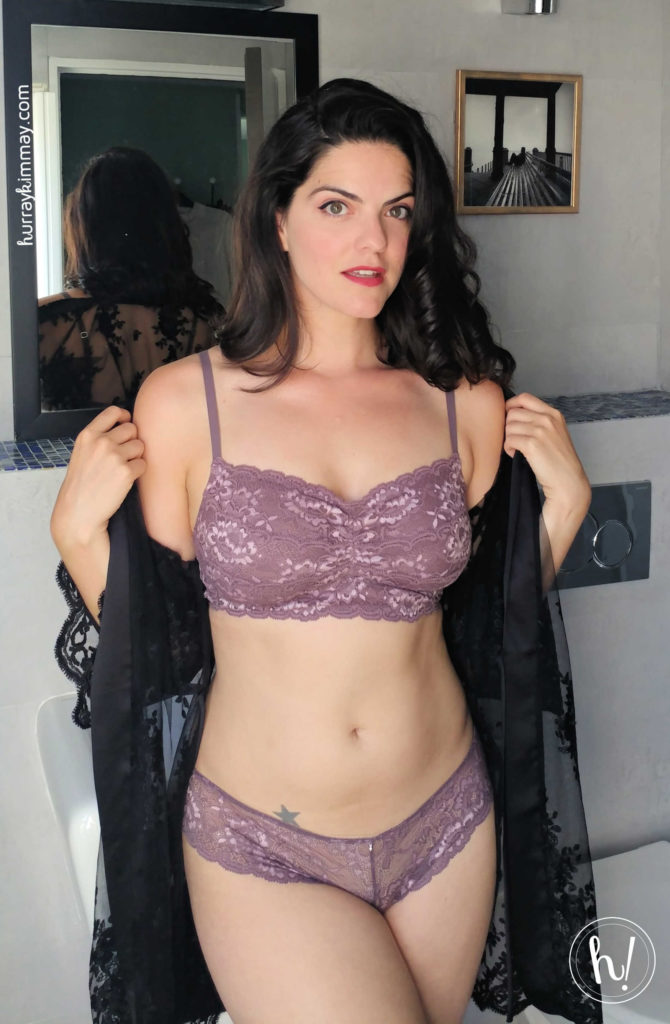 Wearing a Montelle bralette and matching underwear with a Rya Collection robe. 
Montelle – This company has a few great options for sleep bras, including their Body Bliss bralette (up to an XXL) which has no hardware in the back. For those who need a little extra lift, I'm obsessed with the bra-sized bralette (available up to a F/G cup and seen here in 32D/E), which does have hooks and eyes in the back but is pretty soft and wire-free for sleeping. And their Bust Support Chemise offers some light support for sleeping in style!
Sugar Candy – For those with a very full bust, this wire-free lounge bra can be worn to sleep! Its size ranges from XS-XXL and is designed specifically to support 28-40 bands and F-H UK cup sizes without underwire and using a soft knit material. (This is made by the same company that creates maternity and nursing bras which is also a great time to wear sleep bras!)
***
Your Turn: Have you worn a sleep bra before? What do you like or dislike about them? When do you wear them and when do you skip them?
There are so many sleep bras to choose from nowadays! The above options are styles that I have worn myself, or helped clients wear. Try more sleep bra options on Amazon or at your local bra boutique. Explore and see what feels good for you!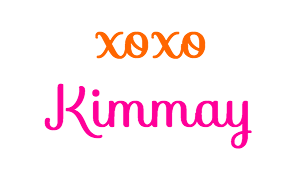 Credits: The above images in the title and on the beautiful gold bed were taken in Paris by Laura Boyd with makeup by Zulieka Acosta during the Fall in Love With Yourself Retreat to Paris. The other images were taken by yours truly in Paris with my phone. As always, zero photoshopping my body. A big thanks to brand partners, sponsors, and friends like Montelle, Rya Collection, Parfait, Jessica Simpson Sleepwear, and more for providing product or payment.