"A walk about Paris will provide lessons in history, beauty, and in the point of life."
-Thomas Jefferson
***CURRENTLY on hiatus. Next retreat is TBD***
After a beautiful 2019 retreat to Paris, it's back. If you are a woman who wants to learn how to uncover your confidence, stand in your power, and learn to love your body and yourself, the Fall in Love With Yourself retreat to Paris is for you. Join Kimmay Caldwell, self-love coach, international undergarment expert, and TV regular to take your next steps in falling deeper in love with yourself on an intimate group retreat in the beautiful city of Paris, France.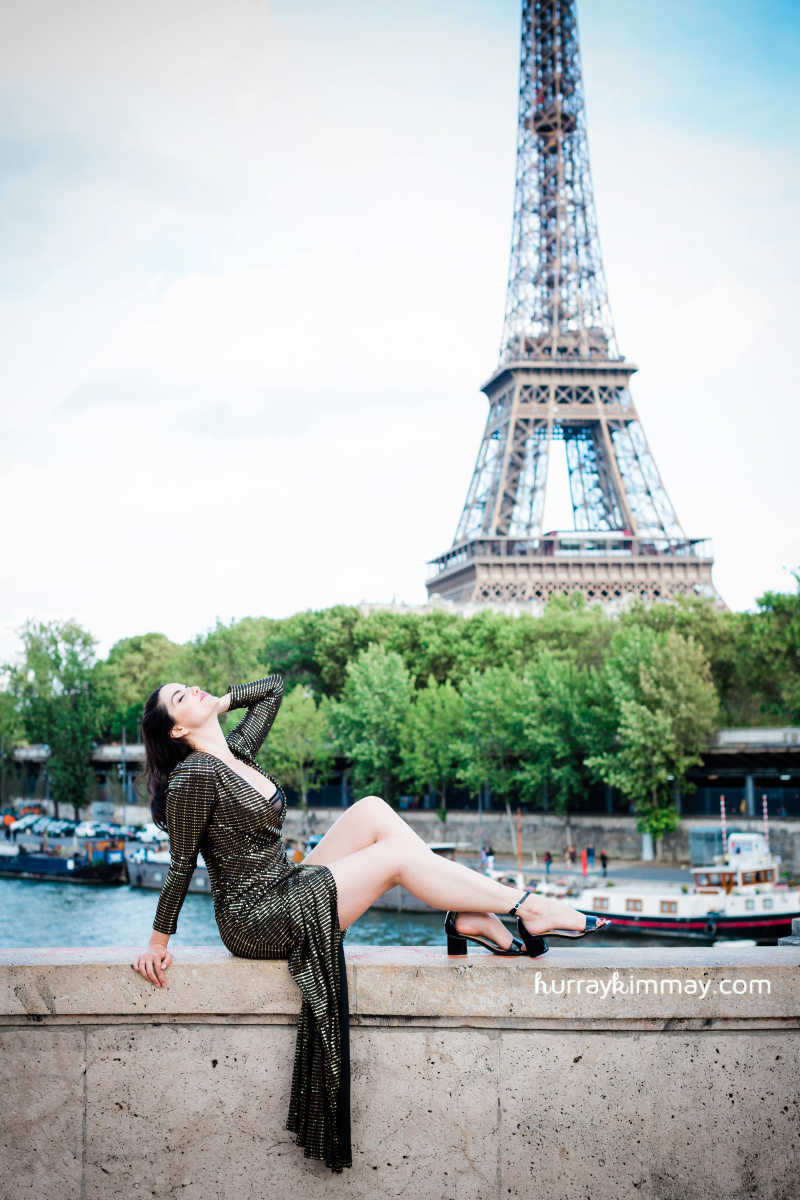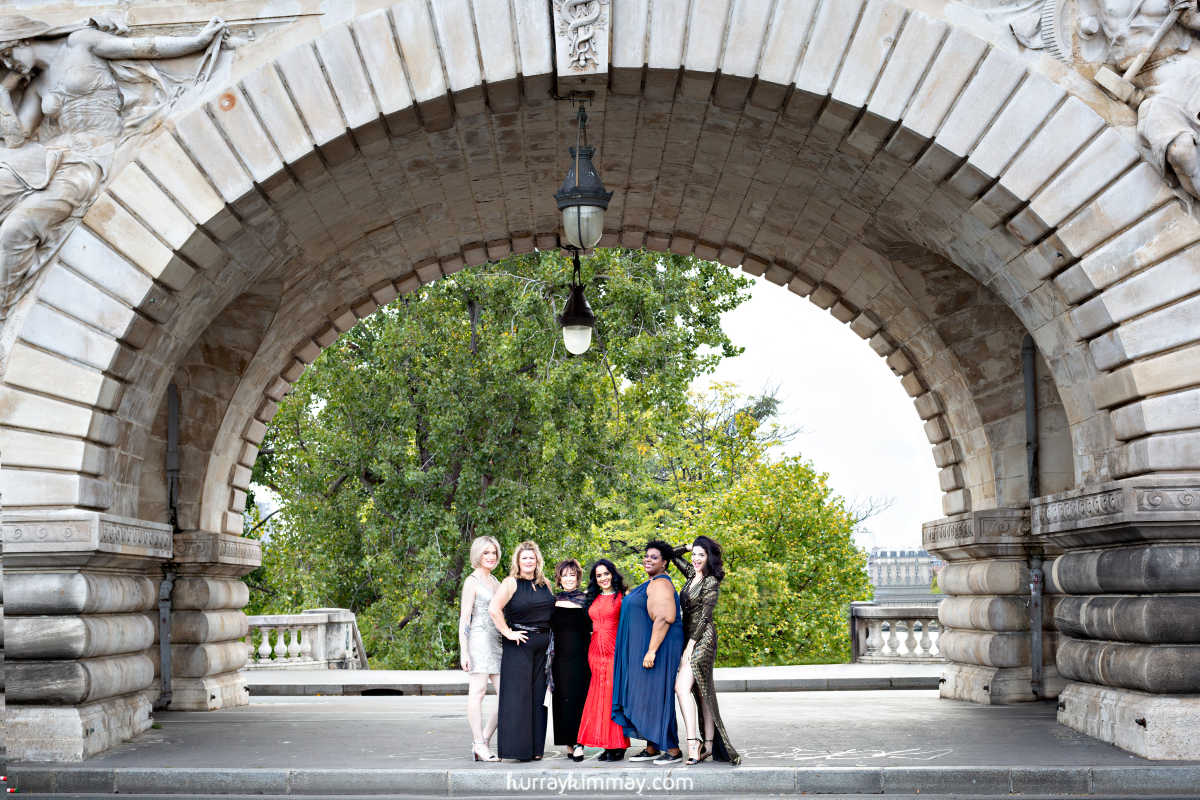 Listen to your heart right now. Breathe deep & truly listen.
If it says:
I am itching for something more in my life, I just don't know what steps to take.
I want more confidence so I can shine at work, at home, in my relationships, and with myself.
I see others loving themselves and their bodies, and I wish I could, too.
I want to feel beautiful in a real and meaningful way, not according to someone else's standards.
I'm craving sisterhood and community that uplifts and supports, rather than compares and jeers.
I know believing in myself will help me reach my goals, I just don't know where to start.
I want to learn how to celebrate my whole self – my body, my heart, as well as my actions.
Whether or not I have a partner, I know that loving myself is important, I just don't have time.
Travel excites me, but going alone feels daunting.
You are in the right place.
Fall in love with yourself. In Paris.
Imagine winding your way through the dazzling streets of Paris, the most romantic city in the world, and falling in love with yourself. Feel the breeze in your hair, smell the baguettes and sweet perfume, take in the Eiffel Tower before you, and feel the potential for something big.
See yourself sipping champagne at a bra and lingerie shopping party in the lingerie capital of the world, and learning how to support and adorn your body with the help of a internationally renowned bra fitting expert and self love coach, all with your new best girlfriends by your side.
Feel the depth of a new moon ritual and the inner work that supports the lavish dinners out and the luxurious spa and hotel accommodations for a full transformational experience.
Envision your very own glam session, and posing for a professional photographer who will lovingly capture your most sensual side – that side of you that's there and covered up by shoulds and fears. Imagine your fullest, happiest self, unleashed and free.
Watch yourself saying goodbye to the fears and stories holding you back, and stretching yourself to experience new things, standing taller, opening your heart and living in a whole new way. And imagine bringing that love and confidence back to your everyday life.
"Love yourself first and everything else falls into line. You really have to love yourself to get anything done in this world."
-Lucille Ball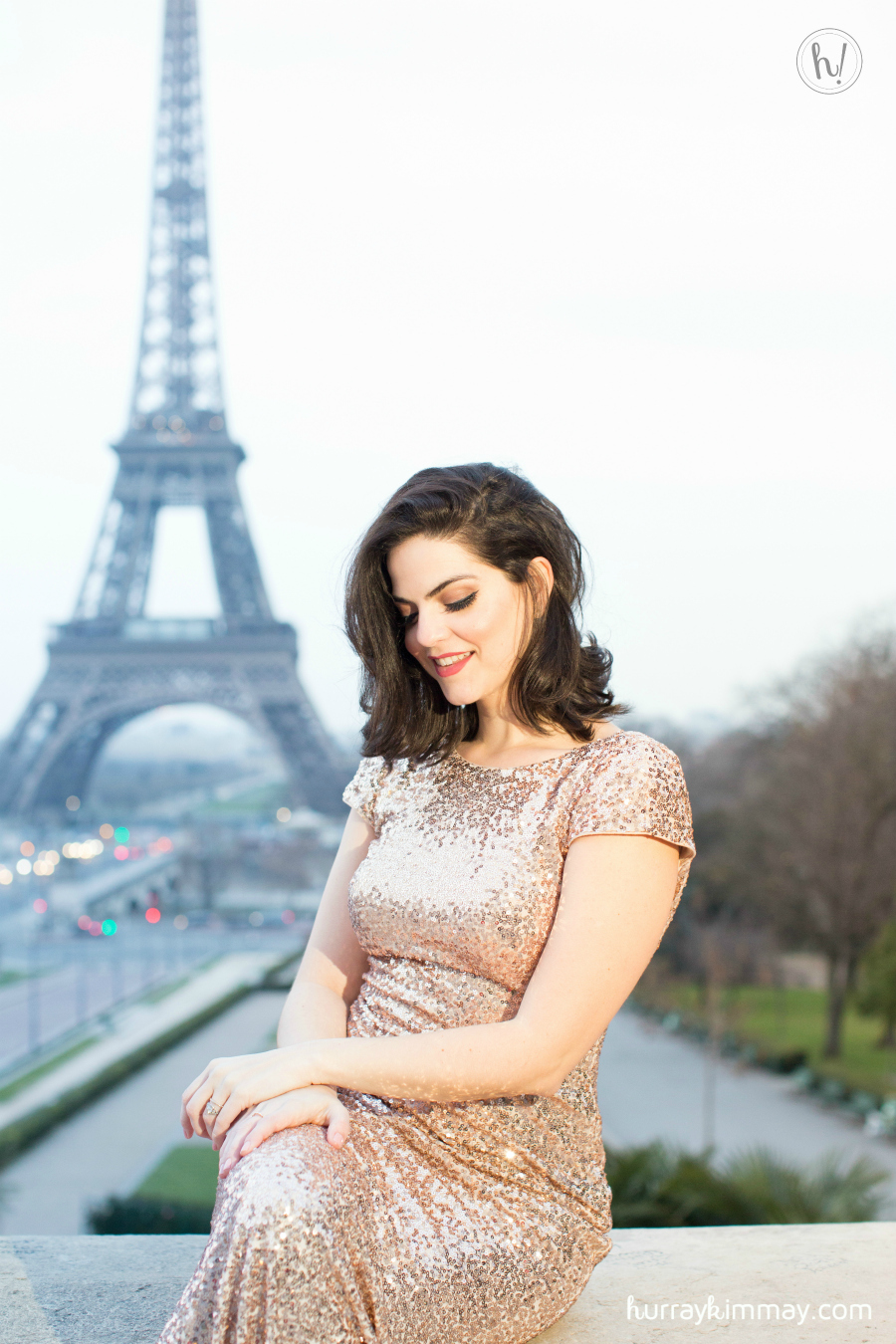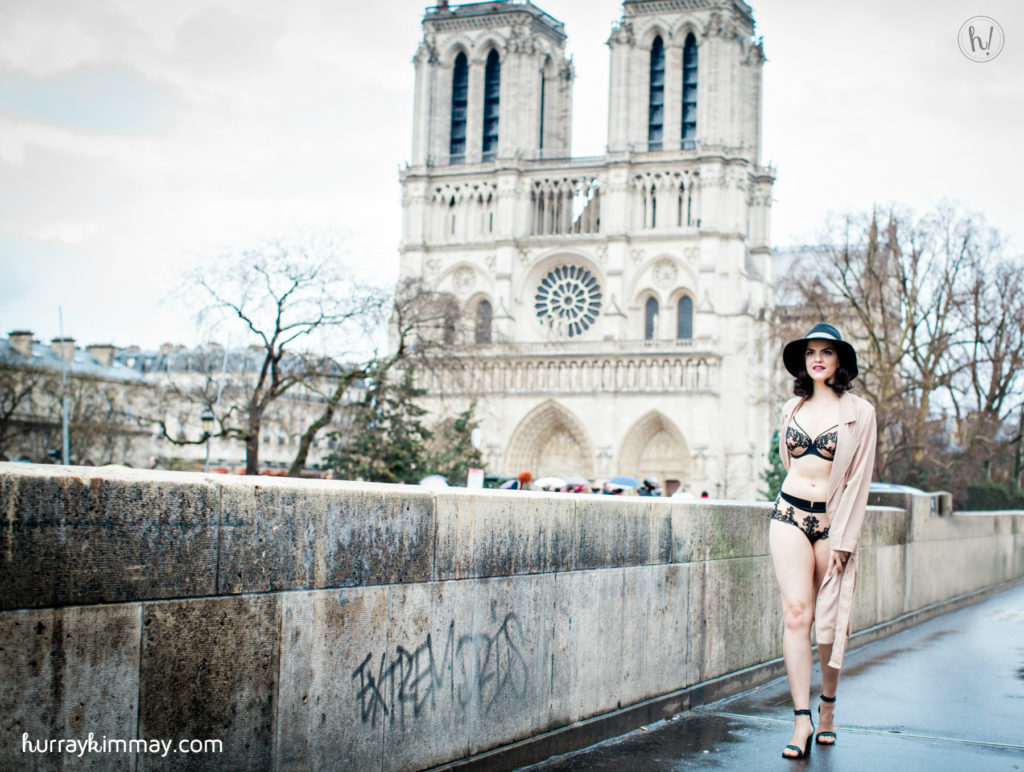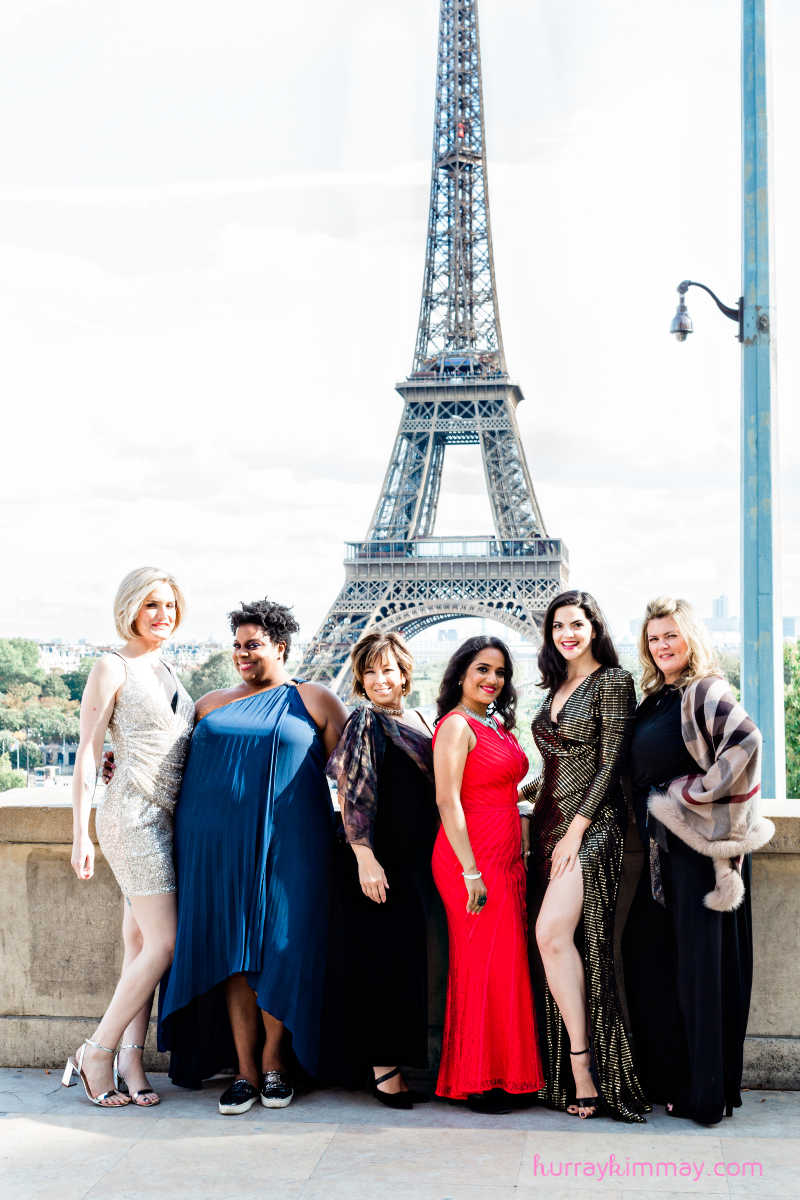 A note from Kimmay:
The splendor of Paris provides permission to be YOU. You are free to be your fullest, biggest, sincerest, most beautiful self in Paris. However that looks or feels. It's where possibilities turn into opportunities. Imagine instead of saying "I wish I could be like that", you practice giving yourself permission to be that person, to do that thing, to try that out – and then go home feeling that power and permission in your whole being. It's possible. The opportunity is right here. 
Paris is the "most romantic city in the world", and I have been there zero times with my husband. Yep! I love him, but I know that loving myself not only supports me but supports all those around me – including him. Paris is where I go to fall in love with myself on new and deeper levels each time.
As part of my self-love journey I have traveled all over the world, doing daring photoshoots and sharing non-airbrushed images of my body. The combination of exploring a new culture, an empowering photoshoot, and getting to know myself on a new and deeper level has completely changed my life for the better. Even appearing on national TV in the USA and Canada 9 times, or singing at Carnegie Hall hasn't been as powerful as this. Traveling like this has taught me new things about myself, and helped me gain confidence I never knew I had. My #HurrayVacay trips have taken me to places like Guatemala, Puerto Rico, Mexico, and more! But it is Paris that has my heart.
The 2019 trip was a dream come true, and I'm so thrilled to invite 6 more women to experience this in 2020. Together we'll go on the same journey. Together we'll support you to uncover your confidence, stand in your power, and learn to love yourself inside, outside, and underneath™. Together, we'll say hurray!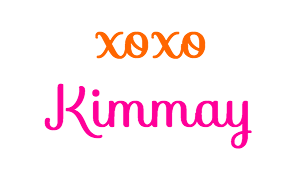 Support on all levels.
Kimmay's Inside, Outside, and Underneath™ approach: 
INSIDE: our relationship with ourselves, our emotions, our connection to the divine
OUTSIDE: our relationship with others, how we look and present to the world, our work and environment in the world
UNDERNEATH: our relationship with our bodies and what's underneath our clothes
Just a taste. . .
Day 1 Your Arrival 
Arrive in Paris and check into the glamorous hotel and spa and be treated to surprise gifts upon arrival! Connect with your new sisters who you've already "met" online, and drop into the city of light with a fabulous dinner of French cuisine before you drift off to sleep in your cozy accommodations.
Day 2: Dive INSIDE 
Gather around for a group coaching session to explore the blocks holding you back, and put powerful spiritual and practical rituals to work together. Let your worries melt away as you take your first step into the new, confident you. After lunch, meander together through the streets of Paris to one of the most beautiful museums in the world. Browse through original paintings by famous master artists while you contemplate what real beauty means to you, and then embody it for yourself.
Day 3: Reveal UNDERNEATH
When worn with intention, lingerie is one of the most powerful self love tools available to us. And there's no better place to shop for it than Paris. You'll sip on champagne and try on gorgeous lingerie and supportive bras. Work with Kimmay, a true bra and lingerie expert, to create your own self-love lingerie ritual that you can use to open your heart and support your body (and yourself) every single day. The shopping continues! After lunch at a sweet Parisian cafe, whisk away to a glamorous department store with a stunning stained glass roof for more shopping and exploration before heading to the roof for sunset photos and a bird's eye view of the city of light!
Day 4: Step OUTSIDE 
Step out of your comfort zone and into your most beautiful, confident, and empowered self with a full service photo shoot! Let the hair and makeup team spoil you before baring your true self in whatever level of undress feels the best in front of the camera. You'll be guided by Kimmay and supported by her go-to boudoir photographer to capture your most sensual side, all on location in a stunning two-story Parisian apartment with balcony views of the city. Later, don your power outfit (a glam gown, a suit, whatever!) for shots in front of iconic Parisian landmarks and show the world your newfound confidence! Celebrate and make memories with your sisters, all dolled up, on a dazzling dinner boat cruise on the Seine with marvelous views of the city.
Day 5: Refresh and Release
Enjoy a free morning to do as you like: refresh at the spa, spend time in contemplation, or explore the city before meeting up for our final gathering. In a powerful new moon circle we'll share our self discoveries, and set intentions to bring what you've experienced in your body, your soul, and your mind back home with you so you can live your best life in your job, home, and relationships. Community and connection are key to sustaining real change. Soak in the support from your sisters before a special evening out to celebrate our last night together in Paris!
Day 6: Take Off!
Say your loving goodbyes-for-now over breakfast as the most confident, radiant version of you brings all her learnings back home. Hurray!
Please note that this is based on the 2019 retreat schedule and some small variances may occur for 2020.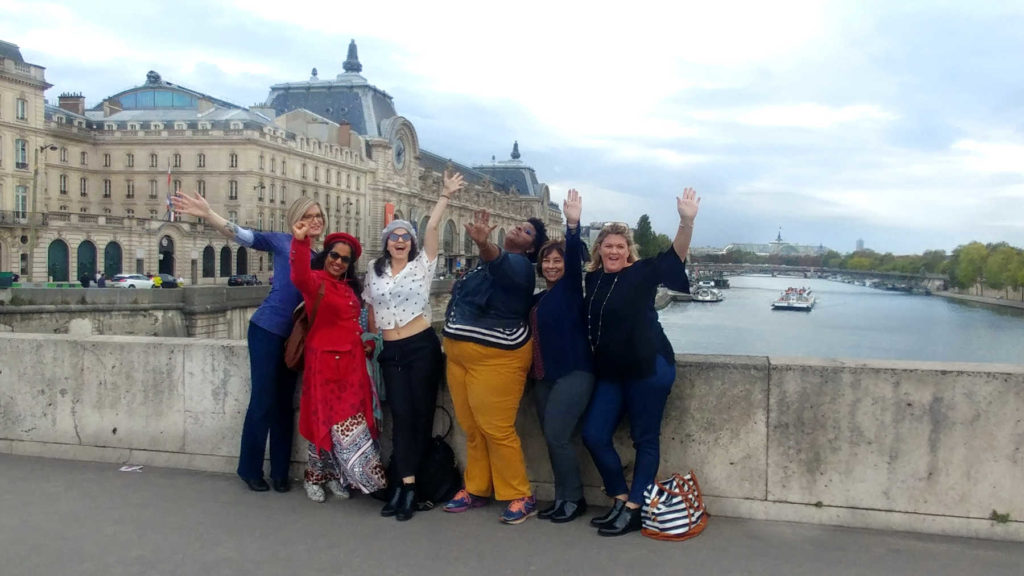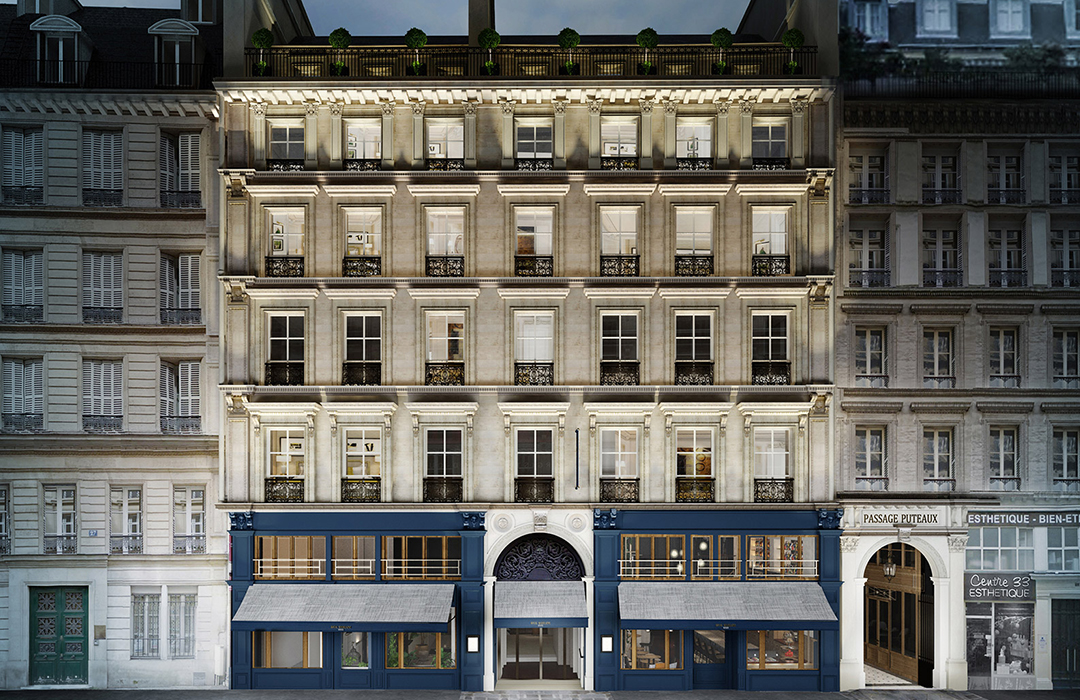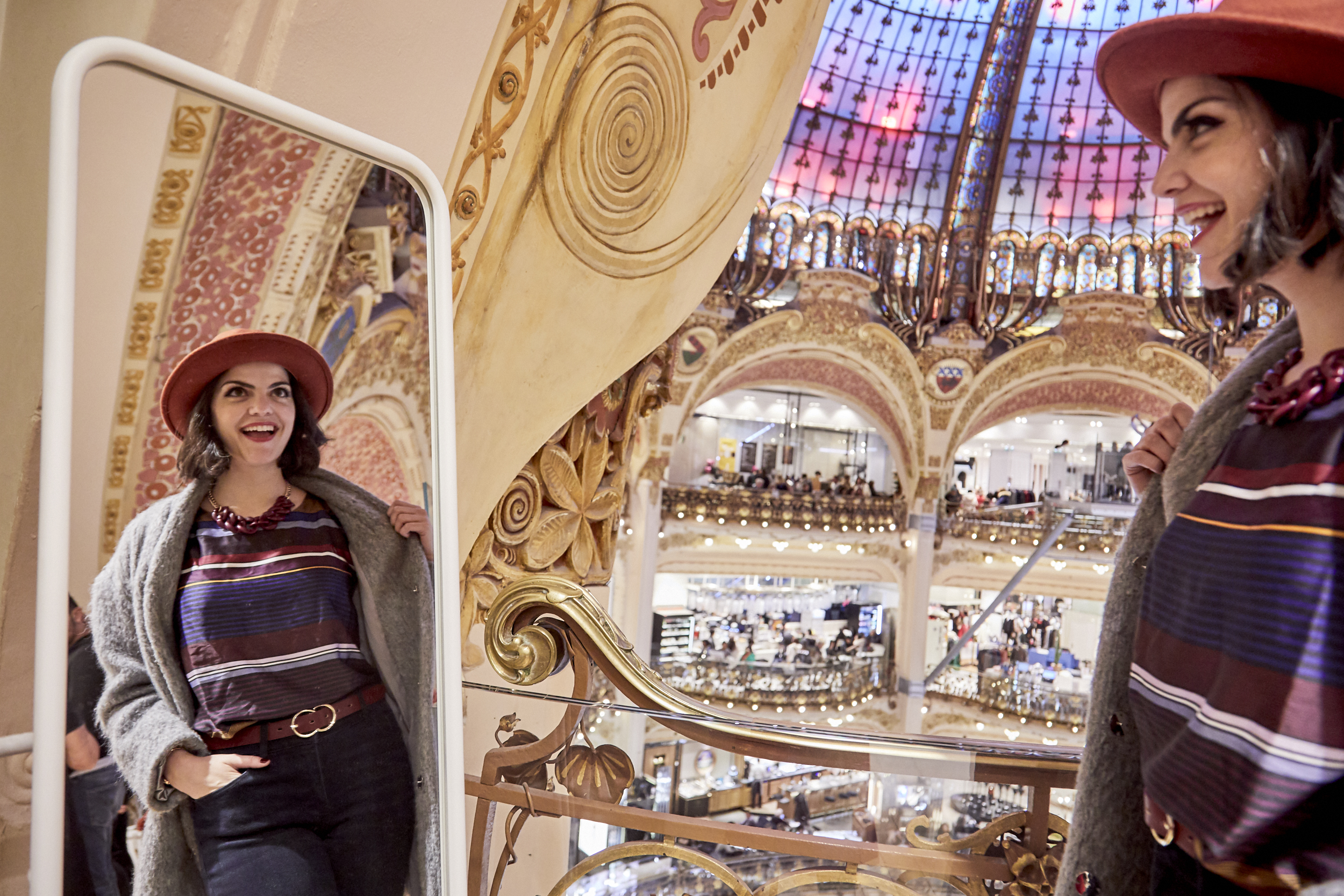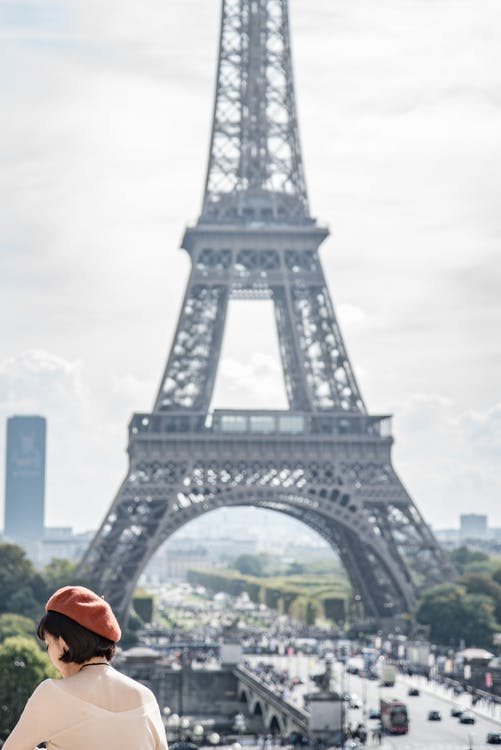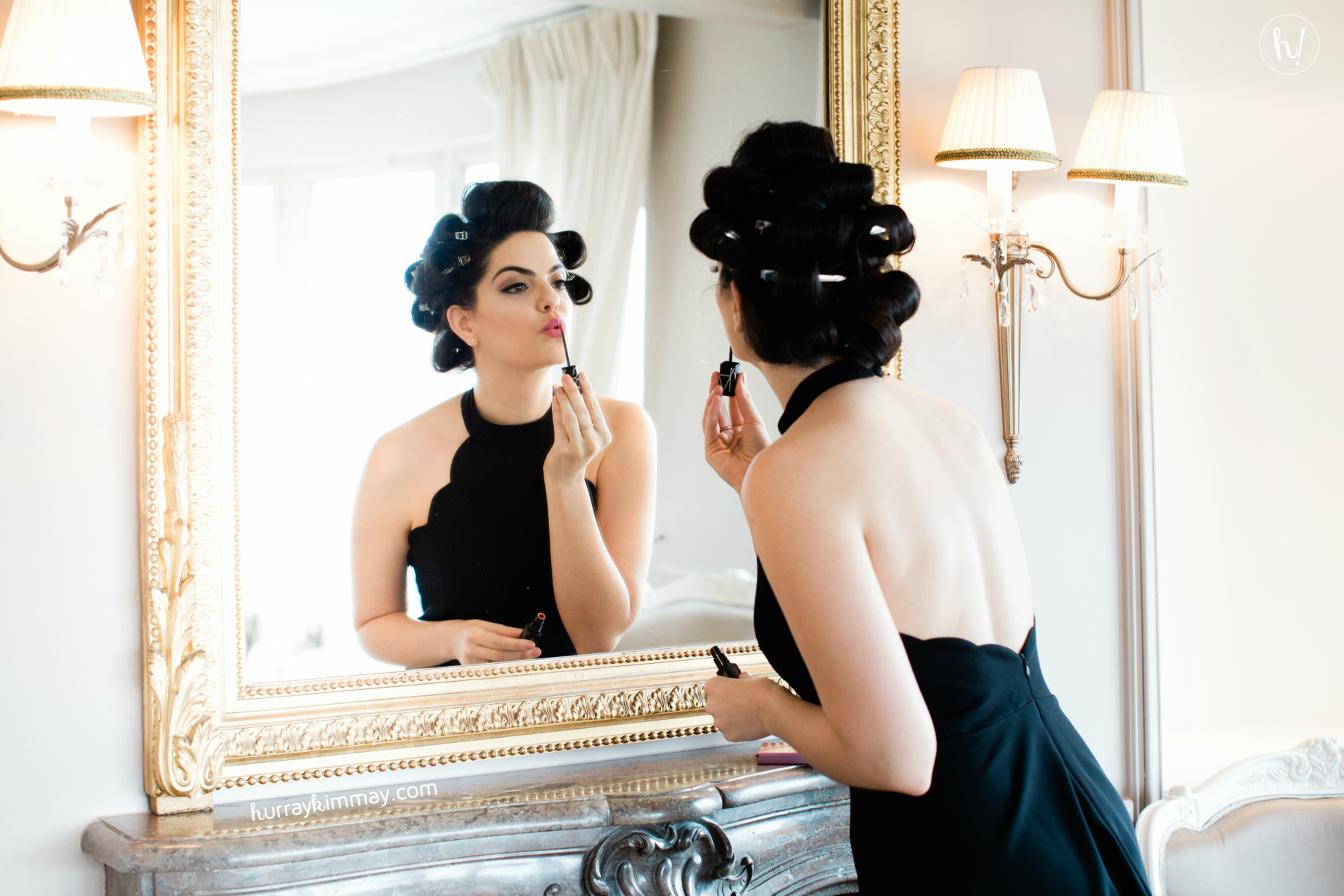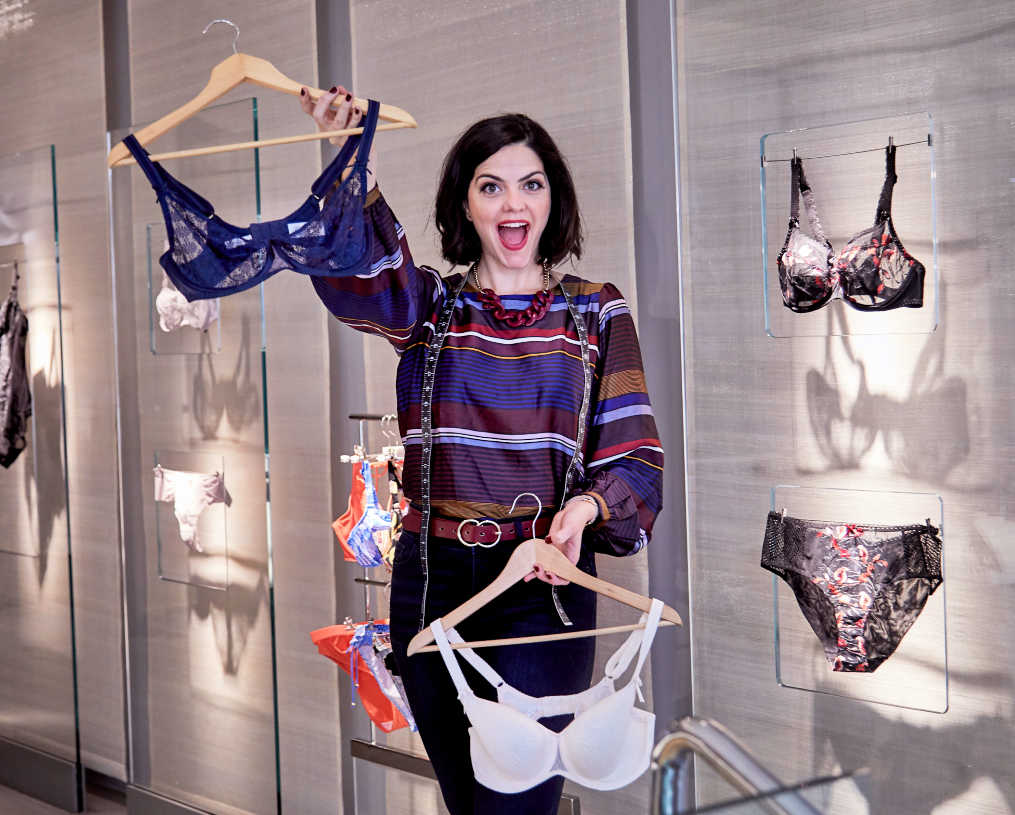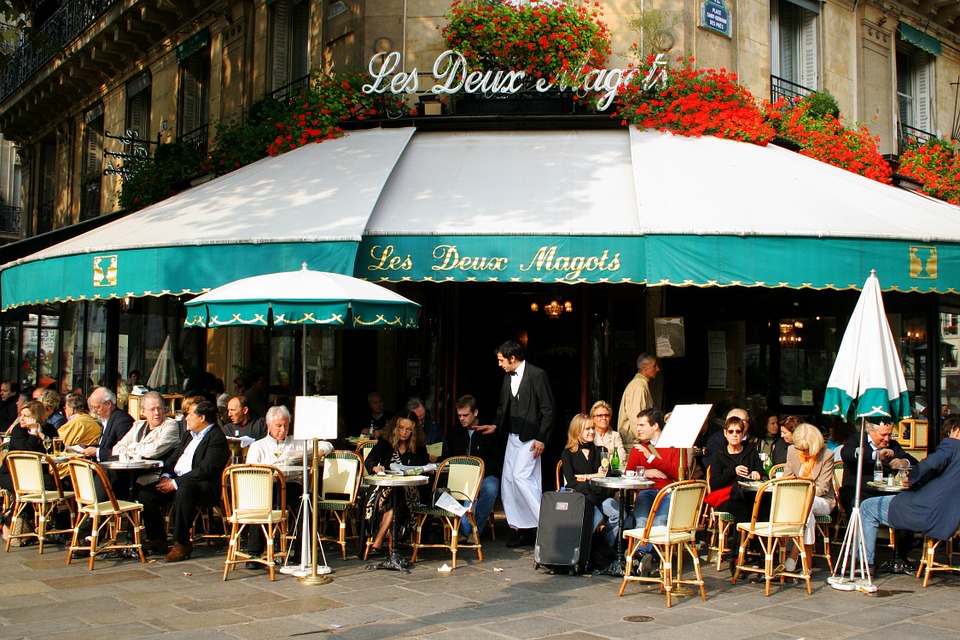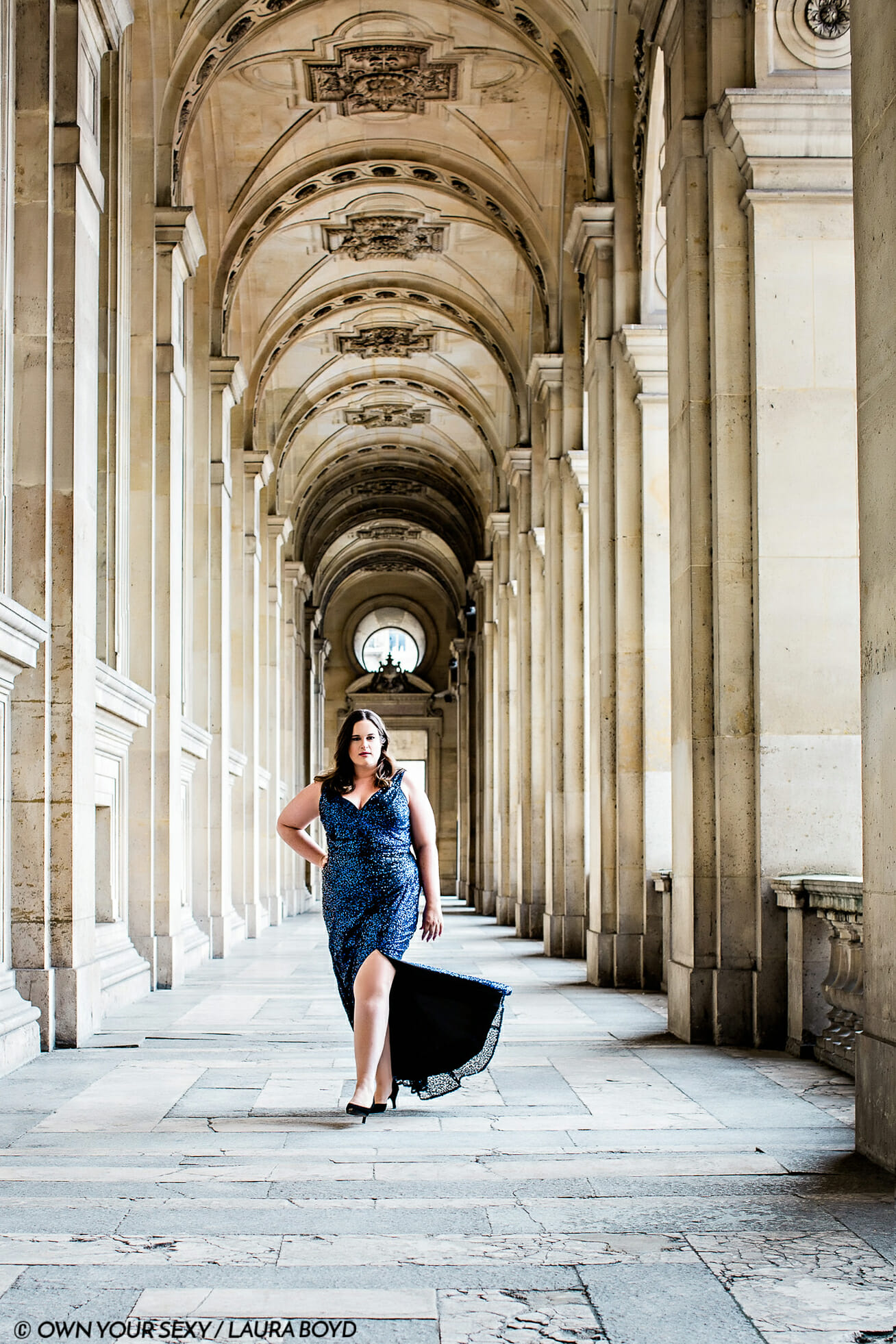 "[Paris] reaches in and opens you wide, and you stay that way."
-Gene Kelly as Jerry Mulligan in An American In Paris
Going on a retreat is not about flying somewhere just to spend your time in a hotel or conference room. The city will be our teacher, as we take in the full experience of Paris and learn on site. Here's a taste of what's in store. Please note that these excursions are based on the 2019 schedule. Small variances in the schedule or excursion upgrades may occur for 2020!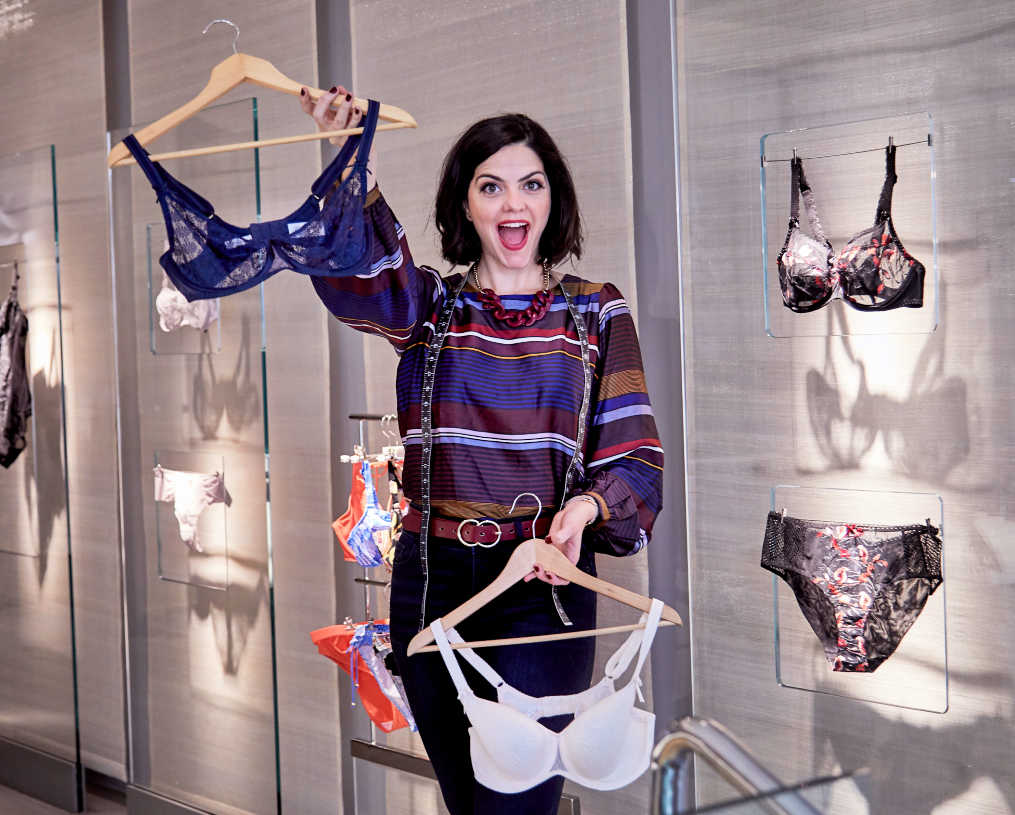 Have you ever considered a bra or lingerie item as a powerful coaching tool? Did you know that there's a way to support your whole self – inside, outside, and underneath – through a transformative undergarment shopping experience? That's exactly what Kimmay does! With well over 14 years of bra fitting experience, she's fit thousands of people for bras and shared her expertise and heart on national TV, during bra parties, and one-on-one. But more than her undergarment expertise is her unique method of using the bra shopping experience to see and support yourself in a whole new way.
Go on a journey of self discovery during this educational and inspirational group outing, unlike any lingerie shopping experience you've ever witnessed. See what it's like to slip into elegant French lingerie, adorn yourself in beautiful designs, and step out of the fitting room feeling empowered, supported, and downright fabulous!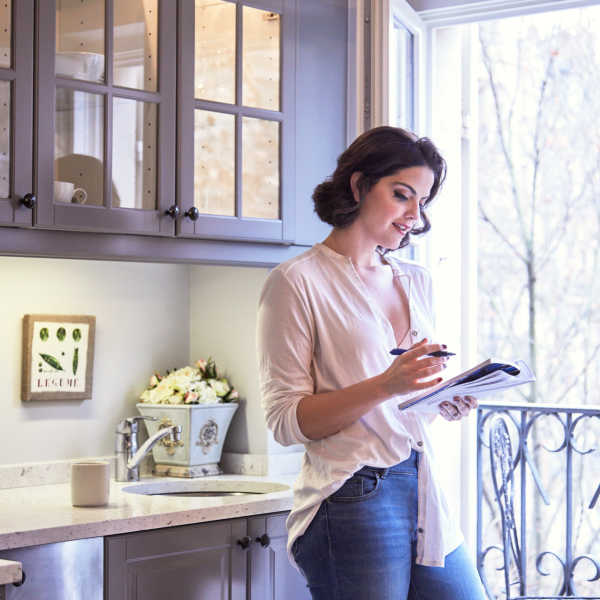 Included in your retreat is both one-on-one and group coaching. Combined, the benefits are supremely supportive. Before the retreat, you have the option to meet virtually with Kimmay for a customized coaching session. You'll also meet your fellow attendees in an informal, virtual gathering for introductions and to get your heart and mind in the right setting. The first full day of the retreat kicks off with a powerful group coaching and workshop, and you'll have Kimmay by your side as you take big and small steps in your journey.
After the retreat you'll meet with Kimmay again for another bonus one-on-one coaching session to process your individual journey and to tailor your next steps. You will be supported before, during, and after the retreat. Kimmay is a coach and leader who stands shoulder to shoulder with her clients, meaning she walks the walk, and doesn't just talk the talk and there's no pretense – just hurray!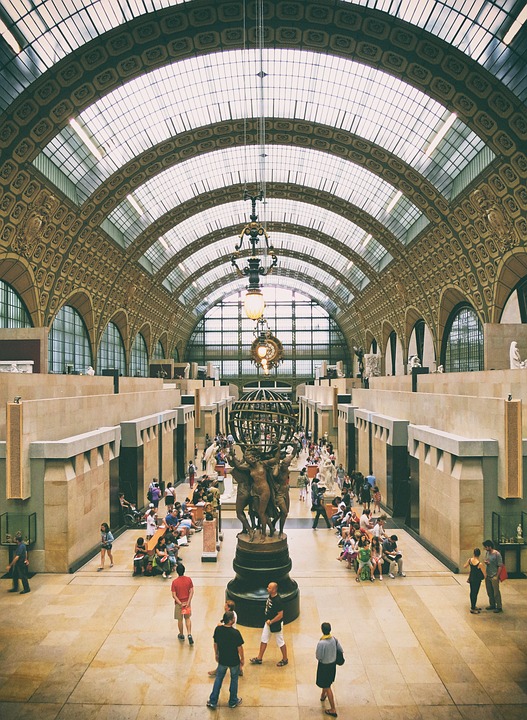 The buildings of the museums of Paris are just as gorgeous as the art inside, especially Musée d'Orsay! Located in the centre of Paris on the banks of the Seine, this exquisite building was once a train station. Now, you can saunter through the halls of the magnificent collection of original artwork by some of the most famous artists in the world. It's truly so amazing to see well known works by artists like Van Gough, Degas, and more up close and personal!
On top of wandering through the curated works, you'll be prompted with a special exercise to define your own beauty. Walk and talk with a new friend, or contemplate on your own. Let these stunning and provocative works teach you how you might embrace the fullness of your own beauty during this interactive excursion. Your ticket and experience are included in the retreat.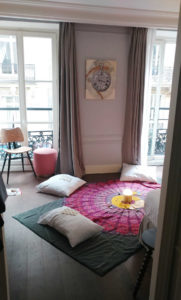 The new moon is a powerful time to set intentions, like planting a seed of something you want to grow. On the last full day of the retreat, deep dive on the new moon in Libra. Together we'll go inward to reflect on what you've uncovered, you'll have an opportunity to share and be witnessed, you can encourage and listen to your sisters, and you'll set your intention for your steps back into your home life.
This is a supportive and beautiful way to prepare your heart and mind for going back with a fresh perspective and confidence. There's no judgement and no specific path or ideology. Kimmay is a certified Wild Woman Project circle leader, and has been facilitating new moon circles every month for over four years in New York City and around the globe. Don't stress if you've never done a guided visualization or attended a circle before – Kimmay will guide you, and make the whole process easy, powerful, and fun.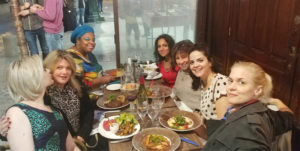 The food in Paris is famous! Not only are the French known for delectable dishes, the act of going out to dine is very different than in other countries. Dining out is considered an experience not to be rushed. Every bite and flavor, and every moment together is meant to be savored. Whether you're a foodie or not, the Parisian food will tickle your tastebuds. 
During the retreat, your breakfasts are included at Hotel Royal Madeleine, which "will awaken your tastebuds with an assortment of delicious pastries. Available from 7am to 10:30am, enjoy your 100% Parisian chic full or express breakfast." Several lunches and dinners are also provided with a mix of cute cafés, quick meals, and elegant dinner experiences. 
Have dietary restrictions? No problem! Paris is a cosmopolitan city with many dining options. In fact, Kimmay is both gluten and dairy free and with a little finessing is able to avoid buttery croissants with ease. It's important to let us know ahead of time of any dietary needs so we can do our best to support you!
During the retreat, my inner strength that seemed to have been laying dormant was brought to the surface and I took my power back!
This was the most life changing trip I have ever taken. Thank you from the bottom of my mended heart!!!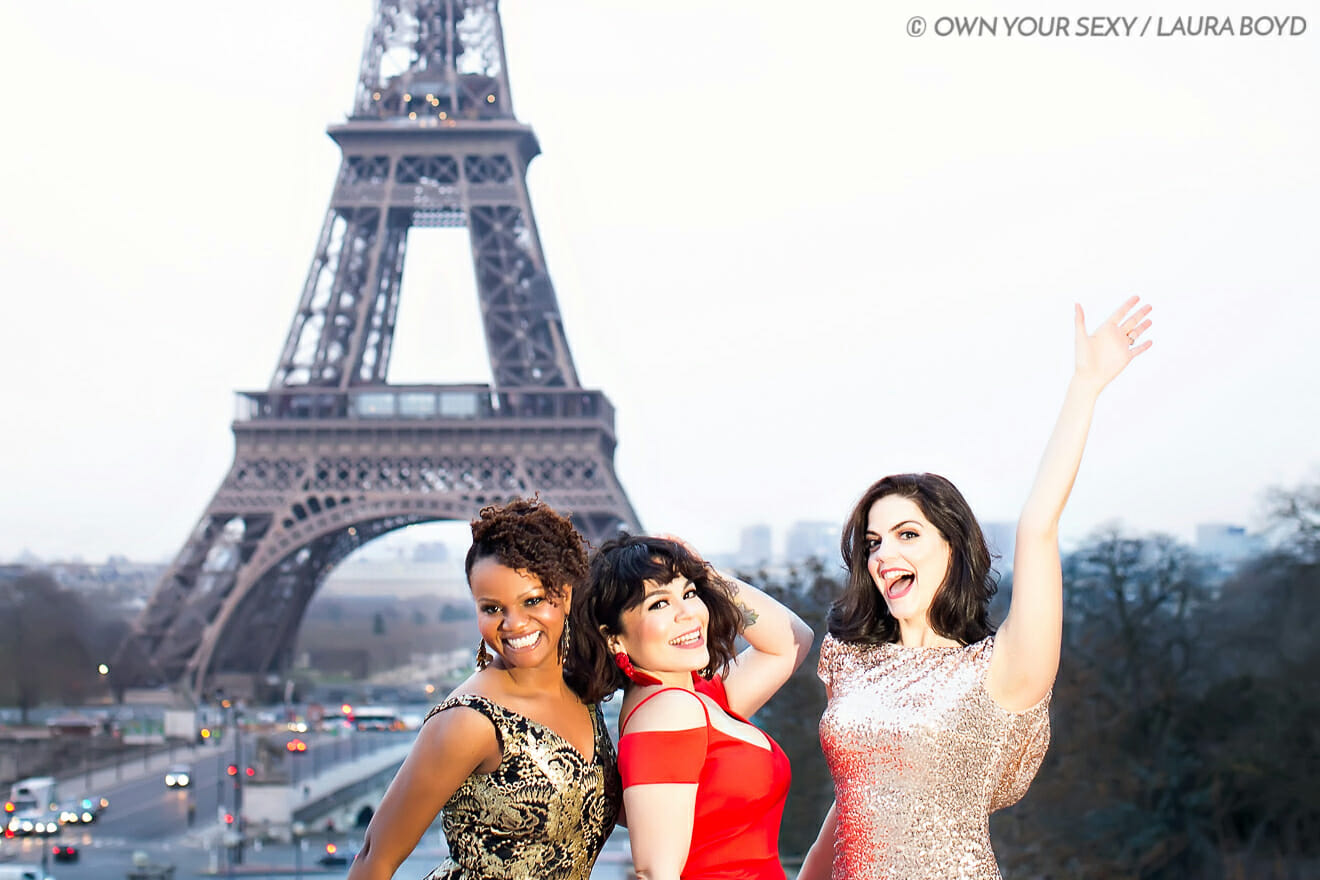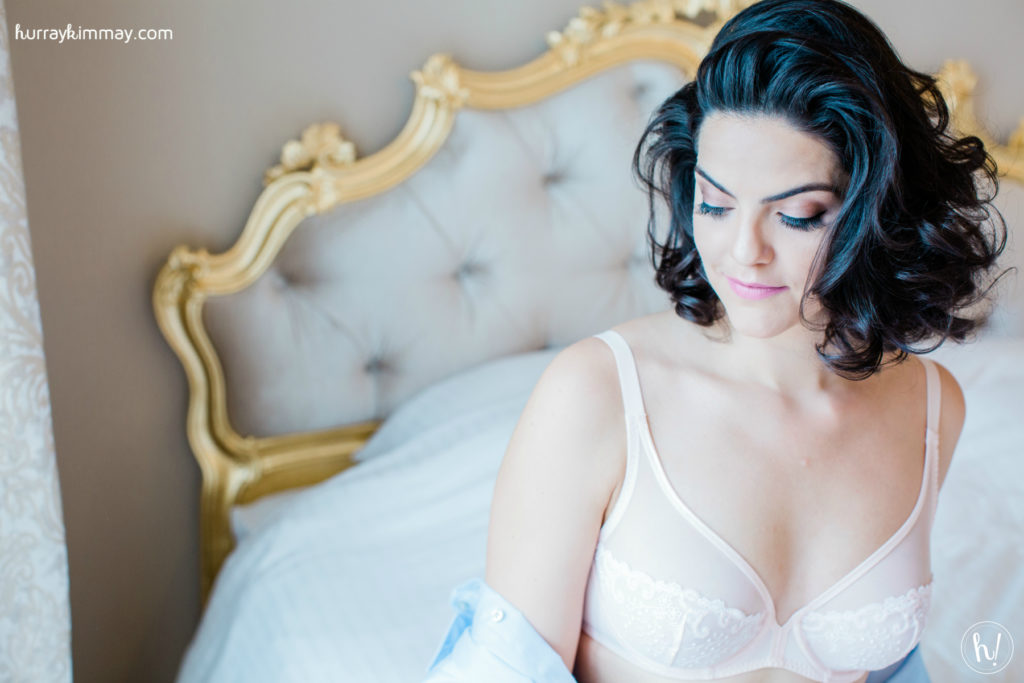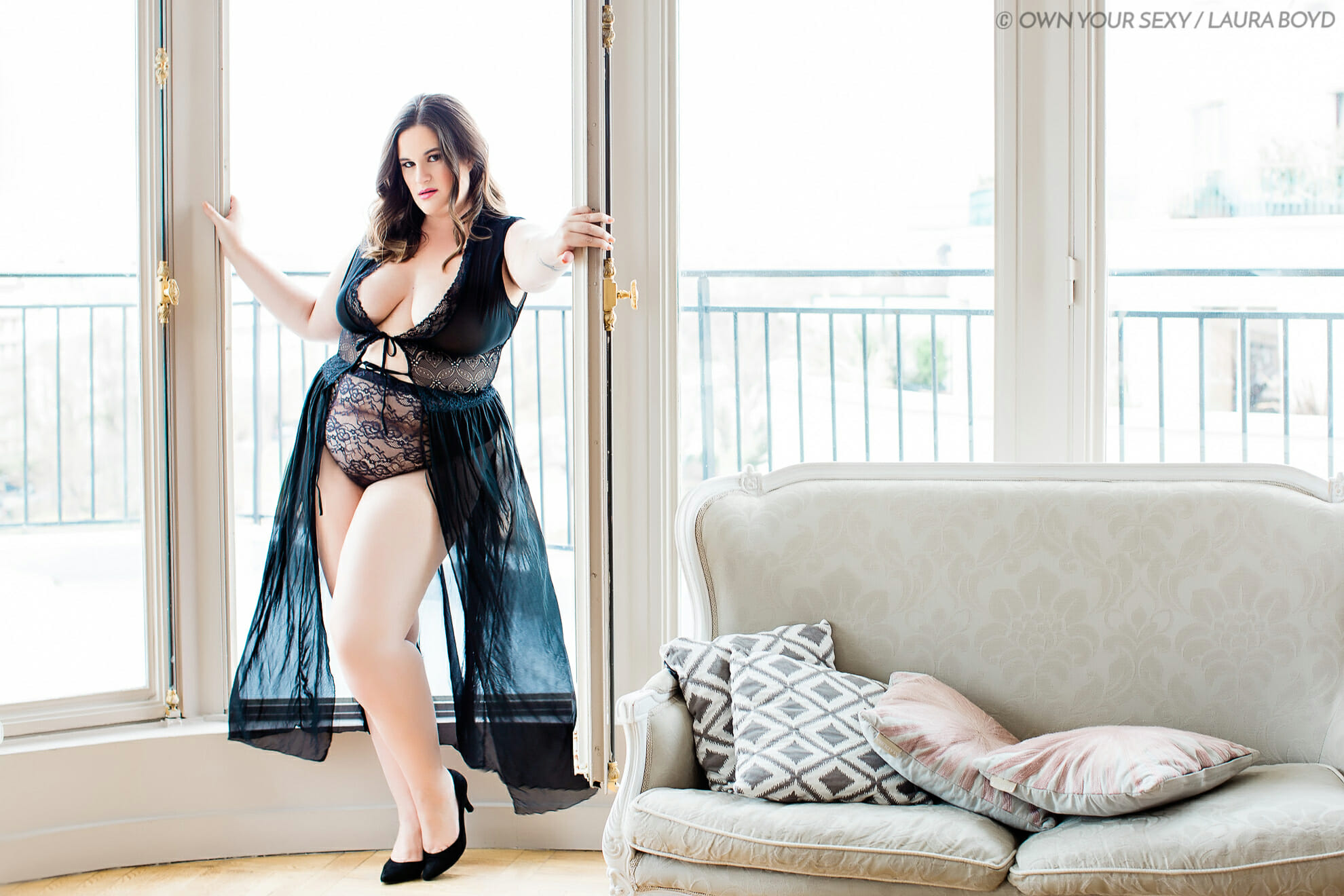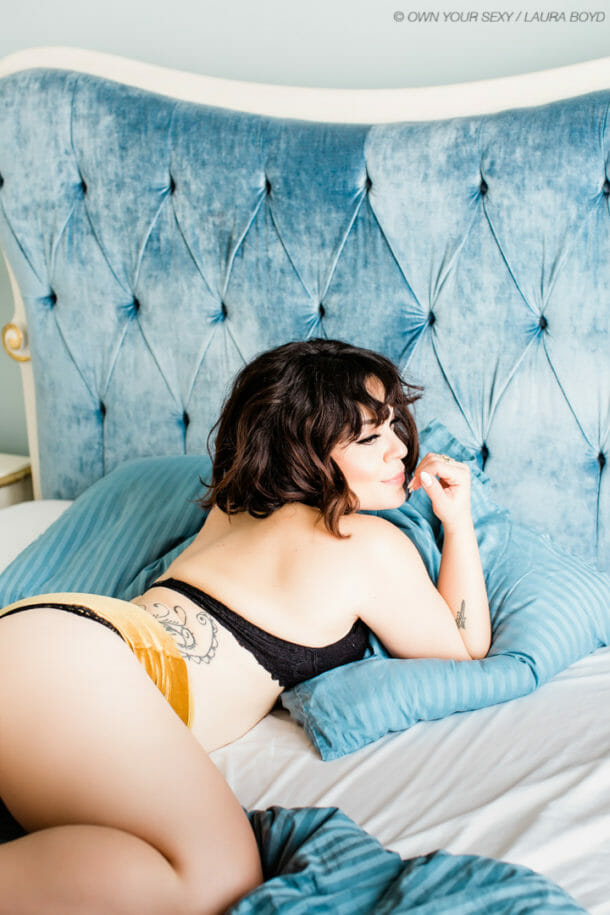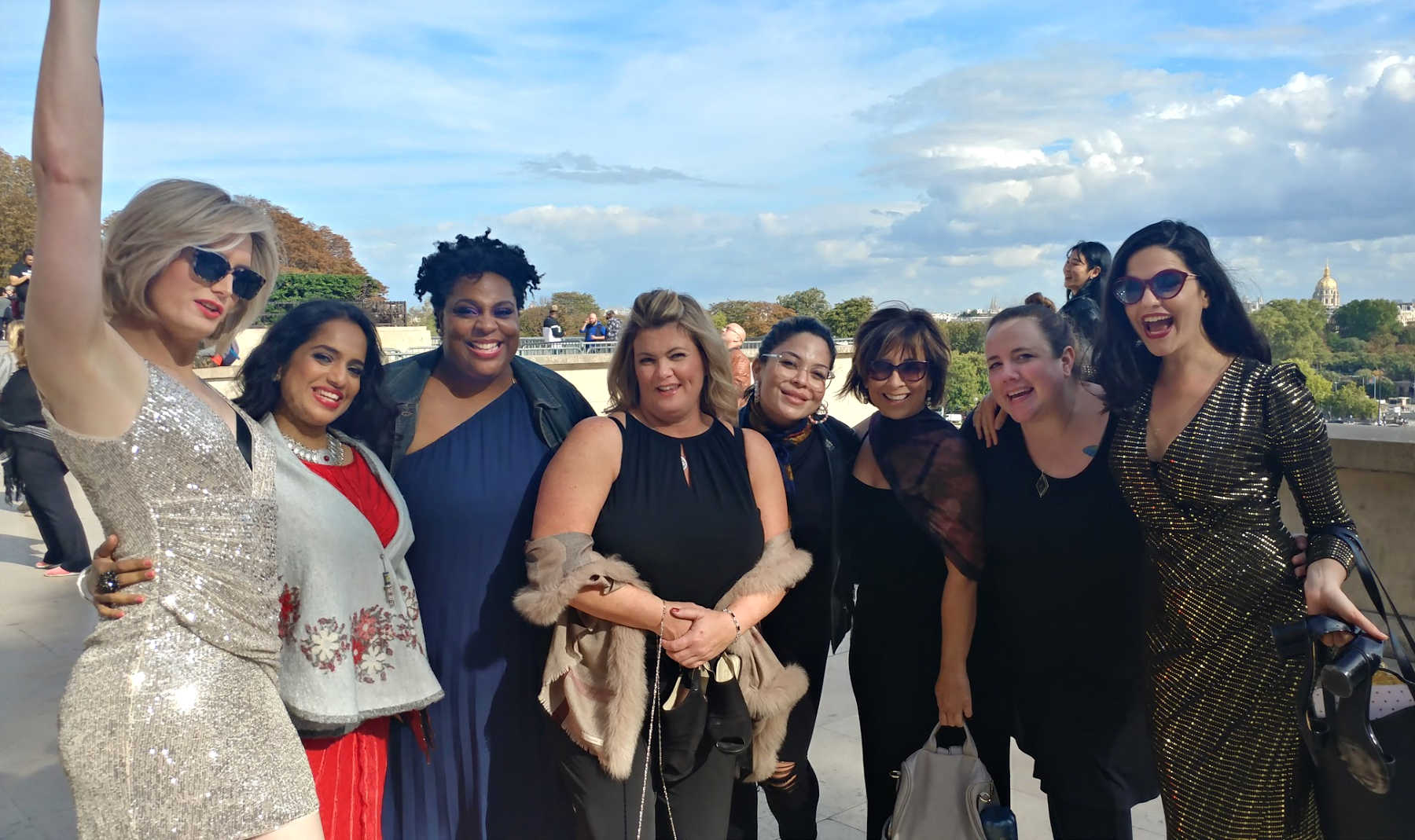 Attendee favorite of the 2019 retreat! Put the lingerie shopping and confidence boosting to work in your very own, glamorous photo session! Define your own beauty as you peel back the layers and reveal your most radiant self. You'll get dolled up and work your magic in a two story Paris penthouse (the very one you see here!) with balcony views of one of the poshest neighborhood's in the city. The experience includes:
Full hair and makeup session
30 minute photo session with award winning photographer (and one of Kimmay's go-to pros), Laura Boyd of Own Your Sexy
Gorgeous indoor penthouse sets and outdoor balcony views
Bring a gown or your favorite look for iconic on-location images in "your power outfit"
A one-on-one selection meeting with photographer, Laura Boyd
Posing and confidence coaching
5 final images (and a discount on any other products)
A new way to celebrate yourself
New to boudoir? No worries! This is a self-love practice and will look different for each person. It's an opportunity to see yourself in a whole new way. With zero judgement and loads of support, you will be lovingly coached through the process. Use the experience as an opportunity to uncover the qualities that you want to bring forth: confidence, power, love, beauty. It's all up to you. You may pose in any level of undress that makes you say hurray: from your birthday suit to a snowsuit! You can use the images for your site, share them with a partner, or treasure them just for you.
Learn More about Laura Boyd Photography
Get to know Laura Boyd and her team! Driven by a mission to empower women to be their own objects of desire and to stand in their own power, Laura Boyd has been photographing women for 10+ years. A boudoir photo session with Laura goes a lot deeper than just the photos (which are going to be stunning). It is an opportunity to draw upon your vulnerable and sensual sides, to push your edges past your comfort zone, and to discover what you are made of when you let your guard down.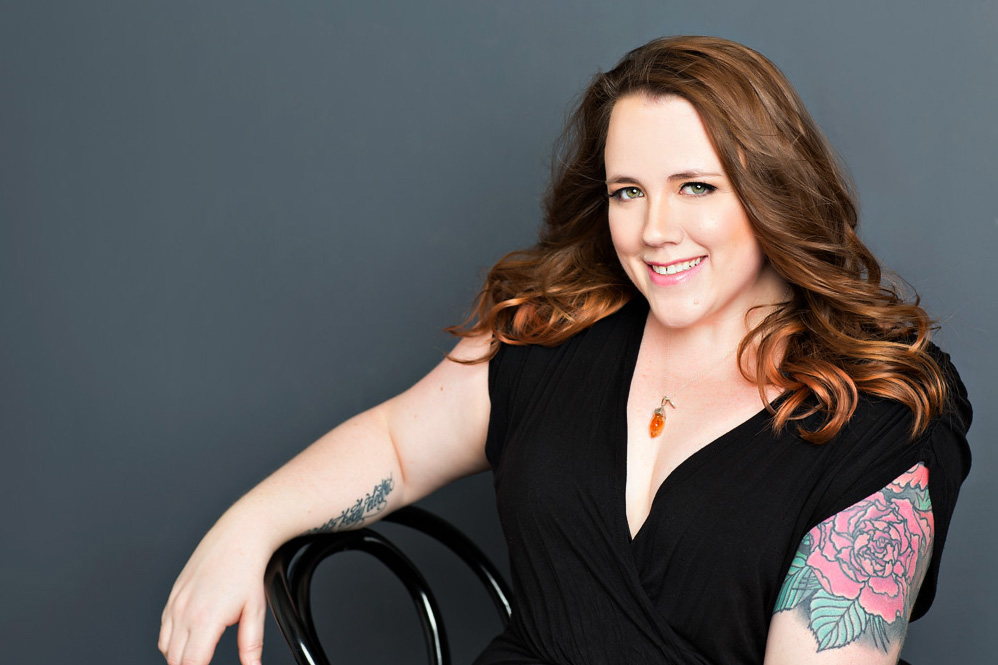 Having a photo taken that makes you feel sexy can boost your self-image, your sense of pleasure, your sense of personal power, your ability to be open to love, your confidence to express yourself and more. It makes perfect sense that working on ourselves and the varied aspects of our sexiness will improve our entire lives and not just our life in the bedroom. Because the sexiness that matters the most and will improve your life in unfathomable ways is not the "Ooooooh look at my boobs in this top" sort of sexiness. It's the "I am a badass warrior goddess" kind of sexiness. The first kind is fun and it is important for us to feel that about ourselves sometimes, but the second… the second kind is where transformation happens.
Laura's work has appeared in the NY Post, People magazine, the Today Show and more and has earned recognition as Best of the Knot so many times that she received their coveted Hall of Fame award.
——————————
A few client quotes:
"I had an absolute blast during my Paris boudoir session! The entire day was super fun and relaxing – other than the freezing cold outside shots, but they were totally worth it! I think my favorite moment was looking at ALL the shots and realizing, I am really gorgeous and sexy. It was a life changing moment for me to realize that I am beautiful and sexy exactly as I am. I'm already planning my next one." -Tressa B.
"My boudoir session has definitely pushed me even further into a level of confidence I wasn't aware I possessed." -Jill P.
"During the shoot I felt amazing. It was such an out-of-body experience. The Own Your Sexy shoot was the first time that I truly felt 100% comfortable in my own skin. I wasn't worried about if I was sucking in my stomach or if my face looked round. I just allowed myself to live in the moment." -Mimi B.
"Now after years of convincing myself I wasn't beautiful I truly understand that beauty is not just on the outside but beauty is also on the inside. This shoot made me even more confident and I can happily say I do finally believe I am beautiful." – Gillian P.
——————————
Your special Hurray Kimmay Paris Photo Shoot Session:
Your boudoir session in Paris will include professional hair and makeup by Zuleika Acosta of Saint Rose NYC and a 30-minute photo session with Laura Boyd in a luxury penthouse apartment on Avenue Foche, Paris's most exclusive address. Boasting classic French details and furnished as if out of a boudoir dream, the apartment also has balconies with views of the Arch de Triumph and the Eiffel Tower. After your session, participate in a bonus group outing to some iconic Paris locations for individual and group photo opportunities.
Five high-resolution retouched images of your choice are included with your session with a 15% discount on any additional images or products you may wish to purchase. You will schedule a private viewing and ordering experience with Laura in the week or two following your shoot, either at her NYC studio or via video conference.
The full value of these services is well over $1000.
Your home during your vacay is tucked away in the heart of Paris' 8th arrondissement, in the Opéra district. Hotel Royal Madeleine is an oasis of peace, with cozy rooms, a sun drenched café, and a serene spa. It's just steps from shopping, cafés, and centrally located for our excursions. This recently renovated 4-star hotel offers lovingly decorated rooms for an unforgettable Parisian stay. Parisian hotels tend to be smaller, chicer, and more intimate than those in the States, including the rooms. Shared accommodations (two twin beds) are included, and you're welcome to request a roommate or let us make loving arrangements. In addition to the chic decor, each room features fast broadband wifi, a Nespresso machine, and a television. You'll wake up to a delicious breakfast, which is provided as part of your stay on site each morning. Look how cute the café is with the tree!
What's Included & What's Not
Included in Your Retreat package: 
Accommodations:

6 days, 5 nights shared accommodations (two twin beds) at the Four Star Hotel Royal Madeleine including Wi-Fi, use of the pool and spa area, in-room coffee, and more! 

Meals:

Breakfast each morning at the hotel
Lunches: 2 lunches included
Dinners: 4 dinners included

Lingerie Shopping: expert bra fitting and lingerie shopping guidance, combined with self love coaching
Photo shoot:

Full professional hair and makeup, 30 minute boudoir session, coaching by Kimmay, landmark group and quick solo sessions
Gallery review with photographer (virtual or in person), 5 final prints, 15% discount on other products

Excursions: Ticket to the Museum, Seine River dinner cruise, Shopping trips
Travel around Paris: Walking, Metro, or Uber rides
Coaching: Group coaching from Kimmay
New Moon Circle and intention setting ceremony
Bonuses:
Two 45 minute one-on-one coaching sessions with Kimmay with customized support before and after the retreat
A bag bursting with surprises handpicked for you upon arrival at the hotel
A packing list with suggestions on what to wear, tips on how to pack, and even Kimmay's go-to gadgets, apps, and self care practices for traveling to France
Kimmay's quick guide with French basics and solo excursion ideas like where to eat and where to explore
Virtual group connection, including a welcome gathering to "meet" your fellow retreaters to get to know each other before arriving in Paris and to stay in touch afterward
What's Not Included: 
Airfare to and from Paris
Transportation to and from the airport
Additional transportation during free time
Any free-time activities 
Some meals: 1 lunch and 1 dinner are not included (you'll be provided with restaurant suggestions)
Funds for lingerie or other shopping, spa services at the hotel, or additional items from the hotel mini bar, etc. 
Travel extras and necessities like travel insurance, passport fees, etc.
Psssst! As an attendee you'll also get spoiled with treats from some of Kimmay's favorite brands and partners!
Last retreat, attendees received a bonus gift bag filled with over $400 worth of products, including bras, underwear, travel items, affirmation cards, shoes, and more. Stay tuned to see what's in the bag this year!
Our group was full of so many incredible women from so many different backgrounds. Getting to know these amazing gals in the city of lights was incredible!
Uncover your confidence, stand in your power, & learn to love yourself inside, outside, and underneath™
Kimmay Caldwell is a self-love coach and Undergarment educator who supports people to say hurray inside, outside, and underneath™. She is an expert bra fitter with over 14 years of experience of getting intimate with people from cup sizes A to N. Based in NYC, she travels around the world to spread her empowering message of self-love, and how to use the everyday ritual of putting on a bra to uncover your confidence, stand in your power, and learn to love yourself.
You may have seen her in one of over 100 press outlets, including The Martha Stewart Show, The Today Show, The Rachael Ray Show, and more. Or perhaps you caught her teaching bra fitting workshops at the largest lingerie expo in the world. Maybe you even saw her posing in her undies for non-airbrused images around the globe to highlight the power of learning to love your body and yourself. Wherever you've seen her, she's here to help you take your next step toward uncovering YOUR hurray.
You can connect with Kimmay @Hurraykimmay, and always find her at www.HurrayKimmay.com
Do you have questions? 
Use the button below to schedule a one-on-one call to learn more about this retreat and to have your questions answered by Kimmay!
Frequently Asked Questions
What type of woman should go?
All women (25+), shapes, sizes, colors, and backgrounds are welcome! If you're not sure if this is for you, let's talk about it. Email Kimmay directly: kimmay@hurraykimmay.com or schedule a call to talk one-on-one. This is a welcome and sacred space for heart-lead people, and we're here to answer any questions. 
This is an inclusive retreat and is open to women, including anyone who identifies as "woman". This retreat is bold and intimate in nature, so keep your own personal comfort in mind when it comes to sharing with a group <3 If you're not sure, just ask! 
What are the payment options?
Payment options include: a discount for paying the total up front, or an easy monthly plan. Inquire about special early bird pricing and the Bring a Friend discount. Hurray!
Check out the payment page for the basic information, and talk one-on-one with Kimmay about the specifics. You can pay via PayPal (or PayPal credit which has a 0% interest fee for 6 months), Credit Card, or Bank Transfer. Payments are billed in US Dollars.
What's the cancellation policy?
Any cancellation received in writing to kimmay@hurraykimmay.com with confirmed receipt through Feb 1st, 2022 will result in a loss of a $750 USD deposit. Any cancellation received in writing between Feb 1st and March 1st, 2022 will result in a loss of 50% of the trip price.
Any cancellation made between March 1st, 2022 and the trip departure will result in a total loss of funds paid. We understand that things happen and can have a real talk about emergencies. Our goal is to make sure we are supported and you are, too! We reserve the right to cancel the trip if it is not meeting the trip minimum (if we do so your funds already paid to us will be refunded). Please note we are taking Covid restrictions into consideration – so please ask up front if you have any questions or concerns 🙂 
Trip cancellation insurance is always recommended when making travel plans to cover your flight, or book a "flexible airline ticket". Travel Guard Insurance is one option, and there are other options available as well. Make sure to book your travel insurance immediately, as coverage is generally better that way! 
Do I need to know French?
Bonjour! That's about all you need to know.
Paris is a metropolitan, global city and many people speak at least some English. What is necessary is knowing a few basics, and the French etiquette of greeting each other. You'll be provided with a few common and important phrases, along with some apps that can help if you need specific words or sentences translated. Keep in mind that a smile, eye contact, and general courtesy goes a lot further than being fluent!
Which Airport Should I Fly Into?
CDG or ORY in Paris.
Our hotel is located on the "Right Bank" or "La Rive Droite", north of the Seine. You may think Charles de Gualle (CDG) were closer, but it's Orly (ORY) that is a slightly shorter drive. Either airport is a good option, so check your airfares and available times and choose the best option for you.
You'll get detailed suggestions on how to get a cab or car from the airport to the hotel before your travels, and even suggestions on dropping off luggage and grabbing a bite nearby if you need it.
What should I pack?
Great question! Pack what makes YOU say hurray. But also. Kimmay will be sending her packing suggestions for the trip well in advance. (Last retreat, one attendee said that this made shopping and packing so easy and "everyone should travel like this!") You'll get advice on what shoes to wear for walking around (while looking chic!), plug converters to bring, special self-care items to pack to make the trip extra dreamy and more!
Keep in mind that September weather in Paris is usually gorgeous AND it's a transition month. That means it could be sunny and warm, or it could be cool and rainy. Looking ahead as the dates get closer, and packing layers is highly recommended. 
Kimmay will also include her information on weight limits and carry-on best practices. But checking with your airline is best!
Who do I share a room with?
Your retreat investment includes a double occupancy superior room with two twin beds at our gorgeous hotel. These beds are often placed together and you can easily move them apart. We offer the shared room as part of the retreat for a few reasons: 1) to keep the investment lower on the room so we can take care of you and the group in other ways 2) having a sister in the room is powerful for company, bonding, and safety 3) it's fun!
We will assign a roommate to you and take into account any specific requests as best we can.
Have someone in mind? You can bring a friend and request to room together! Refer a friend and both you and she gets a discount! Ask Kimmay for specifics.
If you absolutely need a private room, please inquire about the possibility. We'll do everything we can do accommodate earnest requests and understand some people have special needs or desires.
Is Paris accessible?
Paris is an older city, and unfortunately that means it's not always ADA friendly 🙁 Some older buildings lack elevator or ramp access, and the streets or tiny lifts are often very narrow. Our hotel does have an elevator.
We will be doing some walking in Paris, so good footwear is essential (I'll be sending my suggestions!) and if you have mobility concerns, please let us know asap so we support you.
I have more questions
Follow this link to schedule a one-on-one phone call with Kimmay. She is excited to share details about this trip and to talk with you about how you can use this moment to transform your life.
Have more questions? Ready to sign up? Talk with Kimmay one-on-one to get started. 
I loved everything about the retreat. From the location, hotel, and attention to every detail by Kimmay.
If your first thought is yes to this retreat, go with that! Trust that feeling because it is present for your higher self.