Bralettes are super "in" right now for several reasons. They are casual and stylish, they can sometimes be shown as part of an outfit, and they tend to be quite comfortable. But there are pros and cons to bralette bras. One being that they aren't usually designed to serve or support a full bust or fuller figured person. In fact, one of the requests I get a LOT from bra fitting clients with a D cup and up is "where can I find a bralette or cute, lacy wire-free bra for my big boobs that actually works!?" Never fear. Kimmay is here.
Below are a few options to help you get started on your full bust bralette shopping journey. I've put my 14+ years of bra fitting expertise to work for you and curated a list to buy and try yourself, all with the intention to help you say hurray inside, outside, and underneath™!
Pssst! This article may contain affiliate or partner links. As always, I provide my honest and expert opinion whether it's a paid partnership or not. Hurray!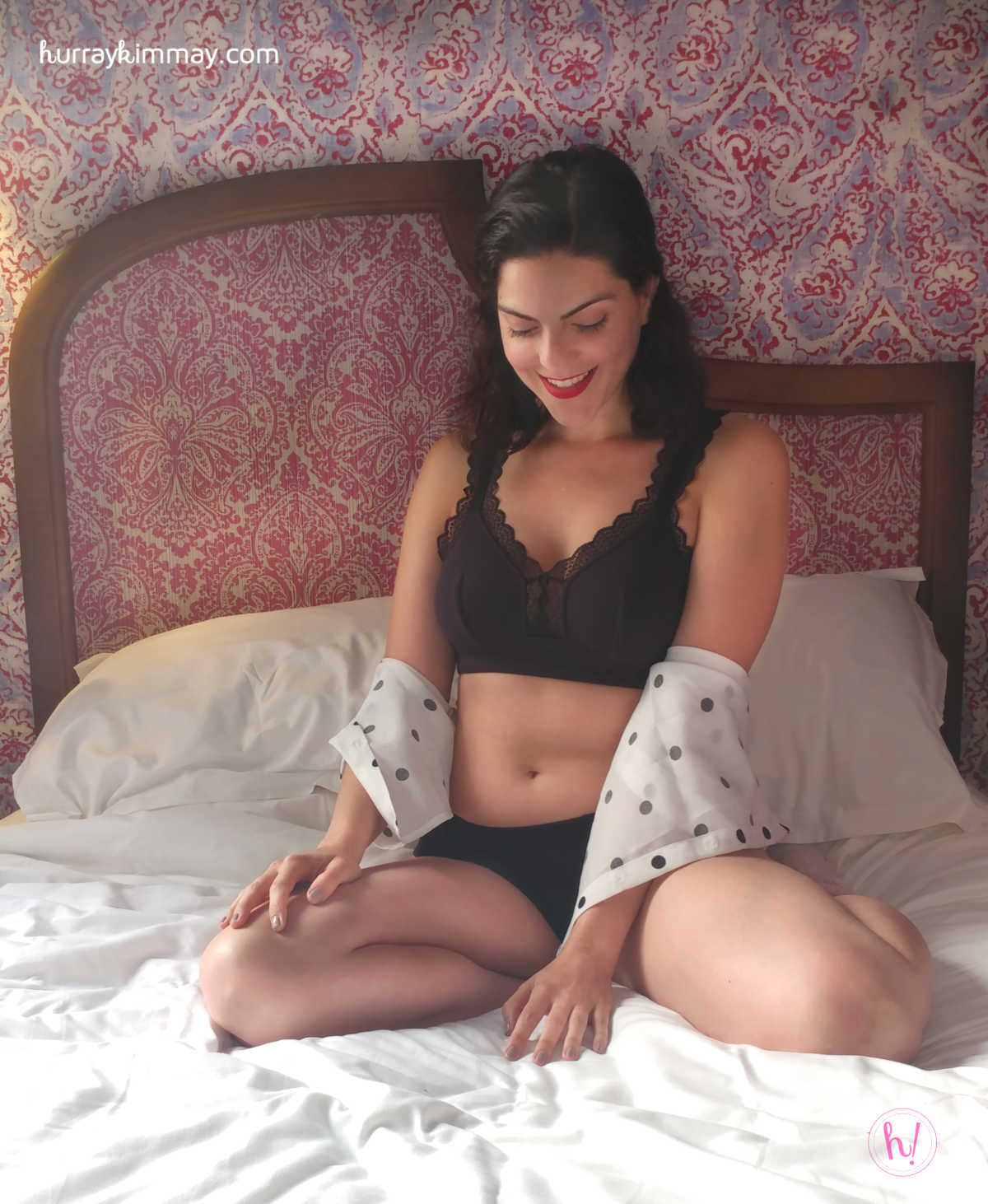 Kimmay is wearing the Dalis Bralette from Parfait. More info below!
What is "full bust" exactly?
First, it's important to know a few things about "full bust". Technically speaking (from my many years as a bra fitter since 2005), "full bust" means D cup and up in the lingerie business. But did you know that a D cup in a 30 band is much smaller AKA has less volume than a D cup in a larger band? That's because cup size is relative to band size. So not all "D" cups are the same. In fact, I currently wear a DD cup, and in a 32 band. So while I'm technically "full bust", I wouldn't usually categorize myself in that way since I'm used to supporting people who most often wear an F or G cup in a 36 or 38 band size and up. My clients typically have a fuller or larger bust than I do, which means their bra needs to be designed to lift more bust than mine (if we want a similar level of support, that is.)
That being said, I too struggled to find bralettes that fit both my band (where the support really comes from) and my cup (they were typically designed to support a smaller bust than my own). So…you'll see options for various ranges across the "full bust" spectrum here, and several band size options.
Need help with sizing? If you're not sure about which current bra sizes will suit you best, check in on your bra size starting points to learn more about what sizes you can start with. The sizes are just a place to start, as always. So watch my free class to check on the fit of your bras and take your first step toward saying hurray inside, outside, and underneath™!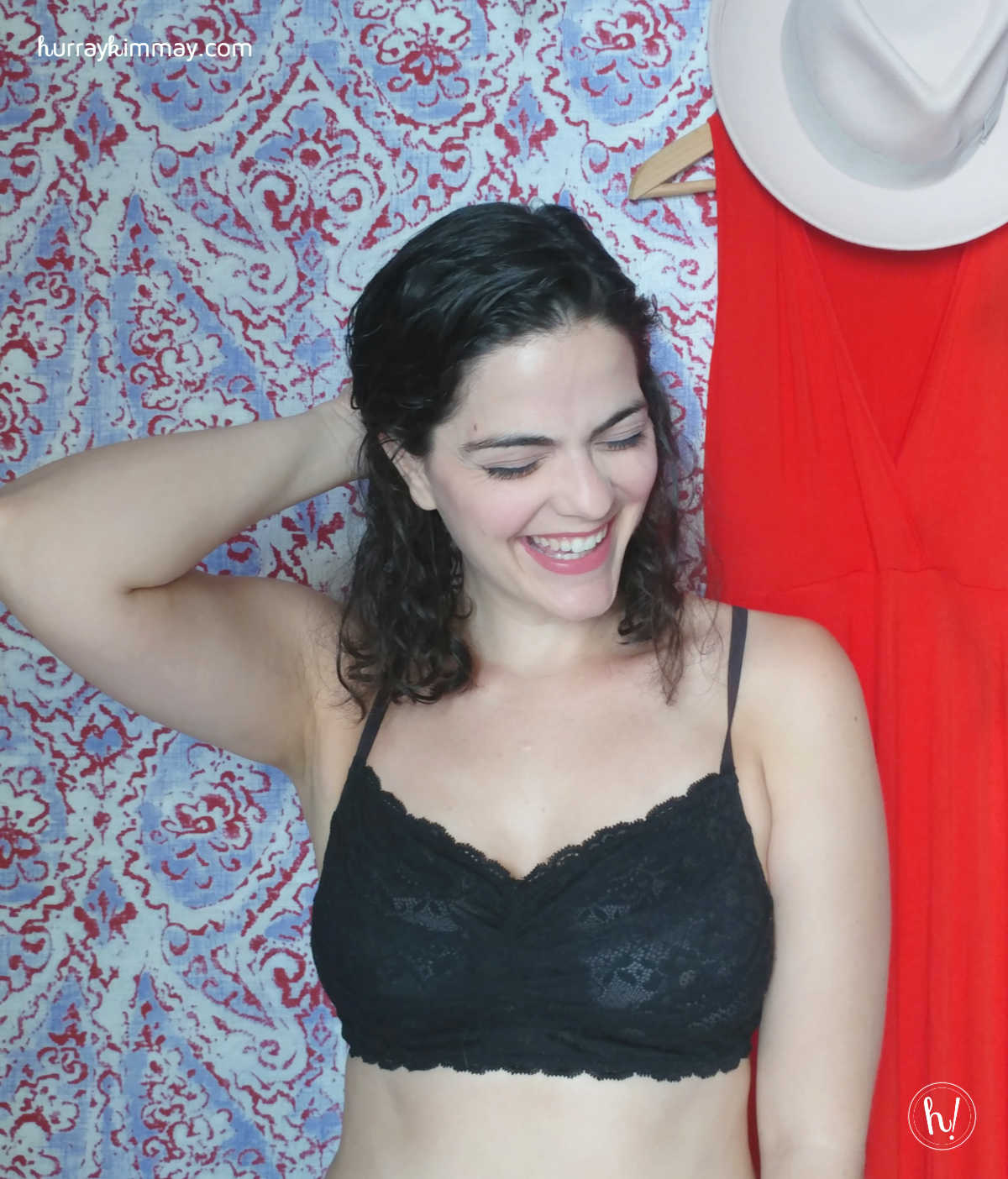 Kimmay is wearing the Montelle Cup-sized bralette. More info below!
What is a bralette, exactly?
A bralette is usually (again, technical bra fitter talk, here) a wire-free bra undergarment. From a design standpoint, it is typically "less bra", very casual, and sometimes quite dainty. It's often a fashion item and not meant to be a full support undergarment. However, there is a big demand these days for both the casual and fashionable aspect of the bralette, and the supportive and adjustable features of a more traditional, everyday bra. So below you will see examples of bralettes and wire-free bras that range from casual and non-adjustable, to super duper supportive – all with a focus on fashion so you can wear your bralette as part of your stylish outfit. I wanted to give you options so (as always) you can make a loving and informed decision about what you are wearing over your heart.
By the way, I often find that bralette bras do not offer adjustable straps and band. But the band of the bra offers the most support, and adjustable straps can help your cup stay flush and lifted. Being able to adjust the bra to fit your unique and beautiful body is the key to a good fit. And in my opinion, a good fit can help you say hurray! So, some of the wire-free styles below are "bralette-esque" with more traditional adjustability and even some internal support. Take a look and see what you want to buy and try yourself!
More from Cosabella to buy and try:
Free Bra Class
Want to wear a bra without ripping it off at the end of the day? Watch How to Find a Comfortable Bra Fit For Your Body WITHOUT Wasting Your Money on Bras You Dread Wearing! Plus, you'll also get Kimmay's Bra Fit Guide, and a taste of Bra Confidence & Comfort™. Watch now and don't spend another minute feeling uncomfortable in your bra.
Here to support you! You may also want to explore: 
Your Turn: If you have a full bust, have you struggled to find a bralette? What are you looking for from your bralette? What styles did you buy and try here? What makes you say hurray about wearing bralettes?

Credits: I took these photos on the jazzy wallpaper of myself while on a recent trip to Paris at Hotel Josephine! The other images are provided by Amazon or the company website.