Most people whom I help shop for bras are looking to create a basic bra wardrobe. It's the foundation of your foundations (ha!) and important. Because you'll reach for an everyday bra almost every day, it's fair to invest some time and energy into finding the styles that help you feel, look, and show up how you want.
Imagine if instead of reaching into your bra drawer and thinking, "ugh, if I have to…", you said, "oooh what do I get to wear today?". It can create an entirely new and exciting start to your day! Not only that, but giving your everyday, basic bras some love and attention can assist you in saying hurray each and every day. Want to give it a try? Use the information below to check in on your go-to bras, and go from ugh to hurray today!
Use the basic, everyday bras in your drawer to start each day with a

hurray

!
Pssst! This blog post is proudly sponsored by Dominique. And check out the credits for special thank you's to some of the brands that donated great stuff for me to wear! As always, I share my heart and honest opinion with you to help you say hurray inside, outside, and underneath™!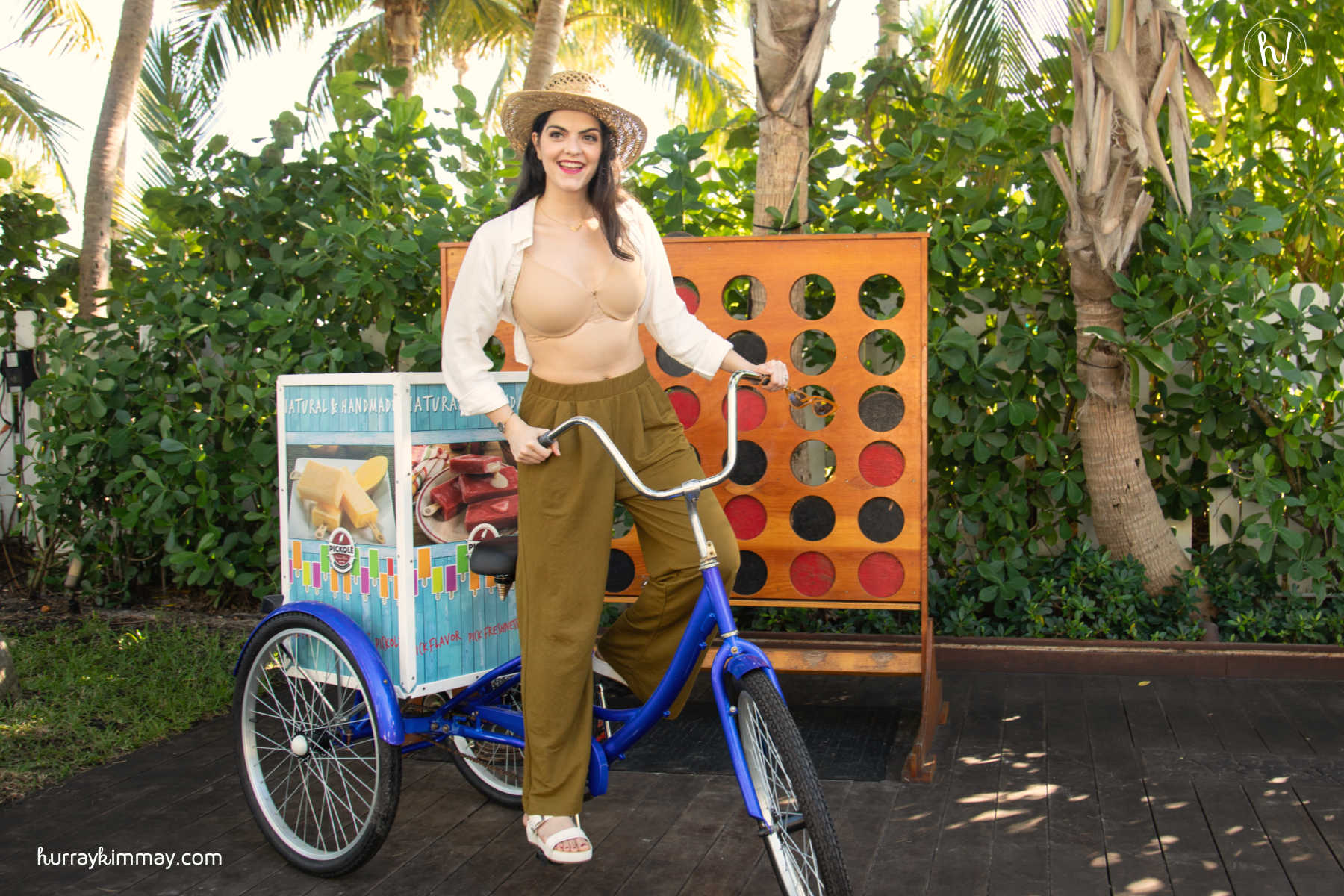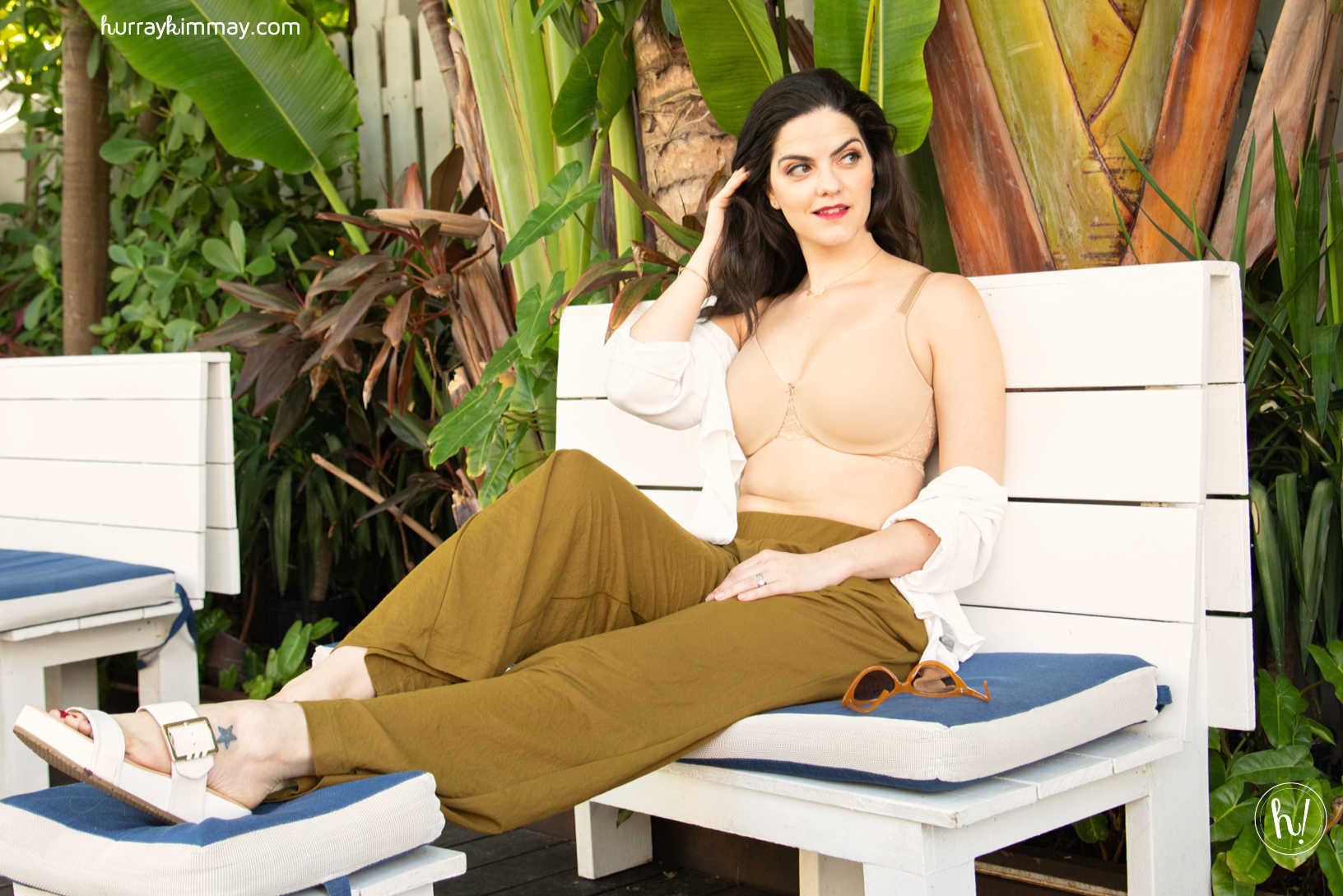 Style notes: Wearing the Lena Minimizer from Dominique in size 32DD during the #HurrayVacay in Miami! This super smooth bra uses two layers of material in the cup to distribute breast tissue for a sleek look. I loooove the lace back and picot trim straps (which keep the slider from sliding without my permission!) More info at the bottom of this post. 
Make Sure Your Everyday Bras Fit Well
I can't stress this enough. If you're going to put something onto your body day after day, make sure it fits well. That means:
Making sure your bra fits well also means adjusting it as it stretches, and checking in on bra size changes alongside bodily changes. And don't forget to toss bras that are old and worn out, no longer working for your lifestyle or wardrobe, or don't make you feel great.
You might be able to erase a lot of pain, frustration, and wardrobe issues with a well-fitting bra. And, think how much happier you'll be to open your bra drawer each morning if it's filled with well fitting bras! These are bras that will look great underneath your clothes, feel good on your body, and keep your shoulders back and your heart leading the way. Hurray!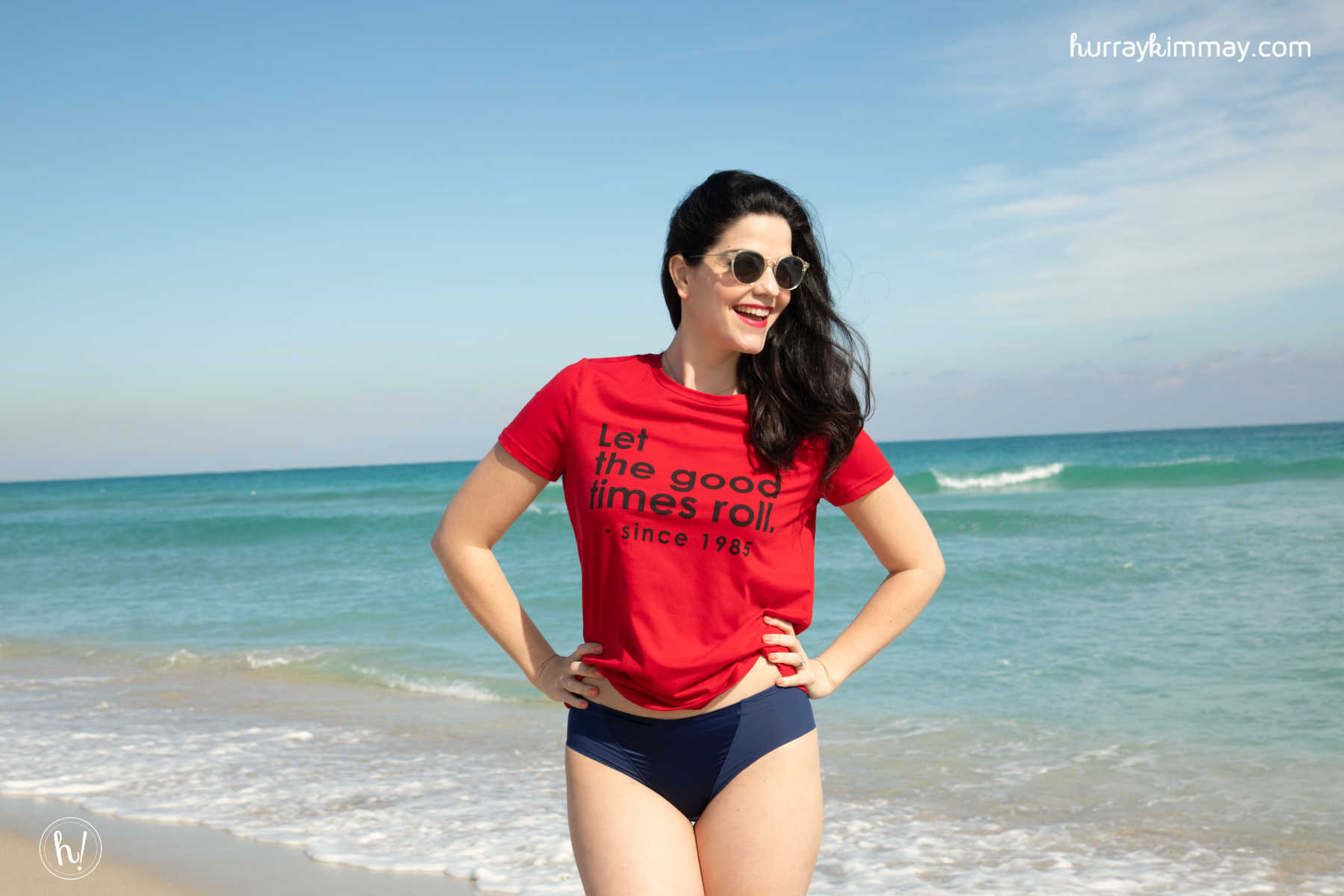 Style notes: Wearing the Mystique Underwire Bra from Dominique in size 32D during the #HurrayVacay in Miami! I wear a lot of colorful clothing, so I opt for darker or colorful bras a lot, like this gorgeous blue (a great alternative to black!). The high center gore tacks against the body so beautifully, for a secure and supportive fit! More info at the bottom of this post. 
Everyday Bras Should Work With 70% of Your Wardrobe
As Americans, we are practical (sometimes to a fault) and look for efficiency. That includes our undergarments. We want our bras to be multi-purpose and multi-functional. If that includes you, I can't blame you. You can get some real bang for your buck if you choose to build a basic bra wardrobe filled with bras that work with at least 70% of your wardrobe. I suggest having 5-7 great go-to bras that you can rotate through your go-to outfits and clothes.
Find your go-to bras.

That's five to seven bras that support 70% of your everyday wardrobe & clothes.
Most people will gravitate toward skin tone neutrals and smooth cups, but keep your actual wardrobe in mind. I realized I was buying a lot of skin tone neutral bras, but the true New Yorker that I am, I really wore a lot of black and dark color clothing. And the light skin tone color that I was wearing was not the best color choice for my everyday go-to bras. The light color turned grey underneath black, and on the rare occasion I did need it to match my skin, it was dingy looking!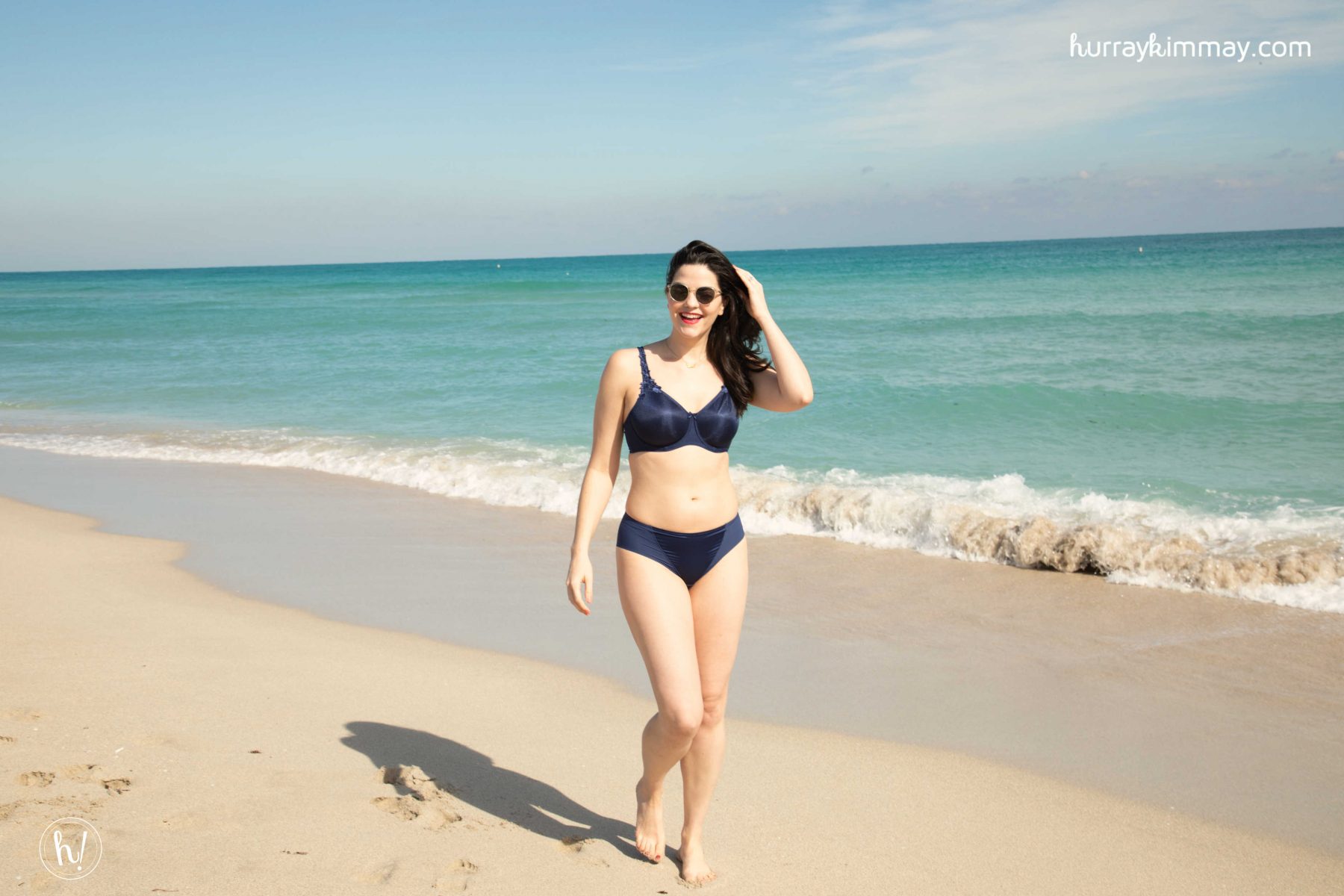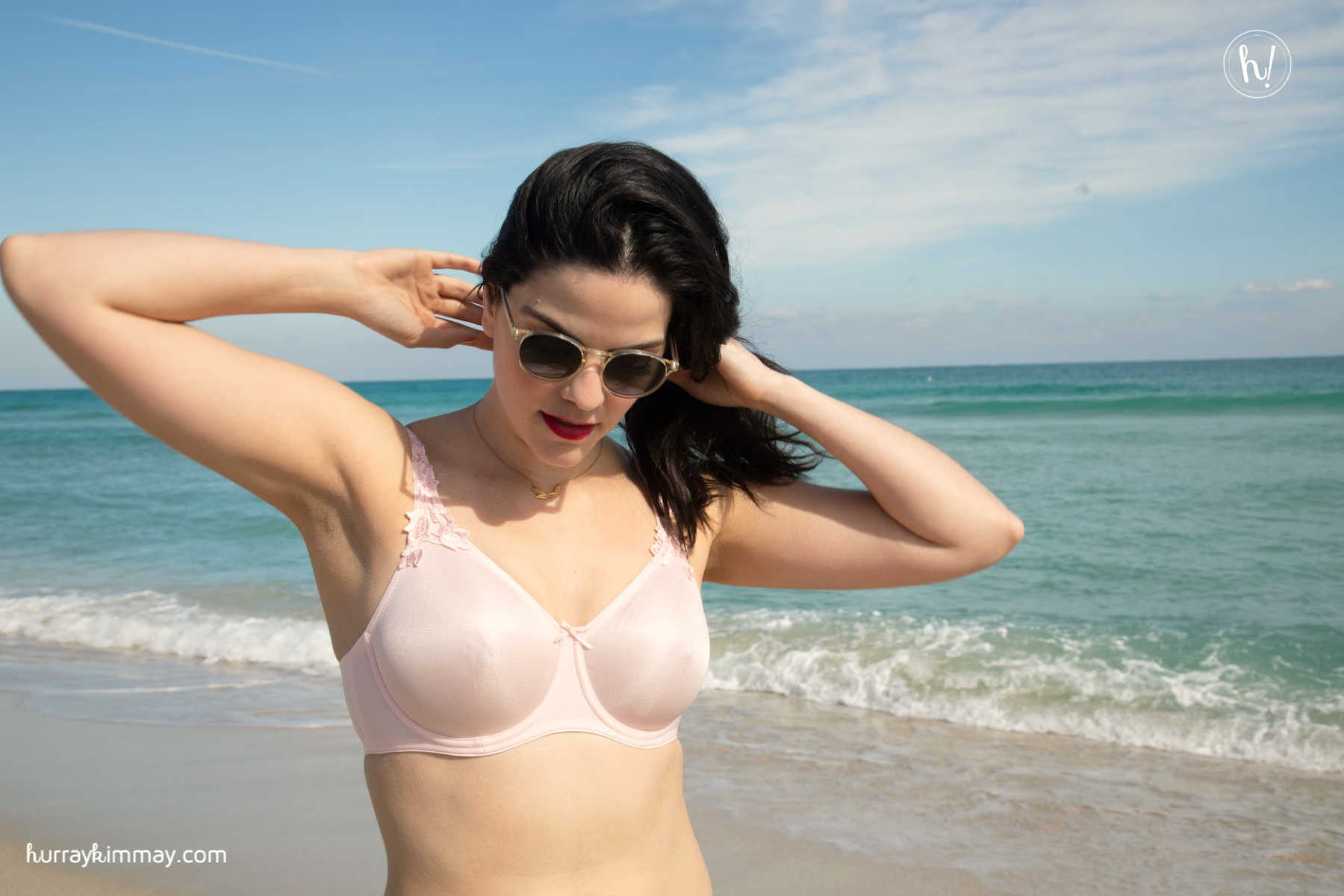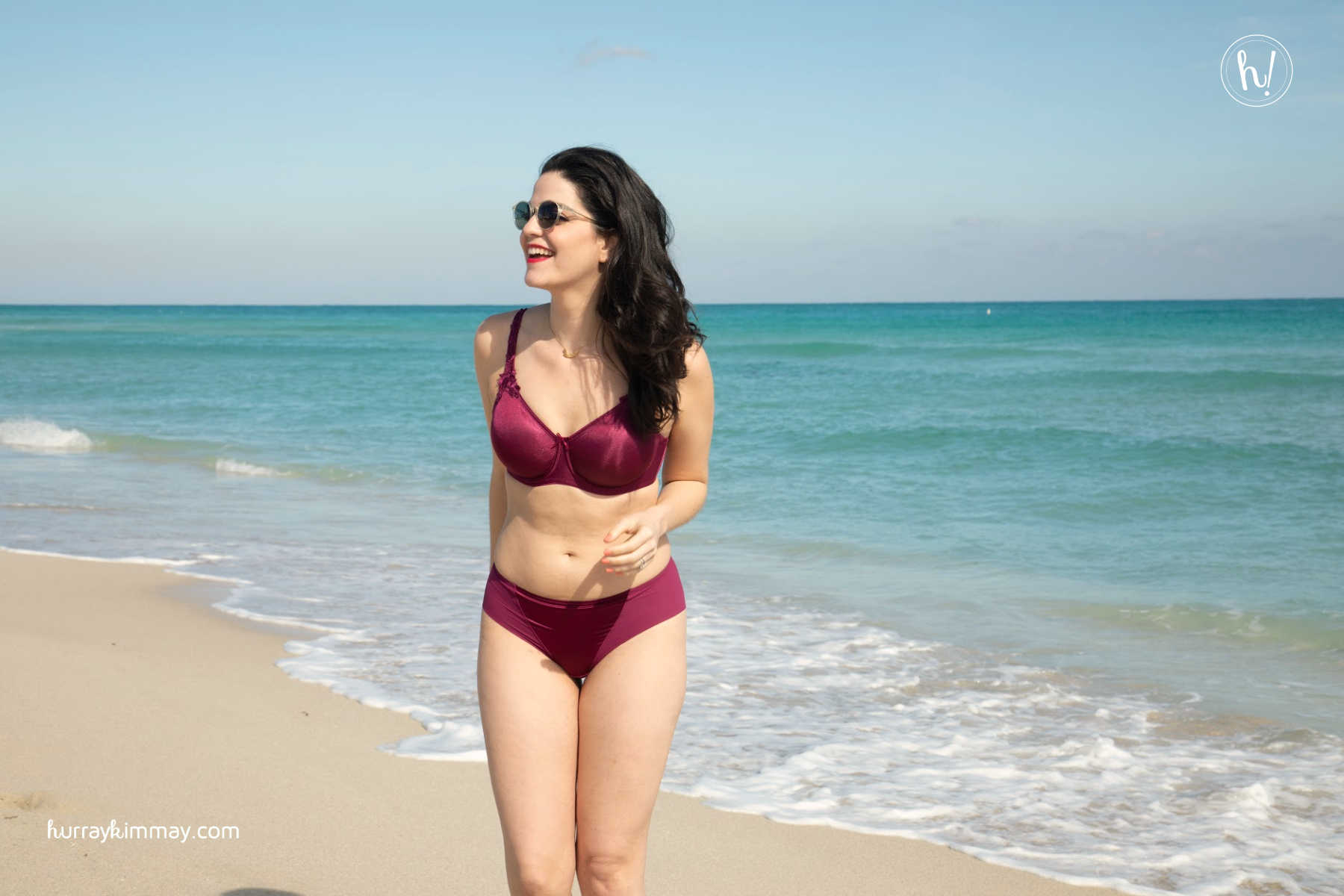 Style notes: Wearing the Mystique Underwire Bra from Dominique in size 32D during the #HurrayVacay in Miami! This super smooth bra is one layer of firm material for a secure, gorgeous fit and feel. I adooored wearing it in different colors like the blue, pink, and purple seen here. Such a refreshing way to wear a basic bra! More info at the bottom of this post. 
One easy way to add in some hurray to your everyday bras is with color! Think outside of the skin-tone-or-black box and choose other "neutrals" that work for you. Navy, brown, or grey can easily replace black. And light pink or pale blue are great to replace a light neutral. And throw something in there for fun like red or pink! As long as it works underneath your clothes, go for it and have a little fun!
Besides wardrobe color, keep necklines and straps in mind, too. What bra shape or function do you need most often? Ask yourself what combination of fuller coverage or plunge front bras work best with your clothes? And what look or shape are you most often looking to create with the help of your bra? Build up your basic, everyday bras to suit the majority of your wardrobe so you're not wearing the same basic bra over and over again. That way you'll help your bra last longer. Plus, you'll have a variety of go-to bras for your go-to outfits!
Choose The Material and Texture You Want to Wear Every day
One way to say hurray for everyday bras is to choose a material and texture that feels good and works with your wardrobe. Most everyday bras tend to be "t-shirt" bras without bumps or seams because they give a smooth look underneath most clothes. These can be molded, padded, or unlined. Maybe you like the thicker molding because it looks smooth and conceals nipples. Or perhaps you like the unlined styles because the full coverage is seamless and supportive. Or perhaps you like the way a push up shapes your bust. What matters is that you'll want to reach for it and wear it on a regular basis. I like having a combination in my wardrobe!
Keep in mind that your everyday bras may have a seam instead of being completely smooth. Or they may be made of lace! Once again, if it works with your wardrobe, fits well and feels good, and gives the shape and support you're looking for – go for it.
And pay attention to how the bra feels against your skin! Sometimes the inside is just as important as the outside (and I'm talking about more than just bras here). A great example of this is the Dominique Anais bra, which I shared on The Rachael Ray Show. The outside is smooth and stretchy, which provides a seamless look for your wardrobe, and the inside is made of a smooth knit that feels like your favorite t-shirt against your skin. What material feels best on your skin?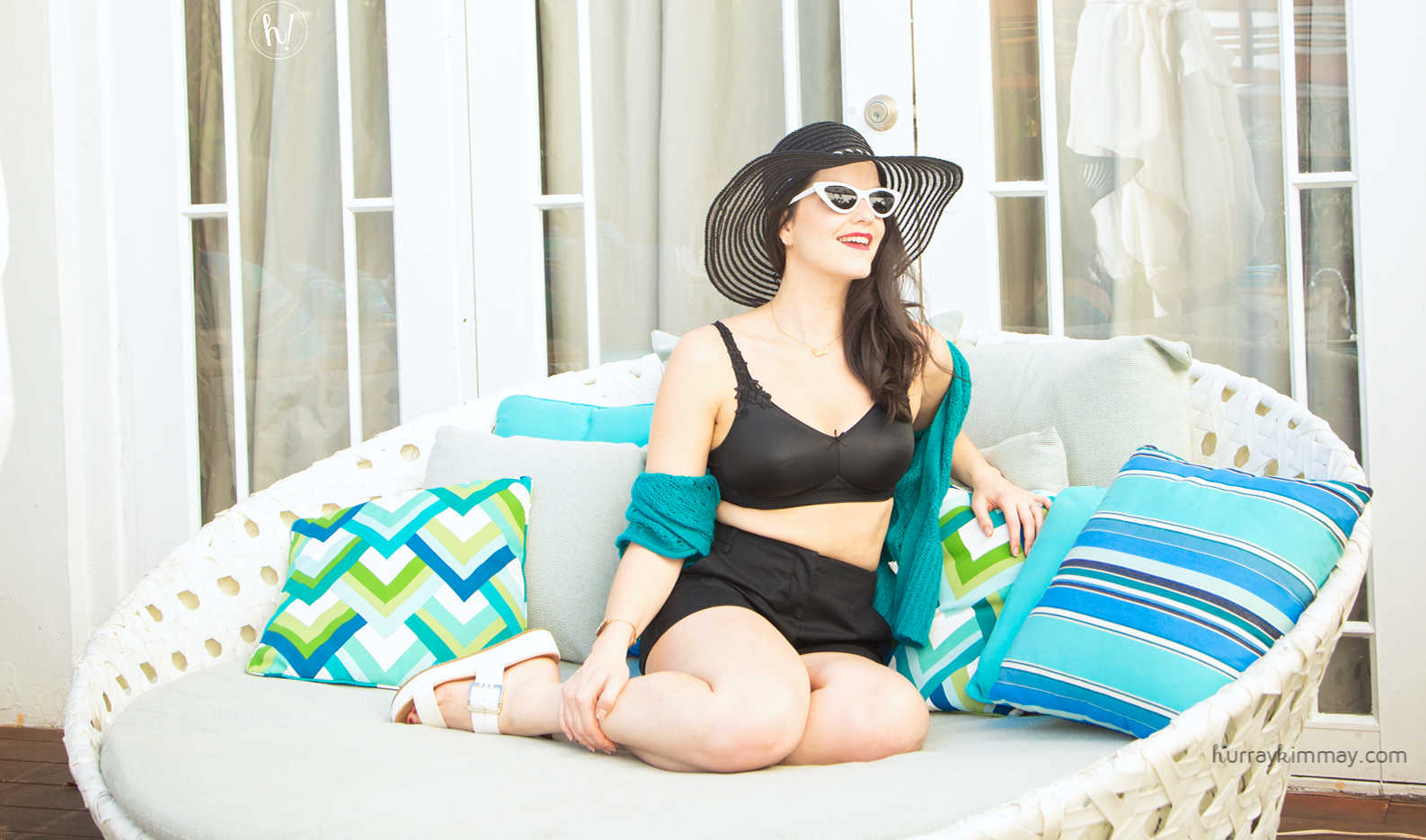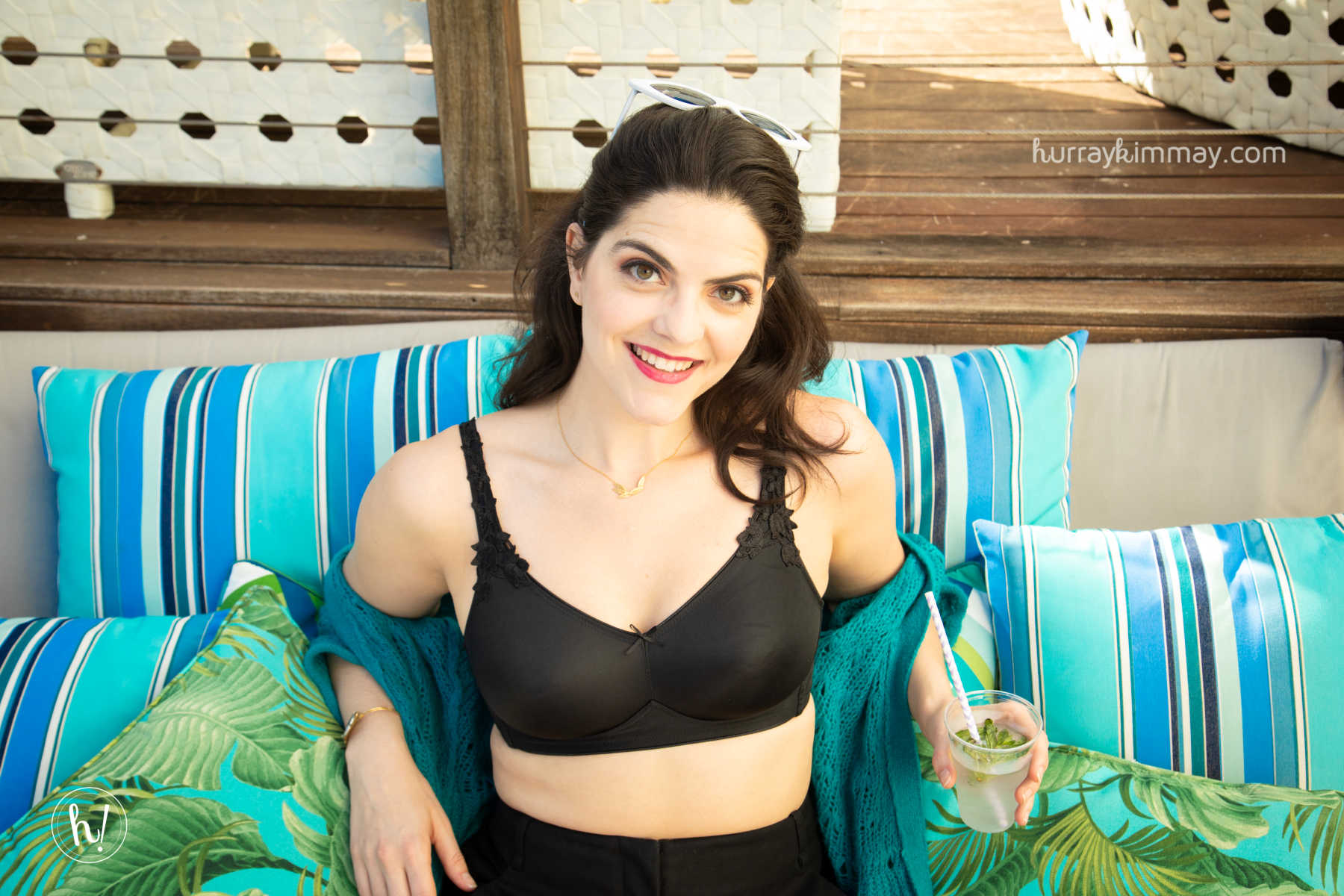 Style notes: Wearing the Dominique Jillian Wire-Free Bra in size 32D during the #HurrayVacay in Miami! This classic style has that retro vibe going for it, plus a supportive band, super smooth cup, and pretty decorative accents on the straps. More info at the bottom of this post. 
Choose Wire and/or Wire-Free
It's up to you if you wear an underwire or not on a regular basis, and it's totally ok to mix it up and take turns wearing each! Keep in mind that if an underwire feels uncomfortable, you may want to check in on the size and style and make sure it fits well first. I've helped many people who "hate" underwires find real comfort (along with the shape and support they were looking for) in an underwire bra.
Of course, if you have a medical condition or simply want to skip the underwire, you can go without. I have a great combination of wire-free and underwire bras in my everyday bra wardrobe and I love being able to check in with my body and my outfit that day and have the choice of wire or non-wire before me!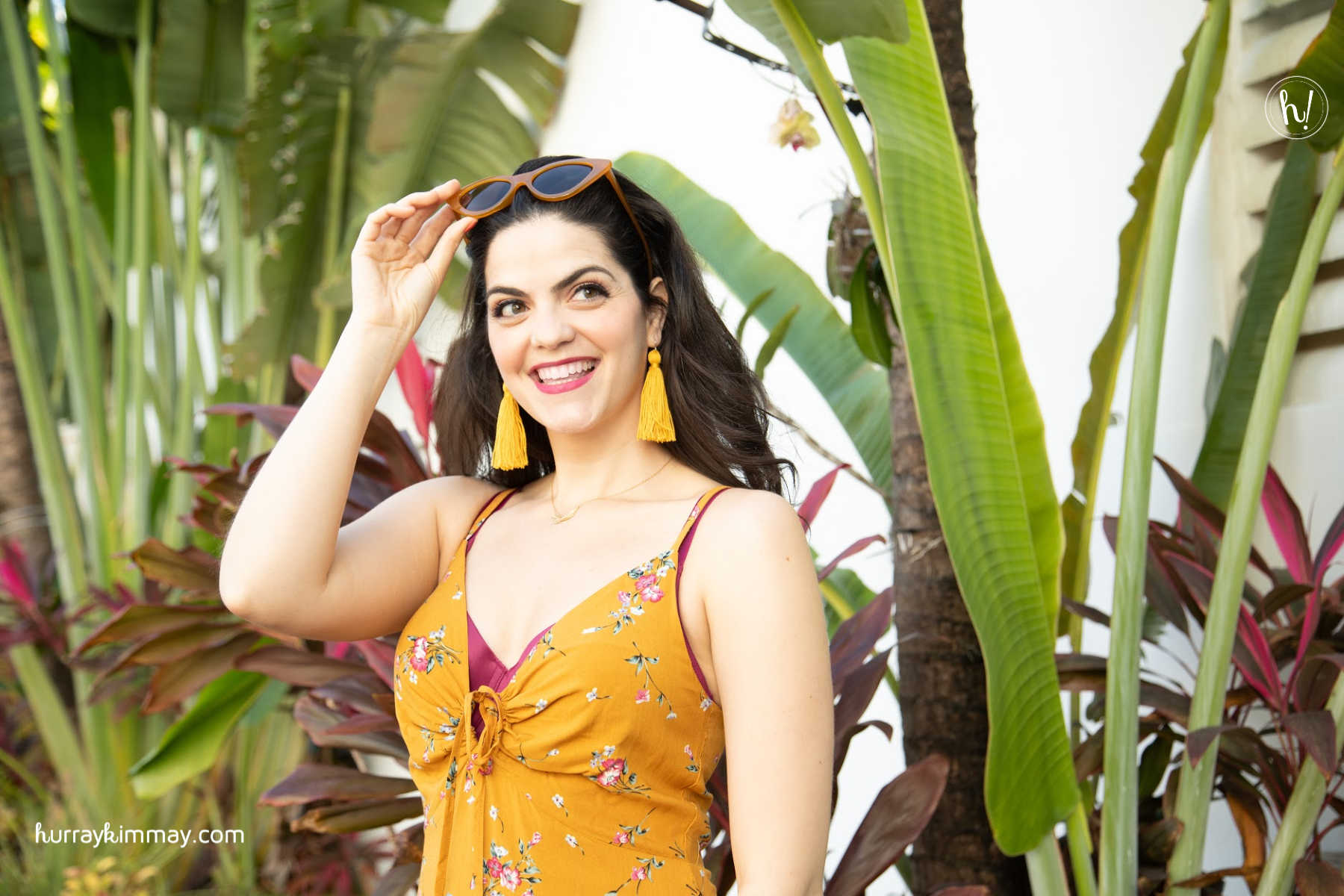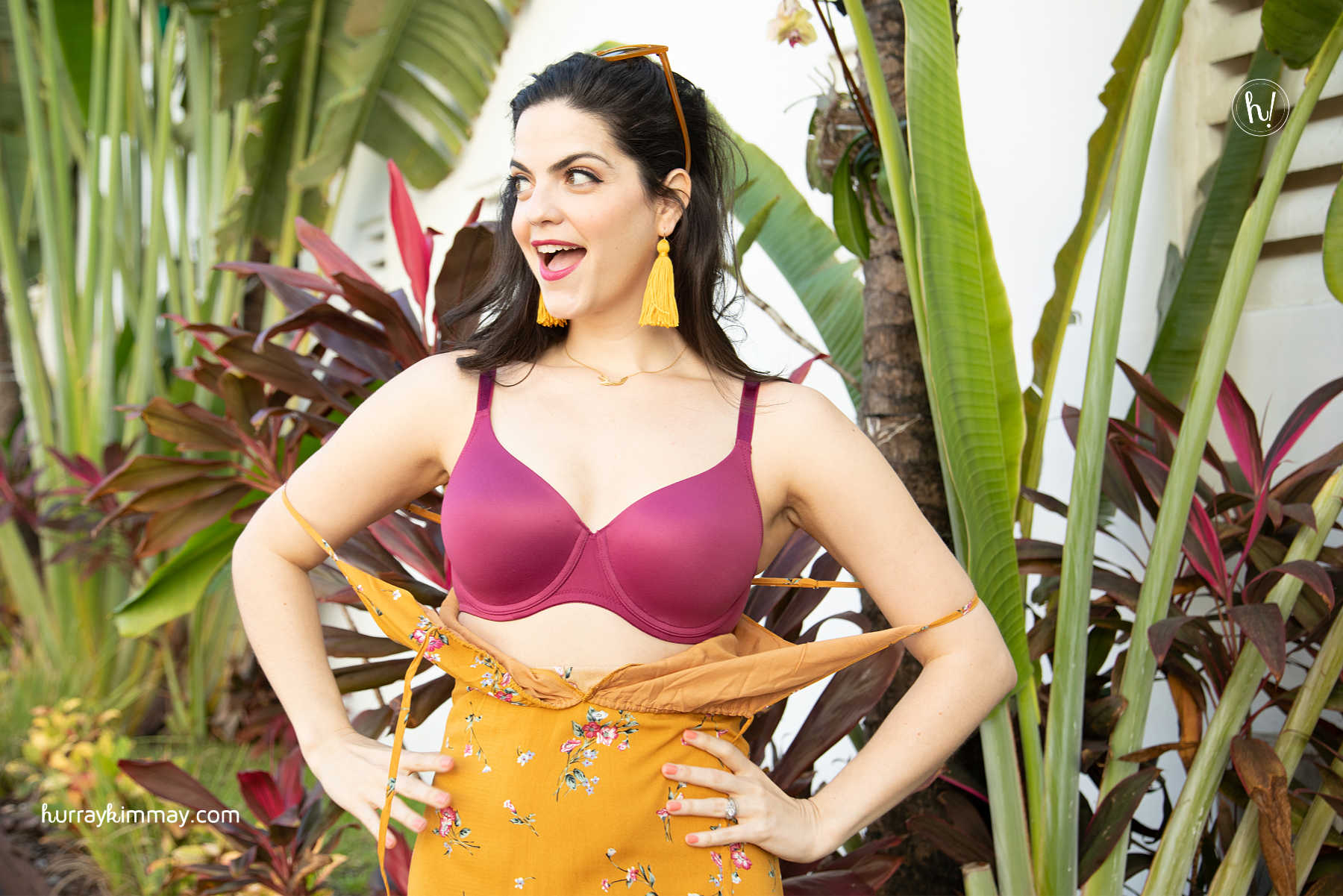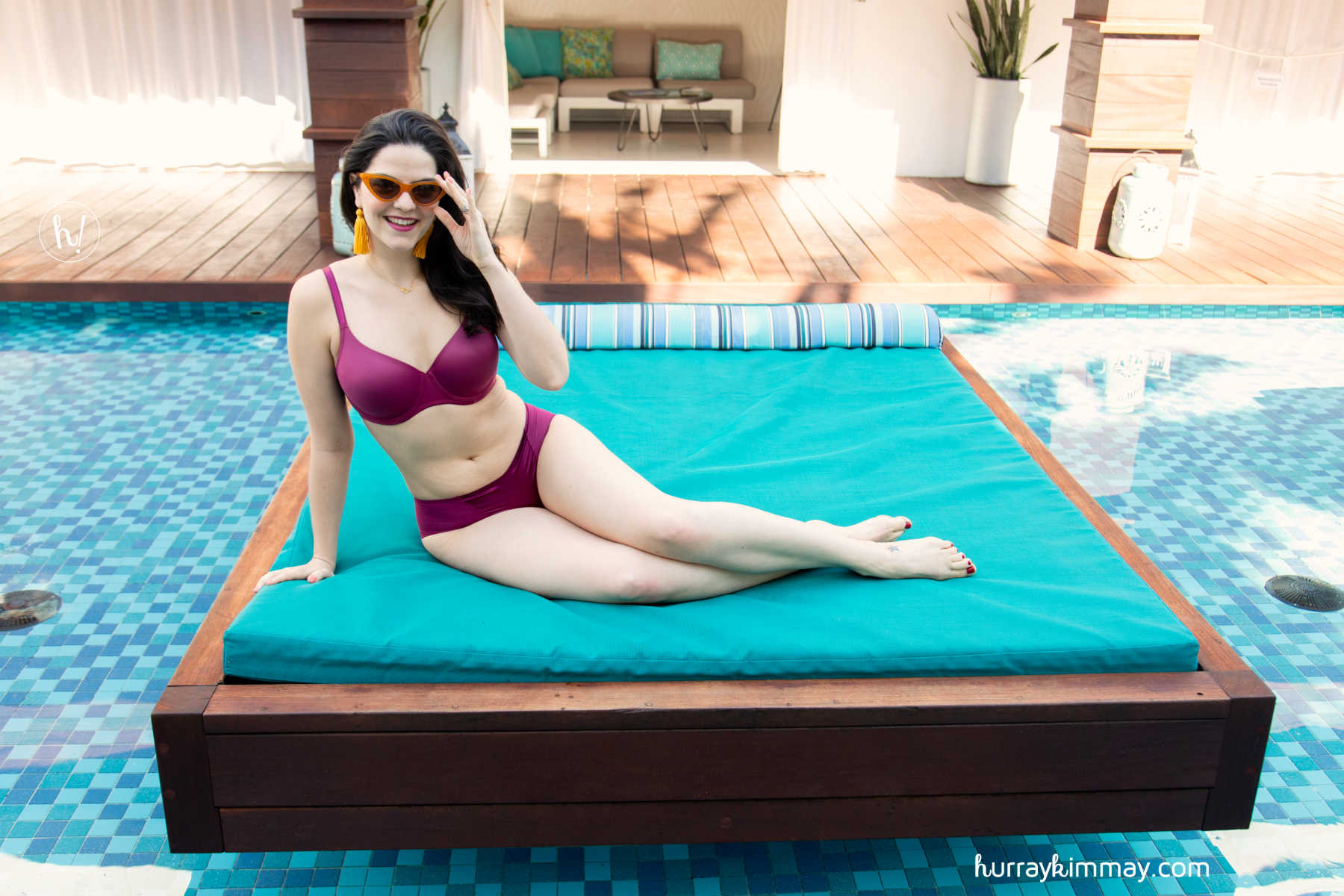 Style notes: Wearing the Dominique Aimee Seamless Bra in size 32DD during the #HurrayVacay in Miami! This t-shirt bra style is slightly molded and covered in a super soft material (it feels and fits like a dream). The matching seamless panty is dreamy, too! More info at the bottom of this post. 
Does it Feel Good to YOU?
The number one complaint I hear about everyday bras is that people want to rip them off at the end of the day. Eek! If a bra feels that bad, it certainly can't help you say hurray each day. I know that it can feel frustrating or nearly impossible to find a bra that fits well, feels good, and works with your wardrobe and budget. I know. And I promise you that it's possible. Whether you work with a bra fitter at a boutique, or online with the next new thing in bras, or stick to a classic, tried and true brand – YOU have to wear it. You decide what makes you say hurray.
You decide what makes you say

hurray

!
Think of how you want to feel each day when you wake up and start your day. Think of the layer that you use as a foundation for your clothes as creating a foundation for a quality you want to call into your day. Use putting on your bra in the morning as a sacred opportunity, set an intention, say an affirmation, or step into your purpose for that day! What quality can you embody (maybe sexy, supported, soft, flexible, open, heart-led, etc) and how can the bra you wear that day influence that?
With some education, determination, and heart you can create a bra wardrobe that you look forward to wearing each and every day! Use the information here and the resources on this site to take your next step toward being able to open your bra drawer and say hurray each day!
***
Your Turn: Take a look at your go-to, everyday bras and ask yourself: do you really like wearing them? Do your current everyday bras support your wardrobe? Do the colors work with your go-to outfits? Do you feel comfortable and supported? How do you want to feel each day, and how can your bras support that vision?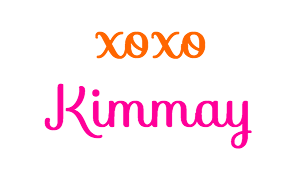 Credits: The photos in this blog post are not airbrushed or altered! You're seeing the REAL me. Taken by Becky Yee at the Marseilles Hotel in Miami during my #HurrayVacay. The "backyard" at this hotel was gorrrgeous and lead right to the beach. Special thanks to Tobi and Dr. Scholl's for some of the beautiful clothing (like that pretty yellow dress and lightweight ivory blouse) and shoes (like the white slides!).
GIVEAWAY!
Want some help creating an everyday, basic bra wardrobe that makes you say hurray? Here to help! Thanks to Dominique, I'm using my birthday month for an amazing giveaway where 5 winners will get 5 new bras each! Get to know more about this brand below, and hop over to the giveaway page to enter for a chance to win.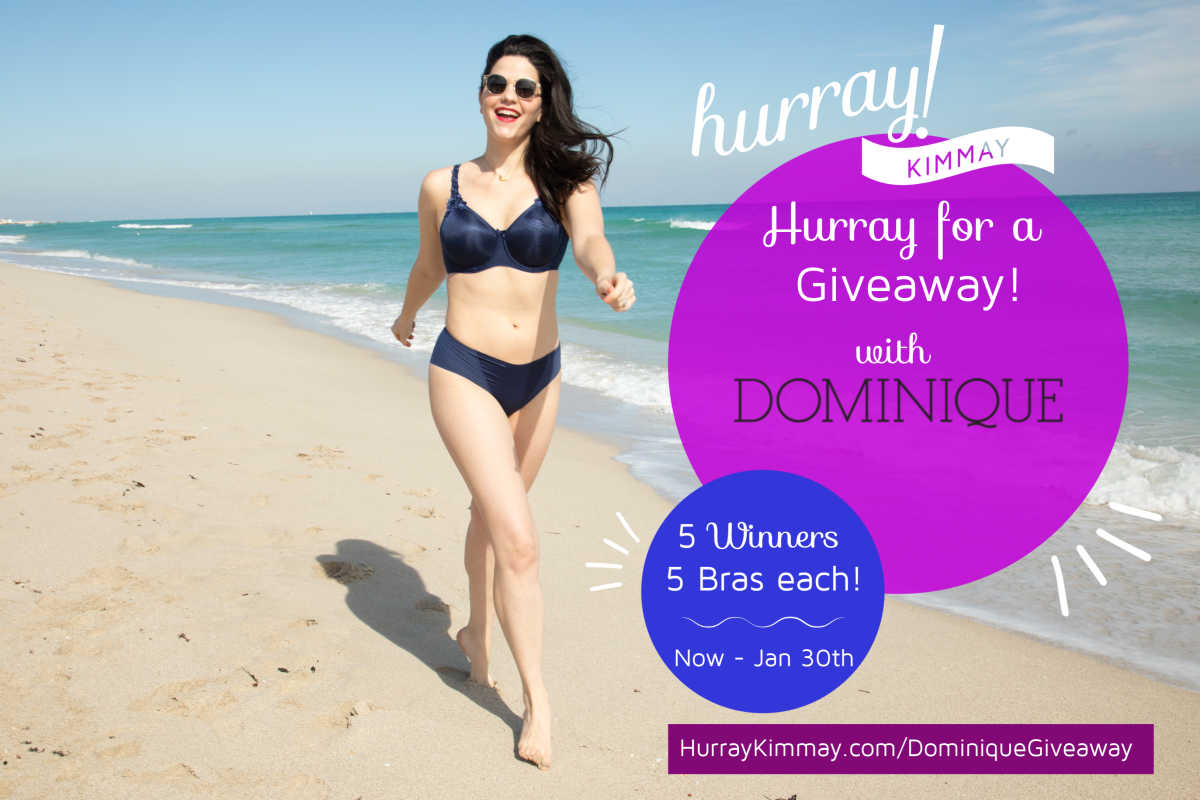 This post is proudly sponsored by:
The bras and underwear I'm wearing in this blog post are all from Dominique! This brand is dedicated to creating luxurious foundations that look and feel as if they were made-to-measure. Each piece is carefully crafted under the watchful eyes of an expert production team with over 60 years experience. Each hand-sewn stitch is made with the intention of helping modern women feel more comfortable, more beautiful and more like themselves. From everyday basics to bridal, shapewear and special occasion – Dominique Intimates are designed in an ever-expanding size range to provide the perfect fit for every woman. Dominique carries bra sizes from A to G cup and shapewear from S-6XL.
When I first encountered this brand I realized that their styles are very classic. They stick to the basics and do it well, without getting distracted by the latest trend or a passing fashion. They're committed to making supportive, functional bras with a touch of style and you can rely on them to have core designs year after year.
Fit advice: I find that this brand fits firm or snug in the band for most styles. I measure 29″ for my underbust, and can wear a 30 or 32 in most brands. In Dominique, the 32 was the best fit, and even on the snug side! So don't be alarmed if you need to adjust your band size up (and thus, your cup size down to find your sister size). In the 32 band, I wore a DD in the molded cups and the minimizer, and a D cup in some of the fuller coverage, unlined bras. That's fuller than most bras and styles from other brands. Remember to try on styles for yourself and choose the best fit, regardless of what the size on the tag says.
You can shop for Dominique bras and underwear at Bare Necessities, JCPenney, Amazon, and Target.
Connect with this brand online and social media: Instagram, Facebook, Pinterest