Fall kicks off a series of months with less outdoor time, and less time in nature. Connecting with nature and the four natural elements of the zodiac is a huge way to say hurray, especially when you're using them for some serious self-care. I've got a few ways to say hurray inside, outside, and underneath while connecting to air, earth, water, and fire.
So you're not an astrology person? No worries. Even though I lead Wild Woman New Moon Circles, and teach at women's fests, and yes I just recently bought sage to smudge my apartment… I'm not as "woo woo" as you think. At least when it comes to astrology. It's interesting to me, and I'm still learning, but I don't live by it. The way I think about astrology in general is the same way I think about weather. I'm probably not going to base my entire life and all major choices around it, but it's nice to be informed and work with it. It's going to happen whether or not I want it to, so I might as well check in and know if I should bring an umbrella or not. Same goes for the energy and cosmic happenings around us. It's good to be informed and work with it, but unless something super intense happens, it's not going to influence EVERYTHING in my life.
That being said, anyone can connect with the four elements in the zodiac: air, earth, water, and fire. Each sign in the zodiac is assigned an element, and those born under that sign tend to have some of those traits. It gets 100000x more complicated and informative than that when you read a full chart, but that's the gist. And even though your sun sign is only assigned to one element, you can always connect to them all. In fact, all of the elements rely on each other. And embracing each is essential for a balanced life. The Astro Twins give a nice little recap of them.
And while you're at it, connecting and all, you might as well do something good for yourself. Self-care is a lovely buzz word (or words?) that is making its way around the web and media. But it's far more than a trendy article topic. Caring for yourself, showing yourself love and compassion, opening up new aspects of yourself, unfolding and nurturing your inner life – it's a HUGE way to say hurray. You're only capable of loving others as much as you love yourself.
I feel so fortunate that I get to connect with these elements on many of my Hurray Vacays, like in Mexico, Puerto Rico, and soon – Guatemala. And this is something you can do anywhere! So the next time you feel like you need to connect with and tap into the energy of a certain element, want to balance out, or need a surge of one, try a few of these tips below!
Keep in mind: 
Inside means what we put in our bodies, and what's going on inside them – especially in the mind and heart.
Outside means what we put on our bodies, and what's going on in our surroundings at home, work, or out and about.
Underneath means what we put on underneath our clothes, including bras and undergarments, and also our relationship to our bodies.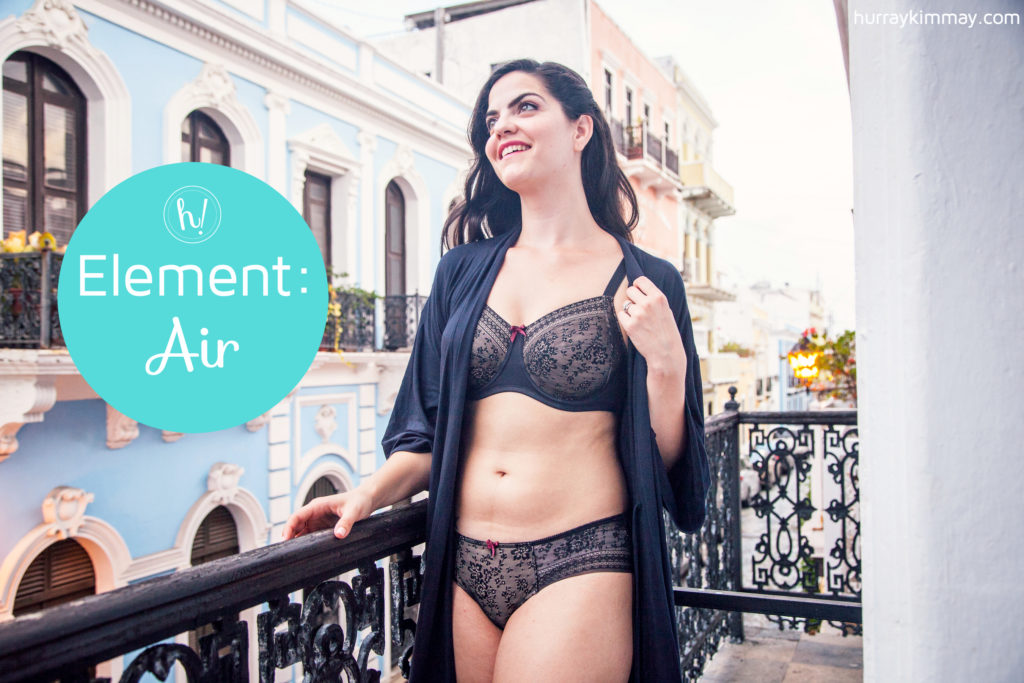 Air 
For when you want to connect to your own version of: curious, communications, perceptive, inventive, clever, breezy, fresh, analytical, abstract thinking, problem solver, idealistic, humane.
Inside: 
Call a friend. The element of air in Astrology has a lot to do with communication, be it writing, talking, or even texting. Call up a friend for some much needed soul talk.
Communicate with yourself.  Spend some time communicating with yourself! Slow down your mind, ask questions, and really listen. Try meditation and journaling.
Get steamy. Boil some water with a few drops essential oils and inhale the steam. Be careful! 
Eat airy foods. Try some popcorn – especially the healthy kind made with natural oils, no GMOs, and just a dash of salt. Might as well pop in a DVD while you're at it!
Outside:
Embrace the breeze on your face. A short story: I was taking the short walk from my apartment to my office and happened to fall into step with a group of disabled and impaired people. While we were walking, and I was rushing to try to pass them to get to my office, a brisk breeze arose. One of the men in the group opened his arms wide to soak in the air, and exclaimed with his impaired speech: "Woooow. This feels so goooood!" A chaperone replied, "you're right! It does feel good." And the whole group put out their arms, or lifted their heads to face the wind, or smiled into the breeze. I almost cried. What a simple thing to enjoy, to embrace, and to use to slow down and feel the moment. I eased up, stayed in step with the group for my last blocks, and embraced the air on my face for a moment, too. 
Go out in the open air. Make it a point to hang out on a terrace, the rooftop, or balcony.
Eat outside. Ask for a seat outside at a restaurant, serve your own meal outdoors picnic or backyard style. While the weather is still warm enough, enjoy the air.
Air out your house. Open the windows and let the air flow through your home. 
Wear airy clothes. Pick clothing that is loose, flowing, light blue, lightweight, sheer. 
Underneath:
Go commando. Try going without panties! Bonus points for trying this while wearing a skirt, but not required. 
Wear a breezy bra. Try a bra made of lightweight lace, or a sheer material. Pick something less structured like a bralette or non underwire bra. 
Want more? Check out this recap on Astrology.com to learn more about air elements.
Style notes: Above, I'm in Old San Juan during a Hurray Vacay in Puerto Rico. I'm wearing a bra and panty set from Anita (the bra has pockets for a prosthesis!), and a robe from peach. Photo by Becky Yee of Around Digital Media. As always, no airbrushing my body, because false perfection doesn't have a place here.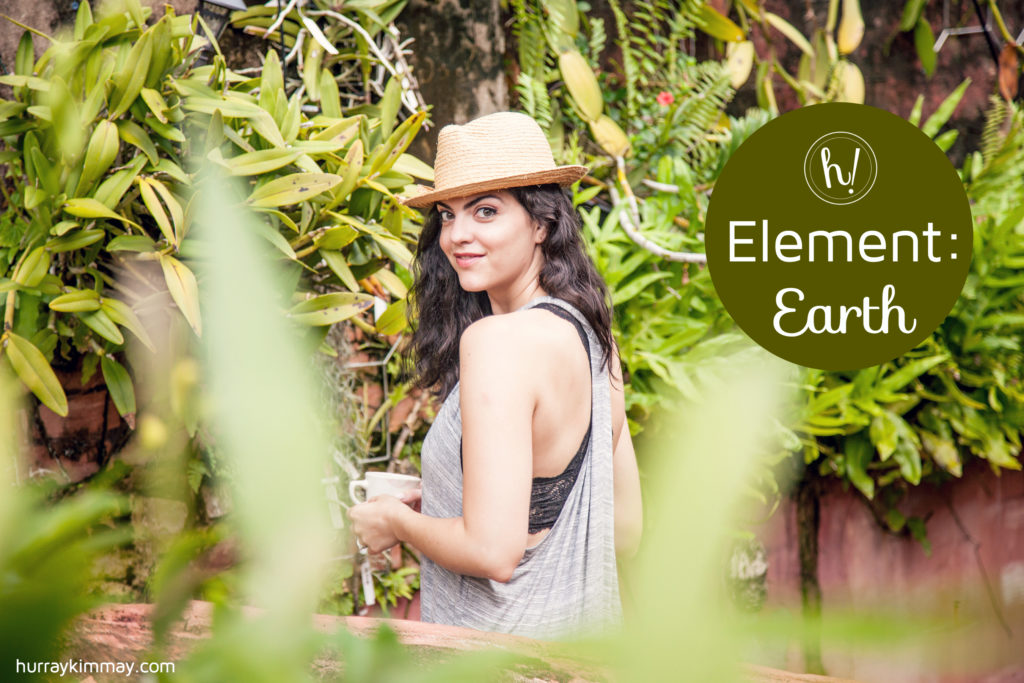 Earth
For when you want to connect with your own version of: practical, grounded, solid, builder, dependable, reliable, driven, structured, planner, always moving up.
Inside:
Build something. Earth signs are builders. So build a fort or make something with your hands, or build things like relationships, a business, a family. 
Minerals and supplements. Take the goodness from the earth and put it in your body. PS stay away from bad brands that use fillers and go with those that are better for your body.
Physically root yourself. Get grounded with yoga, open your root chakra, and find peace in tree pose. Imagine your body is growing strong roots into the ground as you balance in place and breathe deep.
Eat earthy foods. Cook with fresh herbs, and local produce, incorporating things like root vegetables and things grown in the dirt. Also, try wheatgrass shots and using ginger.
Wine. Especially rich, earthy reds.
Outside:
Get out into nature. Go apple picking, take a hike, walk in the park, go on a Fall foliage drive, sit in the grass. 
Bring outside in. Buy some fresh flowers, or grow plants in your home. Grow an herb garden and use them in your cooking!.
Visit a botanical garden. If it's hard to get to a big patch of nature near you, go where they have a dedicated, indoor place for it!
Get dirty. Try rock climbing, Tough Mudder, running in muddy conditions, or an at home spa mud mask.
Wear earthy clothes. Try clothing that is textured, thick, brown, green, and structured. 
Underneath:
Wear earthy undies. Dark, earthy colored underwear like green, brown, in eco-friendly, natural materials and fibers. 

Fuzzy, warm, leggings and undershirts.

Structured lingerie. Wear corsets and structured undergarments with underwire, seamed cups, and super support. 
Want more? Check out this recap on Astrology.com to learn more about earth elements.
PS: If this means anything to you, my sun sign is Capricorn 🙂
Style notes: Above, I'm in Old San Juan on a Hurray Vacay in Puerto Rico. I'm wearing a black lace bralette and dress from Express. Hat from Gap. Photo by Becky Yee of Around Digital Media. As always, no airbrushing my body, because bodies are beautiful without it, too.

Water
For when you want to connect with your own version of: emotional, deep, fluid, compassion, nurturing, intuition, sensitive, artistic, beauty, receptive, dreamy.
Inside:
Get emotional. Water signs are in touch with their emotions – all of them. Set some time aside to unpack your feelings and really feel them. Use music, journaling, meditation or dance to get into it. Maybe even watch a tear jerker or emotional movie.
Eat food from the waters: seaweed, fish, lobster, crab, oysters, etc.
Hydrate. Drink lots of water and stay hydrated when you're tapping into this energy.
Go with the flow. Unlike earth signs who need structure and scheduling, water signs excel with going with the flow and taking each moment as it comes.
Outside:
Go to the water. Visit the ocean, a lake, a river, a stream, or a pond. Whether you can spend a few moments or a few weeks – get your fill. Even if you're just sitting or walking by it. 
Go in the water. Swim, rent a boat or go on a boating trip, take a long bath, play in the rain, wash your face.
Listen to water. Listen to rainstorms or bubbling water tracks. For real. There are so many awesome, relaxing music or nature sound CDs or tracks on YouTube. 
Find a fountain. I love to sit by fountains in public parks or buildings. You can also put a fountain in your landscaping, or buy a small one for inside your home or on your desk.
Wear watery clothing: Try fluid, drapey, dark blue, purple, clothing made of slinky materials like silk, satin, microfiber or modal.
Underneath:
Try a water bra. I used to wear the now discontinued Panache Atlantis bra, back in the day. Looks like there's a new option, which I haven't tried, so let me know if you do. 
Wear your bathing suit. Obviously, if you're going in the water this is a great option. But even if you're not, pop on your swimsuit and connect with a time you were in the water. Need help finding a bathing suit you want to wear? I got you.
Go silky underneath. Try silk or satin panties, a chemise, a camisole or a bra. 
Want more? Check out this recap on Astrology.com to learn more about water elements.
Style notes: Above, I'm in the Mexican Riviera during a Hurray Vacay wearing an Anita one piece swimsuit and sunglasses by Under Armour. Photo by Becky Yee of Around Digital Media. As always, no airbrushing my body, because real bodies are gorgeous bodies.

Fire
For when you want to connect with your own version of: bold, spicy, lively, courageous, sexy, enthusiastic, passionate, self-sufficient, creative.
Inside:
Get fiery: Fire signs are sexy and fun. Dance to an upbeat song, flirt with your reflection, own your sexy – just for yourself.
Eat fiery foods: Try spicy foods, hot sauce, hot peppers, Fireball shots, grilled or charred foods
Sauna: spend some relaxing time in a hot, dry sauna
Be adventurous. Fire signs are bold and courageous. Go on a Hurray Vacay to an adventurous place, try something new, do something that scares you, make a courageous move
Outside:
Play with fire (in a safe way). Build a campfire, dust off and light up the fireplace, burn candles. 
Burn away negativity. Burn some sage, sweetgrass, or incense and bless your home.
Wear fiery clothing: Take a bold step and show your fire with your clothing. Try red, orange, yellow, colors and test out something sexy and spicy. Whatever that means to you!
Underneath:
Wear fiery lingerie: or whatever makes you say hurray in a fiery way. Own your sexy with lingerie under your work outfit, around the house, or to let someone know you're in a fiery mood.
Wear fiery colors underneath: Even if it's just a pair of cotton undies in a bold, red, or a smooth bra in a hot orange. Adorn the most precious parts of your womanhood in fire colors.
Want more? Check out this recap on Astrology.com to learn more about fire elements.
PS: If this means anything to you, both my rising and moon sign are Leo.
Style notes: Above, I'm in Tulum, Mexico during a Hurray Vacay wearing a camisole with a built-in shelf bra from Miel, a skirt I picked up for $6 in my neighborhood, and heart sunglasses I bought on the streets of NYC for my engagement and wedding photos. Photo by Becky Yee of Around Digital Media. As always, no airbrushing my body, because it's lovely as is (just like yours.)
***
Hurray!
Your turn: These are just a few ways to connect with the elements on the inside, outside, and underneath. Which will you try? What ideas can you share with me? How do you feel about the elements and/or astrology? Which energy do you need a dose of right now? Which one is easiest for you to tap into? Where is there a struggle, and an opportunity to explore some more?
Leave a comment here, send me a tweet, or come say hi on Instagram!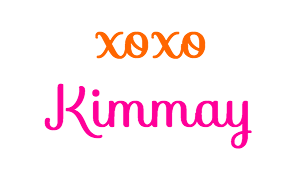 PS: As always, no airbrushing my body, because keeping it real is what I'm all about.