Summer means swimsuits. And sometimes swimsuits means stress. I hear you. And I'm here to help you say hurray for swimsuit season in the latest Hurray for Four post. I'm sharing Four Ways to Love Wearing Your Bathing Suit. Yes, actually love wearing your swimsuit. Skeptical? Let's dive in.
OK if you've come this far, you do believe there is some hope that you can love wearing your bathing suit. Hurray! That's an important first step. So give yourself some credit for getting this far – even if you're still skeptical.
I understand your fear. I really do. For many years I loathed swimsuit season. Being on the beach or by the pool was the most vulnerable I ever felt. I would feel stressed because I am not a very good swimmer, and my friends would be jumping in and out of the water, throwing each other in, and dunking each other while I waited on the side and desperately hoped no one tried to toss me into the water. I was so embarrassed. In addition, I have very light skin, and it shows everything. You can see my dark hairs show through my skin before they even grow out of it, and veins, and stretch marks, and bruises.
But most importantly, I was stressed because I was wearing very little clothing and felt like I couldn't hide my stomach or thighs without totally covering up and looking dowdy. Other girls seemed so fit, tan, and confident. I felt soft, pale, and insecure. Quite frankly, I felt fat and ugly. Those were the words my inner self was using to describe my body. That was the message my fearful mind was sending to my heart: "You look so fat and ugly in this swimsuit. What were you thinking buying this? Did you really think you could wear this out and about? You're so foolish." I had so much shame about my body that I let the fear of being seen suck all of the joy from my summer. I let the lies about my body ruin a perfectly good day at the beach or pool. I missed out on the fun. Does this sound familiar?
It wasn't until after a wake up call in the bra fitting room that I finally started to change the way I was talking to my body. I slowly eased the fear and emotional abuse (I mean, that's really what it was) and brought in more love, understanding, compassion, and admiration for my body – in and out of a bathing suit. When you see photos of me in my swimsuit now, you may think I always felt beautiful and confident in a bikini. Not true. Even now, I still feel a little pang of "ahh!", but I and my body have come a very long way.  And now, I actually look forward to putting on my bathing suit. It's been a process. And I'm happy to help you start or continue the same process today.
You may not be able to LOVE wearing a bathing suit overnight, but you can start tonight. For real! Below are a few of my favorite ways to say hurray in your bathing suit. Four, to be exact. I present: Hurray for Four Ways to Love Wearing Your Bathing Suit.
1: Wear What Fits
One of the easiest ways to love anything that you wear is by wearing what fits, and fits well. This goes for shoes, jeans, tops, bras, and especially swimsuits. It is tempting to wear something in a size down to fool your mind into thinking "look I can wear this smaller size!" but your body will call your BS when you actually wear it out. I often fell for the trap of wearing a bathing suit bottom that was a size up, so it wouldn't dig in and cause a muffin top. However, if I actually went into the ocean, one wave would pull it right down. It's happened. Not cute. Wearing what doesn't fit is a recipe for feeling uncomfortable and miserable. More importantly, you're not honoring your body as it is. You're telling it you wish it was something it's not. And that's a real recipe for disaster.
Wearing what fits isn't just about the size, but also style, coverage, or cut. Wear the swimsuit with the coverage that fits your body and feels good. If a teeny triangle top doesn't fit well, try something else. If a fuller coverage bottom fits and feels best, go with that. Instead of getting in and out of the swimsuit fitting room as fast as possible, and settling for whatever they got, make time to really try on several styles and find which suit suits you. Get to know, and then go with what fits YOUR body.
In most cases, I enjoy a little more coverage on the bottom – especially on the sides. A wider side (just like a wider bra band) will lay flat and hug my hips instead of digging in. This Panache Marina swimsuit bottom has a good amount of bum coverage, and a fold over band with adjustable hip coverage. I felt so amazing in this swimsuit! My hips are about 38 inches, and I'm wearing a size small.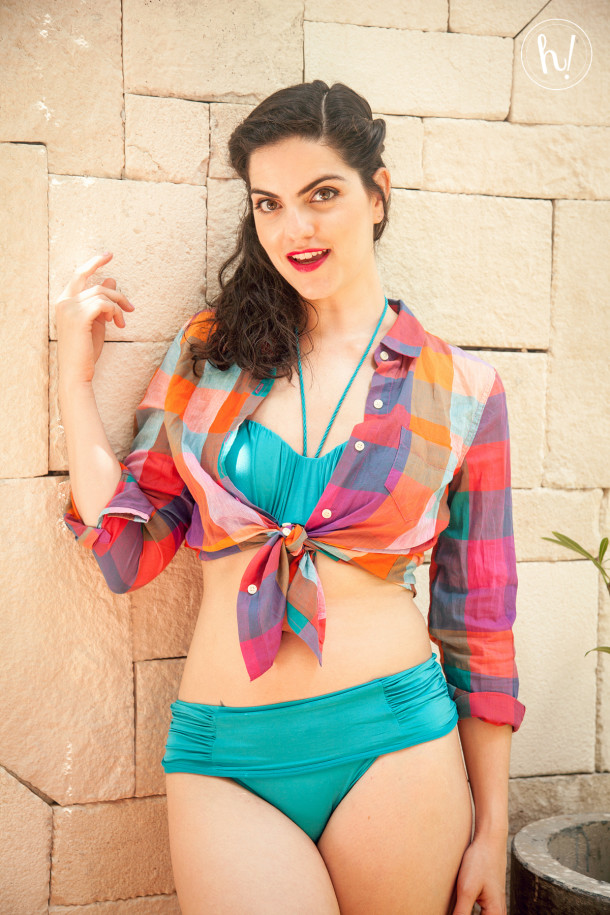 I especially love to wear bra sized swimsuits so that I can get the perfect fit. A small, medium, or large top doesn't usually fit my proportions quite as well as something that comes in a 32DD. This Panache Marina top is just one that this lingerie brand makes in bra sizes. In fact, Panache makes swimsuits of all kinds, for D cup sizes and up – sometimes up to a K cup size. I've seen women who never dreamed they could find a bathing suit top to fit their bust literally jump for joy when I fit them into a Panache bathing suit. It has been a favorite brand for fitting women, and it's one of my personal favorites as well.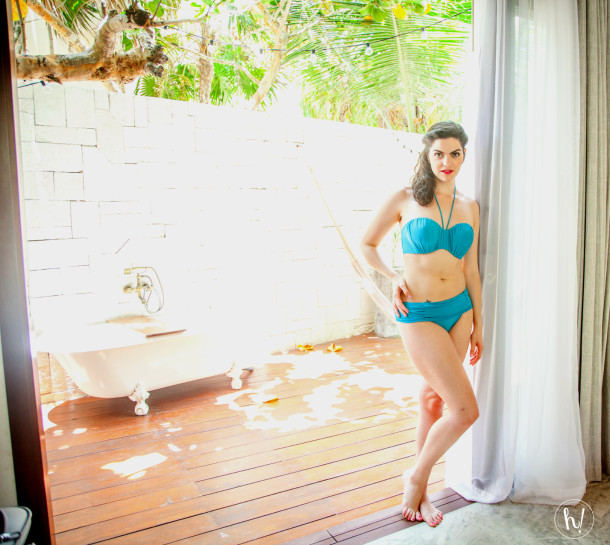 FYI, Panache uses UK sizing. That means (among other things) that a DD and E cup are two different cup sizes. Finding the size is important, but making sure your top fits well is even MORE important. You can use these same 5 Bra Fit Tips to find a great fit for your bras and bra sized bathing suits!
2: Select Support 
One of the BEST ways to say hurray in your swimsuit is to wear something that supports your bust. Out of the thousands of women I've helped into a bathing suit, the happiest customers often wore a bra sized, underwire, supportive swimsuit top. It may be odd to think of wearing something so supportive for swimming, right? Usually we think of the beach as carefree, loose, relaxed, and comfortable, like a bralette. On the contrary, underwire bras are thought of as rigid, constricting, and painful. Is that what you think, too?
The truth is, in both undergarments and bathing suits, you may feel even BETTER in the bra sized, supportive top. That's because if you follow my first suggestion and wear what fits, you won't feel uncomfortable. You'll feel supported. And support feels GREAT. It provides confidence, lift, shape, and ease of motion. It feels like your top is going to stay in place and not slip or slide. It feels like you can focus on having fun in the waves, and not on if you're going to accidentally flash your fellow swimmers. It feels like you're taken care of, loved, and understood. It feels like freedom. You may think I'm crazy for saying so, but trust me. This is the feeling you can get from a supportive swimsuit top.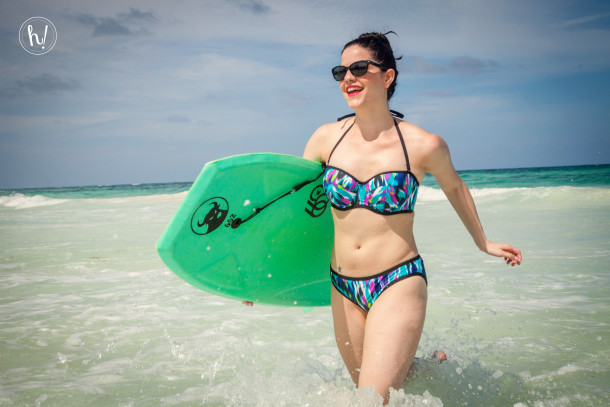 The Avril Bandeau Bikini top by Cleo by Panache you see here is made with molded cups, underwire support, for D cups and up. I'm wearing a 32DD and it fits like a dream. The center gore (where it tacks on my chest) is slightly higher than normal, which means it is nice and secure and stayed in place while I played in the waves and jumped for joy during my time in Tulum, Mexico. I even wore this suit to swim in the pool without the halter straps (they're removable) at the Grand Mayan resort and this puppy stayed put. The truth is: it fits like a great strapless bra because it's made by a lingerie brand that makes great, supportive bras. I totally trust Panache to keep me supported in a bra or bathing suit. Huge hurray for that!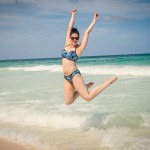 So if you're deciding between a few bathing suit tops, select the one with support. Try it out and see if a little extra support makes a difference in how you feel about wearing your bathing suit.
3: Match Your Personal Style
Your bathing suit is another extension of your style. If you love to wear bright colors or bold patterns, don't settle for a bathing suit in a solid pastel color. There's a less likely chance you'll feel awesome wearing it. Instead, see if your favorite clothing shops carry bathing suits. Or take a look in your closet and find the outfit you love wearing best, and then find a swimsuit that reminds you of it. Ask yourself what colors, patterns, or materials make you happy.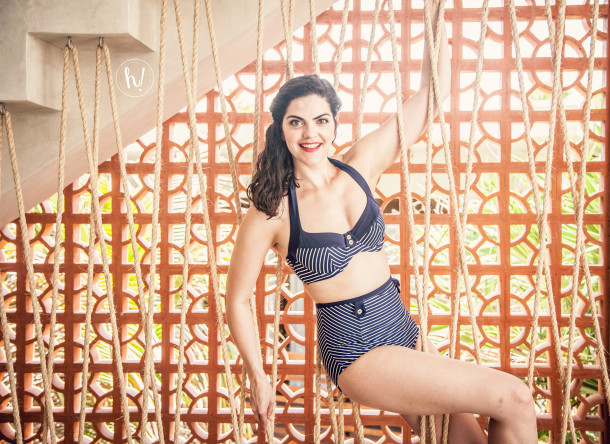 Personally, I love to wear retro style clothes, glasses, and hairstyles – so this Panache Brit Halter Bikini Top and High Waisted Bottom were a no brainer for me. It's very similar to a style that I wore last year on the Hurray Road Trip. It was such a match for me and my personal style then, and it still is today. I love the style of this swimsuit so much that I couldn't wait to wear it out on the beach. It feels so me, and so fun, that I actually looked forward to sporting it around.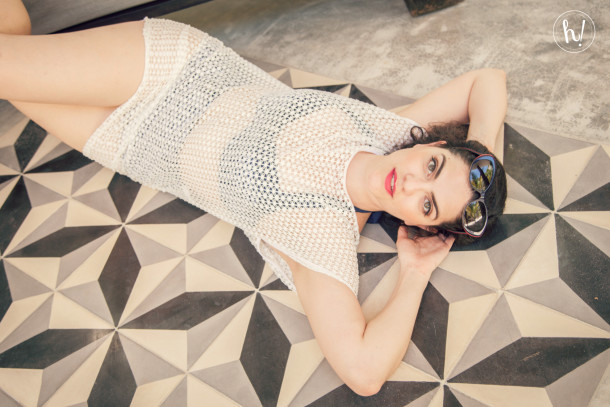 This rule goes for your coverups, too! If that ratty t-shirt or awkward sarong isn't doing it for you, find something that matches your bathing suit and your personal style. This Panache Sun Dress is sooo cute, and gives me just enough coverage to walk around a resort or grab a bite to eat without feeling like I lost my style. The open weave material also lets my super cute swimsuit shine through!
Remember, wear what fits and what supports first, and then find something that is SOOO YOU. You can't get by on looks alone. Wearing a stylish swimsuit that ALSO fits well or feel great is a straight path to saying hurray. Just like the tops above, the Brit has underwire support for D cups and up. I'm wearing a 32DD again, and it feels great!
4: A Little Love Everyday 
So this one is actually the most important. And it's the one that won't happen overnight, but will have the most long lasting effect. Rebuilding a loving relationship with your body – the kind where you actually want to adorn it with a swimsuit and wear it out – takes time, patience, and true compassion. Think of your relationship with your body like you would with a best friend. Though best friends may not always agree, or they may fight, they've been through enough together that they can forgive. Best friends also cheer each other on, support one another, and let you know when you're making stupid choices. And just like a best friend, if you constantly treat your body poorly, yell at it, and wish it were different, it's going to rebel and cry and ask someone to save it from this horrible relationship.
If you've ever tried to repair a broken relationship, you know it takes time to build up the trust, good feelings, and true forgiveness. That slow process happens by releasing blame and making room for compassion. And it only requires a little bit of love everyday. Start now, not when your feet hit the sand or the bathing suit fitting room. In this very moment:
Take a deep breath and ask your body for forgiveness if you've taken it for granted, treated it poorly, and wished it were different.
Then lovingly forgive yourself for the misunderstanding that having a perfect body is what would make you wonderful.
Then say one or two (or more!) things that you are grateful for about your body. Maybe it's that you're just alive and it's working! Maybe it's your legs and their ability to take you to beautiful places, or your heart and lungs for the miraculous way they work, or your arms for their ability to hug and hold the ones you love.
I recommend doing this daily, but practice this anytime you need to – especially if you suddenly catch yourself being mean to your body.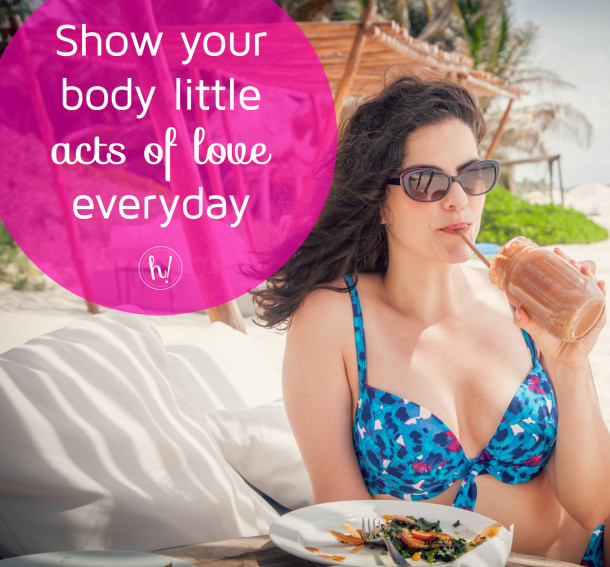 Here are a few ways to love your body a little more everyday:
Drink lots of water
Take deep, cleansing breaths
Try a yoga class
Be easy on yourself and lift the "I should" from your inner vocabulary
Eat healthy meals and snacks
When you catch yourself in the mirror, remind yourself that your body is a living, breathing miracle
Lovingly forgive yourself for the misunderstanding that your body must be flawless to be beautiful
Resist the urge to compare your body to anyone else's – good or bad
Get plenty of rest
While on my Hurray Vacay in Tulum, I practiced small acts of loving my body everyday, like eating healthy food… and wearing amazing swimsuits. Seriously, that's love! Look at investing in a great swimsuit as a loving act of kindness to your body. Adorn it, support it, and love it with a swimsuit that makes you say hurray. This Suki Plunge Bikini Top and matching Bottom by Cleo by Panache fit so well, supported so good, and looked so cute – wearing it was a beautiful way to show my body some love. Even with the deep plunge, the 32DD fit like a glove and I never felt like I was going to fall out. With support up to a G cup, maybe it could be a good way for you to show your body some love, too.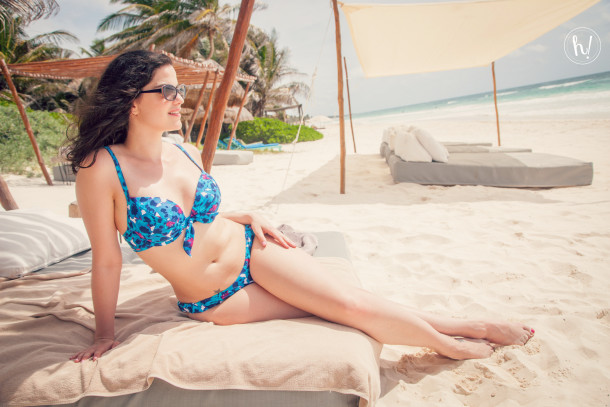 I can tell you with full honesty that years ago I would NEVER have let someone take a photo of me in my swimsuit – and certainly wouldn't have shared a photo of me in a swimsuit with so many people! But when I look at the images of me on the Hurray Vacay, I see what love has done. Loving my body has prompted me to eat well, rest, exercise, move, dance, breathe deep, stand tall, jump for joy… and that is what makes my body look so good to me now. It's not my long legs or skin (which I have come to lovingly adore), but the love that I have poured into my body and soul. That's the real beauty that's shining through. And THAT may just help you say hurray when wearing your swimsuit.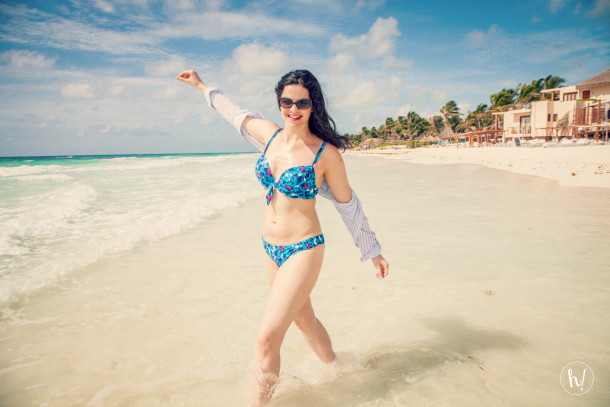 Love helps any living thing flourish. Your body is no different. Give it love and watch it bloom.
***
What do you think? Are you willing to take steps toward loving your body and enjoying your summer in your swimsuit? What small differences in what you wear and how you act can you make today? If you have questions or need inspiration, I'm here to help. Send me a tweet or submit a question!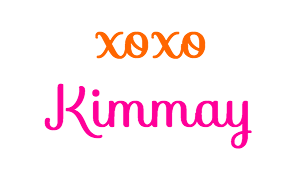 PS: Panache is a proud sponsor of my Hurray Vacay trip to Mexico, which means they paid me for content and made the trip possible. I'm so thankful to them, and truly love this brand, their products, and the people behind it. The sunglasses in this post were provided by Under Armour and lafont.
PPS: The photos in this post were taken by Becky Yee of Around Digital Media. I never photo shop or airbrush my body (or anything in these images for that matter). It's my commitment to showing you what my real body looks like, and encouraging you to take a look at yours. So you'll see some bruises, cellulite, stretch marks, and rolls. I hope you'll also see beauty, and what love looks like. xo
Save