I had a dream a few months back that shook me. In this dream, I was at some kind of a networking event or gathering with other women. We were sitting on chairs, in a circle, and one by one going around and telling a little bit about ourselves. It was unclear, as in most dreams, who else was there – except two people. A mother, in her 50s, and a daughter, in her early 20s.
The mother was a stereotype that made me uncomfortable. Strict, straight-laced, fearful, overly protective, and modest. The daughter sat next to her, quiet. I could sense this shame, or a silencing. Her vibrant light was being dimmed by the shadow next to her. She looked down, her hands together between her legs, uncomfortable and sad.
In the dream, I said something about how passionate I am about lingerie. How I believe that it's one way for a woman to say hurray, and to honor, love, adorn, and support her body. I was speaking to the group as a whole, feeling gleeful and appreciative of the nodding heads and smiles. Suddenly, out of the blue, the mother spoke: "Well, my daughter will never wear lingerie." I turned to look at her. Her back was straight, her arms crossed, her eyes full of fire and disdain. The daughter slumped in her chair, embarrassed, ashamed, trying her best to hide. "What did you say?", I asked. Literally curious as to what she said and trying to figure out why this mother was talking on behalf of her daughter, who was sitting right next to her, and a grown woman in her 20's. In a you-heard-what-I-said tone of voice, the mother looked right at me and said: "Lingerie is for sluts."
A fire went off in me. An inner rage, a plea to explain to her, a sadness for her fearful living, a worry for her daughter. I'm sure that in the dream I said all sorts of things about my personal view of lingerie, and how every woman can choose what she wears. I'm sure I was eloquent and kept my cool. But the sentiment under all of it was anger and sadness. There's a misunderstanding when it comes to undergarments and lingerie. There's a misconception that enjoying them, and using them for any purpose except to hide or tame your unruly breasts, is forbidden.
This dream is something very similar to what I've witnessed in real life. Many times. This was not, thankfully, the case every time, but it was often enough to haunt my dreams to this day. Young women would come to the bra fitting shop where I worked, accompanied by their mothers. The mother would, in a volume loud enough for everyone to hear, say to me: "Now, I don't want her wearing a push up bra or anything that's too sexy or showy. She's young, you know." It was her way of making sure the women in the nearby fitting rooms knew she was a responsible mother who was raising a well-mannered girl. It was also her way of telling her daughter that being "too sexy" was shameful. That a push up bra was the path to slut-ville. That her breasts were taboo.
This was not, in my experience, ever met with a feeling of gratitude, affection, or understanding by the daughter. I could actually see her shoulders start to slope and her chest invert, hiding her heart away and blocking its love. My own heart went out to her as her eyes fell downward and she tried to hide this new, shameful part of her body. It was her first lesson of many that looking sexy, having breasts, and being a woman was a terrible and dangerous thing. This message, unfortunately, will be reiterated over and over again in her lifetime. Magazines, mothers, and the media will tell her this.
And in some cases, she'll hear the opposite. She'll read, hear, or see that her worth is all wrapped up in being sexy. That if she isn't appealing in a sexual sense, she isn't appealing at all. And that her looks define her value. These two contradicting messages make being a woman very difficult. How can she possibly navigate the world in this body, with these breasts, with these dual lies?
It was my duty, I felt, in that bra fitting room to ease up on the shame and to help each woman support her body and her breasts with respect and compassion. And sometimes joy, fun, desire, or downright silliness. Finding a way to enlighten her to the idea that underwear and lingerie is not just for one kind of taboo woman, during a 30-minute fitting, was one of the hardest and most invigorating parts of being a bra fitter. I took great care to not just help her find a bra that fits, but also find a piece of her that needed some love.
But don't think I am immune. If you can relate to any of the above, I'm right with you. I'm still navigating this issue, myself. I'm on a journey to figure out how to embrace my sensuality, or own my sexy. I've been learning how I want to own it for a while. I'm a bit afraid of being "too sexy", because that comes with a list of dangers:
Someone may think I'm slutty or loose, and I place judgement on that
I may attract unwanted attention from men
I could not be taken seriously as a business women or person in general
I may be seen as TNA and no brains or heart
I might show too much and giveaway my privacy or a sacred part of me
I could lose myself to the sexiness and never get back to being a good girl
I may think I'm sexy, but what if everyone else thinks I'm not
I mean these are real fears that I have or have had! Writing them down, most of them seem a bit ridiculous. But that's never stopped my heart or head from giving into a fear. You know how it goes.
So with a new sense of worth and understanding, I'm on a mission to own my sexy. Want to come along? Here are my four favorite ways to explore owning your sexy.
PS: All of the photos in this post are by Laura Boyd of Own Your Sexy. Style notes are below!
One: Experiment with your style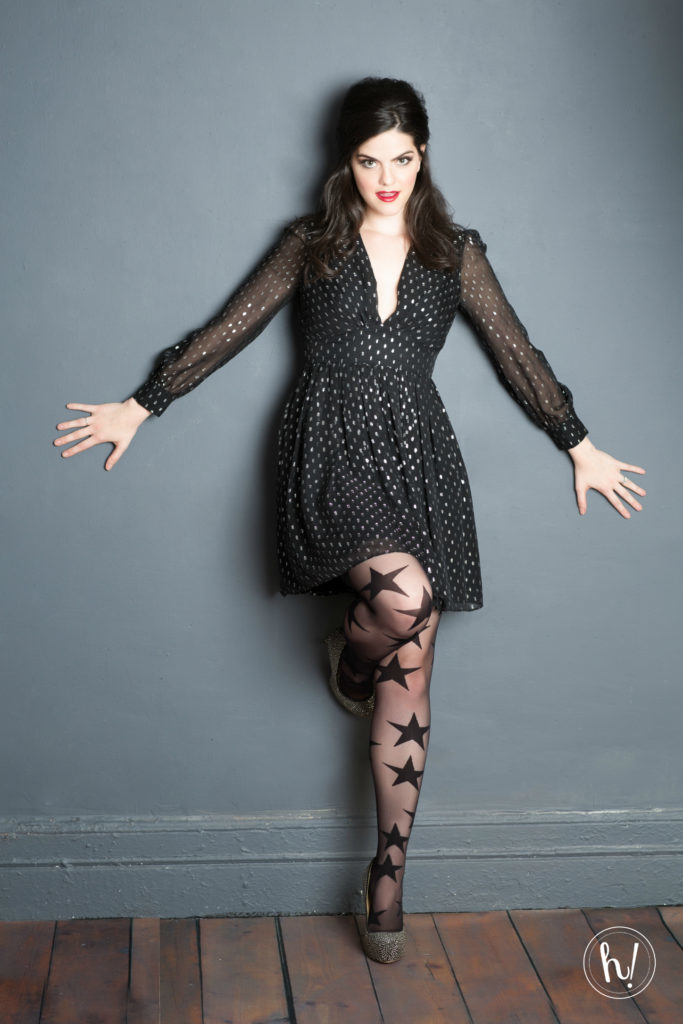 There are so many ways to explore your sexy, and style is one of my favorites. What you wear matters. It is not some superficial aspect of your life. Adorning yourself, dressing from the inside out, and showing your true colors are a great way to wear your sexy. Now, let's talk about what that means. That does not mean you have to wear a skin tight dress, a short mini dress, or cleavage-bearing blouse. But it also doesn't mean you can't.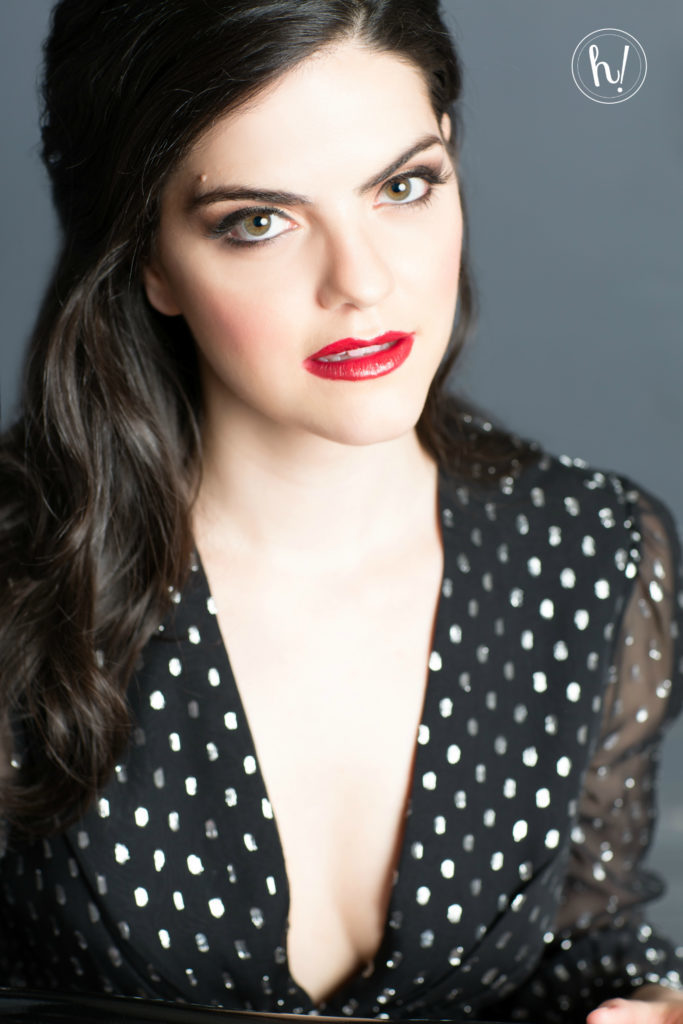 If you start to experiment with what you wear, you'll find your own zone. Try something that makes you and your body feel awesome, and observe how you walk down the street. Wear something that is a touch closer to your sexy side, and investigate what it does for your confidence. Does it make you feel awesome or does it make you feel vulnerable? Can you bravely start to show a little bit of your sexy, owning who you are, and all of your colors, without diving so deep that you can't come up for air? It's all about trying things out, and seeing what feels good.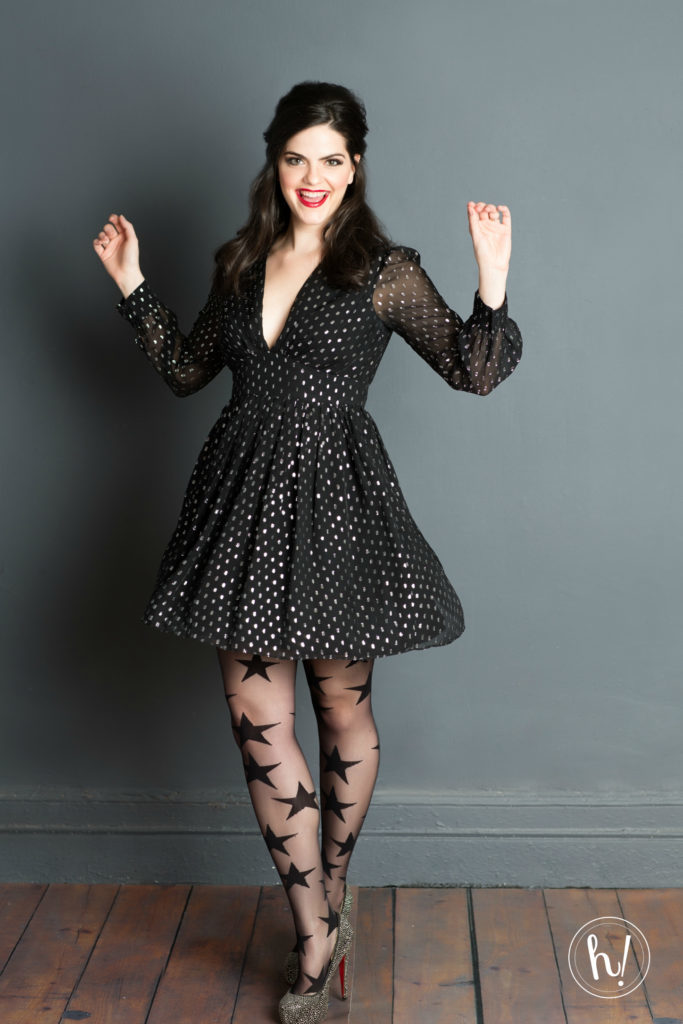 For me, "sexy" is wearing something that makes me feel like a million bucks. That doesn't mean something that looks great but doesn't feel great. You won't usually see me wearing something that it so tight I can't breathe, pinches or scratches, or makes me feel self-conscious. Worrying about breathing or a wardrobe malfunction is not sexy. But experimenting with skirt lengths, deep v's, sassy hair, bold lipsticks, and daring eye makeup? Yes, please. And always, always, always with the undergarments to support that look.
Style notes: One of the cool things about working with Laura of Own Your Sexy was that she has a Rent the Runway account for her clients to use, and a whole closet of lingerie, shoes, accessories, and more to play with! She picked this Jill by Jill Stuart dress for me, and I love it. The tights are by House of Holland for Pretty Polly, and the shoes are part of Laura's closet. Underneath, I'm wearing a paper stick on bra.
Two: Wear lingerie even if no one else will see it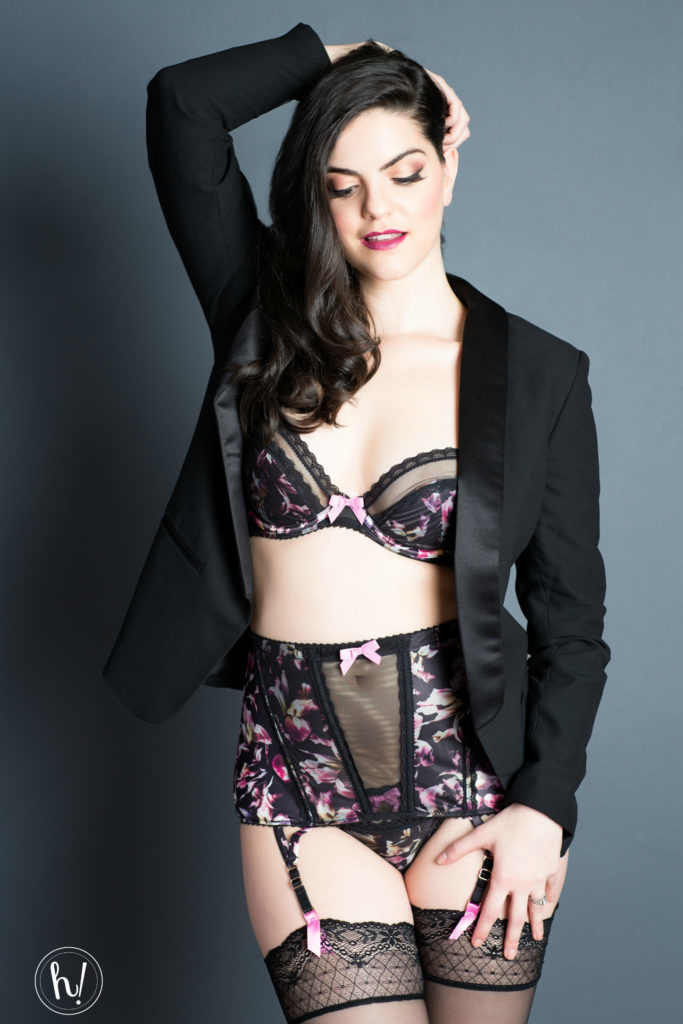 One of my favorite ways to say hurray is with lingerie. Now, here's the thing. Lingerie is a tricky word. For many, it implies complicated straps, high-end lace, and racy designs. And wow – that stuff is sooo fun! But that's the obvious kind of sexy. It's the sexy that you show someone when you want to be SUPER clear about what you want. Want to try something subtler? Something that's truly for you? Something that you can wear any day underneath your clothes?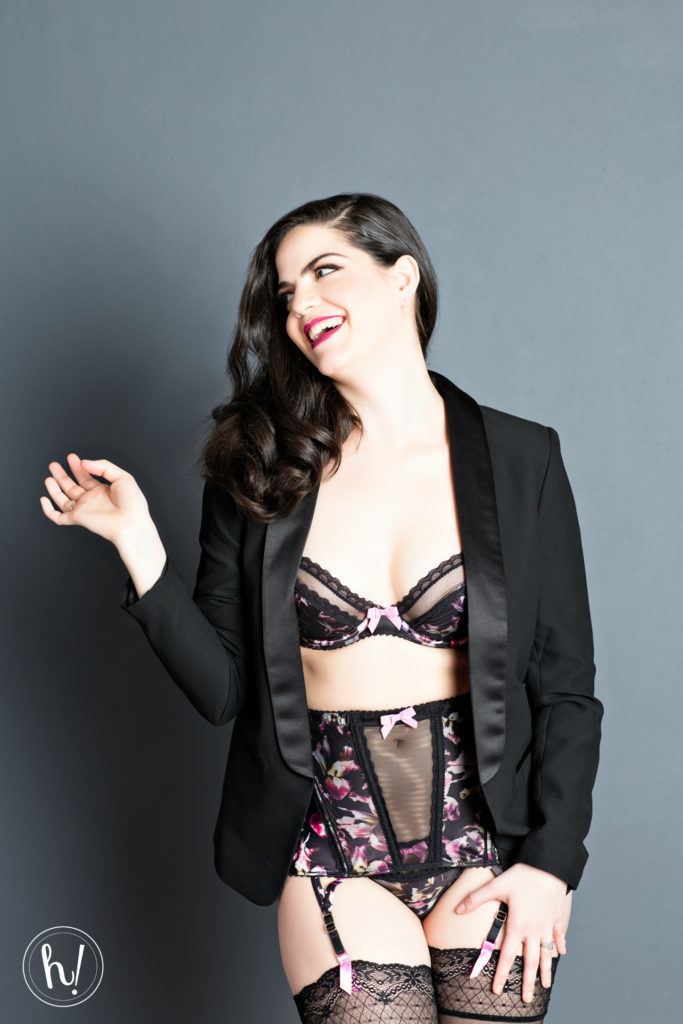 Go to the department store, a lingerie boutique, or your favorite online destination, and choose something you love. Not what you think your partner wants, not what your mother would pick out, not what you think your Tinder date will like – what YOU love. Maybe it's lace, or the prettiest blue. Perhaps it's smooth but colorful, it just has to be you.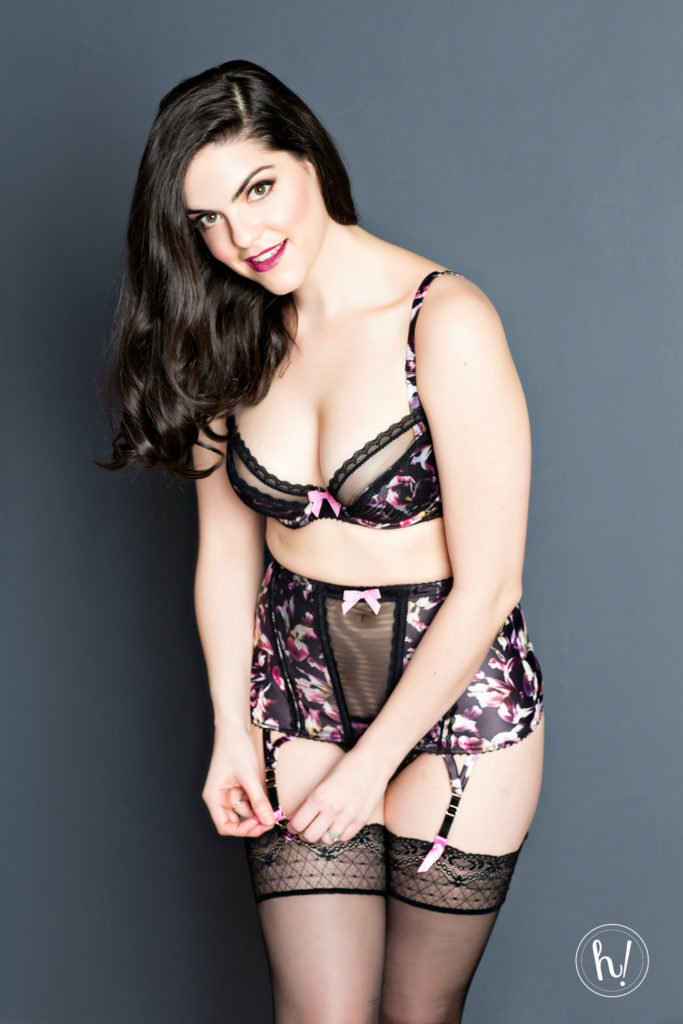 Now, just as I mentioned experimenting with what you show on the outside, above, why not experiment with what you wear underneath? Let your sexy side come out to play in a bra and panty that make you say hurray. And here's the best part: no one has to know. That's right. You don't need to dress up for your date, or show your honey. This is all for you. On a day when I need an extra boost to connect with my confident, sexy, and feminine energy, I wear some of the prettiest panties I own. Will my husband see them? Maybe, and maybe not. The purpose of wearing them is for ME to feel my very best. I could be wearing sweatpants and a loose t-shirt. But those raspberry colored, eyelash lace boyshorts, with the contrasting bow and satin detail are underneath. And I know it. Boom.
Style notes: This gorgeous bra, panty, and garter belt set is by Gossard. The thigh high tights are by Falke. And the tux jacket is from Laura's closet.
Three: Book a boudoir shoot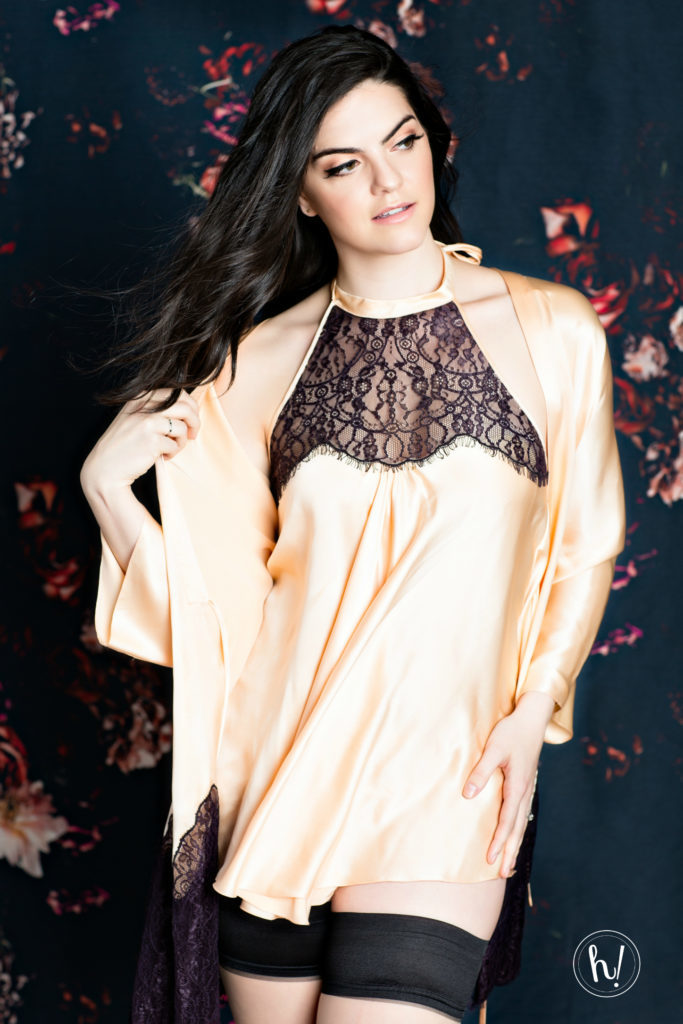 Now let's put some of the lingerie to good use! One of the craziest things I've ever done was to do a boudoir shoot. It was terrifying! Though I've worked in the lingerie business for over a decade, and have had thousands of photos taken of me, I had never done a photo shoot in my underwear. And though I'm on a really healthy and loving journey with my body, it's been mostly a private one. And, let's be honest. When someone says, "you've taken photos in your swimsuit. It's the same thing!", you and I both know it's not. Swimwear and lingerie have many similarities, but they are very different. And taking photos in one versus the other is a totally different experience. The result of my first ever, official boudoir shoot with Laura of Own Your Sexy… you're seeing right here.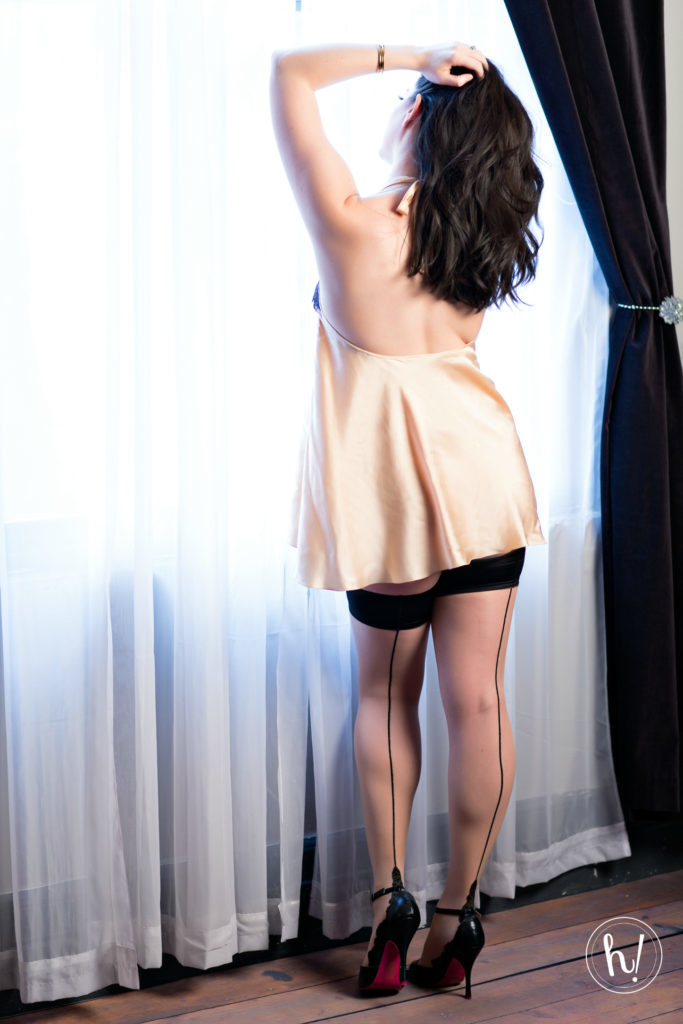 The experience included having my makeup and hair done, picking out my favorite lingerie (and clothing!) outfits, having a Beyoncé fan blow my hair, gorgeous lighting, and working with a top-notch photographer. Laura was kind, encouraging, and so fun. As my first official "boudoir shoot", I couldn't have asked for more. In fact, the experience was so amazing that I said yes to more boudoir shoots! Now, I realize it's an act of love to shine a light on my body and my spirit in such a way.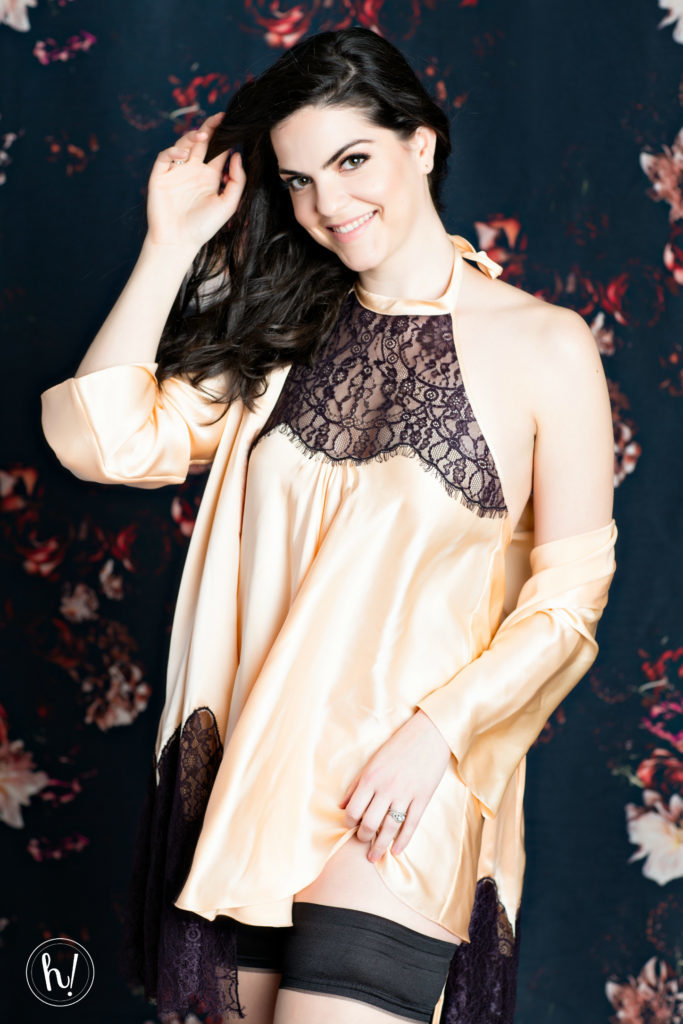 I'm taking several steps toward a loving journey with my body and owning my own sexy, and doing a boudoir shoot was a huge step. And it gave me confidence far beyond the photo shoot or the bedroom. As Laura puts it: "Owning your sexy is all about confidence. And I don't just mean confidence in the bedroom! It's a confidence that permeates every aspect of your life – the way you feel about yourself, your body, your ideas, your work, and your purpose in life. When you are really owning your sexy, everything aligns." I could not agree more.
Not sure what to expect at a boudoir shoot, or how to prepare? Take a look at my article on What to Wear to a Boudoir Shoot. Ready to take the plunge? Sign up for your own shoot with Laura and Own Your Sexy.
Style notes: This silk chemise and robe are from the Specimens of Seduction collection from Between the Sheets lingerie. The stay up thigh highs are by Pretty Polly. The shoes are from Laura's closet. Underneath I'm wearing a molded stick on Nu-bra for a little shape, just for the photos. IRL I would wear without.
Four: Don't apologize for your sexy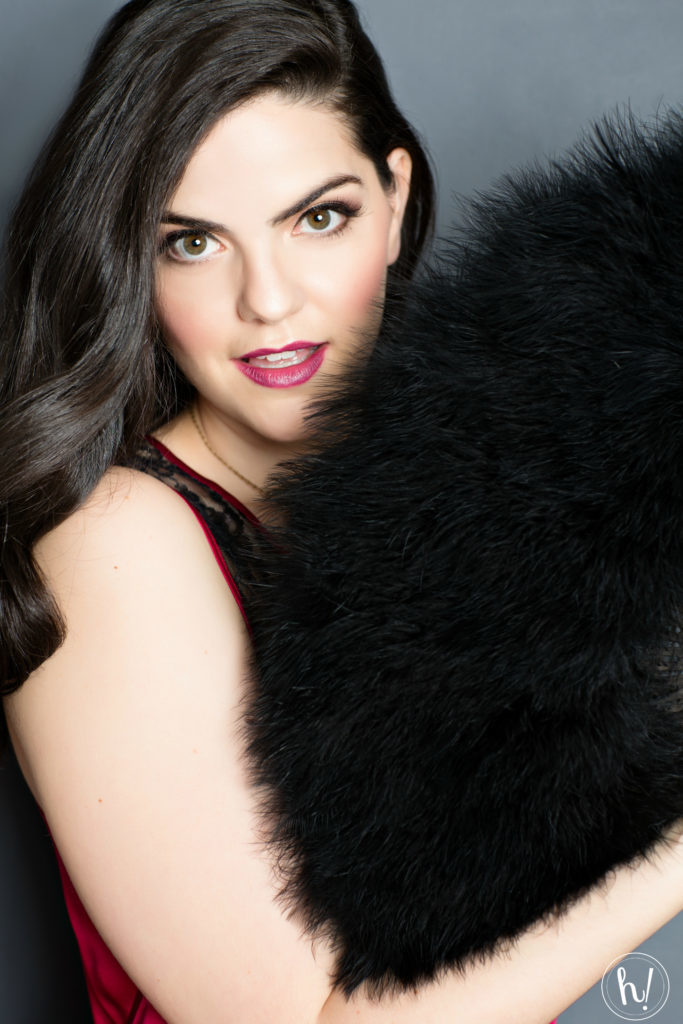 Here's the truth: you get to define what sexy means to you. That's what this is all about. That's what I was so upset about in my dream. If you take away just one thing from this article, I hope it's this: what you wear, how you live, and what you think is sexy is up to you. You alone have that choice. Never let anyone else take it from you.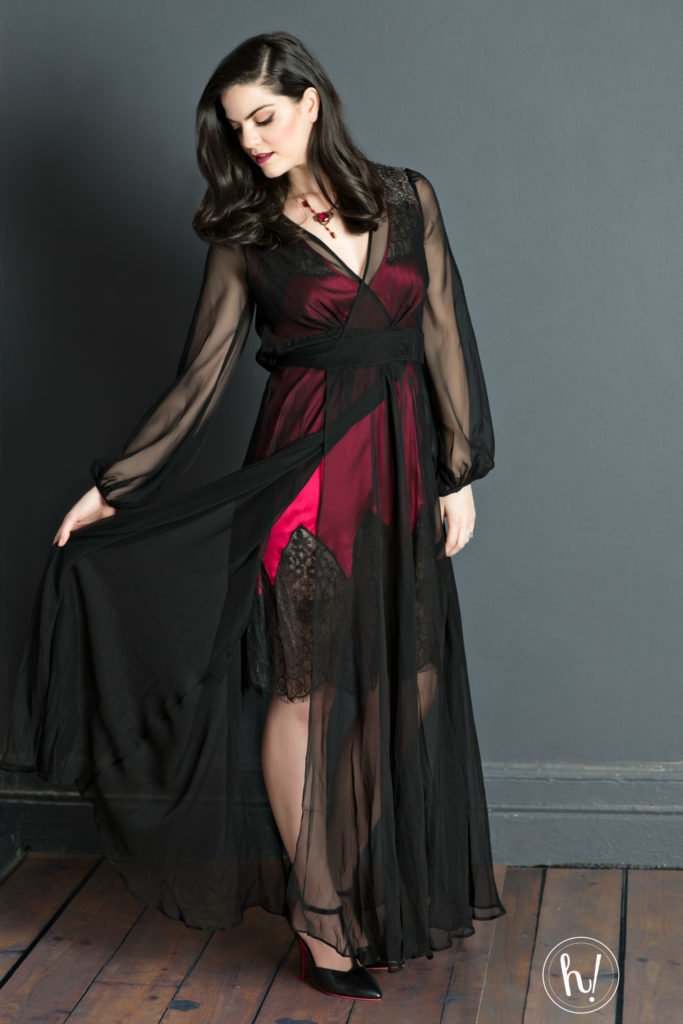 And once you're confident in your choices… you don't have to apologize to anyone for them. Lift the weight of living up to someone else's expectations, or (most likely) their fears, and make an intention to live your life the way you want. What may be sexy for someone else, may not be for you. And if your sexy makes someone uncomfortable… what will you do about it?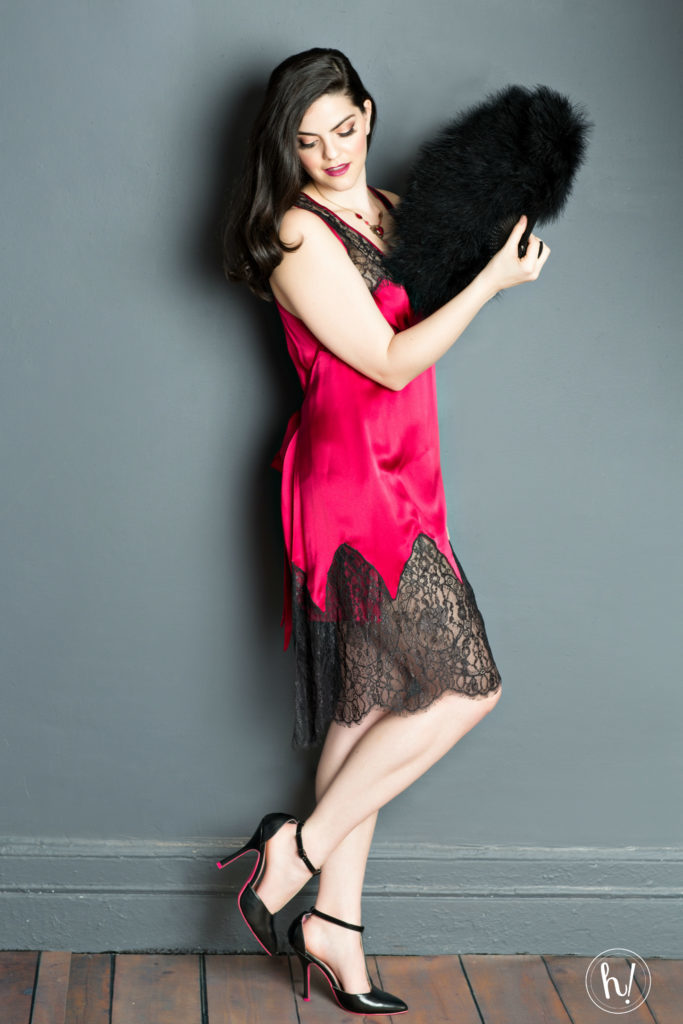 I had a very interesting real life conversation, not a dream, with a man. He explained that he was "glad" to see female sportscasters on ESPN, because of "diversity and women's lib and all that". But he wondered if they had to wear such tight clothes and short skirts. Thinking that he thought they were being exploited for their looks, I questioned him further. But to my surprise, he revealed that he "found it distracting" when they wore curve hugging clothes. He claimed he "didn't actually think they were pretty, but if you put someone with long legs in a skirt up to here on TV, it's distracting. I just want to watch the sports news, not look at this woman in tight clothes." I was shocked. I was horrified. I was literally confused. So I calmly asked him, "So, do you think that woman should dim her beauty because you are distracted by the shape of her hips and her long legs while watching TV? Do you think she should hide some of herself because it's an inconvenience for you?" I tried my best to not sound accusatory, and just give him something to think about. I was actually interested in his response. But his response was a muddled mixture of trying not to seem sexist, and actually being sexist.
I have to tell you, conversations like this are why my #1 goal is to upgrade the conversations women are having with their bodies. Laura is totally with me in this mission. She says "The number one thing a woman can do to own her sexy right now is to change her inner dialogue. It takes persistence to permanently change it, but just start noticing your inner dialogue and whenever it is negative in any way, reverse it." And my #2 goal is to upgrade the way men are talking about women's bodies. We need them as allies and to help us change the conversations as a whole.
What he was really asking that sportscaster to do was to apologize for her sexy. If it was, in fact, her idea to wear her outfit, and it was deemed "too sexy" by someone, what should she do? Hide? Apologize? Wear something "more appropriate"? It's a real question. As women, we have to navigate how to reveal our sexy in the world. It's something I had to really think about when I decided to share some of my sexy right here on this site. I'm totally open to hearing your thoughts.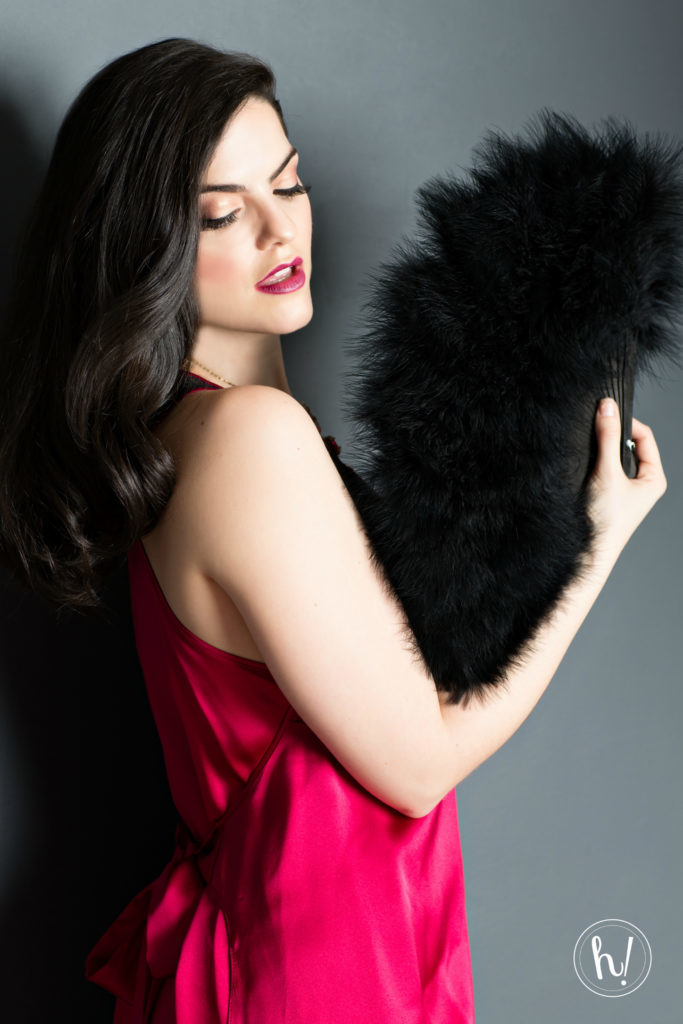 Here's one thing I am sure about: Real "sexy" comes from the confidence of being your true self. Making your own decisions, owning your whole being, and loving yourself first – that's what sexy is to me. Anyone can perfect a smolder or wear a sexy dress. But true sexy comes from the inside out (and underneath!). Find and own yours.
Style notes: This silk chemise and robe are from the Specimens of Seduction collection from Between the Sheets lingerie. The fan, shoes, and necklace are from Laura's closet.
Your turn: What are a few steps you can take to own your sexy? What does sexy mean to you, and how do you define it? How do you feel when you own your sexy? Share with me here or send me a tweet!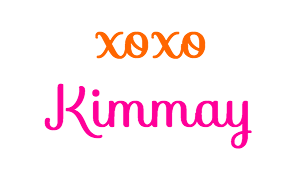 PS: A few of the garments in this article were on loan from the company, or given as a gift. Laura was kind enough to gift me this photo shoot session. Though I sometimes do sponsored content or campaigns, this is not a sponsored post and I was not compensated for writing it. As always, I am sharing my personal opinion. Hurray!
PPS: Fabulous makeup and hair by Zuleika Acosta.