If you've got a problem, chances are that salt water can help. And I'm not talking about basic physical problems like gargling with salt water for a sore throat, or even saline solution for tired eyes. I mean deeper problems and solutions: sweat, tears, the sea.
"The cure for anything is salt water: sweat, tears or the sea."
-Isak Dinesen
You may have heard about this concept before, right? So here's my take on it.

Sweat: 
Sometimes you just need to work it out of your body – physically and emotionally. There are many reasons why "going for a run to clear my head" actually works. There are scientific reasons (like increased blood flow moving oxygen through the brain) and emotional reasons (like clearing energies and creating momentum). And let's not forget that metaphorical or actual sweat of working our butts off toward something we know is important. Hard work and determination solves a lot of problems.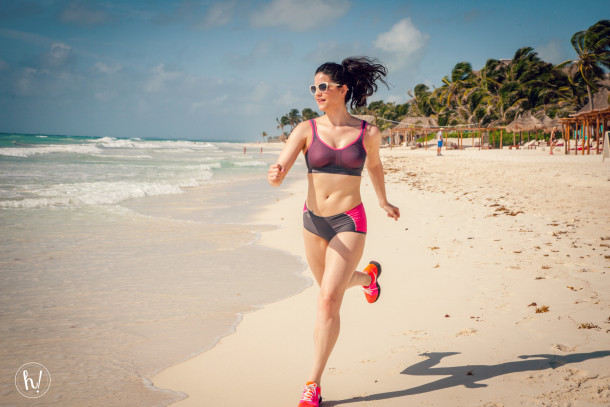 So try it out. Next time you have something icky come up in your life – move your body and push through:
try a dance class or jam out in your kitchen
go for a walk
take a yoga class
spend an hour in the gym
practice martial arts
sit in a sauna and let that sweat flow
just shake your body and punch a pillow
That physical exertion may help you release the negativity and create space for compassion, joy, and healing.
Here are a few of my favorite resources for getting your sweat on: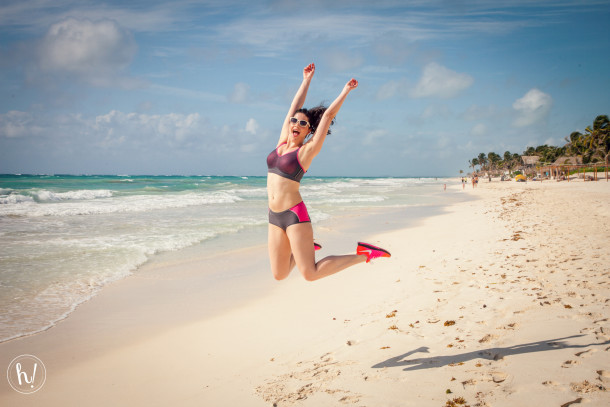 What I'm wearing: This is the Maximum Support Air Control Sports Bra from Anita. High impact sports bras have a tendency to feel like a lot of bra. And when you're working out (especially in hot locations like Mexico), that means more sweat than you want. This bra is sooo feather light, while being extremely supportive. And the best part is that it's available in cup sizes A to G. What?!? Coordinating panties are just the cherry on top.
I know for sure that sweating has helped me. I have been practicing yoga on a regular basis for over three years now. It was actually "prescribed" to me by my primary care physician. After seeing five doctors in five days and not figuring out what was "wrong with me", I realized that I needed to make some major life changes. A few had to do with my diet and what I was putting in my body, and more had to do with healthy ways of handling, preventing, and releasing stress. Enter yoga. The physical and emotional upgrades have been life changing. Now, when I feel stress building up, I hit the mat. I work out and work-it-out at the same time in a physically challenging and emotionally compassionate yoga class. Hurray!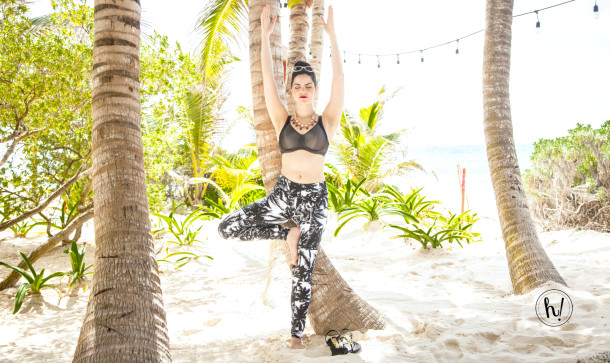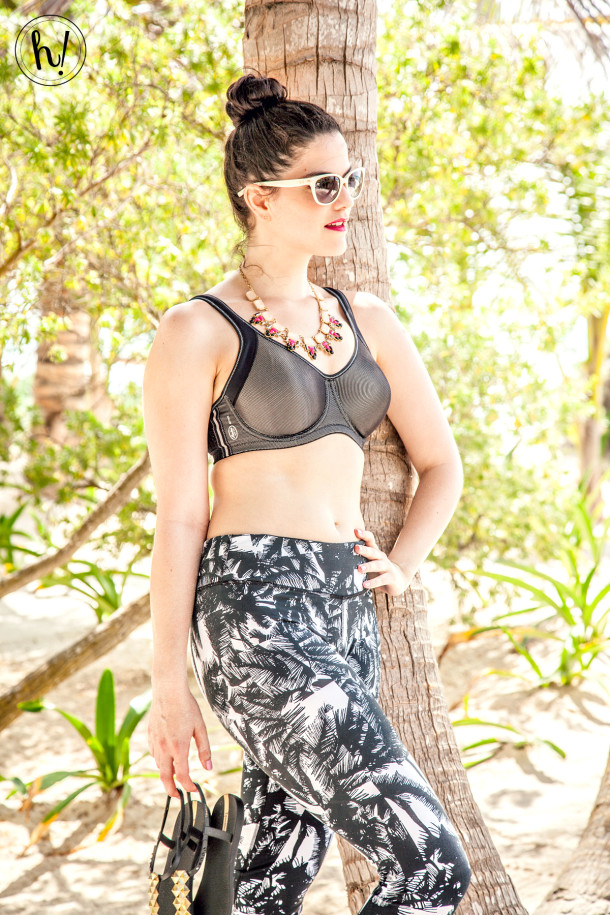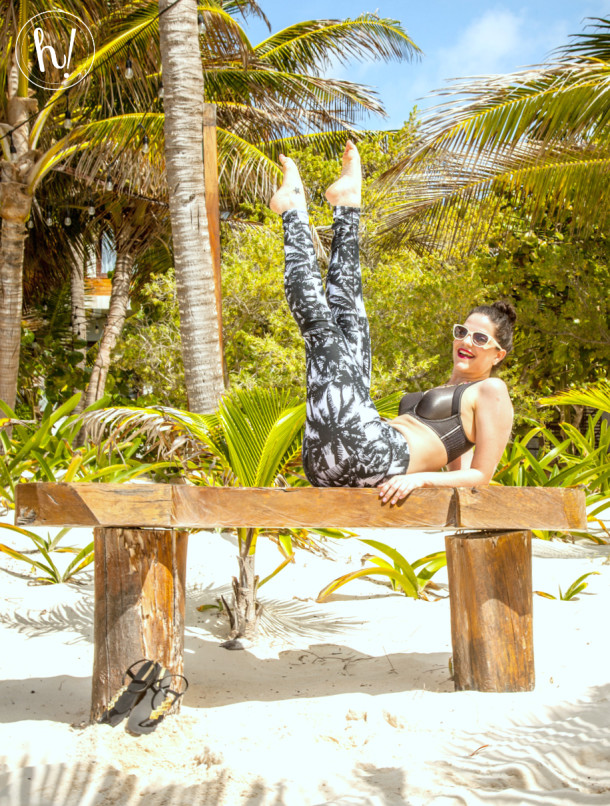 And here's an interesting read from Well+Good on the lack of body positive talk in gyms, and what we can do about it. I'd love to hear your thoughts on it! Leave a comment below or send me a tweet.
What I'm wearing: Ladies with a full bust, you're going to love this. This is the Maximum Support Momentum Underwire Sports Bra, and it's available up to an H cup. Yep! Underwire support, firm hook and eye back, adjustable wide straps, smooth cups… I mean, if you want a sports bra that WORKS and gives you two boobs instead of one: this. is. it. Can't say enough about this super supportive sports bra.

Tears: 
Tears are a very important salt water. I'm a crier. I know, it may sound funny for someone whose whole embodiment is "hurray", but it's true. My body loves to release emotion through my tear ducts. Giving yourself the permission to process, grieve, release, mourn, let go, rejoice, thank, and forgive with tears is an act of self care. We often think of self care as bubble baths and spa dates – and they can be – but sometimes giving yourself the space to cry it out is the best cure for what's ailing you.
And trust me, making the space to unpack those feelings and allow for a good cry when needed, and on a regular basis, will help you prevent outbursts of tears. I know because I just experienced this. I made the mistake recently of not allowing the space for some much needed tears. I had gone through a deep call with my coach, and we unearthed some tough and beautiful stuff. Little drips of tears came out here and there through our call, but I was saving the real release for when we hung up. I was going to go through a self forgiveness and gratitude practice… but I skipped it. I was tired. So I thought I'd eat, and work a little, and then meet up with some friends to watch a soccer game and hang out in the fresh air. But those feelings were still there, waiting. And since I hadn't nourished my body with enough food (oops) or made space to release those feelings (oops) and drank a little wine (oooooops), the tears made space for me. That tearful walk home and eventual non-stop-crying-for-quite-some-time-while-my-honey-held-me could have been avoided if I had honored my need for that good cry and release BEFORE I went to watch the soccer game. Lesson learned. Make space for tears.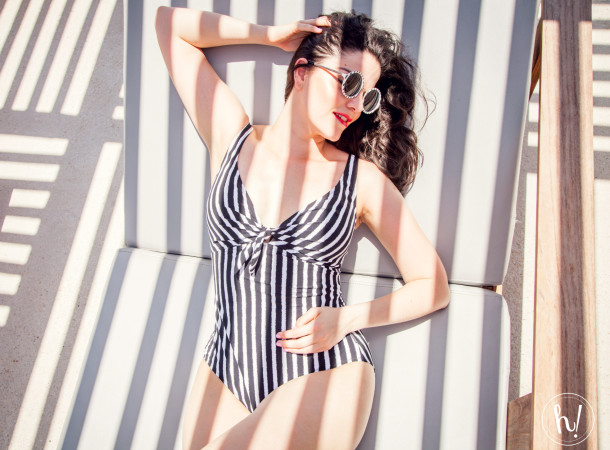 Tears solve many things. Mostly within us. Having to go through something tough or happy enough to induce tears usually means we're going through something that will also help us grow. Don't be afraid of the tears. Let them flow.
And don't forget tears of joy. Joyful tears are the best tears of all.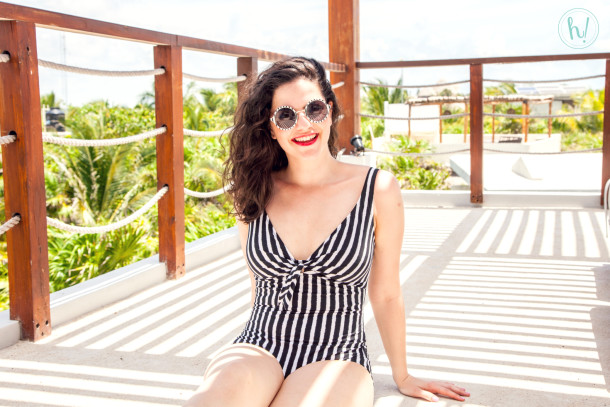 A few favorite resources for going deep inside and releasing:
What I'm wearing: This black and white number is the Lilith one piece from Anita. I have to say, I think this was the chicest and most comfortable swimsuit I've ever worn. For real. I am wearing size 8D which is a swimsuit size of 8 (so like a 4-ish in USA clothing) and a D cup. I wear a 32D usually so this is spot on for sizing. Though there is no underwire support in this suit, there is a shelf bra and cups, and adjustable straps (my short waist says "thank goodness for that"). I loved this swimsuit so much that I wore it in another color. Keep reading!

The Sea:
On the Hurray Vacay, I had plenty of quality time with the Caribbean Sea and Atlantic Ocean. 17 days in Mexico and Florida and almost every one with the water. I am having a hard time putting into words how healing the sea was for me. Was it the gentle but relentless waves, the warm water washing over me, the vastness of it? Maybe it was everything.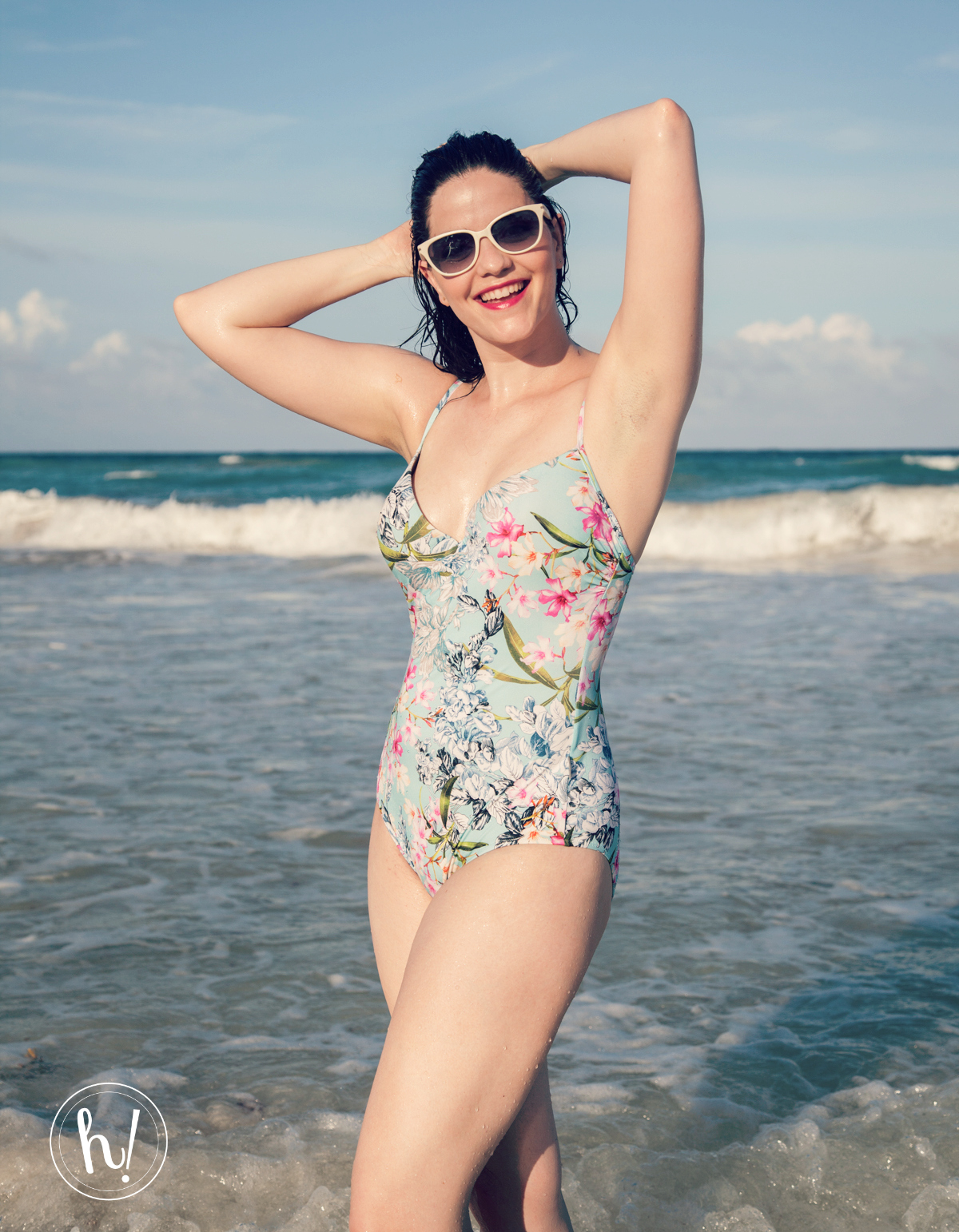 Feeling stressed? Escaping to a location by the water for your own Hurray Vacay can be just what you need to clear your head and get away from it all. Want some joy? Jumping in the waves and floating in the water is not just for kiddos. Need answers? The ocean is a powerful teacher, and many of life's questions and quandaries can be answered by the sea. The warm waves had a lot to teach me.
Life comes in waves. Big, small, powerful, short lived. All kinds. Learn to ride each one with grace.
The tide will come in and go out no matter what – with or without your permission. So learn to work with it and stop trying to force what you want to happen. Surrender.
Little raindrops make up the ocean. It's ok to feel small, but know that you are a part of something big.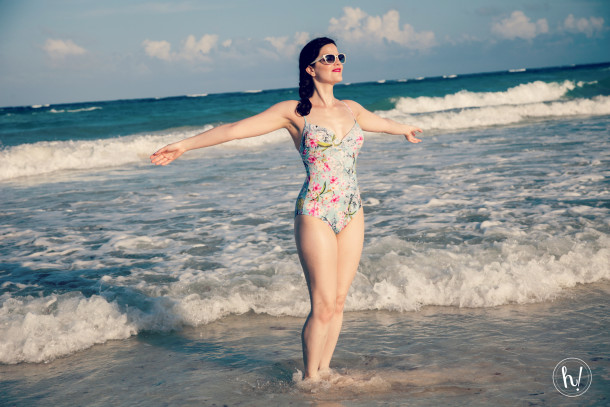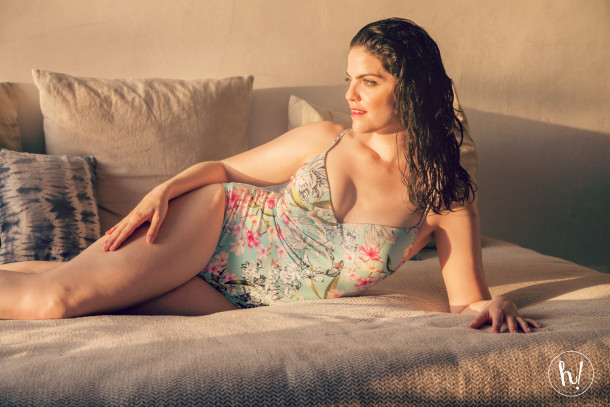 Here are a few of my favorite resources for a trip to the sea: 
What I'm wearing: The Emely One Piece from Anita. This is sooooo cute, right? It's also really comfortable, and downright sassy. Don't let that lady-like floral pattern or one-piece coverage fool you – the sexy plunge and push up, underwire, molded cups create a daring contrast. I loved the shape that the top gave me, and the wonderful freedom I felt wearing something that fits so well. (Keep reading to find out how you can get your own for free!)
Can't make it to the ocean or the sea? Take a dip in the pool! Scheduling some time to relax by a pool and float or play in the water could be just what you need. In fact, try a salt water pool,or chlorine can work in a pinch. I had an amazing time in Mexico at the Grand Mayan hotel and their fabbbbulous pools. Taking a break and truly relaxing on the cabanas, with quick dips in the cool water was exactly what I needed to refresh.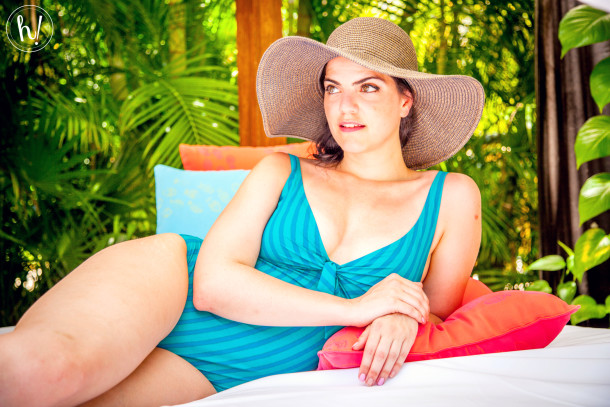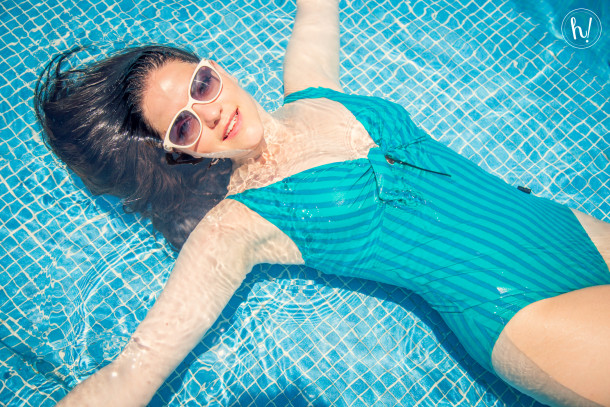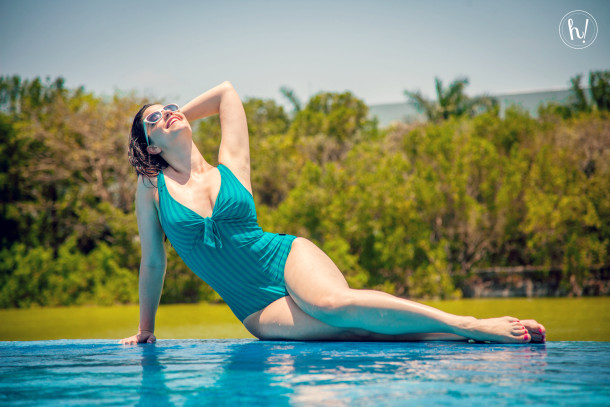 What I'm wearing: This is the Anita Lillith again! It's the same gorgeous suit from above but in a different color. Take a look above for the wonderful details.
A note on the fabulous fashions in this post: All of the styles shown here are from the brand, Anita. Without a doubt, they are one of the best and most comprehensive intimates and swimsuit brands in the world. They carry some of the best basic, special occasion, nursing, mastectomy, and sports bras ever. Plus, they make one piece, two piece, maternity, and mastectomy swimwear. They even make prostheses and surgical bras for immediately after surgery. I'm so serious when I say: they make it all.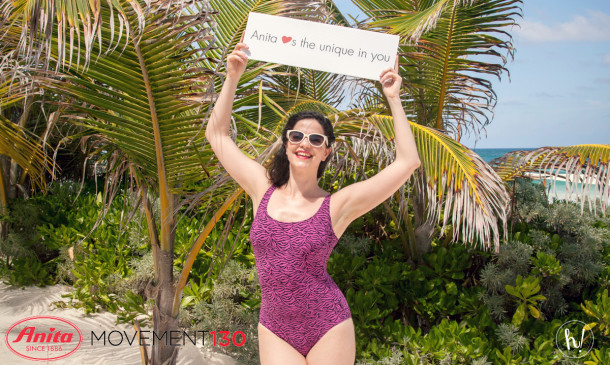 I have been helping women into this brand for many years as a bra fitter – they have actually been around for 130 years! In fact, to celebrate this, they've created the Movement 130 campaign. They're looking for volunteers to represent the diverse and dynamic women that Anita supports. I just applied to be a member, so you'll see my very photo and profile over on the website soon! Want to join me? You, too, can become a Movement 130 member! They're taking applications now. This is a great opportunity to join a movement that supports women, share your unique story and causes you care about, and even (possibly) score a free Anita set! No modeling or swimsuit photos required… unless it makes you say hurray. Here's how to do it:
Go to www.Movement130.com
Fill out the application form with your story and let them know you heard about them on Hurray Kimmay
They'll get back to you and explain the details of the campaign
Hurray!
So what do you think? Has salt water helped you before? Share with me below, or send me a tweet. I want to hear what makes you say hurray.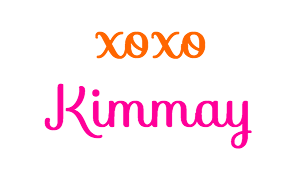 PS: The photos in this post were taken by the lovely Becky Yee of Around Digital Media. I do not photo shop or airbrush away my body or anything on it. You may see some bruises, rolls, cellulite, or stretch marks (and tan lines!) and I hope you see truth, beauty, and self love.
PPS: Anita is a proud sponsor of the Hurray Vacay campaign! That means they paid for marketing services and content with me, and helped make this trip and blog post possible. Hurray! The white sunglasses in this post were provided by Under Armour.
Save