Hurray for longline bras! Wait – a what? The longline bra style sometimes goes by many names, and is one of the more fashion forward options in the undergarment world. There are several ways to wear them and below you'll find a few examples of how to style them, plus several options to buy and try yourself in various size options! You may remember my blog post on longline bridal bras to wear underneath a wedding gown. Well this blog post is less about weddings and gowns and more about how to wear various fashionable longline bras under your outfit or out on the town. Take a look at the suggestions below and make your own loving and informed decision. Hurray! 
Psst! Some of the links in this post are affiliate or brand partner links. As always, I only share my honest and expert opinion with you so that YOU can make a loving and informed decision about what to wear. Hurray!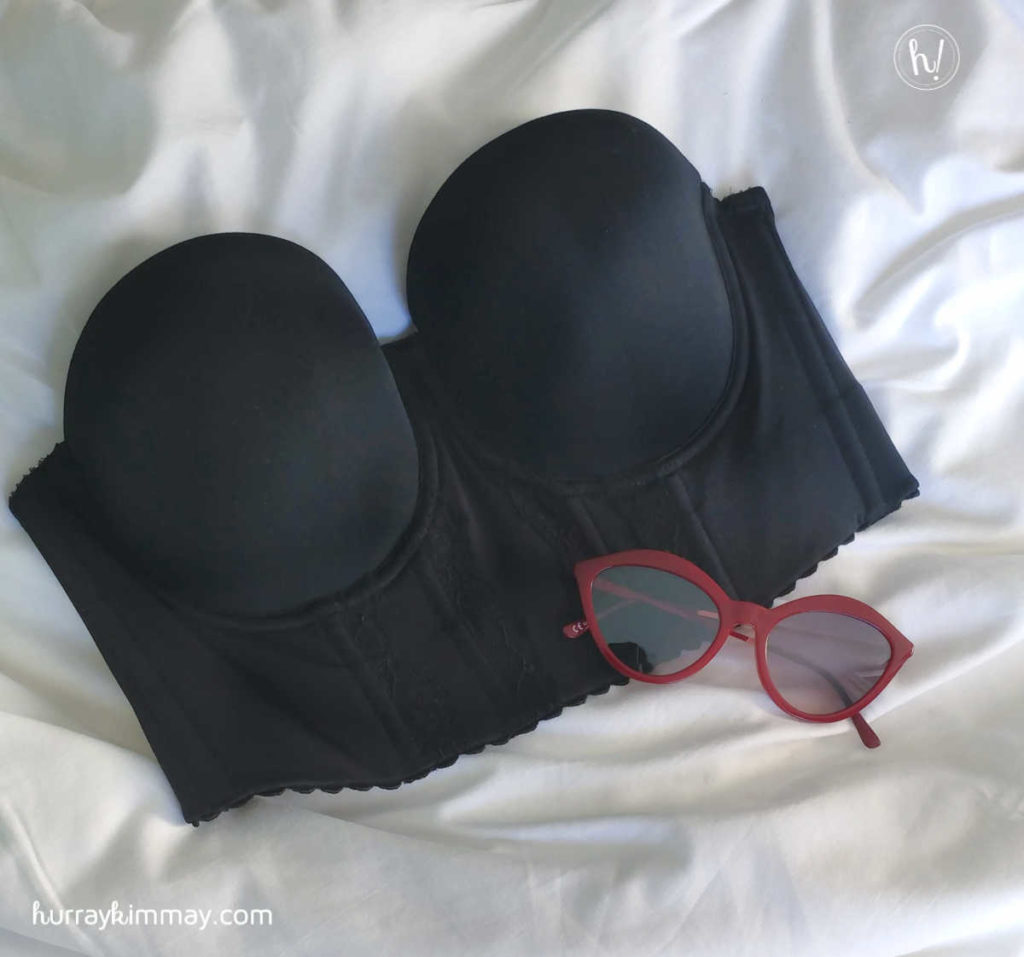 What is a longline bra? 
As mentioned in a previous blog post, "a longline bra is a bra that has a band – the part that wraps around your torso – that extends longer down your body, than a typical bra." A bridal longline bra may be more like a bustier with a long band that covers down to the rib cage, waist, or even the hips. Those also tend to be either classic lace or super smooth in order to support the gown. 
Fashion longline bras can be a little different. They can still have a longer length, too. And, some fashionable longline bras feature a shorter length, that extends just past the typical band length, with a little sassy trim or lace overlay. These types of bras can have straps or be strapless, though most are designed to be worn without straps. And they can be made of lace, or smooth polyester, in a funky color or pattern, or classic and monochrome. They can be made with boning, which can create a firm cinched waist shape, or they can be designed with a softer material or layered look. They can hook up the back, zip up the front, and so on.
A note on the name: Sometimes a longline bra like you're seeing here can be called a "bustier" or a "corset". While some of the styles I am wearing here could, indeed, be proclaimed a bustier, none of them are a corset. If you have been a Hurray Kimmay reader for many years, you might remember my Hurray for Four: Ways to Wear a Bustier blog. There are some technical differences between those two. And since there are many different kinds of longline bras and not all are "bustiers", I wanted to use longline to explain this undergarment. OK? Hurray!
Style Ideas for Longline Bras
Longline Bra As Underwear 
Hey, you can always wear a well made, supportive longline bra as your undergarment. Whether it's fashionable or more practical, the key is that it fits well and feels good, and supports the outfit you're wearing. Below you can see this cute heart print longline bra (with removable velvet straps so it can be worn as a typical bra, halter, criss-cross, or strapless!) has just a little bit of an extended bra band. *All shopping links at the bottom of this post!*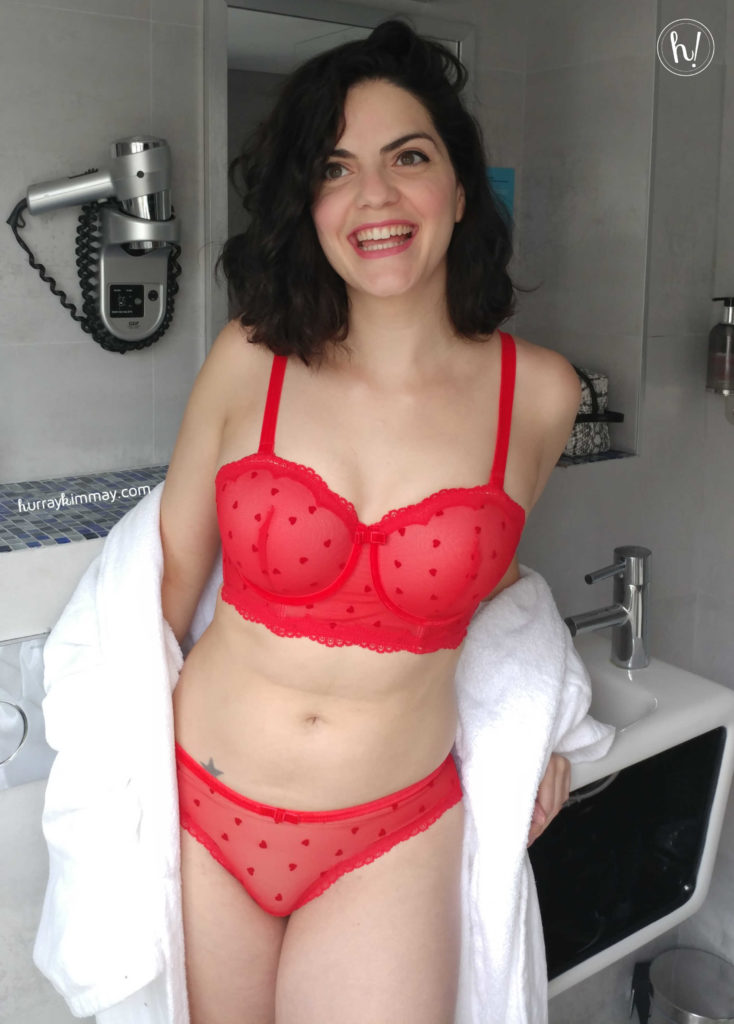 While I wouldn't want to wear this as my top alone personally (just me!), it was too cute to let it go totally unnoticed. So here you'll see that I wore it underneath a coordinating plunging neckline tank top and let the top peek out just a little while teaching bra fitting in Paris. Ooh la la!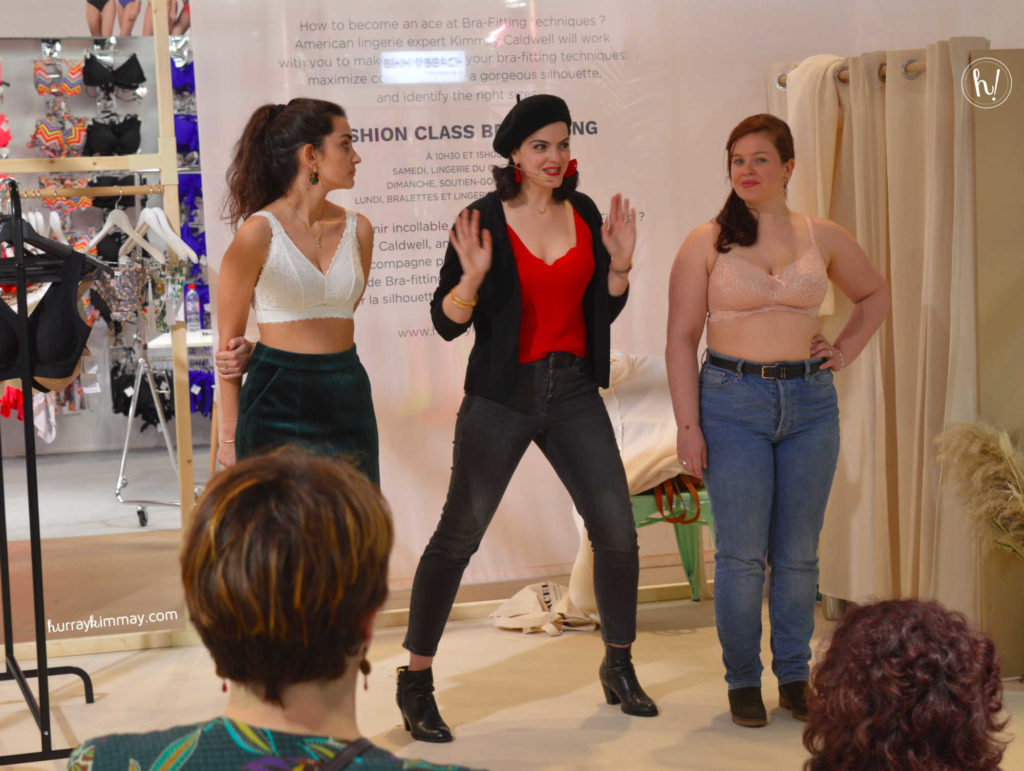 You may also want to try a longline bra underneath a low arm-hole shirt, deep plunging front, or open-side dress. The style I'm wearing here has a long lace band that provides both coverage and style if your outfit has a little revealing design (or you just want to walk around with your blouse open, like I did!). I love it!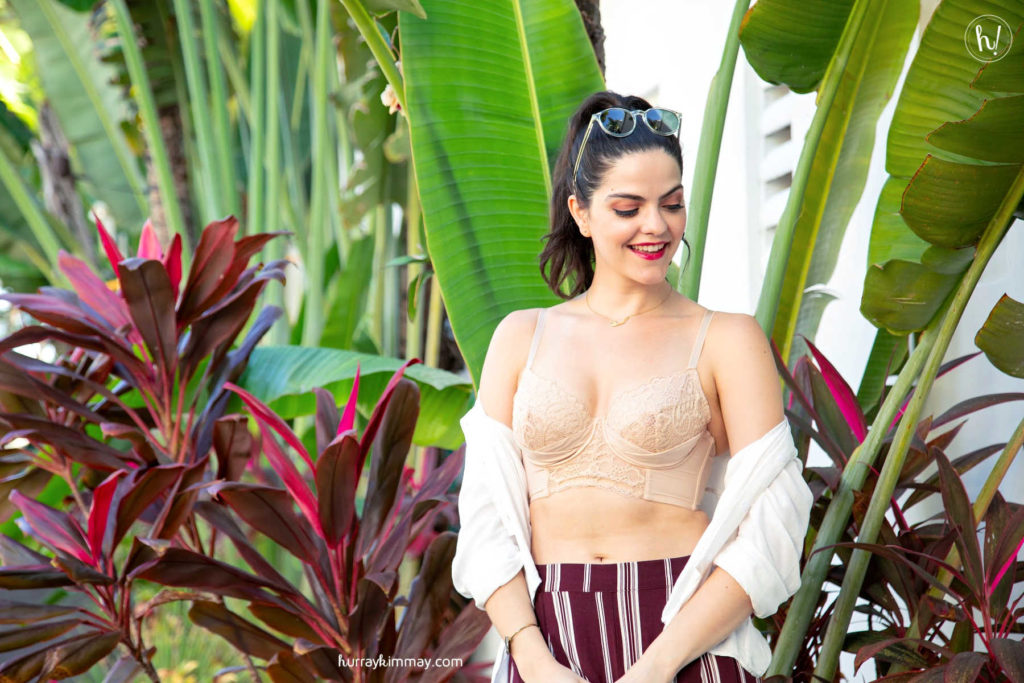 Whether you let your bra show or not, a longline bra can often be a wonderful undergarment option. Want some suggestions on how to make your underwear work as outerwear? Keep reading and see a few of my own examples below! 
Longline Bra as Outerwear 
Because some longline bras are particularly fashionable, you may not want to cover them up at all! Plus, some are designed with more style than support in mind. The level of support is up to you. And so is how you wear one! If you want to try a longline bra as outerwear, try some of the suggestions here or make up your own way to wear it!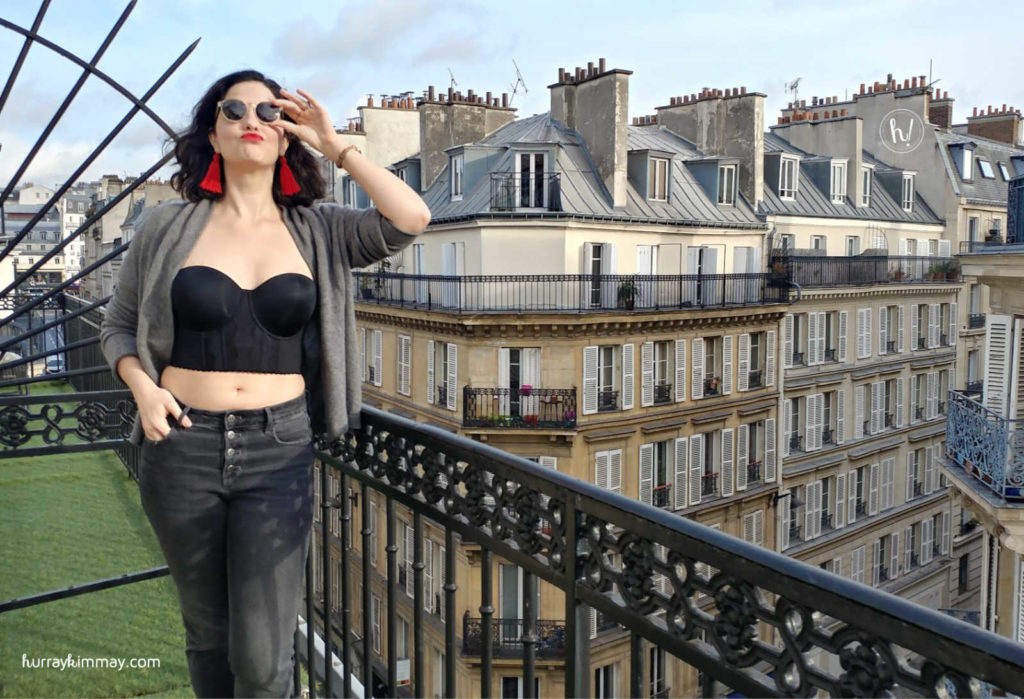 As a top. Here I wore mine like I would a blouse or top with a favorite pair of jeans. I also layered a yummy and casual cashmere cardigan over it. Personally, this felt great because the weather was a little chilly in Paris, and the extra layer helped me feel more confident where the extra thick elastic was digging into my beautiful body. In the end I loved this look with the front open and a little skin showing. Layer however it helps you feel your very best.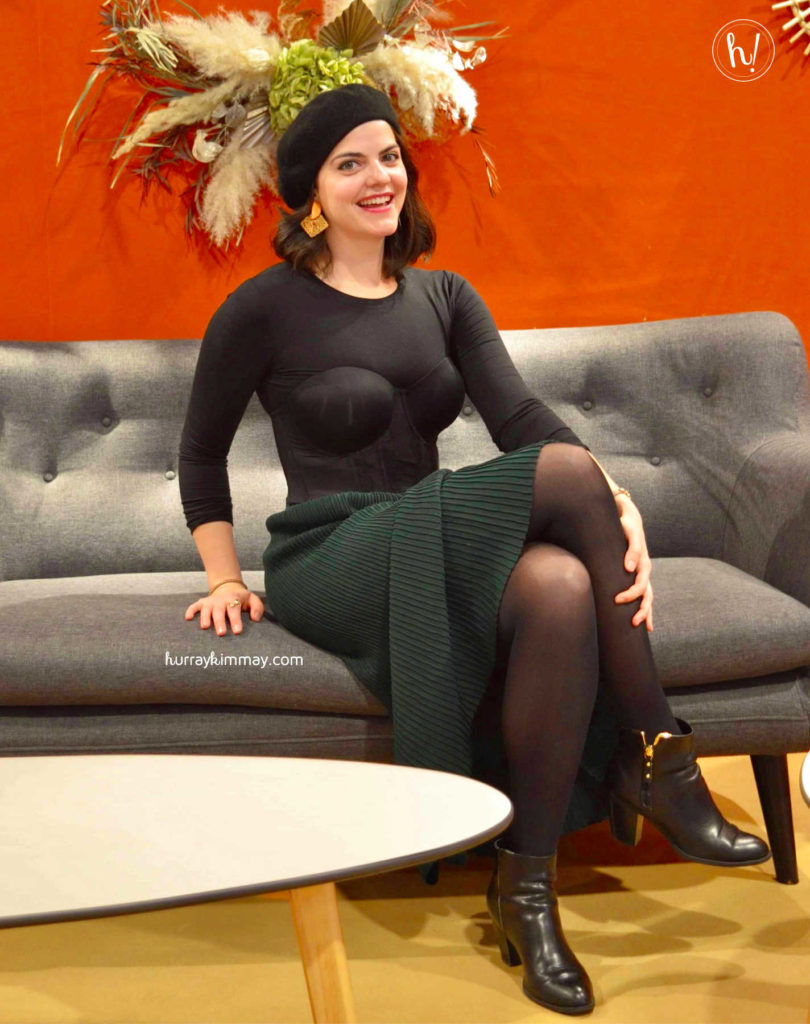 Over a top. While hosting a panel on Sustainability in Intimates at a lingerie expo in Paris and hosting workshops on Bra Fitting, I wore a short bustier over a bodysuit, paired with a high waist skirt. I got compliments all day (I was at a lingerie expo, after all) on the sleek and stylish look. And, even over the bodysuit this longline bra was super supportive! I didn't have to wear another bra underneath because the bodysuit was fitted and thin. Hurray!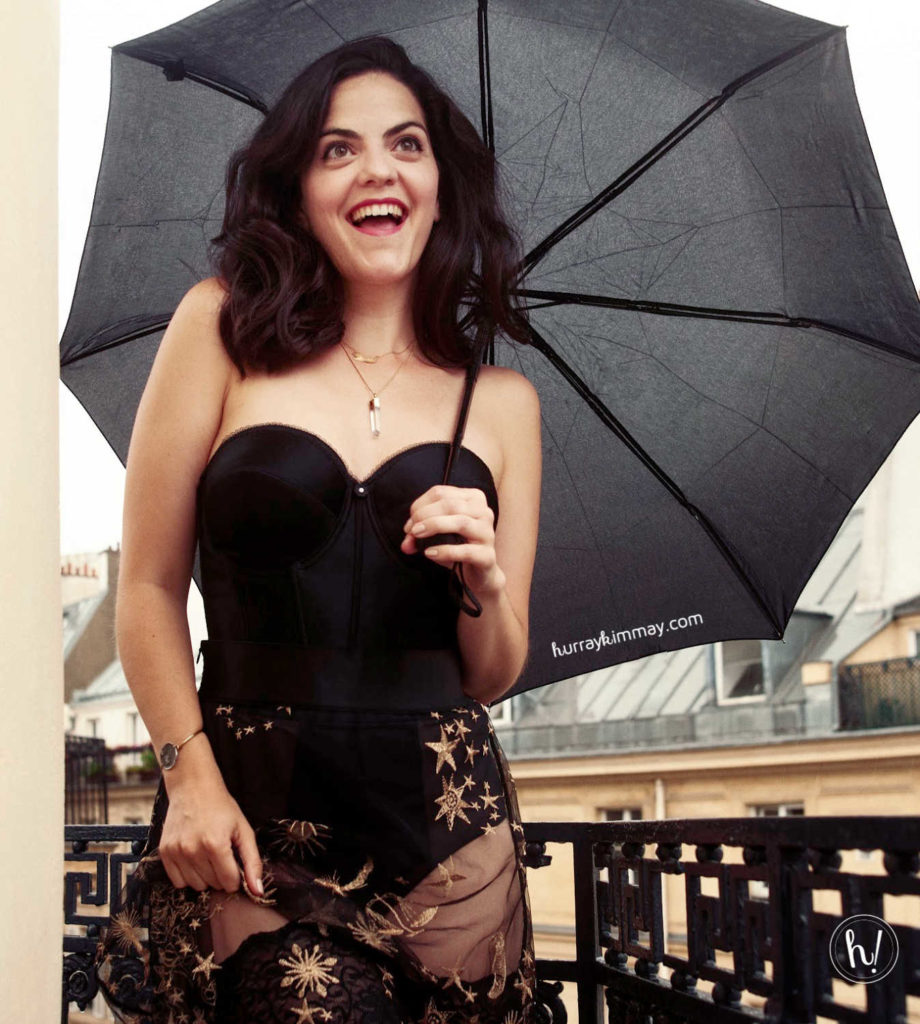 Top of a dress. The top of some gowns are an awful lot like a longline bra, especially those with boning and an underwire cup. So pair your favorite longline bra with a skirt of your choice to make it a two-piece dress look! Here I went a little dramatic wearing a longer bustier style longline bra with a sheer maxi skirt. You can mix yours with a formal or casual skirt – whatever works for you!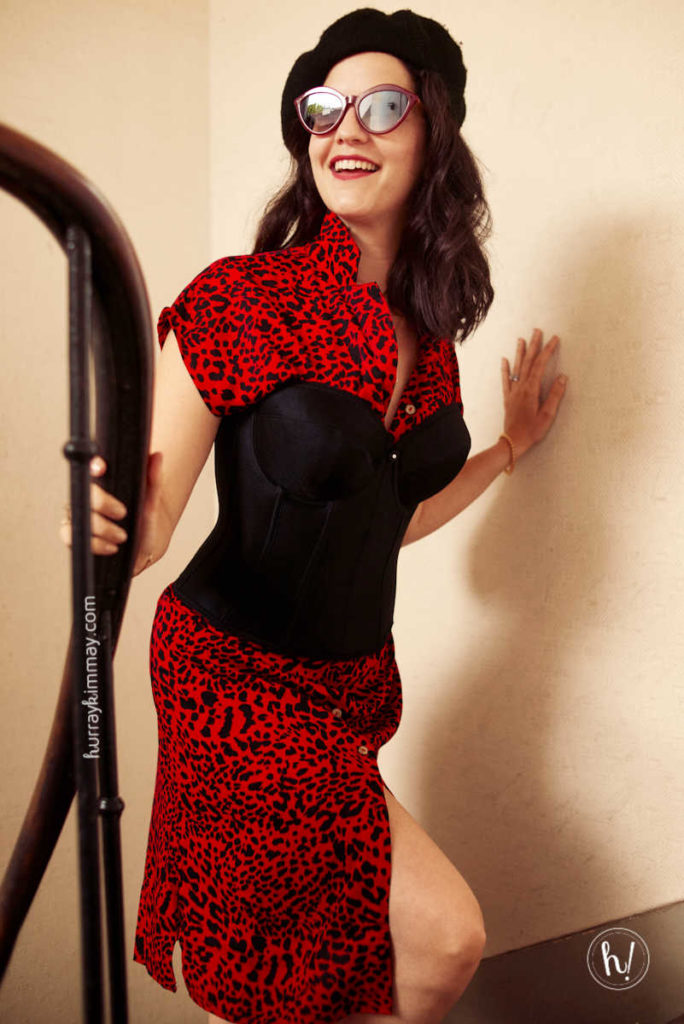 Over a dress. I loved the red print of this dress I bought in London but the boxy shape wasn't my favorite, so I tried my longline bra over the dress for a sassy silhouette and great marriage of the print and a solid. I gathered any excess fabric and brought it towards the back and had a friend (my sister!) hook up the back. Depending on how well your longline bra fits (and fit is important to me) and how thick or thin the dress is, you may even be able to wear the bra over your dress as your support for the day. That's what I did here over this thin dress!
Styles to Buy & Try 
Below you'll find some of the styles that I'm wearing here, plus other fashionable longline bra options to buy and try yourself. Use my Underneath Resources guide if you need help with your bra size starting points, or want to know if your bra fits. Below you'll find a few links to shop these styles, and you can explore where to buy them for yourself. You can often find some of these styles at your favorite local boutique and get help determining the best fit, too!
Parfait – Elisa Short Bustier
Dominique – Low-back Strapless Longline Bustier 
Parfait – Cora Longline Bra
Gossard – Superboost Longline Bra
Le Mystere – Sensuelle Bustier
Elila – Full Figure Lace Longline 
Your turn: Have you tried a longline bra or bustier before? How do you style it? What questions do you have? Which of the styles above do you want to try?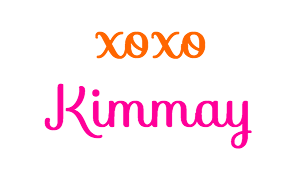 Credits: The images in this post were taken by several wonderful photographers including yours truly (I literally set up my phone in Paris and took some by myself!). In addition, some images above were taken in Paris by Nathan Alliard-Hazard, some images at the SIL Expo were taken by Britta Ushkampand, and one in Miami by Becky Yee. In all images I use zero air brushing! Big thanks to brand partners and generous gifts from companies for some of the styles I'm wearing. Have a specific style or other question? Shoot me a DM on Instagram or contact me!