I'm back with another Hurray for Four! In this series, I'm sharing four of something that makes me say hurray. This time, it's all about how to wear a bustier. These are just four say-hurray-ways to wear one – so get creative and try one of these or something different for yourself!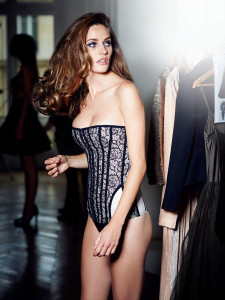 The bustier I'm wearing here is from Simone Perele. It was a gift from my friend, Ferna, who purchased this for me after I took her shopping for her bridal undergarments and wedding night lingerie. Such a beautiful gift! This "Volupte" bustier (which you can see in the brand's marketing images on The Lingerie Journal) has flexible boning, a black ribbon lace up back, front hook and eyes, ivory mesh, and black decorative details. Though it's from a previous season, you can style something similar to it for yourself!
There are so many style options for a wearing a bustier. You can wear it as part of your clothing, for a sassy night, or even as a costume. In fact, I wore this exact bustier as part of a Halloween costume when I was "The Kiss of the Spider Woman" one year. Here are a few of my favorite ways to wear it!
(By the way: If you've ever wondered what the heck the difference is between a bustier and a corset, here's the lowdown.)
ONE: For Work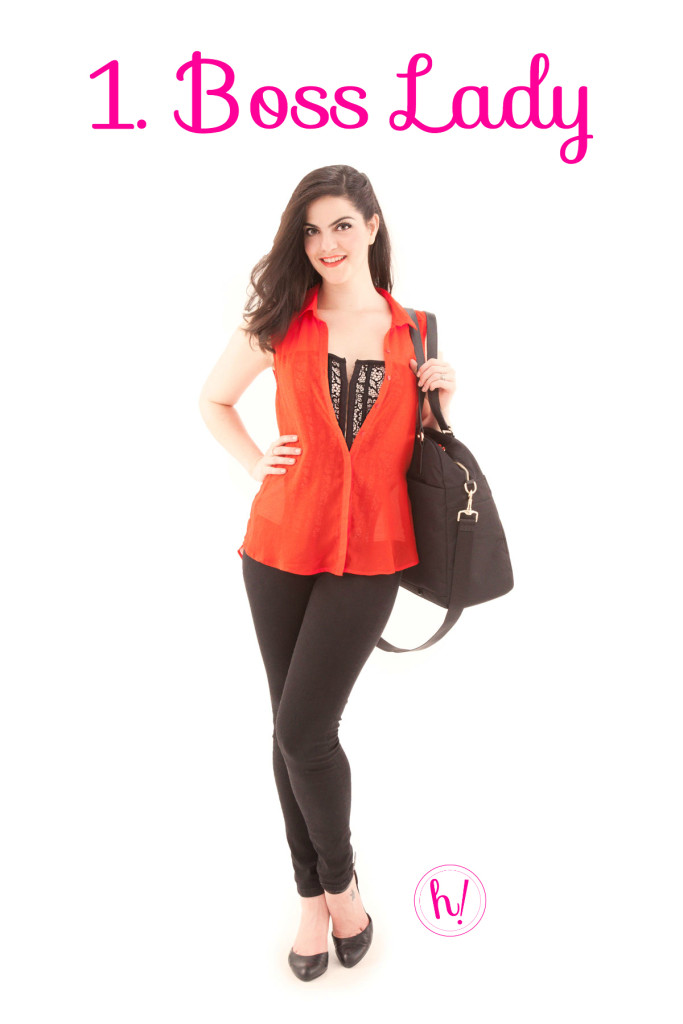 This look is so chic – someone may not even notice you're wearing the bustier! You can leave the blouse open to reveal some of the front detail, or choose something sheer so it shows through. If your top is sleeveless, like mine, people may get a glimpse near the armholes, too.
I chose a slightly sheer, orange, sleeveless top from H&M. The flowing material isn't too clingy, so the textured bodice of the bustier isn't an issue. Black pants and basic black heels are the perfect compliment to this look. My pants are from NY & Co. High waisted and sleek. And my heels are from Kenneth Cole Reaction (I actually bought these for my appearance on Tim Gunn's Guide to Style back in 2008 and I still wear them ALL the time!)
This feels like a perfect outfit for a work meeting, or a business cocktail with a colleague, so I added in my favorite goes-everywhere-with-me bag, the OG from Lo & Sons. Now me, my laptop, and I are ready to say hurray!
TWO: For an Elegant Affair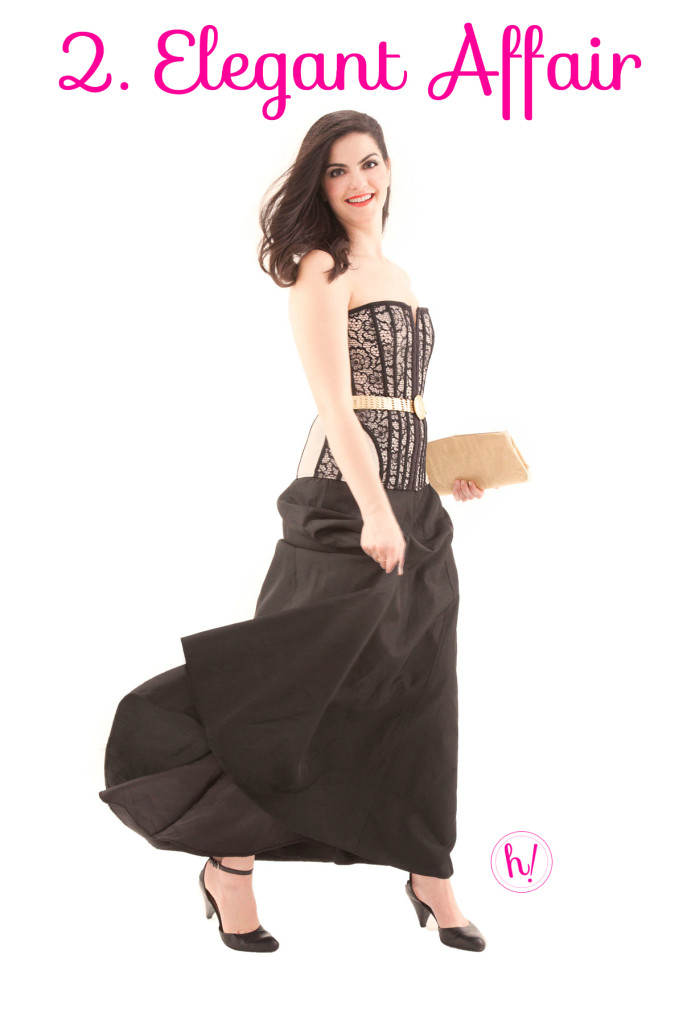 This may be my favorite look for this Hurray for Four. Don't tell the others 😉 I styled the bustier with an elegant black skirt. This skirt happens to be my choir performance skirt from High School! It has stayed with me as my theatrical skirt for period pieces in college, and I still wear it for choir performances today with The Astoria Choir. (I sit on both the board and in the Soprano section!) It's by Jessica McClintock and has a secret kangaroo pocket for lipgloss or a credit card and ID. So handy!
To really emphasize my waist, since this bustier is more stretchy than structured, I added a vintage belt that belonged to my Grandma. It's made with golden metal pieces on a stretch elastic belt band, with a gorgeous lion clasp. Sticking with the vintage pieces, I chose a vintage gold clutch from my collection of vintage purses and evening bags. I've been collecting them since I was 15, and I love to use them for weddings and special occasions!
This look is perfect for a black tie wedding, or an elegant fundraising gala. A simple pair of black heels (same as above) mean I can dance the night away and say hurray.
THREE: Girl's Night Out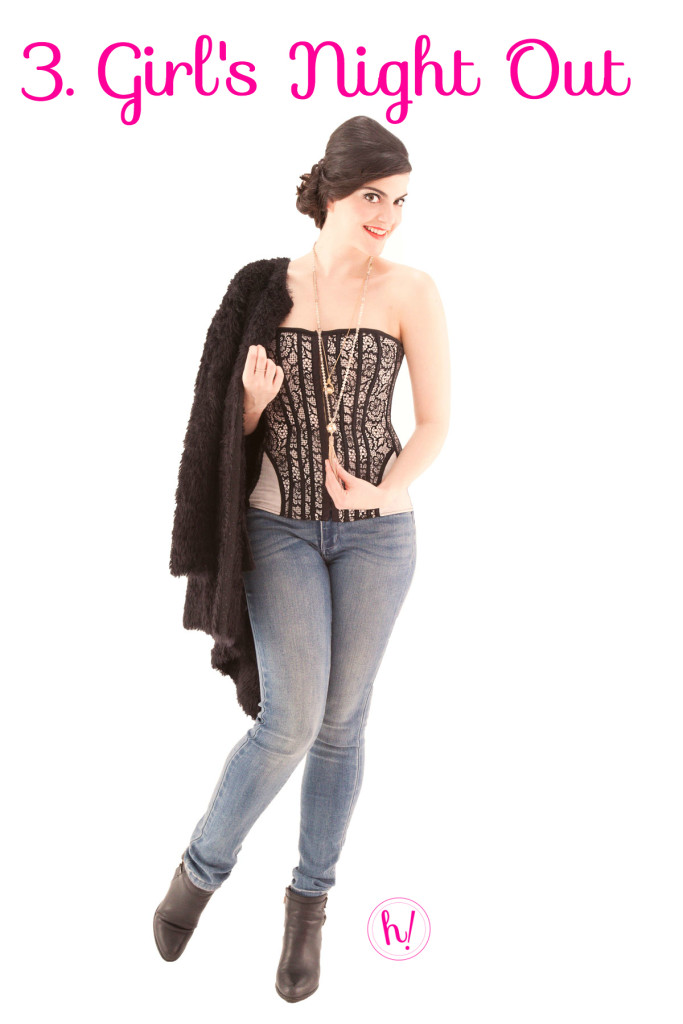 If you like to step out in style, try pairing a bustier with jeans! You can dress it up by wearing stylish (and dance floor friendly) boots, and adding some dazzling jewelry. I wore an Isaac Mizrahi pair of booties for a little heel height. Comfortable and stylish. And I wore a sparkly, dangling beaded necklace with a tassel from Ann Taylor LOFT. Both are items I wear often, and were gifts from my in-laws for Christmas. I also added in a long, vintage looking, three door locket from 1928 Jewelry. Hurray!
I borrowed the jacket from the hair and makeup artist for added texture and to stay warm, and we swept up my hair for a night-on-the-town 'do.
FOUR: Saucy Night In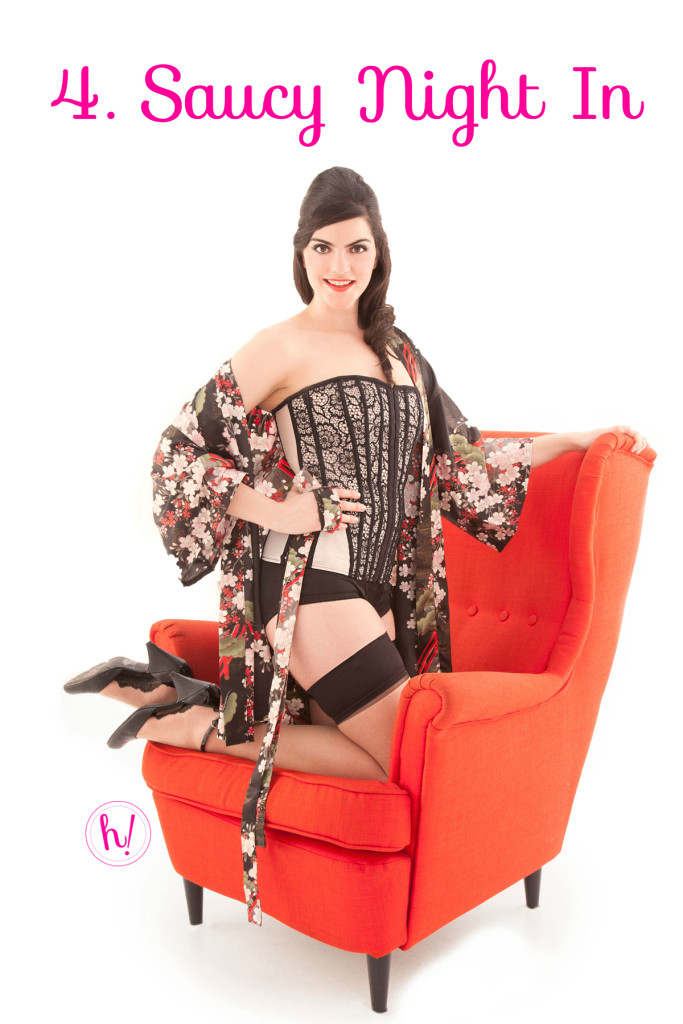 A bustier is best known as an undergarment or lingerie item, so it's only natural to wear one for frisky time! I paired mine with a simple, full coverage, retro style brief. No one says you have to show everything to feel sexy! I donned a kimono style robe which was a gift from my friend when I visited her in Japan, many years ago. To complete my look, I wore sheer, black backseam thigh high stockings from Pretty Polly. I have to say, I have worn these stockings out and about, walking through New York City, and they stayed up and stayed on ALL DAY. The wide band at the top is so comfortable, I couldn't believe it! And feeling comfortable always makes me feel confident, which is always attractive – in or out of the bedroom.
Interested in purchasing your own fashion bustier? Here are a few retailers and brands to try out:
So what do you think? How do you like to wear a bustier? Do you like to wear a fashion style, or a sleek simple style? Try one out, and use the experience of trying something new as an opportunity to adorn your body, celebrate your femininity, and say hurray.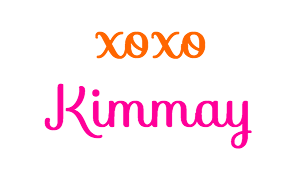 By the way, this is NOT a sponsored post. Everything I'm wearing was bought on my own dime or was a gift from a friend. Even if it was a sponsored post, I always share my own, unique, honest opinion!
All images in this post are by the lovely Becky Yee of Around Digital Media. And no photo shop to my body – I have zero tolerance for altering my body's beautiful shape 🙂 Makeup and Hair by Emi Koizumi.
Save