I LOVE to travel. Going on a #HurrayVacay is a favorite way to say hurray. Whether you're a boss babe traveling for business, or saying hurray on a vacay, knowing how to wash your delicates on the go is super important. Most people forget about washing bras or underwear when they travel! By paying just a little bit of attention to how you're washing your delicates on the go you're not only able to wear them multiple times, but you will also save room so you can pack all your must-haves! Plus, caring for your things is a great way to practice caring for yourself. And self-care is a top way to say Hurray. 
Want in on a secret? I'm hosting my first ever retreat in… Paris! If you're interested in going on a Hurray Vacay to Paris with me, let's connect! Email me directly at kimmay(at)hurraykimmay(dot)com and you'll be first to hear the details about this exciting September 2019 trip. Stay tuned for more information.
Psst! Some of the links in this blog post are affiliate links or brand partners. As always, I only share products and suggestions that I can truly stand behind and make me say hurray. Try them out for yourself!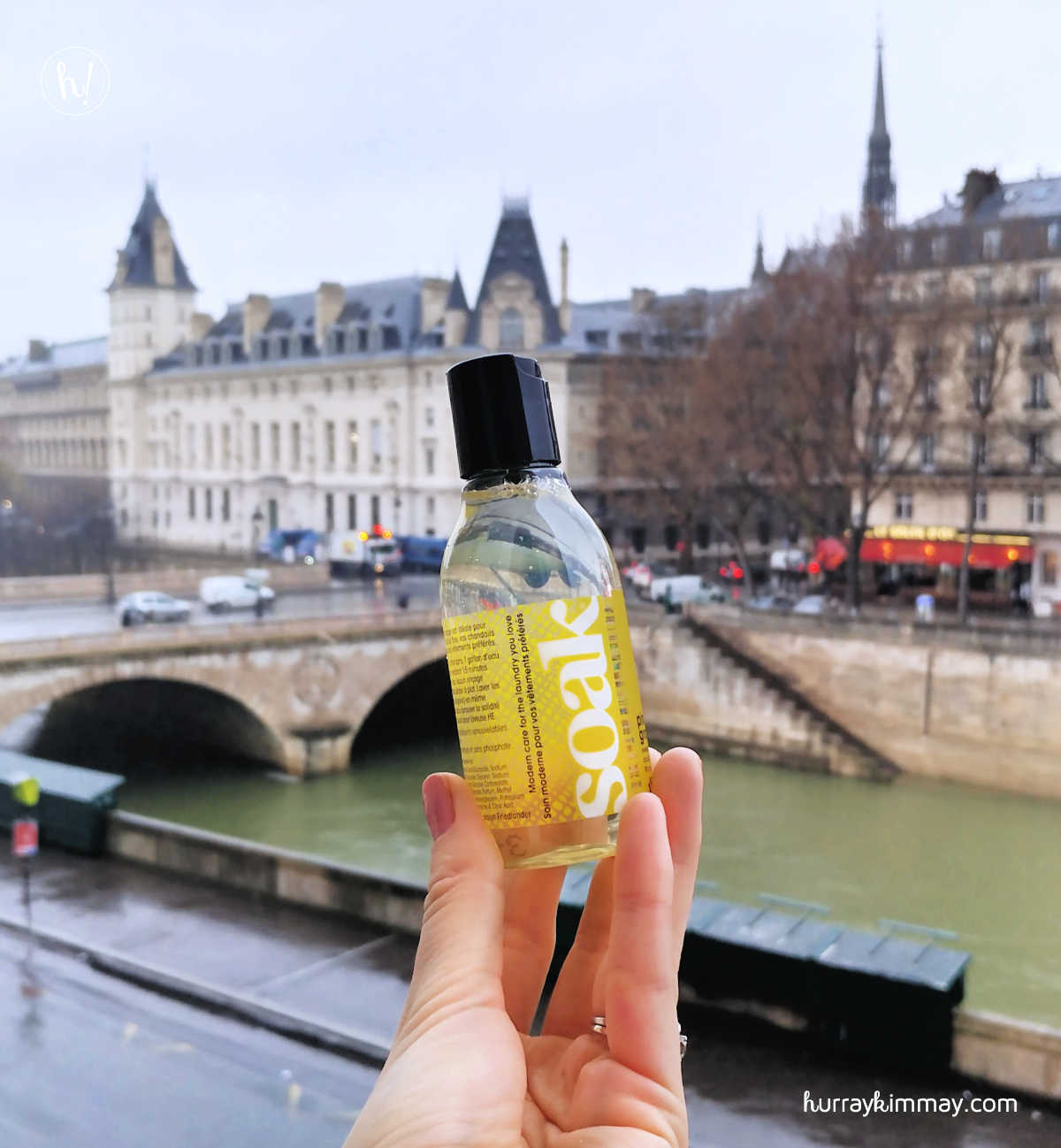 Before you even get to your destination make sure that you pack your soap for washing delicates. It's super important to use soap that is specially made for lingerie, silk, or stretchy fibers (like bathing suits and tights). My go-to brand is Soak because it's like skincare for your delicates. Soak is a gentle skin and fabric-friendly soap with no hard chemicals. It helps wash away grime which helps prevents the elastic from breaking down on your bras, so they won't stretch out super fast! It comes in a few light scents, or scentless! Plus, on top of their regular size bottles, Soak also has convenient travel size AND single-use packets called Minisoak.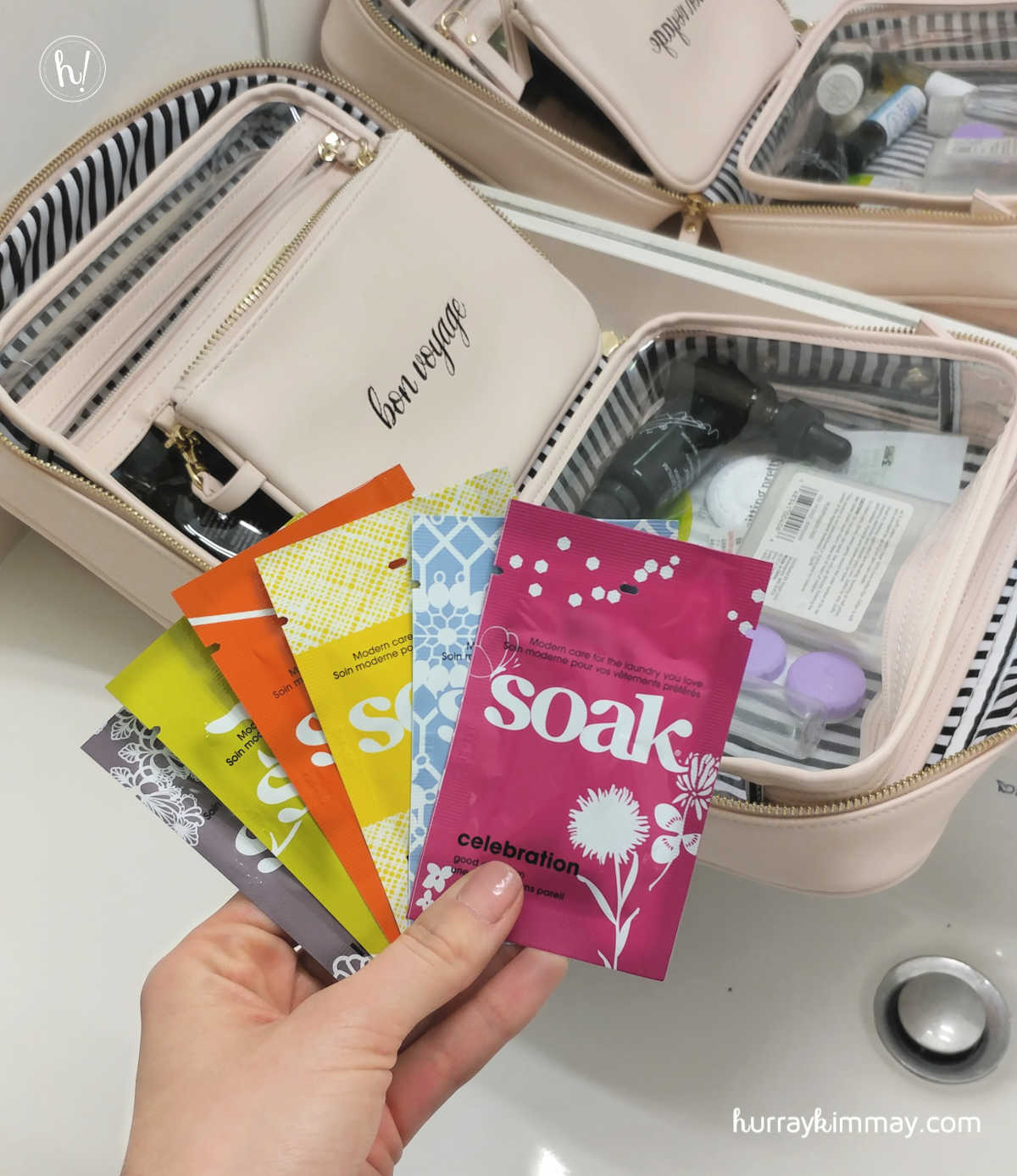 Don't forget that packing some lingerie wash not only comes in handy for washing your bra and underwear on the go but so many more items that we bring!
Bathing suits. Wash away chlorine and salt water to keep the bathing suit from stretching out.
Washing a blouse. Soaking a blouse to say adieu to odors or grime will help it last longer, and you can wear it again on the trip.
Treating a mess before it stains. Can not tell you how many of my (and my husband's) shirts we've saved from stains. This is why I take Soak on all of my travels.
Sports bras and activewear. If you workout during your travels, your leggings and sports bras can stink up your suitcase! Give them a wash to protect their fibers and get a fresh, clean scent.
Packed soiled items. Hey, no judgment! Been there, done that. I have totally packed a soiled bra or pair underwear that I need for that special outfit and didn't have time to wash before I traveled. I just washed them once I got to the hotel room, and voilà, ready to wear!
Watch my quick care tip video, below, on how to wash delicates on the go!
OK! Ready to say hurray for washing your delicates on the go?
Let's get to it!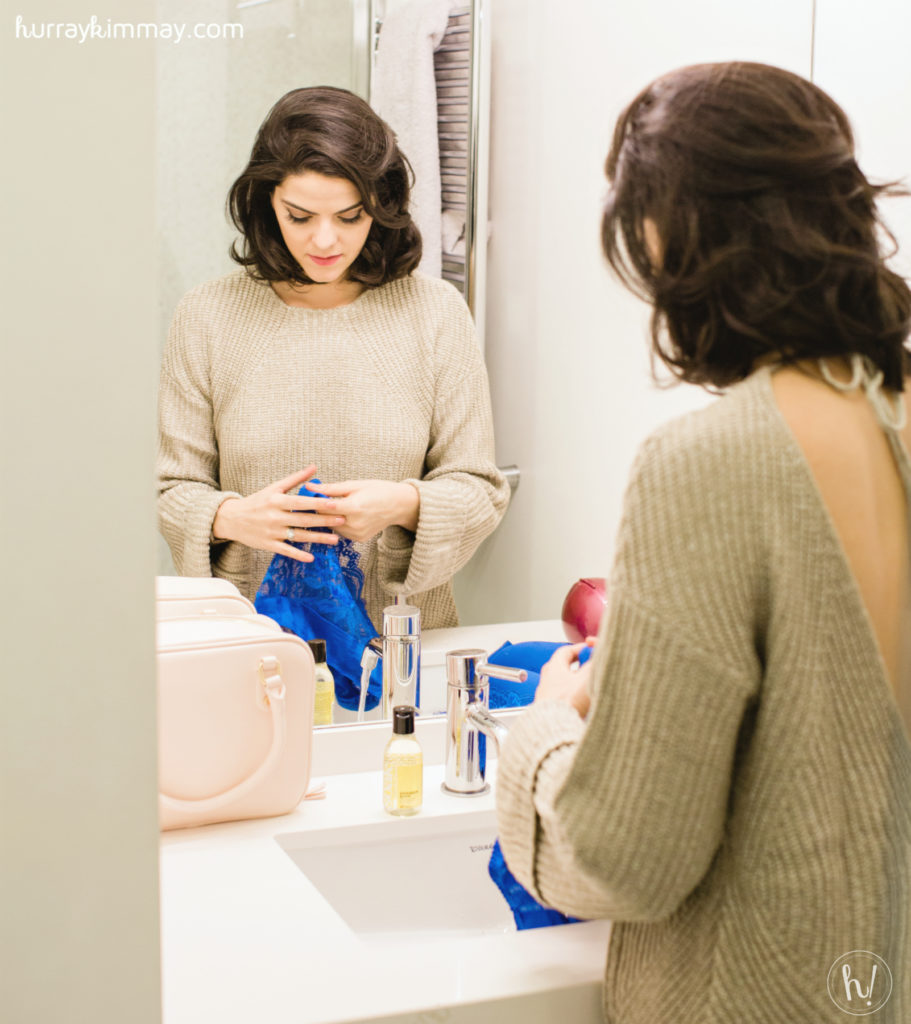 Fill up the hotel sink with lukewarm water. Don't want to tie up the sink with your intimates? Then get creative! Use a large bowl from the Airbnb instead or the ice bucket with the liner instead. Make sure that the water isn't too hot as it can harm the fibers of your delicates, but you don't want to freeze your hands either!
Squirt or pour in about a teaspoon of soap or follow the instructions on your bottle of detergent. I cannot stress enough how important it is to use a detergent that is specifically made for delicates and lingerie. Soak is super concentrated so a little goes a long way!
Submerge delicates into the water and let them soak for 15 minutes.

You can leave them in longer – it won't harm them – but there's no need to.

Gently pat them dry with a towel and hang them over the shower rod. You can also bring a

portable clothesline

! Running out of hanging room? Get creative! Hang thongs from hotel doorknobs to air dry!
Want more? Watch my full length video and read the helpful blog post on how to wash your bras.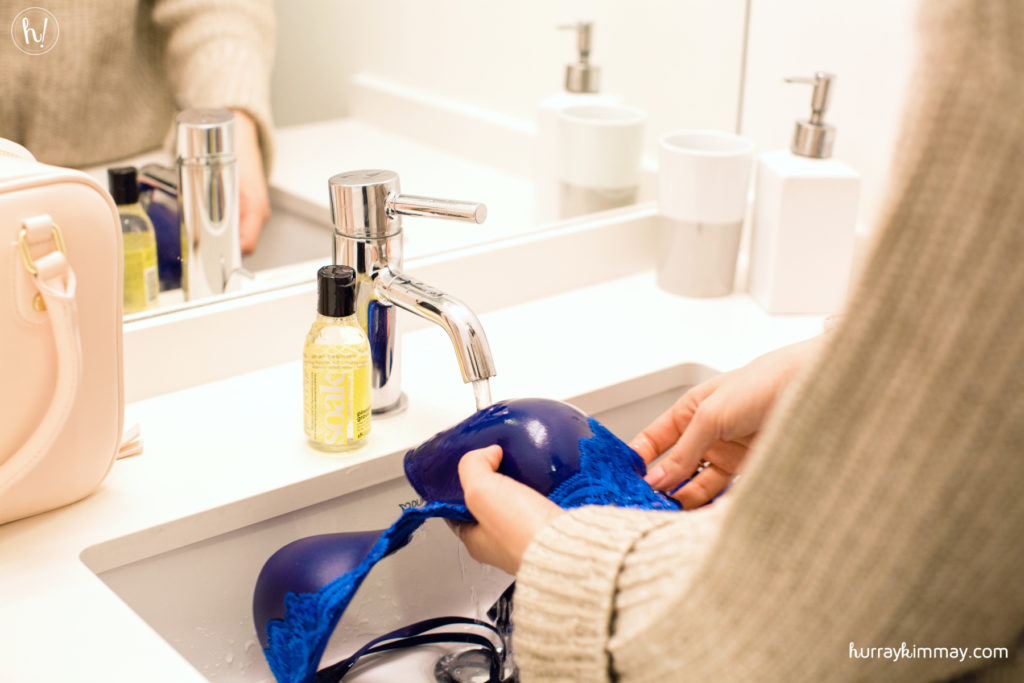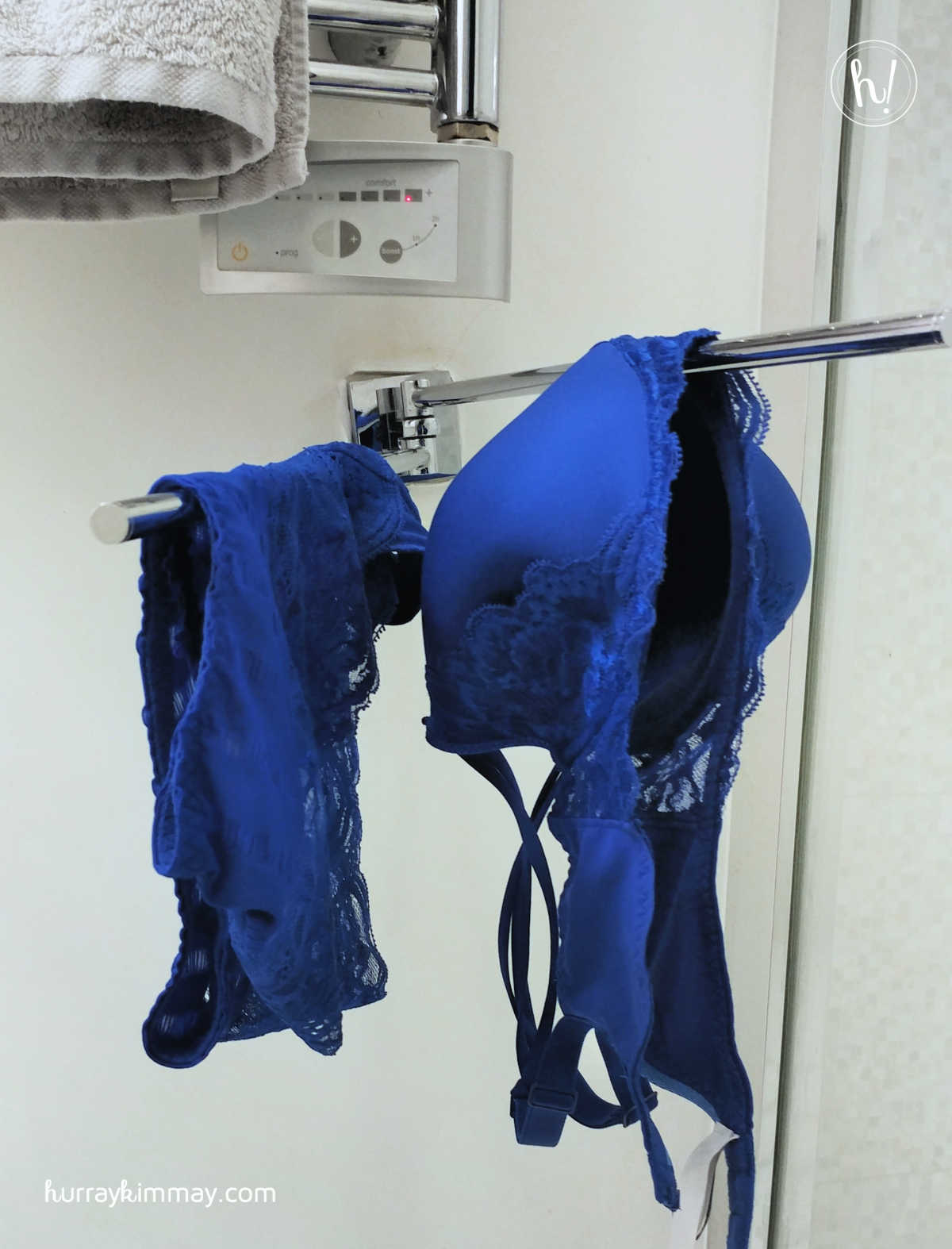 More Hurray Kimmay Travel Tips
Packing Bras: Don't smush your bras in your suitcase. Stack them (without inverting molded cups) toward the top of your luggage and use a rolled up pair of socks or a tank top inside each cup.
Use a Case: You can also use a hardcover bra travel case, or pack your bras and underwear in their own travel case.
Dirty Laundry: I also like to keep clean and dirty underwear separate (like in these cute Kate Spade travel bags).
Travel Bra: Wear or pack a travel bra, meaning a bra that is supportive and comfortable for a long day or traveling, sleeping on a plane, or sitting in a car. For me, that's a wire-free bra or bralette. A current favorite is this bra-sized, lace, adjustable bralette from Montelle. I wear the 32D/E and it's available up to G cup!
But wait, there's more! Get my tips on how to wash your lingerie, shapewear, and swimwear on my care page with loads of free videos and the most helpful tips to help your bras and delicates last longer and support stronger!
***
Your Turn: What is your favorite must have when traveling? Where are you headed to this year? How do you like to care for your delicates on the go? What did you learn here? Share in the comment below!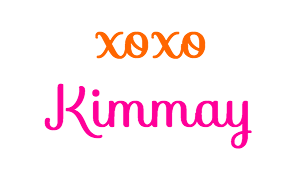 Credits: Video by Around Digital Media, images of me by Laura Boyd of Own Your Sexy, and a few candid photos by yours truly. Special thanks to Soak for sponsoring these amazing videos and helping you care for what's Soakworthy in your life.