After diving into learning to love your legs, I'm back … with some "back" talk. That's right. This time, I'm talking about learning to love: your butt.
Whatever you call it: bum, butt, booty, peach, ass, behind, caboose, tookus, bootay, buttocks, posterior, bottom, glutes … we ALL have a butt. The purpose of a butt is most notably to sit upon. Because of the way that humans are designed, our bums are pretty essential for taking weight off of our feet and allowing us to rest, seated, without crushing our bones or genitals. Sexy, right?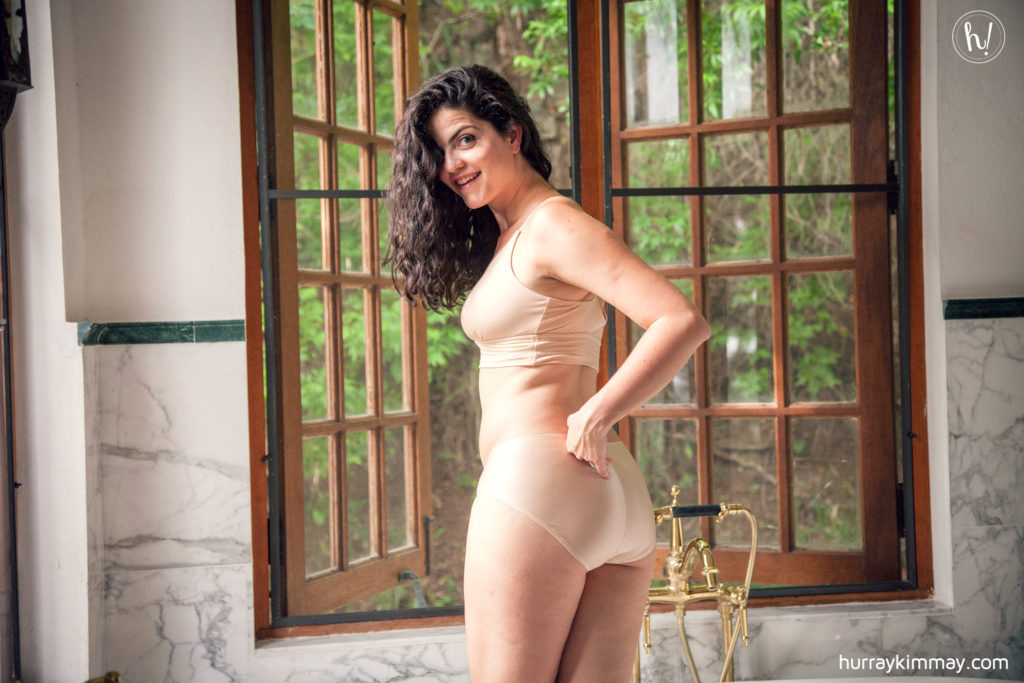 Style notes: I'm wearing the new peach Incognito hipster panty in natural along with the Simply Soft Bralette in Natural. So cozy! More info on these new panties below. Photo by Becky Yee during our trip to Puerto Rico on a #HurrayVacay.
But seriously, butts are sexy. At least, we've been told so. Listen to music and look at art – the butt is a very desirable thing. And like most desirable things, it's up for debate just exactly what makes one desirable. Beauty is subjective, right? And the pressure to have the right kind of desirable thing can be daunting, especially when it feels like "what's in" is changing, or isn't what you possess.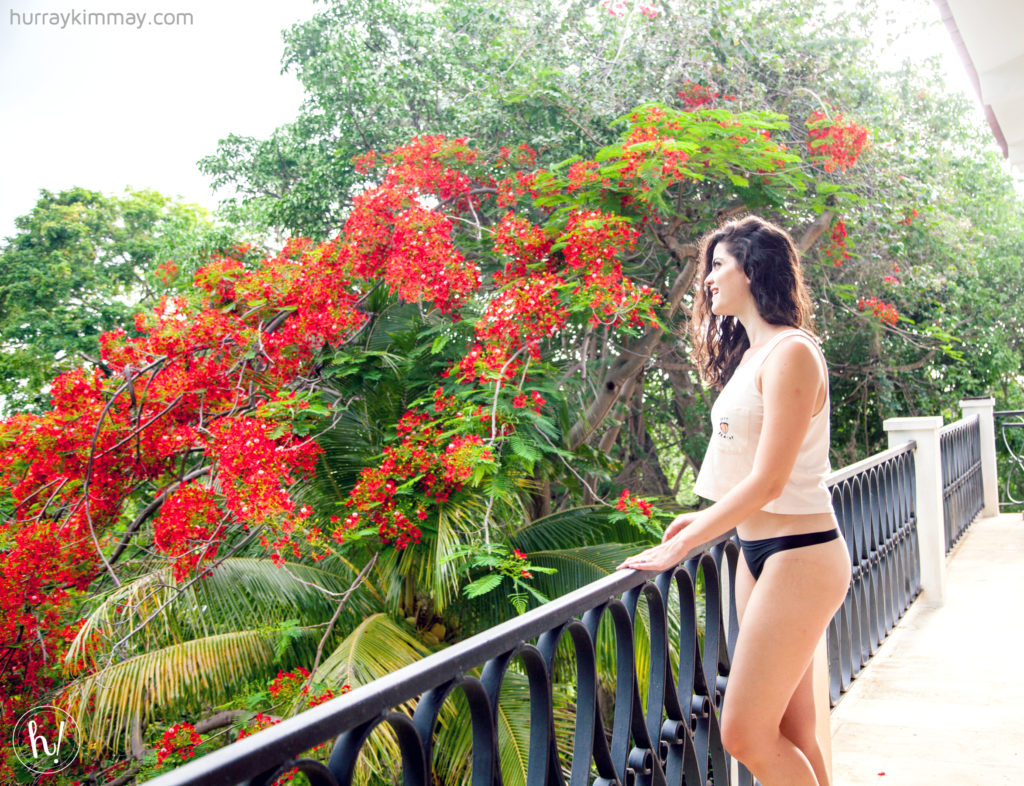 Style notes: I'm wearing the new peach Incognito thong in black along with "Just Peachy" top I got at Lockwood Style in Astoria while I overlook the hills of Rincón, Puerto Rico on a #HurrayVacay. More info on these new panties below. Photo by Becky Yee.
When I was growing up, none of my friends and I wanted a butt. We were walking around during high school hoping to have small hips and tiny bums. In fact, one of my friends, who had a (delightfully) round posterior went shopping and complained to the sales associate that the tight dress she was wearing made "her butt look big". The sales associate told her that a big butt is the sign of being an attractive woman, and as she got older she would come to appreciate it. I remember saying "yeah, totally" when my friend relayed this story, and secretly thinking "there's no way!" And look at us today. Every song and celebrity story is about big butts. We are worshiping women like J.Lo, Nikki Minaj, and Kim Kardashian for their large, round, bottoms. This isn't new, I realize. There have been plenty of songs and worship over a woman's large bottom in the past, and in contrast, plenty of people who prefer a small posterior. But the pendulum of our collective society has undoubtedly swung toward favoring a large bottom in recent history.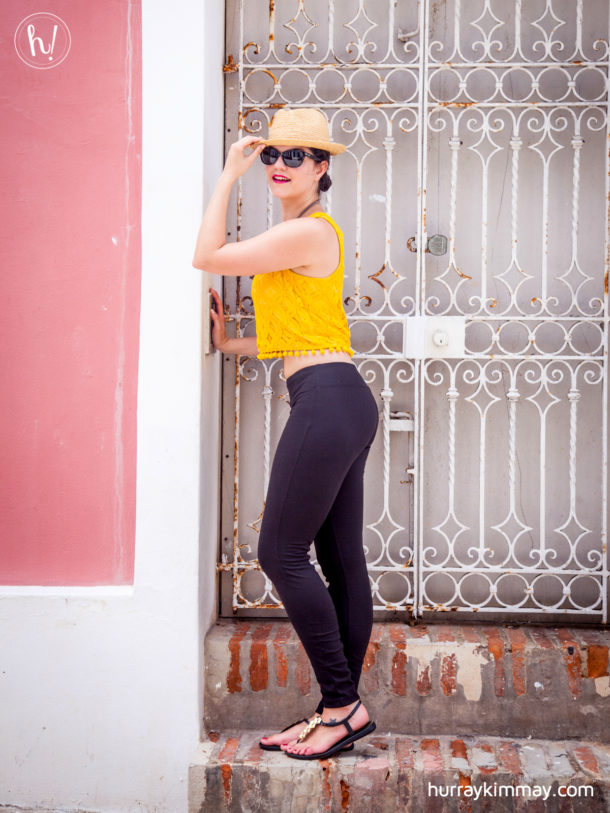 Style notes: I'm wearing a yellow top from Target, hat from Gap, sunglasses from Under Armor, and sandals from Ipanema. These peach ponte pants feel like I'm wearing yoga pants, but with a big style upgrade. And underneath, I'm wearing new, seamless Incognito hipster. No panty line whatsoever! Photo by Becky Yee in Old San Juan during the #HurrayVacay in Puerto Rico.
There's nothing wrong with that. Big butts are beautiful. The fear, for me personally, is that I do not have a big butt. So, can I still be considered desirable in spite of, or (heaven forbid) because of my less than amble bottom? The next question is: desirable to whom? That's an important one.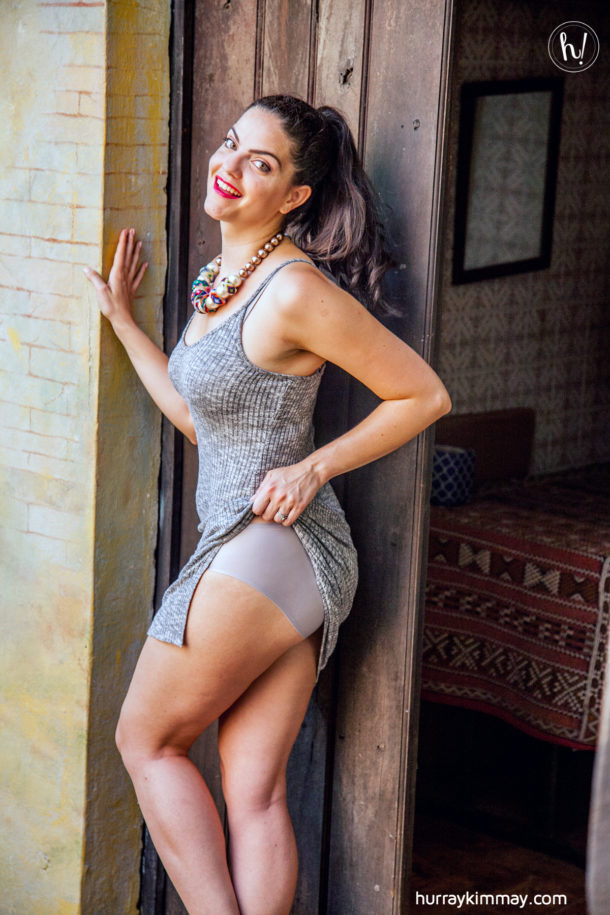 Style notes: I'm wearing a grey dress from Express and necklace from Anthropologie, along with the new peach Incognito hipster in gray. Photo by Becky Yee during our #HurrayVacay in Puerto Rico.
I have absolutely had men discuss my behind as being "too small", especially when it comes to discussing my heritage. (I went into detail about this in my Hurray for Hispanic Heritage Month post – and how I never felt like I was Hispanic "enough", and a big part of that was because my butt wasn't big enough. And how men would openly tell me that I couldn't possibly be part Puerto Rican because my butt was too small. It's a whole thing. Go on and read it and let me know what you think.) Or, men have looked passed me to a woman with a bigger butt. One of my dearest friends and I, both married to wonderful husbands, used to walk together during work breaks. We both have pleasant faces, dark hair, and attractive eyes… but she is far more curvaceous than I, and it's mostly booty. When a man would call out on the street (no this is not acceptable, and no we don't like it, and no it's not a compliment), it was almost always toward my friend… and her butt. And even when a gentleman would actually approach in a kind way on the street when the two of us were together, they always went to her. We were pretty sure, no matter how lovely she is, it was usually because of her lovely behind.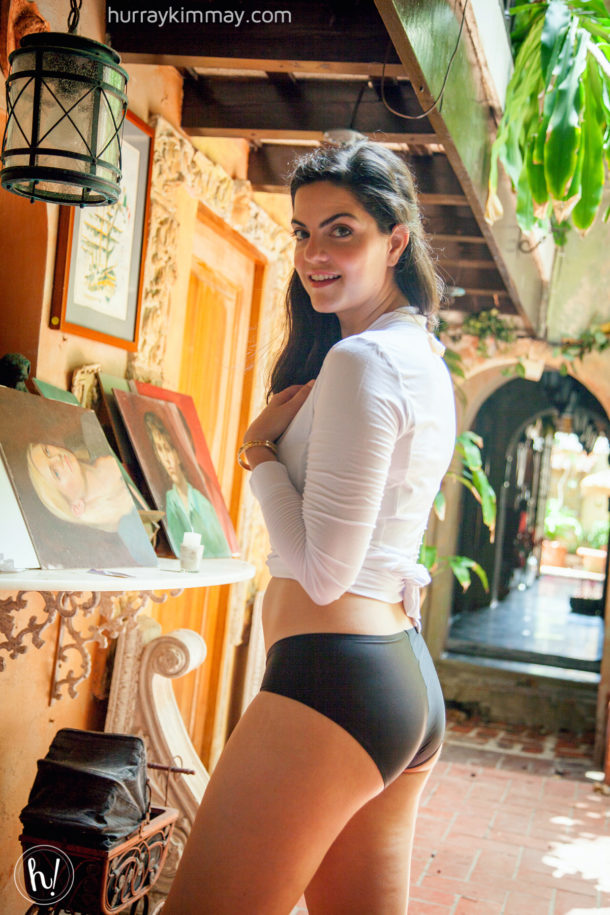 Style notes: Here, I'm lounging in a peach flyaway cardigan in white and the new Incognito hipster, from peach, in jet black. Photo by Becky Yee during a #HurrayVacay in Puerto Rico.
When it comes to those calls on the street, it's easy to feel like your butt is the reason for unwanted attention. A colleague of mine, originally from Brazil, said that she feels uncomfortable wearing tight yoga pants or leggings in our neighborhood because of the inevitable unwanted attention. She's even tested it out, thinking "well I'm just going around the corner", and had to turn back after a block or two to change into something looser because of the comments that met her that day. I've run into similar issues when I was living in Spanish Harlem, while I'm walking around Manhattan, and in our Queens community.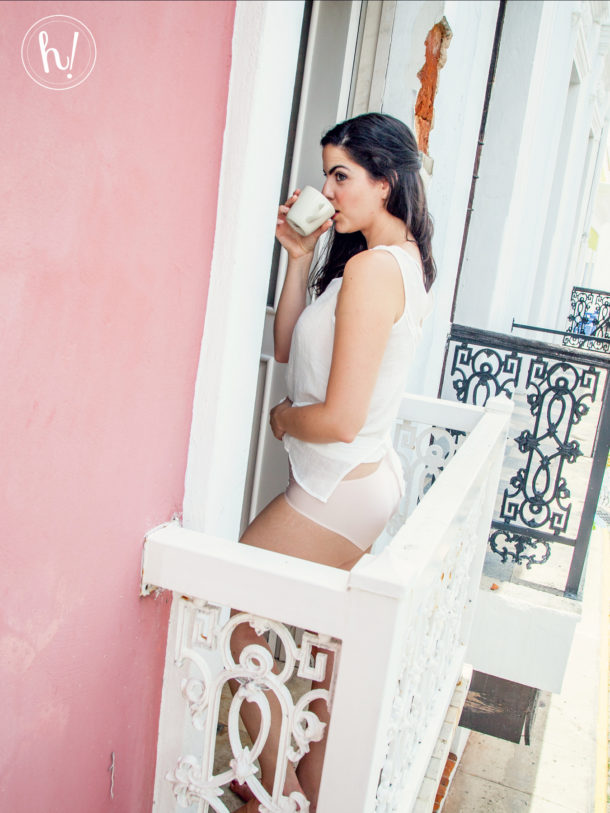 Style notes: I'm on a balcony in Old San Juan, sipping coffee while wearing the new peach incognito hipster in petal pink, and a blouse from Marshall's. Photo by Becky Yee during another #HurrayVacay, this time in Puerto Rico.
In fact, on one walk home from a yoga class I paused on the sidewalk to check an incoming text message. I don't remember what the text said, but I do remember the feeling of a man's hand on my backside as he rode past me on his bike. The flurry of the biking passing by, and the violation of my body sent a surge of shock through my body. He looked back at me as he sped away to see how I reacted. In a split second, I went from shock to anger. I ran after him on foot as I cursed at him, "F*ck you, you motherf*cker! You disgusting pig! Don't you ever touch me!" I'm not sure what I thought I would do if I caught up with the guy on the bike. But I was at least glad I didn't just gasp and shut up. I let him know that touching my body, including my butt, without my permission is not OK. Our neighborhood is generally considered safe, quiet, and family oriented compared to most New York City areas. And that still exists. Imagine what it's like in other areas of the city, of our country, of this world. Gross.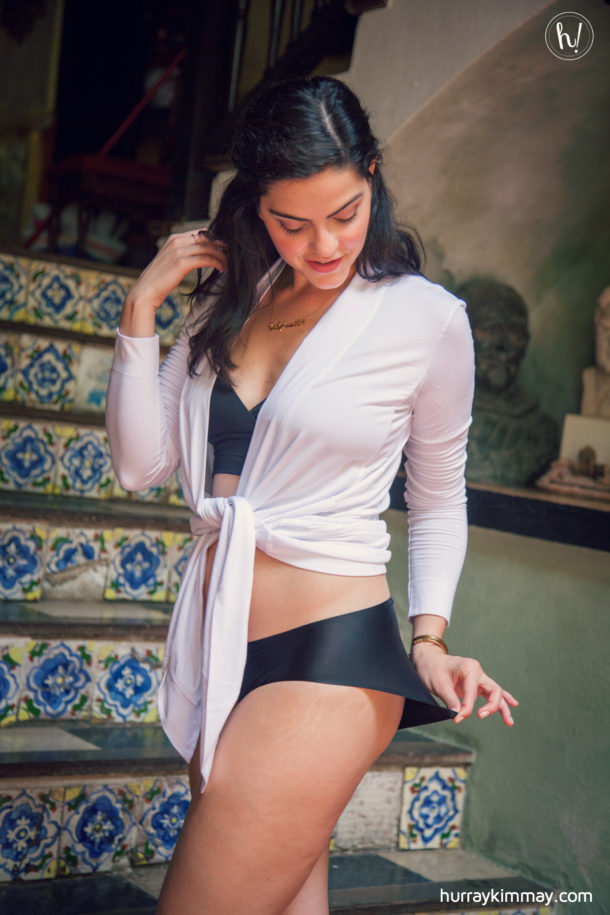 Style notes: Check me out in the peach flyaway cardigan in white, the simply soft bralette in black, and the new incognito hipster in jet black. See how seamless this panty is? It's like a second layer of skin! Photo by Becky Yee while we were on a #HurrayVacay in Puerto Rico.
I don't think that guy on the bike wanted to make a pass at me. I think he wanted to violate me to thrill himself. I'll tell you, though, my butt is sexually desirable to some men. They've let me know. I've never gotten a real complaint from a romantic partner or prospect. I've certainly had plenty of beautiful things said about it. And I've enjoyed their affection. I like being able to dance and move my hips and my butt with it and lure in my honey. As of today, I'm having a very lovely time with my butt, thank you. And, quite frankly, mine is the only opinion that should really matter. I love feeling desirable to my husband, and certainly take notice if a man takes notice… but my happiness, my own sense of sexy, my worth, my joy, is not based on their opinion. It's based on my own loving relationship with my body and myself.
I wasn't always as kind to my butt. Cellulite. Stretch marks. Sagging. These are fears I have or have had about my butt. Years ago, I spent far too much time worrying about these things. I can't say that they are 100% wiped from my conscious now. However, I can say that I've come a long way. And I'm taking baby steps everyday.
Want to hear from some Hurray Kimmay readers, like yourself? Here ya go! 
I am Italian/Irish so there was no way I was escaping the "big butt" gene. High school was tough because seemingly everyone was the slim, athletic stereotype in Abercrombie and I just was not. Now, though, I embrace my booty! It took a bad relationship, an adventure in body positivity, and discovering my style to get me there, but it happened. There will always be things I want to change, but I feel proud that most days, I can look in the mirror and think "I am lovely."

I love all the body positive talk, it means so much to so many, and it is utterly important. Six years ago, it was articles like the one you're working on now that began to shift and change the way I saw myself!

Jessica, age 25, co-founder of Fortuna Femme
My body changed drastically, after I got my period at age 10. The biggest change was my butt. It was so HUGE!!! All my classmates called me BBB (Big Booty Brenda) until I was 13. I would be so afraid to walk to the pencil sharpener because I was afraid of either knocking into someone's desk or one of the boys commenting something nasty to me in class. Girls were so cruel to me because they couldn't understand why I hated the attention they failed to get from the boys in my grade. My mother criticized me constantly because my body looked too "sexual". So I wore skirts or baggy pants. And though I don't blame my mom for her comments, they still echo in my head when I try on pants. My body eventually balanced itself out, but the catcalls haven't stopped. I understand that those catcalls are intended to intimidate me rather than flatter me, so I have learn to love my hips and my fat ass!

–S., age 25, Expressive Arts Facilitator 
Always loved mine! First because I had the limiting belief that it was my only asset (pun intended), but as I've grown to respect and then love all of my body I've still highly regarded my butt! I'm also proud of whatever it looks like – I have fitness friends who ask why I don't lift more because "running makes your butt flat" but truly I enjoy my butt as is and don't think it's flat at all so I've never considered that stereotype, and it was odd for me to hear that people think that way!

-Elizabeth, age 30, "Project Management Senior Associate" at PwC and Yoga Teacher
Love that you're writing about butts because it is the only thing that I unequivocally really really like (on the verge of love) about my body. It was originally a gift from my mother that I have been able to improve over time with the right exercises, but minimal effort, so I pretty much consider it a gift all the way around! I definitely have not always been comfortable with my body, just like most women I'm sure, but I never remember hating my butt. And speaking as a 42 year old woman I feel like that's an accomplishment! Thank goodness my husband is a butt man!
– Brenda, age 42, medical equipment sales rep/marketer
It wasn't until I moved to NYC about three years when I was 25 that I really took to notice to my booty. I think that was timing with the whole J.Lo, Kim K movement etc. but overall I started feeling more in line with my body image and appreciating what I have / my ASSets ???? jeans were always really hard for me to purchase because of it but just learned what brands supported the curves & once I learned the 92% cotton & 2% spandex are key ???????? now I embrace my curves and know how to dress to make me feel good! It's super helpful I have a boyfriend who supports me & appreciates my body so I don't feel as self conscious as I did when I lived in CA. Life is a journey and I'm enjoying riding the wave! ????

-Lauren, age 28, health & wellness enthusiast
I felt very awkward about mine when I was younger. It was curvier than others, and I felt like I had to hide it because it was too sexual. One day I was working at a job and I decided not to wear my usual, all black, loose clothing. I was wearing tight pants without a long top to cover my butt. I didn't realize it was showing in a way that it never had, but my co-workers did. And the women at the job were like "MOLLIE"! They said some very sweet and flattering things about my butt. It was the first time anyone had commented on it in that way. I walked taller that day. It's a very fun memory! Now I love my butt! My opinion has changed for the better. I'm totally cool with it. I do not try to hide it anymore.

– Mollie, age 28, Makeup Artist
Also, a few men chimed in when I asked online. Though I speak mostly about us gals, we are not alone in our ups and downs with butts. One lamented that he wished his was bigger: "I just wish I could grow one. When I ask "Do these pants make my butt look big?" it's with hope." While another was the target of butt implant rumors at his job. For real. And another praised the booty, especially that of his girlfriend. And finally, one said he doesn't mind cellulite. In fact, he's come to anticipate it if she has a full bottom, and that he totally overlooks it when in the presence of a beautiful bum. This is the research I do, ladies.
A big hurray and thank you to the men and women who shared their stories. Share yours with us below in the comments!
20 Ways to Love Your Bum: 
Explore: how do you talk to your butt? – get to know the way you talk to or about your bum. Journal a few stories you've heard or have been telling yourself, subconsciously or out loud. Do you talk about your butt in a positive or negative way? What do you really think about it? What do you believe a "great butt" should look like? Who told you that? Whose voice are you really hearing?
Write down a gratitude list – How has your butt served you? What about it can you be grateful for? Celebrate your butt and say hurray for any ways you're already loved it, or can learn to love it
Ask for forgiveness – If you find that some of the things you're saying to your butt, or have once believed about your butt are not very kind, ask yourself if it's really true. If it's not, forgive yourself for the misunderstanding, and set a new intention. Ex: "I lovingly forgive myself for the misunderstanding that only a smooth, high, round, big butt is beautiful. And because I think mine doesn't look like those in magazines, it is not beautiful. It's not true. What is true is that my butt is mine, and it's alluring, and I'm doing my best to embrace the beauty of my booty. And that is a beautiful thing."
Massage. In a recent spa day with my friend, the massage therapist gave some extra love to my glutes. And I was totally OK with it. Those muscles need some attention!
Foam Roller. Can't get to a spa? Massage your bum yourself with a foam roller, or even tennis balls. Roll back and forth and breathe deep. It may hurt a bit as you work out the kinks, but eventually your butt will thank you.
Yoga and stretching. Try variations of pigeon and thread the needle poses, or poses meant to stretch and tone your glutes. There is a reason the phrase "yoga butt" exists. Aim less for the look, and more for the glorious feeling of showing your butt some love.
Squats and exercise. Squats are the go-to for a toned bum, and there are several others to try. And don't take regular exercise like walking or taking the stairs for granted.
Take a look. Create an inviting environment (light a candle, put on soft music, turn up the heat) and undress in front of the mirror and take a look at it! Sometimes, we ignore what is behind us. So take a minute to actually admire and compliment it in the mirror.
Dance. Put on some fun or sultry music and shake, circle, and move your bum.
A spanking. If you're into this, go for it. Ask someone you trust and love to have a little fun. Think less about what they're thinking of your bum, and more about how you feel.
Eat well. This sounds like it has more to do with your gut, right? But, our bums are the exit for almost everything we put in our bodies. For years I ignored my body when it told me what I was eating hurt it. And that included symptoms in the bathroom. Take a careful look at the fuel you put in and listen to your body.
Write a love letter. Pretend your bum is your best friend or a lover, and find the best in it. Write it down and let it know how you feel.
Moon someone. Seriously. Show it off, show someone else, and let them see what you've got! (This is best done in a loving way to someone you love).
Tight pants or leggings. Is there really a better way to show off this asset than with some snug pants? Thanks to slim styles and Lycra or Spandex, it's easier than ever to wear these pants in public. If you're exploring this for the first time, try wearing tight pants and a loose or long top over them. It's up to you how much you show 🙂
High Waist pants. Often one of the most booty flattering styles. Plus, you don't have to worry about the whole "when I bend over my butt is going to fall out of these pants" thing. Keep your bum covered and feeling safe, secure, and sexy.
Thigh high stockings. Here me out here. During one lingerie trade show run, I wore thigh high stockings and fit-n-flare dresses every day. The ease and breeze I felt around my bum was amazing. I happened to wear some pretty underwear with them, but you can always go without 😉 Letting your bum breathe, instead of being stuffed into control top or stretchy stockings is a great way to say hurray
Pretty Underwear. OF COURSE you can adorn your bum with gorgeous underwear. Think about the material: texture, quality, design, color, feel. Find what feels good to you and your bum, and wear it. I don't care if no one else sees it. Treating my behind to something pretty every day is a very special way I say hurray.
Thong Underwear. You can clothe and adorn your bum or let it show! It can be your secret, too. My friend, Danielle, has a more than ample bottom, and stayed away from thongs. After some suggestions and her own research, she's now a big fan! She says: "When I'm wearing a thong, I feel like I'm in on an inside joke with life." (Think they're uncomfortable? Here are my absolute favorite thongs when it comes to comfort.)
No underwear. Though it's not my personal style, I have ventured down the commando route a few times. It feels exciting and dangerous. Give your bum a breather and give it a try.
Incognito underwear. This one is one of my favorites. Throughout this post, I'm wearing brand new panty designs from peach, called, Incognito. 
These seemingly seamless underwear are soft, simple, and effortlessly YOU. There's something really special about truly honoring who and what you are – including your bum. Adorning it with sassy underwear is certainly a way to say hurray, and so is loving it just as it is. Wearing underwear as seamless as this means no embellishment, just simply you. Plus, the quality is top notch, so you're still treating your bum like the wonderful thing that it is. The hipster lays on the curves of your bum like a second piece of skin. No digging, no bunching. Same goes for the thong! Plus, the soft colors are so neutral you can wear them underneath anything.
There's a lot of seamless underwear out there, and I encourage you to try the different fabrics, cuts, and styles of the world – and put the new Incognito panties from peach at the top of your list.
Your Turn: How do you feel about your bum? Are you as kind to it as you can be? Do you compare it to other bums? What baby steps can you take toward loving this part of your body? Share with me here, or send me a tweet or comment on Instagram!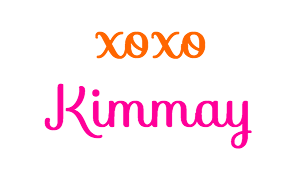 PS: As always, no airbrushing away my "imperfections". It's important to me to keep it real, and show you what a real body looks like. I may be looking my best in these gorgeous professional photos by Becky Yee, and you may see cellulite, bruises, stretch marks, etc. I'm not advertising false imperfections. Because our bodies are beautiful just the way they are.
PPS: peach is a proud sponsor of the #HurrayVacay in Puerto Rico. I've worked alongside this new and innovative company for over two years. Hurray! They're grown so much and I can't wait to see where they go next. Check them out!