Kim "Kimmay" Caldwell wearing an open knit sweater and Tutti Rouge bra. Photo by Bret Jospehs, MUAH by Jen Brooks Washburn
It's sweater season! Here in NYC it's unseasonably warm – with temperatures in the 60's instead of the usual 40's. It's confusing my brain and my body, quite a bit. And the worst part: what am I supposed to wear today? The key to dressing for unruly temperatures is layers. And my favorite layering style of the moment is the open knit sweater.
These styles use a loose knitting style that creates larger holes – making the sweater sorta see through and very breathable, even if it's heavy yarn. There are so many ways to wear this kind of sweater and I've rounded up a few of my favorites!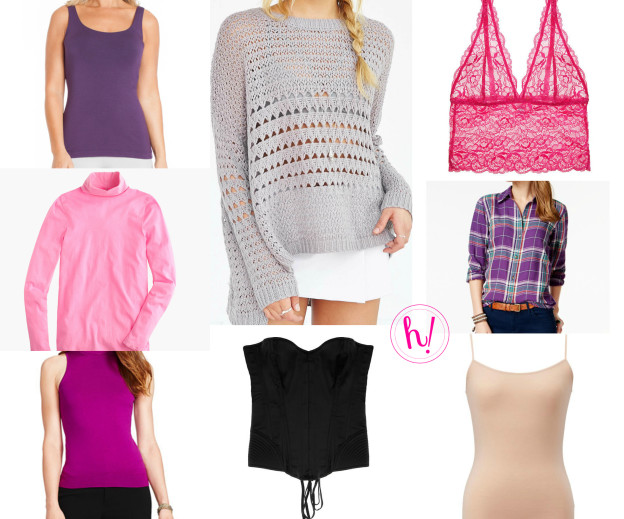 Sweater available at Urban Outfitters. peach, J.Crew Fleur't at Journelle, Uniqlo Heattech Ralph Lauren at Macy's, American Living at Macy's Playful Promises at Journelle
Turtleneck 
For the colder months, layer up with something warm and cozy like a sleek turtleneck top. Most turtlenecks are form fitting and can easily pair underneath a sweater. You can even try one with long sleeves, or a sleeveless turtleneck – depending on how warm you want to go, or how much skin you want to show through the open knit.
Seamless Cami
Basic, seamless tank tops are so great for layering! Whether you choose a spaghetti strap, racerback, or sleeveless tank, it's up to you. For some people, a cami is strictly an undershirt – not meant to be worn alone or seen. Try a camisole that either matches the sweater or blends into your skin. For others, wearing a basic tank underneath means you can take the sweater off if you get too hot. I prefer to wear something that I won't mind wearing solo, just in case I want to peel off my top layer.
Bright Color Top
One of the coolest things about an open knit sweater is the ability to see through to what's underneath. Try pairing a bright or coordinating color under the sweater for a bold look. This takes a basic color sweater and turns it into something fun! You can try a fun colored tank top, a bold patterned tee, or a contrasting long sleeve top. Have fun and experiment!
Bustier (and more!)
Go sassy with a beautiful bustier – in sleek all black, charming lace, or a fun color – underneath! Keep in mind, all of the above top suggestions can be applied to a dress! So try a sleek tank dress, a sleeveless turtleneck frock, a bustier gown, a funky maxi, or a button down shirt dress.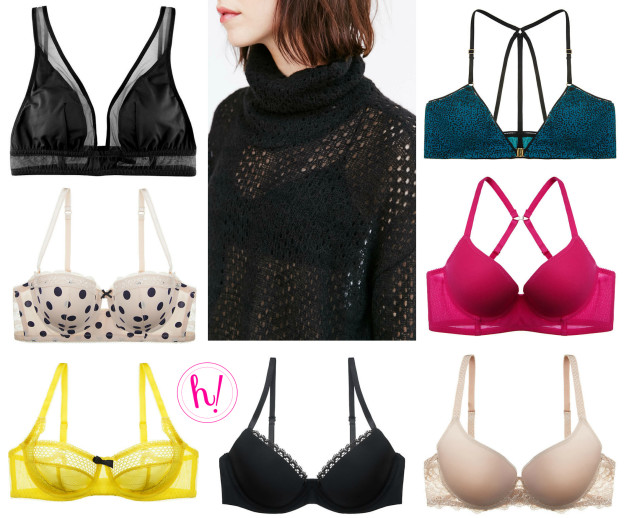 Sweater from Urban Outfitters. All bras available at Journelle: Addiction, Under Protection, Blush, On Gossamer, L'Agent Calvin Klein, Simone Perele,
Basic Bra
Just like the cami, you can match your bra to your sweater or skin tone for an invisible look. Personally, I love wearing a basic black bra underneath open or sheer tops – it looks so chic and sleek. Or, for a "is she even wearing something underneath that?" look, try a seamless bra that's as close to your skin tone as possible. Through the texture of the sweater, it will look just like skin (without showing off too much.)
Pretty Bra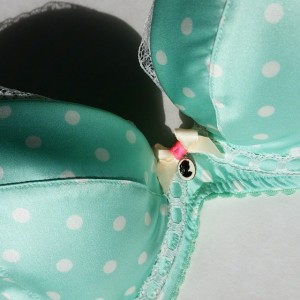 My favorite way to show off a bra is by wearing a pretty, colorful, or lace style under an open knit sweater. You might have guessed this. After all, I do say hurray for lingerie! In the photo at the very top of this post I'm wearing a bright mint polka dot bra from Tutti Rouge. This style is just too sweet not to show off! Instead of walking about in just my bra, though, I paired it underneath this heather gray sweater from LOFT. Hurray! Camisole bras, lace styles, or bras with intricate back straps are all very popular to show off. As always, choose the style that fits your bust, your style, and your budget best!
It's up to you how sheer you want to go with the bra. Sometimes the chunky knit will keep a sheer bra from overexposing your bust. I prefer to wear an opaque bra – molded or not – underneath sheer or see-through tops. I might not mind a sneak peek at my tummy or décolletage, but I'll keep my nips hidden, thank you. Another alternative? Wear nipples covers with a sheer bra!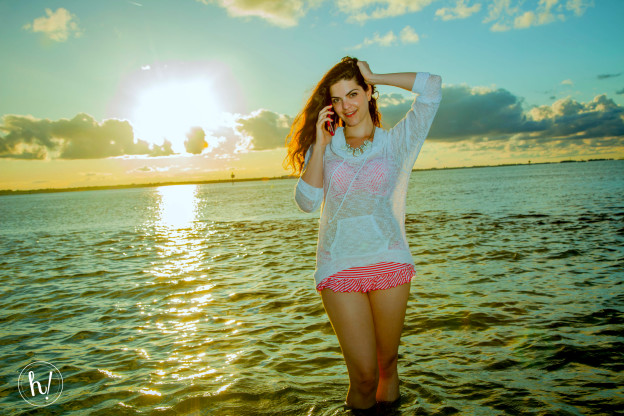 Swimsuit
Another way to wear your open knit sweater is on the beach or boat! I wore this sheer, loose knit style over a Cleo by Panache bikini top. It was the perfect cover up on a cool night in Florida. Try one out! The open knit keeps you somewhat covered without overdoing it on the warmth. Need swimsuit help? Check out some of my favorite two piece and one piece swimsuit styles and tips.
So how do you wear an open knit sweater? Share with me here or send me a tweet @hurraykimmay!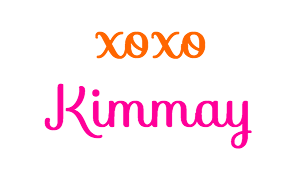 Save