Hurray! I'm back on the Today Show, helping Hoda and Jenna (and millions of viewers) learn more about how to support the sacred area right over their heart. It's bra time!
In this segment, which aired LIVE on May 24th, 2022, I was joined by 4 lovely viewer volunteers to showcase 4 awesome bras, some tips for a comfortable bra fit, and settle a debate or two along the way.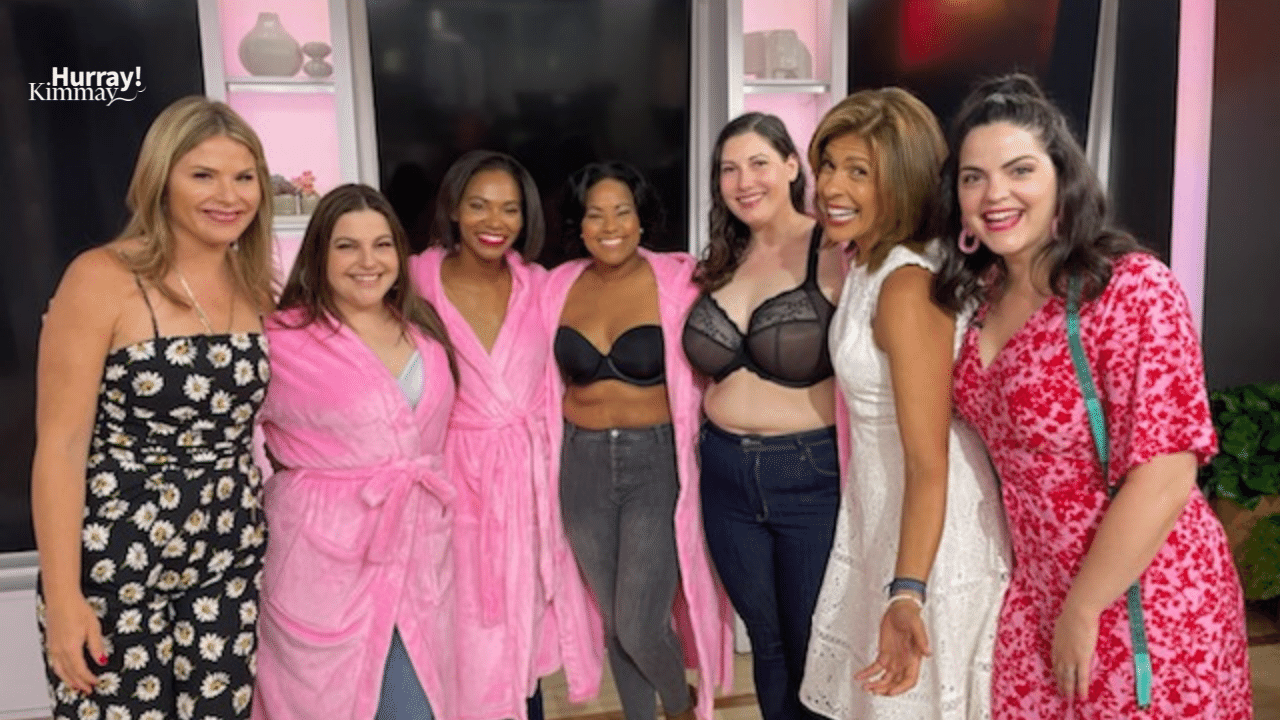 Want to watch the replay of this segment? Head over to the Today Show website to shop the looks and see a replay of the segment!
For those who want casual comfort
So many people went bra free so if you're looking to ease back into support try something stretchy, smooth, and wire-free. You can get light support with bras like the one Ebony is wearing, and they're awesome for lounging or working from home. This style of bra is also great if your body is changing or your size is fluctuating!
Harper Wilde – The Bliss Bralette
Ebony is wearing a Small (she fits into a 32D or DD)
V-neck front and back
No foam, cups, or padding—just durable microfiber fabric construction that gives you lift without sacrificing comfort.
Proprietary band construction gives you lift, without the underwires.
Super soft, sleek materials are sooo smooth under clothes.
Sizes XS-4XL
For those who want smooth, supportive coverage
A classic t-shirt bra is a STAPLE for most bra wearers. If it has an underwire, it's especially important to "invite everyone to the party" and invite your bust into the cup. If that wire is sitting on or digging into your bust, time for a size or style update. Here's a great one…
Wacoal – Basic Beauty Spacer Underwire T-Shirt Bra
Dawn is wearing US 38C
Flexible, breathable, and smooth spacer knit molding
Coverage blends into skin for a seamless look
Straps go in slightly in the back so they don't slip off
30-46 bands, US C-G cups
For comfortable full bust support
Kerin came to me wearing a 38DD and we changed her size to a US 38K (or a 38H in this UK bra)! She is SO much more comfortable and confident now. D cups and up need extra support and a cut-and-sew style offers great support while stretch lace fits to her body. And remember that a D cup is relative – so a D in a 32 band is much smaller than a D in a 42 band, for example. That being said, if you want to feel comfortable in your bra a GOOD fit always equals better support and comfort, full bust or not!
Elomi – Charley Stretch Plunge Bra
Kerin is wearing UK 38H (or a US 38K!)
Stretch lace and cut-and-sew support for maximum comfort and fit
Lower center gore offers a slight plunge front (and look how great it tacks on Kerin!)
Movable j-hook in the back to make it racerback!
32-46 band sizes, UK D-JJ (or a US N cup!)
Quick tip:
unlined bras like this one are really popular and often offer a better fit for full busts. If you're nervous about coverage, try a pair of reusable nipple covers like the pair I shared on air from
Threads
. They are SO easy to put into any bra to keep things smooth and discreet.
For summer tops and dresses
Strapless or convertible bras are a MUST for summer. So many people think "I could never wear that trendy top" because they don't have a bra to go with it, including the lovely Angela! She was in the wrong bra size, which is a bummer in ANY bra, and especially in a strapless. Great news: strapless bras come in MANY sizes and offer awesome support these days. This one was a HIT back stage and I was so excited to try it on Angela, and on myself. The verdict: we love it!
Paramour by Felina – Marvelous Seamless Strapless Underwire Bra
Seamless Contour cups lay flat
Hidden stays anchor and stabilize the sides and back in 4 strategic locations
Power mesh back maintains shape and support and allows for cooling on body
Flat silicone throughout the facing elastic for a stay-put fit
34-42 bands, US C-G cups
Remember that even the best bras out there need to fit in order to feel comfortable, and that comfort will provide you with all day (and night) confidence! If you wear bras, grab a spot in my Free Bra Class to check on the fit of your bras and take your first step toward saying hurray inside, outside, and underneath™!
Free Bra Class
Want to wear a bra without ripping it off at the end of the day? Watch How to Find a Comfortable Bra Fit For Your Body WITHOUT Wasting Your Money on Bras You Dread Wearing! Plus, you'll also get Kimmay's Bra Fit Guide, and a taste of Bra Confidence & Comfort™. Watch now and don't spend another minute feeling uncomfortable in your bra.
Your turn: When was the last time you updated your bra wardrobe? Which of these styles would you want to try? How do your current bras fit and feel?

Credits: Thanks to the brands that sent the product for our lovely bra models! Harper Wilde, Wacoal, Elomi, and Paramour by Felina and to Curvy Couture which didn't make it on air. And hurray to Threads for the nipple covers! Big hurray to the
Today Show
crew and producers.
My shoes were a gift from ModCloth!