A t-shirt bra is one of the most popular bra styles in the USA! It's common for most bra wearers to have several of this type of bra or, in some cases, ONLY this type of bra in their bra drawer. They're that popular. But are they for everyone? What are the best t-shirt bras for full-busted or plus sized folks that won't spill or roll? What are some great t-shirt bras for petite folks that won't gap? Are there any good wire-free t-shirt bras? Never fear!
I'm here with my decade+ years of bra fitting experience of supporting folks from AA-N cup since 2005. Below you'll find some go-to t-shirt style bras to buy & try yourself in various sizes and price ranges along with some basic information to help you make a loving and informed decision about what you put on your body (and right over your heart) every day. Hurray!
Psst! Some of the brands linked here are proud partners of mine (so grateful to share them with you!) or I may get a small thank you if you purchase through me. Your purchase through those links helps a lot in keeping articles like this coming your way. Either way, I always share items that I truly love and can help you say hurray!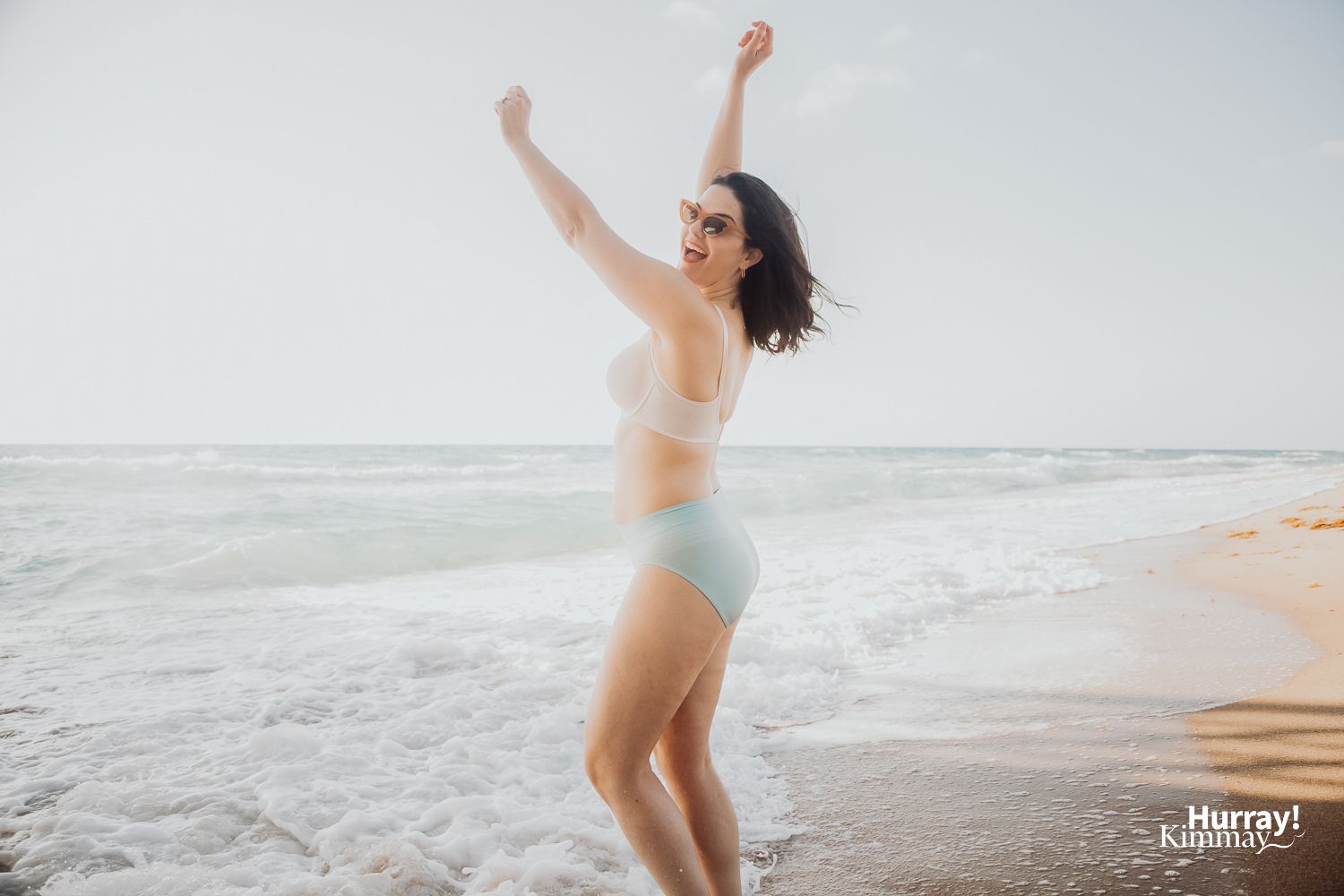 What is a t-shirt bra?
A t-shirt bra is a bra that is meant to be worn under a t-shirt. Sounds simple enough, right? But there are MANY different types of t-shirt bras out there! The most common connection between all of the styles is a smooth cup. That functionality is designed for a seamless look underneath the thin or snug material of a typical t-shirt. From there, the styles expand!
A smooth t-shirt can be molded, contoured, or padded – meaning there is some thickness to the cup and it keeps it shape, molding your bust to its silhouette. This is most common in the USA both for the shape it provides, and the modesty. Despite great campaigns against this, or the growth in body acceptance, it's still taboo in most social or work environments in the USA for nipples to show through a bra and blouse. Doing so is up to you! If you prefer to have them covered, look for a t-shirt bra that has some padding or thickness to the cup. Or, if that type of bra doesn't suit your bust shape or preference, use reusable nipple covers inside any bra!
A t-shirt bra might not have any padding or thickness! A smooth cup doesn't need to have any firm molding, it just needs to be smooth. And while not every bra brand agrees on what makes something a t-shirt bra, most use the term to describe something with padding or a thick lining, so look for that when shopping. Words like "unlined" will mean that when you lay the bra flat, the shape of the cup will also lay flat. While "molded" or "contour" typically (not always) will mean that when you lay the bra flat, the cups will stay lifted in their position because of the thick up. For the examples in this post, I've included t-shirt bras that do have a contour cup, with varying degrees of firmness. Spacer molding, for example, will retain its shape but is made of a flexible, breathable knit material!
A t-shirt bra can have push-up padding inside the cup. There's a big misconception that a t-shirt or contour bra will add volume to your breasts. It might shape them in a way that appears fuller, but it won't actually add any volume to your bust. What will add volume is push-up padding inside the cup! Some padded bras have an overall thick padding throughout the cup. The more common offering is a push-up shape that adds volume by lifting the bust from underneath with pads. If you want to add more volume to your bust and shape it up and toward each other, look for the words "push-up" or "padded".
T-shirt bras can come in many colors. Most notably in the USA, bra wearers tend to shop for neutral colors like black or a skin-tone bra. These will go great underneath most clothing, but it's also ok to branch out into fun colors! The smooth appearance of the bra will still remain hidden and the pop of color or fun print is yours to enjoy in secret (or to share with someone if you wish). Hurray!
In the end, YOU get to decide what you wear underneath your clothes – including your t-shirts. Whether a pointed seam or your nipple shows, or you keep it smooth and round is completely up to you! You are the decision maker of your body. You get to say hurray inside, outside, and underneath™. Hurray!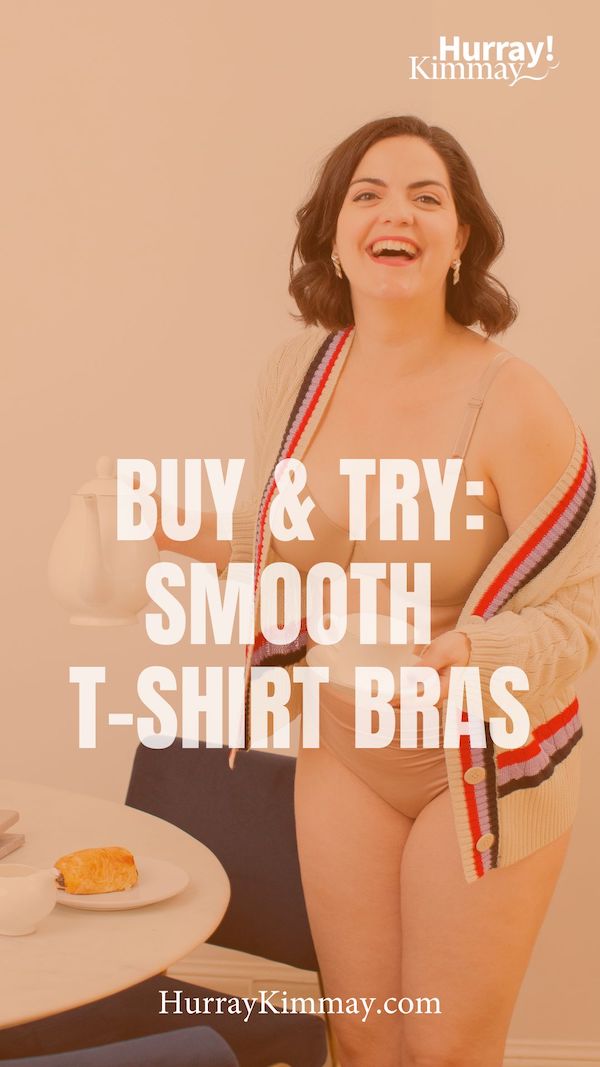 Ready to try some t-shirt bras for yourself? Below you'll find some great suggestions to get you started! And remember, you can always schedule a fitting with your favorite shop, or DIY when you buy & try. Either way, make sure you wear what fits well and feels great.
Buy & Try T-shirt Bras by Size
I often get asked "what's the best t-shirt bra for [fill in the blank] size?" And my answer is usually, whatever fits best! The truth is there isn't often just one brand or one style that is best for a certain size range, but there are some brands that specialize in certain sizes, or carry a specific size range! Below you'll find some of my favorite examples of t-shirt bras for specific sizes. Keep in mind that some of the bras might extend past the range stated here, or that brand may carry other styles in a different size range so explore a little! Either way, these are a great place to start. And don't forget that size is just one part of the bra comfort equation. Watch my Free Bra Class and check in on the fit of your bras, and adjust the size as necessary!
Petite AA-B cup T-Shirt Bras
Wacoal – Embrace Lace Petite Push Up Bra
The Little Bra Company – Angela Convertible T-Shirt Bra
b. tempt'd – Future Foundation T-Shirt Bra
Pepper – Classic All You Bra
Warners – No Side Effects® Underwire Contour Bra
Even when your bra fits well and the underwire is where it's supposed to be, our bodies are soft and some "stuff" can squish out. It's totally normal and ok! IF you want to smooth it over, this bra has extra side coverage using elastic-free fabric. It smoothes out underarm "sleevage" for a super sleek look.
Seamless cups and elastic-free sides and back for a sleek look under clothes
Comes in several colors!
Convenient front-adjustable straps (no twisting or turning around!)
Available sizes: 34-38B; 34-42C; 34-40D; 36-38DD
Maidenform – Everyday Modern Demi Underwire Bra
Simone Perele – Andora Molded T-Shirt Bra
Marie Jo – Women's Tom Convertible Bra
Panache – Porcelain Elan Molded T-Shirt Bra
Wacoal – Basic Beauty Spacer T-shirt Bra
Le Mystere – Sheer Illusion Demi Bra
Curvy Couture – Plus Size Tulip Lace Front Close T-Shirt Bra
Elomi – Amelia Spacer Underwire T-Shirt Bra
Fantasie – Rebecca Spacer T-Shirt Bra
Freya – Idol Balcony T-Shirt Bra
Curvy Kate – Smoothie T-Shirt Balcony Moulded Bra │ Use BRAKIMMAY for 20% off
Fuller Figure T-Shirt Bras
These t-shirt bras are especially for band sizes – the part of the bra that fits around your rib cage- above a 36. Some brands specialize in petite bands, mid range bands, or fuller bands. In fact, some bras go up to a 54 band! Some items shared above also fit into this category, so browse some of the other offerings on this page. These here are a small sample of some you can try!
Leading Lady – Brigitte Full Coverage Wireless Bra
Dominique – Comfort Fit Seamless Bra
Elila – Microfiber Spacer Molded Softcup Bra
Curvy Couture – Diamond Net Plunge Bra
Full Coverage T-Shirt Bras
Some t-shirt bras are demi or plunge shape, covering just part of the bust. The benefit of a full coverage t-shirt bra is that it looks especially smooth underneath clothing. There's little to no risk of a line showing through the t-shirt where the edge of the bra ends and your bust begins! (If you're looking for maximum full coverage, try a minimizer or unlined bra and use nipple covers for the coverage you'd get with a t-shirt bra!)
Warners – Cloud 9® Underwire Full Coverage
This is the bra I'm wearing in the top images! SO cozy!
Full coverage contour cups are soft to the touch and prevent spillage for a smooth, clean look under clothes
Seamless back wings look sleek in tight or thin tops
THE softest brushed fabric all over that seriously feels like wearing a cloud
Easy to use front-adjustable straps (aka no need to twist around!)
Comes in great everyday colors and this daring "Vivacious" red!
Sizes: 34-38B; 34-40C,D; 34-38DD
Chantelle – Rive Gauche Full Coverage T-Shirt Bra
DKNY – Modern Lines Full Coverage T-Shirt Bra
Dominique – Contour Lace T-Shirt Bra
Parfait – Jeanie T-shirt Bra
Push Up T-Shirt Bras
If you want to add extra volume to your bust and shape it up and toward the middle, a push up bra is a great option! Sizing tip: it's often common (though not always true) to need to size up one cup size larger than you'd normally when wearing a push-up bra. Try both sizes for yourself and see what fits you best! Remember to place your breast tissue up and on top of the push up padding inside the cup for the best effect.
b.tempt'd – b.wow'd Push Up Bra
Wacoal – Perfect Primer Push Up
Maidenform – Add-A-Size Underwire Bra
On Gossamer – Sleek Micro Push Up Bra
Wire-free T-Shirt Bras
There are many amazing wire-free bras out there – including molded, t-shirt bras! Keep in mind that if you're uncomfortable in an underwire bra it might be that you've been in the wrong size or style for your gorgeous body. So check that out! If wire-free and a smooth, molded cup is still your jam, check out some of the options here.
Warners – Cloud 9® Wire-Free Contour w/ Lift
Contour, wire-free cups for a sleek look and coverage
Back smoothing panels won't dig in
Light lift pads inside the base of the cup help you fill out the top of the cups without creating push-up cleavage. Great for those with less volume up top!
Extremely soft material feels like a cloud, including a soft lining inside the cups
Cushioned comfort straps are so cozy
Sizes: 34-36A, 34-40B,C; 36-38D
b. tempt'd – Future Foundation Wire Free T-Shirt Bra
Montelle – Wire-Free T-Shirt Bra
Natori – Bliss Perfection Contour Soft Bra
Playtex – Secrets Perfectly Smooth Wirefree Bra
Darker Skin Tones T-Shirt Bras
Finding a "nude" tone bra (now an outdated word) is often far easier for those with light skin than dark skin. Though there is still a ways to go, there are more options now – hurray! Shop a few options here or look at the Buy & Try Skin Tone Bras blog for 20 different shades!
Natori – Pure Luxe Contour Bra
Maidenform – Everyday Modern Demi
Wacoal – Inside Edit T-Shirt Bra
Remember that even the best bras out there need to fit in order to feel comfortable, and that comfort will provide you with all day confidence! 
Free Bra Class
Want to wear a bra without ripping it off at the end of the day? Watch How to Find a Comfortable Bra Fit For Your Body WITHOUT Wasting Your Money on Bras You Dread Wearing! Plus, you'll also get Kimmay's Bra Fit Guide, and a taste of Bra Confidence & Comfort™. Watch now and don't spend another minute feeling uncomfortable in your bra.
Your turn:​  Have you ever tried a t-shirt bra? Which of the styles above would you try? What clothes in your wardrobe would work best with this style?​ Share with me over at @hurraykimmay on Instagram!