One of the biggest requests I've gotten in my many years as a professional bra fitter: a minimizer bra. This bra style has a very desirable name, but what exactly does a minimizer bra do? And how does a minimizer even work? And is a minimizer bra style right for me? All of your bra questions are answered below! 
Keep reading for bra education at the top, and the best minimizer bra shopping guide below. My goal is to help folks say hurray inside, outside, and underneath, and knowing their bra options is one of my favorite ways to do so. After all, bras are worn right over the heart so supporting, adorning, and honoring this part of the body is a great place to start. Hurray! 
Psst! Some of the brands linked are proud partners of mine or I may get a small thank you commission if you purchase through me. Your purchase through those links helps a lot in keeping articles like this coming your way. Either way, I always share items that I truly love and can help you say hurray!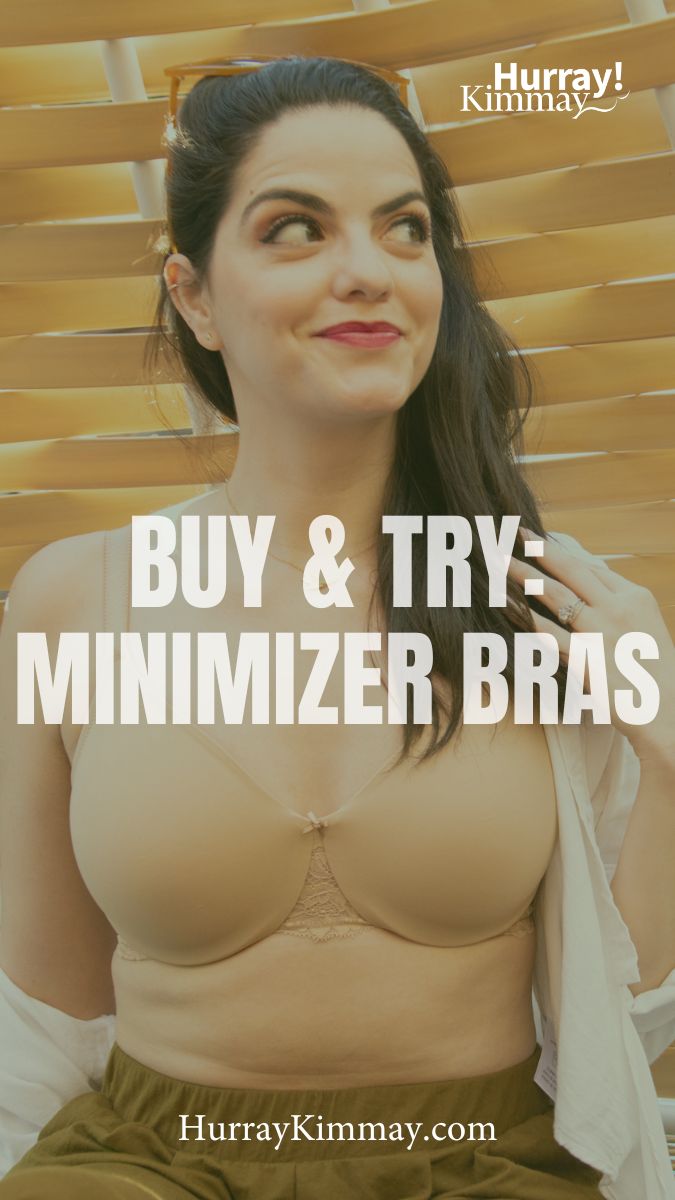 What is a Minimizer Bra?
A minimizer bra is designed to minimize the circumference of your bust. It does so by using a full coverage bra cup that distributes the breast tissue away from the center, and closer to the chest by using both cup design and sometimes compression. Often this means it will move the tissue off toward the sides. Some minimizer bras claim they can decrease the bust circumference up to 1" around. 
This makes it very different from a bra that pushes the bust towards the middle to create cleavage, or a front projection bra that brings the bust forward and up. Due to its full coverage, a minimizer bra will not create cleavage. Most minimizer bras are unlined, meaning there is no padding or firm contour cup. And the cup is usually made of a material with little to no stretch, so it can slightly compress and contain the bust. 
That said, a minimizer bra is not a magic wand and will not make your bust suddenly smaller. It might provide the illusion of a less full bust since the center of the bust is shaped in a way to look less full. I've fit thousands of folks who are looking for a smaller or less full silhouette, and oftentimes that can be achieved with a minimizer bra… or any bra in the right size! Too often, folks are wearing a band too big and a cup too small, and that causes the bust to look fuller. This is similar to when someone might wear a too tight t-shirt. Once they're in a well fitting bra, just like a t-shirt that fits well, they'll look more supported, proportioned, and sometimes less full. 
Additionally, minimizers have a tendency to displace breast tissue from the center of the chest toward the body, and out to the sides. That might mean your side silhouette will look more narrow, and your front silhouette will look wider. If this is your desired look, go for it! If you want more forward projection and less of a wide silhouette, try a cut and sew balcony bra instead. 
As always, I believe there is room in most everyone's bra wardrobe for more than one bra style, and it's key to buy and try a few and see what works best for you and your clothes! Working with a great bra fitter will also help you navigate your options so you can find the best bra (including a minimizer option) for you.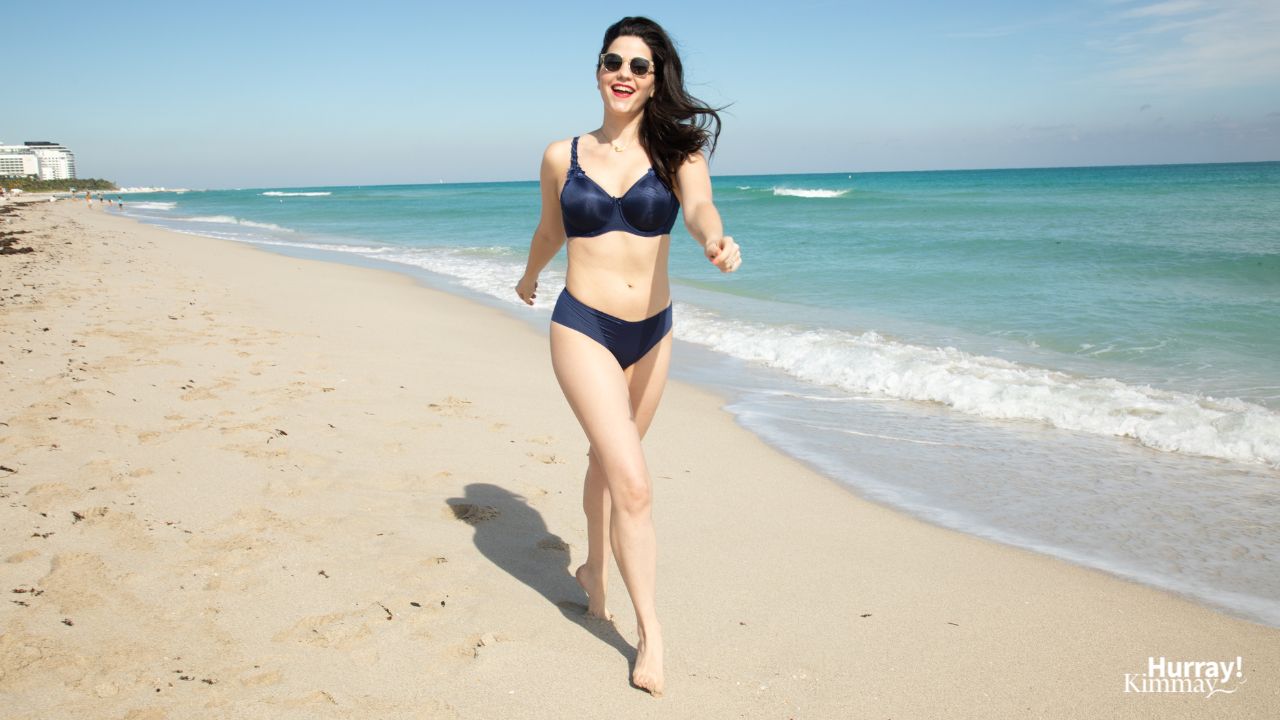 When should you wear a Minimizer Bra?
Minimizer bras are often worn when you want to decrease the bust silhouette in the middle of the body. This makes them great for folks who wear button down tops that always pucker. Some find great success with a minimizer bra to avoid the buttons popping open! 
A smooth minimizer bra is also awesome for under high neck/full coverage tops like a turtleneck or other high neck clingy outfit. They provide a smooth, sleek look (without any bubbling over or ridge of the cup) that some folks love under this kind of top!
They're also great for your everyday bra style! Because of their typically smooth shape, they make a great option for under many outfits. This is especially true if a fuller coverage bra cup won't interfere with your typical tops and outfits. Most t-shirts, button down tops, and blouses are a great match for a minimizer. Test them out with your own outfits!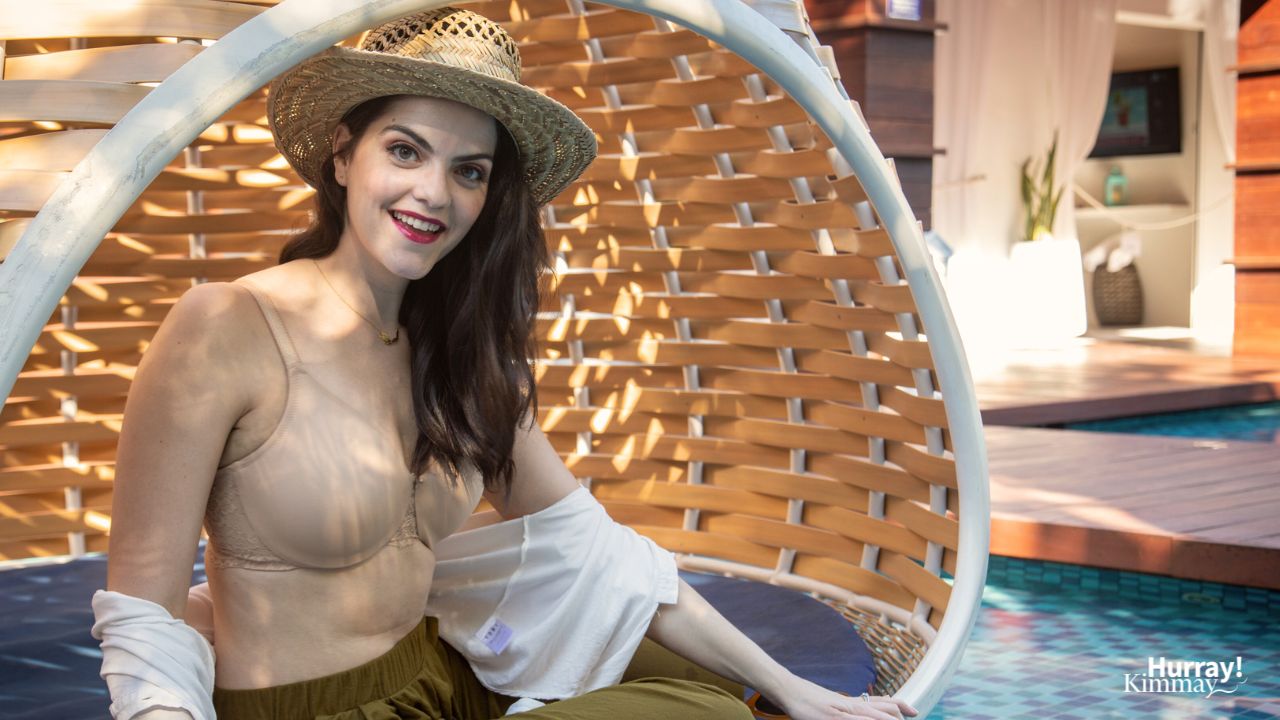 Who are Minimizer Bras best for?
You might think that only full busted folks who desire to "look smaller" would benefit from a minimizer bra, but you might also be wrong. While that's a popular reason to wear one, a minimizer bra is really more of a shape request, rather than a size request. That said, many minimizers are available from US A cup to I cup, with the majority in the C-G range. They're appropriate for nearly any age, with the majority of clients skewing slightly older. But don't rule out this smooth bra style if you're young and hip – minimizers are a cool silhouette for anyone!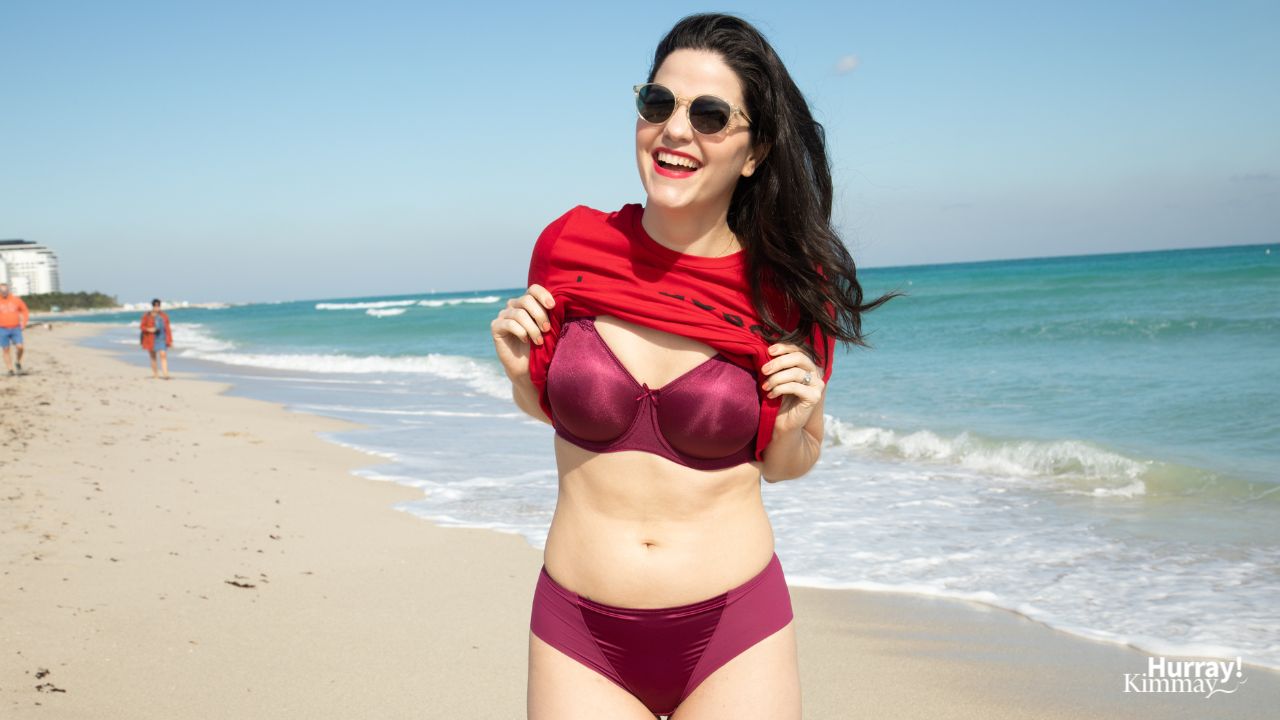 What brands make the best Minimizer Bras?
If you're looking for the best minimizer bras, I've got a great list for you! Keep in mind that "best" really depends on your shape and size (as well as other factors). And it's so important to wear the right size! Remember, even the best bra in the wrong size will feel like a bad bra. 
So make sure you shop with a fitter, use my free fit guide, or even join Bra Confidence & Comfort™ to learn all about your bra options and finally find bras you don't dread wearing. Browse my top suggestions below, ranging in price, size, and style!
Buy & Try Minimizer Bras 
Want to give a minimizer a try? Below are some of the best minimizer bras for full busts and average busts, including smooth, lace, and fabulous style to buy and try for yourself. Most of these I've tried myself or on others, and some are new to me and well-known for their fabulous fit. Fit is personal, and if you're interested in checking the fit of your own bras, grab my Free Fit Guide!
Minimizer Bras for A-C + cups
Dominique – Seamless Full Coverage Underwire Minimizer Bra A-G cups​
Dominique – Lena Minimizer Bra B-G cups
​
Dominique – Lila Smooth Unlined Lace Minimizer Bra B-G cups
​
Minimizer Bras for
D cups +
Simone Perele – Andora Minimizer Underwire Bra
​
Felina – Paramour Amaranth Cushioned Unlined Minimizer Bra
Le Mystere – Slim Profile Minimizer Bra
​
Olga – Plus-size Cloud 9 Minimizer Bra
Minimizer Bras for
H cups +
Wacoal – Visual Effects Minimizer Bra
​
Parfait Lingerie – Pearl Non-Padded Seamless Minimizer Bra

US K cup
​
​
Chantelle – C Magnifique Seamless Unlined Minimizer Bra
​
​
Minimizer Bras for
40 bands +
Wacoal – Simple Shaping Minimizer Bra
​
Glamorise – Full Figure Wirefree Minimizer Support Bra up to US 50I
​
Chantelle – C Comfort Full Coverage Molded Bra Euro I cup
​
Minimizer Bras:
Cool Features
Wacoal – Back Appeal® Minimizer Bra Back Smoothing
​
Felina – Paramour Angie Front Close Minimizer Bra Front Close
​
Le Mystere – Smooth Profile Minimizer Bra Side Smoothing
​
Chantelle – C Magnifique Seamless Contour Minimizer Bra Euro I contour cup
Parfait – Enora Minimizer Bra
​
Simone Perele – Caresse Minimizer Bra
​
Olga – Sheer Leaves Minimizer Bra
​
Free Bra Class
Want to wear a bra without ripping it off at the end of the day? Watch How to Find a Comfortable Bra Fit For Your Body WITHOUT Wasting Your Money on Bras You Dread Wearing! Plus, you'll also get Kimmay's Bra Fit Guide, and a taste of Bra Confidence & Comfort™. Watch now and don't spend another minute feeling uncomfortable in your bra.
Your turn:​  Have you ever tried a minimizer bra? Which of the styles above would you try? What clothes in your wardrobe would work best with this style?​
Share with me over at @hurraykimmay on
Instagram
!

Credits: Photos by Becky Yee on a #HurrayVacay in Florida. As always, no airbrushing or photoshopping my face or body. What you see is what you get!