One of the five bra styles I often suggest folks have on hand is what I call a "cozy/casual" bra. You may call it a lounge bra, a travel bra, or even a sleep bra! And though casual, this bra plays an important role in most folks' wardrobe, and how they support and love their body. And for some of my clients, cozy/casual bras have become their everyday bras! Take a look below to learn about this important bra style, including tips for when to wear a casual wire-free bra. Plus there's an entire shopping list in the Buy & Try section dedicated to different sizes and styles, including full bust cozy bras! Hurray!
Psst! Some of the brands linked here are proud partners, like Warner's! (Always so grateful to share them with you!). And with some links I may get a small thank you if you purchase through me. Your purchase helps a lot in keeping articles like this coming your way. Either way, I always share items that I truly love and can help you say hurray!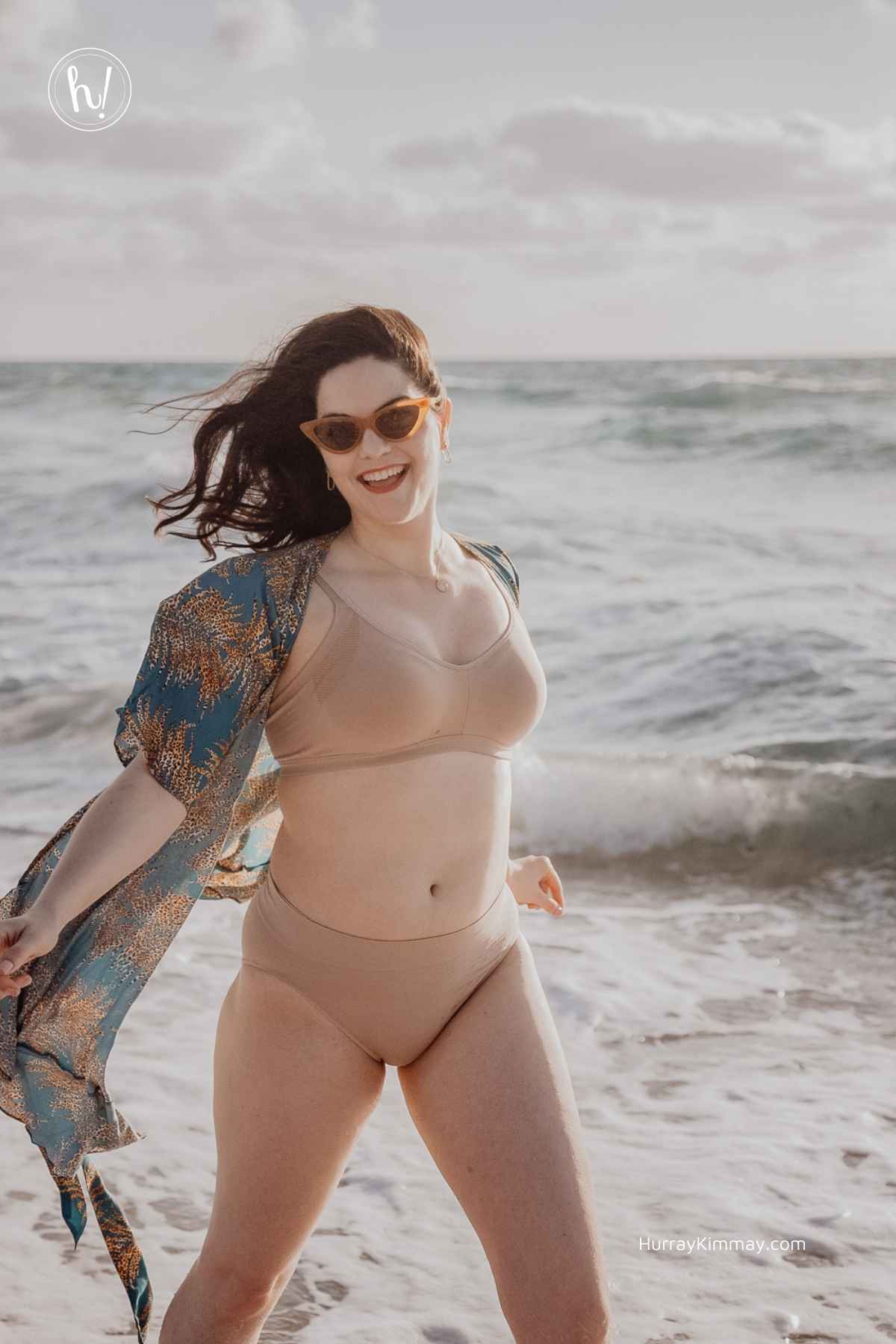 Kimmay is wearing Warner's Easy Does It™ Wire-Free No Bulge Bra
What is a cozy/casual bra?
A cozy/casual bra is cozy, comfortable, easy-going, not too rigid, and made for low-impact, less supportive needs. It's often wire-free and flexible, making it ideal for things like laying down or lounging on the couch. But there are other times you can wear a cozy/casual bra, too!
This type of bra is less structured or firm, so it may also offer less support or shape than a typical everyday bra. Cozy/casual bras can be made of smooth, stretch material (the most common and very comfortable), or soft lace. The soft and comfortable feel of this type of bra is a big draw! While a great fit can feel comfortable, it's that extra attention to cozy details like soft material that really set this type of bra apart. Usually they don't have a firm, molded cup. Instead they'll have a wire-free, stretch cup or "unlined" cup – but there are some exceptions. Some very full busted bras will have more seams and support. And some petite styles will have more structure or shaping.
They differ from bralettes in that bralettes are typically wire-free bras without a lot of coverage, while cozy/casual bras might be full coverage and more of a traditional wire-free bra. Though they can be considered a cozy/casual bra, bralettes tend to be more focused on style first, instead of yummy comfort and a cozy feeling first.
Having casual bras in you wardrobe is great for your body and your other bras! That way you can give your body an easy, less structured day (though your basic bras should NEVER be painful), and you can give your basic bras a rest from working so hard. Bras are made out of elastic and once they stretch out they can't do their job! So give your bras a break.
Tip: casual bras still need to fit well in order to feel comfortable. So make sure your bra fits well with my free Bra Class. One way to ensure a great fit is to find your bra size starting points, and buy a bra with adjustable straps and band. That way you can adjust it to fit your unique body!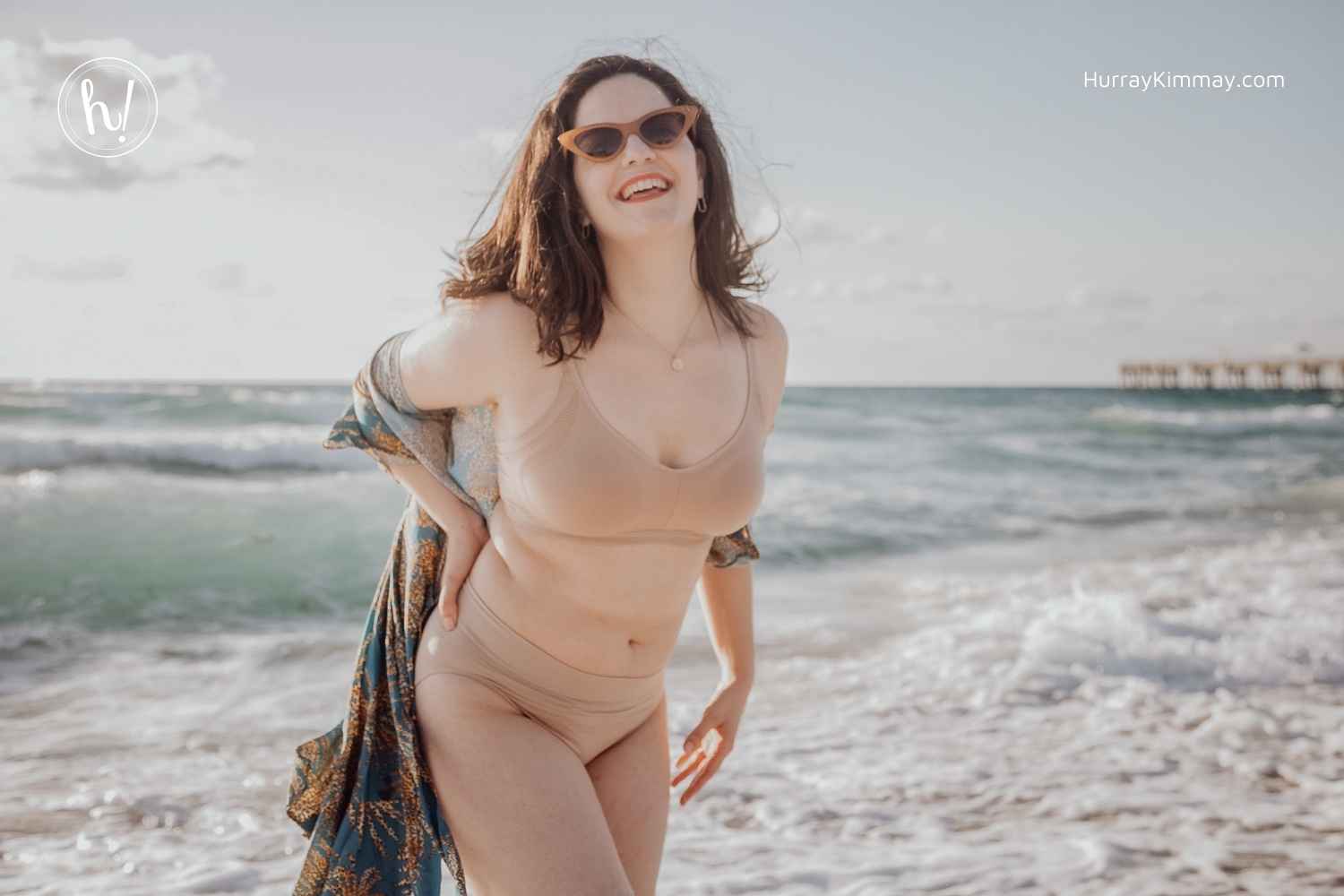 Kimmay is wearing Warner's Easy Does It™ Wire-Free No Bulge Bra
When to wear a cozy/casual bra
Cozy/casual bras are most often worn for:
Lounging and rest
Running low-key errands
Travel and long car/plane/train journeys
Low-impact activities like restorative yoga
Some folks might even wear them for sleeping
Working from home
Maternity and other rapid body/weight fluctuations
Everyday! Especially in this post pandemic world, when lots of folks went bra free or bra casual, a cozy/casual bra may become your go-to for everyday wear. As long as it works with and supports 50-70% of your clothing wardrobe, go for it!
This casual feeling can bring on a sense of freedom for some bra wearers. They might feel less restricted or confined. For others, this causal feeling may not be for them! It may feel too loosey-goosey, or they may not feel held, put together, or supported enough. The truth is what you wear is always up to YOU. Make sure it fits well, feels great, and supports who YOU are and how YOU want to feel. That's how you say hurray each and every day!
Worried that a cozy/casual bra doesn't come in your size? Or that it might not be for you? Believe it or not, folks of many different ages and sizes can wear a cozy/casual bra! Before you decide, take a look at the options below and buy & try some for yourself!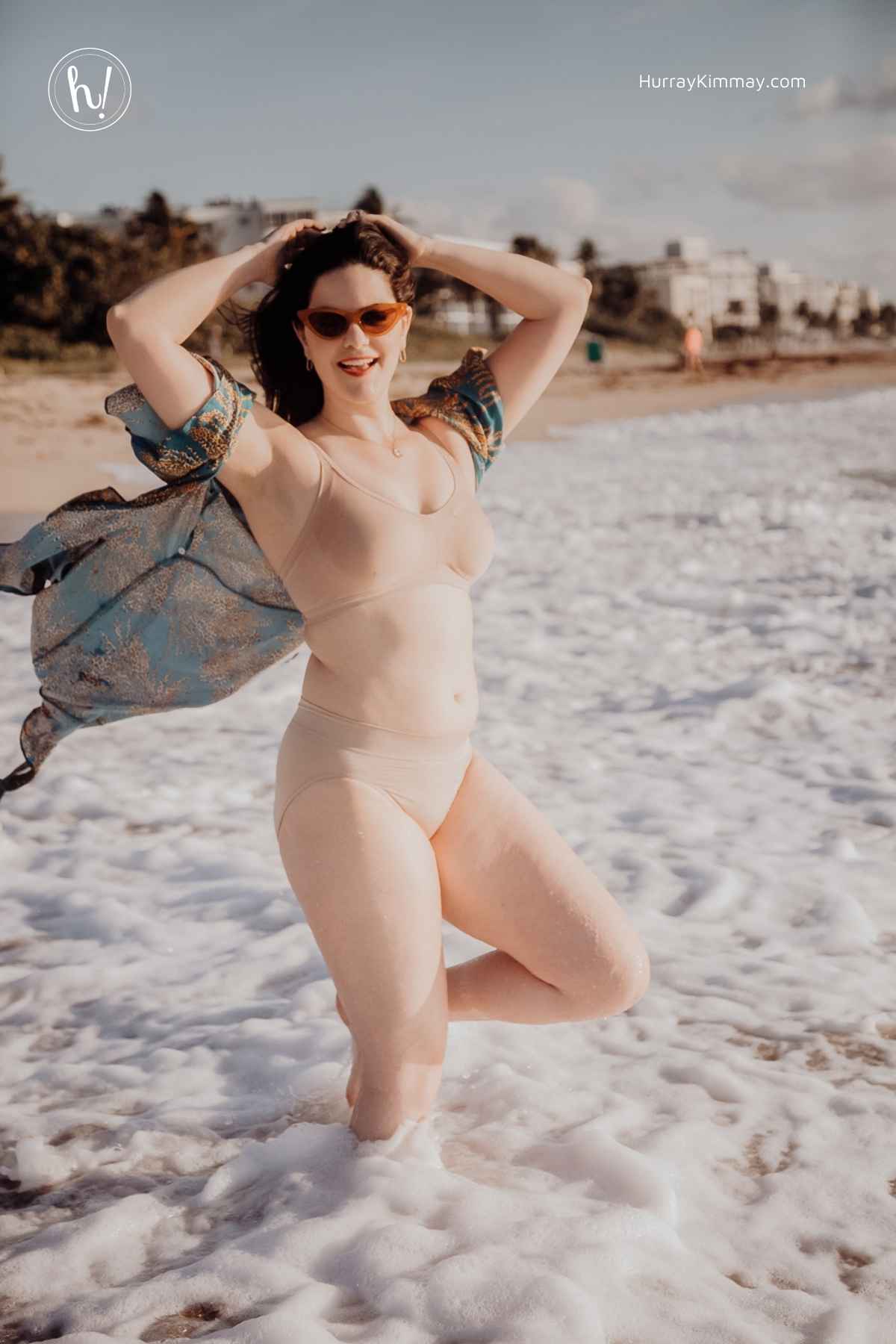 Kimmay is wearing Warner's Easy Does It™ Wire-Free No Bulge Bra
Smooth and Adjustable Cozy/Casual Bras
An adjustable band and straps are a great way to get a great fit! You can adjust it to fit your unique body! Some might be bra sized, while others are alpha sized (meaning Sm, Md, Lg, etc) but in either case, the adjustability of the bra lends itself to a superior fit. And fit = comfort! (That's why I teach the Comfort Fit System™ in my Bra Confidence and Comfort course!)
Hanes – Comfy Support ComfortFlex Fit® Wire-free Bra
Non Adjustable, Over the Head Cozy/Casual Bras
These styles are made of stretchy material that allows for them to stretch or contract, so there's no hardware or adjustable band and straps. Zero hardware can be a really awesome option for some bra wearers and are super popular! However, the lack of adjustability may leave others feeling unsupported because it's not a secure fit. Decide for yourself and see what you love best!
Rhonda Shear – Perfect Match Seamless Ahh Bra
True & Co – True Body Lift Scoop Neck Bra
Chantelle – Soft Stretch Padded V-Neck Bra Top
Hanro – Touch Feeling Crop Top
Full Bust Cozy/Casual Bras
Cleo by Panache – Lyzy Triangle Bra
Wacoal – How Perfect Full Figure Wire-Free Bra
Cosabella – Never Say Never Curvy Sweetie Bralette
Parfait – Dalis Wire-free Bra
Plus Size Cozy/Casual Bras
Elomi – Cait Wire-Free Bra
Just My Size – Pure Comfort® Seamless Wirefree Bra
Glamorize – Plus Size Magic Lift Wire-free Bra
Elila – Full Coverage Lace Softcup Bra
Maidenform – V-Neck Comfort Pullover Lace Back Wireless Bra
Hanes – Ultimate® No Dig With Lift Support Wirefree
B. tempt'd – Comfort Intended Bralette
On Gossamer – Next to Nothing Bralette
Montelle – Bra-Sized Bralette
AnaOno – Wrap Front Lace Bra
Hanky Panky – Signature Lace Crossover Bralette
Fleur't – Lace T-back Bralette
Remember that even the most casual bras out there need to fit well in order to feel comfortable, and that comfort will provide you with all day confidence! Watch my Free Bra Class to check on the fit of your bras and take your first step toward saying hurray inside, outside, and underneath™!
Your turn: When do you wear a cozy/casual bra? Do you ever go bra casual? Which styles do you want to try for yourself? Tell me your thoughts and more at @hurraykimmay on Instagram so we can say hurray together!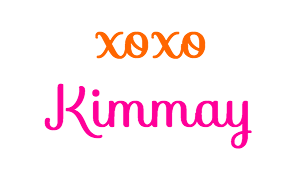 Credits: Special thanks to our sponsor, Warner's, for their amazing cozy/casual bras. Pro photos on the beach by Janel Kilnison during the #HurrayVacay in Florida, and thanks to Anita for the swimsuit coverup. 
Also wearing No Pinching, No Problems underwear from Warner's in all the images. See those and my top Warner's picks at HurrayKimmay.com/warners