Lace bras have a reputation for being "sexy" or only for special occasions. But can bras made of lace be worn for more everyday occasions? When might a lace bra be a better option than a t-shirt bra? And are all bras made with seams, or can some be seamless?
These are exciting questions to a bra fitter like me! I've been fitting folks for bras from AA-N cup since 2005. That's over 16 years at this point! And there are so many myths and misunderstandings about lace bras. Read more to find out what I mean, and see if a lace bra might be in your future! As always, my goal as an Undergarment Educator is to give you the tools and tips you need to make a loving and informed decision about what you put on over your heart every day. Hurray!
Psst! Some of the brands linked here are proud partners of mine, like Le Mystere and Panache (so grateful to share them with you!) or I may get a small thank you if you purchase through the links on this page. Your purchase through those links like these helps a lot in keeping articles like this coming your way. Either way, I always share items that I truly love and can help you say hurray!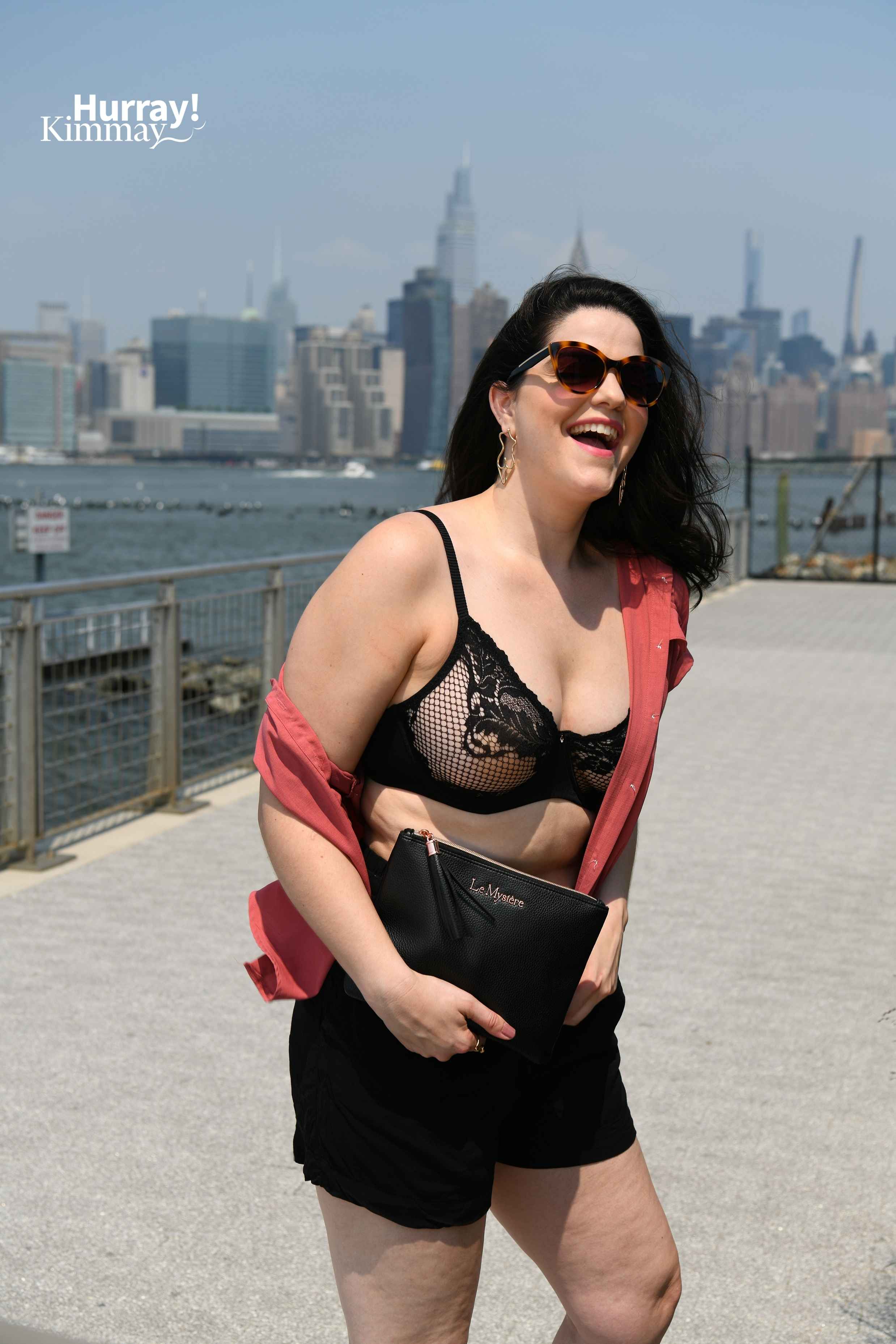 Kimmay is wearing Le Mystere – Allure Unlined Bra
What is a Lace Bra?
Lace bras are pretty much that – bras made of lace. Ha! But there's more to it than that. Lace bras can be made in many different styles and categories. There are underwire and wire-free lace bras, full bust and petite bust lace bras, seamed and seamless lace, unlined (meaning no padding or any lining) and lined (including a simple opaque material to full on padding or push up) lace bras, and more. There are even lace nursing bras!
Lace comes in many different forms, and can be made of lots of different materials. The delicate yarns are crocheted or knitted into place into gorgeous geometric, floral, or other patterns. One of the most popular laces for undergarments is lever's lace, with a leaf pattern. When I worked for La Perla years ago I remember watching a training video on the amazing process that the brand underwent to create hand-cut leaver's lace. I fell in love with the dedication to elegance and beauty! That being said, not every lace is as expertly handcrafted. There are less expensive or luxurious laces, knitted by machine of synthetic fibers. So lace bras can vary in price and quality greatly.
Additionally, lace has many different feels or textures. Some stretch lace feels more like a mesh and has a bit of bounce to it. This is especially great for someone who wants a snug cup (like leggings for the bust!). Other times, the lace is more stiff or firm. Even "firm" lace can still have a soft touch.
PS: if you want to nerd out on lace (highly encouraged), here's a Wikipedia article.
How to Care for Lace Bras and Avoid Scratchy Material
If you have sensitive skin and worry that lace will be itchy, wash it first! Many brands use a starch to make the cups crisp on the hanger, but it can irritate skin. Use a very gentle wash, like my favorite from Soak, that is especially meant for delicates and knits. Take a look at my Care page for a special video on washing lace! In addition to keeping your bras in good condition, washing them with this kind of detergent will also keep the lace soft and supple against your skin. Hurray! Of course, every body is different so if you find a certain lace uncomfortable, don't wear it. There are way too many bras out there for you to suffer.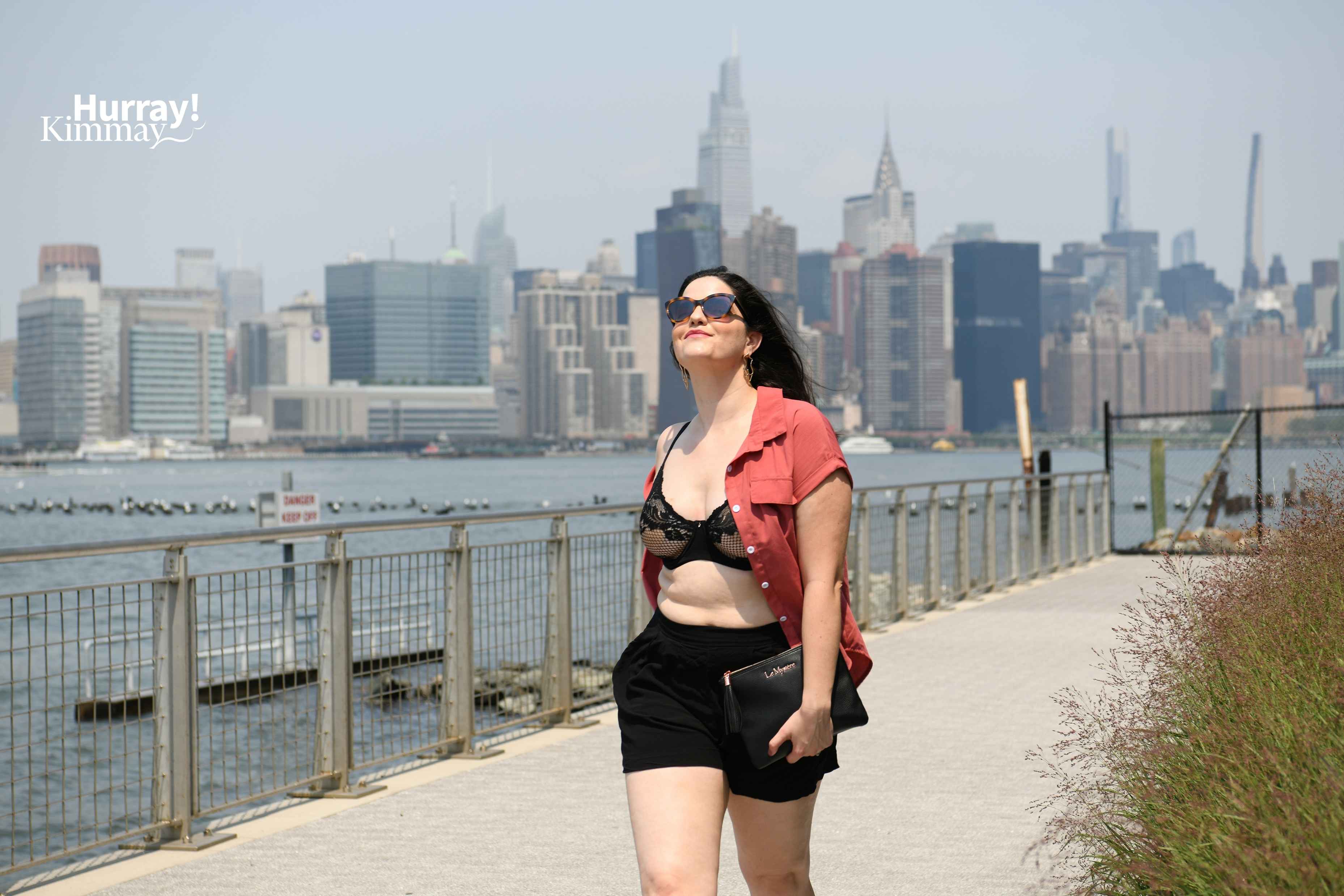 Kimmay is wearing Le Mystere – Allure Unlined Bra
Seams and Lace Bras
Many lace bras are built with seams. In the USA, seamed cups are less popular. The most desired style bra is one that looks smooth underneath clothes, like a t-shirt bra. However, a smooth t-shirt bra may not be the best option for everyone!
As the name suggests, cut-and-sew bras are undergarments made from several pieces of fabric that are cut and sewn together. It's quite possible to see a three part, four part, or even five part cup. These different parts are all about shape, projection, and support! Bras are built like bridges, and the strongest shape in engineering is a triangle. That's why seamed cups can be especially supportive, and many seamed cut-and-sew bras are made from lace.
That being said, not everyone likes the seam of a bra to show through their clothes. Personally, I'm OK with it in most of my clothes. I don't find it disruptive or shameful to show. Most people understand that I am, in fact, wearing a bra. So if the seam shows – who cares? But I don't always like for the seam to show, and some of my fitting clients don't ever want them to show. In that case, I suggest wearing seamed cup lace bras underneath clothing that is either thicker, textured, or has a pattern to it. The seams will likely not show in something like a chunky sweater, or or through layers of clothing.
Alternatively, some lace bras are seamless! The lace pattern might have some texture itself, or be completely smooth. Either way, having a seam free cup gives a smoother, sometimes rounder shape. You'll see some examples below.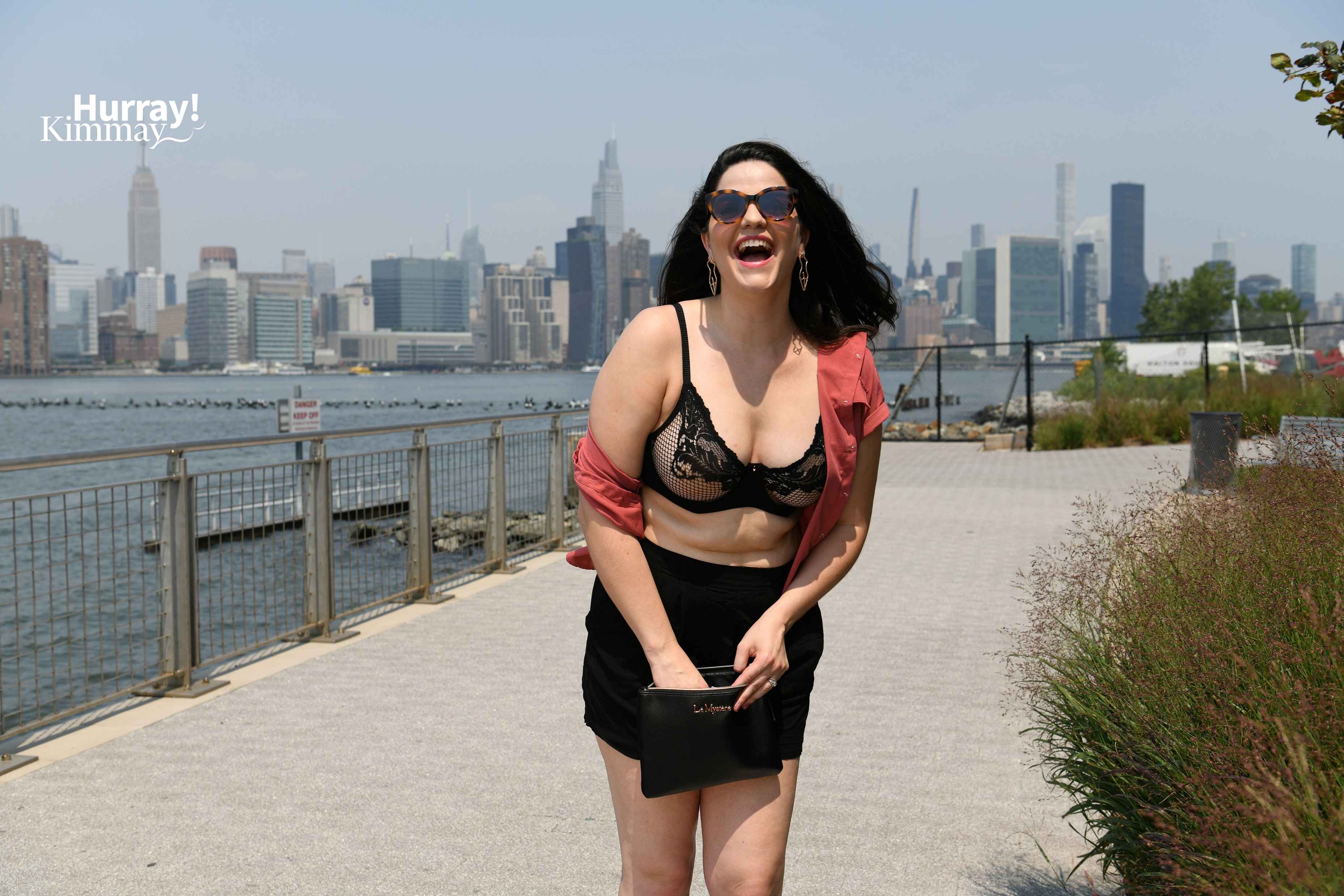 Kimmay is wearing Le Mystere – Allure Unlined Bra
Sheer vs. Opaque Lace Bras
Folks also worry about nipples showing through lace bras. First, the seam on a lace bra can often be a great indicator of where to place your nipple when "inviting everyone inside", aka adjusting the cup and your bust. Some are built to line up perfectly with the nipple and the seam can help things lay more flat. But if yours doesn't line up, or you're wearing a sheer, seamless lace bra, you have some options. Firstly, free the nipple and let them show! Secondly, wear a non-adhesive silicone nipple cover that acts like a second piece of skin. Easy – and always up to you.
If you want a more opaque lace bra, you might look for one with a lining, or a molded/padded bra with a lace overlay. Once again, you'll find examples of this below for you to buy and try for yourself!
When to Wear a Lace Bra
Like any other bra, lace bras can be worn whenever you like! And there are some instances when it's especially exciting to wear a lace bra. Here are a few examples:
On hot days, or for hot flashes. Because of the open weave material, lace tends to be breathable.
For extra support. As mentioned above, bras are built like bridges, and the strongest shape in engineering is a triangle. Seamed lace bras can be extra supportive.
Elegance. Lace, especially the more luxurious kind, has a reputation for helping those that wear it feel beautiful and elegant.
Sexy times. Listen, if lace gets you or your partner going, go for it! But remember, you do NOT NEED A PARTNER to wear beautiful lingerie and lace bras. Wear what makes you feel your very best FOR YOU.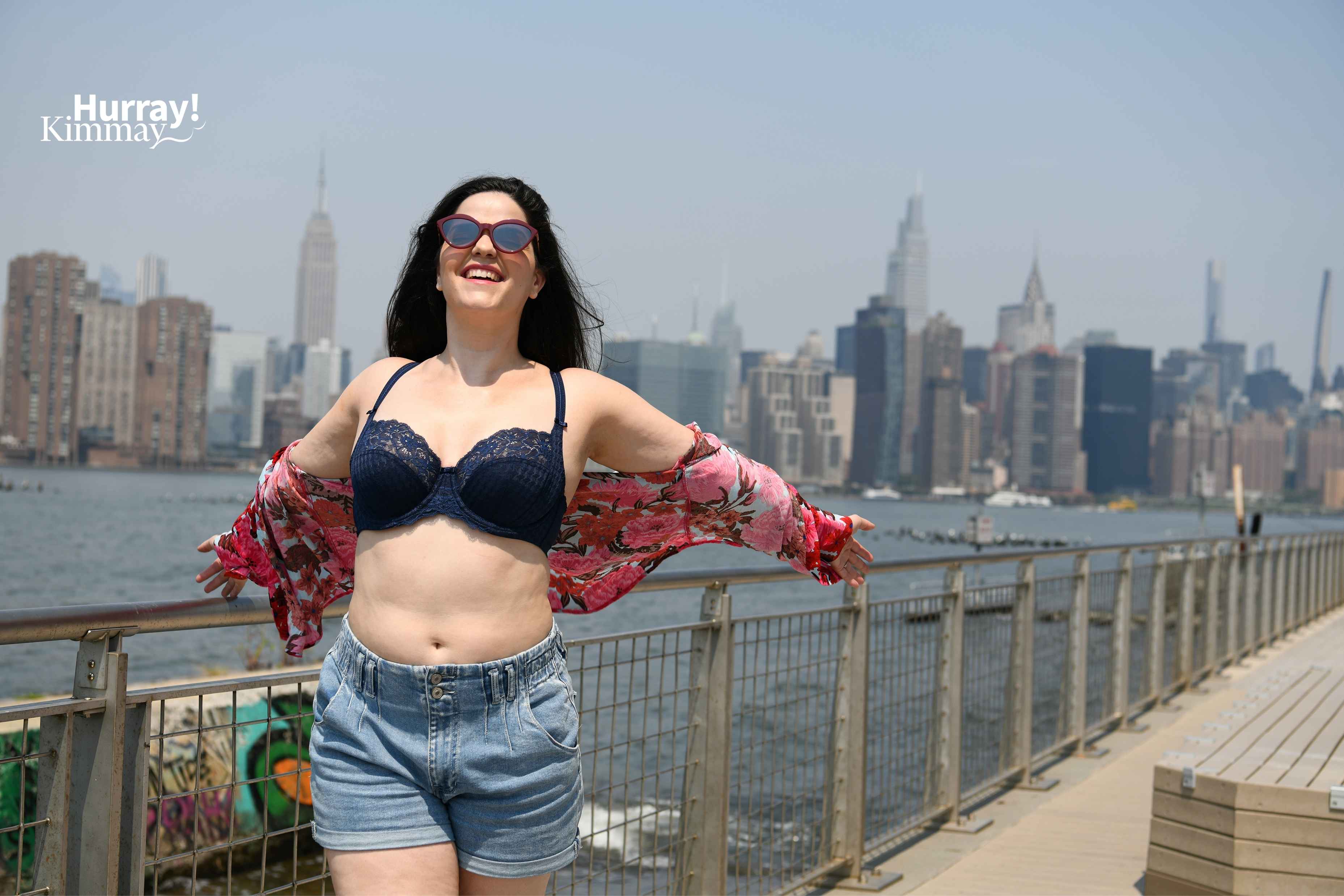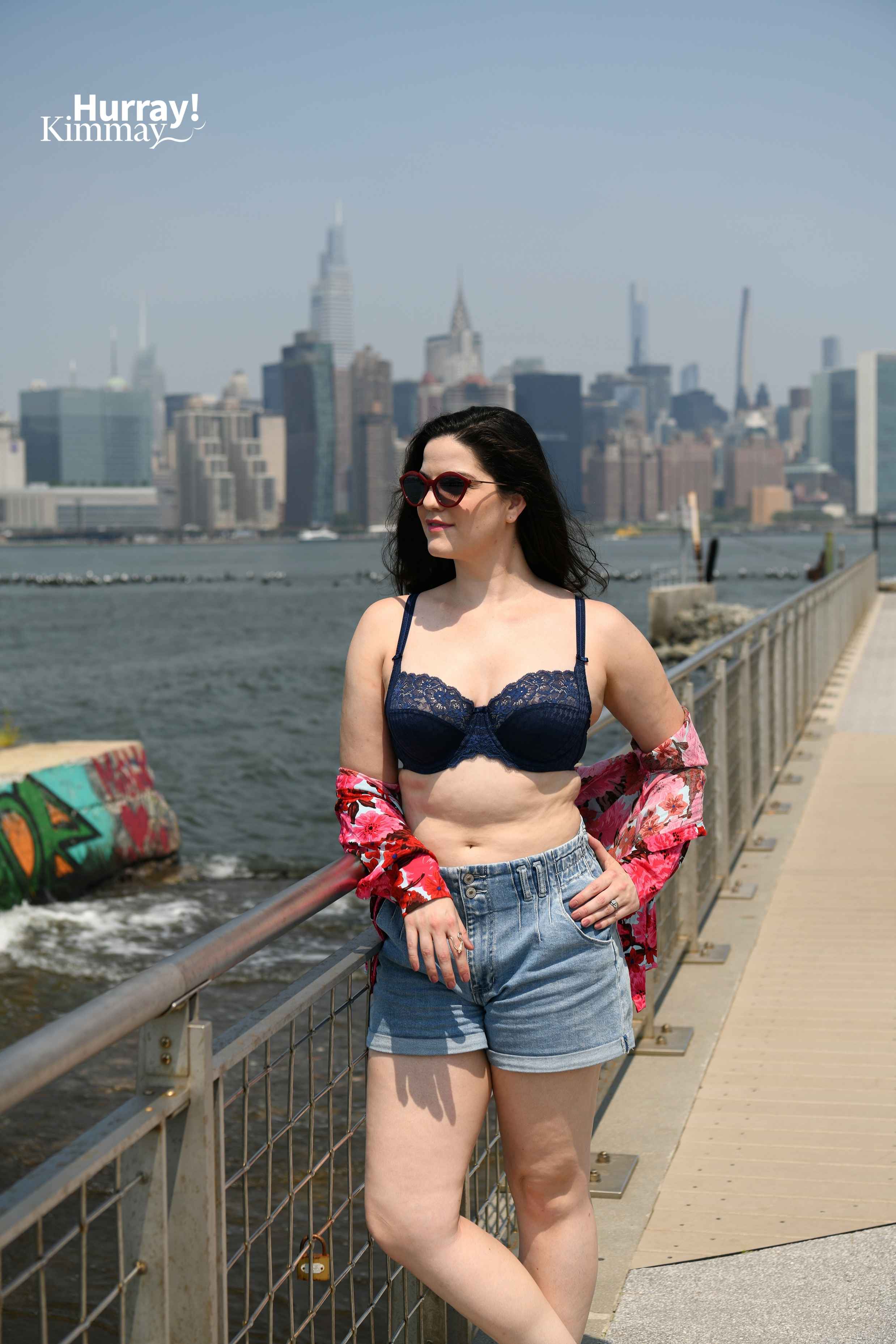 Kimmay is wearing Panache – Envy Side Support Balconette Bra
Buy & Try Lace Bras
Ready to buy and try some lace bras of your own? Let's do this! Below you will find just a few of the many options out there. Of course, you can always stop by your local boutique, or get started shopping online right now. And don't forget to use my Free Bra Fit Guide to help you either way!
Panache – Envy Side Support Balconette Bra
Gorgeous balcony cut with a high center gore for a secure fit
4-part seamed, unlined cups with supportive side slings to keep the silhouette forward
Tonal houndstooth patterned microfiber cups with stretch lace at the top of the cups allow for a flexible fit
Adjustable straps with a ballet back
Available in several colors seasonally (I'm wearing Navy!)
Amazing size range with bands from 28-40, and UK cups from D-K! I'm wearing the 34DD here.
Paramour by Felina – Tempting Lace Underwire Bra
Fantasie – Twilight Underwire Bra
Freya – Fancies Underwire Plunge Bra
Le Mystere – Allure Unlined Bra
Stunning unlined bra made with soft, breathable, open-weave netting and floral lace
Modern scooped neckline
Band is made of super soft, slinky material with adjustable hooks and eyes for a great fit
Finished with a charm detail at the center front
Shoulder straps are fully adjustable and the pleated material keeps the slider in place (no more slipping!)
Available in a few gorgeous colors. I'm wearing black!
Sizes US B-G cups, and 32-38 bands
Skarlett Blue – Entice Balconette Underwire Bra
Giapenta – Florence Demi Bra
Natori – Eclipse Unlined Underwire Bra
The Little Bra Company – Lucia Lace Bra
Just My Size – Elegance By Glamorise Lace Wonderwire® Bra
Elila – Full Coverage Stretch Lace Underwire Bra
Elomi – Kim Underwire Plunge Bra
Curvy Couture – Tulip Lace Push Up Bra
Chantelle – Festivite Lace Plunge Bra
Montelle – Cocoa Bliss Wire Free Bra
Montelle – Muse Full Coverage
Wacoal – Retro Lace Full Figure Bra
Empreinte – Cassiopee Seamless Full Cup Bras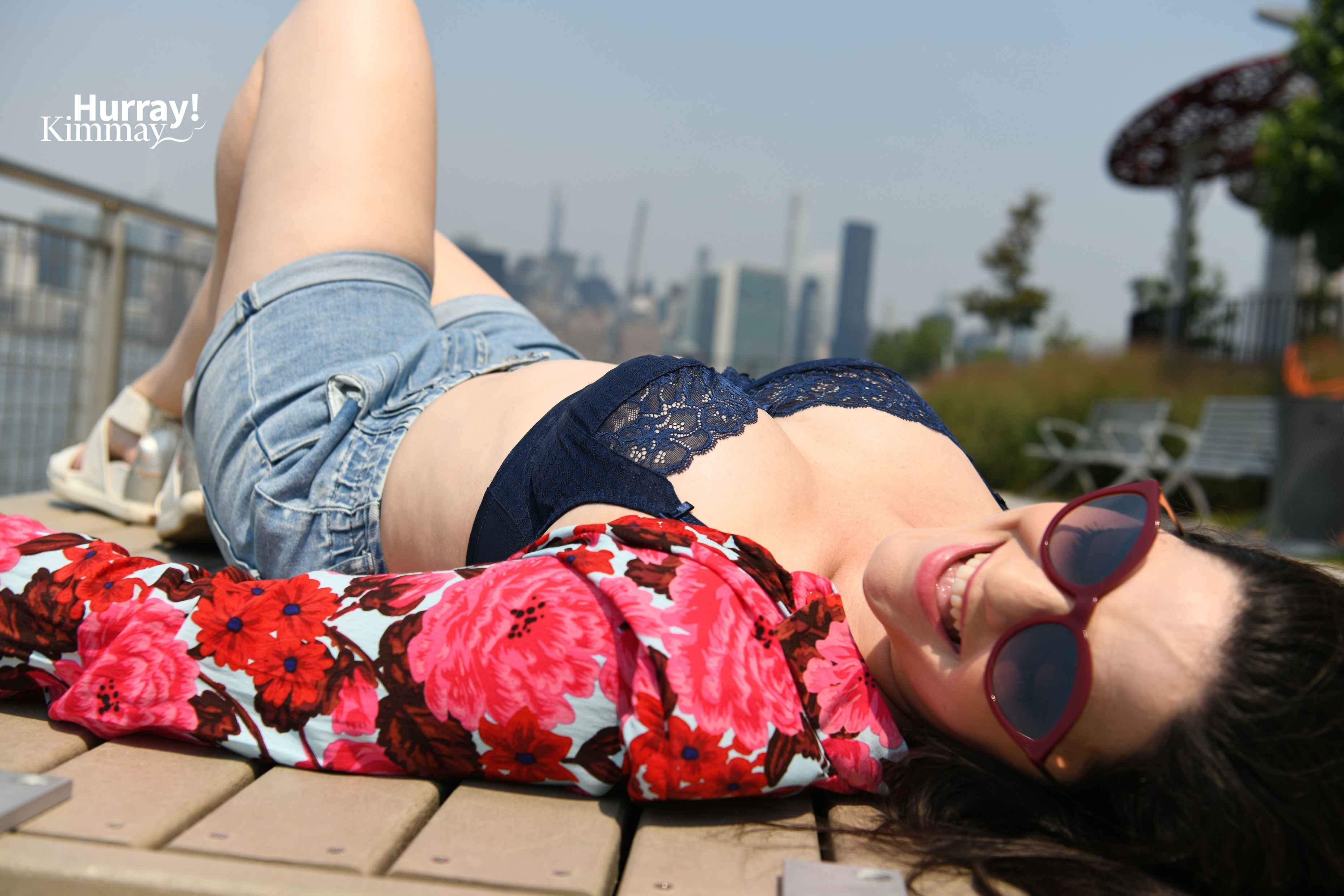 Kimmay is wearing Panache – Envy Side Support Balconette Bra
Demi and Balcony Lace Bras
Simone Perele – Delice Demi Cup Bra
Montelle – Flirt Demi Lace Bra
Panache – Clara Balconette Bra
Wacoal – Halo Lace Underwire (up to G cup)
Gossard – Glossies Lace Sheer Bra
Olga – Sheer Leaves Minimizer Bra
Parfait – Adriana Lace Bra
AnaOno – Gloria Pocketed Lace Bra
Montelle – Bra Sized Bralette
b.tempt'd – b.enticing Strapless Bra
Thistle & Spire – Willow Strapless Bustier
Wacoal – Halo Lace Strapless Bra
Rosa Faia – Fleur Nursing Bra
Le Mystere – Sexy Mama Nursing Bra
Cake – Chantilly Wire Free Lace Nursing Bralette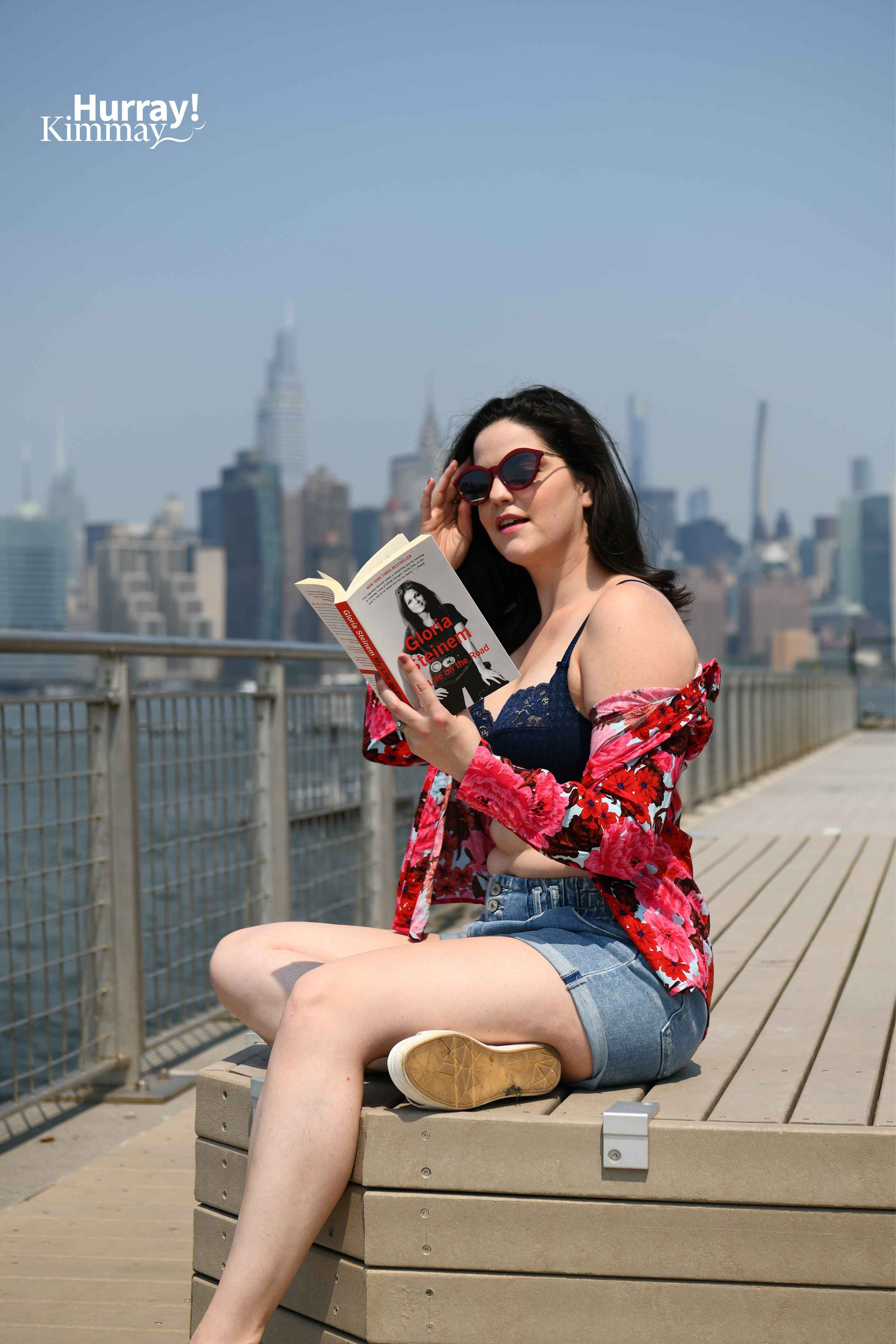 Remember that even the best bras out there need to fit in order to feel comfortable, and that comfort will provide you with all day (and night) confidence! If you wear bras, grab a spot in my Free Bra Class to check on the fit of your bras and take your first step toward saying hurray inside, outside, and underneath™!
Your turn: What do you like about lace bras? Which of the styles here do you want to try, or which is already a favorite? Connect with me on Instagram @hurraykimmay and let me know!

Credits: Photos by Andrew Werner during the #hurrayvacay trip to NYC! Makeup by Beauty Marks NYC/Ashley Capone. Absolutely no air brushing or filtering my body! What you see is what you get. Always. Special thanks to our proud partners (and amazing brands!) LeMystere and Panache.