Hurray! Since moving to Oklahoma in 2019 I was blessed to travel back to my beloved NYC and tape two wonderful segments with The Rachael Ray Show. Hurray! One of the last times that I taped a show there was February 2020 in the studio with Rachael and a live audience. It feels like forever ago! While there I admitted to her and everybody else that I own over 200 bras. There was an audible gasp from the audience. And Rachael asked a really important question, which was "Kimmay, where in the world do you store all of those bras?"
Great question. Luckily, Rachael and her team are resourceful and creative and I was able to create a video and share my answer along with some of my best bra and undergarment tips from my home – aka my lingerie lair – right here in rural Oklahoma! Below you'll find a recap of my latest appearance on The Rachael Ray Show. This time I've included tips for creating your very own bra wardrobe, tips on how many bras most people should own, and tips for organizing and storing your undergarments (whether you have 2 or 200!). Along the way you'll see some of my favorite items that you can buy and try yourself.
Psst! Some of the brands linked are proud partners of mine or I may get a small thank you if you purchase through me. Either way, I always share items that I truly love and make me say hurray! After fitting people of all sizes from AA-N cup since 2005, you can trust me to share items that are wonderful for most folks. Of course what works best for YOU may be different than someone else, so watch my Free Bra Class to make a loving and informed decision about what you put on your body. Hurray!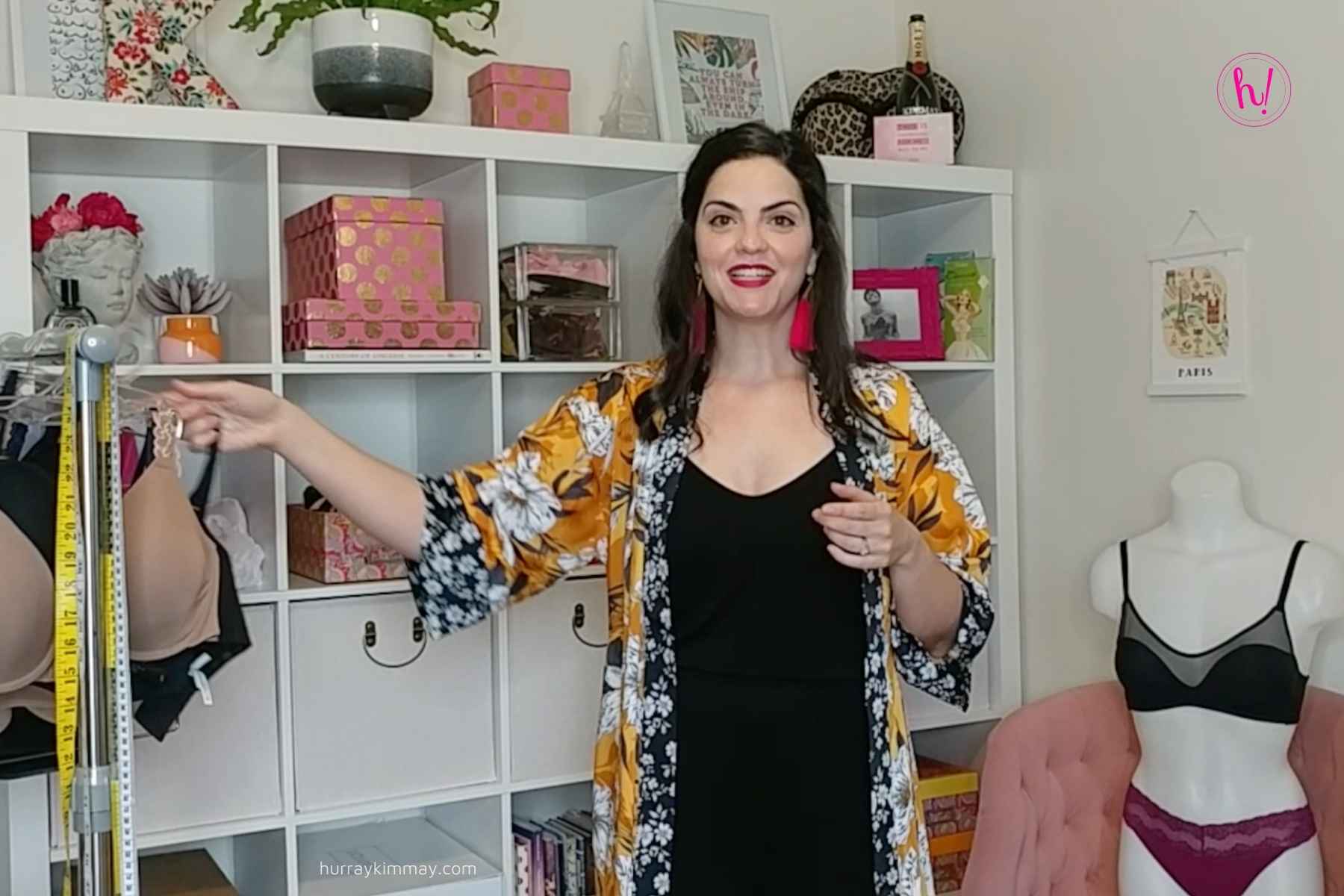 First, let's be really frank. Nobody really needs 200 bras. That's just how many I have. I suggest having five to seven great, basic bras. Rachel told me she has 10, which is amazing. But 5 – 7 is a great start. By the way, I mean 5 – 7 that actually fit well and feel great. Not seven that you own, and only two that you wear and then rest never see the light of day. No, thank you! I shared a few of my favorite examples in the segment and a few extra below.
Everyday Bras
Most people need about two to three great basic bras that work with about 70% of their wardrobe. For most those are some really great, smooth t-shirt bras. A fuller coverage t-shirt bra can look completely seamless underneath most items.
Take into consideration your unique wardrobe and make note – if you wear a lot of light colors, get something that matches close to your skin tone. That will look the most invisible. Brands like Natori offer a lot of awesome skin tone options so you can get something that matches your skin specifically.
If you wear a lot of darker colors, please try to get something that is either black or a very dark neutral. The reason for this is if you wear a light color bra underneath your dark clothing, the color will bleed onto that light color and your bras will become dingy looking.
Also, keep in mind that when wearing the right size and style for you, an underwire bra can be quite comfy. But your everyday bra doesn't have to have an underwire.
Here's a favorite option I shared on the show from Natori, plus a few extra options below!
Natori Pure Luxe Full Fit Bra
Really great t-shirt bra because of its smooth, sleek look
Firm, smooth molded cup with a soft against the skin interior provides a rounded shape and ample modesty 
Yummy seamless band in the back is buttery soft against the skin and nearly disappears under clothing (though back bumps are normal, ya'll!) 
Pretty, adjustable lace straps that lay flat and add a little flair
Available in several neutral tones (including some for various darker skin tones! Hurray!) along with some fashion colors each season
Sizes 30-38 bands, B-DDD US cups in most bands
More Everyday Bras to Buy & Try
Le Mystere – Clean Lines Seamless Plunge Bra
Natori – Bliss Perfection Contour Underwire Bra
Chantelle C – Magnifique Seamless Minimizer
Le Mystere – Sheer Illusion Wireless Bra
Strapless or Convertible Bras
Most people need a convertible or strapless style in their bra wardrobe to suit different outfits in their clothing wardrobe. See if you wear strapless, racerback, off the shoulder, or any other cool tops and which bra styles will serve those looks. You might just need a convertible bra that could be worn racerback in the back, with criss-cross straps. But a strapless bra really gives you the most options! I happen to love this really great strapless from Le Mystere.
Keep in mind, if you have a wardrobe that has different colors in it, you might want to get a convertible or a strapless in different colors.
Here's a favorite option from Le Mystere that I shared on the show plus a few other great options below!
Le Mystere – Clean Lines Strapless Bra
This streamlined strapless is made from 1 piece of material for a sleek, minimalistic aesthetic.
Smooth contour cups are made from supportive high density foam in the shape of a "comfort curve" foam frame that shapes to the body and totally encases the underwire for a cushioned feel.
Wide elastic band with a no-slip exposed spandex
New anti slip dot technology inside keeps the band in place
Optional fully adjustable and convertible shoulder straps with pretty metallic rose gold details
32-38 bands, B-F US cups
More Strapless and Convertible Bras to Buy & Try
Natori – Bliss Perfection Strapless
Wacoal – Red Carpet Strapless
PARFAIT – Elissa Strapless Short Longline Bra
Natori – Minimal Strapless Bra
Sports Bras
Another bra most of my clients need is a sports bra. I've shared on the show before why it's so important for you to have a bra that is specifically for exercise or higher impact activity. Sweat will ruin your basic bras and you want to protect your delicate bust tissue. Make sure you choose a style that offers the level of support you need. And if you're a person that works out or participates in athletics regularly, make sure you have more than one! You'll want to wash your sports bra after each use, so make sure you have enough on hand for your regular activities.
Below is one great sports bra option I shared on the show plus a few other great styles! And if you need more sports bras in various sizes and support levels, check out my Supportive Sports Bras to Buy & Try article. 
Natori – Gravity Sports Bra
A layered look without the bulk (you only need one sports bra at a time!)
Mesh is designed into the adjustable back band to hug you and stay in place
Inner foam padding provides comfort but is also breathable and keeps you cool
Hidden underwire is encased in fabric for support and comfort
Light foam cups for coverage and shape of your bust with a CoolMax™ outer layer
30-38 bands, B-G US Cups in most bands
More Sports Bras to Buy & Try
Le Mystere – Active Balance Sports Bra
Anita – High Impact Wire-Free Sports Bra
Panache – Underwire Sports Bra
Shock Absorber – D+ Sports Bra
Cozy, Casual Bra
The next bra most people need in their wardrobe is a "cozy, casual bra". This is something that you wear for lounging, working from home, sleeping, or traveling. Look for something that's wire-free, made with yummy material, and (preferably) adjustable. Adjustability is often really important. Just because something is casual, it still needs to fit in order to be comfortable. And adjustability leads to a great fit, which leads to great comfort. Hurray! You decide.
Some offer a little modesty or coverage while others are thin. You decide what kind of coverage you want! Below is a wonderful option I shared on the show along with a few more styles to buy and try yourself!
Warner's – Easy Does It™ No Dig
Seamless, wireless bra designed with an all-over stretch fabric to move with your unique shape
Wide bottom band to rest smoothly against your skin.
Light shaping in the cup for a bit of modesty.
Convenient, front adjustable straps with easy snaps allow you to easily convert the straps from straight back to criss-cross.
Hook & eye back closure and adjustable straps.
Light, smooth support is great for working from home, errands, travel, etc.
EASY SIZE™ sizing system from XS-2X.
More Cozy, Casual Bras to Buy & Try
Warner's – Cloud 9 Wire-Free Contour Bra
True & Co – Scoop Neck Bra
Montelle – Cup Sized Bralette
Hurray Style
Okay, it's time for my favorite bra. This is the "hurray bra" or the bra that helps you feel like a million bucks. And what helps you feel that way is SO up to you! For some people that might be something really sassy. It could be something really lacy. Or it could be a really great basic bra and a super fun color! In fact, that is one of my favorite ways to get a little bit of hurray into every single day. It's so fun to wear a really great basic bra in a bold or funky color. And even if nobody else sees it, you know that you have this really fun pop of color going on underneath. Of course it has a little bit of lace that is really fun too. Explore a little and see what makes you say hurray! Take a look at a few options here and let me know what you think!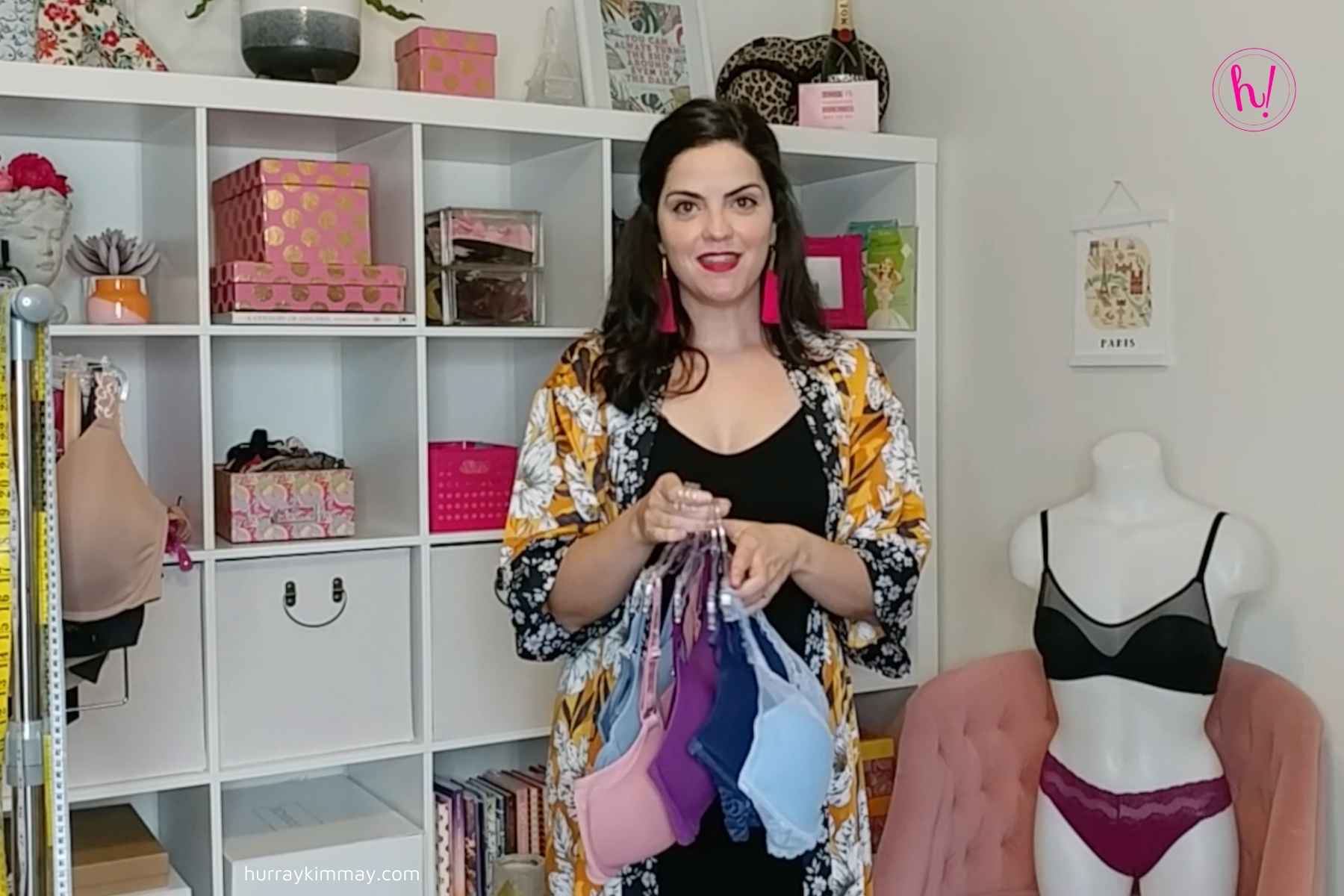 Natori – Cherry Blossom Convertible Bra
Fleur't – Lace T-back Bralette
Le Mystere – Second Skin Back Smoother
Warner's – No Side Effects Full Coverage Underwire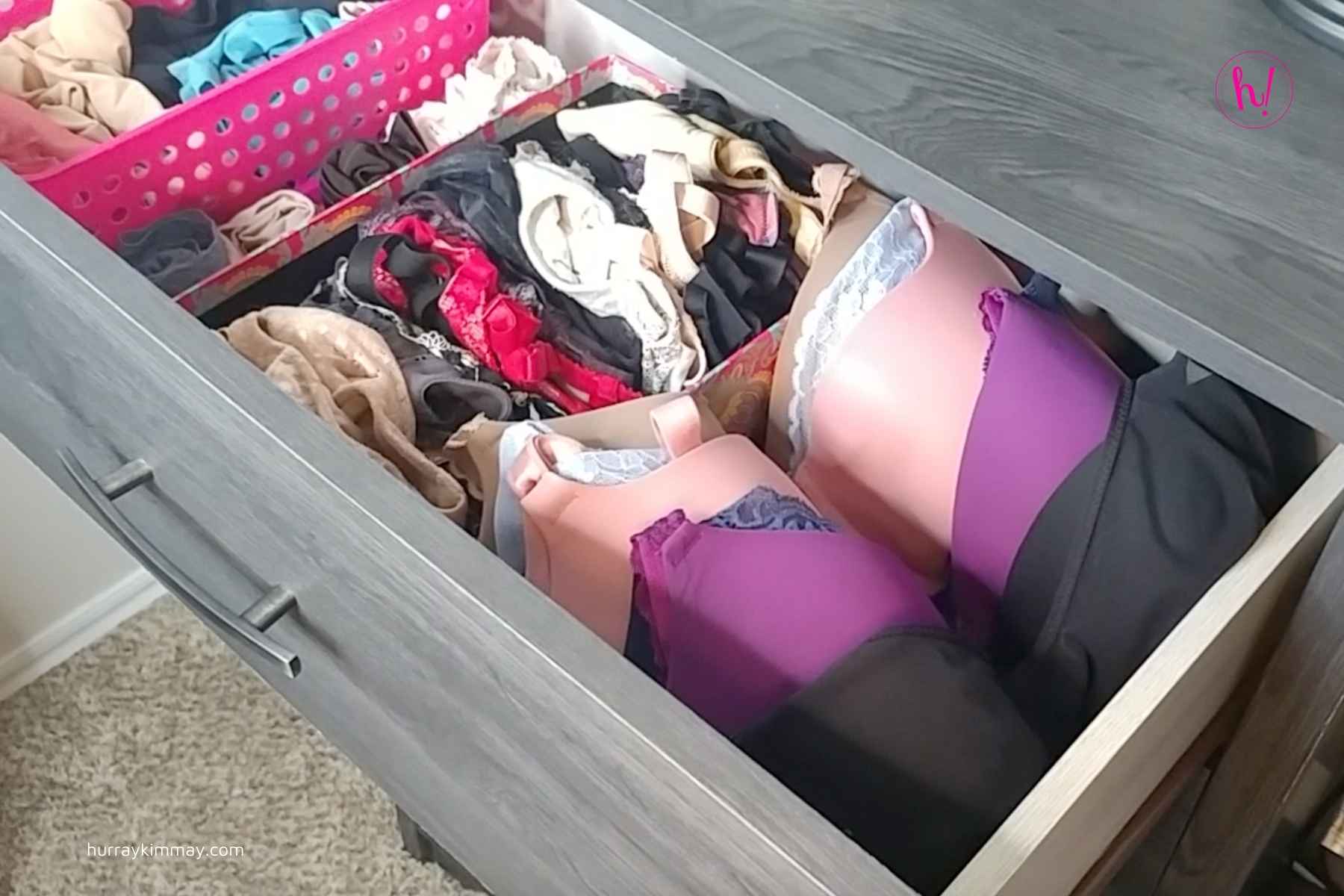 Storing your bras and underwear may seem unimportant or boring, but it's actually a great practice of self-care! Bras and underwear support and adorn two of the most sacred parts of your body. So, taking the time to organize and care for these delicates is key. Plus, they can easily get smashed, dented, or ripped so storing them properly can help them last longer (which saves you money!) Watch the replay video above! Plus get bonus tips below.
Next, create a special place for your bras with my tips below. Some I shared on Rachael Ray and a few are bonus tips, just for you! By the way, I shared the same tips that I use for storing my 200+ bras. And you don't need a huge house to do it! I used these exact methods when I was living in a tiny 450 sq foot apartment in NYC. I may have more room in Oklahoma, but I still store them with just as much care and love.
Stack Your Bras – Don't Fold the Cup
A quick tip for storing your basic bras is if they are molded (aka foam cup bras or when you lay it down the cup keeps its shape). Never fold one cup into the other. Ever. I know many stores do this but it's all wrong! Instead you can stack them directly behind each other with both cups nice and puffed up. You can put them either into a really pretty container with an open top and store them someplace cute or on a shelf in your closet. Or you could just put them in a dedicated drawer like I do.
Clip Strapless Bras On A Skirt Hanger
I like to take a pant or skirt hanger with multiple levels and hang my strapless bras upside down, alternating the bras on different sides. You can do this with regular bras, too but it's super handy for strapless bras! With some skirt hangers you can even open up each arm and unclip it with ease. Then you can keep your strapless bras hung up in a closet just to make sure they do not get crushed in the back of a drawer or the bottom of a bin.
Bag Your Straps and Accessories
A neat tip for taking care of all of those straps and all the different accessories that come with bras is you can put them into a little accessory bag or anything that has a zipper or a draw string. Even a mesh lingerie bag works (I use those for traveling and keeping my delicates orderly all the time!) That way you don't have straps just hanging out in the bottom of your drawer. I cannot tell you how many times I've seen that!
If you need something smaller, I like something fun and see-through so you can easily see what's there. You can put strap converters or nipple covers or fashion tape or anything else in there and tuck it into your bra drawer without them getting lost. And a quick tip for keeping straps from your strapless bra from getting tangled or lost is to take the pairs and use either a bobby pin or a safety pin and pin them together before putting them into the bag.
Bonus Storage Tips!
Corral Sports Bras in a Bin or Hang on Hooks
If your sports bras have a molded cup you can also just stack them right behind each other. If you have a sports bra that doesn't have an underwire or molding, or is a little bit squishier, you can put them in just a separate bin. I like to keep my sports bras separate from my basic or lace bras so I don't have to fish through the other styles to find them when I want to go for a walk or get to a yoga class. Zero confusion and so easy when they have their own place!
I use those pop up boxes in the square shaped shelving because they're super cute and inexpensive! If the bin is too big you can place little containers or compartments inside the bin, or you can even put things into a bag to keep them separated within.
I also really like to hang up my sports bras! Since sports bras are usually washed more often anyway, and you can hang them to dry on a hook in the bathroom (by both straps, please!) and just store them there. Or put them on a hook that's inside your closet door or in the back of the bedroom door and hang them out of harm's way. That way they stay fresh and aired out, too!
Roll Bralettes, Underwear, Hosiery, Slips, and Shapewear
If your cozy bras are just stretchy or lacy bralettes with no underwire or molding, you can fold them and roll them. Fold them length wise until you have a long narrow strip – about 2" tall. Then roll them one end toward the other like a sleeping bag, nice the tight. This is a very Marie Kondo way to organize your underwear. Then you can place them into a narrow bin or little container, one behind the other so they're easy to see or grab! I do this a lot with underwear – you can fold underwear, too! It's especially great for specific underwear I want to keep separate, like period underwear. I also do the same thing with shapewear or slips, just in a taller container.
Sort Underwear into Bins
Okay, truth time. You don't HAVE to be that fancy with the folding of your underwear. But it is a good idea to keep them organized. You don't want to have to search through a pile of underwear that you wear to sleep and thongs you wear with certain pants just to find that one pair of seamless boyshorts you need for a certain dress. I separate my underwear into bins depending on their use. Again, I probably have a LOT more underwear than you, but you can do the same with smaller containers! And if you want to take a bin and just toss them in, go for it. I've been known to do that myself.
Choose a Special Box
Whether it's a fancy bra or your everyday basic, try putting your undergarments into a really pretty box! You can stow it inside a drawer, on a shelf in your closet, or even out on display! No one needs to know what's in there. Keep in mind special items can be born at any time or any day, so keep them handy so you're more likely to wear them on a random Tuesday just for fun!
File Your Bras Away
If you have bras that are underwire and non-molded, I have two really great storage options for you. The first one is to fold in the band so the hooks and eyes kiss. Then fold in the straps so they are behind the cup. Then fold the bra in half at the center gore so one cup is over the other, with the band and straps inside. With the underwires one on top of the other you'll have a perfect flat-ish shape that you can file into either a photo box or a shoe box or something similar. Line them up, as if they are files or CDs that you can thumb through.
Contain Bras in Clear Drawers
Another option is to put your non-molded bras into clear boxes or drawers. If they're clear you can easily see anything that's in there, you don't have to guess or dig through. Plus, they slide out really easily. Just fold your non-molded bras (as above) and stack them right in there. I use drawers that are shoe sized. If you need something it's a little bit bigger, look for sweat sized clear drawers, which are really great for larger cup sizes or molded cups (which can't be folded).
 Bra Storage Items to Buy & Try
Hanging Underwear Organizer
Your turn:
How have you been storing your bras? Which of the bra styles above do you want to buy and try? Did any of these storage options make you say hurray? Tell me everything over at
@hurraykimmay
on Instagram so we can say hurray together!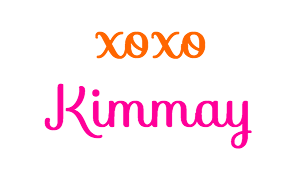 Credits: Photos or screenshots are from a video taken by yours truly on behalf of The Rachael Ray Show. Product images are from each retailer. Thanks to the brand sponsors mentioned here for their support and partnership. And to the team at The Rachael Ray Show. Truly thankful! Special hurray to Room Service PJs for the beautiful robe I'm wearing!