Proudly sponsored by Anita
It's sports bra time! I have fit thousands of folks into bras since 2005. I've already written hundreds or articles about undergarments, shared my expertise on national TV in the USA and Canada multiple times, and written years worth of educational content right here on this site. One of the most popular bra categories I get asked about a lot: sports bras!
Super excited to share my best sports bra knowledge and options for many sizes and needs with you. Hurray!
Psst! This post has some great sponsors, and some of the links in this post and on this site are affiliate links, meaning I might earn a small % when you purchase through them. As always, I only share my authentic suggestions and expert advice. Thanks for helping Hurray Kimmay bring free content to you, like this!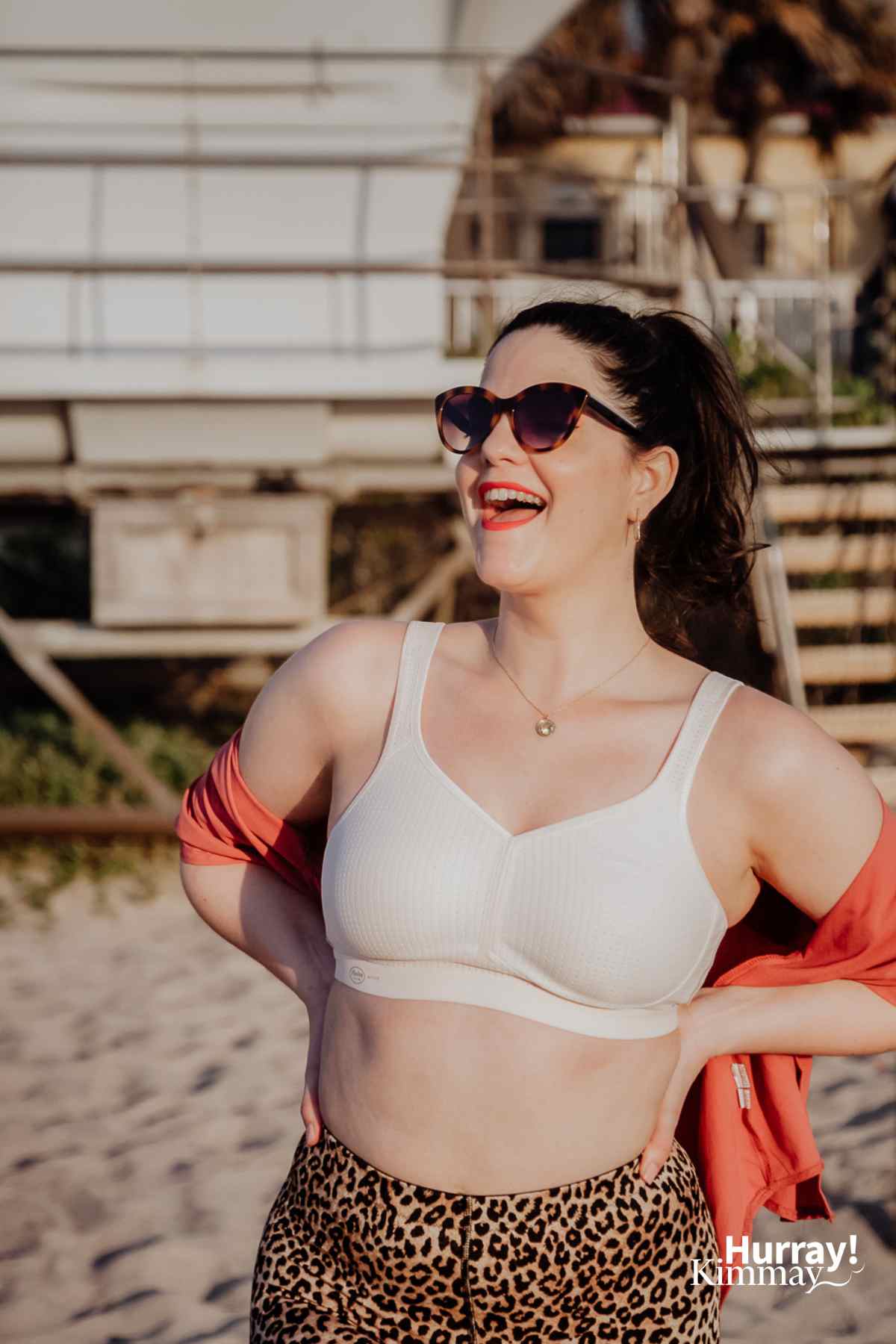 Kimmay is wearing Anita Active 5566 Performance in smart rose and 1696 Sports Massage leggings in leopard print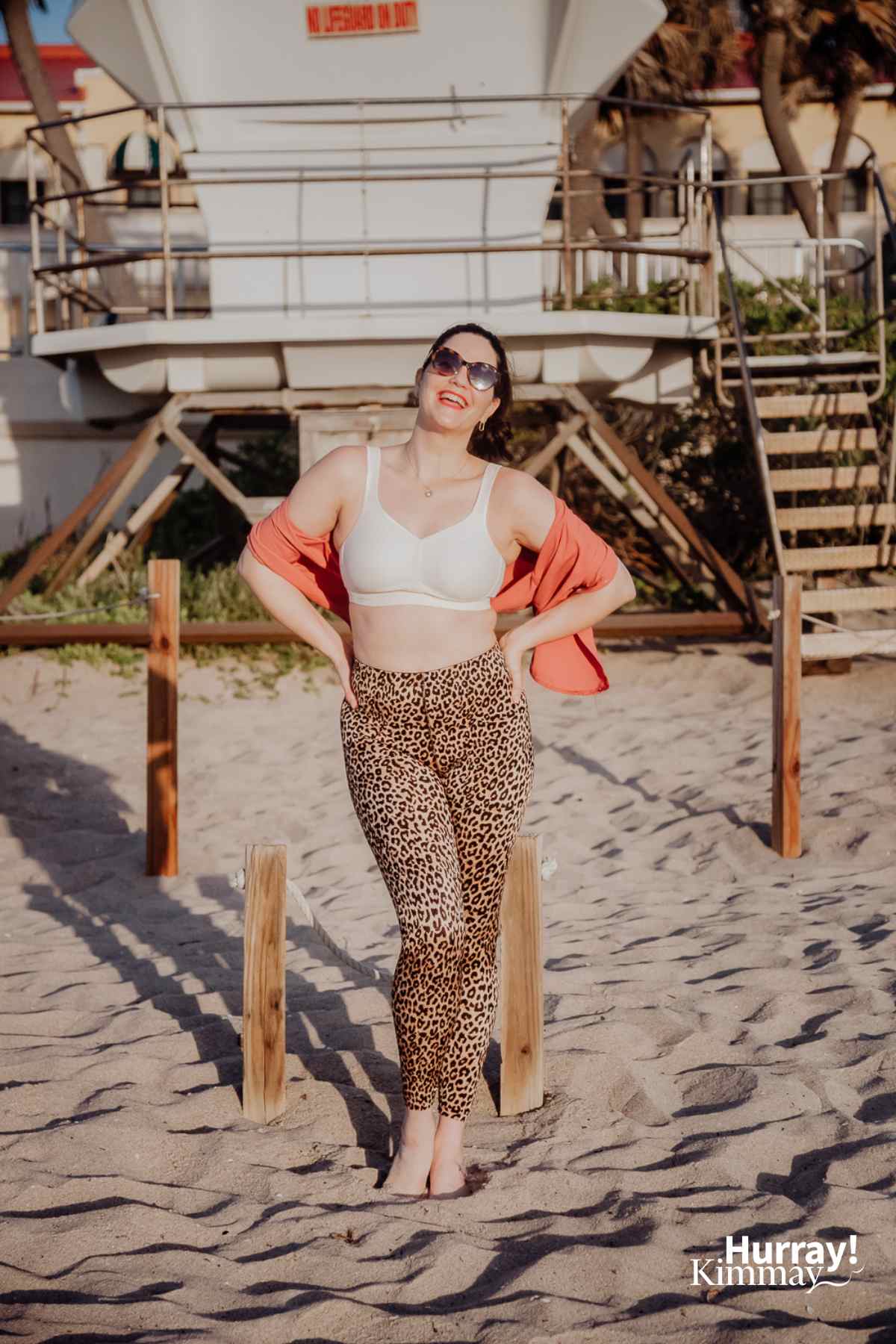 Kimmay is wearing Anita Active 5566 Performance in smart rose and 1696 Sports Massage leggings in leopard print
Sports Bra Basics
One of the trickiest bras for most is the sports bra. While you may be able to power through with a slightly off fit, or "good enough" support in your everyday bra (though, you don't have to and I highly suggest you don't), it's always REALLY obvious and uncomfortable when a sports bra doesn't fit. Here to help!
Additionally, I've witnessed MANY clients wear a sports bra as a last resort. They want the look or support of a basic bra but have gotten overwhelmed with their options, found them uncomfortable, or hated navigating the sizes and underwires. If you choose to wear a sports bra daily because that is your jam, hurray! But if you're resorting to one because you haven't found any luck in basic bras, I'm here to help. Check out my Free Bra Class with information on sizing, fit, and more. That information will help you learn not just about basic bras, but will also help you when shopping for sports bras!
A note on sports bra sizing: sports bras are often made of MUCH firmer materials (in order to really hold you in place!) than basic bras. So it's very common to size up in the band. If that's the case for you, make sure you adjust the cup as necessary! Check out my blog on sister sizing for more information.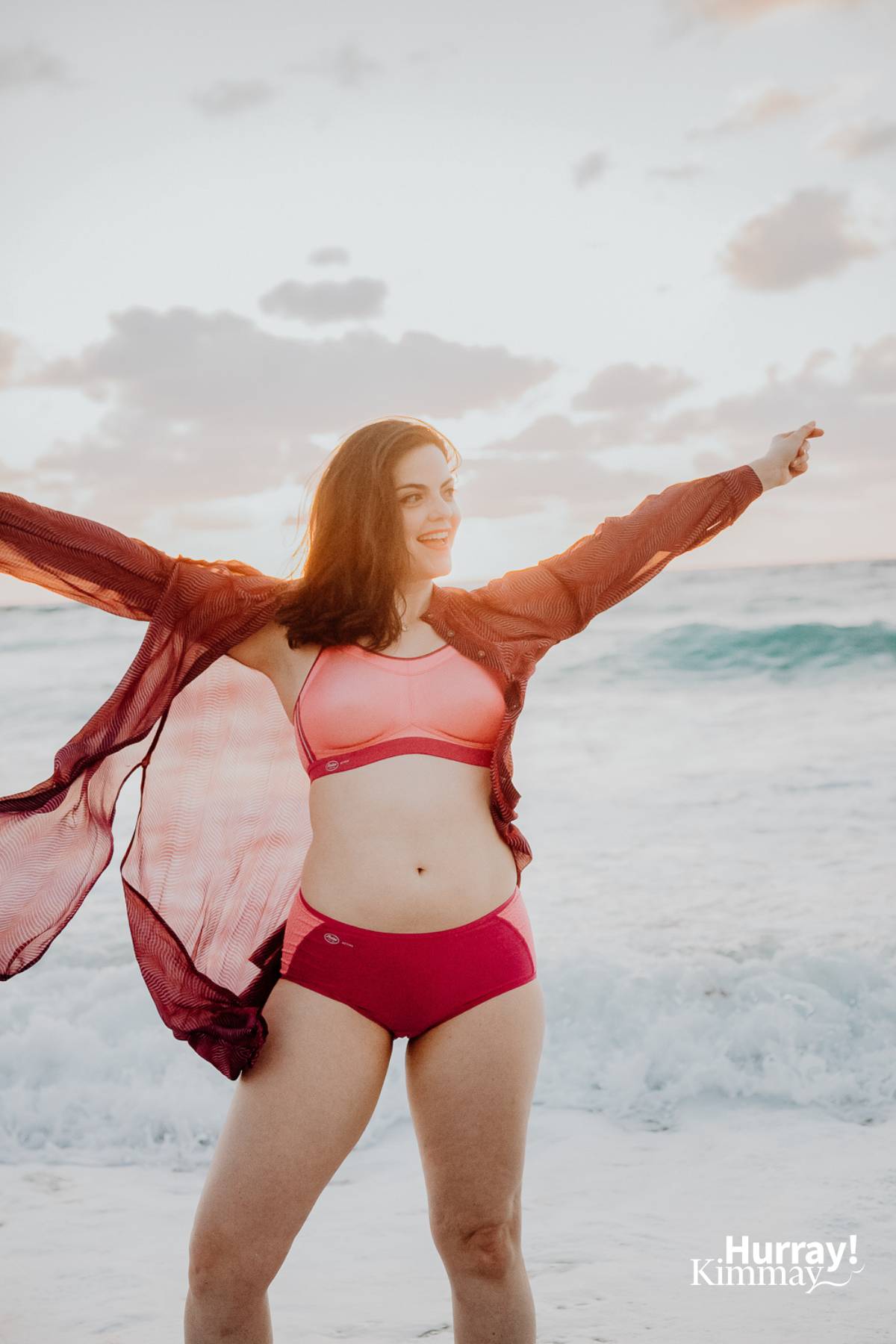 Kimmay is wearing Anita Active 5529 Momentum in electric pink and 1627 Sports Boy Shorts in electric pink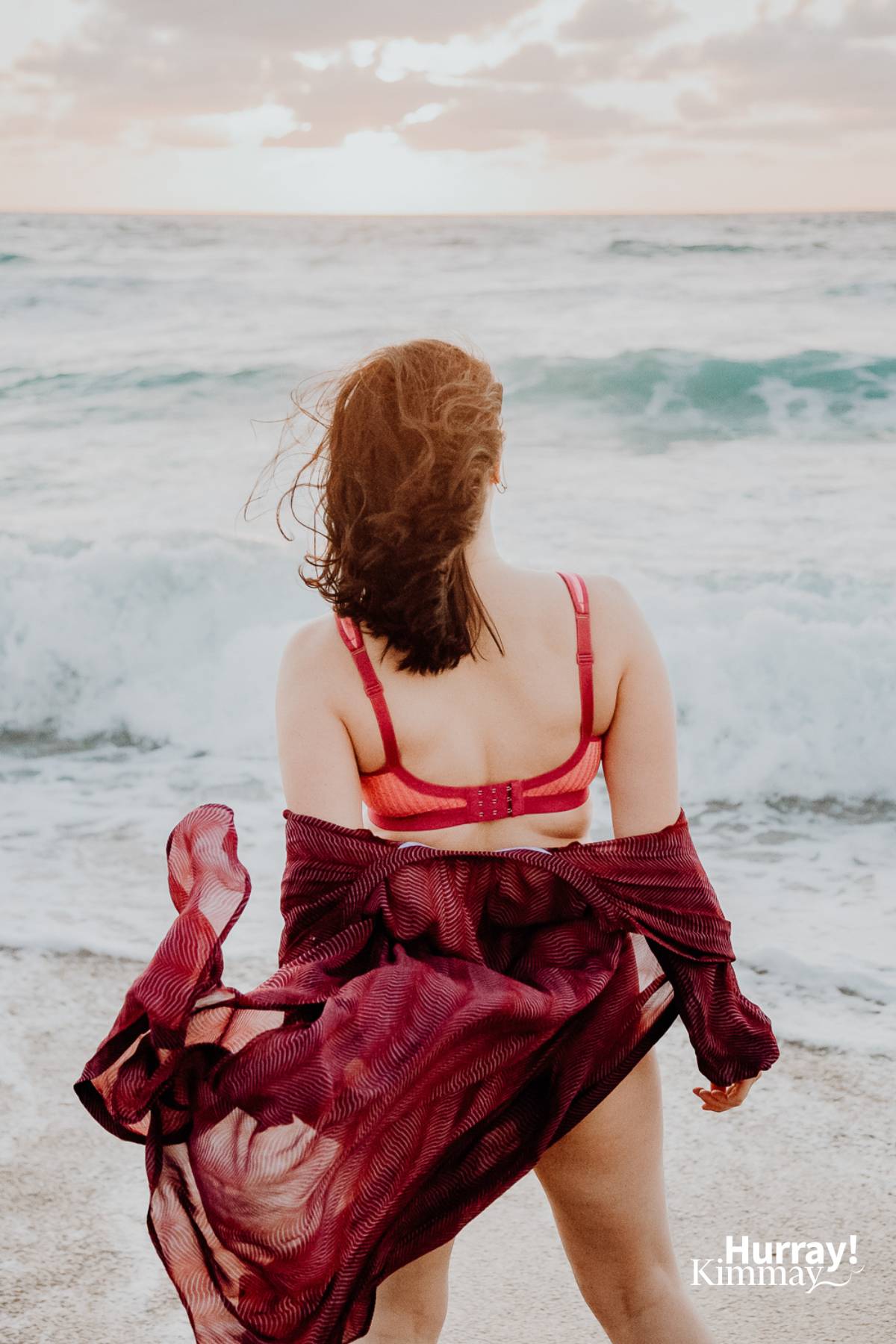 Kimmay is wearing Anita Active 5529 Momentum in electric pink and 1627 Sports Boy Shorts in electric pink
Why wear a sports bra?
I've had some clients in the past say "well, I'll just wear my old, stretched out bra for exercise!" NOOOOOO. Please don't do this to yourself and your breast tissue. Sports bras have an important function and that old, stretched out, non supportive bra just can't execute the task. So what IS the point of a sports bra? Why do some people wear them?
*Protection: Sports bras are meant to decrease movement, and thus stretching out of breast tissue. If that's important to you, you may want to wear a sports bra that prevents lots of bounce and the pulling of gravity on the skin and tissue of breasts. There's no real way to reverse that stretch and pull once it's done, so take good care of your breasts!
*Comfort: It can be super duper uncomfortable to engage in physical activities when your breasts and body are moving, bouncing, or jiggling. Some find it downright painful! To avoid painful movement, wear a sports bra that fits well and keeps your bust in place.
*Care: Another reason to specifically wear sports bras is to give your basic bras a rest! Perspiration and heavy movement can quickly warp or ruin your basic bras. In addition to giving your basics a rest, sports bra are often made of firmer, or more heavy duty material and designed to withstand high level activity and sweat.
*Style: Some sports bras are downright stylish! And while those featured here sure can be attractive, I want to make it clear that this isn't some trendy sports bra shopping post. No. The styles included here are specifically designed to fit well and support – some at a lower, and some at a higher level. In addition, most folks like to have a good look underneath their workout clothes. Looking stylish and supported often helps people feel more motivated and excited to exercise!
*Medical: Also, note that some folks use sports bras for post surgical reasons! Those shared here are mostly for athletics and exercise, but a zip-front compression sports bra can sometimes aid in the post surgical healing process. In addition, I've had some transgender clients wear a compression sports bra in place of a binder, in order to have a smaller bust appearance.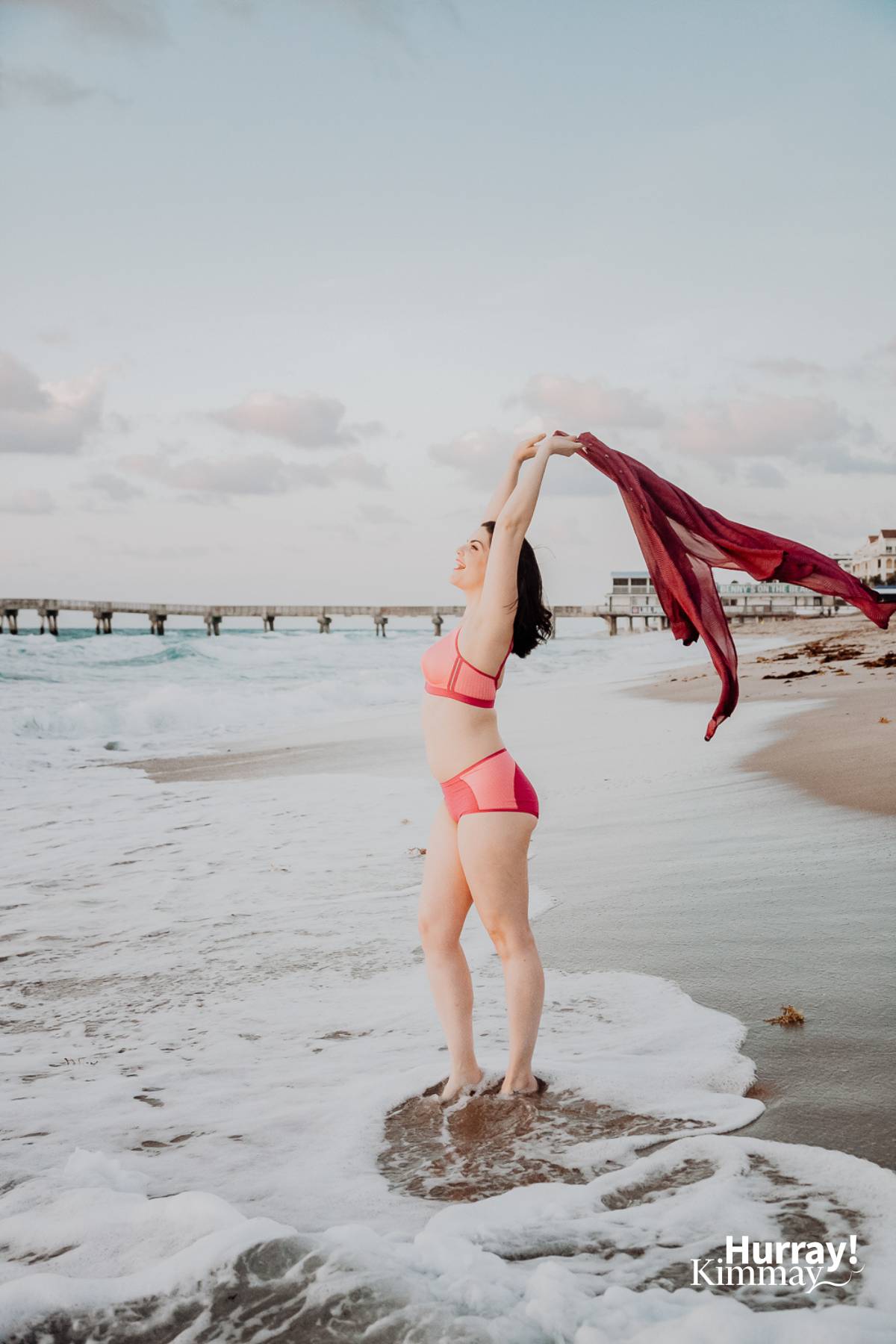 Kimmay is wearing Anita Active 5529 Momentum in electric pink and 1627 Sports Boy Shorts in electric pink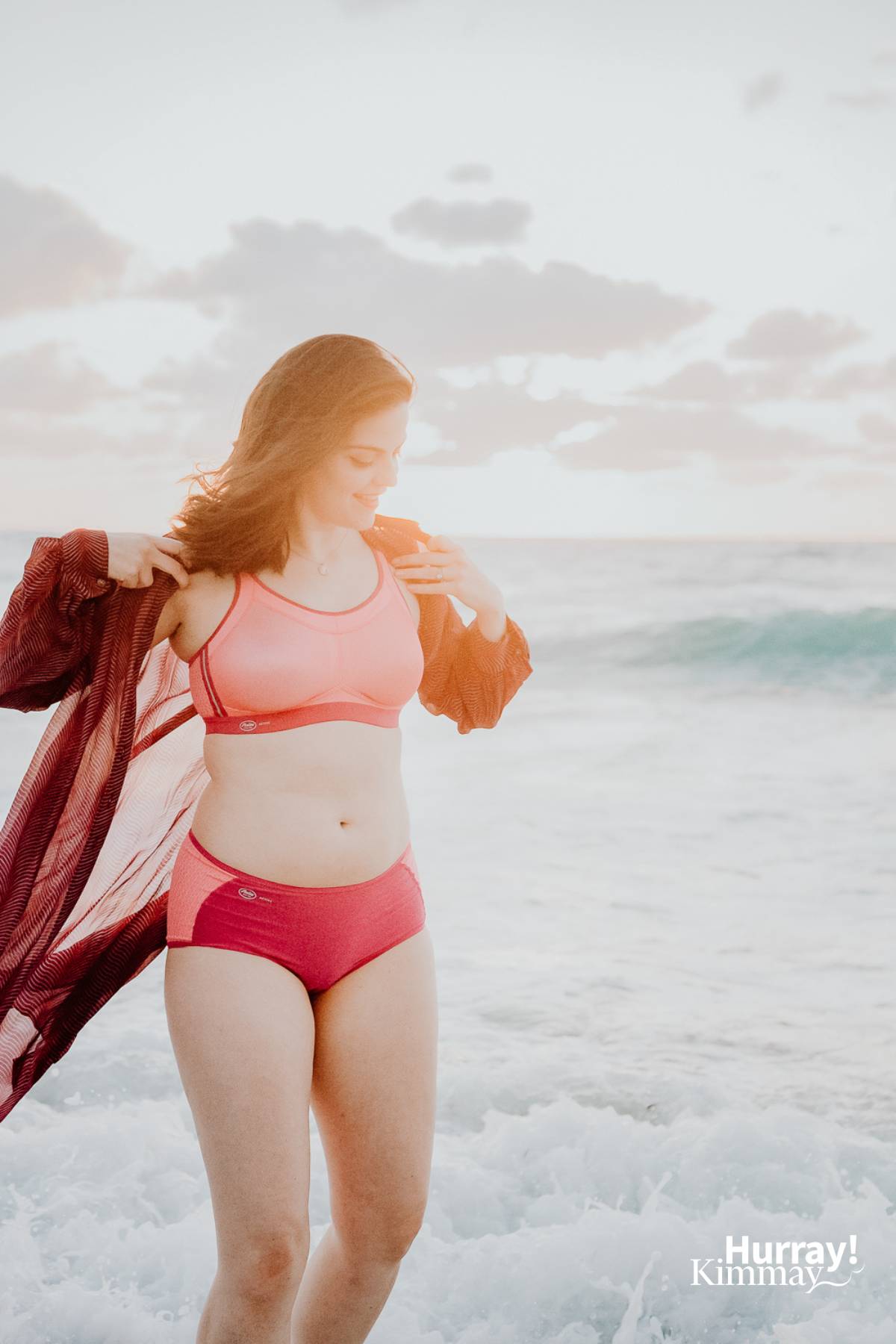 Kimmay is wearing Anita Active 5529 Momentum in electric pink and 1627 Sports Boy Shorts in electric pink
This or That?
Adjustable or over the head? While what you wear is up to you (as always) I have a HIGH preference for adjustable sports bras. The common, stretchy, over the head style is less appealing to me as a bra fitter who is really focused on fit, comfort, and support. That's because those bras often use "alpha" sizing (meaning S, M, L etc). That means that the band and cup get slightly bigger with each size. The bummer about that is that it means your unique, beautiful body must fit into that ratio of band to bust sizing. And, quite frankly, most people's bodies do not.
(Ex: My bust certainly doesn't fit well into most S, M, L sizes) I wear a 32 or 34 band currently in most bras. That would most likely be a small, maybe a medium. But I also wear a DD or even a DDD in some band sizes. That means the cup ends up not having enough coverage, or support in that size. And if I size up to fit the bust, then the band is too big and there goes my support!)
In addition, those without an adjustable band (the part of the bra that offers the MOST SUPPORT) are unlikely to fit well on most bodies. Not to mention if it's stretchy enough to fit over your shoulders, the chances of it fitting snugly underneath your bust and staying in place are less than likely. Buh-bye support! Plus, as the bra stretches, you can't adjust it in (like with an adjustable hook and eye band). That means once it stretches (and it will), it will no longer fit and do its job.
And because you can't adjust the straps on those over the head bras, you can't get a secure fit for the cups to hold in place against your body. This is a huge issue for me, as I have a short torso and a fuller bust that really needs those straps to keep my cups up and against my body. And many of my bra fit clients feel the same!
All of this is to say I highly suggest avoiding stretchy, non adjustable, over the head sports bras IF your main goal is support. There are some folks for whom this will be a great option, support or fit wise. In fact, I myself have worn these, or have gone for something that is bra sized but not adjustable, or adjustable but not bra sized (etc). But in my MANY years as a bra fitter I will tell you that you can get a better fit and more support when something fits well.
With that in mind, I highly suggest buying a sports bra that is made with the following:
Bra sizing (that means it can fit both your band AND cup with greater accuracy and support)
Adjustable band (that means hooks and eyes, most likely, so you can get a firm, secure fit and loads of support)
Adjustable straps (totally up to you if they are straight back, racerback, or convertible but they should be adjustable so you can get a great fit for your unique body proportions)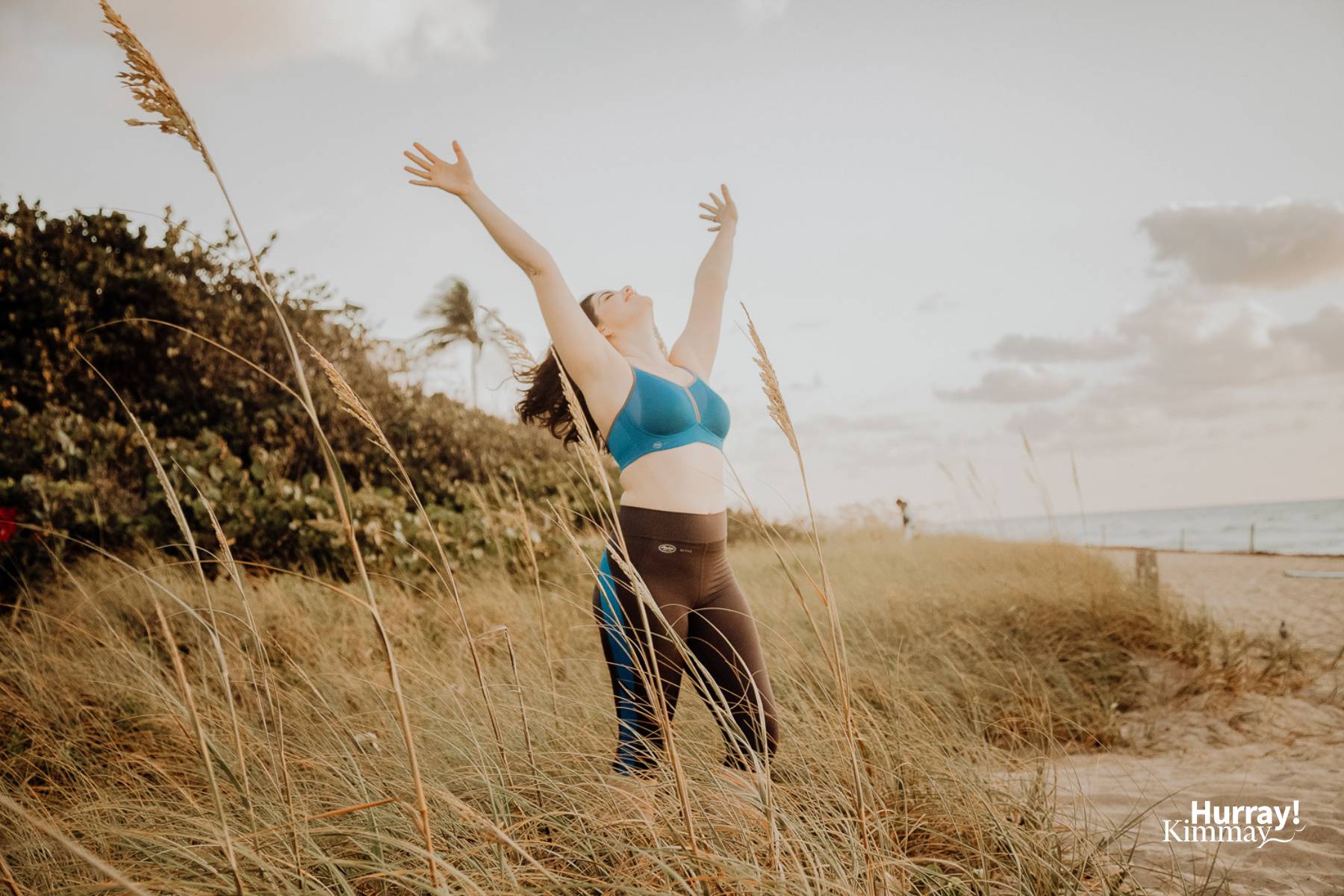 Kimmay is wearing Anita Active 5544 Air Control DeltaPad in atlantic blue and 1685 Capri leggings in anthracite/atlantic
*Underwire or Non-underwire? As with anything, including bras, this is totally up to you! Your bra should always fit well and feel great. Always. And that's especially true if you choose to wear an underwire. So work with a fitter or use my free resources so you can make a loving and informed decision about what you put on your body. Ok? Hurray!
That being said, underwire sports bras can often provide you with the "two boob" look – as in, the underwire can tack between the breasts and create separation instead of the "uniboob" look. An underwire can also provide additional shape and support as opposed to one without. And you may be surprised how supportive a structured, seamed, non-wire sports bra can be. Give them both a try!
Take into account the level of support you require, as well as the activity you're doing. If you are doing anything super bendy (yoga asanas, for example) I suggest going without an underwire.
Encapsulated or compression? Again, up to you! But know the difference before you make a decision. Encapsulated cups on a sports bra wrap around the bust and hold it in place. Usually there are seams, perhaps a structured cup, and maybe even an underwire in order to do that. Compression cups reply on the material of the cup pressing and holding breasts down firmly to keep them in place. Many modern sports bra wearers prefer an encapsulated cup because it provides the great ( aka more commonly desired) shape, and avoids a "mashed down" look. Others love compression because they feel "held in place". Either way, your bra should feel secure and stay in place!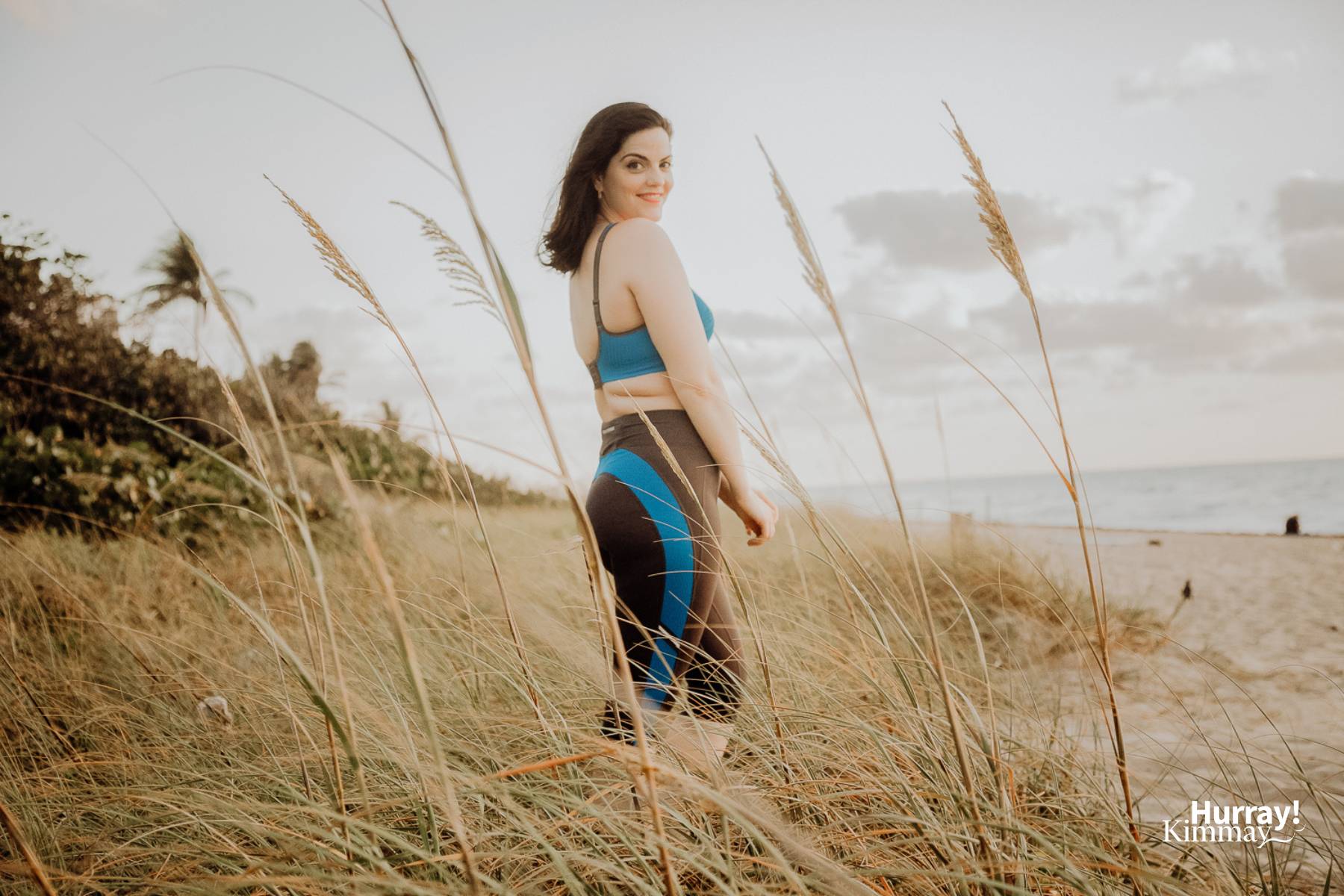 Kimmay is wearing Anita Active 5544 Air Control DeltaPad in atlantic blue and 1685 Capri leggings in anthracite/atlantic
Buy & Try
Looking for a good sports bra? Below are a few for you to buy and try for yourself! Remember, these suggestions are based on my 16+ years of bra fitting experience, and I recommend them as great options to start. But what you wear and what feels best is up to you!
I highly recommend working with a bra fitter (either in a store or virtually) to get some help, and always educating yourself on the basics of how a bra should fit and your bra size starting points. That way you can make a loving and informed decision about what you put on your body and over your heart. Hurray! The links below are mostly online, but check in with your local boutique and see what they have in stock. Supporting small businesses is more important than ever before.
*Note: if you are just looking for cute sports bras that offer little support and fit about 1% of people, a fashion blogger might have more help, or try these inexpensive, trendy sports bras. On this page you'll find supportive, stylish sports bras with a focus on fit!
Recently I got to share a few of my favorite styles of various support levels on The Rachael Ray Show. The four here were featured on the show and are such a great start for most folks. Explore these styles and see which one is best for you! Check out the full blog post recap over here.
Dominique – Zoe Sports Bra with Adjustable Back
Empreinte – High Impact Underwire Sports Bra
AnaOno​ – Paige Wrap Front Sports Bra
Le Mystere – Active Balance Underwire Bra
These high impact sports bras are some of my favorites for serious support for full busts! "Full bust" can mean anything over a D cup. But since cup size is relative to band size, some sizes need some unique support. There are several awesome options for full bust support (without having to wear two sports bras!) and these are a GREAT place to start.
Anita – Momentum Sports Bra
Anita's global bestselling high impact sports bra!
Seamless, wire-free cups with full coverage for supportive encapsulation
Firm, adjustable band with breathable perforated material
Adjustable straps with slight padding for extra comfort and a flush fit
Fast moisture absorption fabric and hydrophilic toweling lining
Funky colors and a bit of sheen to the cups! I wore mine with the matching sports panty!
Amazing size range of 32-44 bands, European cup sizes B-H
Panache – Various Sports Bra
Freya – Sonic Sport Underwire Spacer Bra
Elila – Zaylee High Impact Sports Bra
Anita – Women's Active Extreme Control Sports Bra
Petite busts need support, too! These high impact sports bras are specifically designed to shape and support smaller breasts with great security. There are a few style options here, including some for those with a small band, too! 
Anita – Performance Sports Bra
Breathable, perforated material on the back band and cups makes this great for sweaty activities!
Wide, supportive, adjustable band with three rows of hooks
Lightly padded, partially adjustable, ergonomically designed straps
Seamless, non-underwire cups with excellent support!
Comes in several colors, including the light one I'm wearing here
Size range: A-G, bands 32-42 and included in this section because of the hard to find 42A size!
I'm also wearing AMAZING massage leggings in a fun leopard print from Anita!
The Little Bra Company – Cyndy Wirefree Contour Racerback Sports Bra
Shock Absorber – Women's Ultimate Run Bra
Royce​ – Impact Free Petite Wire Free Sports Bra
AnaOno – Curvy Strappy Sports Bra
Underwire and sports? Believe it or not, a well fitting underwire sports bra (or any bra for that matter) can be super comfortable. Fit is the real key. So pay extra attention to getting the underwire directly underneath your bust, and making sure the band, straps, and cup fit just right. Some underwire sports bras are especially great for those who want the bra to tack between the bust, creating a "two breast" look. Plus, a few of these below are smoother and great for tight tops. Choose whichever style you like and test it out!
Wacoal – Women's Underwire Sport Bra
Elomi – Women's Plus-Size Energise Underwire Sport Bra
Anita​ – Women's Momentum Underwire Sport Bra
Lunaire – Women's Plus-Size Coolmax High-Impact Sport Bra
Wire-Free sports bras are great for those who are doing lots of movement, twists, and stretches with their bodies. The wireless cup can move and adapt with your body. And don't worry about support and shape – these wire-free options are downright secure and stylish! Some have a smooth cup while others have seamed and structured, so choose your favorite style and test it out.
Anita – Air Control Padded Cup Sports Bra
Super stylish and very supportive!
Patented foam cups with Anita sweat management technology have terry cloth material against your body and a mesh overlay
Thick, firm, adjustable band anchors in place
Slightly padded straps are adjustable
Fun colors and optional matching capri leggings like I'm wearing! (The back pocket is so handy)
Impressive size range from AA-H European cups and 30-42 bands
Royce​ – Impact Free Cotton Sports Bra
Wacoal – Wire-Free Sport Bra
Shock Absorber – Women's Active D+ Classic Support Sports Bra
Anita – Vivana Active Mastectomy Sports Bra
Psst! Also adding in the High-Impact SheFit Ultimate Sports Bra. Like me, you've probably seen this one all over your social media. It's that one where you pull the traps and back band to adjust it. I haven't had a chance to try it myself but the adjustable band and strap could be a great way to get a good fit. Have you tried it yet? Message me on Instagram @hurraykimmay and tell me everything!
Want a lower level of support? Not EVERY activity requires a heavy duty sports bra, but it's still important to set aside some bras for low impact activities. For things like pilates, restorative yoga, or even a slow walk, these listed here are great for casual exercise.
Warner's Easy Does It – No Bulge Wire-Free Bra
Miel – Wire-free Antimicrobial Bras
Sugar Candy​ – Basic Wireless Comfort Bra (for F-K Cups)
Natori​ – Gravity Contour UW Sport Bra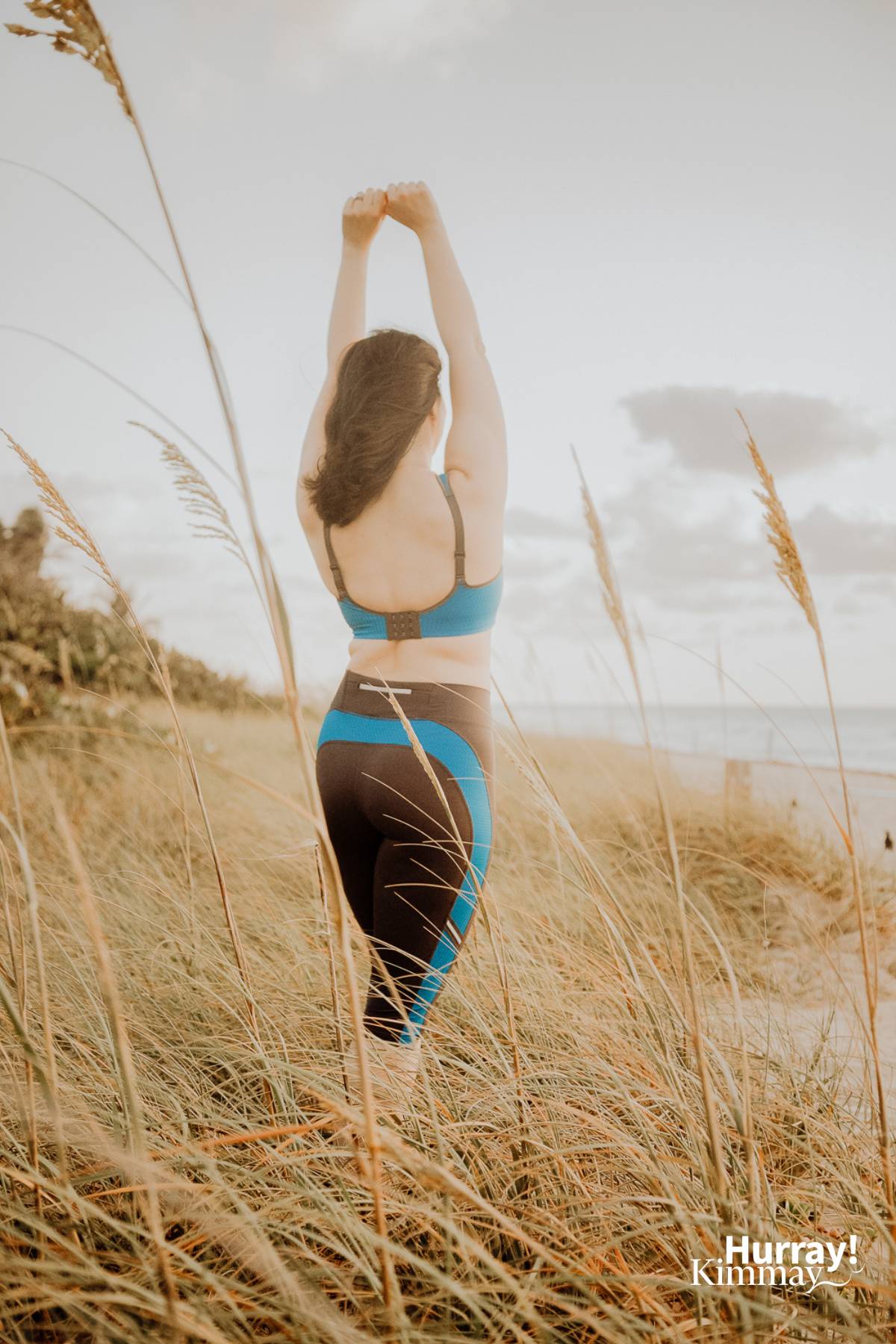 Kimmay is wearing Anita Active 5544 Air Control DeltaPad in atlantic blue and 1685 Capri leggings in anthracite/atlantic
Hurray! These are some of the best tried and true supportive sports bras to test out for yourself. Remember, your bra and your bust are right over your heart. So a little understanding and compassion there can help you stand tall, lead with your heart, and say hurray.
Free Bra Class
Want to wear a bra without ripping it off at the end of the day? Watch How to Find a Comfortable Bra Fit For Your Body WITHOUT Wasting Your Money on Bras You Dread Wearing! Plus, you'll also get Kimmay's Bra Fit Guide, and a taste of Bra Confidence & Comfort™. Watch now and don't spend another minute feeling uncomfortable in your bra.
Your Turn: Do you wear a sports bra? Which of these styles are you excited to buy and try yourself? Join me over at @hurraykimmay on Instagram and tell me which work best for you! And don't forget to watch my Free Bra Class to explore your bra size starting points, fit tips, and more.

Credits: The images taken in this post are all airbrush free. They were taken of yours truly by Janel Kilnison during the #HurrayVacay in Florida. A big thanks to Anita for the various sports bras I'm wearing in the posts. Shop the links above to test out these styles for yourself!