How do you talk to and treat your body? Take a real look or listen. Do you scoff at it or show gratitude for it? Do you ignore its pleas or listen to what it needs and wants? Do you wish it were thinner or younger or prettier, or do you love it as it is today? Do you try to hide it out of embarrassment or proudly let it shine? Do you put icky food and beverages into it or do you nourish it? I could go on and on with this list of questions. So let's get to the point. Are you treating your body like a best friend or not?
From the time my body started developing through puberty I started treating it like a tag along, or a stowaway, or something I reluctantly had to deal with while I went through life. The changes I was witnessing and the stories I was being fed about how bodies should look or act made me ashamed of it. I was a real mean girl to it. I excluded it from decisions I was making in life, like how many jobs or social events I was going to, for example. And then wouldn't listen to it when it spoke up about how tired and stressed it was. And I certainly didn't support it with good food, rest, or gratitude. I often said (aloud and in my head) mean and hurtful things about it. I told people I thought it was ugly and fat. I starved it and deprived it of real nutrition in an effort to control its appearance. I told it that it was bad unless my numbers, like weight, matched those of my peers. I cursed it when I got sick, when it was my own fault for not fueling it or letting it rest. I didn't trust my gut and let my head take over. I fully admit these things without judgement. I was doing the best I knew how to do then. And the way I spoke to my body was very similar to the way that my peers and friends talked to their bodies. But then I learned better so I decided to do better.
PS: I partnered with Parfait, a fabulous inclusive lingerie brand, on this post. You'll see some links to shop the styles I'm wearing throughout the post, plus more information (and a giveaway!) at the bottom of this article. I'm also wearing some gifted items from brands like Tobi, Giapenta, A Genie's Dream, and Inspire Psyche Terry. I always share my honest opinion and I'm super thankful to work with these brands to bring you this post!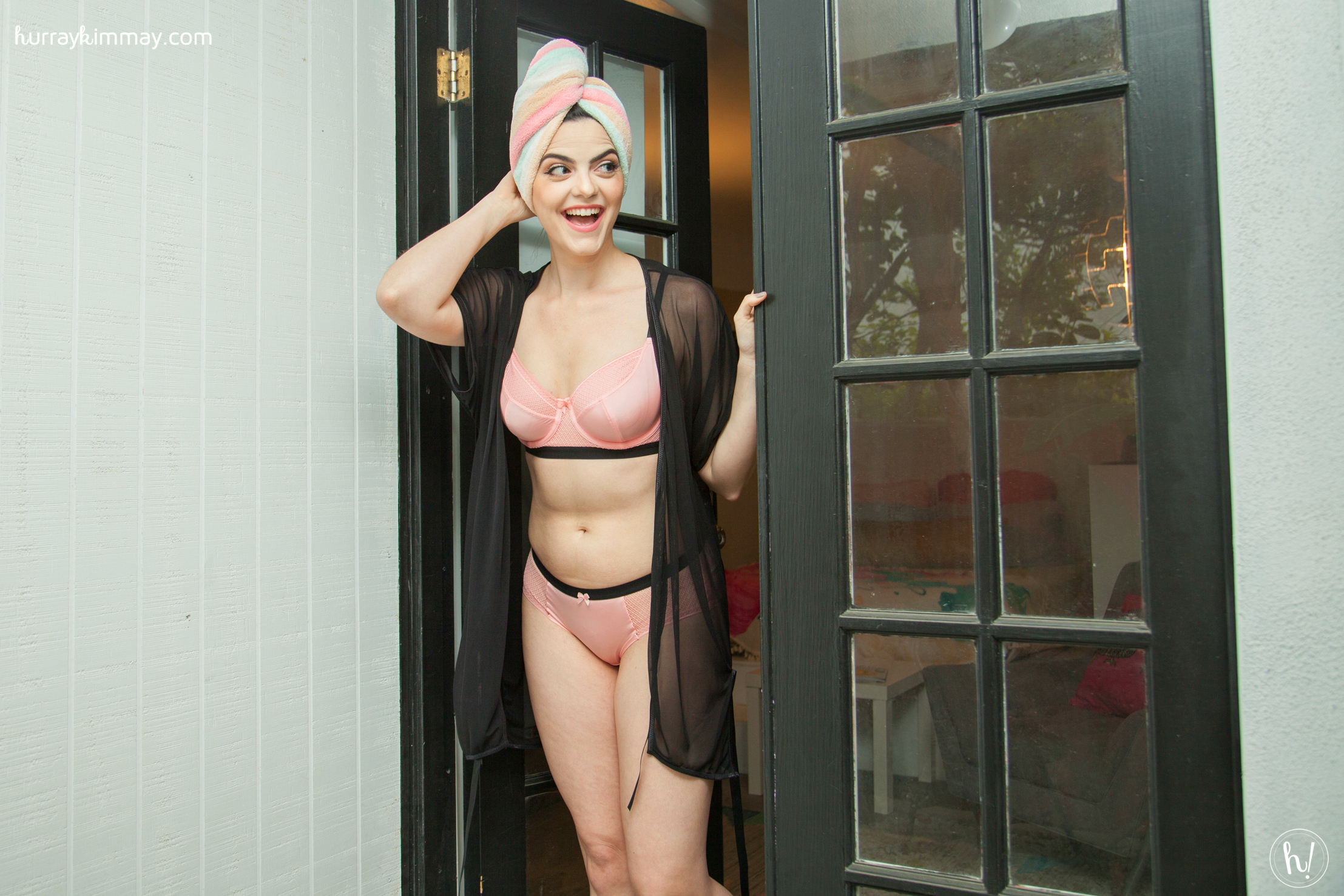 Wearing the Romina unlined wire bra with the matching Romina hipster panty in Quartz Pink from Parfait in sizes 32DD and Medium during my #HurrayVacay in LA. This contrasting set is super trendy and supportive. More info on sizing and Parfait at the bottom of this post. Robe by Inspire Psyche Terry. Photo by Becky Yee.
Opening up to the idea that my body and I needed to update our relationship did not happen overnight. But little by little I started realizing that my relationship status with my body needed to change if I wanted to truly say hurray inside, outside, and underneath™. One of the biggest realizations came during my first days as a bra fitter in a NYC lingerie shop. Seeing real bodies – not those airbrushed to perfection in magazines – was a real eye opener. I realized I was holding my body's looks to a very unrealistic standard. I also saw so many different types of bodies – pregnant, elderly, young, after cancer, super models – and understood that I was taking my very able, healthy, beautiful body for granted. I also realized that my body had been providing small signs along the way of how to work with it, support it, and co-exist peacefully with it. When I didn't listen, those small signs and whispers became loud screams and illnesses. I had shingles twice, I suffered from two weeks of vertigo, I was having anxiety attacks, I had terrible bowel issues. The list could go on. What I thought was my body rebelling against me was actually my body trying to get my attention so that we could heal, repair, and move forward in a loving manner.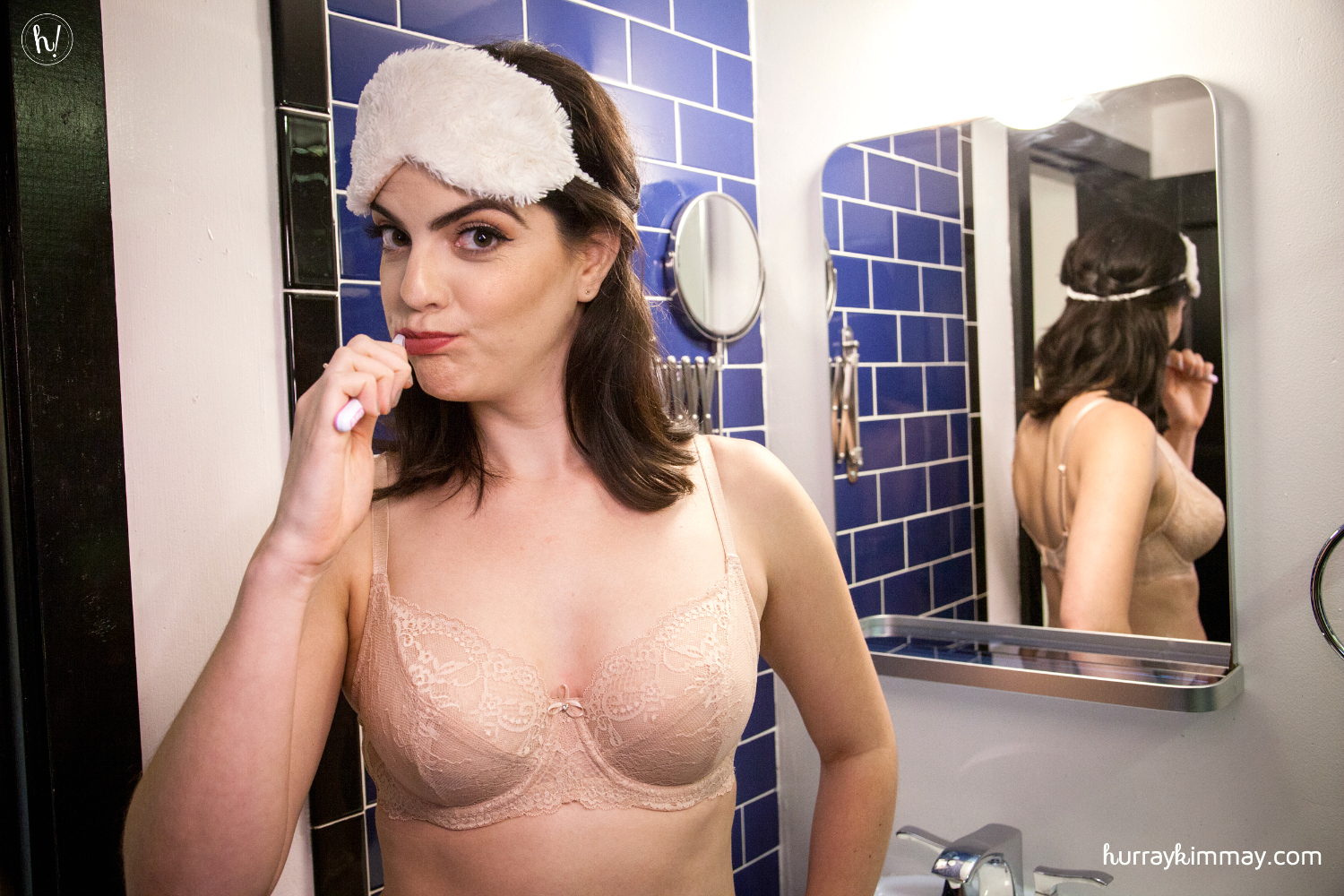 Wearing the Sandrine unlined wire bra in Cameo Rose insizes 32DD and Medium from Parfait during my #HurrayVacay in LA. Totally drooling over this supportive, neutral lace bra! More info on sizing and Parfait at the bottom of this post.Eye mask by Giapenta. Photo by Becky Yee.
The truth is that our body is our partner in this human lifetime. We were gifted our body – in whatever form it came – to aid us in our purpose. That's my belief, anyhow. So if we're in this together, I might as well make the most of our relationship. In fact, I owe it to myself, and the divine to build and foster a loving relationship with my body. One that is supportive and encouraging, respectful and understanding, joyous and loving. Right? I started to ask myself, "what If I treated my body like a best friend?"
If I treated a best friend the way I was treating my body, my best friend would have stopped being my friend. They would peace out and say "you don't respect or love me, you want me to be someone else, you're ashamed of me, and I don't have to put up with this. I'm out." That conflict, for me, looked like illness and the shutting down of my body. Because while a human best friend may be able to leave… your body is your partner for life. This is your opportunity to make friends with this partner. This is your calling to cultivate a more loving and respectful and FUN relationship with your body.
If you're reading this and thinking "omg I've been so mean to my body" or "ugh but we don't get along at all – we'll never be best friends" or "easy for you to say, your body is banging!" I ask you to drop the judgement. Of yourself, of your body, of others. Your own relationship with your body is just that – your own. Every relationship is different. It will look different, and take a different amount of time, and show up in different forms than anyone else. And if you're repairing a potentially abusive or unkind relationship, be gentle. Be patient and compassionate and open to the possibilities, please. We are each on our own journey, and all it takes is one step after another to get started.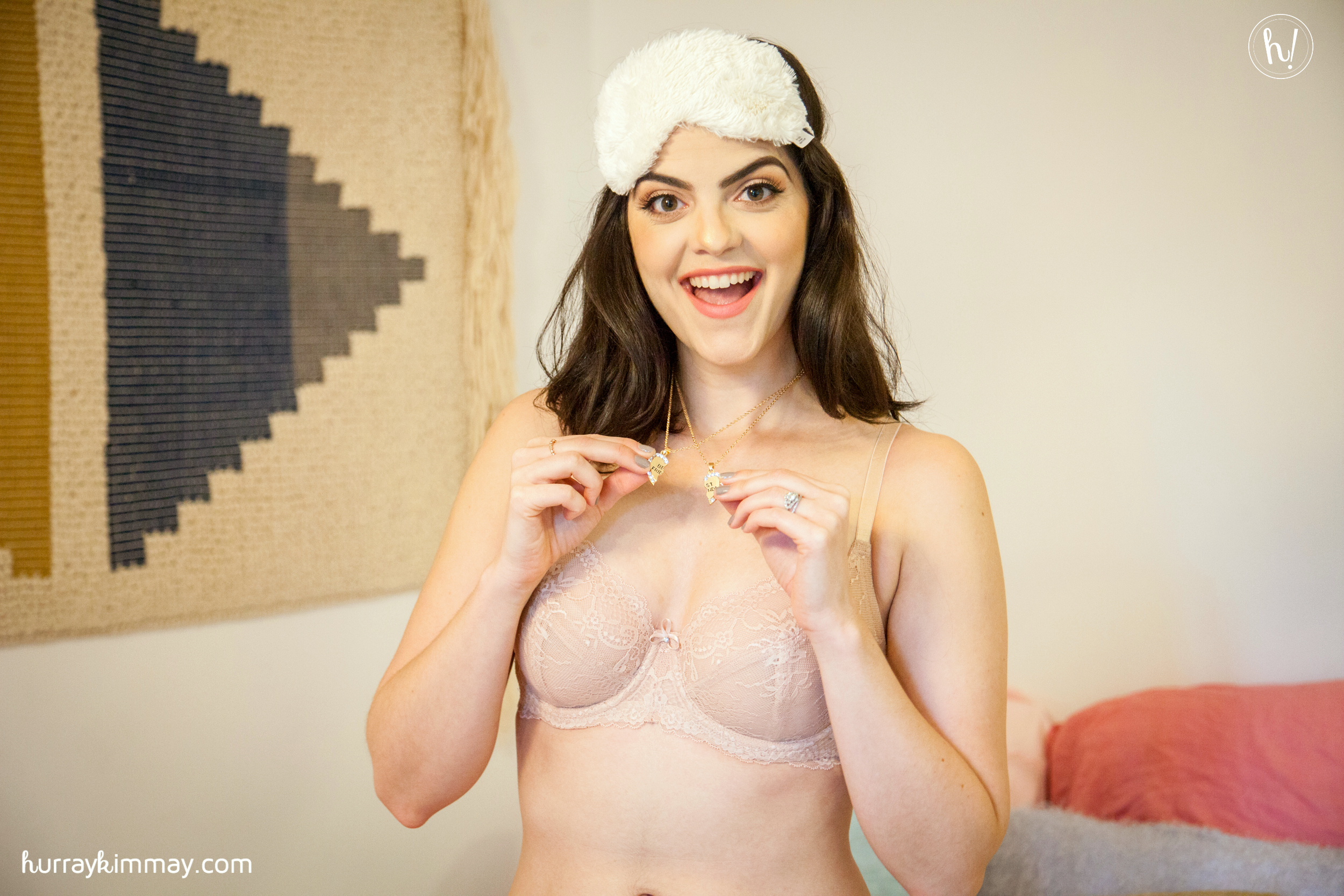 Wearing the Sandrine unlined wire bra in Cameo Rose in sizes 32DD and Medium from Parfait during my #HurrayVacay in LA. This classic lace bra is not your average "nude" bra. So supportive and super pretty.  More info on sizing and Parfait at the bottom of this post. Eye mask by Giapenta. Photo by Becky Yee.
Below I've created a few examples to help you say hurray for your body and become its best friend. These sweet little metaphors will help you start to understand the qualities that make a best friend relationship, and offer up a few suggestions on how you can get started with your body. Read through them and (novel idea, here) practice listening to your body! Get quiet and breathe deep, and tune into the various ways that your body speaks up. Use these suggestions as a starting point and come up with your own steps, too!
(Body) Best Friend Qualities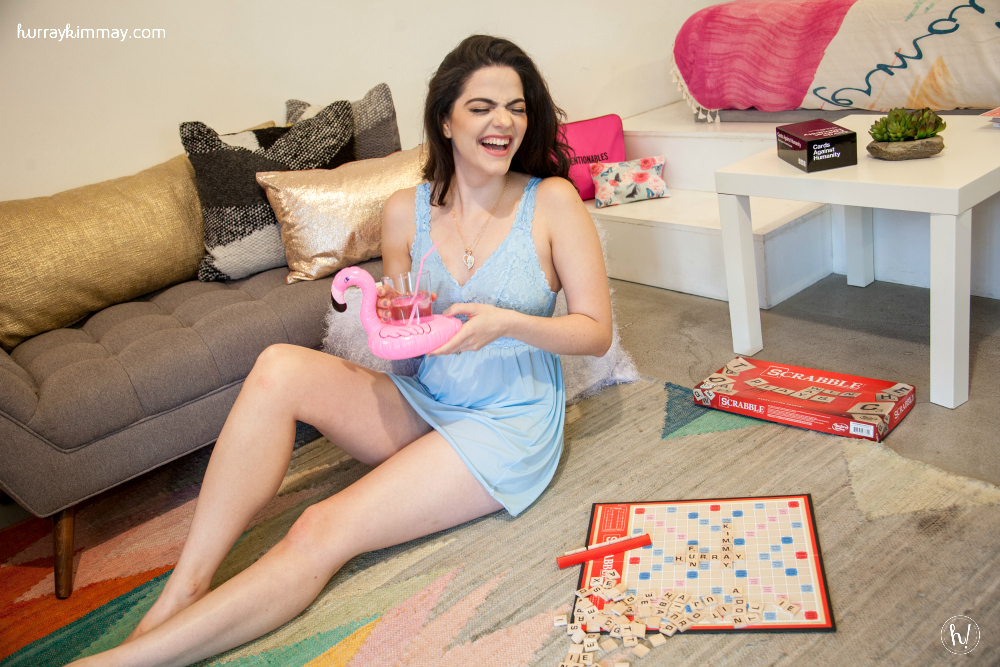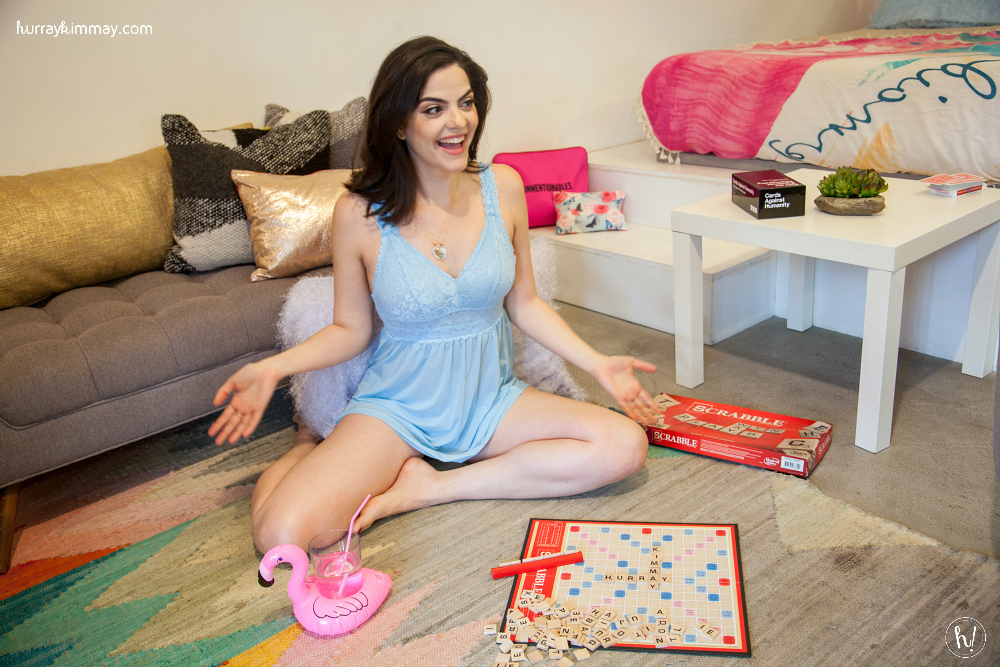 Wearing the Adriana unlined babydoll and the matching panty in Sky Blue in sizes 32DD and Medium from Parfait during my #HurrayVacay in LA. This fab nightie has a built-in bralette support with adjustable straps and band for a secure and sassy look. More info on sizing and Parfait at the bottom of this post. Flamingo cup holder by A Genie's Dream. Photo by Becky Yee.
Loyalty
Best friends are loyal to one another. They stand up for each other. They defend each other to other people. They would go to war for each other. When they say they'll show up for you, they follow through. They're there for you like no one else. They share secrets. Best friends trust each other, deeply. They are your chosen family, your soul sister, your BFF.
Try it: When it comes to being loyal to your body and treating it like a best friend, how is it going? Do you feel like the two of you show up for each other? Do you follow through on promises? Do you stand up for your body? How can you update this part of your relationship? Perhaps if someone else takes your body for granted or says something negative, you can lovingly defend or stand by it. What else?
Authenticity
With a best friend, you can be yourself and you allow her to be her true self, too. Best friends are truthful, authentic, and see your real self. You may see your best friend at their worst and you still love them. You have seen all of their colors because you two know that it's safe to drop the facade and show up as who you are today, right now, for real.
Try it: Are you letting the real you show up and shine when it comes to your body? Are there parts of yourself and your body that your'e hiding? You can be really real with your body and observe and get to know it as it is today, not some ideal you're trying to chase. One way is to get know your numbers, like bra size, weight, health stats, etc, without letting them define you. Or maybe it means allowing your "imperfections" to show, like stretch marks, acne, cellulite, or bruises. How else can you be lovingly truthful with yourself about your body?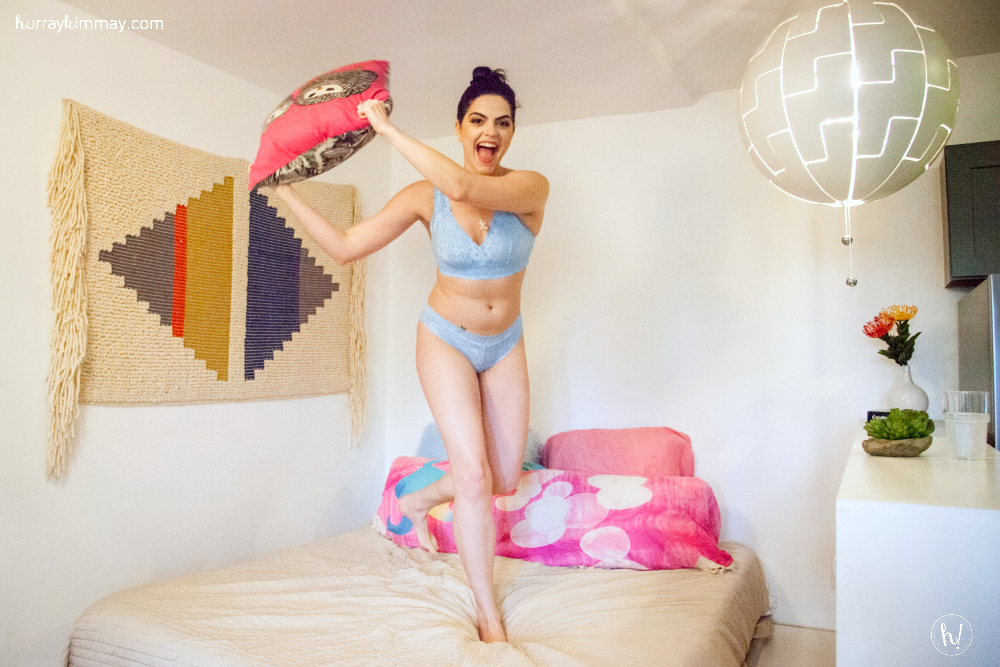 Wearing Adriana lace bralette and matching Adriana Bikini in Sky Blue in sizes 32DD and Medium during my #HurrayVacay in LA. This wire free bralette is super supportive with adjustable straps and band, and even a j-hook to make it racerback! More info on sizing and Parfait at the bottom of this post. Photo by Becky Yee.
Good Listener
Best friends are great confidants. You can tell them anything. They listen deeply and give you space to speak what's on your mind. They are understanding. They not only listen but then they ask what you need or offer advice, or take action based on what you shared. They don't dismiss each other. They allow each other to be truly heard and seen.
Try it: Allow your body to speak to you in many ways. Listen when it tells you it's tired or energetic. Take notice when something feels good or not. Tune into your gut feelings. And don't just listen, but follow through! The best way to practice this is to slow down, get quiet, breathe deep, and let go of tension in your body. Ask it questions. See what's up. Allow it to speak to you through feelings and emotions, physical symptoms, energetic waves, and more.
Helpful
You can ask a best friend for their help and they'll show up big time. Whether it's moving into a new apartment, how to break up with a guy, cramming for a test, or dressing your very best. They provide advice. They are there for you when you're in a jam. They'll rescue you when you need to be rescued. They are there no matter what. Best friends want the best for you and are part of the solution.
Try it: Your body is here for you. Be there for it, too. Help it when it needs to rest, or go get treatment when it's feeling low. Help it work at its optimal level by fueling it with nourishing foods and water. Ask your body to help you make decisions. Learn how to tune into the subtle (or not so subtle) signs like a gut feeling, a quickening of the breath, butterflies in your stomach, a fast heart rate when making decisions.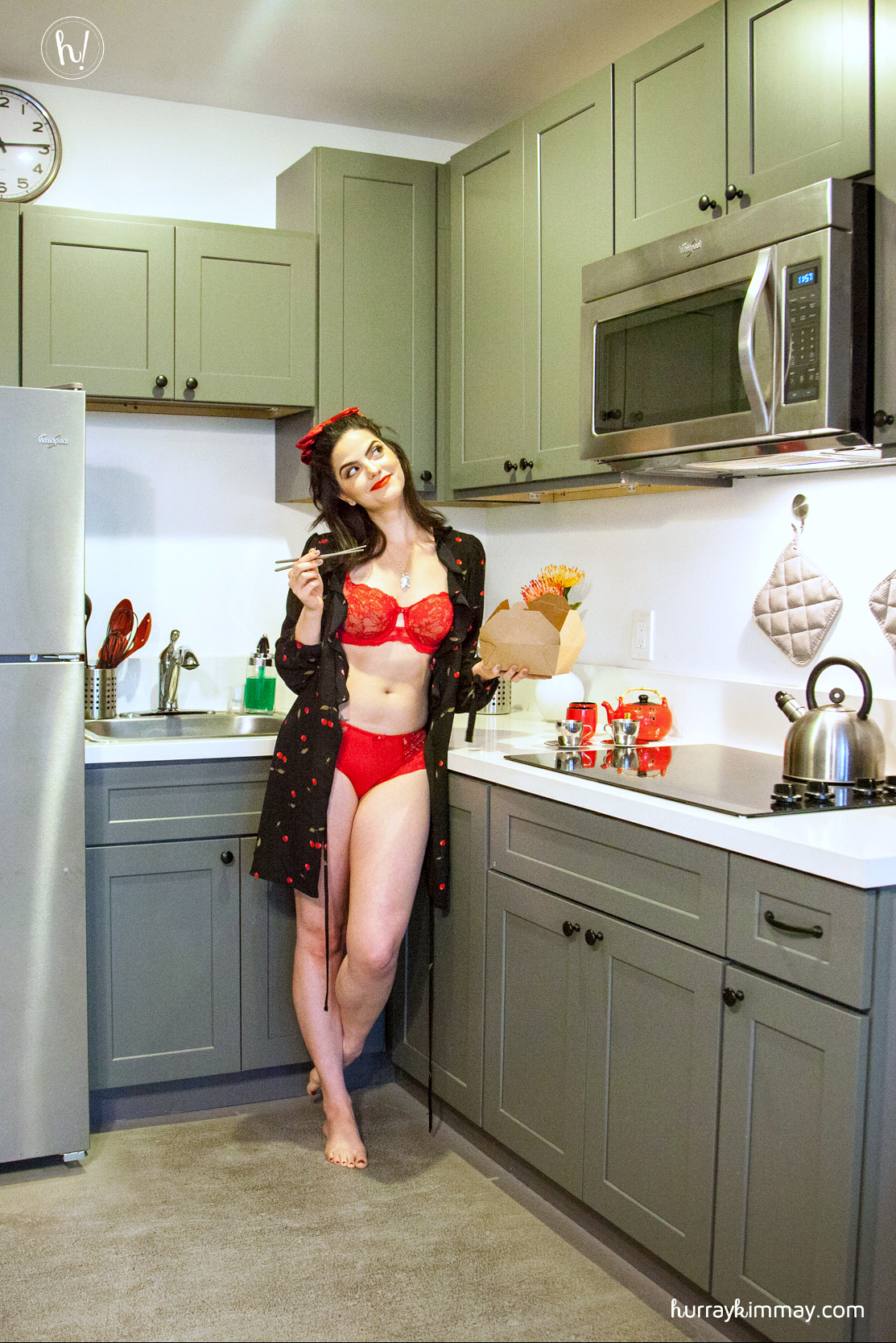 Wearing Marion unlined wire bra and matching Marion hipster from Parfait in Tango Redin sizes 32DD and Medium during my #HurrayVacay in LA. This bold red look isn't just pretty – it's also mega supportive and comfy, too! More info on sizing and Parfait at the bottom of this post. Dress and hair bow by Tobi. Photo by Becky Yee.
Supportive
Best friends are there for each other in the good times and the bad. They'll help you celebrate your wins and console you during your losses. They encourage each other. They pick each other up when they've fallen. They say the loving and motivating thing that someone else may not know to say. They know what they value and how to support them toward their goals. They know when they need a hug and a night of rom coms or when they need space and some time alone. They want the best for each other and truly have each other's highest good in mind. They use loving words to edify and build up one another.
Try it: One of my favorite ways to support my body is with supportive undergarments! After all, I say hurray for lingerie. Go in for a bra fitting, or check in on your current bra size starting points, or check the fit of your bras. You can also use supportive and encouraging language with your body. Instead of berating it, choose uplifting words and compassionately console your body when it's feeling off or upset. And don't forget to support it with good fuel, nourishment, rest, and pleasure. Our bodies need support from us – their best friend – in all kinds of ways. How can you support your body?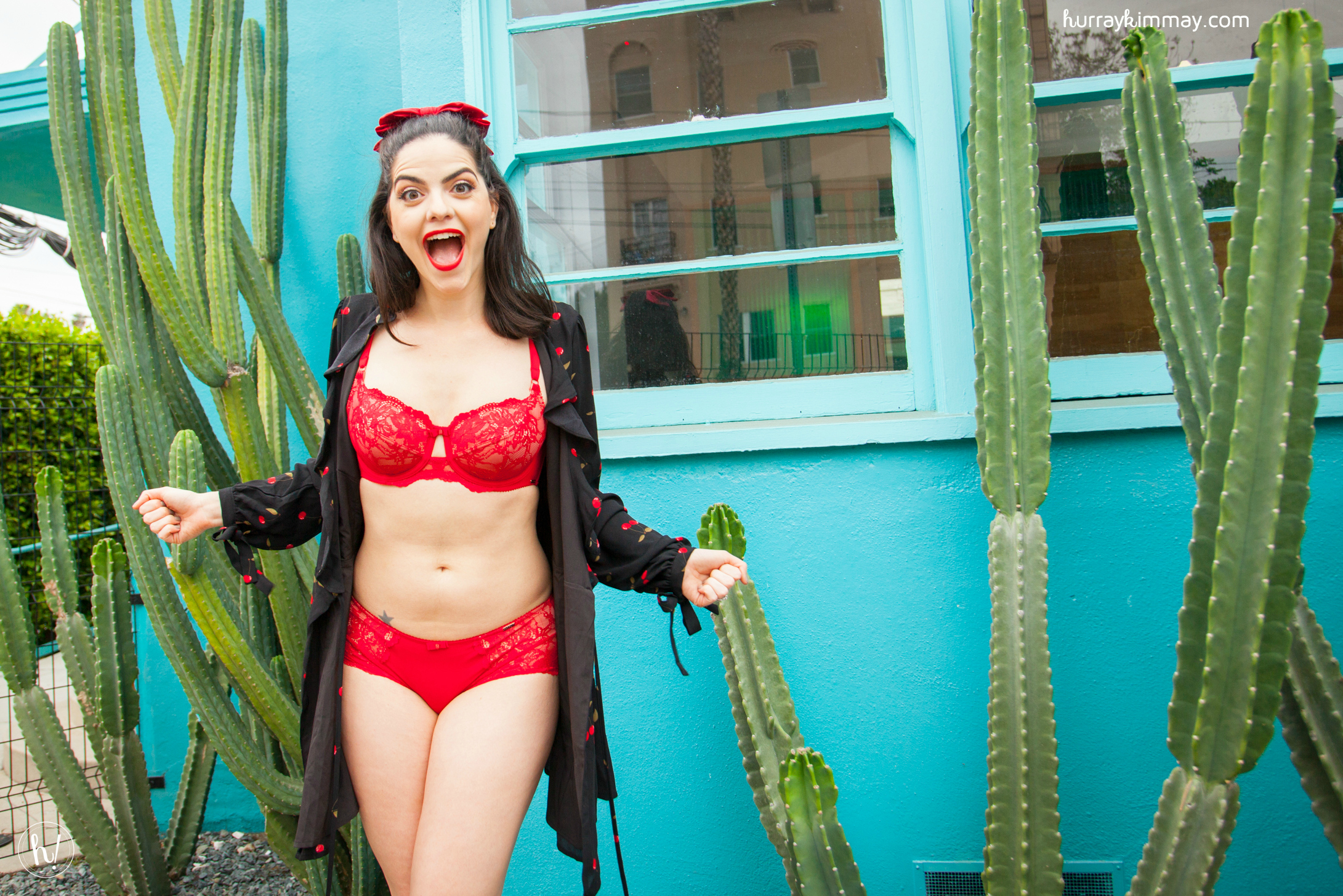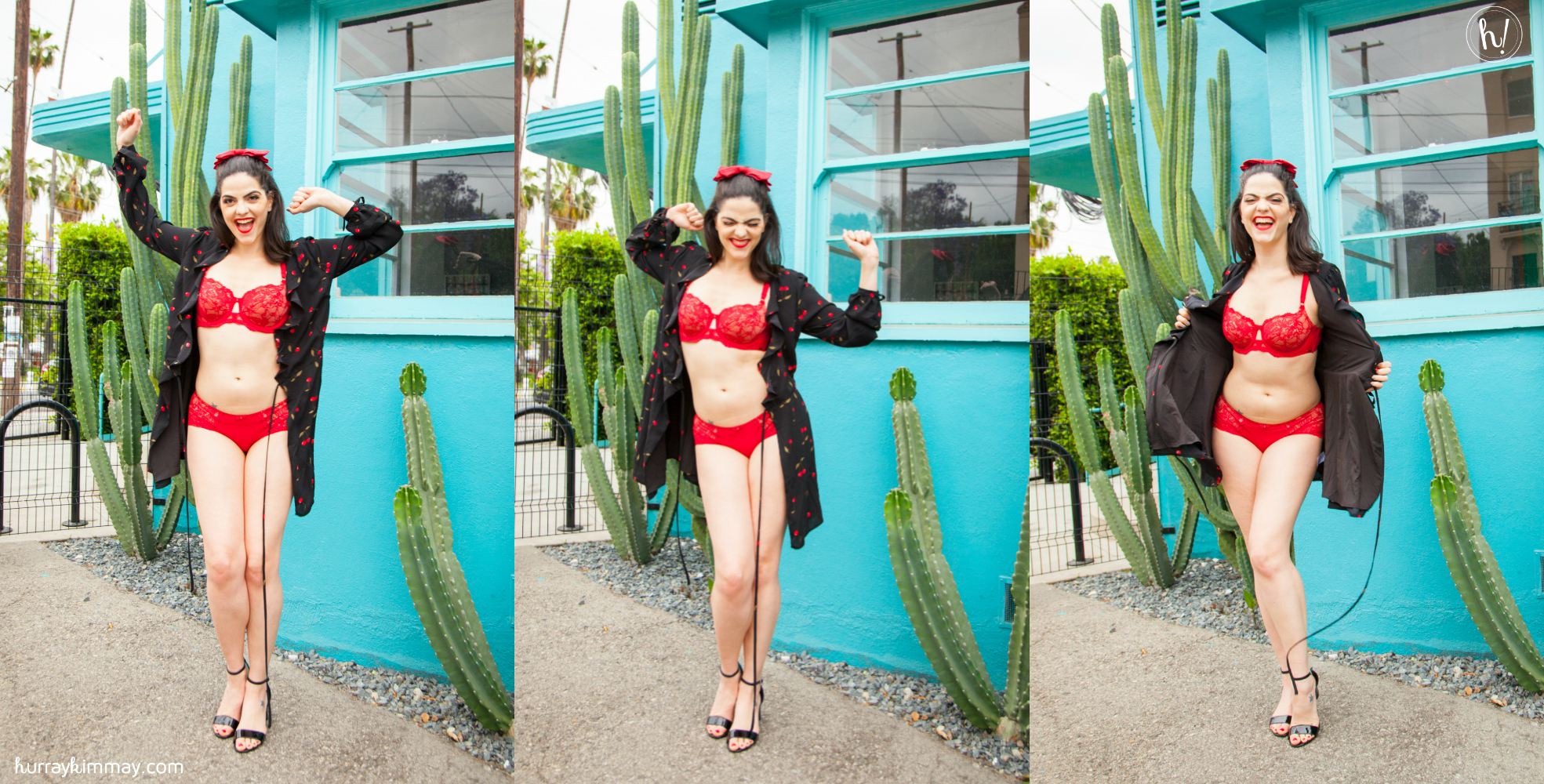 Wearing Marion unlined wire bra and matching Marion hipster from Parfait in Tango Red in sizes 32DD and Medium during my #HurrayVacay in LA. I mean, how can you keep this sassy set hidden? It's TOO cute not to share! More info on sizing and Parfait at the bottom of this post. Dress and hair bow by Tobi. Photo by Becky Yee.
Adventurous
Best friends are up for anything. They know that, together, they can have fun and take on whatever comes their way. They take risks together. They try new things together. They push each other out of their comfort zones. They introduce new things to one another. They get crazy ideas that just might work, and go for it together.
Try it: Try new and exciting things with your body that (literally and figuratively) stretch it. Try a new exercise class, go on a crazy hike, eat a new food, test out a new move, try on totally different clothes, test out a new sexual position! The sky's the limit. How can you be adventurous with your body?
Fun
Best friends know how to have fun together. They can be serious and deep, and swiftly move to silly and giggly. They enjoy each other's company. They share deep belly laughs. They crack each other up. They have inside jokes. They can make each other laugh with just a look. They remind each other to ease up and have fun.
Try it: Do you enjoy your body's company? How can you two have some fun together? Try playing or dancing, or moving in a way that just feels good and exciting. Put on some music and just MOVE. Wear fun things. Get sassy with your body and try a little solo pleasure. When your body makes an error (like falling, or dropping something, or farting, or whatever) laugh and giggle with it instead of being ashamed. Let yourself and your body hang loose and have fun!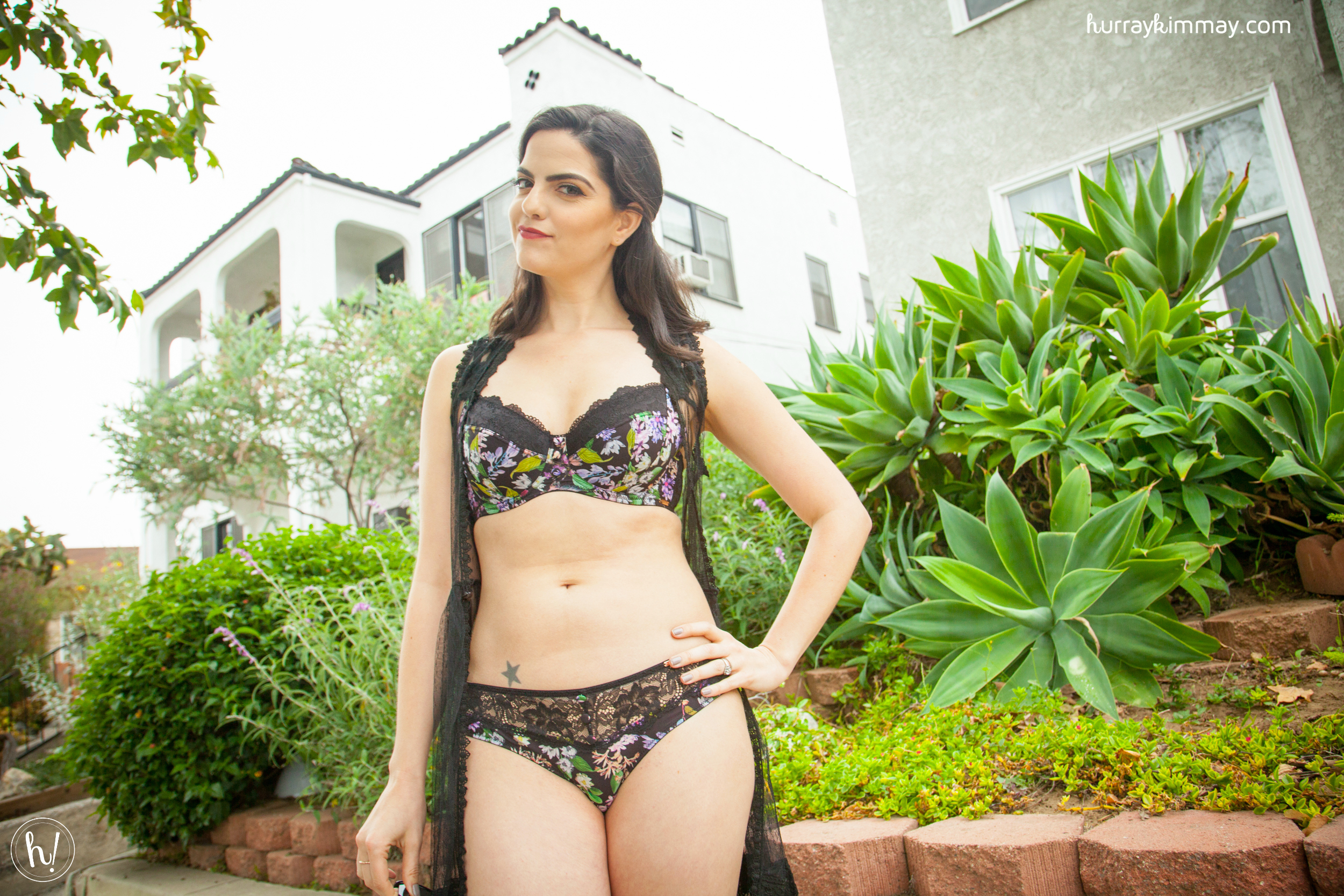 Wearing Ava unlined wire bra and matching Ava Bikini in Black Floral from Parfait in sizes 32DD and Medium during my #HurrayVacay in LA This printed floral and black lace combo are driving me loca. I am so in love with the pretty details and great fit. More info on sizing and Parfait at the bottom of this post. Lace coverup by Tobi. Photo by Becky Yee.
Tough love
Because they know each other so well and they are supportive, they also tell it like it is. Best friends get real with each other. Their support may not always be a sweet gift or a motivational meme. Sometimes they get tough. They'll call each other's BS. They wake each other up out of a funk. They lovingly remind each other to snap out of it.
Try it: How can you get real with your body? If it was speaking up to tell you to snap out of it, or wanted to have a real talk with you, what would it say? Perhaps there's a food you're eating that just isn't cutting it any longer. Maybe there's a partner you've been getting busy with and girl, you need to speak up and ask for what feels good and stop settling for mediocre sessions in the sack. Or maybe it's calling your BS when you say you're excited for that new job. It may be speaking to you in blunt ways like upset stomach, dry nether regions, or anxiety. Listen to it. What is your gut and body telling you with a dose of tough love?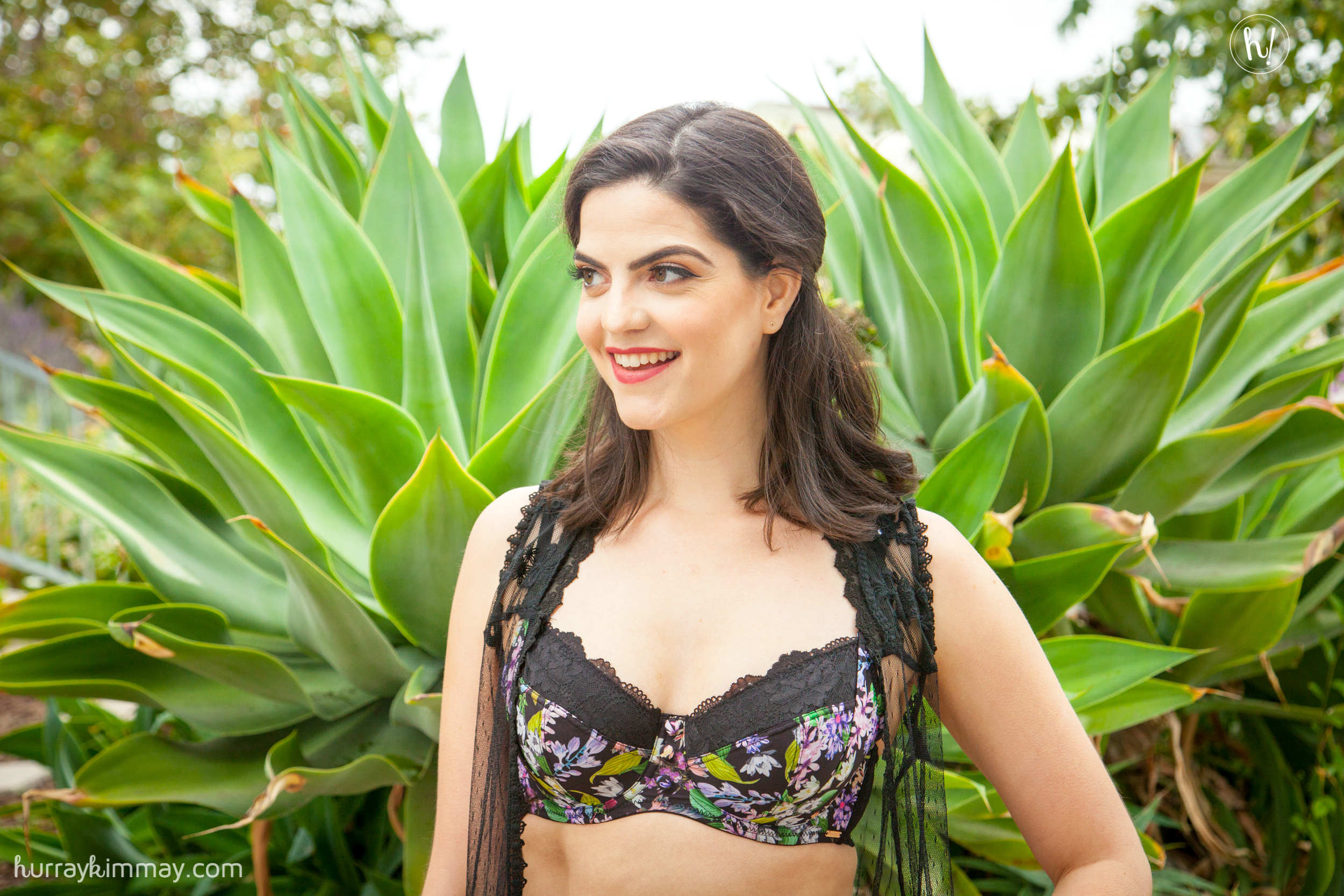 Wearing Ava unlined wire bra in Black Floral in sizes 32DD from Parfait and Medium during my #HurrayVacay in LA. See how well this bra "tacks" in between my bust? Hurray for fab fit alert! More info on sizing and Parfait at the bottom of this post. Lace coverup by Tobi. Photo by Becky Yee.
Forgive and Apologize
Best friends are not perfect, and they know it. They know when to say I'm sorry. They know when to ask for forgiveness and when to forgive. They do not hold grudges. They lovingly let go of misunderstandings and look ahead to building more faith and trust with each other. They let go of the old stories and fears they have and invite in the truth.
Try it: This may be last on the list but it's the most important to me. Compassionate self forgiveness is one of the most powerful things you can practice – especially when it comes to your relationship with your body. Are there misunderstandings you're having or judgements you've made about your body? Can you forgive yourself for buying into those misbeliefs and make room for the truth?
---
The giveaway below has ended.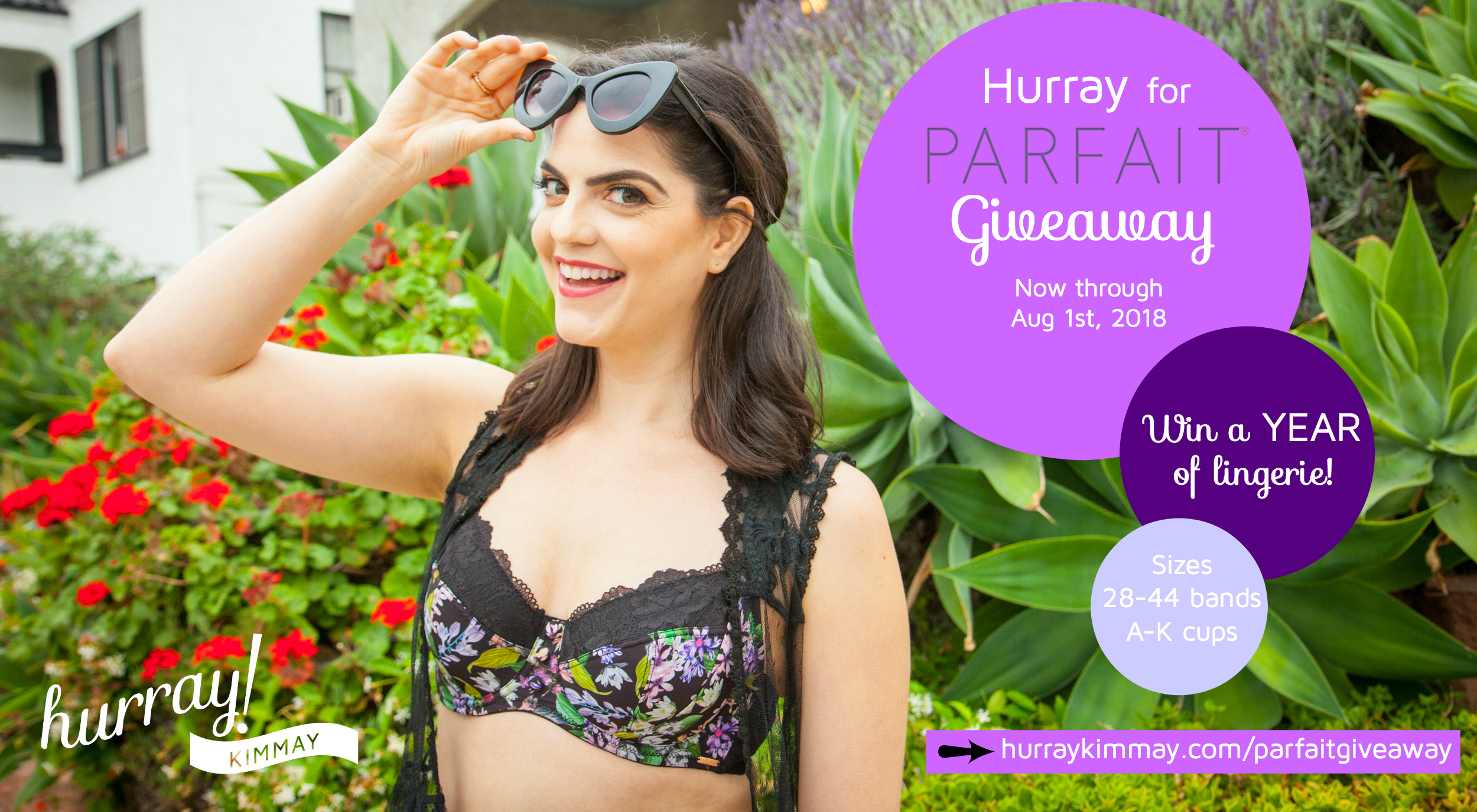 Want to support your body and be its best friend? Here to help! Parfait and I have partnered to give 12 bra and panty sets to a lucky winner!

Credits: Photos in this blog post were taken by Becky Yee during my #HurrayVacay in Los Angeles. Several clothing items were gifted from wonderful brands such as Tobi, Giapenta, and Inspire Psyche Terry.

Super excited to say a big hurray for the sponsor of this post: Parfait Lingerie! You've been seeing me wearing this brand throughout this post, but I've known their products for a long time. I have fit hundreds if not thousands of people into Parfait bras, including some of the styles you see above.
Here's some more about this brand: Styles range from bras and briefs to non-wire bralettes and babydolls, and now even sports bras to nursing bras. This brand is committed to size-inclusivity, so Parfait collections are available in an expansive size range of 28-44 bands, A-K cups, and XS-4XL bottoms (varying by style). Being #bestfriendswithmybody means treating it and fitting it well. Parfait is definitely focused on fit (with a dash of fashion) for sure.
Sizing notes: This brand uses UK sizing, and I'm wearing a 32DD in most of the styles here, and a medium bottom. In some cases I find their full coverage or non molded cups to fit a bit fuller than their molded styles. And if you try a push up style from this brand, go up a cup size. And in my opinion, Parfait uses firm materials and underwires in most of their styles, meaning they can run a bit tighter or feel more rigid than other brands. I love the super support! Try it out and see how it feels for you.
Connect with Parfait:
PS: Parfait collections have been worn by top actresses, models and performers around the world including Sofia Vergara, Sharon Stone, Nicki Minaj, Ashley Graham, Nicole Scherzinger, Gabrielle Union, Alicia Silverstone, and yours truly. Want to try Parfait for yourself?