Meet Rachel Kara. I've known Rachel Kara since college, but I really got to know her in another classroom. We were both enrolled in a summer Meisner technique acting class in 2006, and that technique goes deep. Deep down into the "who are you really and how do you really feel" part of yourself. It erases facades and BS and gets to the truth. It was the same acting class in which I met my husband! Rachel Kara was there to witness it all. And I was able to witness this powerful, compassionate human unfold.
(I say hurray for LeMystere for making this post possible! I recommend this brand ALOT, find out why at the bottom of this post.)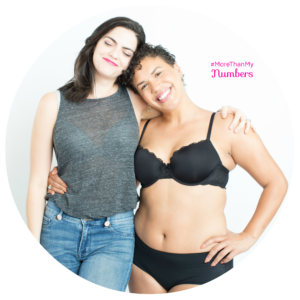 Beyond our acting background, Rachel and I also share a common trait. We are both mixed race Latinas. So when I interviewed her about what story around numbers she may want to contribute this the #MoreThanMyNumbers project, the issue of race and ethnicity came up and we were both nodding our heads YES YES YES. As Americans, it's easy for many people to relate to the issue of having many different ethnic and ancestral backgrounds being part of what makes us "us". And I say "issue", because often that history can define us, or box us in, or confuse us. Especially when there's more than one, or one is a larger percentage than another, or you physically look much more like one than another, or you culturally grew up with zero infusion of another. The seemingly simple and curious question of "So what are you?" has plagued me, and Rachel Kara, for years. I know they mean "what's your familial background", but listing off the number of ancestral names and their percentages is just numbers. Not the whole picture. They're important to me, but alone, they do not define me. And in Rachel Kara's case, she is also a child of adoption. So her ethnic background and the percentages that make up her unique biological ancestry are different than her adoptive parents' or sibling's. Our identity is made up of so much more than numbers. And that includes your background.
On another note, Rachel Kara told me that our bra fitting appointment together was her first ever. And she was completely flabbergasted at the transformation that she felt. I have seen this woman stand up courageously to defend her values and speak her mind – and I'm so so so excited that I could support her both physically and emotionally during our session. I'm so pleased to share Rachel Kara's story and I hope you can gain some insight into how you, too, can use numbers as information, not a definition. Read and watch below, and get to know yourself and your numbers – including your bra size starting points – at MoreThanMyNumbers.com.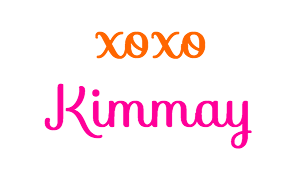 Name: Rachel Kara Perez
Age: 30
Hometown or background: I was born in The Bronx and raised in Orange County, New York, located in the beautiful Hudson Valley. My ethnic background is Puerto Rican, Cuban, Panamanian, and French.
Job or other info: I am an actor, singer, and Teaching Artist.
Where can we connect with you?

Q: What made you decide to share your numbers and your story in the More Than My Numbers project?
A: I was inspired by the other stories I had seen, and I especially wanted to send a body positive message and hopefully one that's empowering about self-identity.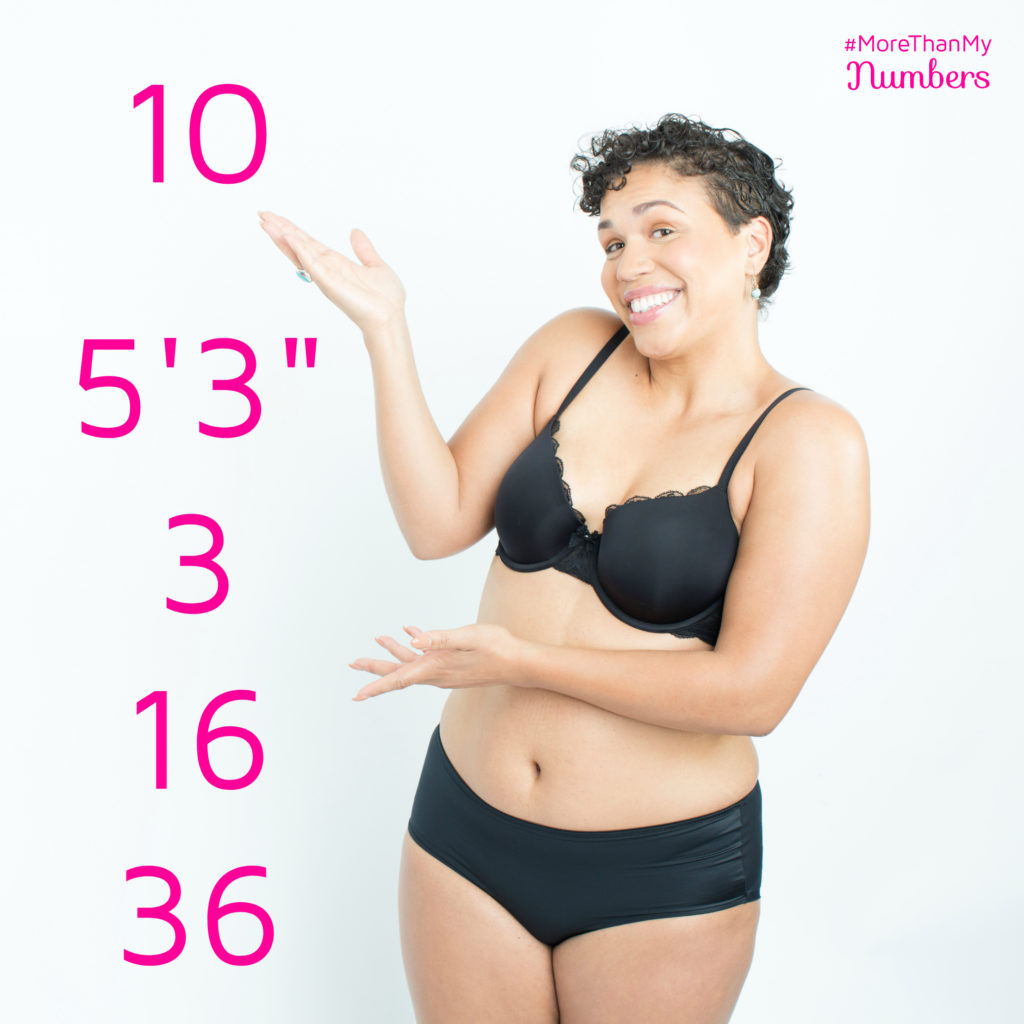 Q: What are some numbers you want to share? List them out!
A: 10, 5'3″, 3, 16, 36
Q: You said in the video that your number of ethnicities is a number that defined you in the past. Tell us about that?
A: Throughout my life, I have always been asked the provocative question, "What are you?" I have been stopped on the streets and in the subway in NYC, when traveling across The U.S., and in various countries when living abroad. This question follows me everywhere I go, no matter where I am. Normally, I have no issue answering it; and list my four ethnicities with pride. There have been times, however, when it has made me feel uncomfortable; when answering this question has felt like an explanation of why I am not white, or don't fit in, or why I sound a particular way. As a child of adoption, as a person who is of African, Indigenous, and European descent, the answer I provide is never as straightforward as people expect, and there are times when I have received invasive questions in response, and actually allowed the reactions of strangers to determine how I felt about myself. I would oscillate between "over sharing" to what felt like hiding. This struggle I faced also led me to connect to and own my Blackness, my Brownness, my Afro-Latinidad; and I have come to the realization, that regardless of my response, whether I choose to share or withhold information, my answer does not take anything away from, nor give anyone power over me. Another person's perception of my identity is not a reflection of who I am, positive or negative. Only I can decide that for myself.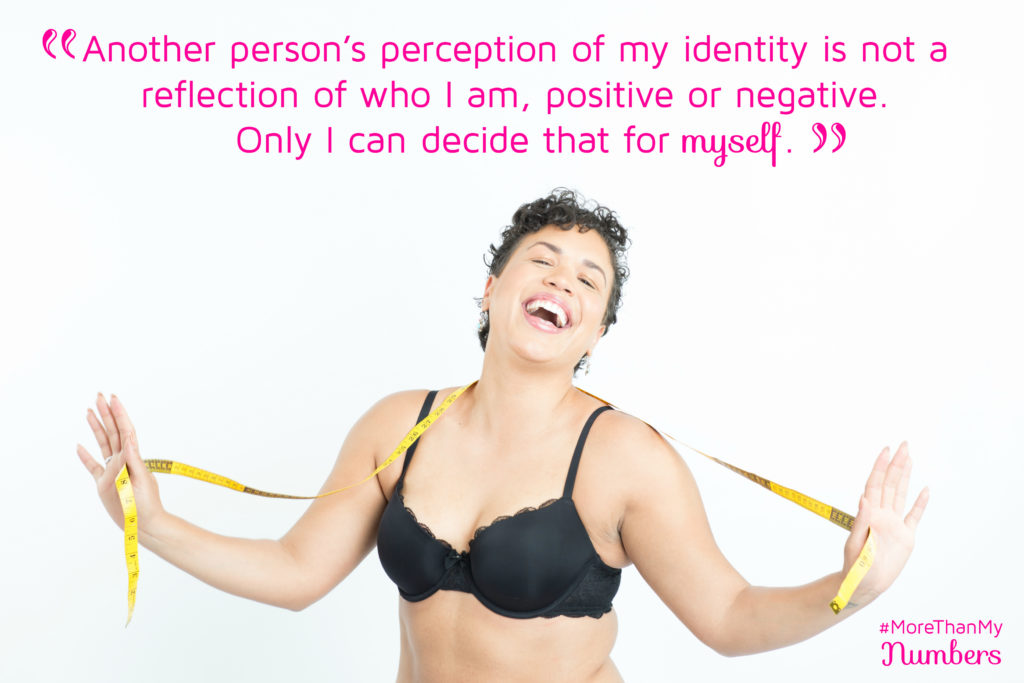 Q: How do you think focusing on your number(s) affected you the most? What did it stop you from doing? How did it make you feel?
A:  When I would focus on my ethnicities in too limited and not totally healthy ways: as a means to gain acceptance and as a way of explaining why I am different. In both instances I would feel less than because I was basing my decision to share solely on the response I thought I would receive, or what I thought my family or friends would want me to say. At times I would go on auto-pilot and give more information than was necessary, while other times I would feel ashamed that I chose to leave something out. I would go to the extremes of feeling like I was overcompensating or that I was dishonoring those who came before me.  Being adopted made these feelings all the more complex.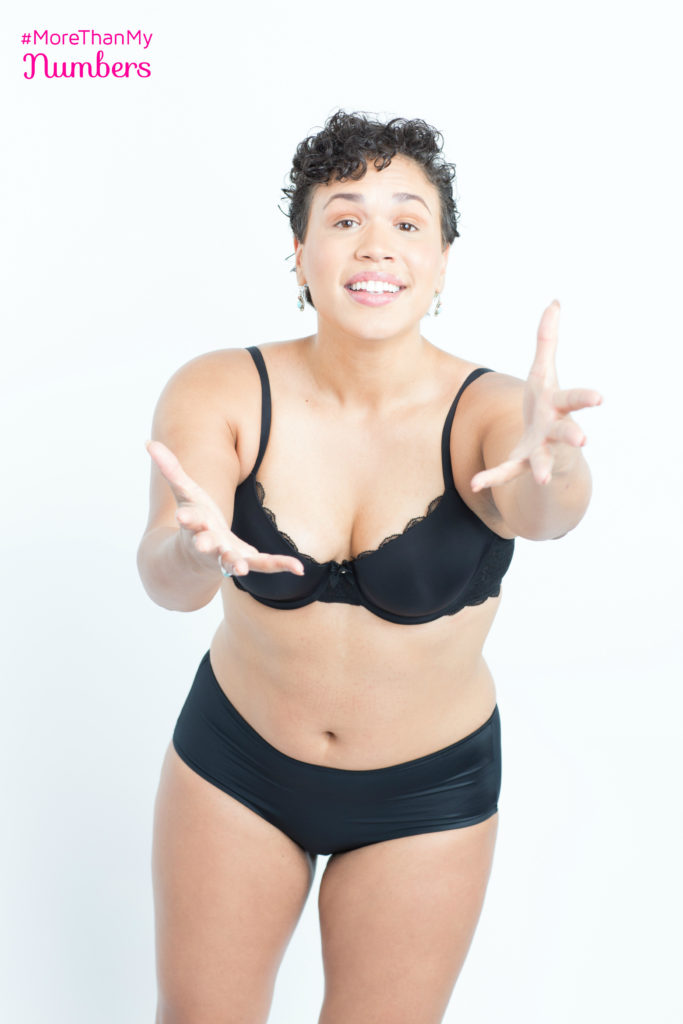 Q: What would you say to younger you, if she came to you and said she was worried about that number?
A: I would say: Baby girl, it's alright.  You be you, and don't look to anybody else to tell you who you are.  Share as much or as little of your story as you like, but listen to your heart and make sure it is coming from you. You don't owe anybody any explanations, and if you feel like that is what they are asking for, just end it there, just walk away. If you want to be open and talk and rejoice in your background in this way by sharing, do it.  But let it come from you. Only do what feels right. You will only regret not being true to yourself, trust me.
Q: What is your advice to women who may be on a similar journey to you?
A: My advice is to base your words and actions on what you feel in your heart is genuine and true. Operate from this place of authenticity and even the mistakes you make (it's a part of life) will be at a higher level because they will be a reflection of where and who you actually are, not something or someone you are pretending to be, and the lessons you learn will help the real you grow and mature. (And how great is that!?)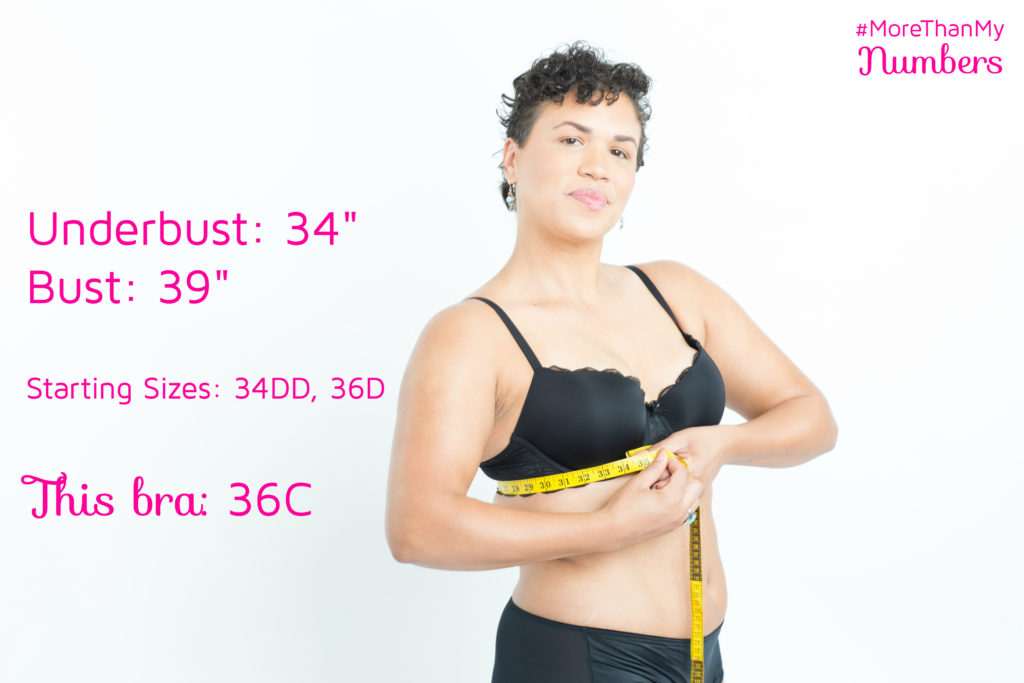 Q: What is your relationship with your bra size? Tell us your bra story!
Underbust: 34
Bust: 39
Bra Size Starting Points: 34DD, 36D

Bra Size in the video: 36C
A: Growing up I always wanted "big boobs". I thought it would make me a grown up, more of a woman, sexier, you name it. I finally got over it in my early 20s and embraced myself. I think I still lean towards the curvier side of life, but I know now that it's just not that important, and really doesn't define me as a woman or a sexual being.  I got this!
Q: That pretty Le Mystere bra you're wearing is pretty hot. What do you like about it? Would you normally try something like this?
A: I love that it is black, as most things I own are that shade! I feel supported, and as comfortable dancing as I am sitting still. The lace detail makes me feel flirty and sexy, and I would definitely wear this as a staple in my undergarment wardrobe!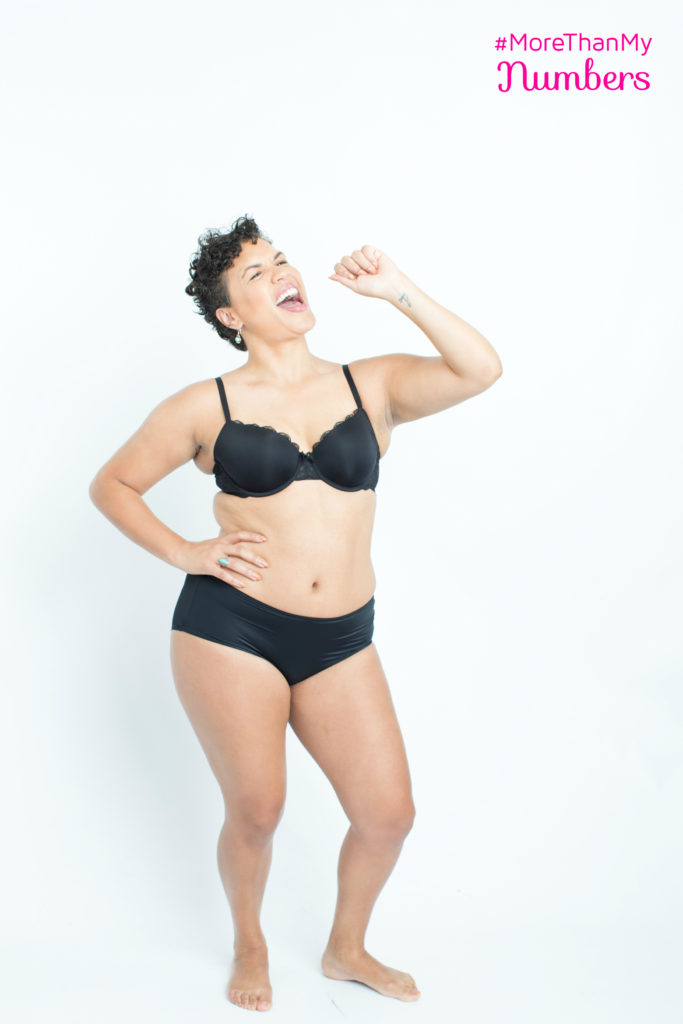 Q: Why do you think it's important to not let numbers define you? What's possible when you let go of their definition?
A: We place too much emphasis on a commercial standard of beauty which is just not everybody's truth. Beauty is found in diversity, and no one woman (or boob!) is the same! We are not MEANT to be one size fits all; and that is cause for celebration, though we all too often fall victim (myself included) to comparison. When we dare to let go of those numbers, to define ourselves from WITHIN, there is freedom, more laughter, self-acceptance, and that only leads to more of the same.
Q: What role do you think numbers should play in our lives? How do you strike the balance somewhere between ignoring them altogether and focusing all your attention on them?

A: I agree with you, Kimmay, that they should inform us, not rule us; after all, knowledge is power. The same goes for measurements, weight, age, ethnicity, you name it. Our numbers are part of our stories, but the word PART, is key. Going to extremes and viewing ourselves through too narrow a lens is detrimental to our health, and nothing good can come from that. Ultimately, they are tools, or records of our experiences, but they are not what defines us as human beings.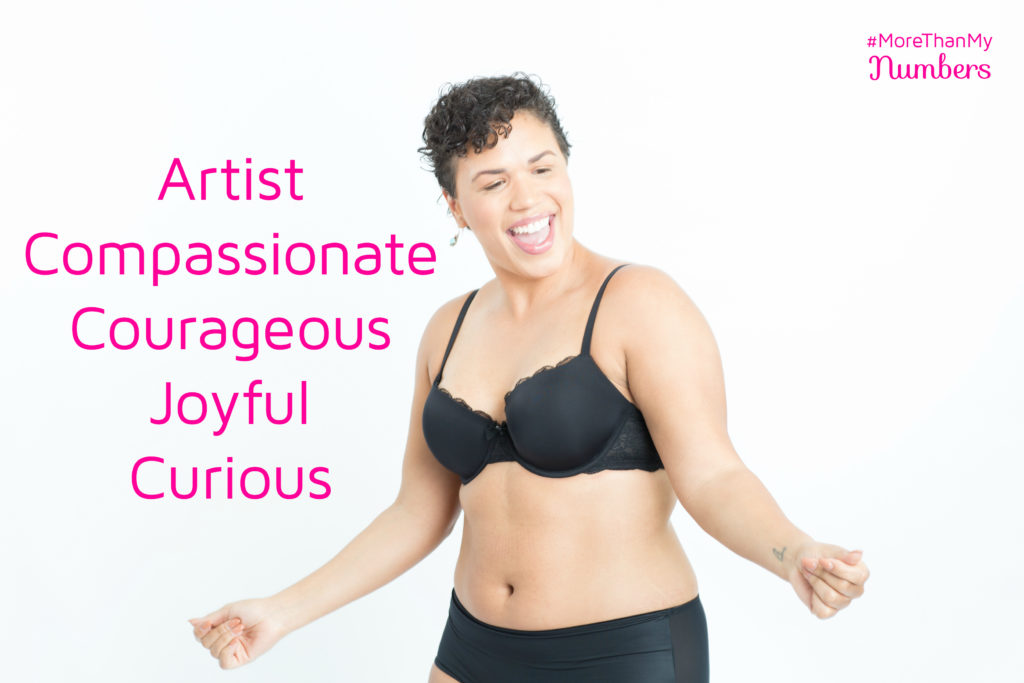 Q: What does define you – who are you to the core?

A: I am an artist. A person who is joyful at her core.  I am courageous, and willing to take risks in order to grow and learn and be a better artist, and thereby a better and more whole individual. I believe in giving back, in adding to, in making stronger, in moving ahead. I truly believe in using your gifts and skills to uplift your community and bring good into this world.

Q: Who inspires you?
A: My FAMILY; they are activists, artists, public servants, justice seekers and defenders. They are my greatest inspiration and support. Beyond them, a few of my heroes are: bell hooks, Audre Lorde, Martin Luther King, Jr., James Baldwin, Isabel Allende, and organizations like National Dance Institute (NDI), Theatre Development Fund (TDF), R.Evolución Latina, and ASTEP (Artists Striving To End Poverty).
Q: What makes you say hurray?
A: In no particular order: Justice achieved and maintained, children laughing from silliness and joy, dancing, and cookie dough.
***
Your turn: Can you relate to Rachel Kara's story? How have you let numbers define you in the past? What numbers can you choose to use as information but not as a definition? How has your number of ethnicities informed your identity?
Have you found your bra size starting points? What loving steps can you take to say hurray? What inspired you about Rachel Kara's story? Journal, brainstorm, and share with us!
Want to get involved and tell the world "I am #MoreThanMyNumbers", too? Join us! Learn more about how you can get involved here.
***

Rachel Kara is wearing a bra from, and her story was made possible by: Le Mystère. Hurray!
Let me tell you the official business: Le Mystère, founded in 1991, revolutionized intimate apparel by building a bra for comfort using modern innovations. Beginning with petal-soft microfibers, imported laces, memory foam cups, gentle hook and eyes, and plush, padded straps—the most beautiful bras were hand-crafted and produced in the widest range of band and cup sizes offered in America. (To this day, they still cater to women worldwide of all shapes and sizes, from 32A to 44H.)
Let me tell you the unofficial business: Le Mystère makes some of the best dang bras in the land. For real. They have been a go-to for me as a bra fitter since I started in 2005 – especially when it comes to bras that fit well, feel good, and look great. Their t-shirt bras (smooth, molded cups) are always on the top of my list, and the team of women that I have the pleasure to correspond and work with over there are out of this world amazing. I highly recommend the Sophia Lace T-shirt Bra that Rachel Kara is wearing, or check out the styles I shared on the Rachel Ray Show, or any of their other fab styles.
Shop Le Mystère online, and follow them on Twitter, Instagram, Facebook, and Pinterest.
Credits: The photos of Rachel Kara were taken by Laura Boyd of Own Your Sexy with zero photo shopping, airbrushing, or editing of Rachel Kara's beautiful body. Hair and Makeup by Zulieka Acosta. The video was filmed and edited by Next Round Productions. The More Than My Numbers project was created by Kimmay Caldwell of Hurray Media and Hurray Kimmay.
Want to join us? Here's how.
Save
Save
Save
Save
Save