Meet Liz. Liz's story around numbers is a common one: weight. It's a number that almost every woman struggles to make peace with, embrace, or love. And while her number is a common definer, her story is her own. Get to know why this full busted woman is learning to let go of the word "fat" and the number on the scale as an indicator of who she really is. If you've ever let the number on the scale determine your worth, you're not alone. Read Liz's story and learn how you can get involved in the More Than My Numbers project to inspire other women, too.
(So grateful to Elila for making it possible to share Liz's story! Find out more about this amazing brand below.)
Name: Liz 
Age: 35
Hometown or background: I was born in Amsterdam though I am actually British.  By heritage I am half British and half Indian.
Job or other info: I work in theater doing sound for musicals on Broadway.
Q: What made you decide to share your numbers and your story in the More Than My Numbers project?
A: It's really terrifying to stand in front of the camera and show all the parts of me that have caused me shame and distress over the years, but the fact is I strongly feel that women need to see an untouched version of a real woman.
I don't have the kind of body you will see on the cover of a fashion magazine, nor would I want to be there (fun fact, after this shoot I feel qualified to say that modeling is hard!  I'm happy to return to my preferred place behind the scenes). My body isn't perfect but it's mine.  Every part of me is a part of my story:  the body shape I share with my mother, the stretch marks from puberty, every dimple, each scar: they are all mine.
I hope that by allowing myself to be photographed another lady will see the images and think "she has a body just like mine, maybe my body isn't that weird after all."  If I can help one person feel a little bit more body love, then my discomfort will be worth it.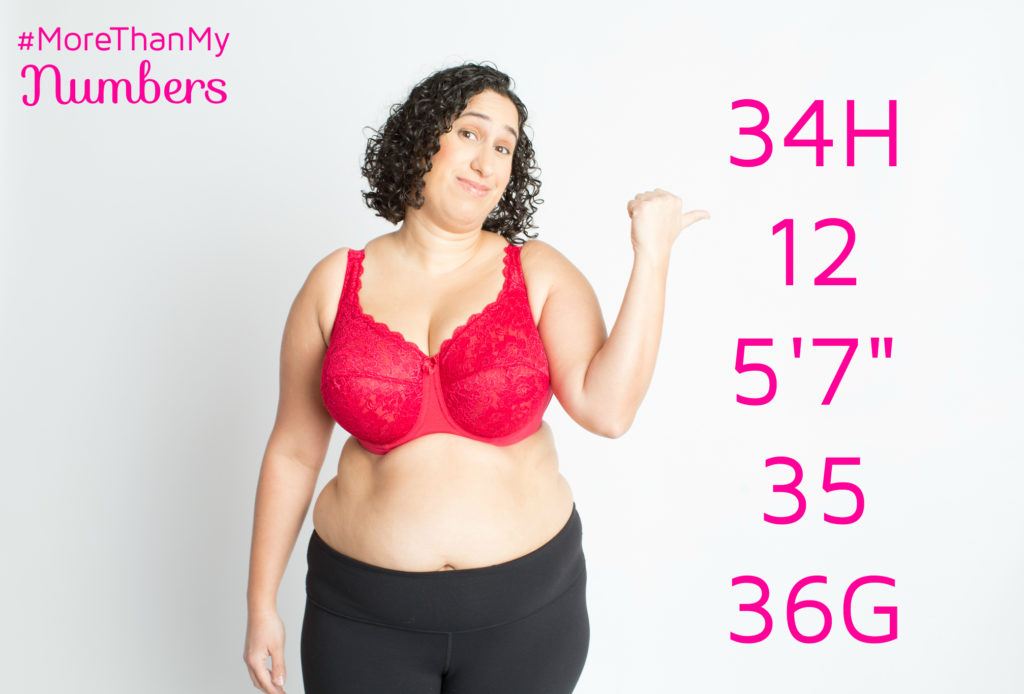 Q: What are some numbers you want to share? List them out!
A: 34H, 12, 5'7″, 35, 36G
Q: You said in the video that weight is a number that defined you in the past. Tell us about that?
A: I think I was 8 or 10 the first time a family member called me fat.  I'm half Indian and in our culture it is acceptable to make comments about others bodies.  This is done under the guise of helping you but it only hurt me and made me feel super self conscious.  I lived with the label "fat" which I knew was a bad thing, a thing that made me less worthy of love.  I learned to hide my body in baggy clothes, covering up so that no one could look at my offensive body.
I lived with the label until around college.  I was finally ready to figure out who I was and stop letting the expectations of others define who I was and how I lived my life.  Sadly, I didn't have the tools to develop a healthy body connection so I just chose to ignore my body.  I didn't really look in the mirror and ignored how food made me feel.  I honestly couldn't tell you if I was a healthy weight during those years as I have nothing to reference.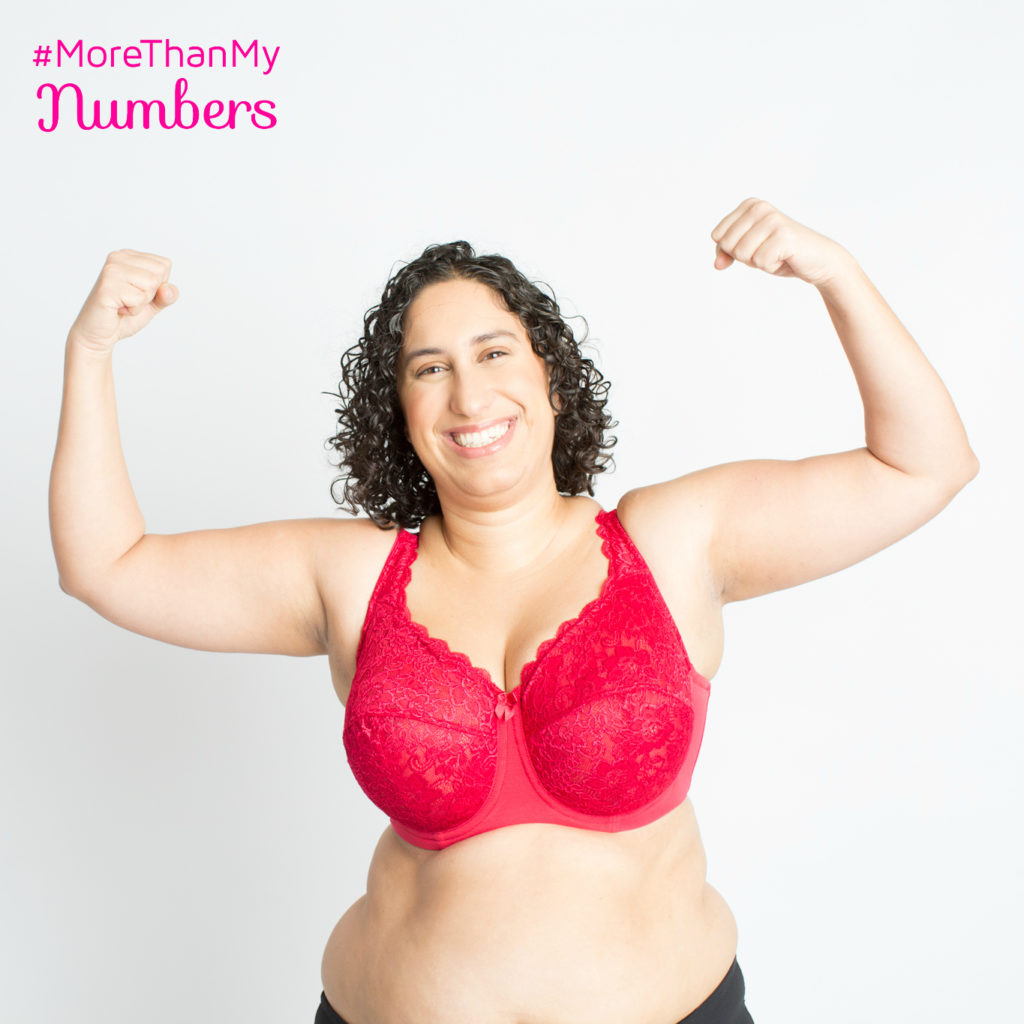 Finally one day I saw a photo of myself and was shocked: I no longer looked like the person I believed I was.  I looked swollen and so unlike myself that I knew things had to change.  I tried all the mainstream versions of dieting including programs and meal replacement shakes but nothing was working.  I was exercising several hours a week and even though you could see that I had muscles, it was all covered in fat.  Nothing I was doing seemed to help.  It was around this time that I was diagnosed with a gluten allergy.  I had been feeling terrible after meals since I was 16 but had been told that this was a result of "my high stress personality", something that wasn't really true.  I cut out the gluten and stopped always feeling ill, my hormones began to re-balance and I started to lose weight.  I felt betrayed by my body, something that I think is quite common for food allergy sufferers.  I needed to examine what foods felt good in my body, instead of what a diet plan said I should eat.  I started taking yoga which dramatically changed my body relationship.  I loved feeling the strong muscles working as I held a pose and felt a great ownership over their creation.  
These days I don't ignore my numbers or let myself be ruled by them.  I don't weigh myself but if I need to be weighed for any reason then I don't shy away from hearing the result. It's still easy to be triggered by labels and numbers but I do what I can to remind myself that there is so much more to me than that.
Q: How do you think focusing on your number(s) affected you the most? What did it stop you from doing? How did it make you feel?
A: I'm naturally fairly shy.  Defining myself as fat made me hide myself, both by dressing to hide my body and by trying to melt into the shadows.  When I decided I didn't want to accept the label "fat" I completely severed my relationship with my body and to some extent my emotions.  I didn't know how to deal with what I was doing to it, so it was easier to just not feel at all.  It's sad to think about all the joy I missed out on because I was busy hiding.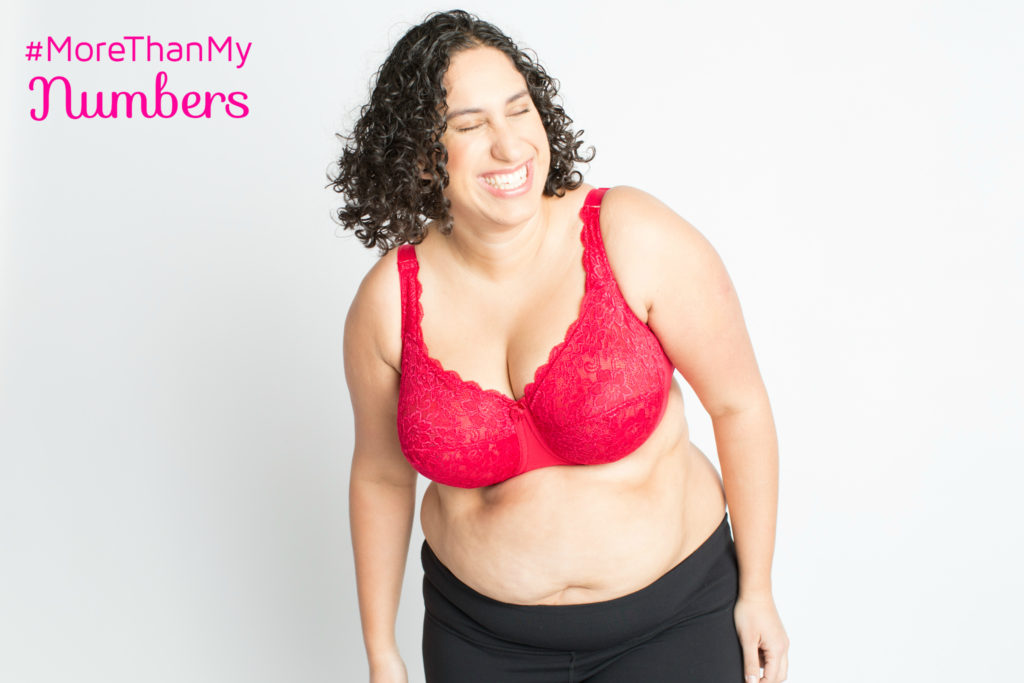 Q: What would you say to 10 year old you, if she came to you and said "Someone just told me I'm fat"?
A: "You are so much more than just a label. The label fat doesn't begin to describe you, it speaks nothing to the love you give to others, your ability to be a friend, the magic you bring into the world. People are called fat at all sizes, there are size zero ladies who call themselves fat who are wasting so much time criticizing their bodies when they could be helping the world by bringing more joy and love into it. Fat is just a label created to hold you back because you start to feel like you aren't as worthy as someone who isn't fat.  Don't let it define you or let it dim the amazing light that is you."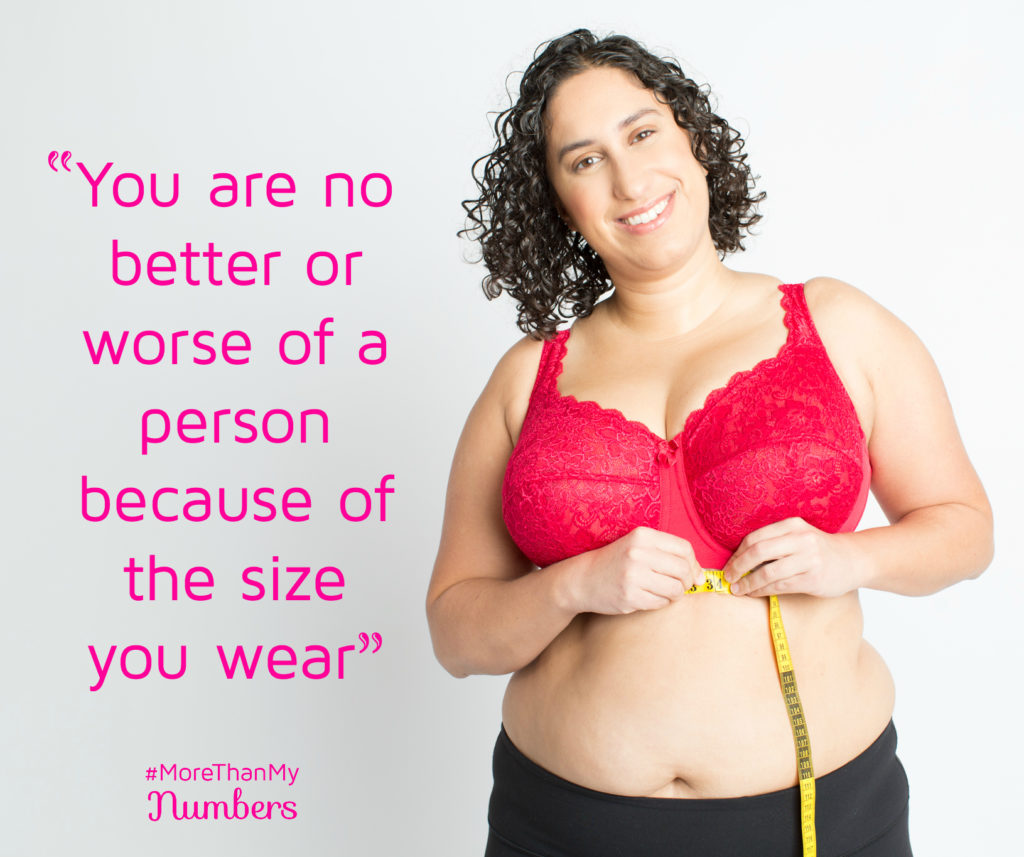 Q: What is your advice to women who may be on a similar journey to you?
A: Remember that it is indeed a journey.   You can't undo years of negative thoughts within a minute.  Some days it will feel easy to love your body, others it will seem almost impossible.  Start to experiment with ways to connect with your body that you enjoy.  Create a toolbox of self love items that you can turn to when you are feeling the hatred creep in.  For me, it's super important to move my body and feel the strong muscles that I have created with my own hard work.  For some people it might be wearing amazing lingerie, taking bubble baths, using a fragrant lotion, getting a massage or wearing an outfit that makes you feel powerful.  
And remember, sometimes you just have to fake it till you make it.  Every time you hear a negative thought, replace it with a positive one.  You will be surprised how helpful that can be.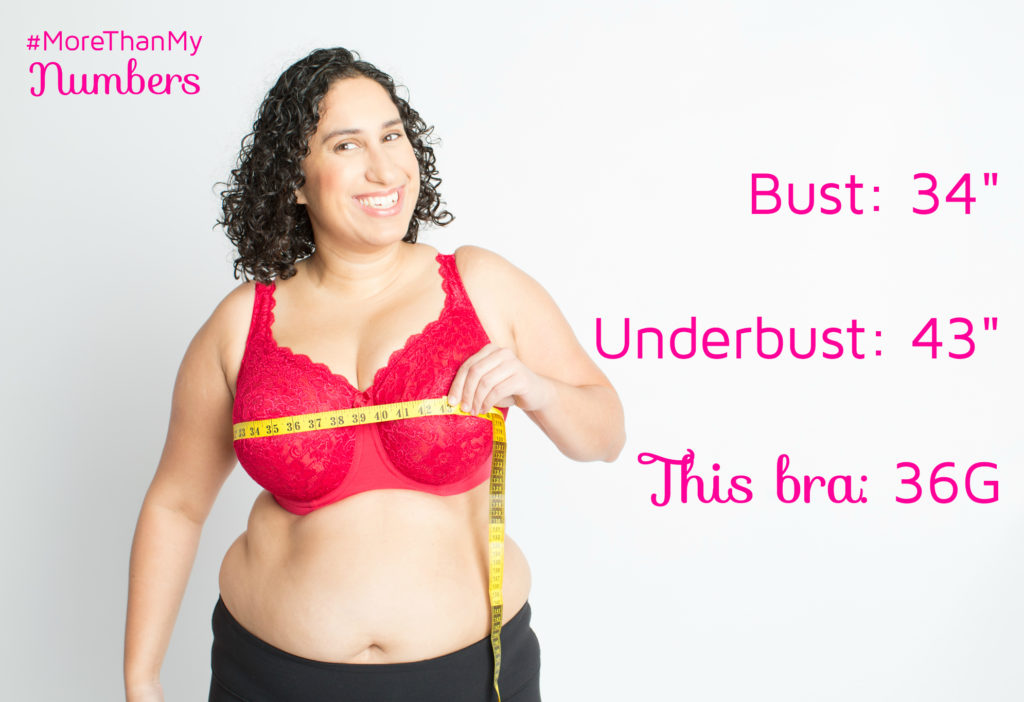 Q: What is your relationship with your bra size? Tell us your bra story!
Underbust: 34"
Bust: 43"
Bra Size you're wearing here: 36G by Elila
A: Like so many women I spent years wearing the wrong size.  I had no idea what size clothes I should be wearing so how could I understand something complicated like bra size?  It's also hard as someone who doesn't wear a mainstream size. As most high street stores don't know about or carry extended sizes, often you are fit incorrectly.  When I was finally fit by a professional I was wearing a bra 2 cups sizes too small!  
Naturally my bra size has changed several times, including times when I have lost weight and had to go down in band size but needed to go up in cup size to compensate (unlike many women I don't tend to lose in the cup).  It's easy to freak out when I see the letters on the bra.  I find it's really important to take a deep breath and remember, there is no right bra size.  You are no better or worse of a person because of the size you wear, however wearing the correct size will allow ALL of your clothes to fit better as you are giving yourself a great foundation to build upon.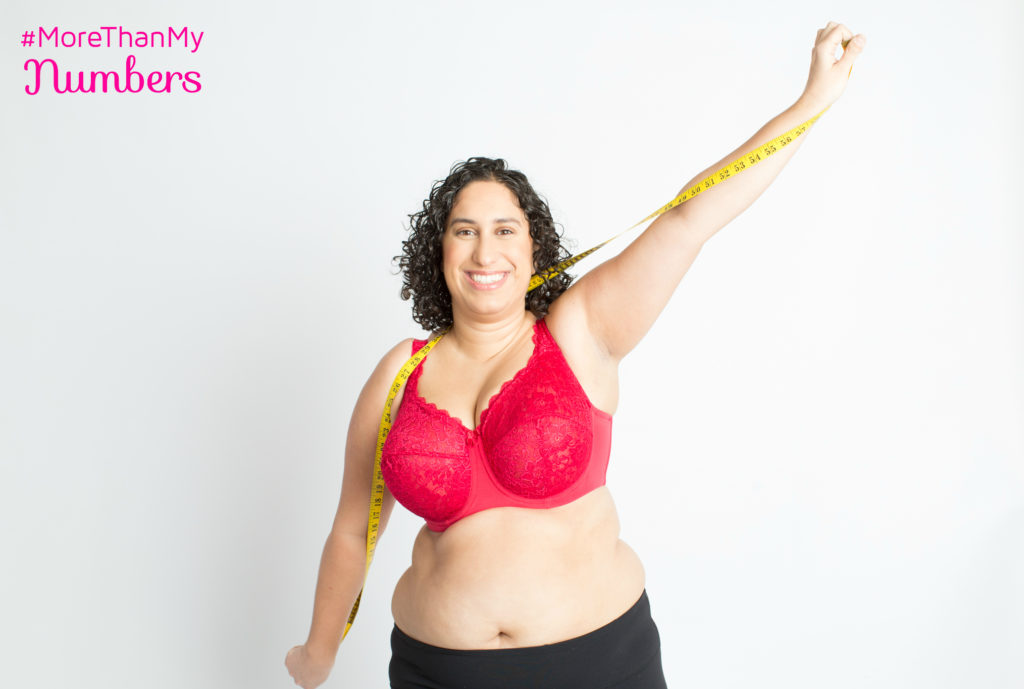 Q: Why do you think it's important to not let numbers define you? What's possible when you let go of their definition?
A: I think that when you let go of the definition anything is possible!  Remove the boundaries and the sky's the limit!
These labels we give ourselves create boundaries around what we can achieve.  When I labelled myself fat I was scared of being seen, certain that all anyone could see was my weight.  That became an easy excuse to just hide in general.  I sometimes wonder what my youth would have been like had I not been so busy hiding but spent more time embracing my life.
Q: What role do you think numbers should play in our lives? How do you strike the balance somewhere between ignoring them altogether and focusing all your attention on them?  
A: I think it's important to know the number but not let that be the entirety of how you are defined.  Ignoring them completely will just create a disconnect but being a slave to them is stifling.  Know that your numbers will change as you change but it's more important to live a full and healthy life than be tied to what they mean.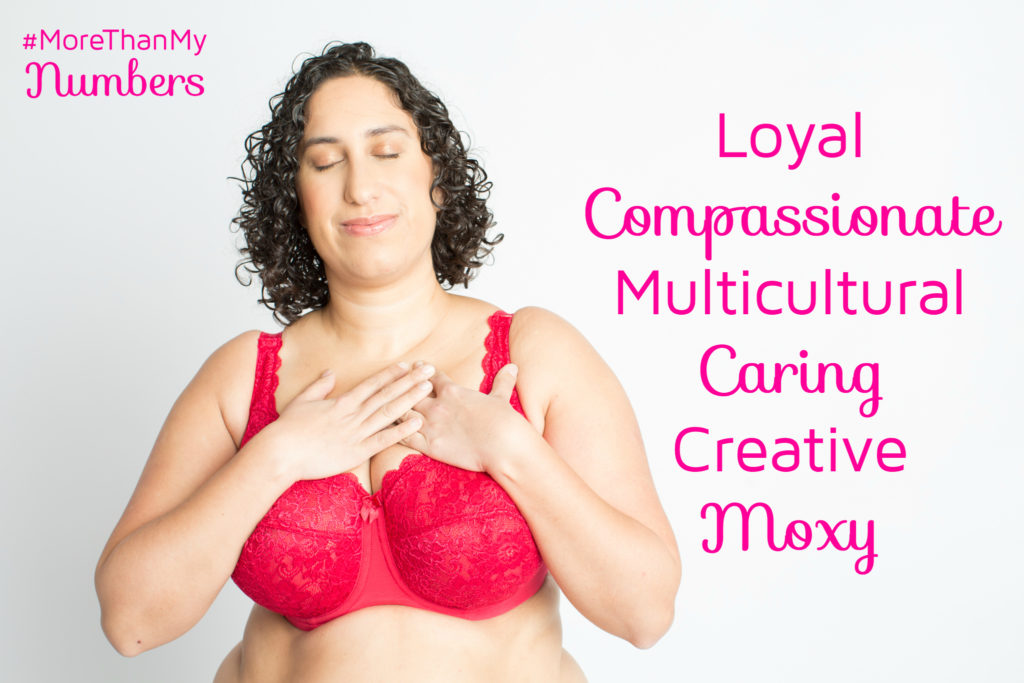 Q: What does define you – who are you to the core? 
A: I'm a loyal and caring friend. I'm a woman who can easily maneuver in many different cultural situations.  I'm a creator, a fantastic problem solver, a traveler and someone who loves to make others laugh.  I want people to feel comfortable and have a great ability to figure out what people need in order to feel that.  I'm a mash up of several cultures and proud of it.  I am uniquely me.
Q: That red Elila bra you're wearing is pretty hot. What do you like about it?
A: What's not to love??? It's a beautiful color that I think looks great against my skin tone.  I also love that the lace detail is sexy yet I don't feel like I'm unsupported.  It ticks all the boxes: great color, sexy detail, and also super functional!

Q: Who inspires you?
A: I feel so lucky to have so many amazing and inspiring women in my life!  I see devoted and hardworking stay at home mums, entrepreneurs, creators, and people working multiple jobs to support themselves.  What I find so inspiring about all of them is that they strive to live their truth while loving themselves and others.  There is magic in watching those around you live their lives boundlessly.
Q: What makes you say hurray?
A: Spending an evening with my friends sharing in good food and good company, the Wild Woman Fest, traveling and exploring, a great book that I can get lost in, learning new things.
***
Your turn: Can you relate to Liz's story? How have you let numbers define you in the past? What numbers can you choose to use as information and not a definition? Do you know anyone who struggles with weight? How can you help them, or yourself? Have you found your bra size starting point? What loving steps can you take to say hurray? What inspired you about Liz's story? Journal, brainstorm, and share with us!
Do you want to support more stories like Liz's? Join us! Learn more about how you can get involved here.
***
Sponsor Spotlight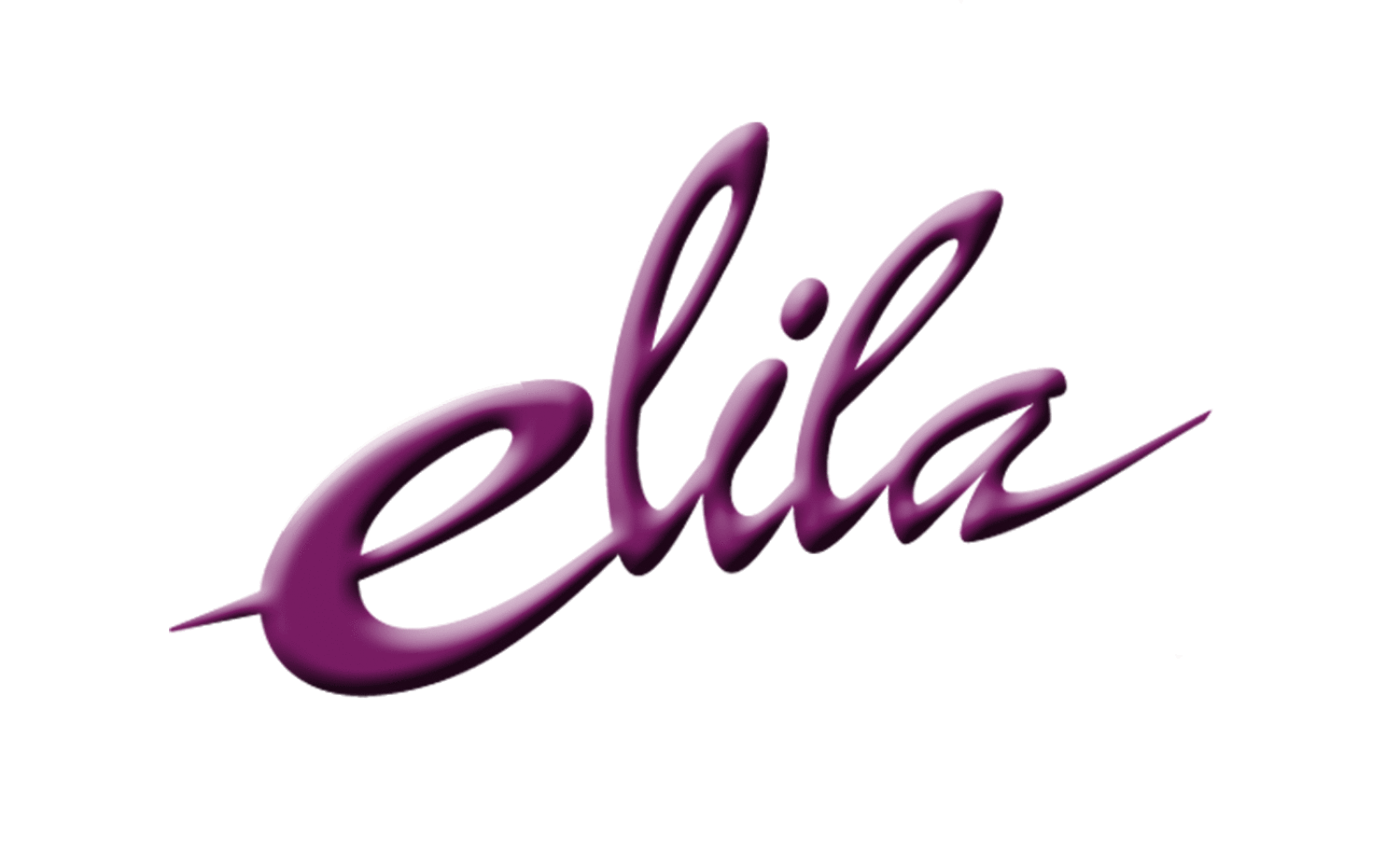 Meet Elila, the company that makes the beautiful red bra that Liz is wearing here, and who made it possible to share Liz's story in the More Than My Numbers project. The style is the 2311 Stretch Lace Full Coverage Underwire Bra in red, and the size is 36G. Elila has a great reputation for designing supportive and stylish undergarments for the fuller figured woman. Their size range is comprehensive (to say the least) with designs in B-N cup sizes and 34-54 band sizes. Elila uses firm, supportive bra band materials and a traditional bra sizing method in which they suggest adding about 4″ to your underbust measurement to find your band size. Check out their bra fitting video to get the best fit in your Elila bra.
Explore their designs at ElilaUSA.com and on Twitter, Instagram, Facebook, and Pinterest.
***
Credits: The photos of Liz were taken by Laura Boyd of Own Your Sexy with zero photo shopping, airbrushing, or editing of Liz's beautiful body. Hair and Makeup by Zulieka Acosta. The video was filmed and edited by Next Round Productions. The More Than My Numbers project was created by Kimmay Caldwell of Hurray Media.
Save
Save
Save
Save
Save
Save
Save