Wearing lingerie is already a taboo thing. But wearing lingerie meant for mastectomy patients, when I have both of my natural breasts? That's crazy… right? Here's why I did it…
"Lingerie" is a taboo word. So is "breasts" or "boobs". So is "cancer". Don't get me started on "mastectomy". These words make people uncomfortable and uneasy. They are words that are either too sexy or too scary to comfortably discuss in polite conversation. So imagine if what you do as your purpose in the world is design lingerie made for the breasts of people who have had a mastectomy because of cancer. YIKES. That's a lot of taboo words in one sentence. And yet, the women behind brands like Ana Ono and Sophia Rose Intimates continue to fearlessly share their products and message. They know that what they're doing is important, and matters, and is making a difference in women's lives.
In the past, women who have undergone surgery for breast cancer have had only a few options when it came to lingerie and bras. In recent years, they have been enjoying more and more bras with pockets, non underwire styles, and construction specifically designed for life after surgery. It's such a delight to see brands popping up who not only cater to the medical needs of a patient, but also to her feminine, soulful, stylish needs as well. Sophia Rose Intimates and Ana Ono Intimates are two brands that are really standing out in this area.
You may remember that I interviewed the founders, (along with Red Fern Lingerie), earlier on the blog. I was already so impressed with their missions and the support they are providing to breast cancer patients and survivors around the globe. And I'm also proud to say that I've had the pleasure of working with Sophia Rose and Ana Ono on marketing or short projects with my lingerie marketing company, Hurray Media. The fact that I'm able to support them and their visions has been one of the most rewarding parts of my business. But the truth is, with all that taboo-ness that I mentioned earlier, they're fighting an uphill battle. So today I'm taking that support a step further.
I want to help them. Do you? Here's one way to do it: Let's take a little bit of the taboo out of words like "lingerie", "breasts", "cancer", and "mastectomy". Let's start having conversations about this. Let's help ease the fear and discomfort and allow space for love, encouragement, and understanding. Let's create a safe environment where family members can discuss it, where friends can refer friends to great brands like these, and where the "shh don't mention that" turns into "you and this have been on my mind". Let's support the brands and the women that deal with these words, and these very real things, every day.
For me, wearing lingerie is just one of my favorite ways to love, honor, support, and adorn my body. 
For me, breasts are the guardians of our hearts – both physically and emotionally. 
For me, cancer is a disease that totally sucks, and won't end unless we talk about it, and do something about it. While it attacks the body, how can we nurture the soul?
For me, a mastectomy is a life altering procedure that takes away more than just breasts. 
So now, let's give them something to talk about. When I decided to take the plunge and start taking photos in lingerie, it was really scary. I had been asked many times to do this. And after 11 years in the industry, I thought, "why start now?" But I knew there was a real gift to give. Not the pleasure of you seeing my body (c'mon, I'm not that vain),  but the importance of showing you a real body. My body. The only one I have.
Let me be clear. When I share images, I'm usually looking my best. I have on makeup, I may have worked with a great photographer, there may be great lighting. But in some images, I'm totally bloated because my period is about to come. In some photos you may see my stretch marks or cellulite. In a few images, you may witness the soft rolls of my belly. And I do not photo shop or airbrush that away. It's there. It's who I am.
That gift I'm talking about, is seeing what a real female human body looks like. I was given that gift when I went into the bra fitting world in 2005. After treating my body like it was doing something wrong for not matching the airbrushed, superimposed images in magazines, seeing what actual human bodies looked like was a total eye opener. I saw pregnant and nursing women, I saw older and younger women, I saw women of every size… and I saw women who had been through breast cancer.
I never dreamed of ever showing my body in lingerie to anyone but my husband. But I'm taking leaps to do the "scary but significant" thing, and standing up to say "hey – this is what my body looks like" on a regular basis. And to say "hey, these brands and what they are doing matter" today. It's a big step, and it feels worth it. And you'll be seeing these images on my Instagram, and here on the blog.
The photos you're seeing below are of me wearing: lingerie made for the breasts of women who have had a mastectomy because of cancer – there, I said it! These designs are not medicinal looking, ugly, or just the bare minimum. They are beautiful, supportive, and thoughtfully designed. They are so gorgeous that any woman – mastectomy, lumpectomy, reduction, augmentation, natural – would feel her very best wearing them. I'm so proud to show you these images, and showcase this stunning underwear.
And I hope it gives you something to talk about.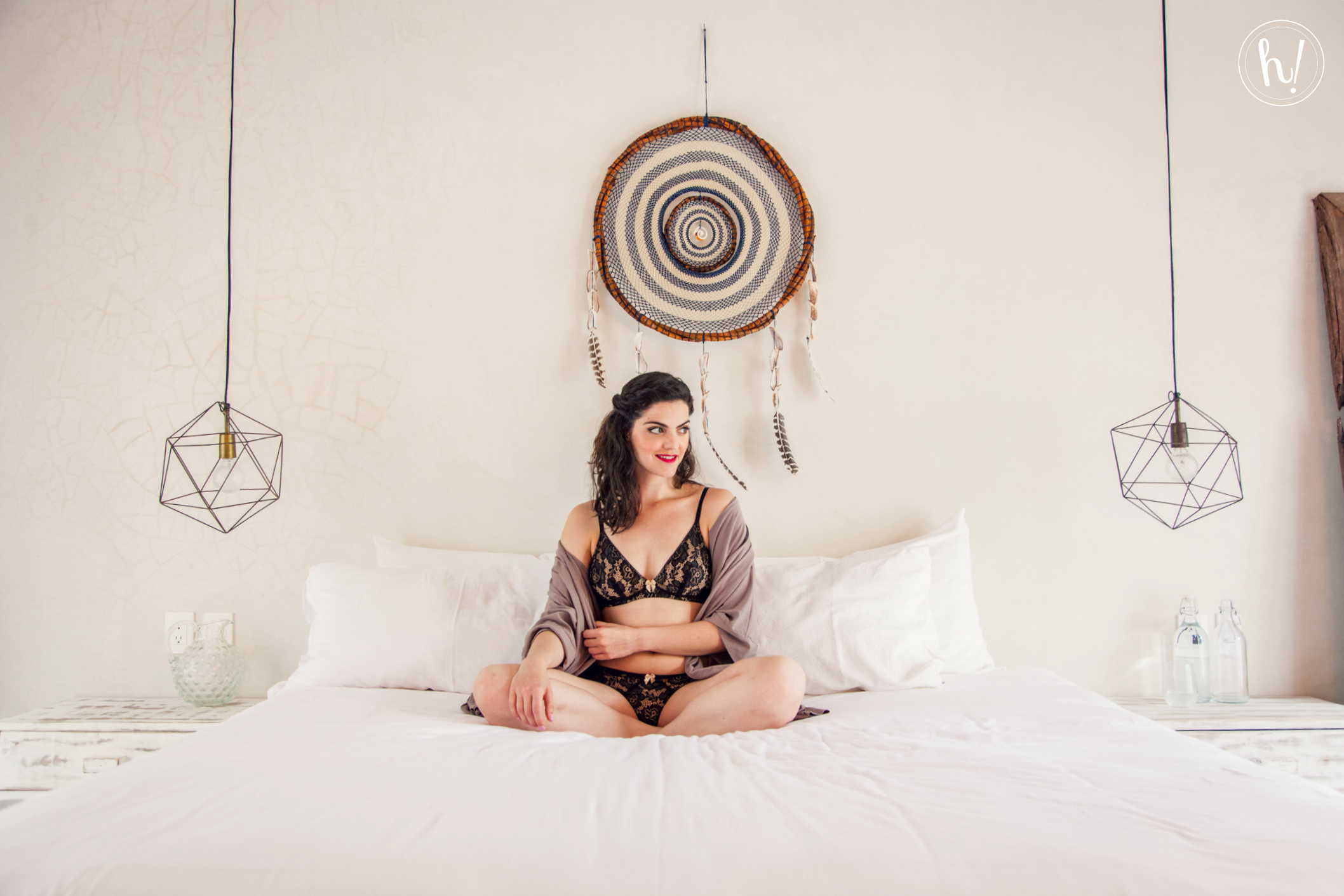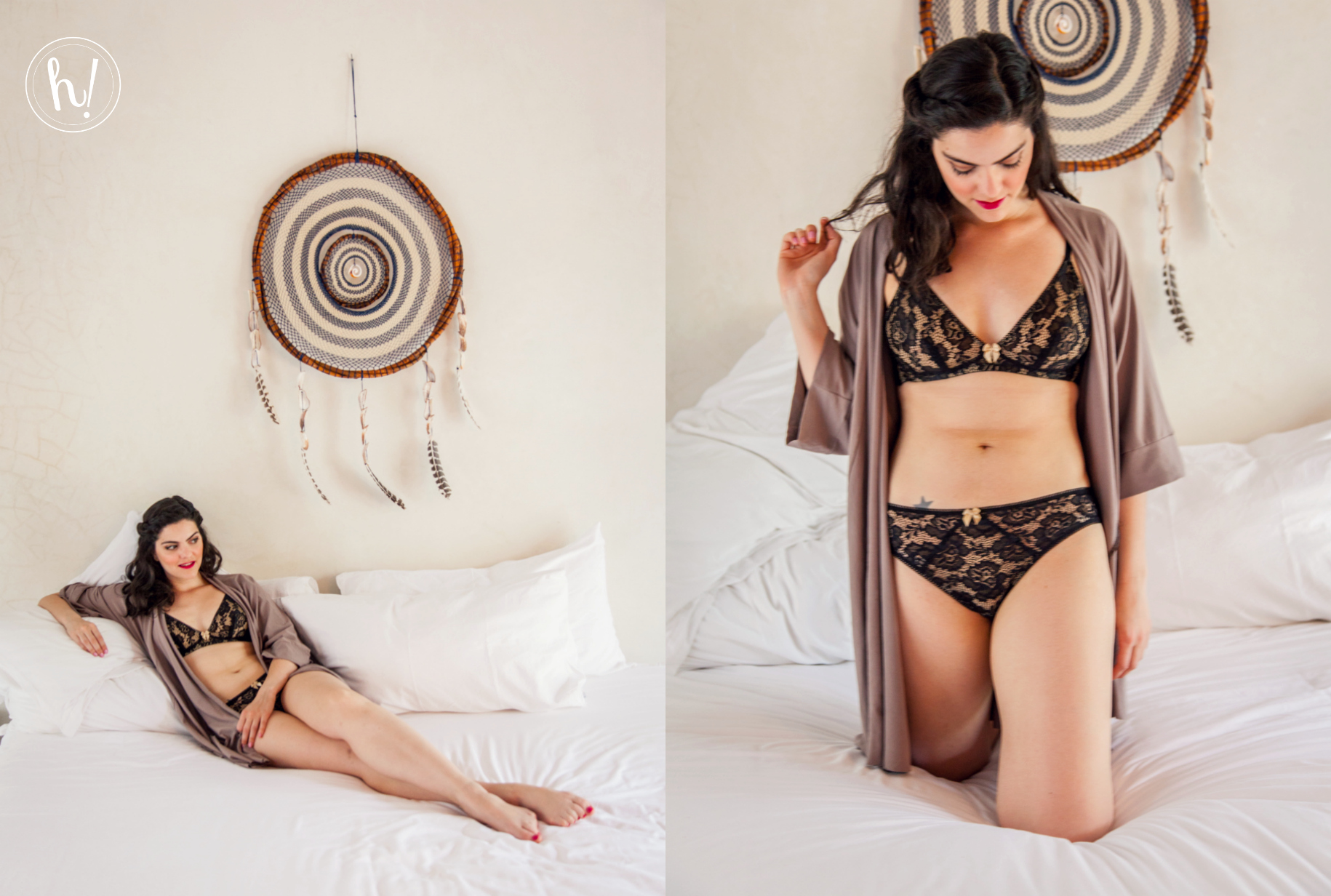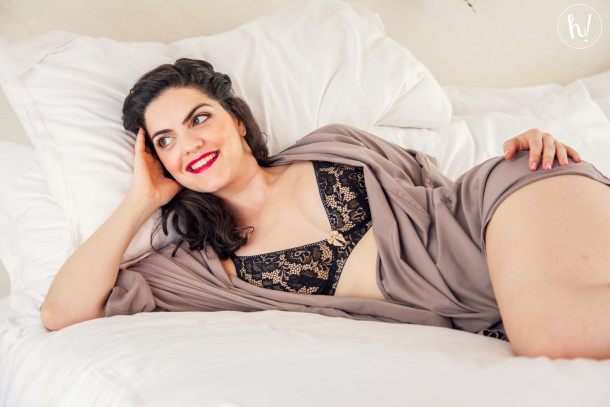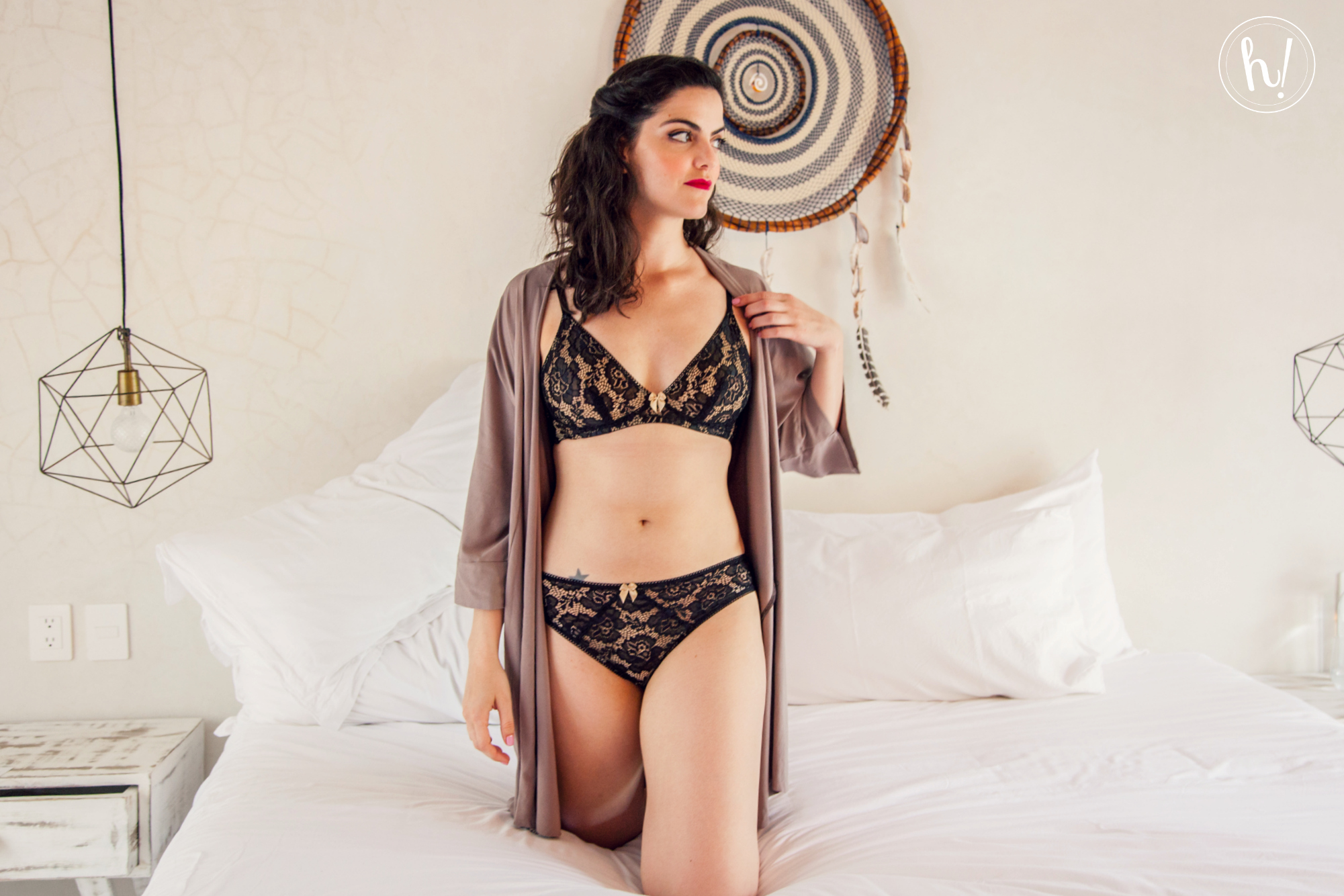 Above: This is the Rachel Wirefree Bra from Ana Ono and the matching Rachel Lace Brief. Both are available in black or ivory. This is a non pocketed bra with adjustable straps and hook and eye band, side support, and pretty but supportive lace. It's great for women who have had surgery for breast reconstruction, augmentation, lift, reduction – or "no surgery at all". The robe is from their upcoming collection of yummy (seriously, so soft) loungewear with special, hidden functions for post surgery. Stay tuned for more about this!
Personally, this was such a fun bralette to wear! It has a triangle shape, with light support built-in. I wore the small top, and was able to adjust the band and straps for a great fit. The bottoms are a medium.
A note from Ana Ono Intimates: "We initially started the line for women who've had breast reconstruction after mastectomy because there was (and still is, with the exception of AnaOno) absolutely nothing on the market fulfilling the unique needs that come along with reconstruction surgery. However, we quickly learned there were women beyond that market who want, shop and love AnaOno. If you want beauty and comfort and prefer not to give up one for the other, AnaOno is for you. It is that simple."
When I asked why they thought it was important to take the taboo out of mastectomy lingerie, their founder (and breast cancer patient) Dana Donofree, answered with this below. I tried to edit it, but I simply couldn't. It's really worth the read:
I'll be frank. Before I had a mastectomy and reconstruction, I had no idea what that actually entailed or looked like. Now I can tell you with full certainty, breast reconstruction is not a boob job. In fact, not all plastic surgeons will or can do a breast reconstruction surgery, it is important to know when choosing your doctor that they are well versed and experienced in reconstructive procedures. We sexualize the body quite a bit in our culture, both in men and women. Breasts are something we can't wait to have when we're tween girls, because society leads us to believe that's what makes us attractive. And, breasts are simultaneously exciting and embarrasing at 13. Young women can become fixated on cup size or cleavage – even going to lengths to pad and lift their own breasts to look more desirable or feminine. This entire rite of passage, this belief you grow up with, this identity, is stripped from you when you have breast cancer.

A mastectomy is, in plain words, an amputation. If cancer affects your soft tissue or fat in your limbs, you will lose that limb. Similarly, when cancer affects the soft tissue and fat that make up a woman's breast, that breast is cut off. Just like a leg or an arm. However, because breasts are so ingrained from a young age to be a part of our sexuality or our identity as a woman, it feels a little

taboo

to talk about it. Men in general don't want to think about or talk about lopping off a breast. Heck, most women don't want to do that either. Instead we talk about 'Save the Ta-Tas' or 'Go Topless' or 'Lose Your Bra' or even encourage young women to show their tits so to speak because it allows society a soft landing when talking about breast cancer. However, that can't be further from the truth.

The truth is the body part is diseased. And one of the easiest ways to begin to combat that disease is to rid the body of it. I was recently offered the privilege to pitch AnaOno to an esteemed panel of men and women. When I began to show imagery of mastectomy surgery, reconstruction drains and chest wall skin being inflated by an expander while sporting drains coming from the body both genders flinched. In order for us to fully understand the trauma, the healing, the recovery and the life women and men have after a mastectomy, we have to start talking about the harsh reality of it. Breast cancer can result in trauma. A mastectomy is major surgery. There is a loss of identity in many women, and certainly a feeling of ostracization and loneliness in men. Under clothes we may look like a healthy adult, but naked in our scarred and reconstructed bodies, we look afflicted. We can't move toward a greater understanding and acceptance, as well as education, about breast cancer until we can accept what having breast cancer entails. If I stood in front of the average person topless, despite my chest tattoos, I would look as foreign and different to them as any other amputee. We've made incredible strides with limb amputees, from treatment and prosthetics to high fashion spreads, to acceptance and body positivity. It's time we start talking about mastectomies with reconstruction as breast prosthetics, not boob jobs. And it's time we start taking breast cancer body issues seriously. We've done an amazing job in furthering research, now we need to start recognizing the seriousness of the surgery, body change and sexual dysfunction that goes along with the disease.
Photos by Becky Yee. Hair and Makeup by yours truly. On location during the Hurray Vacay at Sanara Hotel in Tulum, Mexico.
***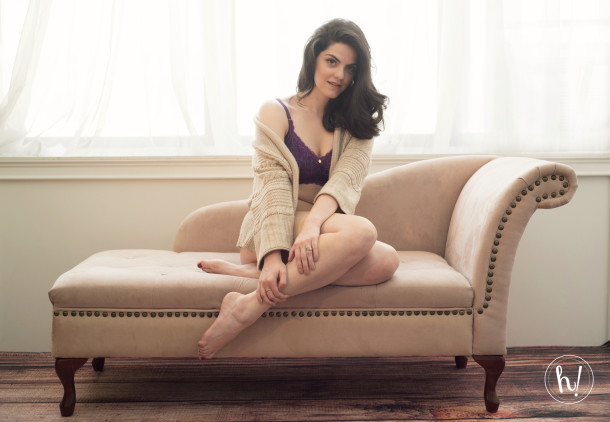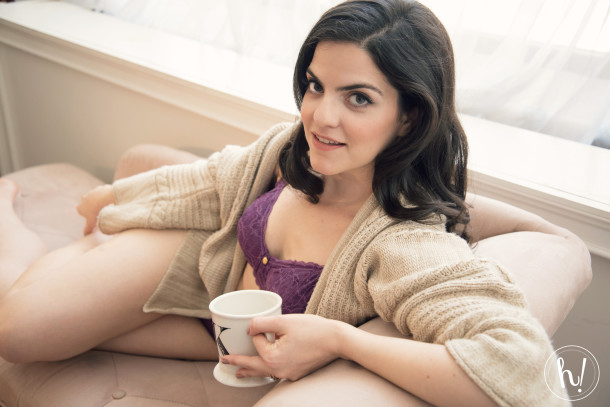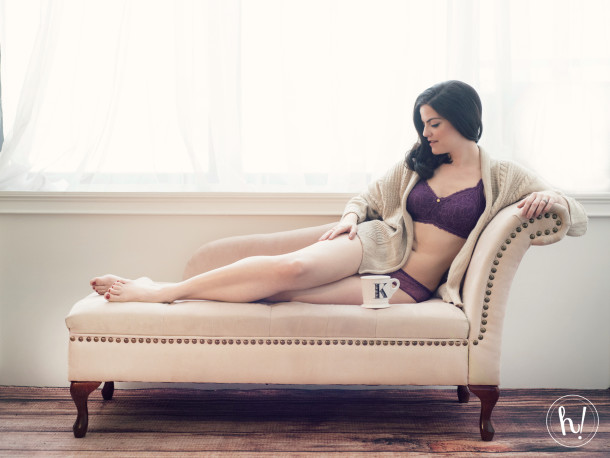 Above: This is the Sophia bra and matching Sophia panty by Sophia Rose Intimates. Both are available in Deep Violet and Bright Peony. This pocketed bra has adjustable straps and hook and eye band, super soft lace, and super supportive 4 piece cup construction. It's ideal for a woman who has had a mastectomy or lumpectomy and wears a prosthesis, or has had a breast reconstruction, reduction, augmentation, or has natural breasts.
Personally, this is one of the most supportive and comfortable bras I've ever worn – with or without an underwire! The brand has a small size range now, so I tried the 34C. It fit great with the hooks on the tightest hook. Ideally, a 32D would have fit me best in the long run. The panties are a medium.
If you're not familiar with the story behind Sophia Rose Intimates, you simply must read about them. These sisters, Carolyn and Adelene, created the line for their mom, and their passion to help her has spread to a bigger and farther reach. I'm so inspired by their dedication and hard work. And when I asked them why it's important to take away the taboo of mastectomy lingerie, the sisters put it simply and beautifully: "Beating and surviving breast cancer is tough enough. Breast cancer survivors shouldn't be made to feel different and alienated when shopping for underthings." Huge hurray for that!
Photos by Carmen Rubio. Hair by Desiree of Swept Away Hair Designery. Makeup by Tiffany of A Tiffany Bride. Styling by Gisela Viera. Shot in Carmen's studio in Long Island City, NY.
***
Do you know someone who has had surgery due to breast cancer? Let her know about these brands. Tell her you care and her needs are not going unnoticed. A few brands she can try:
And give these brands a try for yourself! It's OK to wear a bra with a pocket or that was made for a woman with cancer in mind. I promise. Carolyn, of Sophia Rose Intimates, agrees. When I asked her why someone who has not had a mastectomy may want to wear a pocketed bra, she answered: "you can show support and solidarity with breast cancer survivors! And if you find them pretty and supportive, the fact that the bra has a pocket shouldn't be a deal breaker. It's not unlike bras that have pockets for inserts!" Good point.
Support these small businesses and the women they serve by making your own purchase of a bra if it suits you, or try a panty or thong. Help me take the taboo out of mastectomy and post surgery lingerie. Help all women and people be able to say hurray for lingerie!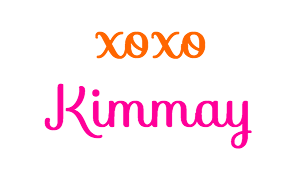 Save