October. Breast Cancer Awareness Month. There's a lot of controversy around this month recently. Is it really doing anything? Do we just "think pink" for a month and then forget about it? Are we spreading awareness without searching for a cure? There's a lot to think about here. There's a lot at stake.
As a lingerie enthusiast and bra fitter, I have helped many many many women shop for their post surgical needs – and not just in Octobers. I've had the honor of helping women who have undergone lumpectomies, mastectomies, reconstruction, augmentation, reduction and even tattooed nipples. In fact, out of the thousands of women that I've helped shop for bras, some of the women whom I've helped after surgery are those who have been forever branded onto my heart. As unprofessional as it sounds, I've cried right along with a customer in the bra fitting room more than once. One particular woman came in with her husband, who proudly announced that she was a survivor. The joy, relief, and love in their eyes was so prevalent. And so was the fear. Helping this woman find a bra after she survived breast cancer, assuring her that it's all going to be OK, watching her admire herself in the mirror, supporting her with far more than a supportive bra. . . I'm getting misty over here right now just remembering it!
Meeting the women behind the whole breast cancer awareness campaigns is important. Maybe you already know some, because (like me) your friends and family members have been affected. Maybe you, yourself, are a survivor. Getting to know YOU is what's so important to me – not just "thinking pink". Because you're the woman who asks me "where can I find mastectomy bras for my mom" or "how can I find pretty pocketed lingerie?" That's why I'm so excited for this post. I'm sharing much more than pretty lingerie. I'd like you to meet the women behind three NEW lingerie brands for breast cancer survivors. Not only are these fellow lady bosses building brands focused on providing new, beautiful post surgical lingerie, they are also each directly connected to breast cancer.
I'm so pleased to say HURRAY for these women! Get to know Dana from AnaOno Intimates, Adelene and Carolyn from Sophia Rose Intimates, and Tina from Red Fern Lingerie.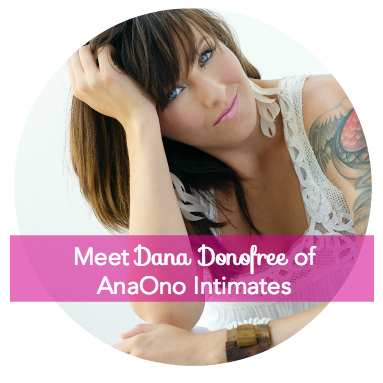 Brand name: AnaOno www.anaono.com

Founded by: Dana Donofree, a 10-year fashion veteran and Savannah College of Art and Design grad who happened to get breast cancer when she was 27. That changed everything, and she started her own line, AnaOno.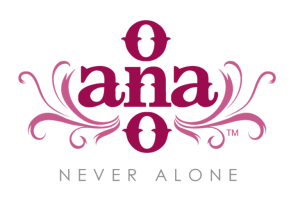 How long have you been in business?  AnaOno officially launched in the Spring of 2014, but had its first sale in fall of 2013.
Why did you start this business? After a bilateral mastectomy and breast reconstruction, I didn't realize how difficult it would be to find a bra that fit, wasn't uncomfortable or beige and utilitarian. My doctor suggested sports bras and camisoles, but that wasn't for me. I wanted to be able to wear bras like the ones I had before cancer: lacy, pretty, sexy, empowering. After months spent in tears in dressing rooms, it occurred to me, as a fashion designer, I had the opportunity to make a change. I had spoken already with so many women who expressed the same frustration as I had, so I knew I had to do this. I was going to be the one to create an intimates and apparel line for women who've had breast surgery because of cancer. And I knew I wanted that line, AnaOno, to help make them feel beautiful, confident and proud; all of the things we hadn't experienced when shopping for a traditional bra.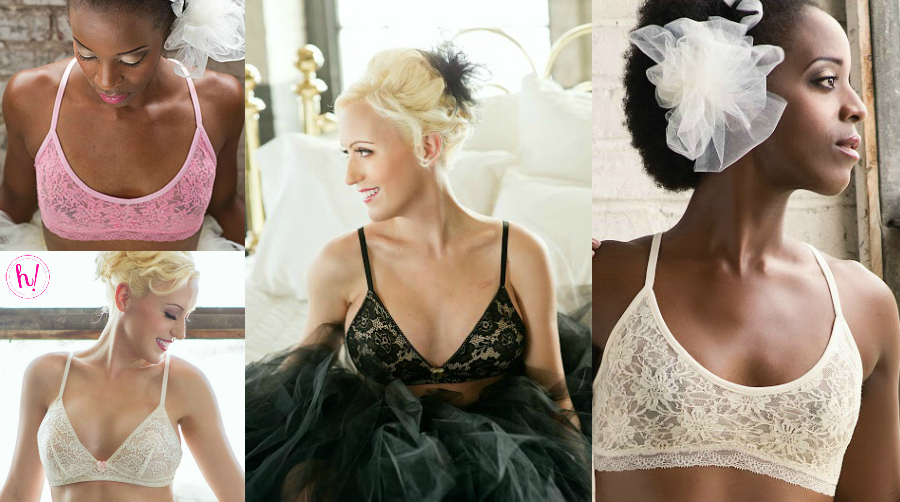 Who is your line for? At first, the line was designed for women who'd had breast reconstruction surgery (either implant or FLAP) after breast cancer. But, we're finding women who've had unilateral and bilateral mastectomies without reconstruction wanting our product. Once our reputation grew, we started getting interest from women who've had any type of breast surgery, from lift to augmentation to reduction. We've also had trans women buy our product, as well as women who've never been through surgery but wanted something different. Ultimately, we want our line to be for anyone who is looking for a different fit, different experience and different style so they can feel beautiful. We want our clients to feel their very best when they put on an AnaOno bra.
What makes AnaOno different from other mastectomy bra brands?  The term "mastectomy bra" can be a very touchy set of words. We have yet to roll out a pocked bra collection, specific for women who have prostheses, so we have heard our fair share of disappointment from women who do use a prosthetic. However, we are planning a line for Spring 2016. For many women THAT is a true mastectomy bra. What makes us different from the current selection available to women who have had breast cancer surgery, is fit, comfort and style. I know first-hand what someone post-surgery is looking for, so I've designed accordingly, including lack of underwire, lack of nipple apex, lack of molded cups instead introducing a seamless, sexy, feminine design with comfortable fabric that forms to the woman,  rather than expecting the breast to form to the design.
What makes you say hurray for lingerie? Oh, so many things. It's the base of an outfit. It IS the ultimate basic. It's the one layer than can really set the tone for the day and bring out your personality. It also carries the weight of being something that transforms you. In certain lingerie you're comfortable and in for the night. In other pieces you can go from the boardroom to the bedroom and feel in charge the entire way. Lingerie is innately feminine. It is something for us and us alone, and sometimes for our significant others as well. That's why AnaOno works so hard to create beautiful, feminine bras that can take on the task of fitting so many personalities and with so many options.
***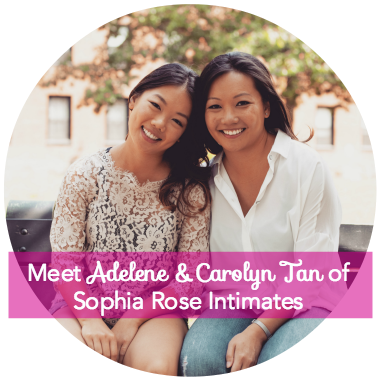 Brand name: Sophia Rose Intimates www.SophiaRoseIntimates.com
Founded by: Sisters Adelene and Carolyn Tan

How long have you been in business? We have spent the last 3 years perfecting the fit and details of our first collection, which we are so excited to launch later this year! You can sign up for our newsletter to be the first to see our reveal, Winter 2015.
Why did you start this business? Our mom is a breast cancer survivor who had a bilateral mastectomy in 2012. After her surgery, she found that there were very few beautiful and feminine pocketed mastectomy bra options in the market – almost everything looked dated, functional or did not fit comfortably. We started this business to bring back style, comfort, quality, and above all, fun to intimates shopping. Not just for mom, but for all breast cancer survivors.
Who is your line for? Our mom, who has been the inspiration behind Sophia Rose Intimates and all the other breast cancer survivors who are looking for beautiful and comfortable intimate apparel! Our debut collection will include a pocketed mastectomy bra, a thong, and a brief. The bra is carefully designed to support a prosthesis, which is very heavy. It can also be worn with inserts or nothing at all, or after reconstruction. In essence, it's a great wire free bra for any woman.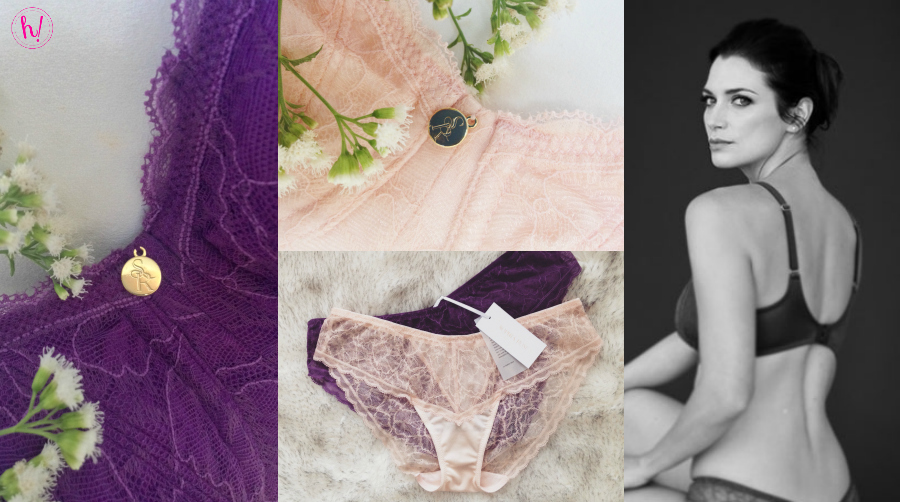 PS: These photos are a sneak peek! Sophia Rose Intimates is revealing their line this Winter.
What makes Sophia Rose different from other mastectomy bra brands? We have created an intimates brand for breast cancer survivors that crave something different than what is on offer from the traditional mastectomy bra brands. When we asked survivors what they wanted from their lingerie and support, style and color always came up. We listened, and now we are giving them exactly what they asked for. Sophia Rose Intimates is a holistic brand that provides breast cancer survivors with pretty, delicate and comfortable intimate apparel as well as relevant lifestyle posts, encouragement, and community.
What makes you say hurray for lingerie? Well-made, beautiful, supportive, comfortable and detailed lingerie that makes you feel great and gives you confidence.
***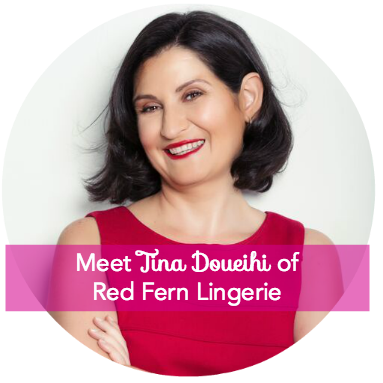 Brand name: Red Fern Lingerie www.RedFernLingerie.com
Founded by: Tina Doueihi, a breast cancer survivor.  I was diagnosed with breast cancer in April 2008.  I was 37 and I had a mastectomy, immediate reconstruction, chemo and now tamoxifen for 10 years.

How long have you been in business?  I officially launched Red Fern Lingerie in May this year (2015) and have worked on the lingerie in research, development, samples and testing for the past 4 years.  Since launch I have secured stockists in well-respected mastectomy lingerie boutiques in Sydney, Canberra, New Zealand and USA.
Why did you start this business? I have always loved lingerie and was horrified at the lack choice in lingerie when I went for my first fitting.  The lingerie looked like it belonged on my great great grandmother.  There was no colour, no style.  It just felt clinical and beige.  This made me think of my sister survivors who need to wear mastectomy bras to fit the prosthesis and the limited range available to them. I was 37 years old and wanted to feel like the young woman I am, not the breast cancer woman wearing functional and boring bras. I wanted to wear fashionable bras. I wanted to have the same choice as other women when it came to lingerie purchases. So I thought if the lingerie market no longer sees myself or my sister survivors as women, I will create a brand that understands breast cancer survivors who want that choice returned to them. That is how Red Fern Lingerie for Sexy Survivors was born.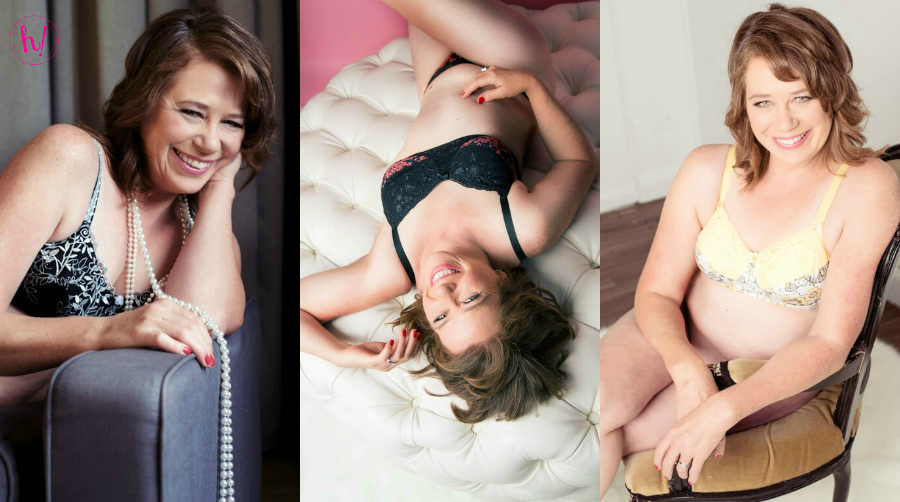 Who is your line for? Red Fern Lingerie is for any women who had breast cancer surgery and wants to wear modern and stylish sexy lingerie.  The bras are wire free, bone free and have a cotton lined pocket to fit the breast prosthesis.  They are also comfortable against the scar tissue so also ideal for women who had a reconstruction or lumpectomy who seeks comfort, support and style.  I hope by offering a stylish and sexy choice in mastectomy lingerie, my sister survivors will feel like the amazing and strong women they are and help them reclaim their body confidence.
What makes Red Fern different from other mastectomy bra brands? Red Fern Lingerie is created by a survivor (me) for survivors.  I understand the struggle to find lingerie post-surgery and treatment that meets the needs of functionality and comfort and combines this with our desire to feel like the women we are by wearing modern and stylish designs.  Red Fern Lingerie returns the choice to my sister survivors, the same choice we enjoyed before cancer tried to take it away.
What makes you say hurray for lingerie? What now truly makes me say HURRAY for lingerie is knowing that I am offering real style and colour choice in mastectomy lingerie and that this choice empowers and helps my sister survivors reclaim their body confidence, sense of self and make them feel like the amazing gorgeous women they are.
***
The passion that these women have for their brands is irresistible! What inspired you and made you say Hurray? Tell me here or send me a tweet @hurraykimmay!
Do you know a woman looking for beautiful post surgical lingerie? Share this post with her!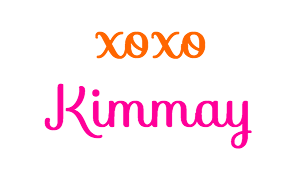 Save