Hurray for period underwear! Menstrual options have come a long way since I started in the undergarment industry in 2005. Comfortable, period underwear protection is now easy to buy, wash, and re-wear. They've become a big part of my monthly cycle! Below I'm answering a few questions about period underwear, including how I wear them, when you might want to wear them, a few favorite styles, and one of my favorite period underwear brands. (Don't miss my special discount code if you want to try them for yourself!) 
Psst! This post is sponsored by Thinx and I may receive a commission for purchases made with my code. I'm so grateful to share them with you. I always share items that I truly love and can help you say hurray.
How does period underwear work? 
Thinx are washable, and re-wearable period protection underwear that The gusset of each pair of underwear is made with special built-in period protection that wicks moisture, minimizes odors, helps prevent leaks (which keeps clothes, sheets, and everything else stain-free) and are super absorbent. 
Thinx underwear vary in style and absorbency levels which can absorb all different types of flows. Some pairs absorb up to 5 regular tampons' worth!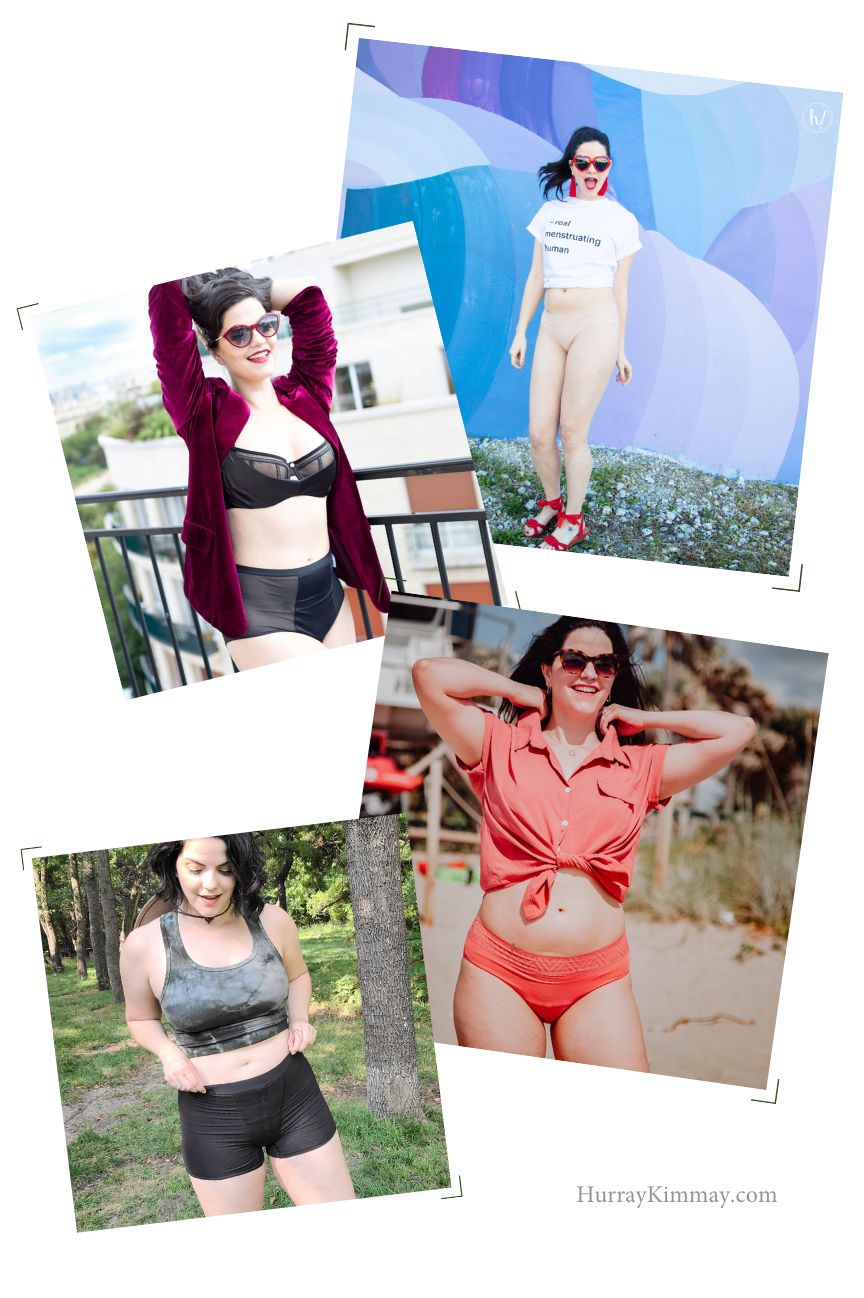 When to wear Thinx:
Thinx can be worn in several different ways! 
Just in case –

I don't know about you, but my cycle doesn't always work like clockwork. Even though I track it, I'm often a day or more off from what my app suggests, and I never know exactly what time or day or night she'll make her presence. So in the days leading up to my predicted cycle I'll slip on a pair of Thinx just in case. This has given me so much peace of mind, especially on long travel days when I thought it might arrive. Imagine being on an 8 hour flight, in a window seat, and every few moments wondering… "was that it?" Thank God for Thinx! No need to leave my seat or worry. 

Free Bleeding

– Wear Thinx alone with no other menstrual products. Some pairs can absorb up to 5 regular tampons' worth of blood and they still feel dry against my skin, and don't leak. I do this often, especially when I'm working from home, running errands, or sleeping. It's so nice to not have to wear tampons overnight!  

On heavy days

– One of my favorite things about Thinx is that they come in different absorbency levels. Their "super" level is, in fact, super! I have a pretty heavy flow, the kind where when you stand up you might feel a rush. The Super or Heavy levels are perfect for heavy days. 

On moderate to light days

– While Thinx is fabulous for the heavy flow days, they are also wonderful for light days, too. I haven't bought a panty liner in many years, and I don't have to worry that the spotting at the tail end of my cycle might turn into something heavier anymore. Thinx has me covered. 

As backup

– If you don't want to free bleed into your Thinx, they're great for catching a stray leak or overflow. I do this, too! There are some days when I want the extra security of two products: a tampon or disc, plus Thinx. Don't stress if you only wore a Regular tampon and could have used the Super. Don't worry if there's a little spillage from your cup or disc. Thinx will keep your outfits safe and your mind at ease. 
Other times I wear Thinx: traveling, working from home, overnight, out dancing, hiking, on date night, to work events, on TV, etc. How will you wear your Thinx? ​
Buy and Try Thinx Period Underwear
Try Thinx for yourself! Since every cycle is different, they are best understood by trying them out during your own. The first time I was nervous, and now I'm a devotee. Below are a few of my favorite styles. And don't forget, save $5 off your Thinx purchase with my Thinx Leaders code: LD_KIMMAY1_1
These are just the start. Explore the Thinx styles and absorbance levels!
Are Thinx Safe?
Great news! I had a chance to talk with the Thinx team one on one, and asked them some hard and serious questions. They've assured me that "Thinx are safe. Per- and polyfluoroalkyl substances, also known as PFAS, are absolutely not part of our product design." Safety is so important, so if you're curious or have more questions, this safety page on their site has loads of answers. 
Additionally, you'll find recent (and independent) articles from the NY Times declaring the same safety facts about Thinx, as well:
Are Thinx worth it?
I've been working in the undergarment world since 2005, and have tried and tested many different brands. While several have great features, I keep coming back to Thinx. I've worn them for years and years and with care they have lasted me a long time, saving me hundreds of dollars on tampons and leak-ruined clothing. 
Want your pairs to last? Learn more about how to wash your period underwear to help them last longer and work great! 
Save on Thinx
Want to try out Thinx period underwear? You can! I highly suggest building up a cycle set for yourself. Depending on the length of your cycle I wear 2 pairs on heavy days and one overnight, or 1 on light days and one overnight. You can wash and wear them again, and I like to give them a full 24 hours to dry. 
Use their Know Your Flow quiz and build your own set (you'll save on 3 pairs or more, plus stack that discount with my Leaders' code below!) 
Plus, save $5 off your Thinx purchase with my Thinx Leaders code: LD_KIMMAY1_1
For new customers, exclusions apply, and sometimes this code is stackable (meaning you can apply it along with other codes like when you automatically save money by building a set!). Share it with your friends and let them know about Thinx, too!
Free Bra Class
Want to wear a bra without ripping it off at the end of the day? Watch How to Find a Comfortable Bra Fit For Your Body WITHOUT Wasting Your Money on Bras You Dread Wearing! Plus, you'll also get Kimmay's Bra Fit Guide, and a taste of Bra Confidence & Comfort™. Watch now and don't spend another minute feeling uncomfortable in your bra.
Your turn:​ Have you tried period underwear yet? How do you wear your Thinx? Share with me over at @hurraykimmay on Instagram!