​Is an underwire or wireless bra right for you? Believe it or not, both can actually be comfortable. And there are certain times when one might be better than the other. Your favorite Undergarment Educator, Kimmay, from Hurray Kimmay is here to help you say hurray inside, outside, and of course underneath™. Read below and take a look at my quick video!
Psst! This post is proudly sponsored by my long time partner, Warners. Remember, I always share items that I truly love and can help you say hurray!
Should you wear an underwire bra?
First up, whether you wear an underwire bra or a bra at all is totally up to you. If you are going to wear one, let's make sure it's comfortable and supportive. If you're feeling uncomfortable in an underwire bra, chances are it's the wrong size or style for you. Bras are like shoes. Even the most amazing bra in a size that's either too loose or too big will feel uncomfortable all day. A well-fitting bra, even one with an underwire, should feel good. So check the fit and the size first.
One reason you may want to wear an underwire bra is: shape. An underwire bra can tack against the front of the body (see below) and the underwire will create a frame and shape for the cup. This lifted round and separated look is super popular and might be what you're going for.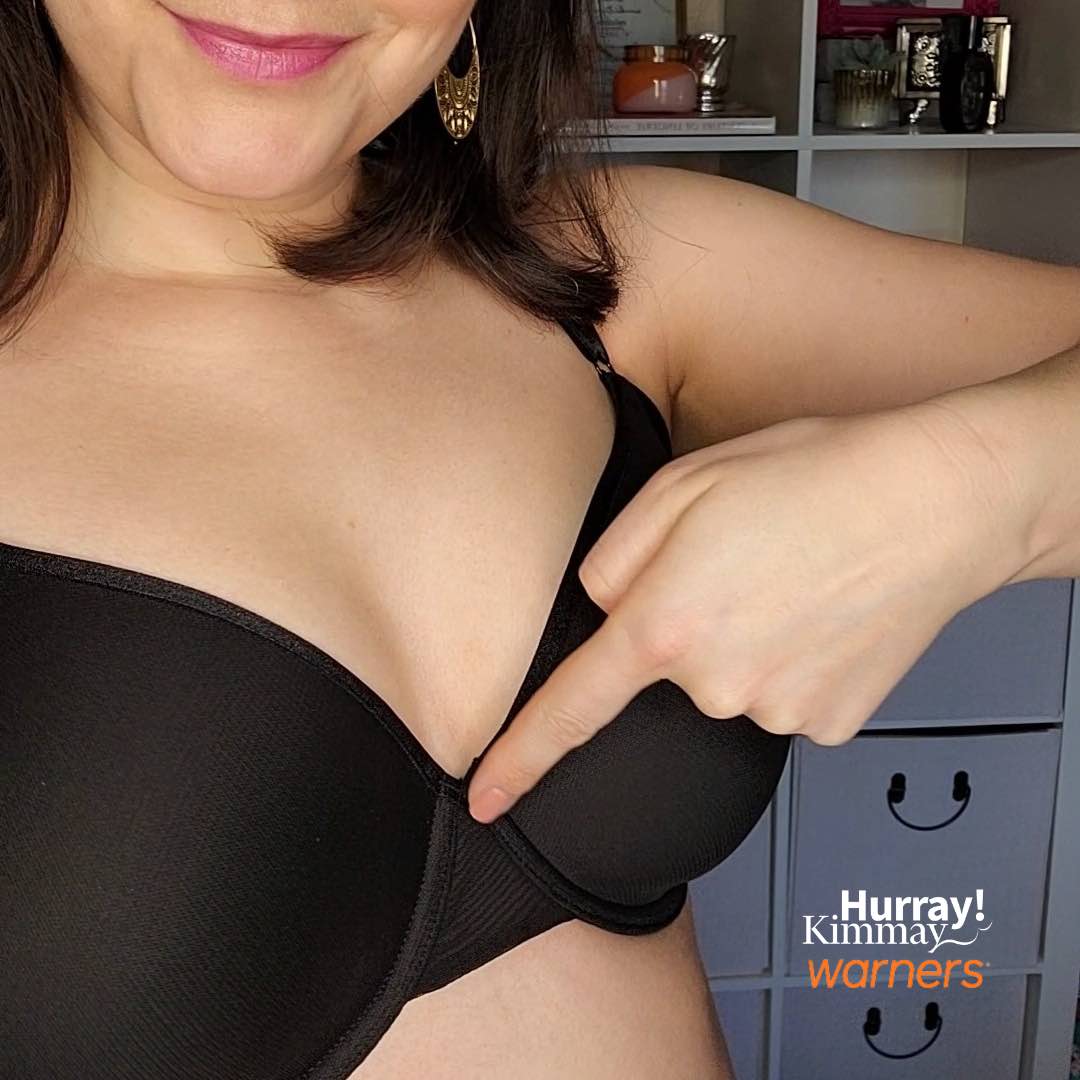 Another reason is feel. Believe it or not, some bra wearers love the security they get from wearing an underwire bra. Want to try a comfortable underwire bra? This No Side Effects Lightweight Underwire Side Smoothing Bra I'm wearing from Warners is a great example of a cozy underwire bra because of its smooth cups, wrapped underwire, and amazing back smoothing wings. Hurray!
Warners – No Side Effects Lightweight Underwire Side Smoothing Bra
Lightweight, breathable, smooth molded cups are great for a t-shirt
Elastic-free sides for a seamless look
Easy to reach front-adjustable straps
Underarm and back-smoothing criss-cross panels
Sizes: 34-40 band, US B-DD cups
When should you wear a wireless bra?
Some reasons or seasons when a wireless bra might be best for you are maternity, nursing, post-surgery, sleeping, traveling, running errands, weight fluctuations, yoga or other bendy types of athletics, if you have an extended rib cage, first bras for young folks or, honestly… anytime you want!
Here's a great wireless bra suggestion for you to try! The No Side Effects Wireless Alpha Lift is a great everyday wireless bra because of its lightly lined cup (which is great for modesty and a seamless silhouette) side panels for a smooth look, and its easy sizing system makes buying your size a snap. Hurray!
Warners – No Side Effects Wireless Alpha Lift
Smooth, molded cups with slight padding for modesty and shape
Elastic free criss-cross side-smoothing panels under the arm and on the back
Inner pads in the lower cup provide a light, supportive lift (see below)
Easy to reach front-adjustable straps
Simple, easy sizing (S-3XL) fits a range of sizes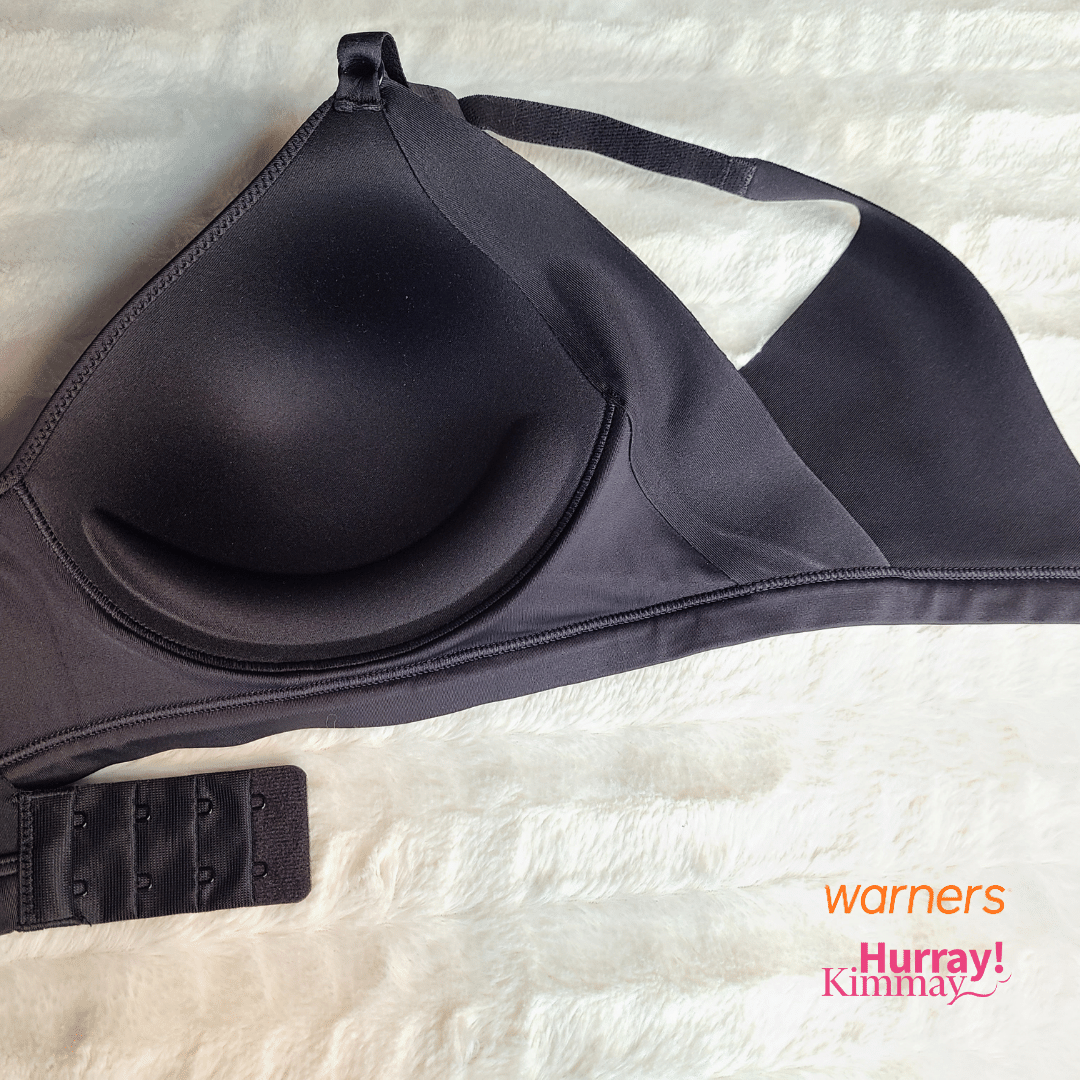 Remember that even the best bras out there need to fit in order to feel comfortable, and that comfort will provide you with all day (and night) confidence! If you wear bras, grab a spot in my Free Bra Class to check on the fit of your bras and take your first step toward saying hurray inside, outside, and underneath™!
Free Bra Class
Want to wear a bra without ripping it off at the end of the day? Watch How to Find a Comfortable Bra Fit For Your Body WITHOUT Wasting Your Money on Bras You Dread Wearing! Plus, you'll also get Kimmay's Bra Fit Guide, and a taste of Bra Confidence & Comfort™. Watch now and don't spend another minute feeling uncomfortable in your bra.
Your turn: So, which style bra is right for you? Underwire, wireless, or both? Find out more hurraykimmay.com/warners or shop for Warners at your favorite store! Share your thoughts or experiences with me @hurraykimmay on Instagram!

Credits: This post was proudly sponsored by Warners! I always share items and information that I know will help you say hurray.