Looking for some good leggings? Look no further! Leggings go waaaay beyond your favorite yoga pants these days. There are fashion leggings meant to be worn as pants, cozy leggings for lounging, and even maternity leggings! Whether you pair them with a sports bra, oversized sweatshirt, or a gorgeous blouse, there are some great options below. Browse the styles here and Buy & Try leggings for many sizes, styles, and needs. Hurray!
Psst! Some of the brands linked here are proud partners of mine (so grateful to share them with you!) or I may get a small thank you if you purchase through me. Your purchase through those links like these helps a lot in keeping articles like this coming your way. I always share items that I truly love and can help you say hurray!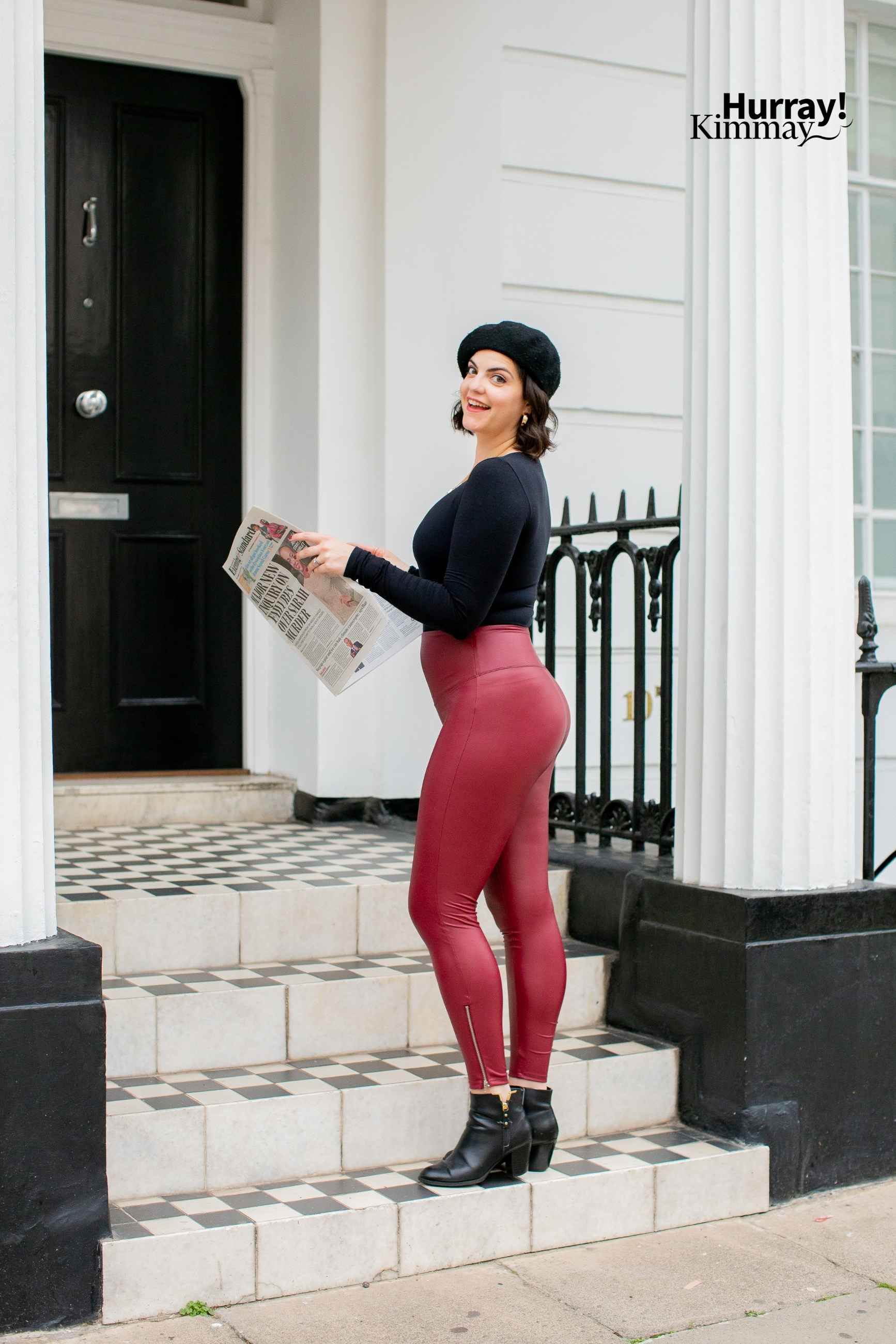 When can you wear leggings?
Short answer: whenever you want!
That being said… leggings are quite controversial. There's a strong contingent of folks that think leggings should only be worn as pants for flexible athletic activities like yoga. While that is a prime opportunity to wear leggings, there are so many other ways to wear them!
A few options below:
Pair cozy cotton or waffle leggings with an oversized sweatshirt or a very popular plaid shacket and chunky boots. Add a scarf and hat and it's a perfect Fall outfit for apple picking or a pumpkin patch!
Wear a faux suede/leather pair with a bodysuit (like I did in the photos here!) and booties for a sleek look. For an extra smooth look, try a pair with some tummy support if that floats your boat!
Turn a boring outfit into something fun with printed leggings!
Add leggings to a short summer dress to transition it into colder months.
Travel in leggings on long trips for extra comfort and flexibility in confined spaces. 
Go hiking or running in athletic leggings and keep your thighs from chaffing. 
Wear a pair with a cropped bra top and add an oversized blazer for a chic, boss babe look.
Tuck your leggings into tall riding boots and add a quilted vest and turtleneck for an equestrian inspired look.
However you want!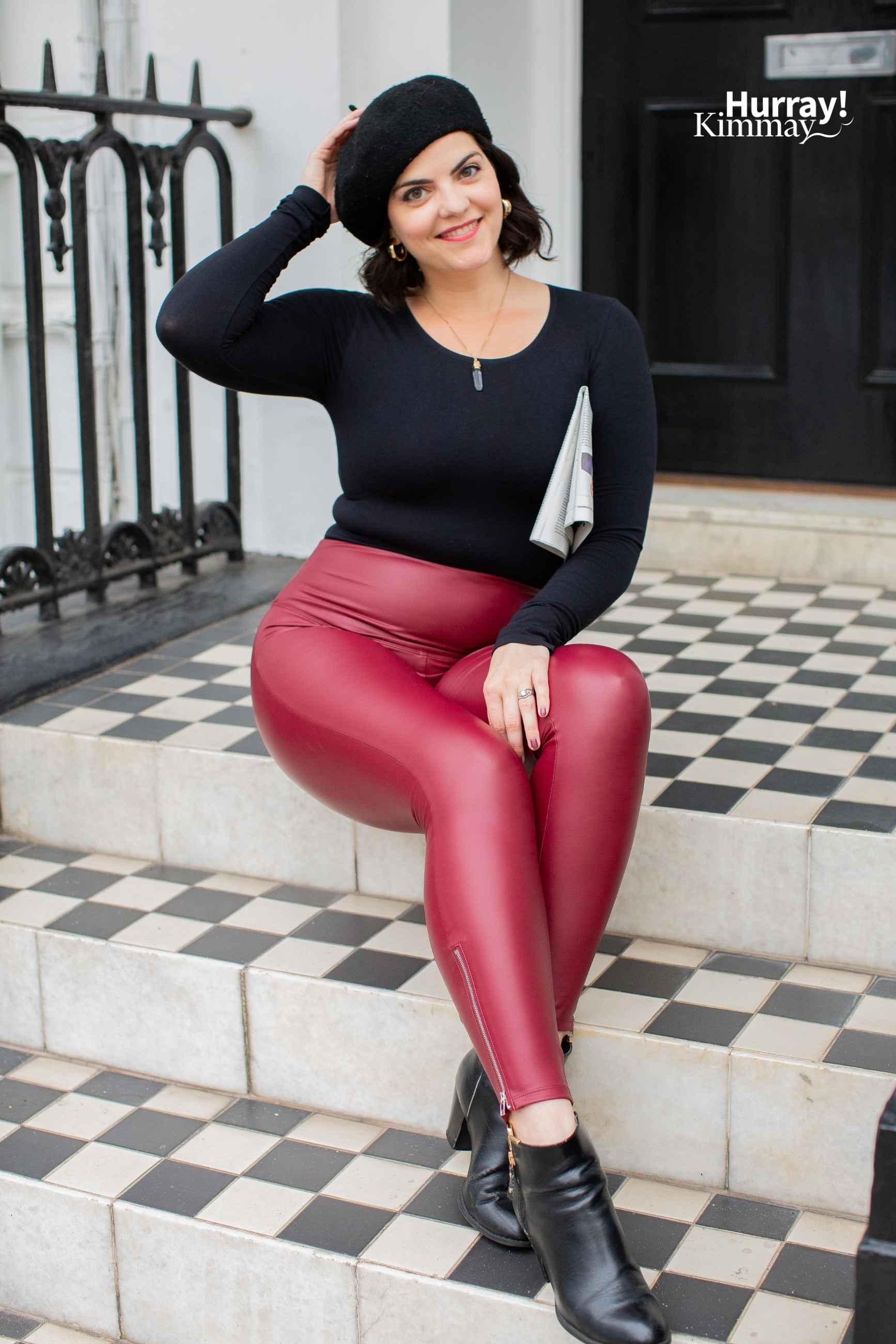 Tips for Wearing Leggings
Leggings are pretty easy to wear – they usually just slide on and the stretch in the material fits and forms to your body. Easy peasey!
But there are a few fit and style tips that will make wearing leggings that much better. Hurray!
Wear what fits. This goes for ALL clothes and undergarments. You'll always feel best wearing what fits YOUR body best. If that means you need to go up or down a size, do so!
Maybe size down. That being said, leggings are meant to fit snug to the body and they often stretch out the longer you wear them. So don't be afraid to size down and allow them to wear in a bit. But please don't force your lovely body into something that feels awful! Wear what feels good.
No VPL. For a seamless look in leggings, pay attention to what you wear underneath! Some folks I know go without underwear at all in their athletic leggings. Personally, I want to wear a layer between me and my pants! If that's you, too, try a thong or seamless underwear underneath your leggings. Check out this blog post on What to Wear Underneath Leggings and Tight Pants. (And if you don't mind a VPL or "visible panty line", then don't worry about it! Your body. Your style. Your choice.)
Opacity. Some leggings are more opaque than others. If you're wearing them underneath something that covers your bum and hips, no biggie. But if you'll be doing squats or attending an event, you might want something made with thicker or less see-through material. The best way to gauge this is to try them on yourself or read reviews on the shopping page!
Wash them well. If your leggings are made of a stretchy material (like, um, all leggings) then you'll want to make sure you wash them in a special way! Elastic or stretch material needs more care than your regular t-shirt or jeans. Follow the instructions on the tag or get tips on my favorite soap to keep things stretchy and wash tips here: hurraykimmay.com/care (There's a special quick video on how to care for sports bras and activewear!)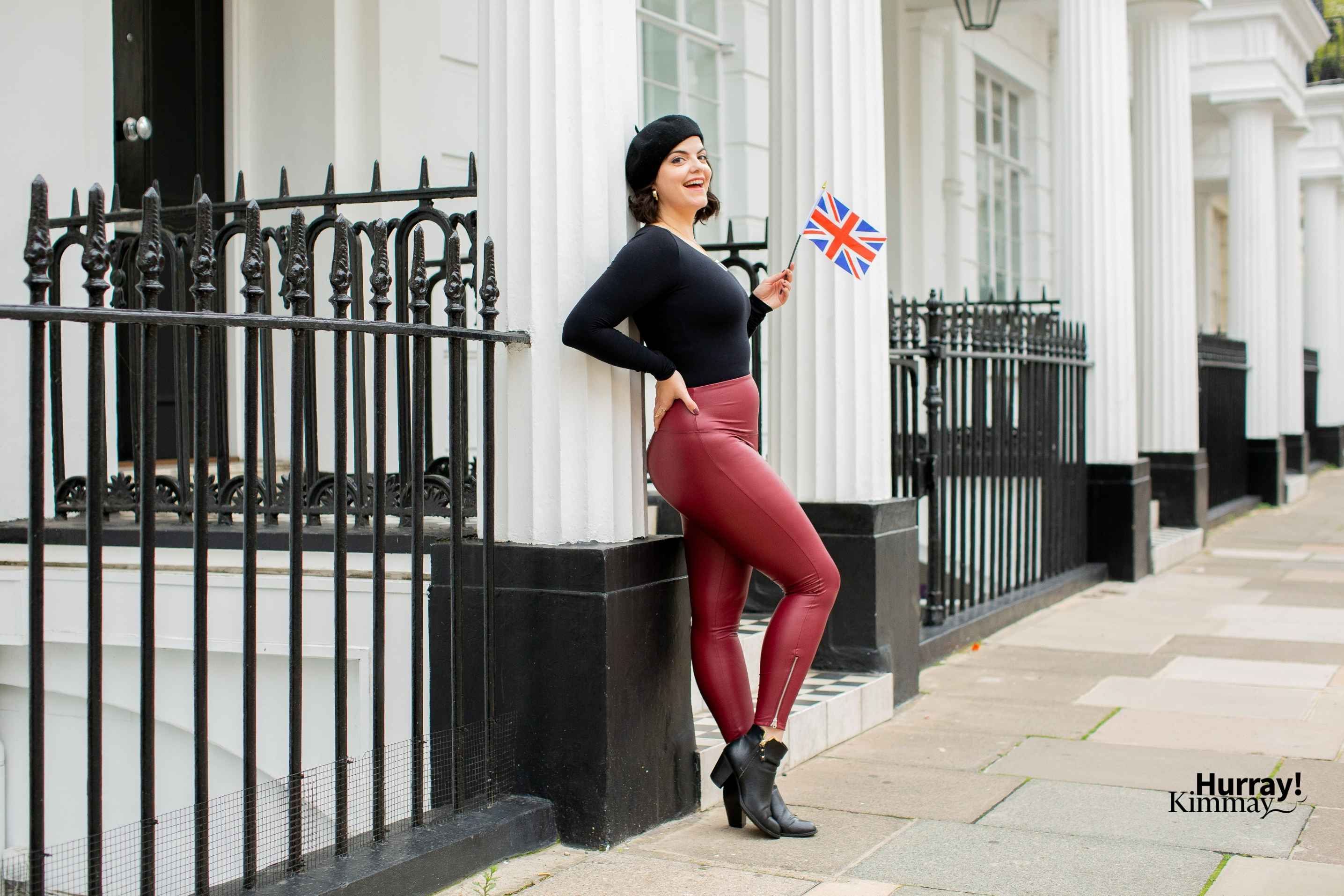 Buy & Try
Ready to buy and try some leggings? Hurray! Below you'll find leggings of many kinds. From fashion leggings (meant to be worn as pants with a killer outfit) to athletic leggings, and maternity to cozy leggings. Take a look and see what makes YOU say hurray!
Yummie – Faux Leather Shaping Legging [Use code YxKimmay20 for 20% off!]
Commando – Faux Patent Leather Perfect Control Leggings
MeMoi – Side Sequin Leggings
INC International Concepts – Faux Leather Ankle Length Skinny Pants
Plus/Extended Size Leggings
Reprise x Poppy Row – Sage Legging
Old Navy – Mid-Rise PowerPress Crop Leggings
Girlfriend Collective – FLOAT Ultralight Legging
Just My Size – Hanes Curves Comfort Leggings
Athletic and Yoga Leggings
Under Armour – Meridian 7/8 Length Leggings
Hanes – Performance Capri Leggings
Adidas – Adicolor Trefoil Full Length Leggings
Nike – Essential Futura Leggings
Natori – Solstice Cropped Leggings
Black Milk – Dark Roses HW Velvet Leggings
Calvin Klein – Printed High-Waist 7/8 Length Leggings
Style & Co – Plus Size Printed Leggings
Felina – Essentials Soft Suede Mid-Rise Legging
Aerie – OFFLINE Main Squeeze Seamless High Waisted Waffle Legging
Fabletics – Waffle High-Waisted Legging
Montelle – BodyBliss Breeze Collection Capri
Tummy Control/Shaping Leggings
Belly Bandit – Mother Tucker Leggings
Style & Co – Cropped Tummy-Control Leggings
Yummie – High Waist Tummy Shaping Legging [Use code YxKimmay20 for 20% off!]
Spanx – Look At Me Now Tummy Control Leggings
A Pea in a Pod – Luxe Essentials Secret Fit Belly® Cropped Maternity Leggings
Belly Bandit – Bump Support™ Capri Leggings
Fabletics – High-Waisted PureLuxe Maternity 7/8
Ideology – Maternity Ankle Leggings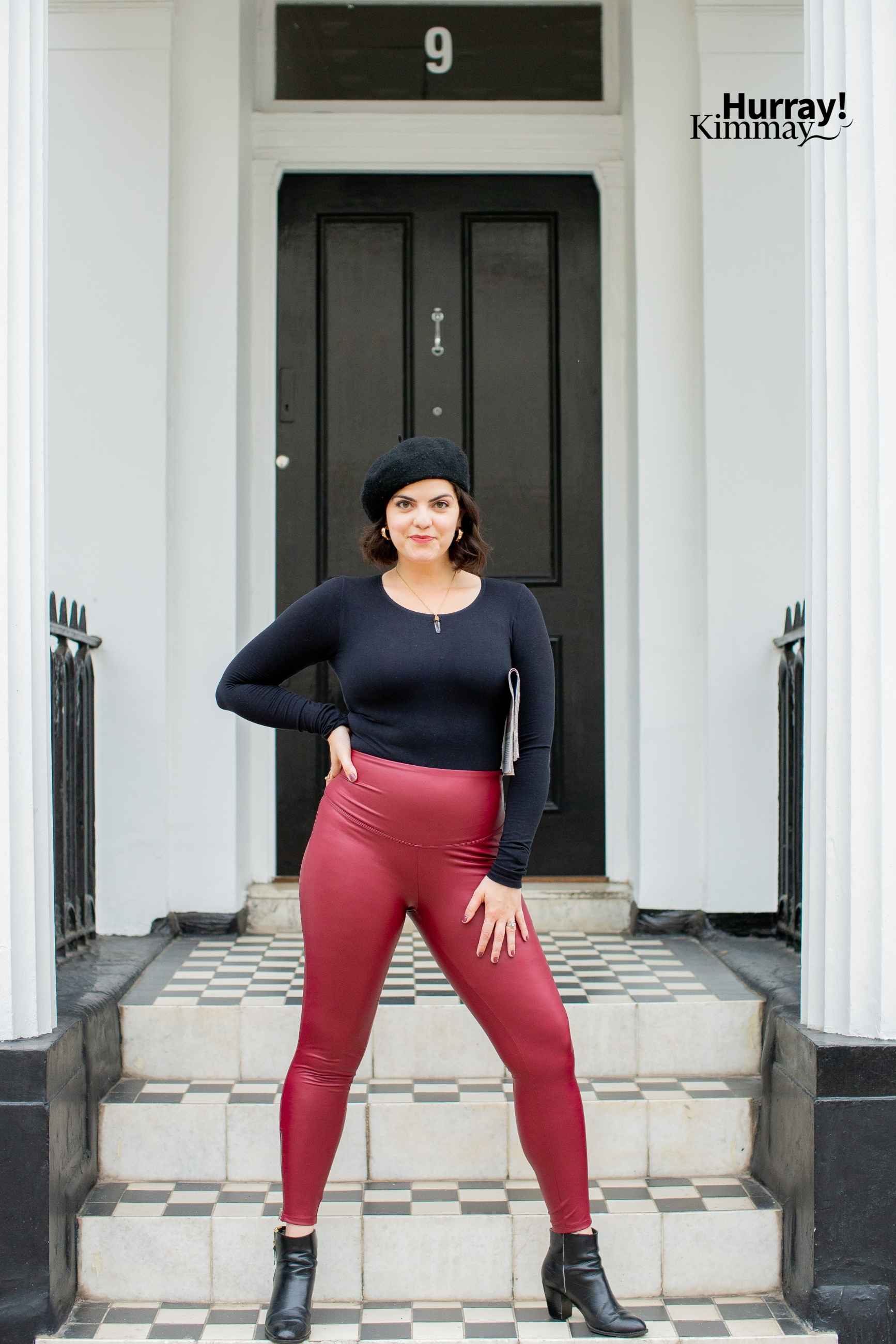 Your turn:
These are just a few of the best leggings to buy & try for yourself. Which will you try? What leggings brands do you love the most? Come share with me
@hurraykimmay
on Instagram!

Credits: Images by The Scandi Sisters during a #hurrayvacay to London! Wearing Yummie leggings and bodysuit – proud sponsor of Hurray Kimmay! Use code YxKimmay20 for 20% off your purchase at Yummie!