When scouting locations for the Out on the Range photo shoot here in Oklahoma I was lucky enough to have a local friend suggest we use a place she knew. It had horses, dirt roads, and even a cactus garden! All very foreign and exciting to a NYC girl like me. But the thing that caught my attention right away: an old Jeep station wagon, sitting out in the back with piles of old scrap wood to either side and the bright Oklahoma sky behind it.
Though it had been left there long ago and was deteriorating, it looked like art to me. So I jumped up on it and had my friend take a photo or two, just to see what it looked like. No surprise here: it looked so cool! When we came back for the shoot this was the very first location we used. And I'm so glad! Because this rocking outfit looks so perfect with the car.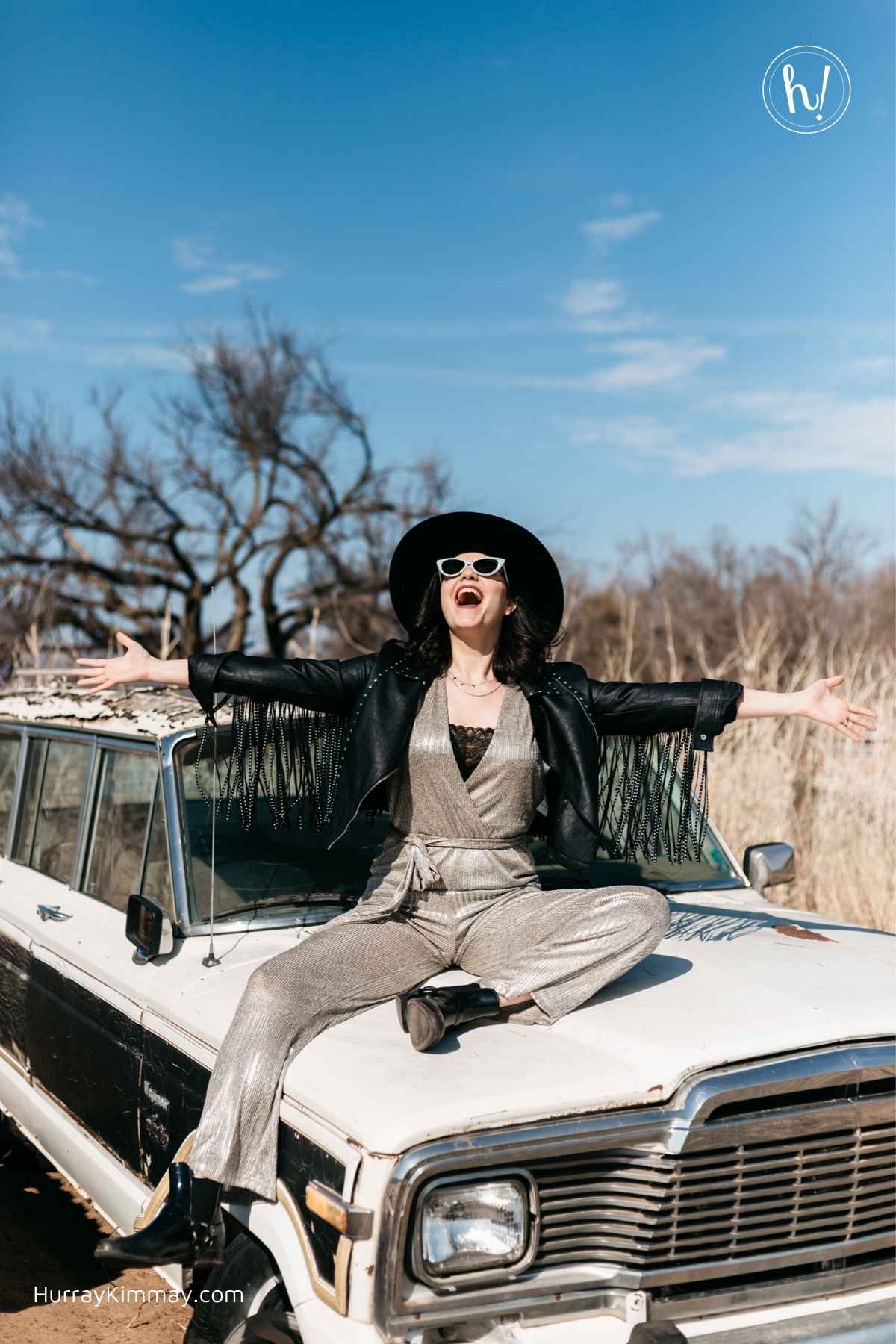 Fun fact: I never owned a car until I moved to Oklahoma. I moved to NYC just 2 months after getting my driver's license and I barely drove. I mean hardly ever! I think of cars and mechanics like bras and bra fitters sometimes. I needed help buying a car (just like some folks need the support of a bra fitter), and I was driving around a big investment that I use almost daily and had no real idea how to care for it (like the everyday bras that most people wear!). As an Undergarment Educator, my goal isn't to make you a mechanic (or a bra fitter), but to help you know the basics so you can buy, wear, and care for your bras and know when to get professional help! Want some support? Sign up for my Free Bra Class here!
Enough about cars. It's time to shop! Take a look at this cool outfit below and shop what I'm wearing.
Psst! Some of the brands linked are proud partners of mine or I may get a small thank you if you purchase through me. Your purchase through those links helps a lot in keeping articles like this coming your way. As always, share items that I truly love and can help you say hurray!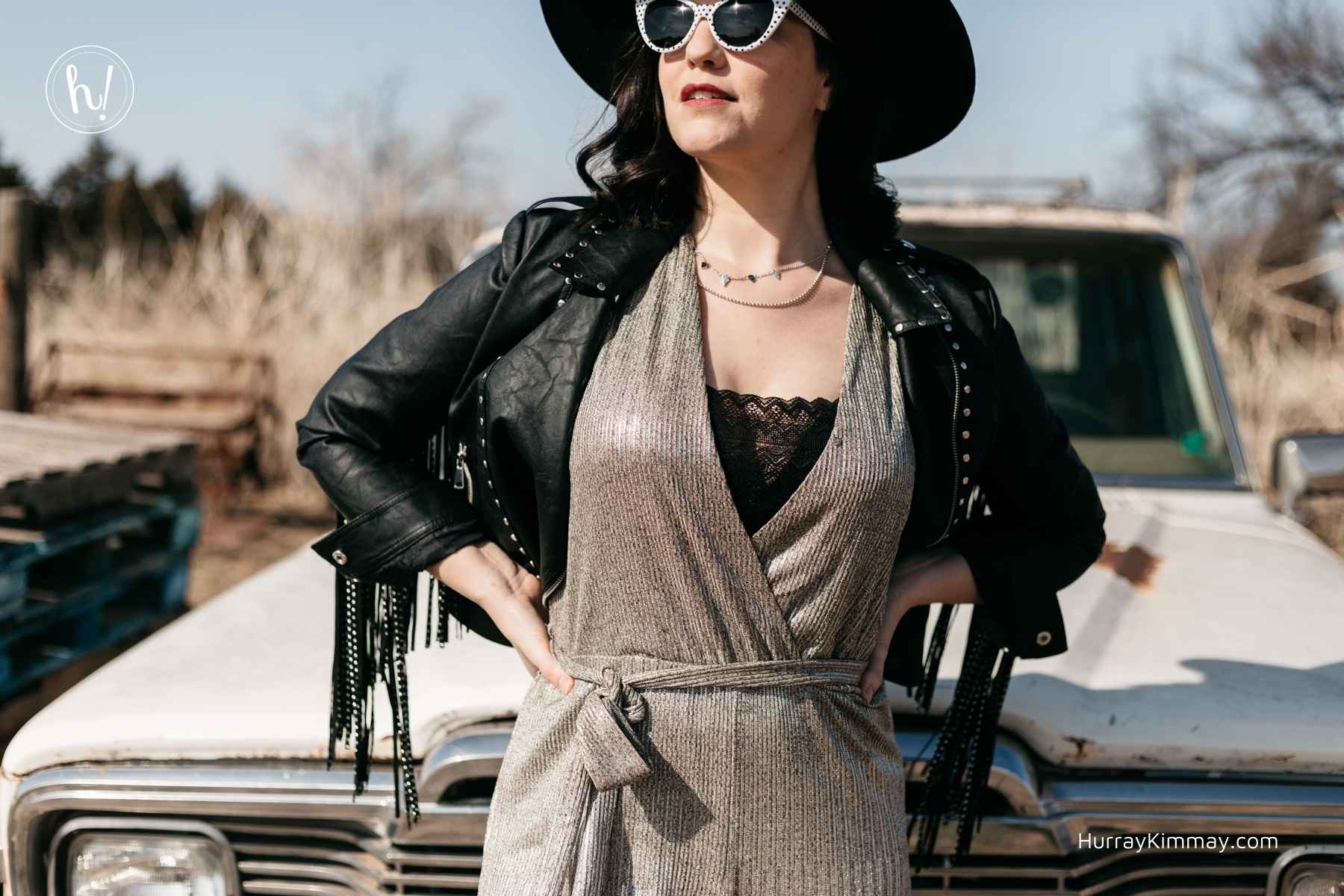 Shop This Look Featuring: NuBra
I believe the best outfits start with a big dose of self-esteem and some really great undergarments. Below you'll see that the sassy little camisole I'm wearing underneath this plunging jumpsuit is actually a stick on bra with an innovative detachable lace panel. Yep! Shop the same option below, plus some similar items to what I'm wearing.
Want more? Get more info on NuBra in this blog post on How to Wear Adhesive Bras Underneath Backless Outfits.
NuBra – Nu Cami Set
for people who don't want a bra band or straps but want some shape
seamless, reusable stick-on cups use medical-grade adhesive on one side, and soft felt on the other
space/place the cups apart then clip them together to create your desired cleavage level
place the optional lace panel with velcro-like hooks at each corner to secure it in place. Now it looks like a camisole but without any straps!
great for those (like me) who had Covid and their breathing felt restricted by anything going around their body
perfect for plunging necklines and backless outfits
I'm wearing size E. I have been wearing bras in 32DDD/F or 34DD/E these days. Note: NuBra's cup sizes are loosely based on a 34 band. So find your sister size in a 34 band and start there!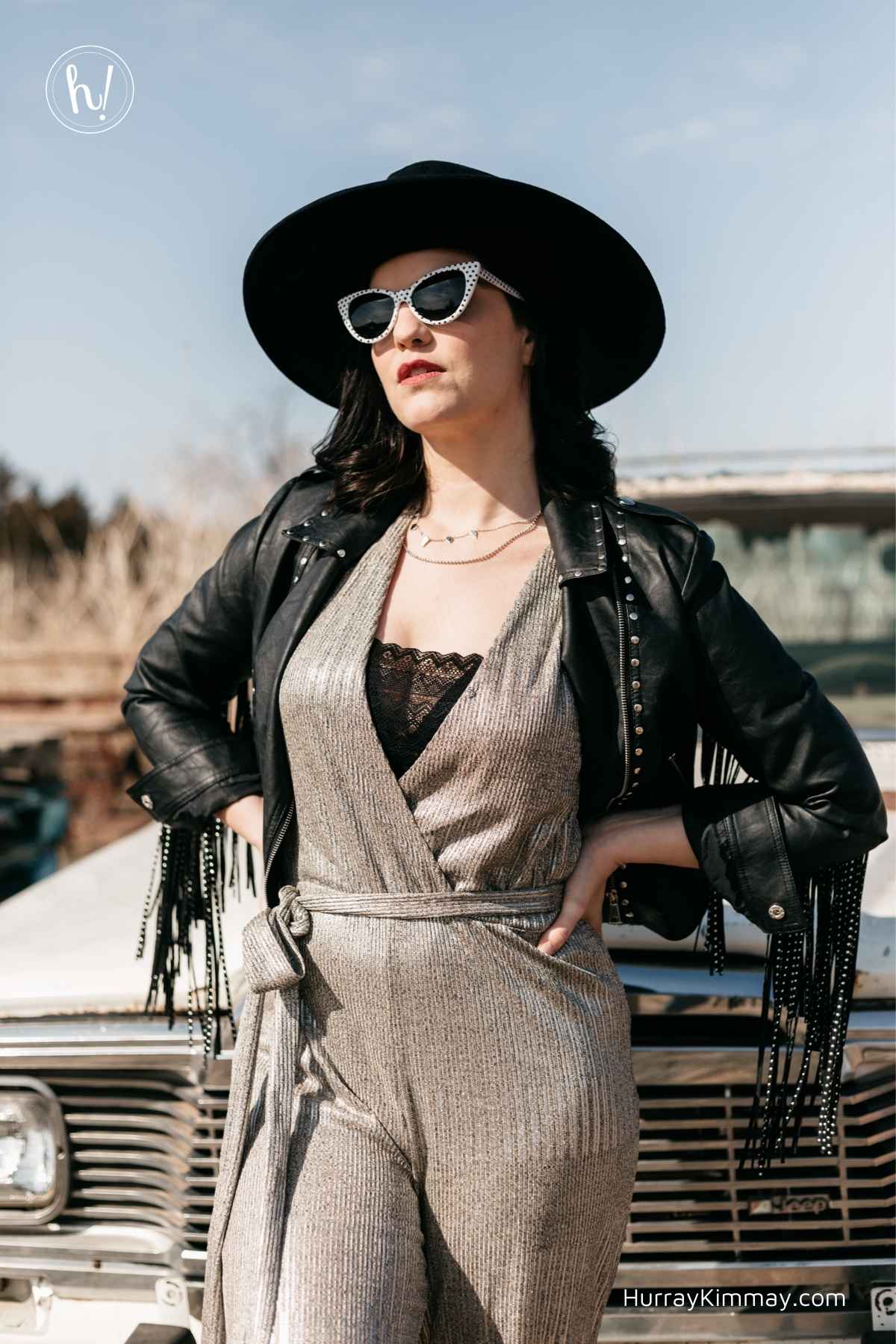 Similar Items to Buy & Try
I bought this jumpsuit at a cute boutique in Oklahoma City to wear on air for a segment on The Marilyn Denis Show. Though this exact Bishop + Young style isn't available, you can find something else plunging and fun!
The hat I bought at a boutique in LA, the sunglasses were a gift from my brother, the rainboots (so handy out on a ranch) were a gift from my mother-in-law, and the necklace was by Kendra Scott and on loan from Across the Street Boutique in Woodward, OK!
I rented this amazing jacket from Nuuly. Want to rent clothes, too? Use my Nuuly link to get $10 off your first rental (and I get $10 towards my next one, too!)
Lack of Color – Wide Brimmed Hat
Polka Dot Cat Eye Sunglasses
Love & Lemonade – Plunge Metallic Jumpsuit
Glamorous – Faux-Leather Fringe Jacket
Kendra Scott – Demi Multi Strand Necklace
Plus Size Deep V Jumpsuit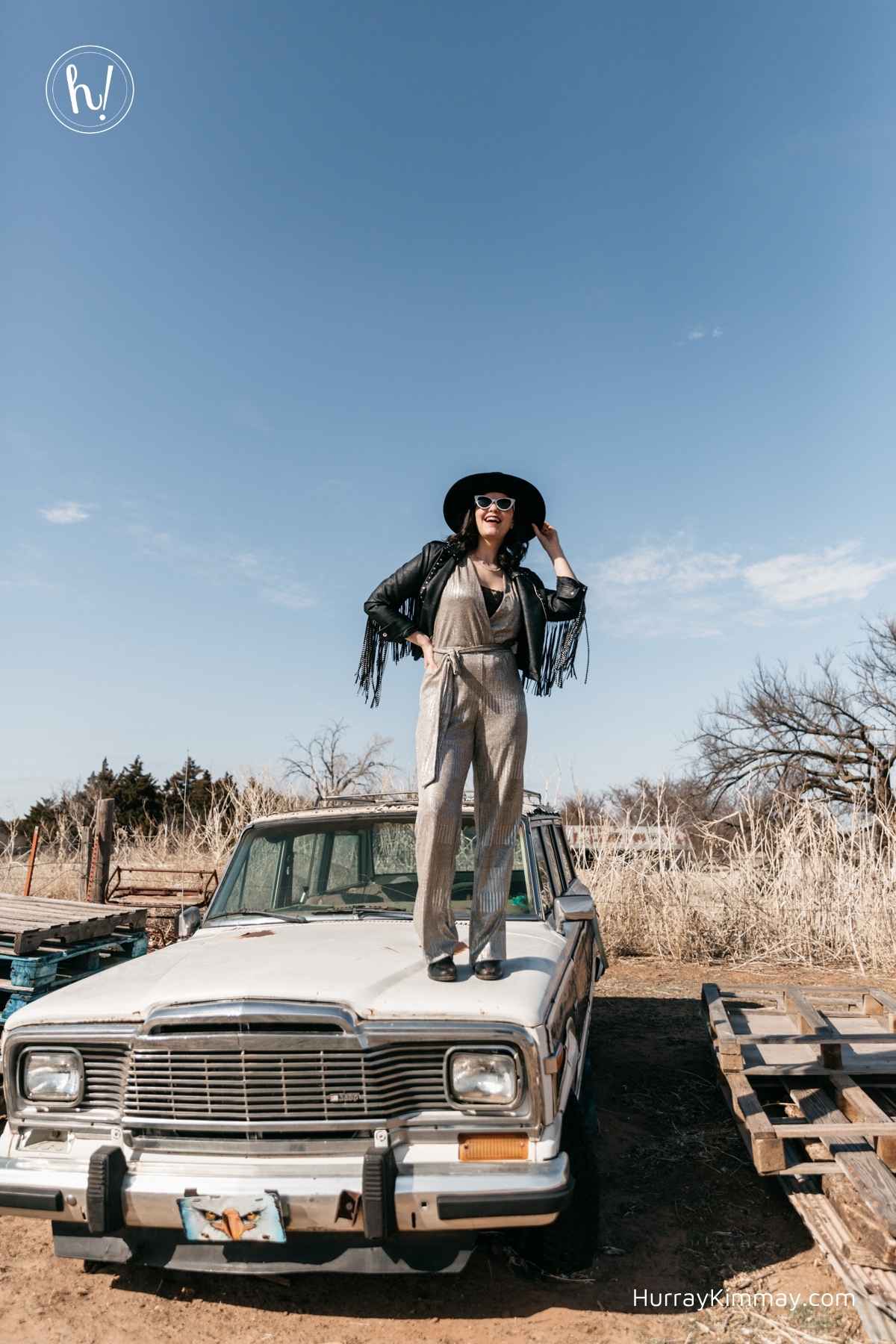 Your turn:
Do you like this look? Do any of these items make you say hurray? Tell me everything over at
@hurraykimmay
on Instagram so we can say hurray together!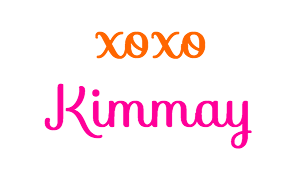 Credits: This photo shoot series was made in collaboration with Curve Expo. Production, modeling, and hair/makeup by yours truly. Photos by Brooklynn Alexander. No photoshopping or editing my face or body – ever! Special thanks to: Natalie Laverty, Bethanie Halligan, Annette Pierson, Martha Symons, and Across the Street Boutique in Woodward, OK!