I am learning to love my period. What? I know! There are a few things, though, that I do not love about my period. Like having to carry around one-time-use period products, leaking through my pants, or the constant worry of "is that it?". You, too? I feel you. That's why I have been using period underwear. They keep me free from leaks, they ease any period panic, and they are great for the environment because you are using less "use once and then you're done" period products. Hurray! 
I've worn and shared my experience of wearing menstruation underwear a lot, and one question I get often is: "How do you wash period underwear?" and "Is it really sanitary to re-wear period underwear?" and "Isn't it gross to wash out the blood?" and "How long do those reusable period underwear really last?" Never fear. Kimmay is here. Today I'll answer your questions and teach you how easy it is to care for your period underwear! Deep breaths. Let's get started!
Psst! Some of the links in this blog post are affiliate links or brand partners. As always, I only share products and suggestions that I can truly stand behind. In addition, all of the images here are airbrush free. What you see is what you get!
These care instructions are most likely applicable to all kinds of period underwear, but check with the manufacturer if you're using a different kind just in case. 
There are two main ways to care for period underwear. And how you care for them matters! The aim is to help them last longer for many more periods! With proper care and a cycle set to rotate, your period underwear can last years.
How to Hand Wash Period Underwear
The best thing to do to care for your period underwear is to rinse them out right after use. Whether you plan to hand wash only, or pop them into the machine, start here.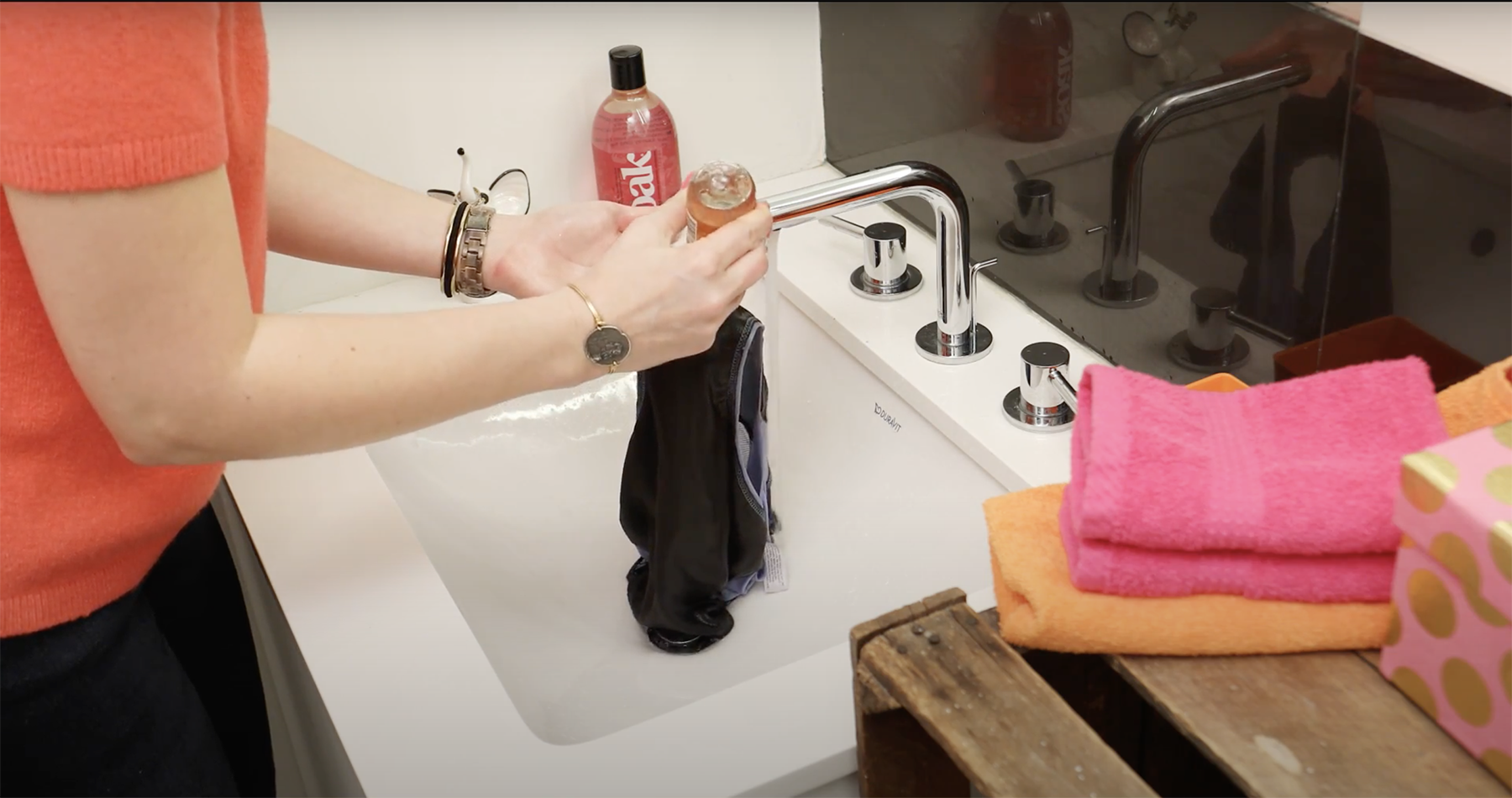 Flush out the flow into the sink with running water. (You may be surprised just how much blood a pair of can hold – especially the "super" level of absorbancy!) 

Gently squeeze the panty to help the material release everything.

Use a dab of lingerie wash (NEVER fabric softener) to wash anything that is left over. I suggest Soak, which is meant to protect delicate fibers, like elastic.

Rinse and rub and rinse again!

Once the water runs clear, press your undies in a towel to drain the absorbent material of excess water.

Hang to dry in a well ventilated area.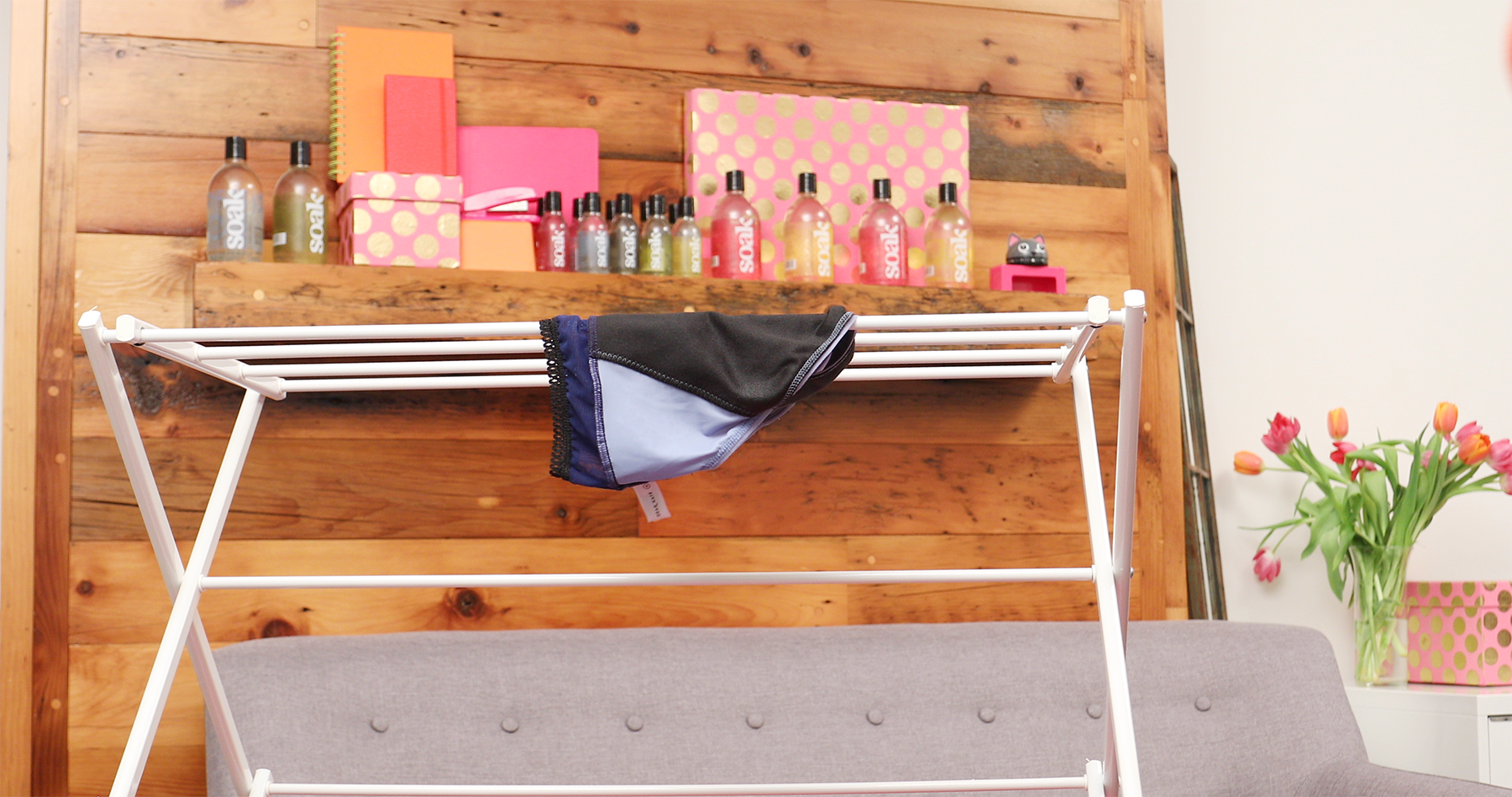 Note: if blood makes you squirm, I totally understand. But this process is pretty fast, simple, and goes right down the drain. Hurray! It's also super cool to get in touch with your cycle by actually witnessing the flow. Remember that menstruation is totally normal and not a sign of trauma or injury – so nothing to fear! With a little intention you can learn to love your period!
How to Machine Wash Period Underwear
If you are someone who is in a rush to wash your period underwear you can machine wash them as well! Note: If you used your period underwear on a heavy flow day, I highly recommend rinsing them out first. If it was on a tail end or just-in-case day, no need to rinse first.
Put them in your washing machine with your other laundry, no need to separate them! 

Wash your load of laundry in cold water.

DO NOT bleach your period underwear or use fabric softener.

Take them out of the load of laundry and hang them up to dry! Do NOT put them into the dryer.
No matter which way you choose to wash your period underwear, by following these steps you'll help your period underwear maintain its shape and last longer. Hurray!
Proper washing and care should prevent any foul odors. There's actually an odor absorbing layer in most period underwear! I've found that squeezing out as much water as possible before air drying in a really well ventilated area helps a lot. But it's possible that your period underwear could use a little extra love if they become odorus. Here's a helpful tip from the website: 
"Before you wash your undies, submerge them in a clean basin or sink with one cup of white vinegar and 1-2 cups of water. Soak for about 15 to 30 minutes, then toss 'em in the washing machine…"
Just remember that this will help with any fabric fragrance, but if your cycle starts to smell differently (especially like fish) it could be a sign of a medical condition and you should consult your doctor! The great news about period underwear is that it's totally safe and hygienic to wear, wash, and reuse them. Test them out for yourself!
To keep your period underwear fresh and lasting longer I highly suggest Soak wash. It's my go-to delicate detergent. It's so important to use something made especially for stretchy material, rather than your basic detergent. Their soap comes in several scents, as well as scent free and is made by an amazing woman up in Canada. Plus, their basins are super helpful and colorful which makes hand washing easy and fun. Hurray! Shop the suggestions below through the link by navigating their shopping menu.
More ways to care! Get my tips on how to wash your lingerie, shapewear, and swimwear on my care page with loads of free, quick videos and the most helpful tips to help your bras and delicates last longer and support stronger!
Your Turn: Do you wear period underwear? How do you wash them? What products do you use? What did you learn here? Share with me @hurraykimmay!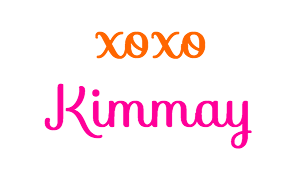 Credits: Video by Around Digital Media, images are screenshots by yours truly. Makeup by Beauty Marks NYC. Special thanks to Soak for sponsoring these amazing videos and helping you care for what's Soakworthy in your life.
Free Bra Class
Want to wear a bra without ripping it off at the end of the day? Watch How to Find a Comfortable Bra Fit For Your Body WITHOUT Wasting Your Money on Bras You Dread Wearing! Plus, you'll also get Kimmay's Bra Fit Guide, and a taste of Bra Confidence & Comfort™. Watch now and don't spend another minute feeling uncomfortable in your bra.