Meet Becky. Becky and I are pretty unlikely colleagues. We met at a weekend women-in-business mastermind, and bonded over my vintage style and Becky's recent pin-up photography clients. She invited me to do a shoot in her new studio. It started as a casual "come and use my space" type of thing and quickly escalated into full hair and makeup, several different looks, and even a video recording of my interview with the publisher of The Lingerie Journal. This kind of sums up how Becky and I work together. What starts as one small idea ends up blossoming into a big one, and she and I navigate and feel our way through each journey.
You may recognize Becky's name, but not her face. And that's because she is usually behind the camera. As a photographer, she has photographed some of the coolest projects and people – including several with yours truly! In fact, she is the photographer that has traveled with me to Florida, Mexico, Puerto Rico, Guatemala, and Paris for the #HurrayVacay series. Hurray! During our travels we have worked hard, shared deep talks, gotten ourselves into crazy situations, and created magic. It's my true pleasure to share her numbers story and to swap places with her for this project.
With all of the traveling and boundless enthusiasm that she has, it's sometimes difficult for me to remember that Becky is 15 years my senior. Age is a tricky number that came up in several of my More Than My Numbers interviews. And Becky's raw, honest reveal of her number, along with her inspiring journey is one of the most captivating instances. In fact, this 47 year old is currently in China to run her first ever marathon … on the Great Wall of China. Talk about being more than her numbers!
If you've ever felt like age – young, old, too much, too little – has held you back from saying hurray, I invite you to read Becky's story. Take a look below and chime in. Tell the world "I am #MoreThanMyNumbers" with Becky, and with all of us.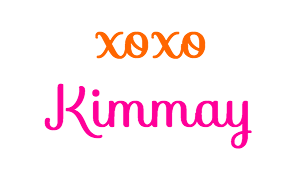 Name: Becky Yee
Age: 47
Hometown or background: NYC Native
Job or other info: Photographer – Studio owner
Where can we connect with you?
Q: What made you decide to share your numbers and your story in the More Than My Numbers project?
A: When I heard about this project I thought it was really amazing and I wanted to contribute my story. I wanted to share my difficulties dealing with my sense of worth, and the numbers I share with you in this story.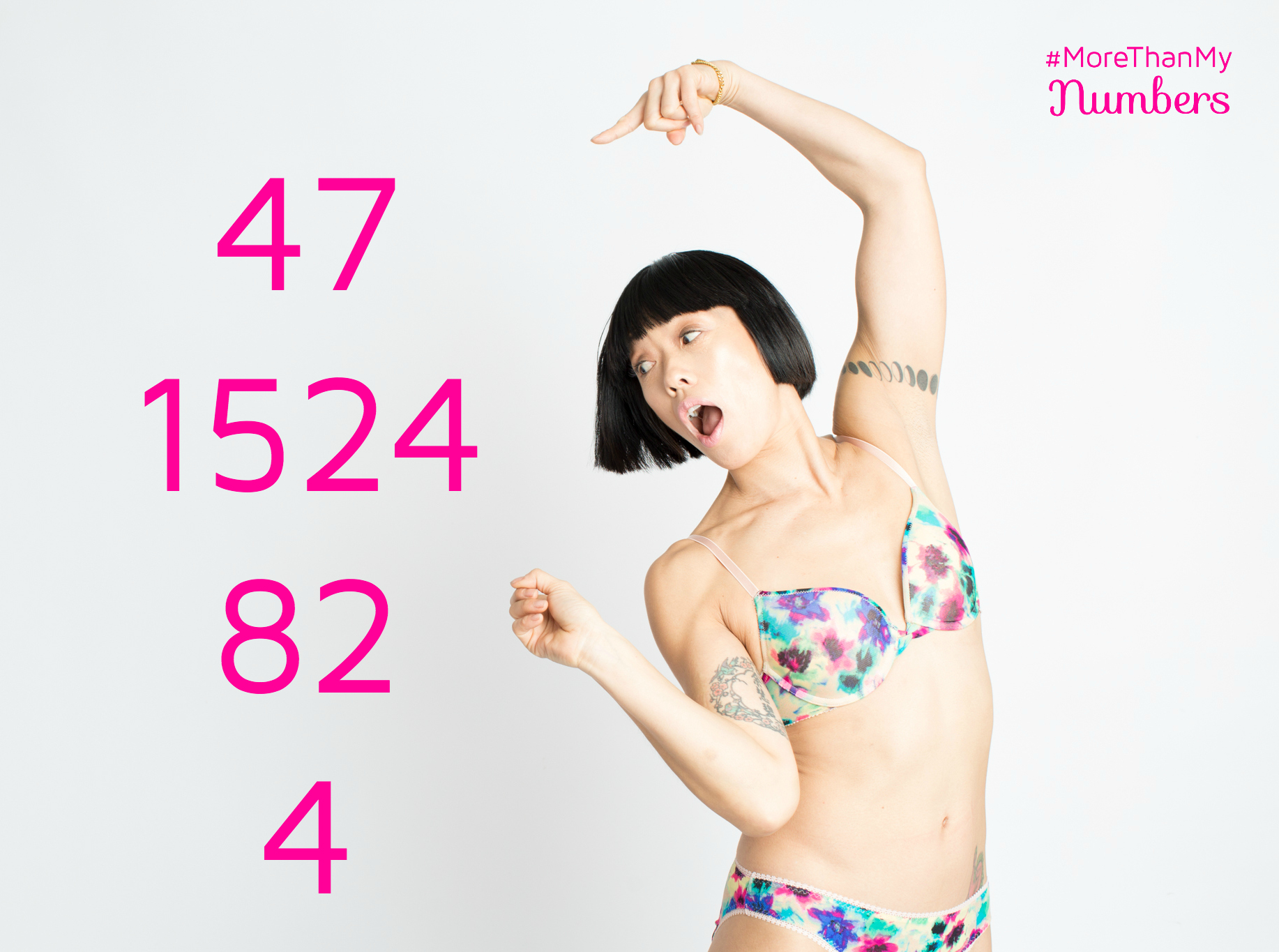 Q: What are some numbers of your numbers?
A: 47, 1524, 82, 4
Q: You said in the video that your age is a number that defined you in the past. Tell us about that.
A: My age: 47 – soon to be 48! I think it stopped me from trying new things, or saying "yes" to something unknown but looked really fun, but you knew it was a bit treacherous. You know, something you might only attempt if you're "young and stupid". I think I let my age dictate whether I would say 'yay' or 'nay'. It also makes me extremely scared to think about dating. I had a boyfriend that I was totally in love with and he broke up with me because of my age. It's excruciatingly painful dealing with the thoughts of being single "at my age." All I could think of was at my age I am way too old to even be dating.  "Shouldn't I be married already? What the hell is wrong me? Nobody is going to want to date me. I am way too old."

Q: How do you think focusing on your number(s) affected you the most? What did it stop you from doing? How did it make you feel?
A: I guess overall, worrying about the number that is my age, made me play small in life. Worrying about my numbers made me full of fear. I wouldn't say "yes" to things that maybe I really wanted to try out. In fact I went one step further, I pretended that I didn't want and even outright ignored opportunities to try something that I really wanted to do but didn't have the courage to do it. I also stayed too long in relationships because I thought there is no one else out there in this world that is going to love me because of my age. Again playing it small and limiting my life choices.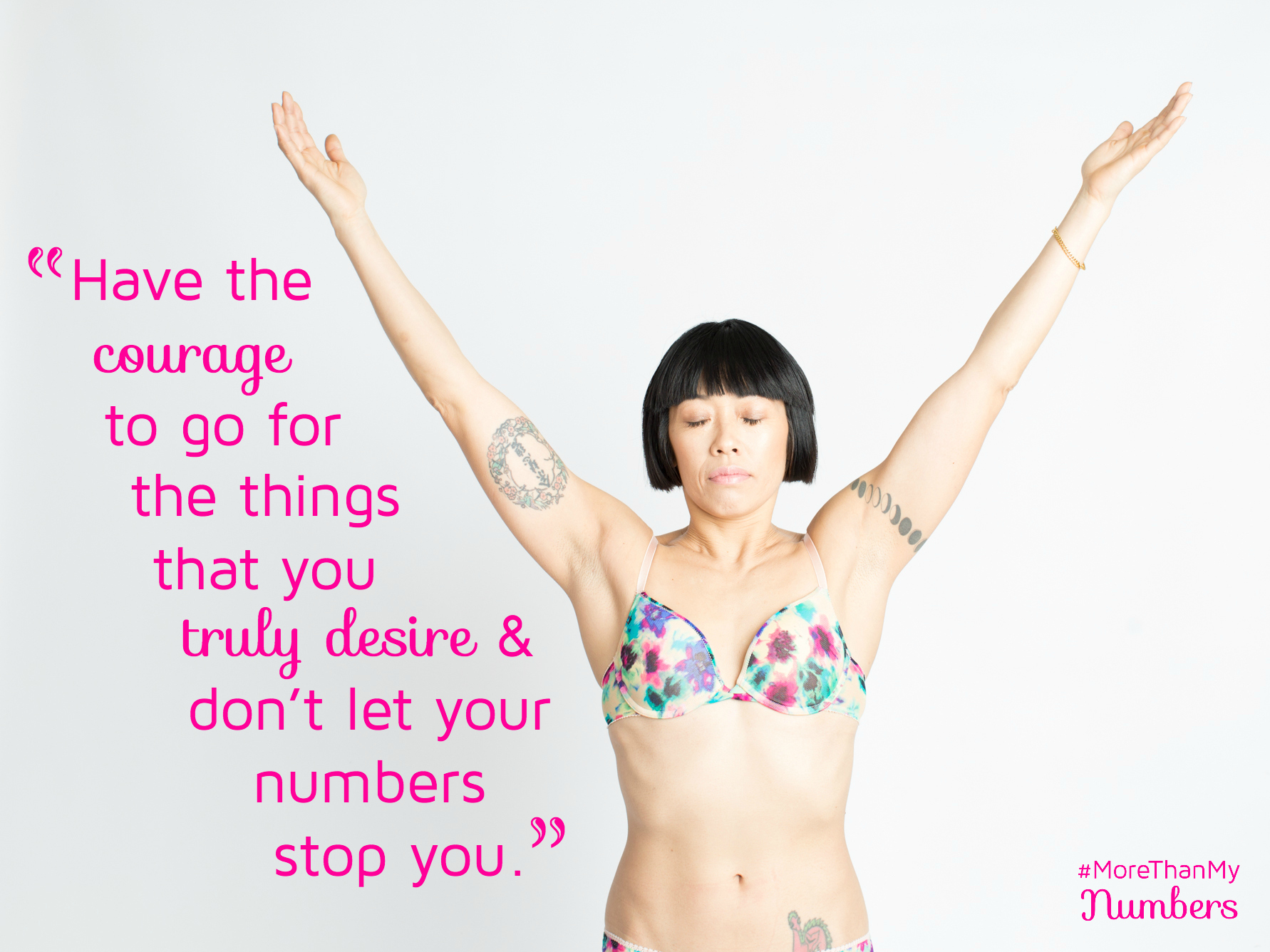 Q: What is your advice to women who may be on a similar journey to you?
A: Don't worry about your numbers. You are as young as your heart and spirit is. It's okay to jump in the mud and run around like a kid. Have the courage to go for the things that you truly desire and don't let your numbers stop you.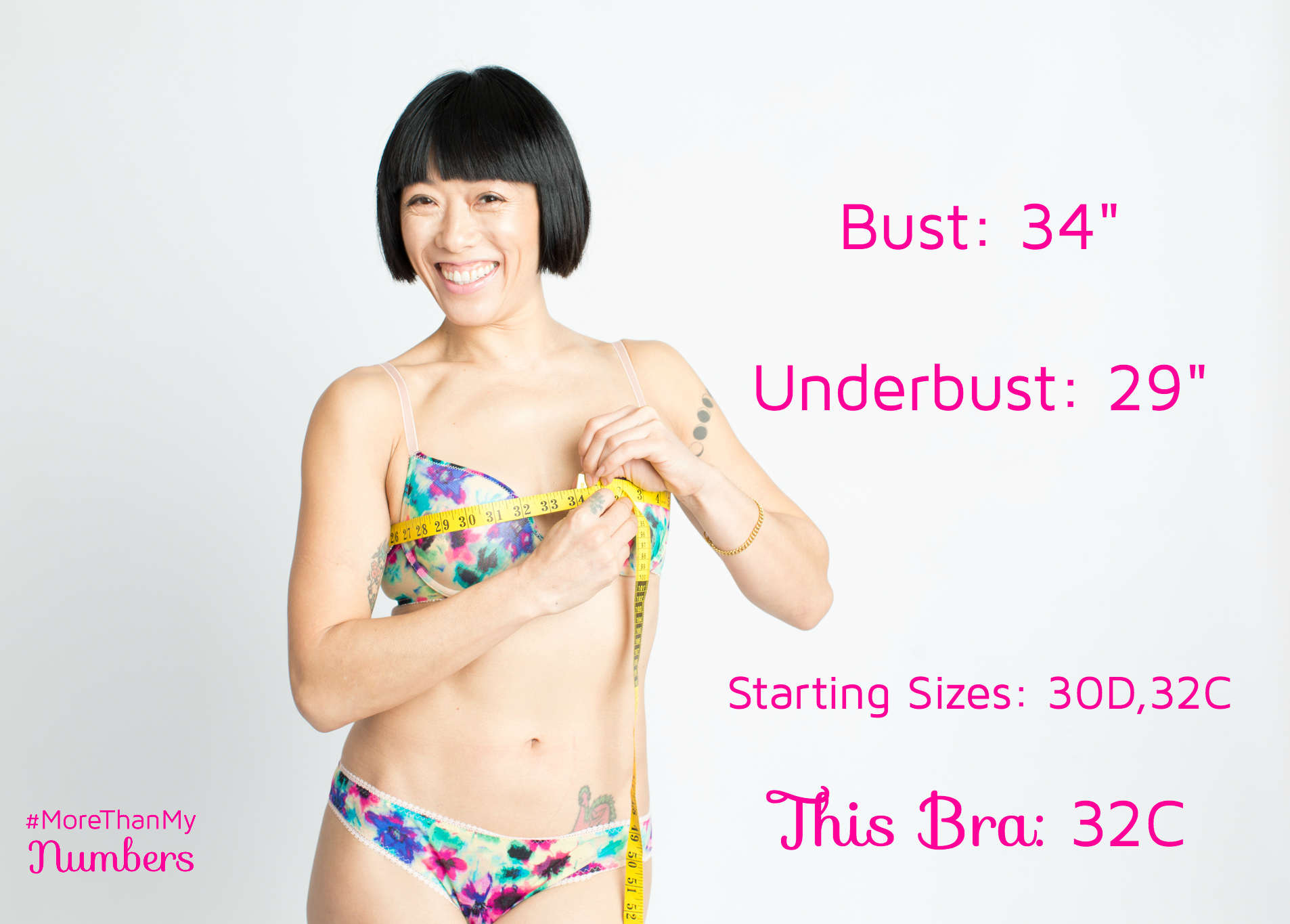 Q: What is your relationship with your bra size? Tell us your bra story!
Underbust: 29"
Bust: 34"
Bra Size Starting Points: 30D or 32C
Bra Size in the video: 32C
A: I was usually embarrassed at my bra size. When someone asked my bra size, I used to joke and say "I am the size above a training bra." I am not very sexy, I am super flat chested. I don't even really need to wear a bra. I wear a bra only because many people have weird issues about seeing the natural shape of a woman's nipple through their clothing. That's right, I wear a bra to smooth out the shape of my nipples.
Note: Becky is wearing a molded bra with a slight push-up pad. 
Q: How do you feel in the pretty push up bra you're wearing here? Do you say hurray for lingerie?
A: I feel awesome in this lingerie. It shattered my belief that "I can never wear a C cup".  I definitely say "Hurray for Lingerie." I love to buy sets and each day before I go out I think, "ooh which one am I going to wear today? I am feeling frisky, I'll wear this set today." I really think lingerie is for the woman to feel sexy and feminine, and only trying to impress yourself and no one else.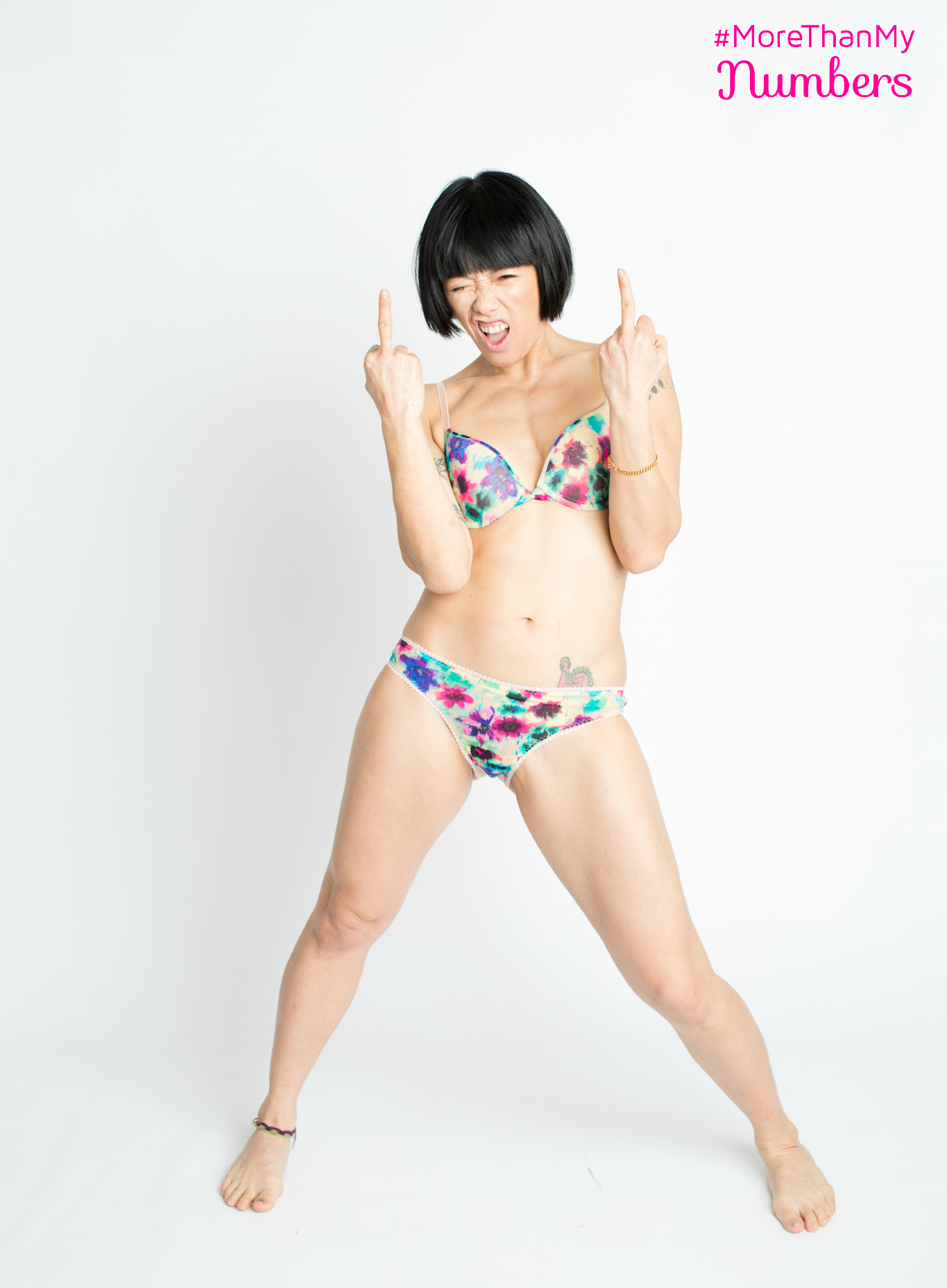 Q: Why do you think it's important to not let numbers define you? What's possible when you let go of their definition?
A: One time a boyfriend bought me a luxurious expensive red silk embroidered lingerie in a B-cup. My breast did not fill out the cups at all, the cups were not molded and the bra was saggy as my breasts were so small.  I felt so un-sexy.  So the thought of me ever picking up a C-cup to try on was non-existent. When you think of A or B cup you think athletic, nice girl but definitely not sexy or desirable. But after a private bra fitting with Kimmay, she actually fitted me with a C cup and I was like "WHAATT!" This shattered that thought that I will only try on an A or B cup.  The On Gossamar bra I tried on felt AMAZING!!!! And it's one of my favorite bras to wear.  It makes me feel pretty on the inside and very sexy in my own skin.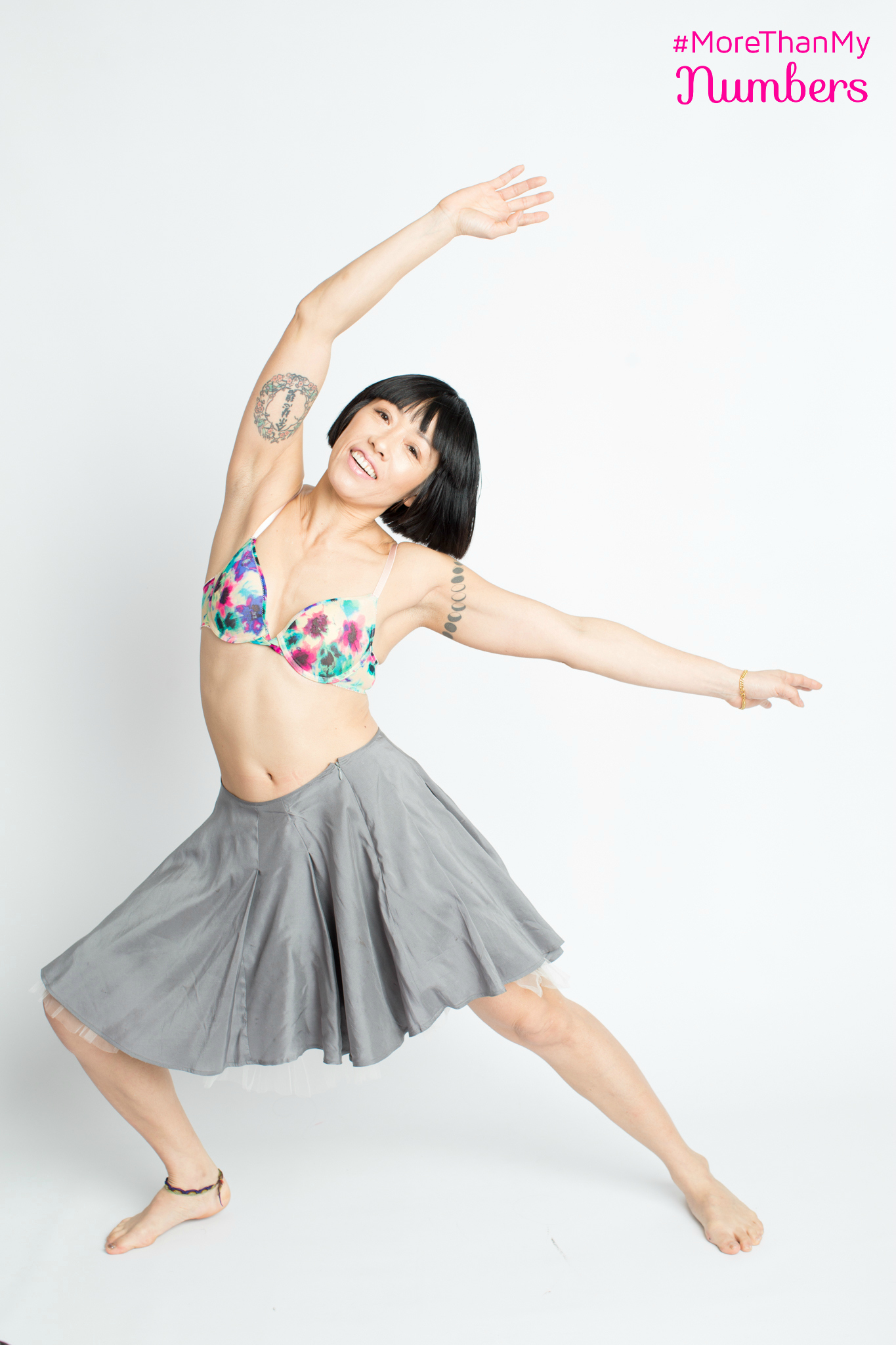 Q: What role do you think numbers should play in our lives? How do you strike the balance somewhere between ignoring them altogether and focusing all your attention on them?
A: A number means as much as you put meaning into it.  So if you are putting in negative thoughts associated with that number, if it's filling you with dread and fear, remember you can choose to not let the number define you. You can let go of the negativity.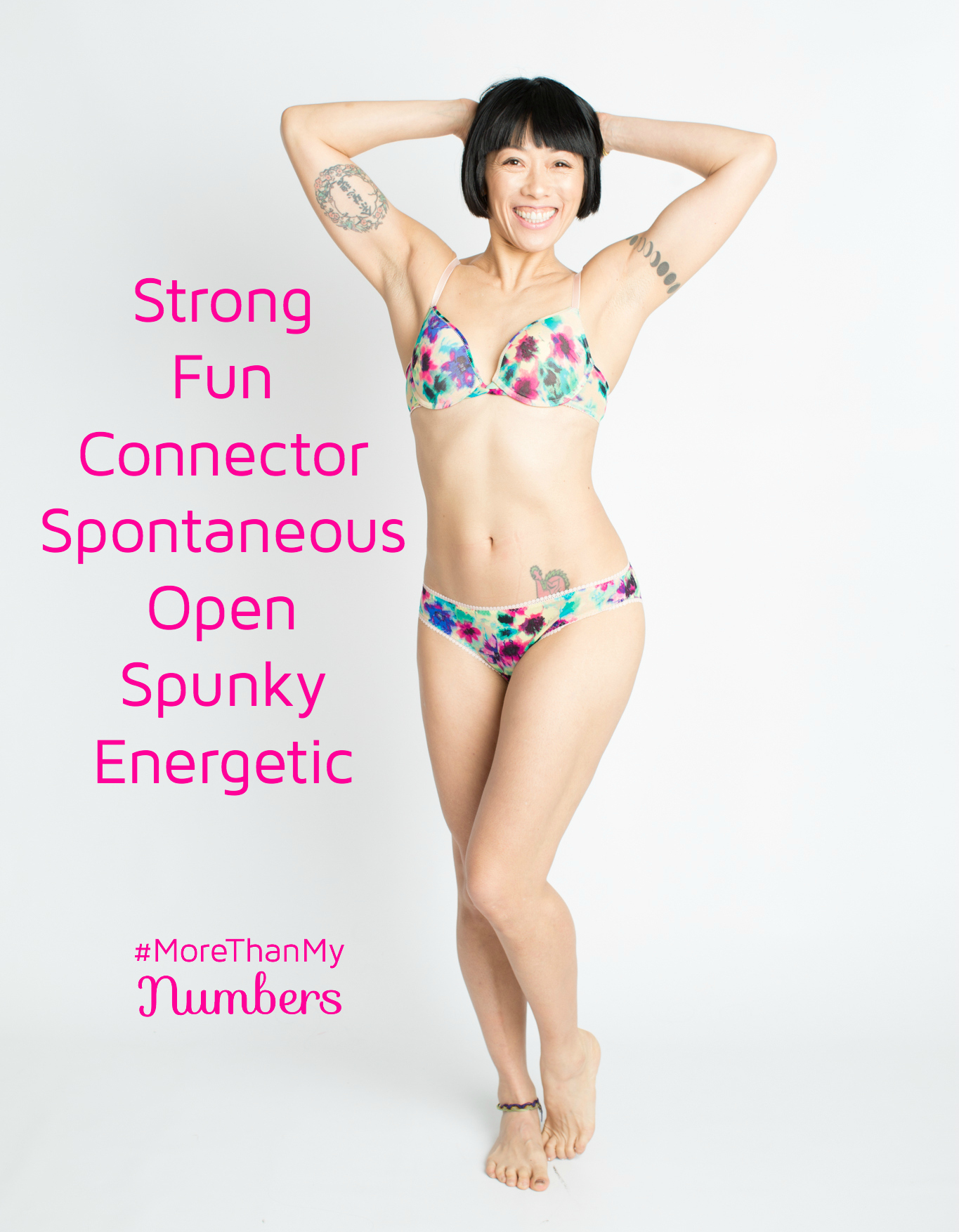 Q: What does define you – who are you to the core?
A: Spontaneous, open, spunky, energetic, connected, strong and fun!
Q: Who inspires you?
A: You inspire me, Kimmay, with this bold project.
Q: What makes you say hurray?
A: I never take anything for granted. I say hurray for everything from a hot shower, to wearing bunny ears in front of the Eiffel Tower in Paris.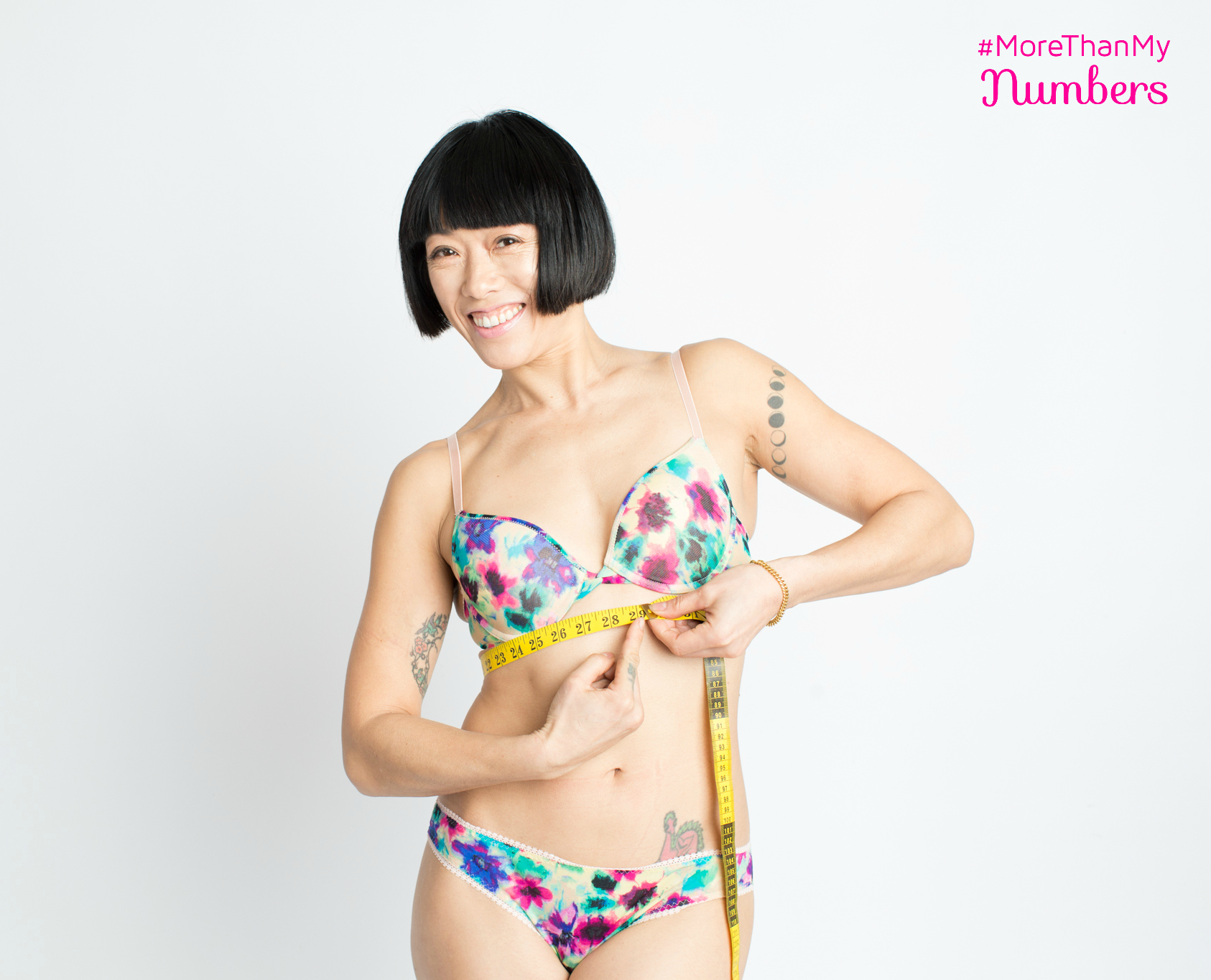 Your turn: Can you relate to Becky's story? How have you let numbers define you in the past? What numbers can you choose to use as information but not as a definition? Do you know anyone who has let their age stop them from finding happiness? How can you help them, or yourself?
Have you found your bra size starting points? What loving steps can you take to say hurray? What inspired you about Becky's story? Journal, brainstorm, and share with us!
Want to get involved and tell the world "I am #MoreThanMyNumbers", too? Join us! Learn more about how you can get involved here.

Sponsor Spotlight: Becky's story was made possible by another photographer, Laura Boyd of Own Your Sexy. This stunning boudoir photography studio in NYC is a must for anyone who wants to connect to their sexy side. That includes the women who say "I'm not really sexy. I'm not beautiful. I'm not a model." Trust me, Laura will help you feel and look that way in her studio, and your jaw will drop when you see your images.
Own Your Sexy is the photography studio we use for More Than My Numbers, and Laura is so supportive of our mission, because she lives it. And part of her business's mission is to help women see past their numbers, stop comparing themselves to airbrushed images in the magazines, and step into their own sexy power. While she does believe in and use light airbrushing in her photography, the beautiful images you see here of Becky (and each participant in the More Than My Numbers project) have ZERO airbrushing or editing. Her work is just that good, and each woman is just that gorgeous. Just like you.
Want to own your sexy, too? Book your own boudoir session – to show a lover, to show your body some love, to show yourself. Want to see some of my work with Laura? Check out my post on How to Own Your Sexy, and How to Awaken Your Inner Muse. Two of my favorite shoots with her!
From the site: "Own Your Sexy is a luxury boudoir photography studio in New York City, focused on women's empowerment and celebration. Owned and operated by women, for women. Located in the heart of Manhattan in a private studio. We photograph woman of all shapes, sizes, colors, and ages. Founded in 2010 by professional photographer, Laura Boyd, we believe all women are beautiful, all women are sexy, and all women deserve to own it."
Follow Own Your Sexy on Instagram.
PS: Sponsors help make the More Than My Numbers project possible. So huge hurray and thank you to Own Your Sexy and our other sponsors!
Credits: The photos of Becky were taken by Laura Boyd of Own Your Sexy with zero photo shopping, airbrushing, or editing of Becky's beautiful, strong body. Hair and Makeup by Zulieka Acosta. The video was filmed and edited by Next Round Productions. The More Than My Numbers project was created by Kimmay Caldwell of Hurray Media.
Save
Save
Save