Meet Brooke. Like many women that we interviewed for the More Than My Numbers project, weight and the number on the scale had a big hold on her. In Brooke's story, she bravely opens up about that number on the scale consuming her while she struggled with anorexia. Her honest and tearful tale resonates powerfully with everyone, not just those battling an eating disorder. What's more, she shines her bright light with encouraging words about her own journey and how she's building a beautiful relationship with her numbers, her body, and herself. Watch her video, read her story, and learn why Brooke is saying, "I am #MoreThanMyNumbers".
(Psst! I am so excited that harMonica design was able to bring you Brooke's beautiful story. Find out more about this gorgeous brand, below!)
Name: Brooke Cenicola East
Age: 35
Hometown or background: I was born in southern CA, and moved around a lot growing up. I called NY home for many years. I now call Sevierville, TN home base as I continue to live a traveling lifestyle!
Job or other info: Professional Performer, Audition/Performance Coach, doTerra Wellness Advocate, Wild Woman Project Circle Leader
Where else can we connect with you?
Q: What made you decide to share your numbers and your story in the More Than My Numbers project?
A: Initially I didn't even think twice about it! That is to say that I saw the chance to participate in a campaign with Kimmay and knew that she is creating such powerful work and I just wanted to help/be included in that effort. As the photo shoot neared and I found myself sharing with others that I would be posing in lingerie to say that I am more than my numbers, my 'why' became so clear. I will expose myself as vulnerably as need be if that action and my story could help even one person. I want to be an advocate for inner strength as I continue to work on my own!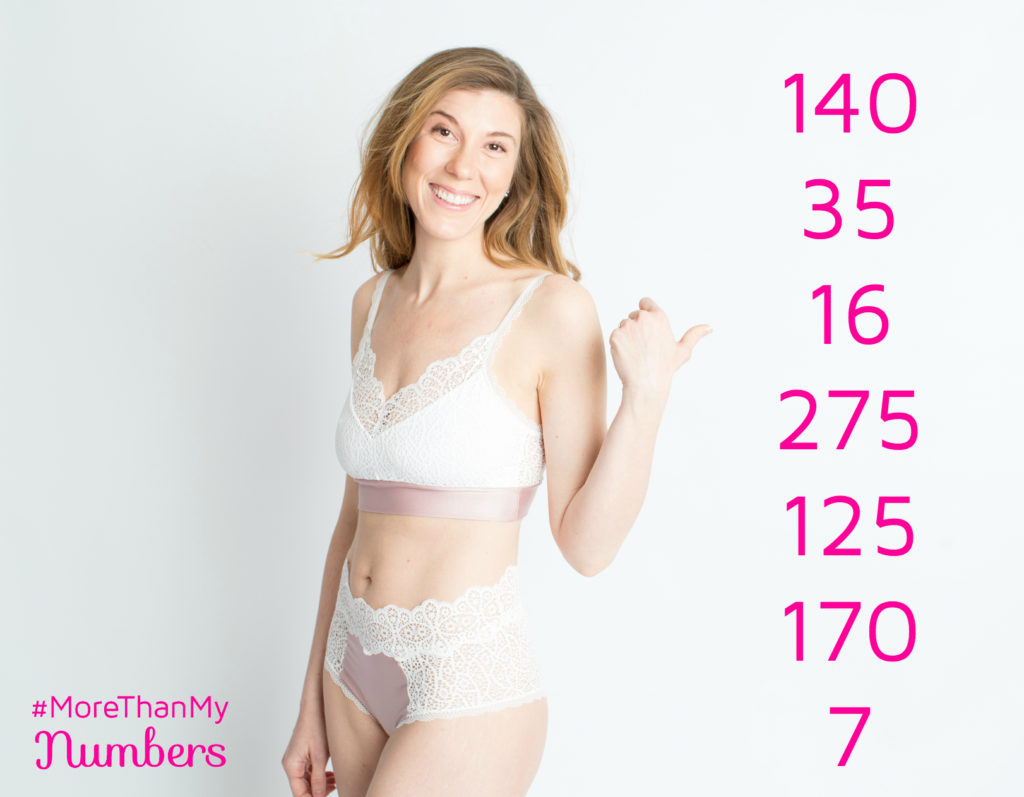 Q: What are some numbers you want to share? List them out!
A: 140, 35, 16, 275, 125, 170, 7
Q: You said in the video that weight is a number that defined you in the past. Tell us about that?
A: I have struggled with anorexia for most of my life. I always saw myself as fat unless that number on the scale was below a certain marker I set for myself. This began when I was a young child. Even with going through cycles of trying to heal from it, (giving myself permission to eat well, throwing out the scale, fighting my addiction to diet pills, taking down all the full length mirrors, etc.) the mindset of the disorder never has really gone away. I have been healthy for many years now, but even still, it doesn't take much to send me back into the spiral of harmful habits. Even now I admittedly weigh myself almost daily, although I tell myself it is to be sure I am still around my "healthy" weight. I was scared to reintroduce the scale into my bathroom, and now I am scared to get rid of it again. I have a strong attachment to the numbers the scale shows me. It is an ongoing journey but I am earnestly working toward a relationship with my body based on nourishment rather than numbers.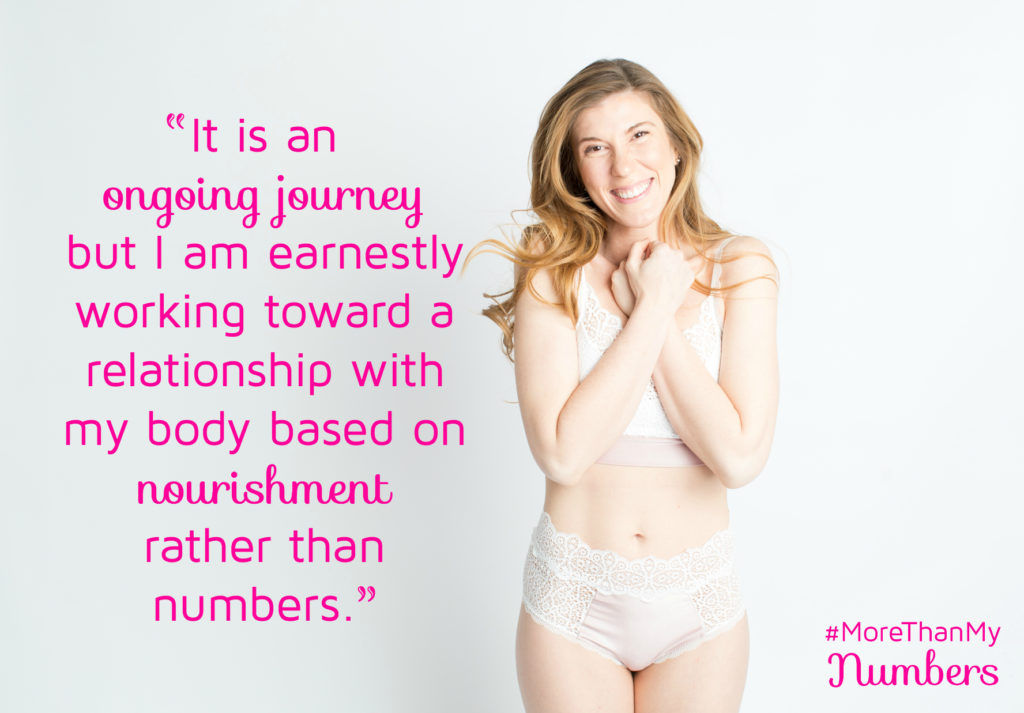 Q: How do you think focusing on your number(s) affected you the most? What did it stop you from doing? How did it make you feel?
A: It consumed me. Every other moment of the day was spent calculating what I would allow myself to eat and all that its effects would be. When I was over my desired weight I would often isolate myself, feeling unworthy of affection or even attention. I fully believed that I had to be a certain weight in order to get and keep a job, to be a better dancer, to be beautiful, to be loved. I felt very detached. It stopped me from confidently pursuing my dreams. It stopped me from pursuing my life.
Q: What would you say to younger you, if she came to you and said she was worried about being a success or failure based on how thin she is?
A: (…Man this is hard…) I would say to her, to me, I would say "YOU are beautiful! No matter what you weigh or what size clothes you wear, you are beautiful and you have a gift. Don't hold yourself back from sharing your beauty and your light just because of your self determined standard based on numbers. Begin now to cultivate love for yourself! Because you are unique in all the universe and you – authentic, honest, soulful you – are worthy of all that is good and beautiful in the world."

Q: What is your advice to women who may be on a similar journey to you?
A: Talk about it. Seriously, it is easy to disassociate with the disorder and tell yourself and others, "well I just have the tendencies of an eating disorder, it's not hurting anybody." That's a lie. The truth is that it IS hurting you, and it is hurting those that love you most, whether or not you see it. When you get a new roommate, significant other, best friend, open up and tell them about your struggle. Make agreements around your comfort level of them intervening should they sense you need it and what that clearly would look like. But don't suffer through it alone. And forgive yourself, when you are ready (I haven't fully been able to do this yet but I am working towards it). Forgive yourself for the hurt you may have already caused, for the misbeliefs that you don't deserve to be healthy, for whatever you are holding onto that is causing this to still have a hold on your life, forgive.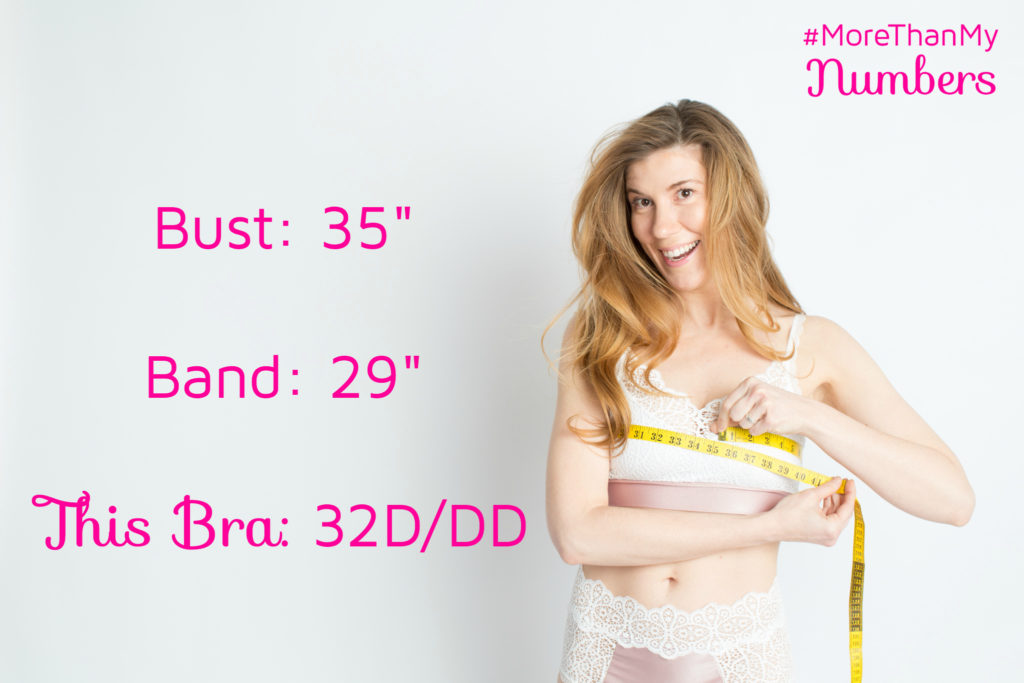 Q: What is your relationship with your bra size? Tell us your bra story! 
Underbust: 29"
Bust: 35"
Bra Size in the video: 32D/DD
A: Well, the day I was no longer a 34B I "knew" I had crossed the threshold of "fat". Woof! Just another misbelief here… I wore my high school bras out until they were so thin the wind could have disintegrated them! I didn't know where to go or what to do. All I knew was Victoria's Secret and I just knew I couldn't afford their bras! Lol.  Finally, in my early twenties, I had a boyfriend who had a good friend who worked in lingerie and he took me to get a fitting. She told me I was a 34D! I was like uh what?? Then she put me in bras that fit properly for the first time in my life, and I suddenly didn't care about the size. That was the beginning of a new relationship with lingerie. I soon thereafter started working at that shop and trained to fit women properly. It changed my life in so many ways! I loved being able to change other women's lives and relationships to their bra. Many times it went beyond just feeling better about their bra but also feeling better about themselves all around. I've been out of "the bra business" for a while now but I still help my friends when they ask for fitting and brand advice. I am always so grateful for that training and knowledge.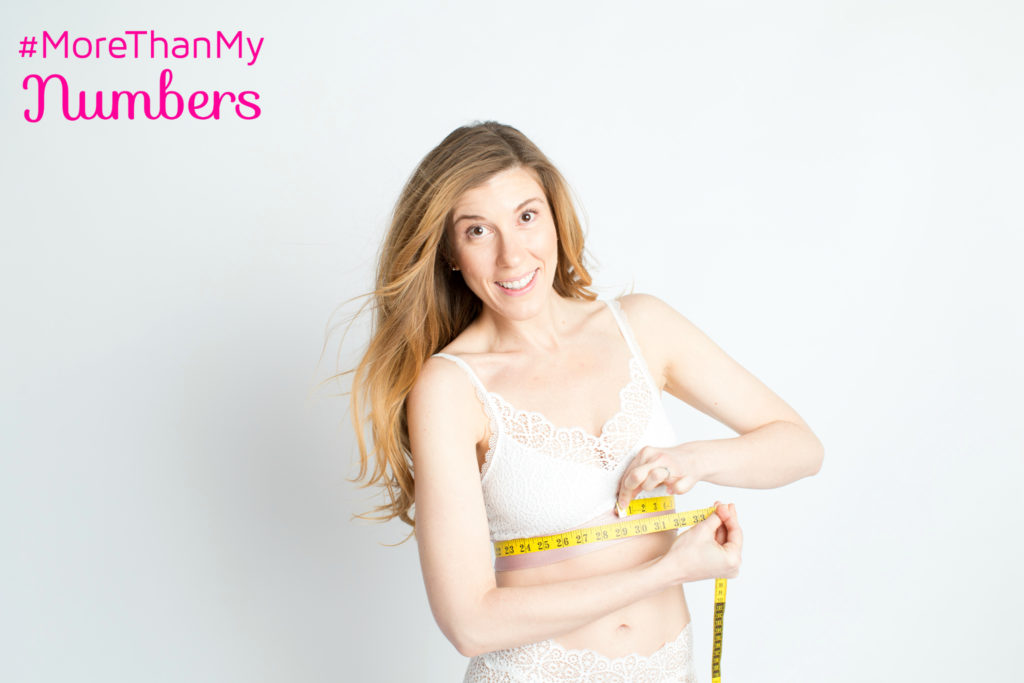 Q: Why do you think it's important to not let numbers define you? What's possible when you let go of their definition?
A: Numbers are limiting. Whatever the association may be. Ultimately I am not a number of any kind, I am me. When I meet someone I don't introduce myself as 35, I introduce myself as Brooke. When my husband describes me he doesn't include any numbers, he uses loving words! If/when I let go of these numbers that I have used to define myself, I will feel more free. More free to just be me.  
Q: What role do you think numbers should play in our lives? How do you strike the balance somewhere between ignoring them altogether and focusing all your attention on them?  
A: Well, numbers are useful information. They can often provide important information. I'm still working on that balancing act, but I think this process (of participating in #MoreThanMyNumbers) is setting up a good foundation for me. Getting clear on what the attachment is and then releasing whatever isn't useful or beneficial is a really great start.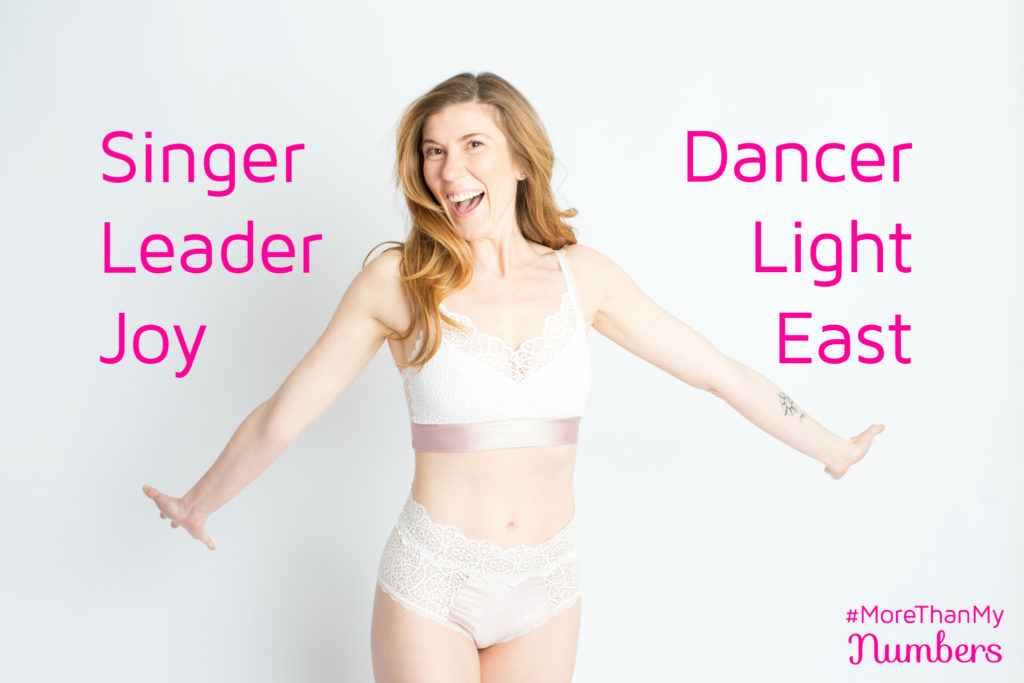 Q: What does define you – who are you to the core? Also, what does "I'm an East" mean?
A: I am a singer. – I have sung for people my entire life, and I want to keep doing that until the day I die.
I am a leader – I am often put in leadership positions and I thrive there. I have always tried to lead others in the way I would want to be lead and I have practiced different kinds of leading. Currently I lead people in meditation circles. I so enjoy lovingly leading.
I am a dancer. – Dancing is something else I have been doing my whole life. When I take a break from it, my soul longs for it. Dance is an aspect of deep expression for me.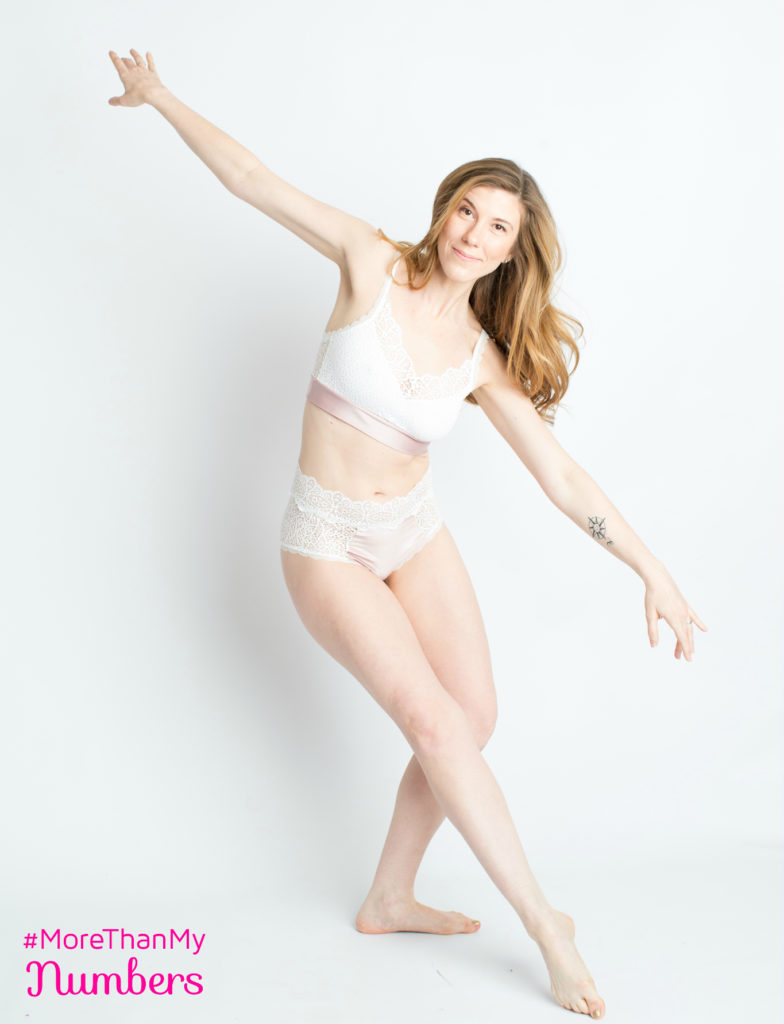 I am joy. – When I tap into the deepest part of my self, it is joy. I have been working lately to keep that channel open and to create joy for others in some way each day. It's not always easy, but it is worth it.
I am light. – Please refer to the song 'I Am Light' by India Arie. She so perfectly captures what I feel here.
I am an East. – This is my husband's last name. I accepted it willingly, gratefully, happily, when we wed. I am proud to be an East, a part of his amazing family, and all that that entails. When my husband and I create music together, words cannot even describe how powerful it is. When we share our music with an audience it is such a beautiful and joyful communion. We are the Easts. The name is part of me and I am part of it. In January (for my birthday) I got my very first tattoo symbolizing how East is my "true North".
Q: That pretty harMonica Design bralette you're wearing is pretty hot. What do you like about it? Would you normally try something like this?
A: Well first of all I love the name! My husband is a professional harmonica player…so how perfect! It is the softest lingerie I think I've ever worn. I love the materials, the colors, the obvious care put into the creation of each piece (I'm serious, I was studying the stitching in awe!). I love the high waisted panty and fact that the leg bands don't cut into my tush! I love the comfort of the bralette! I have never worn one before! Lol for real though I am so practically minded (Capricorn here, hello) that I would never spend money on something I consider "frivolous". Also, my boobs are kinda dilapidated from all I've put my body through, aka – slightly saggy or not full on top, so I never thought a bralette would give me enough support or look good on me.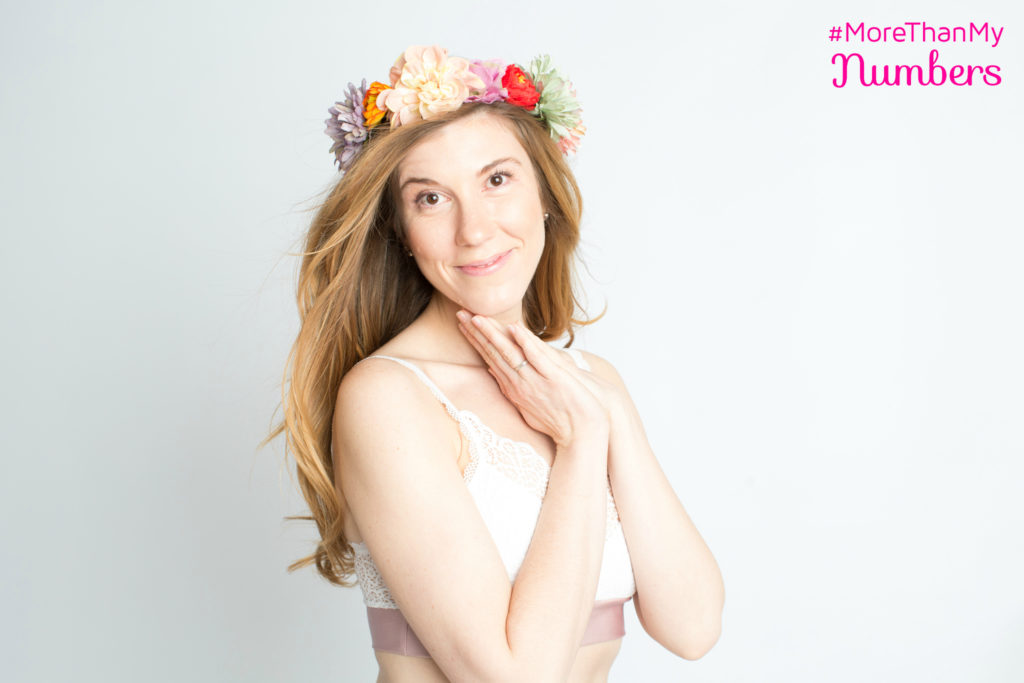 Q: Who inspires you?
A: You do Kimmay! (I'm dead serious and if you edit yourself out of my list I will hit you!) My coach, Michaela. Celine Dion – she is currently at the top of my list of many great performers/artists/creators who inspire me regularly. Chris Maddox, the founder of The Wild Woman Project. Several dear, beloved friends and family of mine who are pursuing their deepest desires and rocking the world!
Q: What makes you say hurray?
A: Music. Nature. My Puppy. Travel. Pickles. Cheese (the food & the quality). Theatre. Meditation. Disney. Deep conversation. Sunlight.
***
Your turn: Can you relate to Brooke's story? How have you let numbers define you in the past? What numbers can you use as information and not a definition? Do you know anyone who struggles with an eating disorder? How can you help them, or yourself? Have you found your bra size starting point? What loving steps can you take to say hurray? What inspired you about Brooke's story? Journal, brainstorm, and share with us!
Do you want to support more stories like Brooke's? Join us! Learn more about how you can get involved here.
***

Brooke is wearing a bralette and panty from, and her story was made possible by: harMonica Design. Their soft, beautiful bralettes range in size from 32-38 bands and A-DD cup sizes. In addition to several non-underwire bra styles, and matching underwear, harMonica Design also makes coordinating leggings and shorts, which makes them ideal for low impact sports like yoga, pilates, or spin class.
Made with care in Brooklyn, NY from eco lace, these designs are "loungewear for goddesses". And their creator, Monica Ditzler, says that every time you wear a harMonica Design, it's "a reminder to love yourself & radiate love everywhere you go. Visible intimates are meant to be shown off as part of an outfit, not just worn underneath, as a reminder to show your true self."
Shop harMonica Designs online, and follow them on Twitter, Instagram, Facebook, and Pinterest.
Credits: The photos of Brooke were taken by Laura Boyd of Own Your Sexy with zero photo shopping, airbrushing, or editing of Brooke's beautiful body. Hair and Makeup by Zulieka Acosta. The video was filmed and edited by Next Round Productions. The More Than My Numbers project was created by Kimmay Caldwell of Hurray Media and Hurray Kimmay.
Want to join us? Here's how.
Save
Save
Save
Save