It's back! The More Than My Numbers project is near and dear to my heart. I started this special project years ago and it feels so good to bring it back. 
As a bra fitter since 2005, I've seen a lot in the fitting rooms of NYC and beyond. Thousands of people have entrusted me to help them support one of the most sacred areas of their bodies. And they have revealed a lot to me, including their fear of the size on the tag. Every time I wrapped the measuring tape around their torso, they'd suck in and try to be as small as possible, then ask with urgency "so what AM I?" 
The truth is you can wear several different bra sizes and they can all fit. And so you're never just a size. When you describe your size next time, try saying "I fit best into X SIZE in this bra" or "I typically wear a Z SIZE in bras" instead of declaring "I AM Y SIZE". 
Additionally, your size can change! What doesn't change is who you are. And you are more than your numbers. You are generous, divinely made, purposefully designed, joyful, kind, learning, growing, becoming. That's who you ARE. 
Knowing and understanding our numbers is helpful, and sometimes important. It's so wise not to ignore them or dismiss them. And. They are not the whole story, especially when it comes to bras. They only provide some information so you can make a loving and informed decision about what to wear right over your heart. 
With our first shoot in 2016 and second in 2017 as well as workshops, blog posts, and dozens of national and international press mentions (including a radio interview on the BBC in the UK!) this project blossomed and grew. Several brave women and I bared our bodies and our souls, encouraging folks to use numbers as information, not a definition.
Now I'm thrilled to share the next iteration of this special project, a fun collaboration with Curve's Revealed Magazine showcasing 6 new More Than My Numbers women wearing 6 totally different sizes from 6 awesome brands. Join us to say hurray and let the world know: "I am More Than My Numbers"! 
You can read more about why I started More Than My Numbers, as well as read and watch the previous stories at MoreThanMyNumbers.com.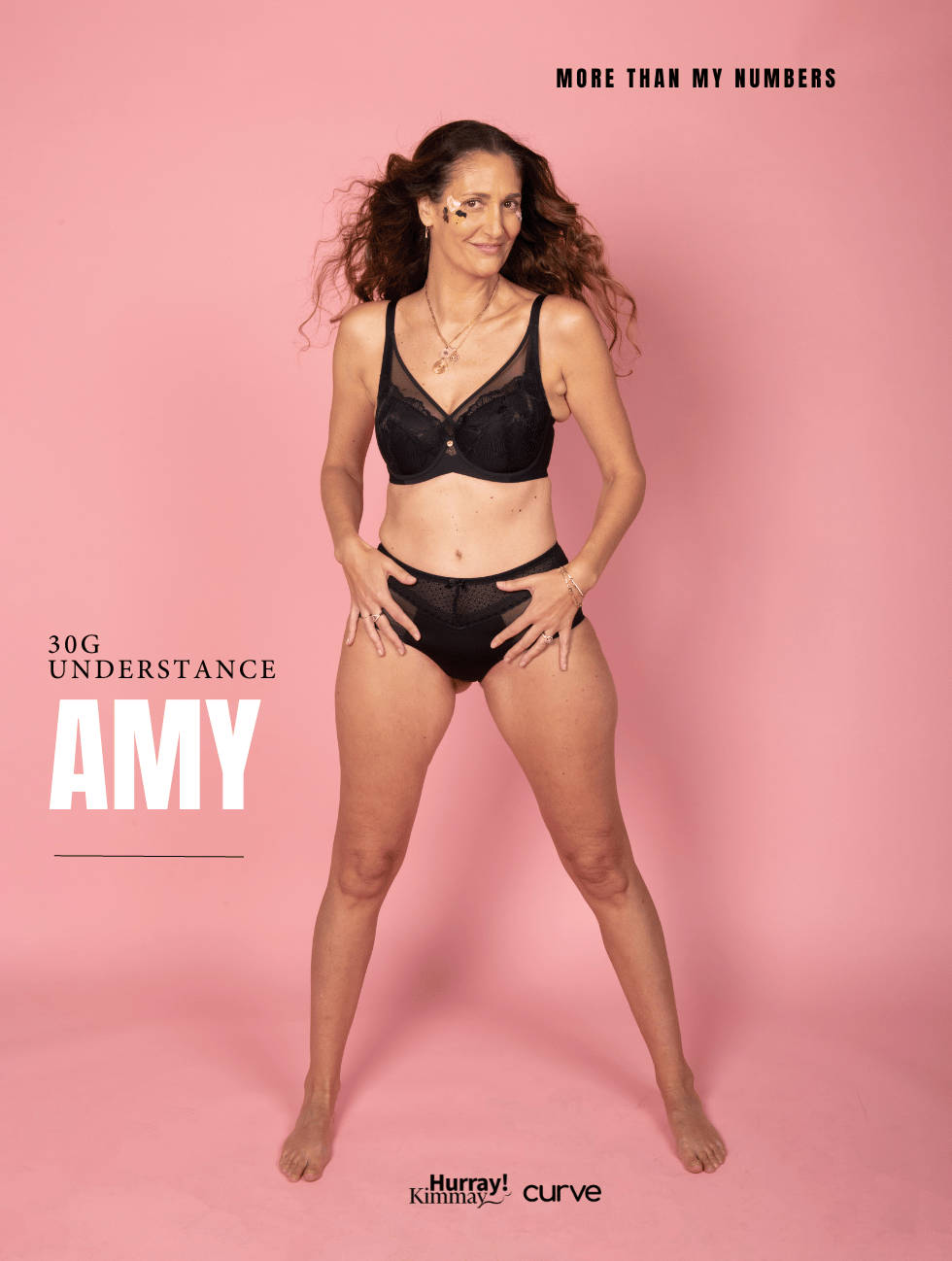 At 6 feet tall, Amy knows that numbers are information, not a definition, when it comes to height. And she was about to learn that the same goes for bras! 
Her life was recently changed when she was fit for bras (by yours truly!) and finally found a comfortable fit. All of the bras she went home with that day were 32F (or 32DDD). So just a few months later, she was confident she'd be a 32F in this amazing Ivy bra from Understance. 
But the truth about sizes is that every brand and style fits differently, so it's normal to wear varied sizes across them. And, our bodies change and that can affect our size, too. In Amy's case, she wound up wearing a 30G in this style. That's the sister size to 32F, meaning it's a band size down and the same cup volume, and fit like a glove! 
The high quality fabric provides fuller coverage on the cups and is great to keep softer tissue from spilling out, while the mesh gives a sassy peekaboo effect. The back is nice and wide (and snug in the 30 band!) for support and less digging in, and the adjustable straps customize the fit. And Understance is known for their FlexWire underwires, which work with your bust root for a fabulous fit (as well as encouraging body confidence and acceptance for all folks!) as well as their size range: 28-48 and A-J cups in each band, with underwear in XS to 3XL.
Amy is standing tall and confident in her Understance bra and bottom! Shop this style for yourself below. ​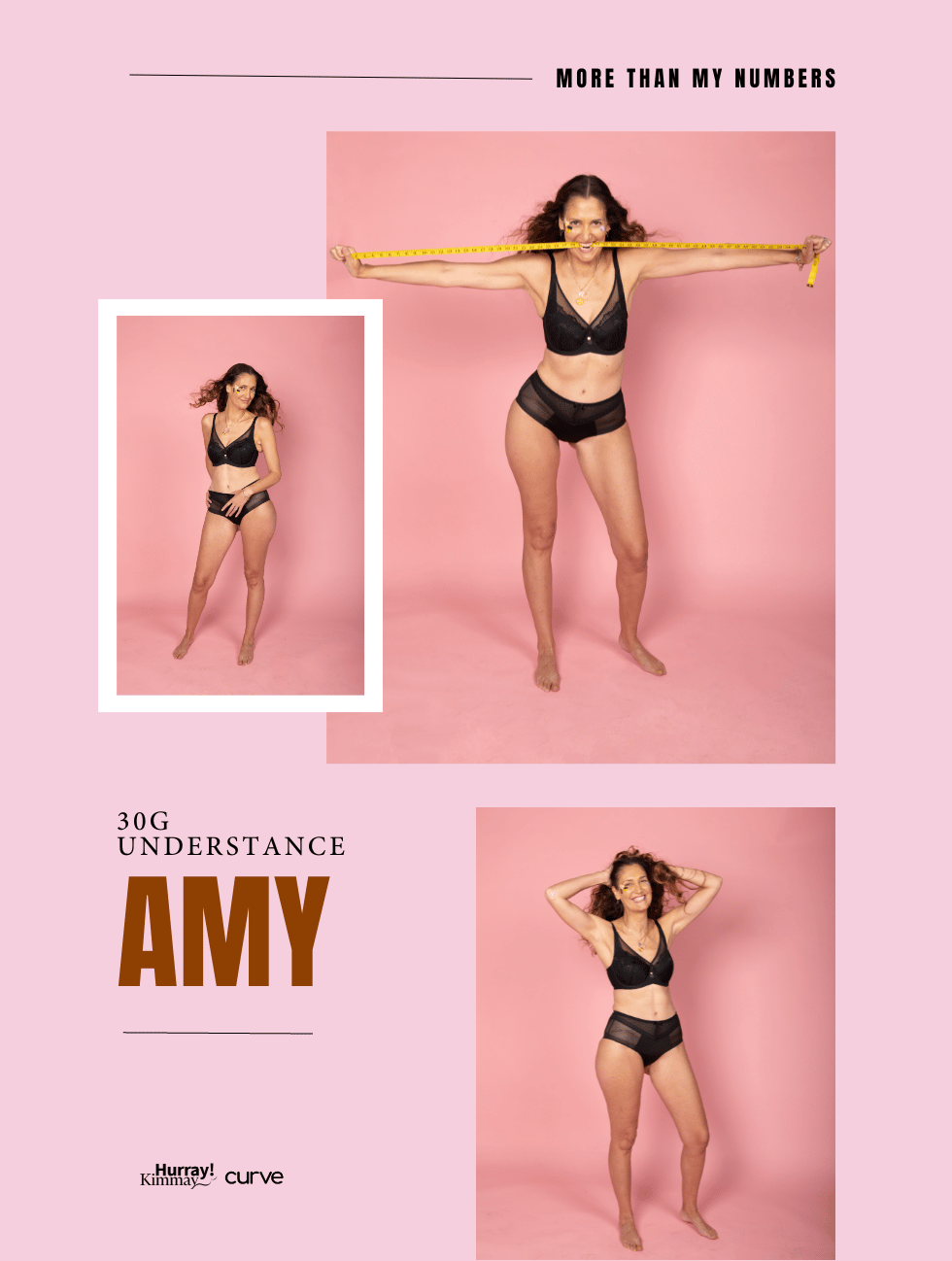 Ebony Small in Naked Rebellion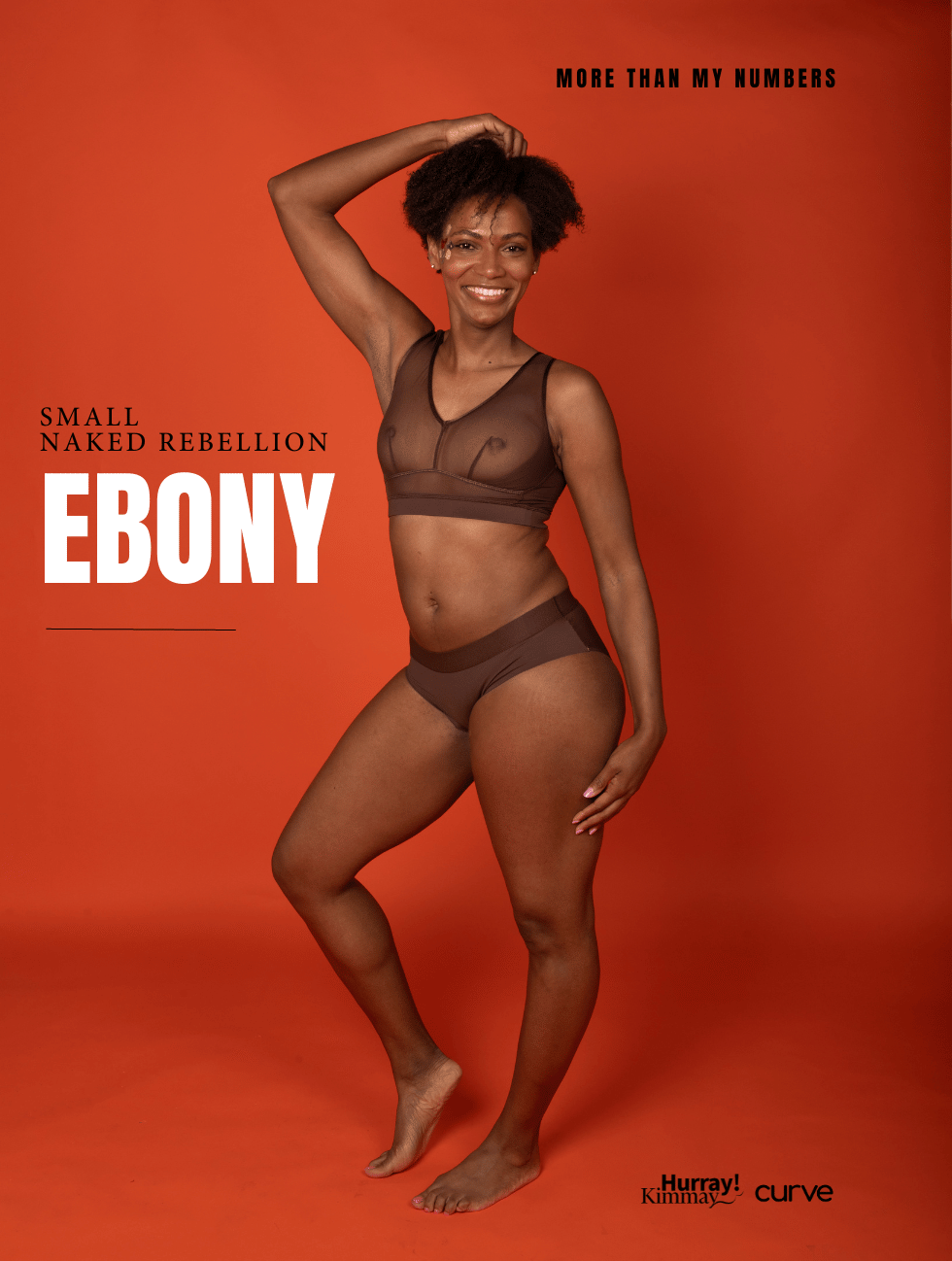 Look at that charisma, and that amazing match! Ebony was shocked to learn that 32D fit her best when I first fit her for a bra, and you might be shocked to hear that a D cup can wear a size small! 
D cup is all relative to the band, and in a 32 band that D cup fits great into a small at Naked Rebellion. This tank bra style is an easy over the head style with power mesh that flexes with the body while supporting and shaping the bust. I especially love the longer underband wrapping around Ebony's torso for a secure fit and comfortable feel, and 1" straps. And that sheer look is breathtaking and breathable. It's great for hot flashes, travel and flights, and every day style. 
The best part of this line, though, has to be the various skin tone options! Naked Rebellion has nine different skin tone options, as well as classic black, so you can find a "nude" neutral to work with your skin. I knew this was important to Ebony, and it's important to me! So I'm so grateful that Naked Rebellion joined the More Than My Numbers mission. Hurray! 
Ebony is breathtaking in her Naked Rebellion Bra and matching bottom. Shop it in your shade below and save 15% off with code KIMMAY15.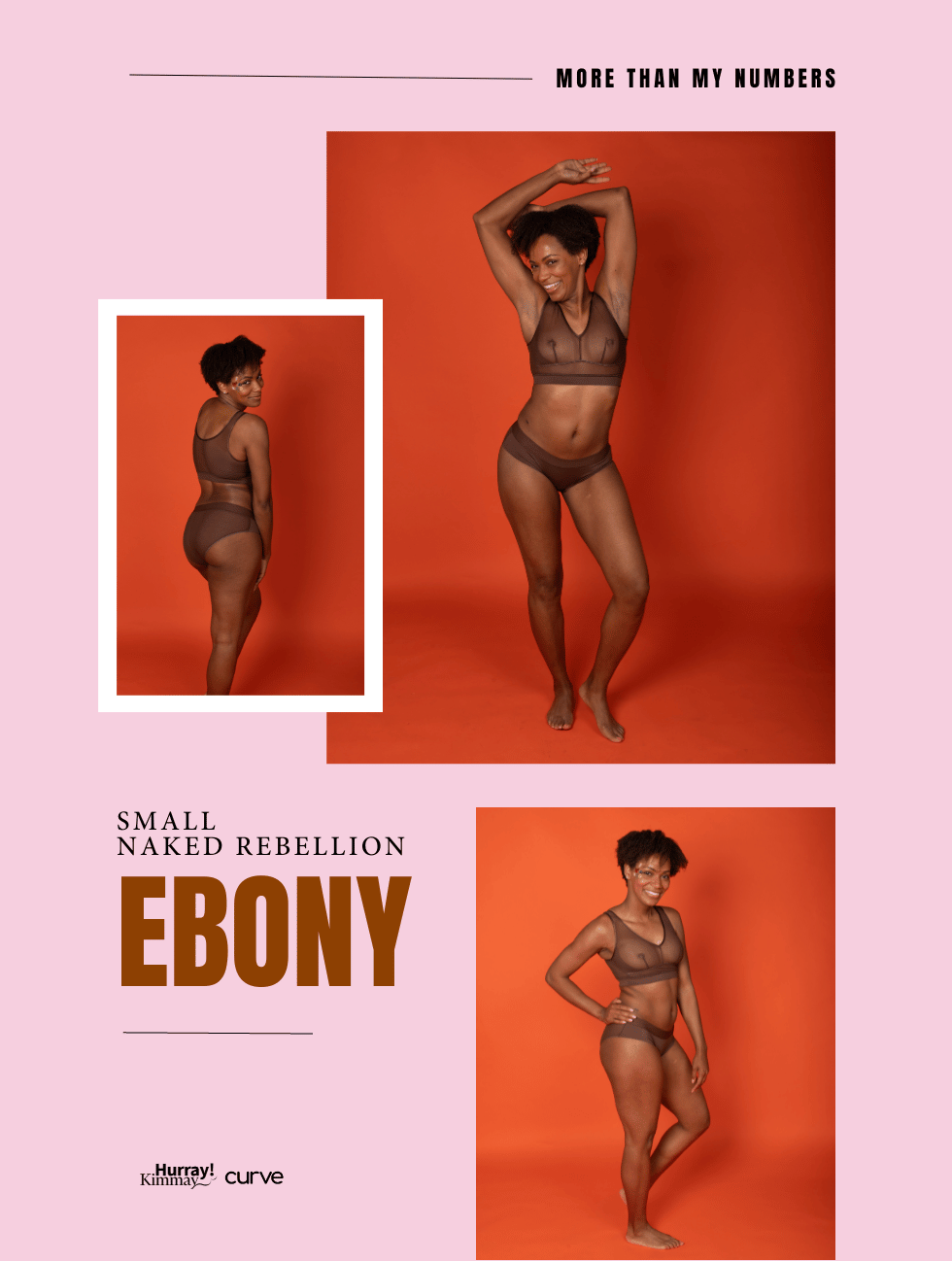 *Use code KIMMAY15 for 15% off at Naked Rebellion! One per customer, no minimum purchase required, and cannot be combined with other codes or offers. Expires AUG 31, 2023.
Kate 42D in Rosa Faia by Anita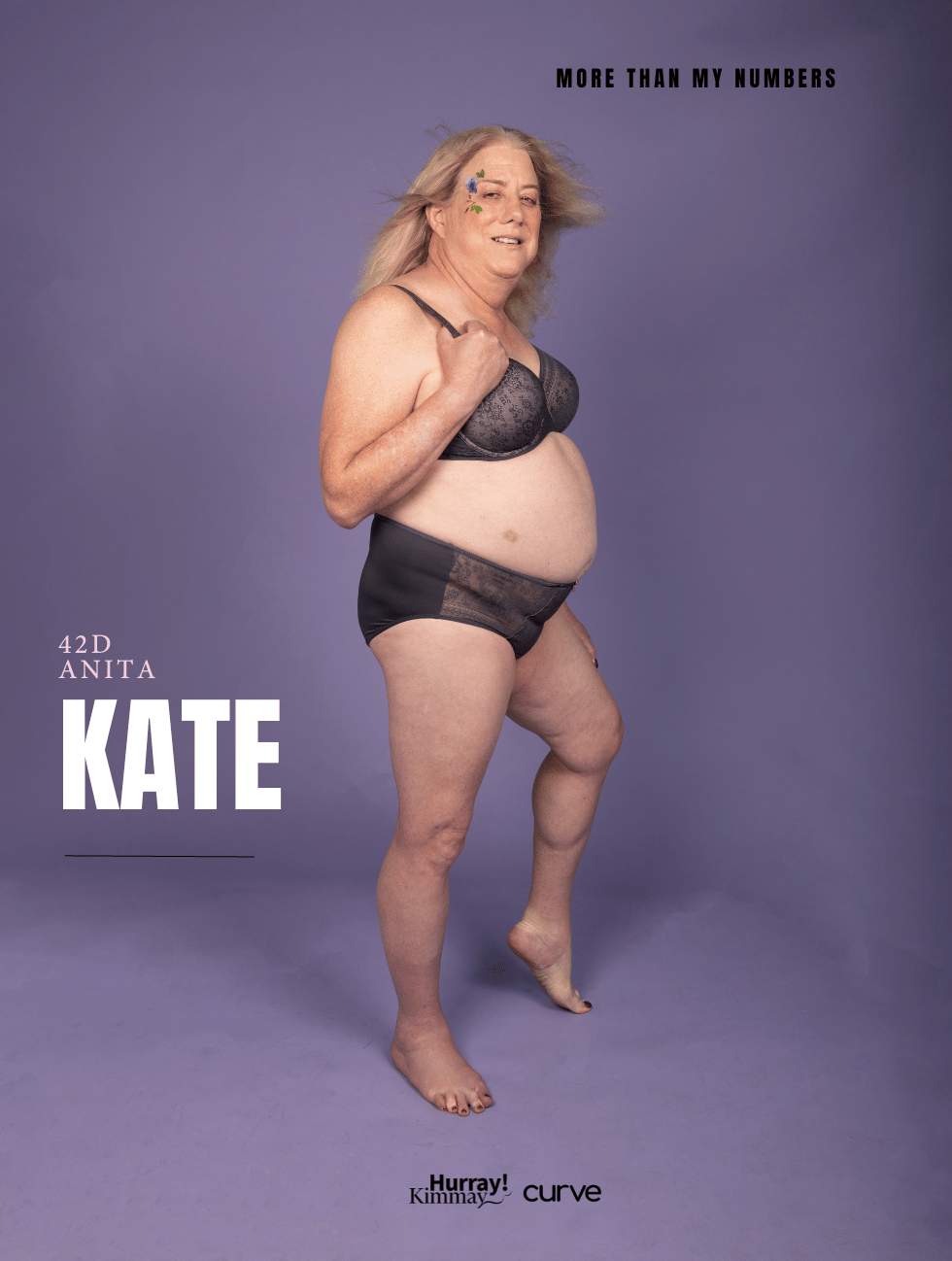 Kate and I met years ago, when she was the first person to officially welcome me to Oklahoma! Yep! When I announced a big move from NYC to OK to my newsletter list, Kate lovingly sent me an email to say howdy and welcome me to the state. Since then, she's been a fabulous person to get to know so it was super special to have her join More Than My Numbers, especially to share her amazing story. 
Kate, a transgender woman, officially started taking steps to transition in her 50s, and she's proof that age is just another number and it's never too late to be who you truly are… or get a bra that fits. I told her that most of the women I've fit for bras are in their 50s or 60s, and have never had the help of a professional before. Now in her 60s, she was just like every other woman finally finding comfort in her bras. Hurray!
I chose Rosa Faia by Anita for Kate because of their amazing size range, supportive German design, and high quality fabrics. Plus, the flexible (and gorgeous) stretch lace on this Fleur Underwire Bra can work with her shape without forcing her to be someone she isn't. That's why this is one of my favorite bras to fit with. And the soft charmeuse lining on the inside of the cup is just another hurray. 
Kate is wearing 42D, but this style is available up to a J cup! 32-46 bands and B-J Euro Cups, to be exact. The adjustable straps and band are fabulous for getting a custom fit, and this gray and pink combination is just one of the colorways available.
Kate is embracing who she is in Anita. Shop this style below or ask your local bra boutique!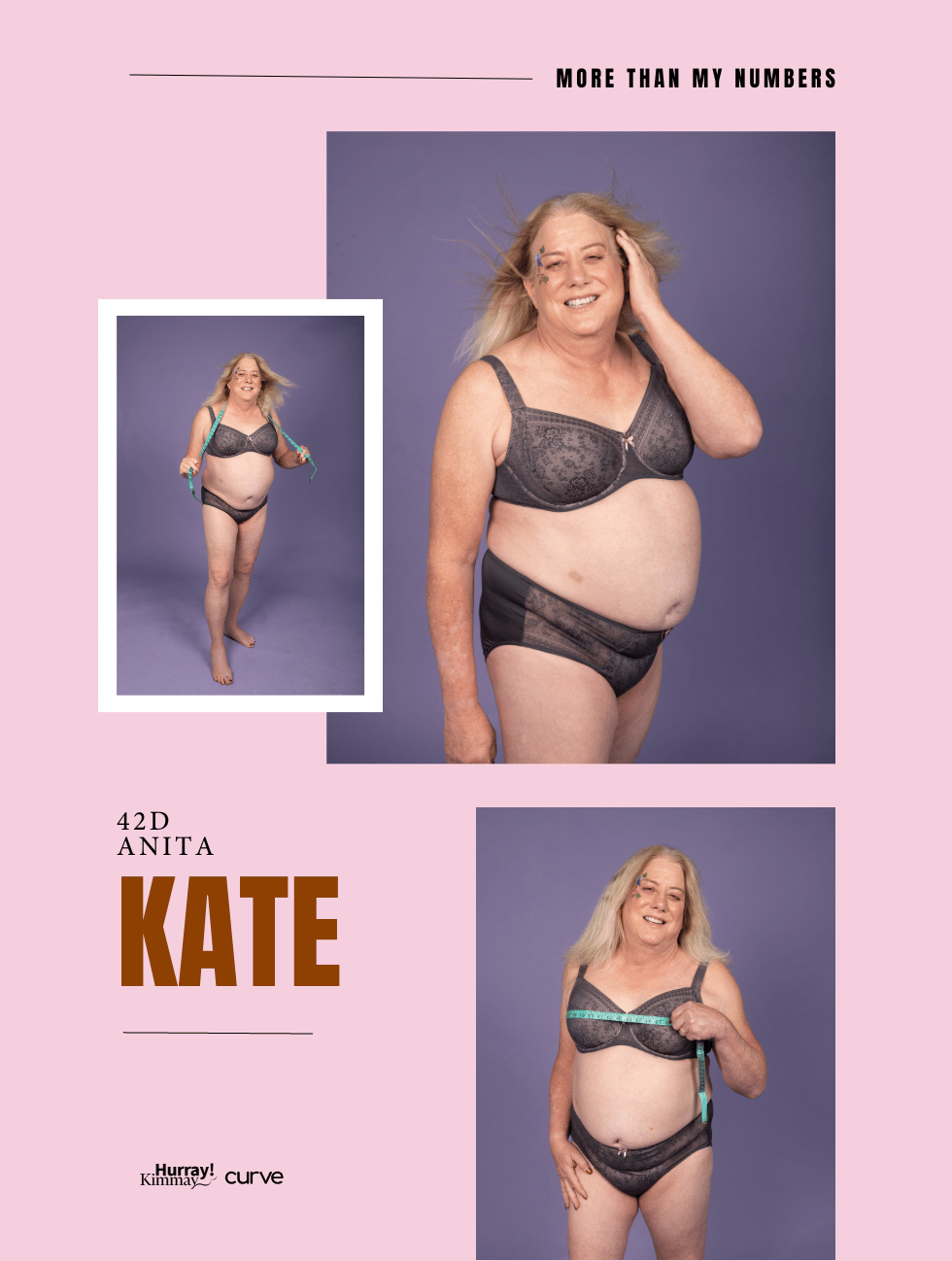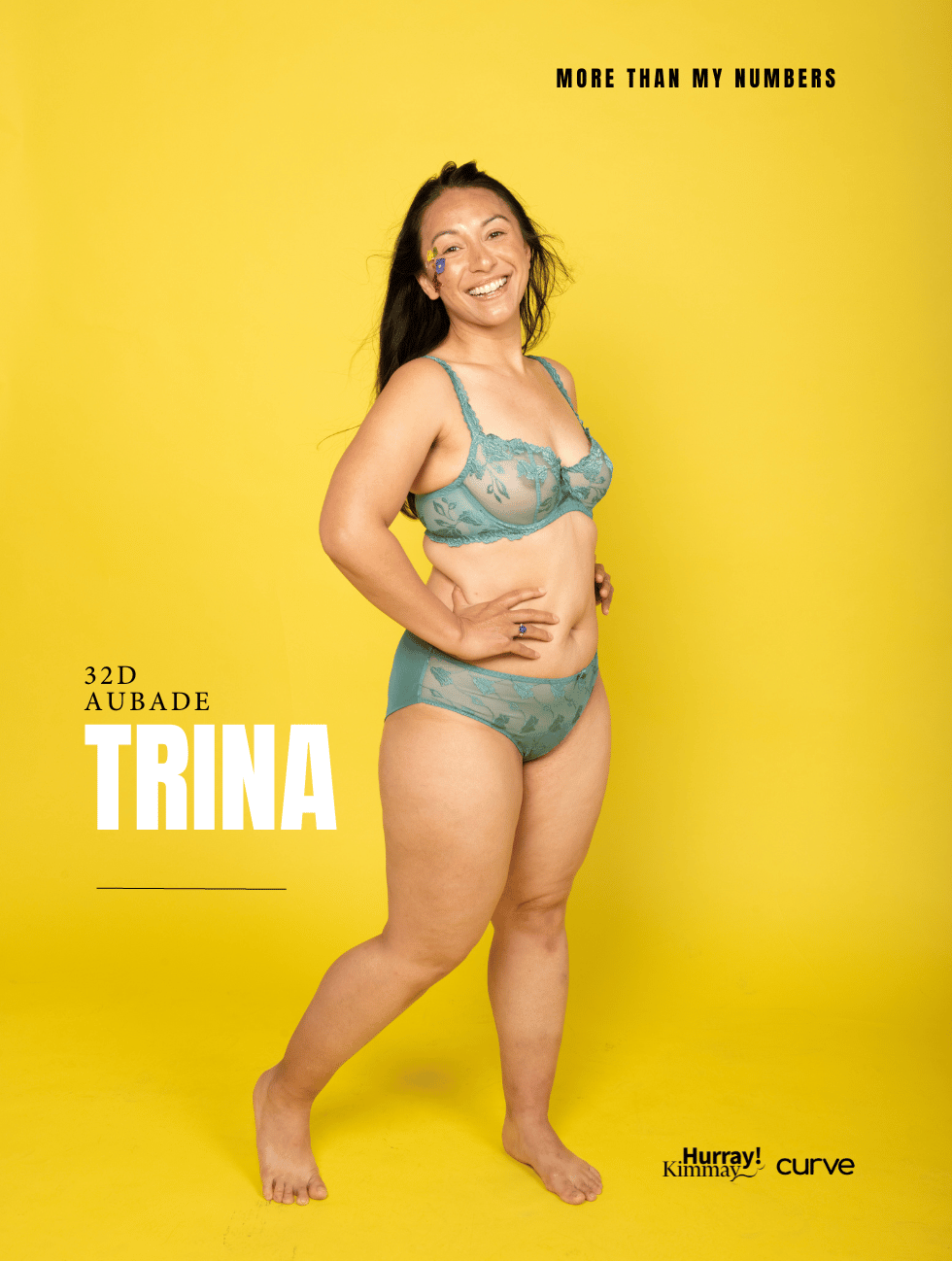 Trina is the perfect example of so many people I've fit in the past. She came to our More Than My Numbers set wearing a 36B, and pretty confident that size was correct and she just needed a new bra style. Little did she know, that day she would fit into a 32D. 
I can't tell you how many people I've fit who think "there's no way I can wear a D cup!" or who have flat out refused to wear a D cup because it's "too big". What they're really saying is "I have bought into stories about what it would mean about me if I were to wear a D cup." So I'm really proud of Trina for practicing the More Than My Numbers way and not letting the size on the tag define her! 
It helps that she's supported by a stunning set from classic French brand, Aubade. This Softessence demi bra is beautiful, comfortable, and eco-friendly! It's designed with ultra-soft 100% recycled embroidery, straps, and tulle lining in a floral pattern with a super-soft velvet effect. Available all year round in two neutral colorways, this season it also comes in the soothing Aloe color Trina is wearing. This wide back, demi cup style is available in B-G cups, and the D cup fits this yoga loving mom like a dream. 
PS: In this case, Trina also learned a bit about Sister Sizing and how cup size relates to band size. The B cup she was wearing in a 36 is equivalent to a C in a 34 band, or a D in a 32. So technically, we only changed her band size to get a more snug (and more supportive) fit, and adjusted the cup size to match. Hurray for bra math and proclaiming: I am More Than My Numbers! 
Trina is radiant in Aubade. Try this French brand for yourself online or at your local bra shop!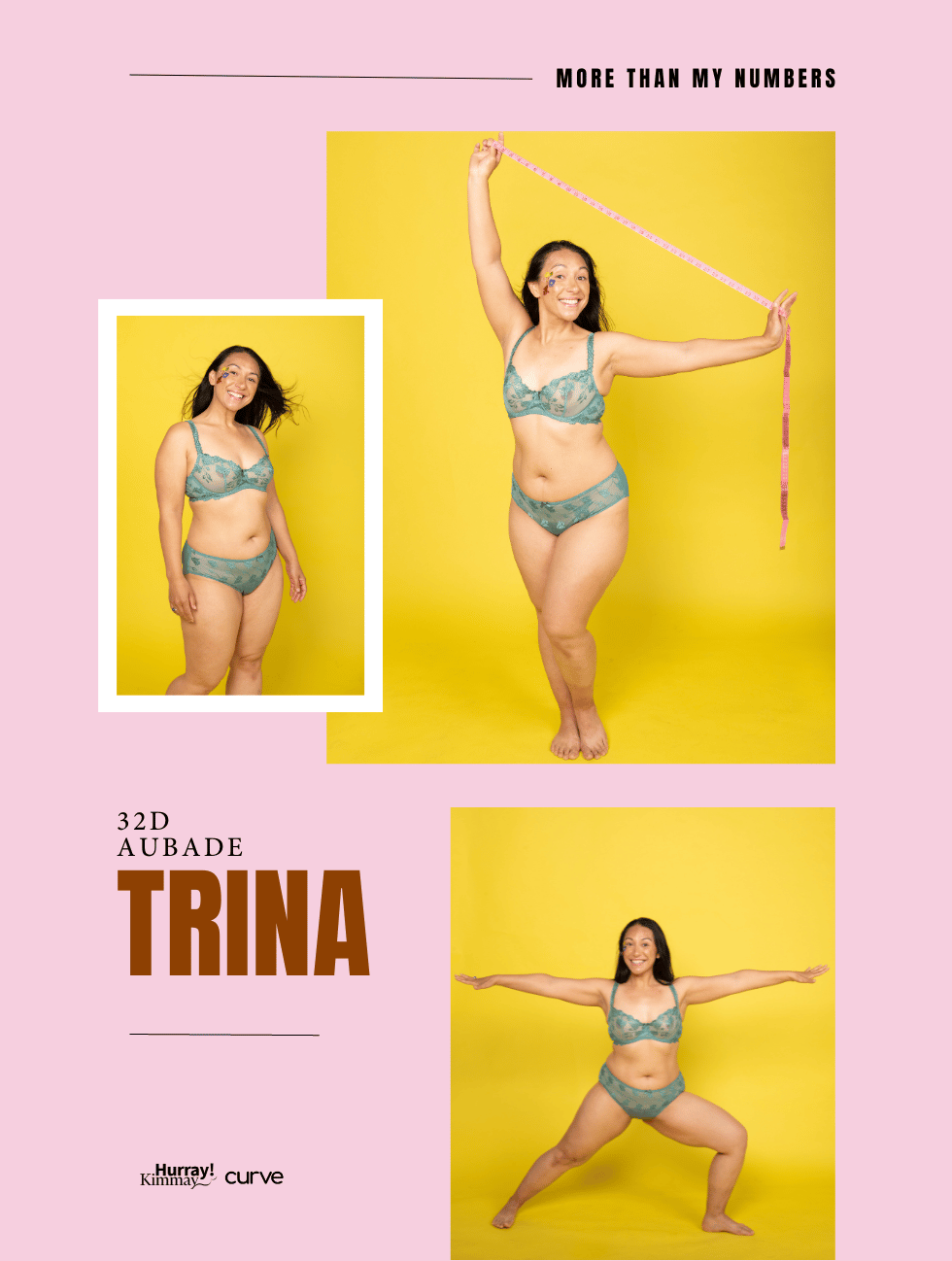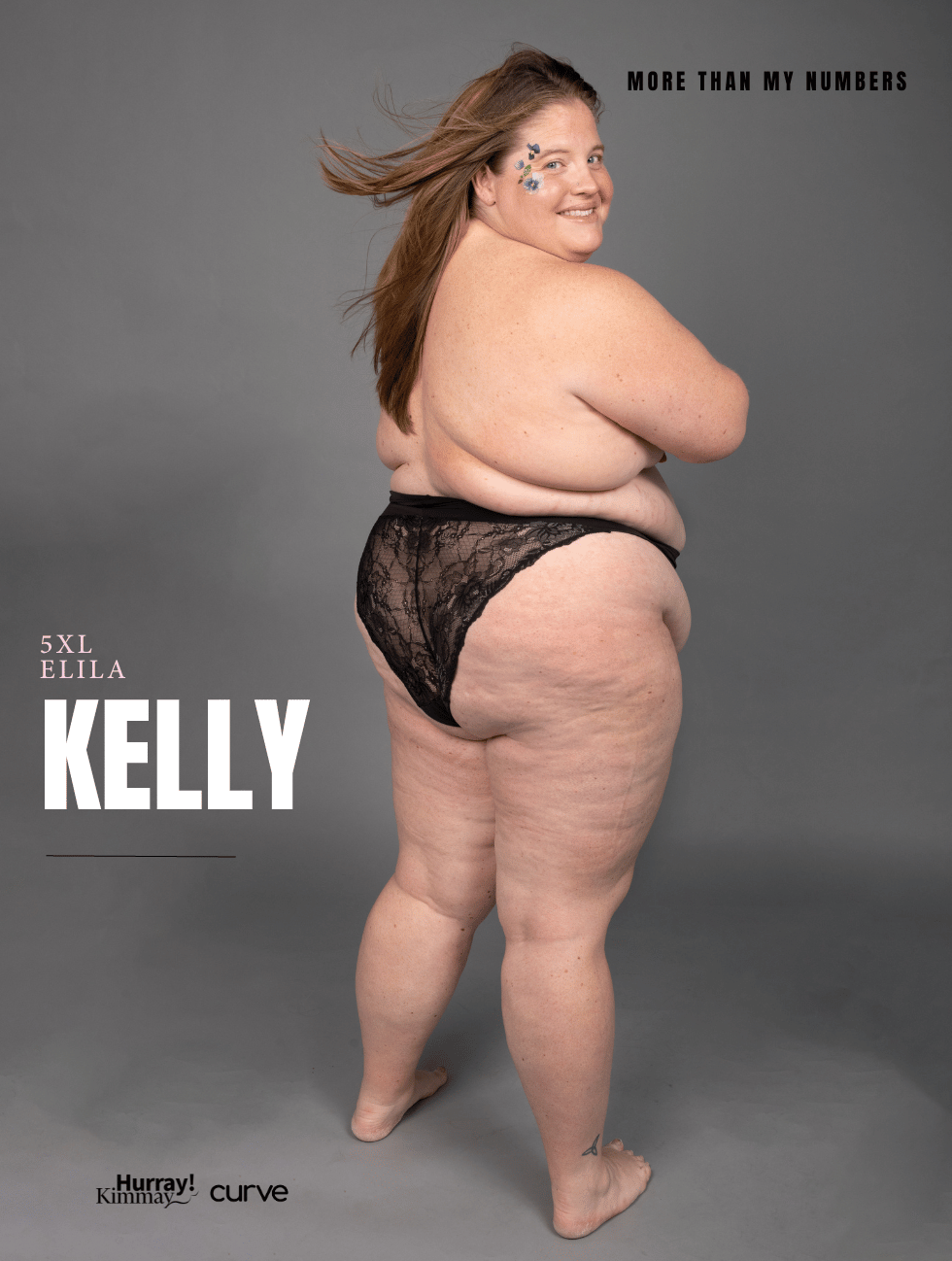 Hurray for Kelly! This amazing woman is a hard working nurse and took a big risk to drive from NY to Philadelphia to participate in this wild project. And, wow,  she didn't hold back. When I suggested that we shoot a panty only look, I knew there was a chance she'd say no. But without hesitation, Kelly stepped up and said, "sure!" And the outcome is outstanding. 
Keep in mind, the More Than My Numbers motto doesn't just apply to bras. It's about all numbers that we want to use as information and not a definition. That includes numbers like our age, salary, weight, dress size, and yes, even our underwear. 
And Elila is a brand who absolutely understands and lives the More Than My Numbers mission. Kelly is wrapped in elegance thanks to this gorgeous Stretch Lace Tanga from this long time partner brand. I've been fitting folks into Elila for years, and this style is one of my favorites. I adore this underwear and love to wear it myself! The v-shaped front and back and high cut leg are seductive, while the wide, soft band hugs without digging in. It can also be worn high on the waist, or folded down for a lower rise. 
By the way, Elila is very size inclusive with a focus on fuller figures, and known for their supportive bras that fit up to a US N cup! So there are lots of bra options to choose from, too. In fact, the matching spacer t-shirt bra and wire-free option that coordinates with this sassy bottom is one of my favorites as a fitter. Check it out! 
Kelly is exquisite in Elila. Shop this style and more at your local bra shop or through your favorite online retailer.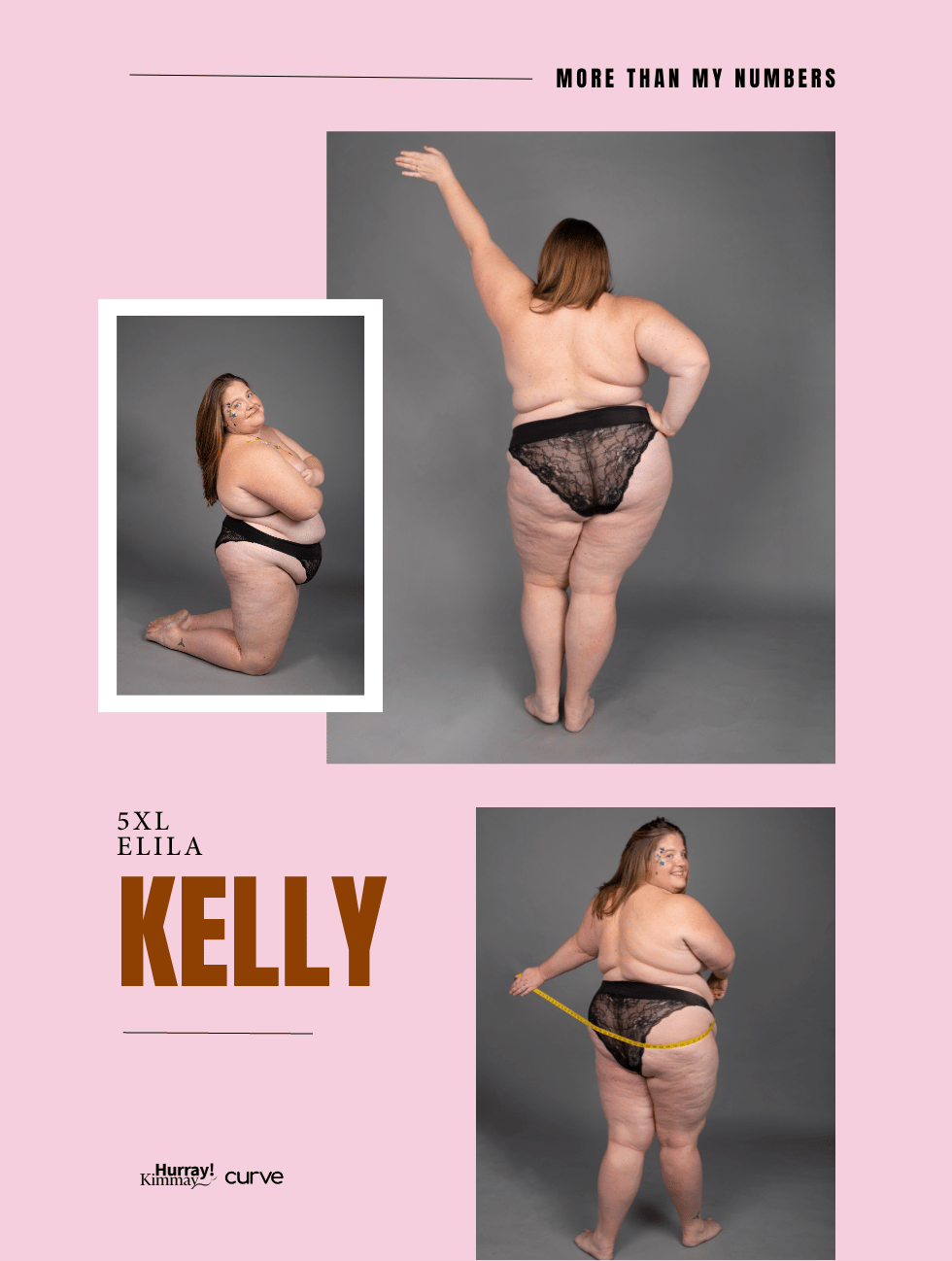 Tink 28B and Rachel 30C in The Little Bra Company
Tink may be tiny, but her courage is so big. Recently she went through the "explant" process, meaning she made the decision to have her breast implants removed. While she knew this was positive for her overall health, this decision came with fears and worries. In my years of fitting folks I've learned that our bust size often directly affects our self-identity, and brings up common stories about being too much or not enough. So I was thrilled to have her step into the More Than My Numbers project just a short time after her explant surgery, and on her birthday! 
I fit Tink into one of my favorite petite bust brands, The Little Bra Company. She was certain no one made adult, beautiful bras to fit her frame and gosh was she wrong. This brand specializes in AA-C cups, and understands the unique needs of a petite busted person, so each style is truly designed with a smaller figured body in mind. We tried on a sporty style for a more natural silhouette, and this curve creating push-up bra for a fuller shape.  Both options are beautiful, both fit to a tee, and both are still her. Now she has the option to choose what she wears and how she wants to look each day. Not to mention, the bra's removable "cookie" pads let her customize her silhouette, and are an amazing function if someone has uneven breasts. Hurray! 
And the celebrations kept coming as her wife and biggest support, Rachel, joined in for the shoot. Also a petite gal, and usually in the "no bra or bra casual" category, she was flabbergasted at the shape her Little Bra Company style gave her. This pair is made for each other and their love and support is so evident. Now the two of them have support in a whole new way. 
Tink and Rachel are supported and strong in their Little Bra Company sets. Shop their styles and more below and save 10% off with code LOVELITTLEBRA.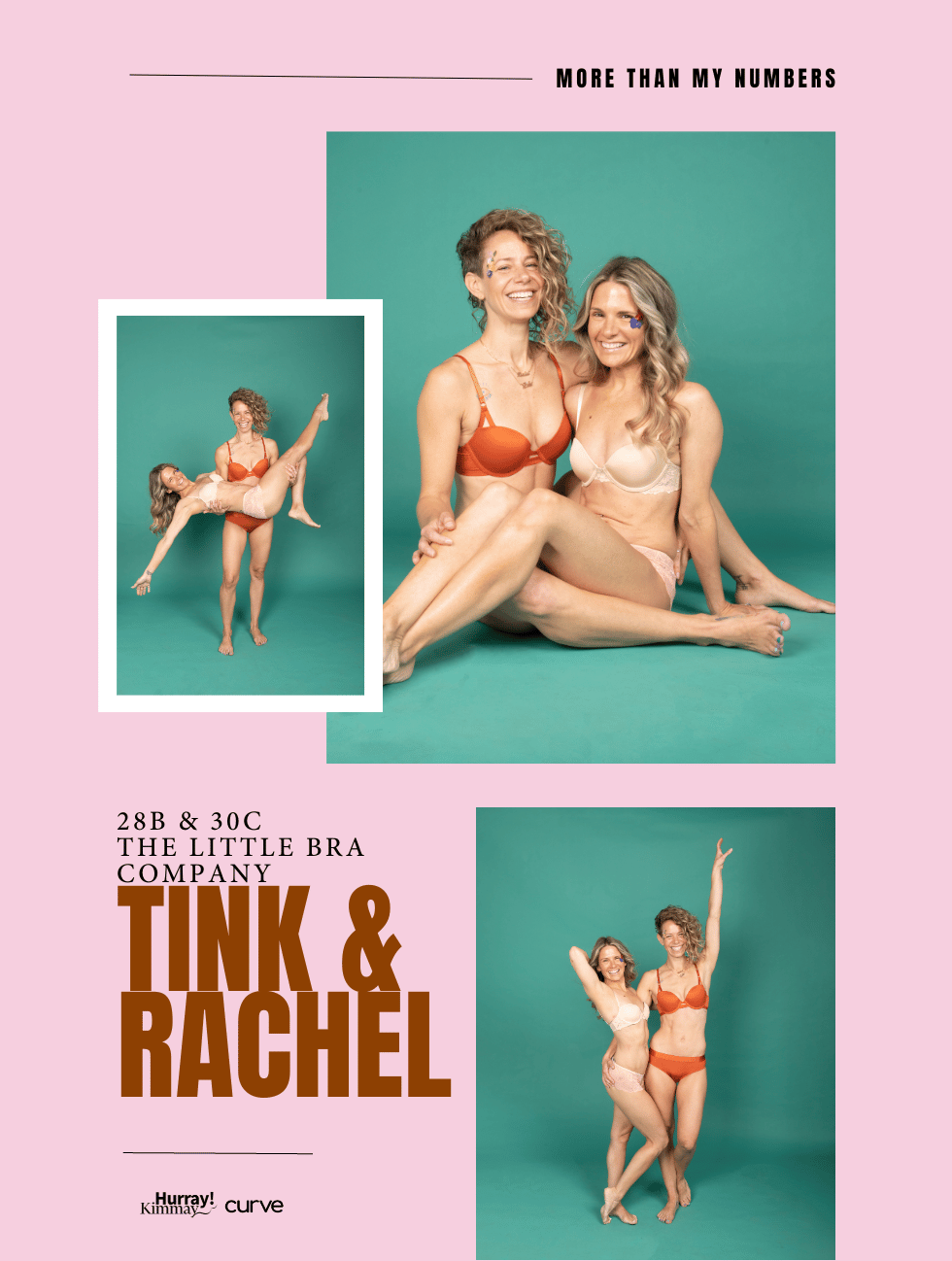 *10% off with code LOVELITTLEBRA. There is no minimum purchase amount or expiration. The code is valid on all apparel (bras, panties and swimwear). It does not apply to gifts/gift cards and accessories, face masks and sanitizing sprays and cannot be combined with any other discounts or promotions.
Free Bra Class
Want to wear a bra without ripping it off at the end of the day? Watch How to Find a Comfortable Bra Fit For Your Body WITHOUT Wasting Your Money on Bras You Dread Wearing! Plus, you'll also get Kimmay's Bra Fit Guide, and a taste of Bra Confidence & Comfort™. Watch now and don't spend another minute feeling uncomfortable in your bra.
Your turn: What feelings come up around your bra size? What numbers can you practice using as information and not a definition? How can you help others do the same? Share with me @hurraykimmay on Instagram and TikTok!

Credits: Photos by Studio 5 Baltimore with zero airbrushing or altering these gorgeous-as-is bodies. Hair and make-up by Beauty Marks NYC. Huge hurrays for the volunteers that bared their bodies and their sizes for us! I am forever grateful to you for your bravery and beauty.
A special thank you to the brands that helped make this happen: Elila, Anita, Aubade, Understance, The Little Bra Company and Naked Rebellion. Hurray! And huge thanks to Curve and Revealed magazine and the team for partnering on this amazing project and bringing More Than My Numbers back to life. Hurray!