Need some swimsuit shopping help? Hurray! I'm back on The Today Show with Hoda and Jenna! This time, the lovely producers called me up to share the best swimsuits for Summer 2023. And because I say hurray for bodies of various types, I decided to pull some examples with coverage and confidence options for various types of folks.  
A reminder: it's tempting to compare your own body to other bodies, or even your own body kindness to that of others. I encourage you to honor and respect where you are today. Just because someone else rocks a teeny bikini or covers up their tummy doesn't mean you need to. Your relationship with your body is yours and you get to decide how much to cover, what to show, and how to adorn and support it. A beach body is simply the body you have at the beach (or lake, or pool, or water park… you get the idea). So let's explore some amazing swimsuits together, along with Today. Hurray! 
Scroll below for links to some of the very best swimsuits for plus size, mature, and all the gorgeous bodies that I shared on the show, plus a few extra ideas to support you. 
By the way, a special thank you to the wonderful volunteers who worked with me on this special segment to share their beach bodies. It takes courage to show up without a filter or Photoshop (I know from experience) and these gals knocked it out of the park. 
Psst! Some of the brands linked here might be past or future partners of mine, but were independently chosen for this segment without compensation or contract. I'm proud to bring them your way! There might also be an affiliate link below. As always, I share what I think will support you and help you say hurray.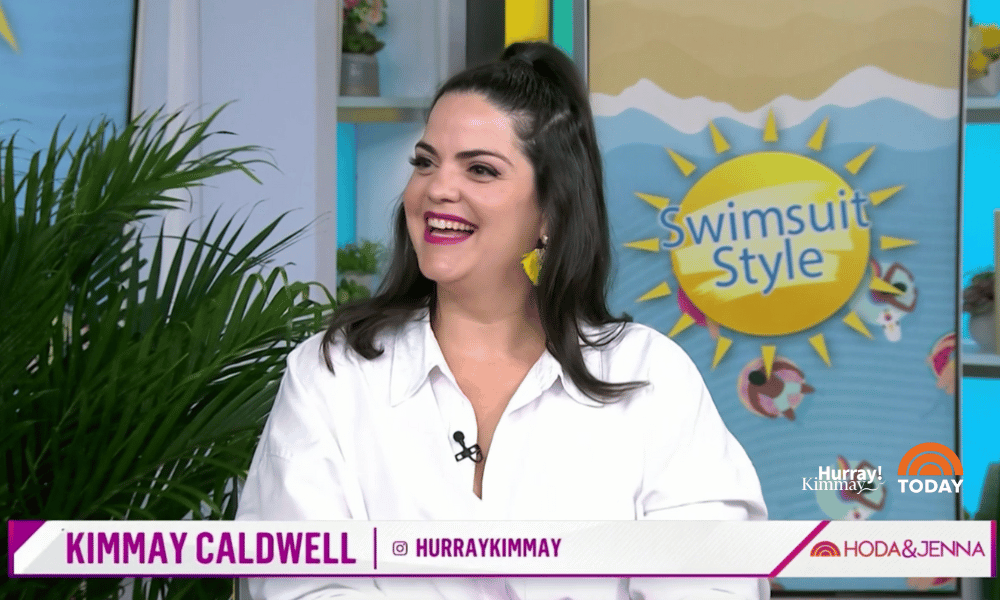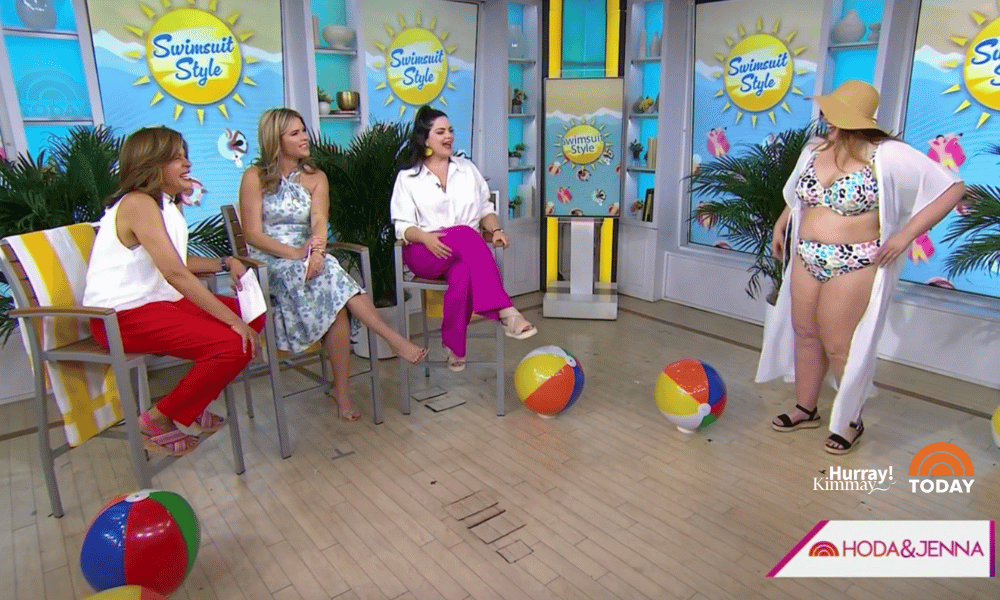 Watch the recap video clip on the Today Show website!
Summer Swimsuit Confidence
Want more? Learn about the swimsuits I shared on The Today Show and buy & try them for yourself!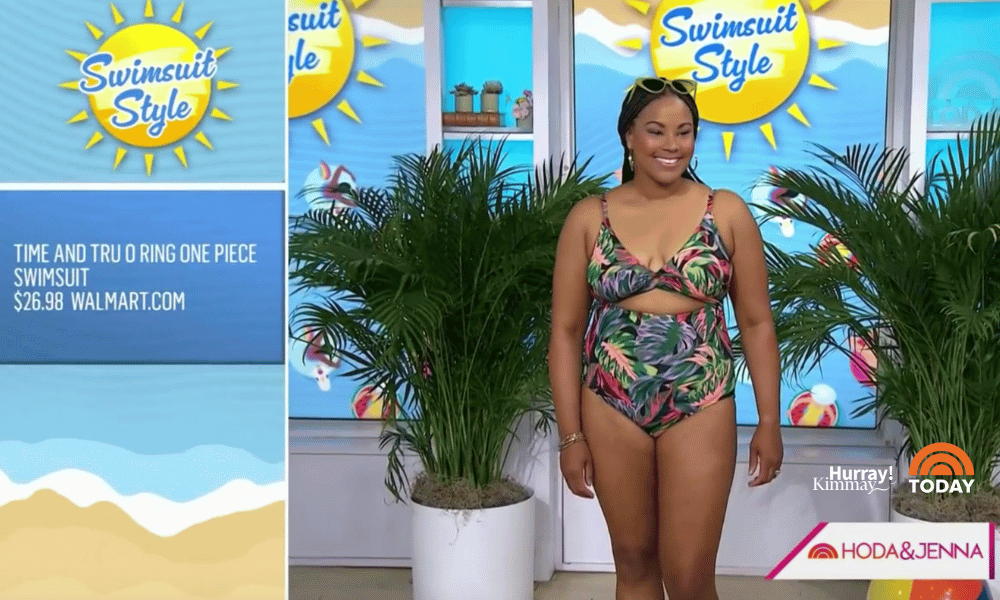 If you like the idea of a two piece but want the midsection coverage, a one piece with a peekaboo cut out is a great option! You get the coverage for your confidence and a bit of skin showing through. This style on Angela has adjustable straps for a secure fit, removable cup padding, and is made from a sophisticated print. Bonus: like many options at Wal-Mart, it's a steal at only $26.99! 
Tip: it's often fun to save on swimsuits, but it's an especially good idea to spend less if your body is changing or you know the suit might not fit in summers to come. 
​
Walmart – Time and Tru Women's O Ring One-Piece Swimsuit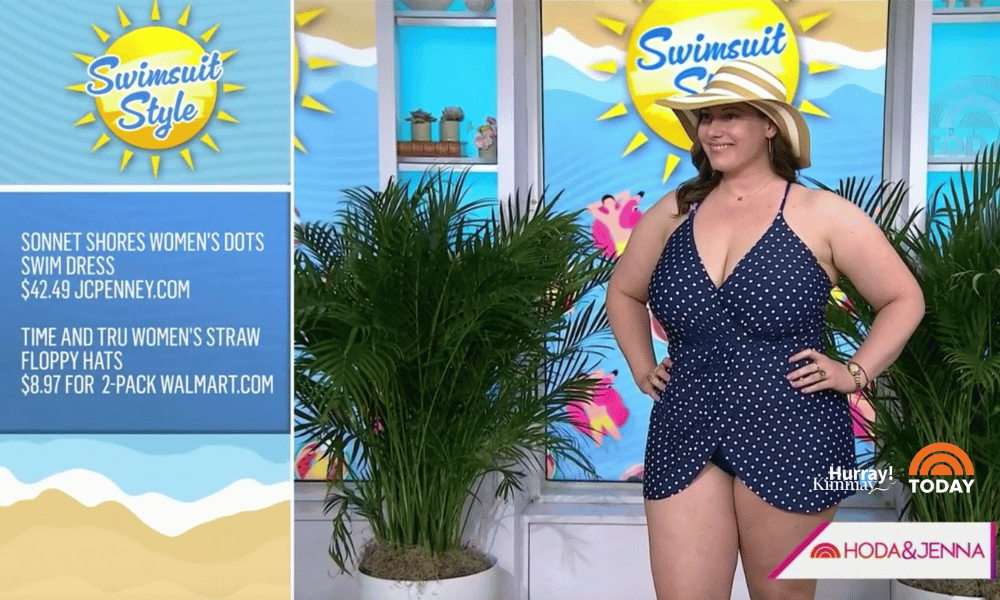 Swim dresses are so underrated. Most folks imagine an outdated style worn by a stuffy mature woman, but swim dresses have come a long way, thanks to JC Penny. Hurray! For those who want a little hip coverage, or who want to feel comfortable swimming, lounging, or grabbing a bite by the pool this is a wonderful solution. The polka dots are classic and the navy and white combo won't go out of style anytime soon. Add in a timeless hat and cute wedges for a retro look!
Tip: this style had a super plunging front so you can still bare a little up top! If you want more coverage, pin it or use a stitch or two to customize the neckline. We also took out the inner padding, which was too small for Kerin's fuller bust. Don't be afraid to work with your options to get the fit that works with your beautiful body!
JC Penney – Sonnet Shores Dots Swim Dress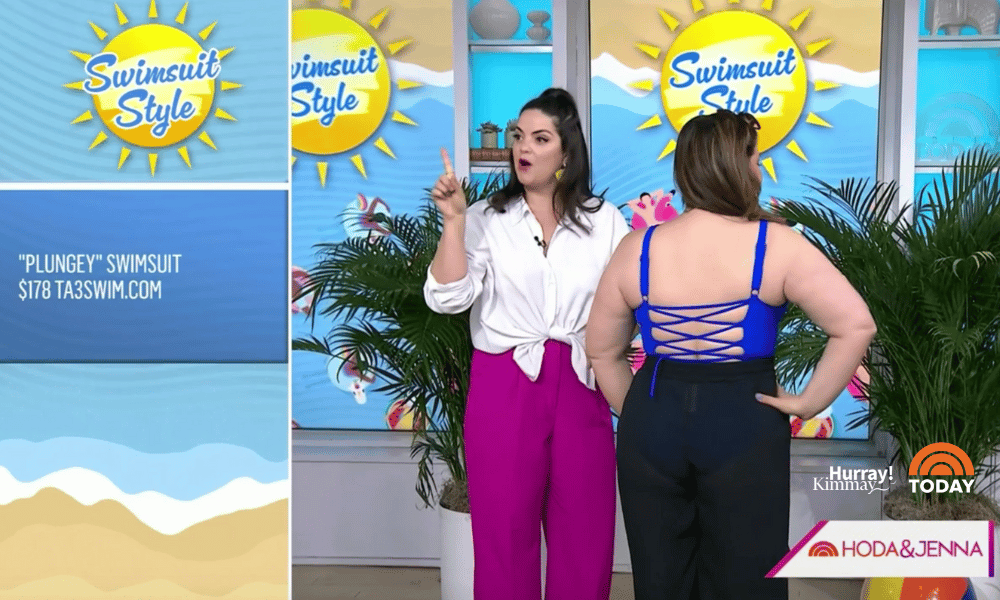 This chic one piece has a special surprise! TA3 was a hit on Shark Tank, and you've probably seen them in your Instagram ads. Good news: they are worth the hype! In front you see a sleek, plunge front in a vibrant blue. In back, you'll find a lace-up corset back that, with a simple cinch, nips in your silhouette. Note that I fumbled the strings on Dawn's suit on air ha! so it is actually an easier and more swift transformation than what I showed on TV 😉 You have to test it for yourself, because these sexy, shaping swimsuits give a great hourglass silhouette are also quite comfortable!
Tip: Dawn looks amazing as is, or with the cinch and what's important is she has the option on how she wants to shape and share her body that day. She told me that she is currently menopausal, and those hormone changes really affect the body. With this suit, you can customize the shape and wear what feels good! Think of it as deciding if you want to go with full makeup or a bold lipstick one day, and a more natural look the next. It's all up to you!
And a coverup doesn't need to be a kimono or dress. These coverup pants are awesome, too, and these have a side slit for a flirty bit of leg peeking out as you sashay around.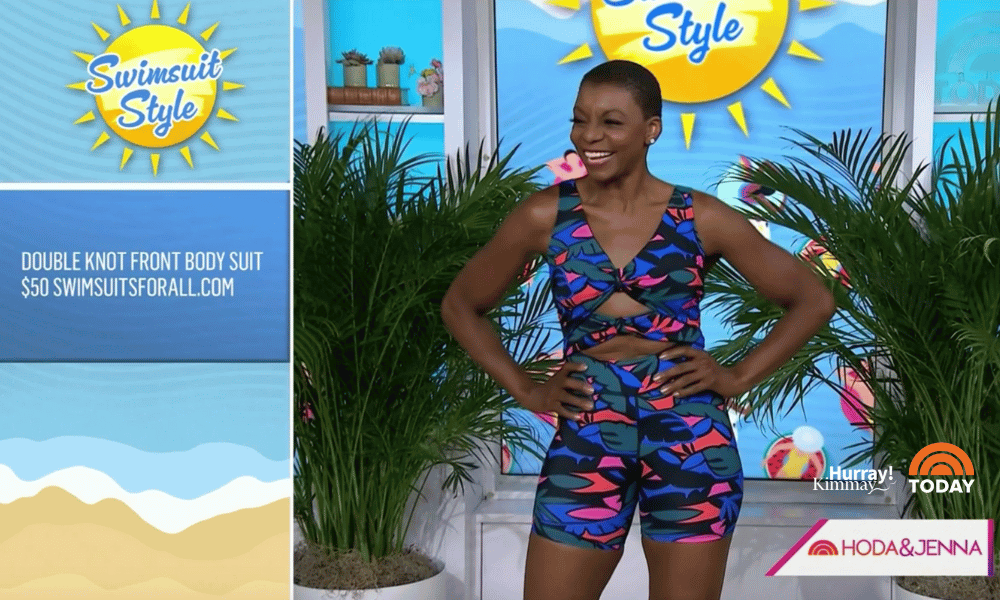 Are you looking for an active swimsuit? Need a bathing suit you can wear paddleboarding, kayaking, or hiking by waterfalls? I was recently in Puerto Rico and gosh I wish I had this awesome swimsuit (or bodysuit!) to wear for all of the activities I did there. It's stylish, funky, and offers modesty or coverage in a totally different way. Phyllis rocked this look and was pleased to have some knotted pieces in the front, and hip and booty coverage in the back. She's 58 and super spunky, but also desired some sporty coverage without showing off everything. Not to mention, she teaches fitness classes and could totally wear this for a workout class in the park, then hit the pool and run an errand… all in the same Swimsuits for All one piece. 
Tip: The straps on the back of this can slide on the back to be set wide or set in narrow. I love that versatility. But it's also versatile in style! Throw a jacket on with sneakers and some sunnies and this outfit is ready for your outdoor activities (from hiking or dance, to cocktails with friends!) 
Swimsuits For All – Double Knot Front Body Suit​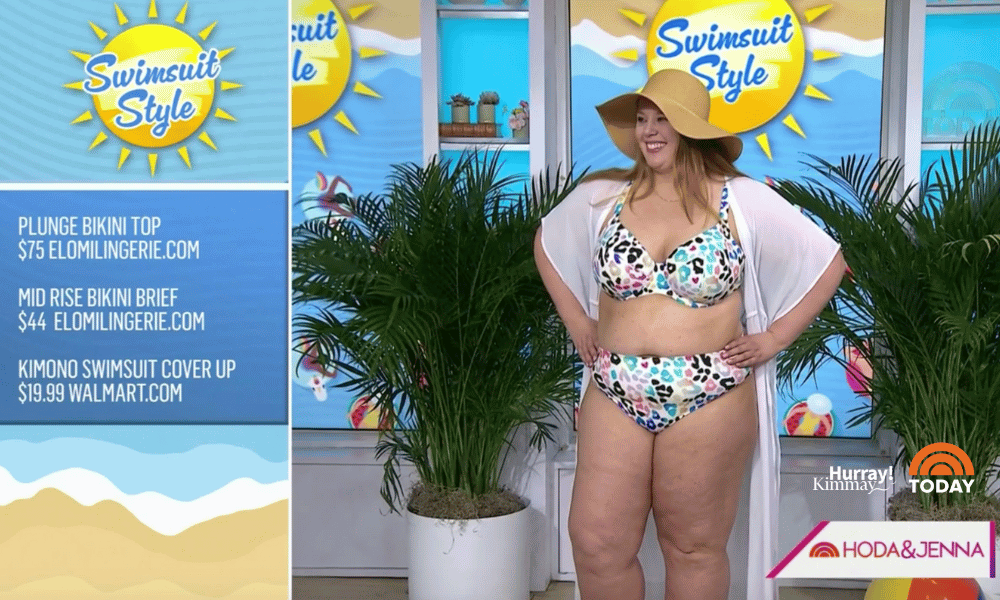 Did you know that your favorite supportive bra company might make supportive swimsuits, too? As a bra fitter since 2005, I have helped lots of people find swimsuit confidence, and many of those people found it wearing a bra sized, underwire bathing suit. Hurray! 
In this case, Liz is wearing a bikini set from Elomi that is adorable and supportive. This UK brand is known for their cute and structured bras, and the same design is used for this tropical animal print bikini top, but with swimsuit material! As always, adjustable straps supply a customizable fit, and the matching panty has such enough coverage. You don't have to struggle to get a flimsy string bikini top to stay in place or actually lift anything. Underwire support in a bra sized bathing suit is a huge hurray. Check out their other swimsuit silhouettes at your local bra boutique, too! 
Tip: Support is your friend when it comes to bathing suits. So don't be afraid to claim it. This style is available up to a UK JJ. That's a US cup size N. Yep. 
Elomi – Party Bay Plunge Underwire Bikini Top
Elomi – Party Bay Plunge Underwire Bikini Brief
Free Bra Class
Want to wear a bra without ripping it off at the end of the day? Watch How to Find a Comfortable Bra Fit For Your Body WITHOUT Wasting Your Money on Bras You Dread Wearing! Plus, you'll also get Kimmay's Bra Fit Guide, and a taste of Bra Confidence & Comfort™. Watch now and don't spend another minute feeling uncomfortable in your bra.
Your turn: What kind of coverage gives you confidence in your swimsuit? What step can you take to step out into the sun and say hurray this summer? Share it all with me over @hurraykimmay on Instagram!

Credits: Thanks to the Today Show staff and crew (and amazing producers)! And a special thank you to the brands that helped make this happen: Ta3, JC Penney, Elomi, Wal-mart, and Swimsuits For All. Hurray!