Hurray! It's swimsuit season! Wait – what's that? You're not pumped to wear a swimsuit this year? I hear you and am here to help. Beyond the thousands of bras I've helped people into, I've also supported many of those folks with swimsuits. And while bras are mostly intended to be worn under clothes, swimsuits are intended to be worn out in the open. Unsurprisingly, person after person would come into the fitting room with all sorts of worry, fears, and low self-esteem. 
After years of supporting people of all ages, sizes, and needs with swimsuit shopping, I noticed that a few things really help when it comes to feeling your best out there on the beach or by the pool. Below you'll find a combination of both practical tips and some mindset guidance – all with the purpose to help you say hurray inside, outside, and underneath™. 
Psst! Some of the brands linked here are proud partners of mine, like Anita! I'm so grateful to share them with you. And other links I may get a small thank you if you purchase through me. Your purchase through those links like these helps a lot in keeping articles like this coming your way. Either way, I always share items that I truly love and I know can help you say hurray!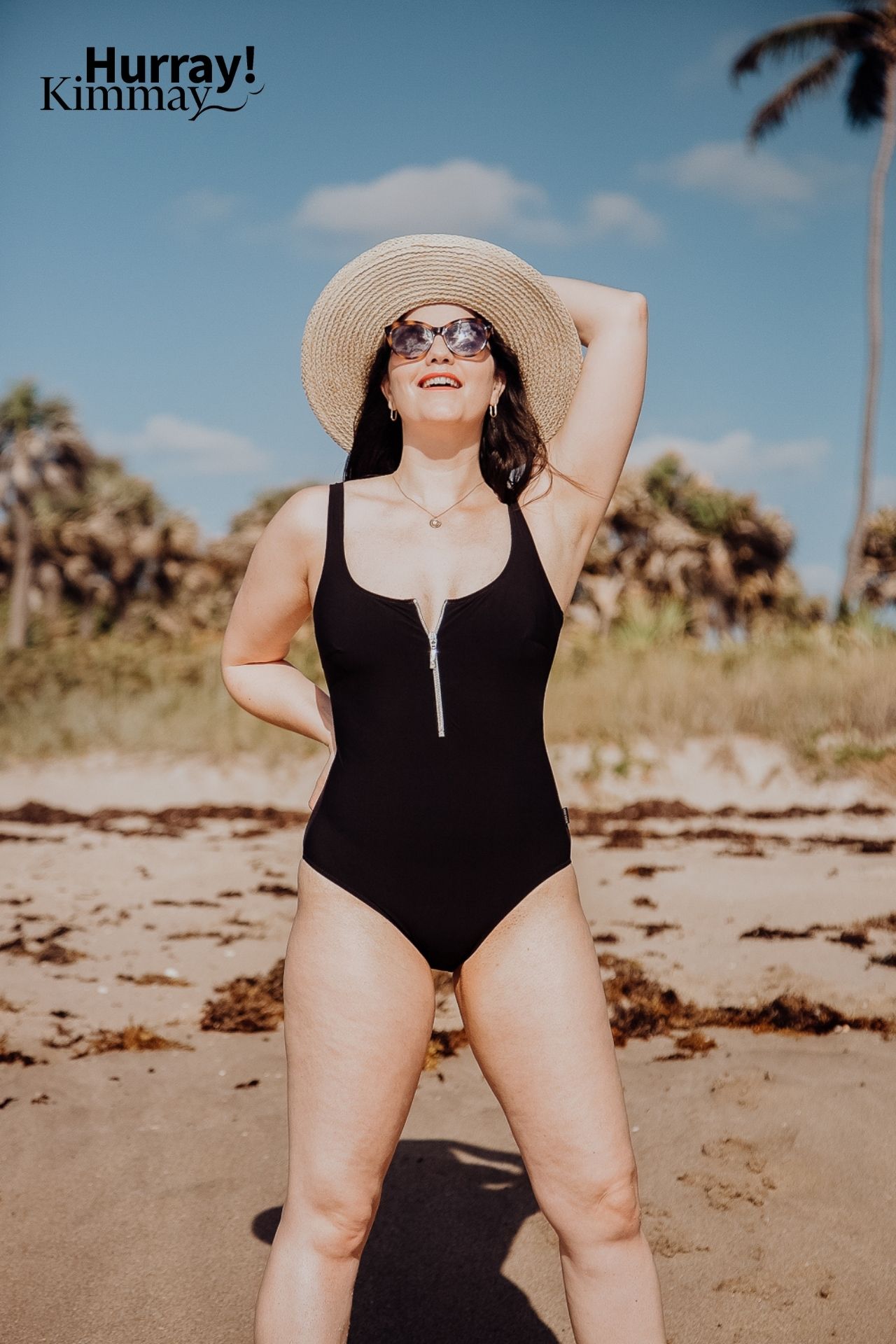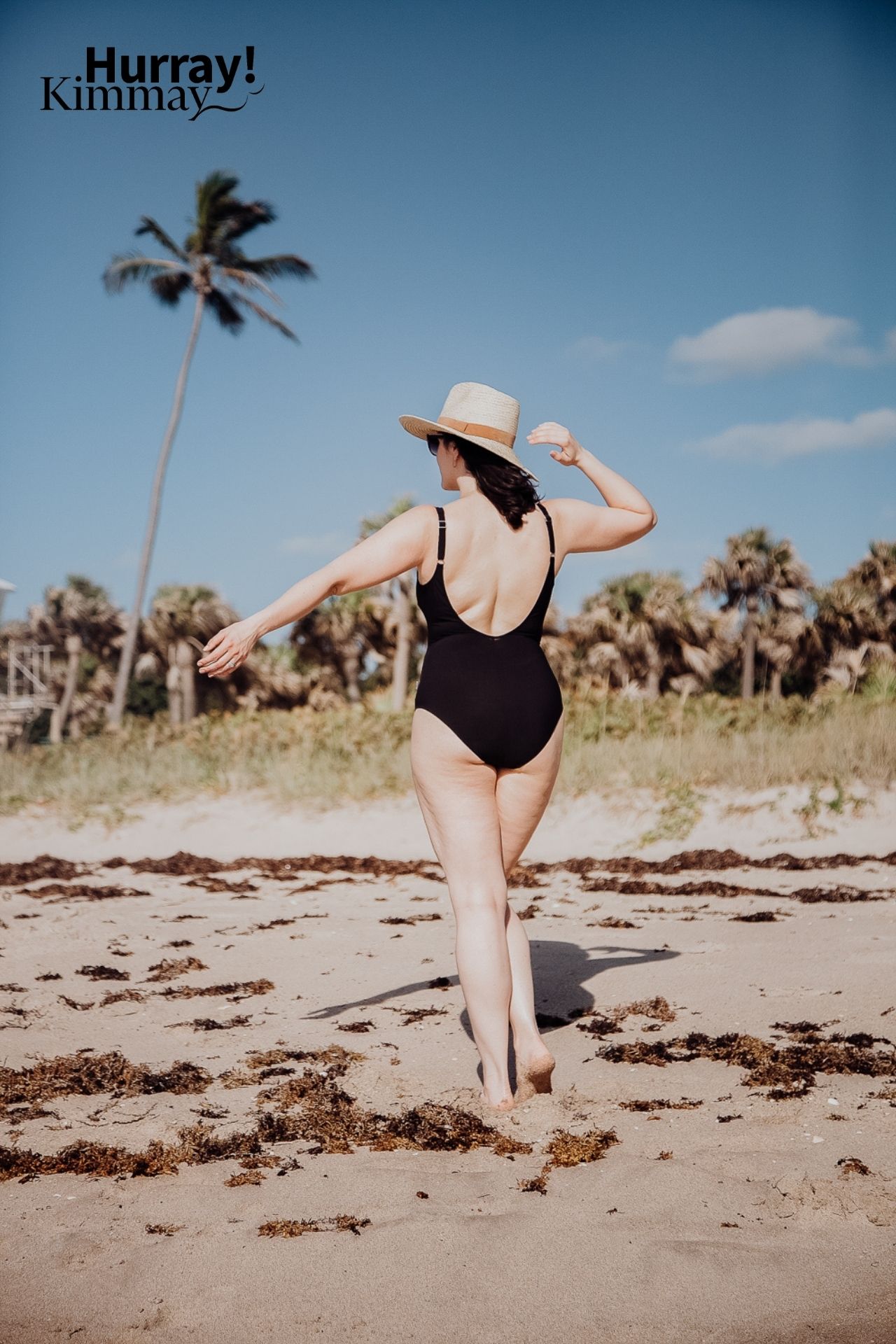 Kimmay is wearing the Anita Eloise One Piece 
Choosing Your Swimsuit Coverage 
Your Coverage Is Up To You 
Did you know: how much you show does not affect who you are? If you decide to show more or less skin in your swimsuit, it will not change how worthy of love you are, how beautiful you are, or prove anything about your self-love journey. You might choose to show more because you are in a loving relationship with your body and want to share or express that. You might choose to show less because you are in a loving relationship with your body and want to protect or adorn it. I hope you feel encouraged by the body positive and body acceptance movements to have the freedom to show your body without feeling the pressure to do so if that doesn't feel like the most loving thing for you to do right now. As always, you are the decision maker of your body. Each person is on their own journey and when you decide what to wear with love and acceptance, it can be a very empowering experience. 
The next time you shop for a swimsuit, ask yourself:
Who am I wearing this for?
Am I covering up because of what someone else will think?
Am I thinking of their comfort, judgements, or approval before my own?
If I were to choose to wear something that made me feel amazing and no one else was around, what would it be? 
How do I want to feel today? 
Asking yourself these questions might bring up some of your own judgment, about how you should look or what you should wear. Take some deep breaths here. There is a deep opportunity for self-love to grow here and you can take it one step at a time. A kind question to ask yourself (or your body) is "what is the most loving next step that I can take?" It might be to take off the t-shirt and let your snug swimsuit show. It might be to wear your first bikini after your body has changed. Or it might be to wear a bottom with more coverage than you did in the past. Truly, your next loving step is between you, your heart, and your body.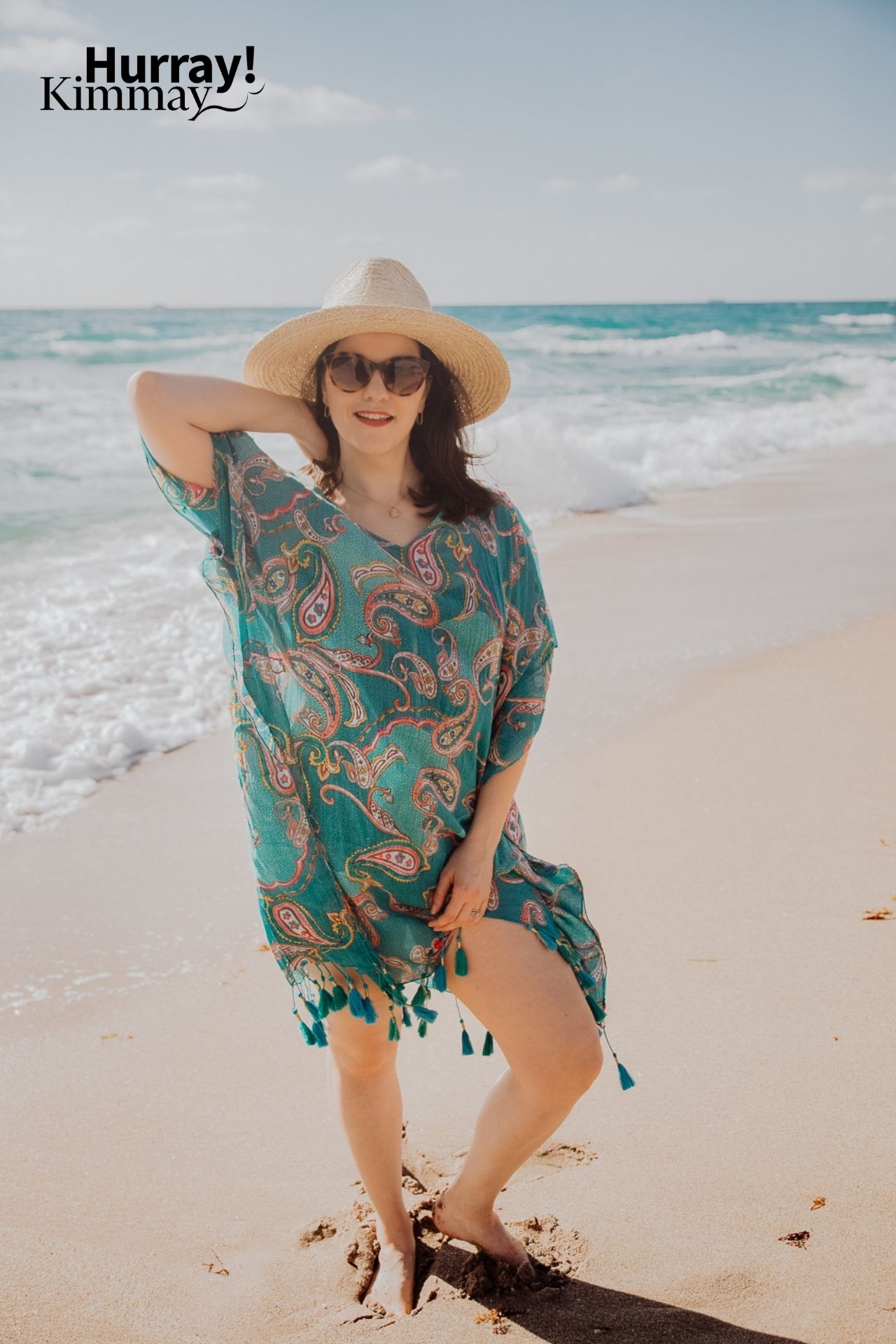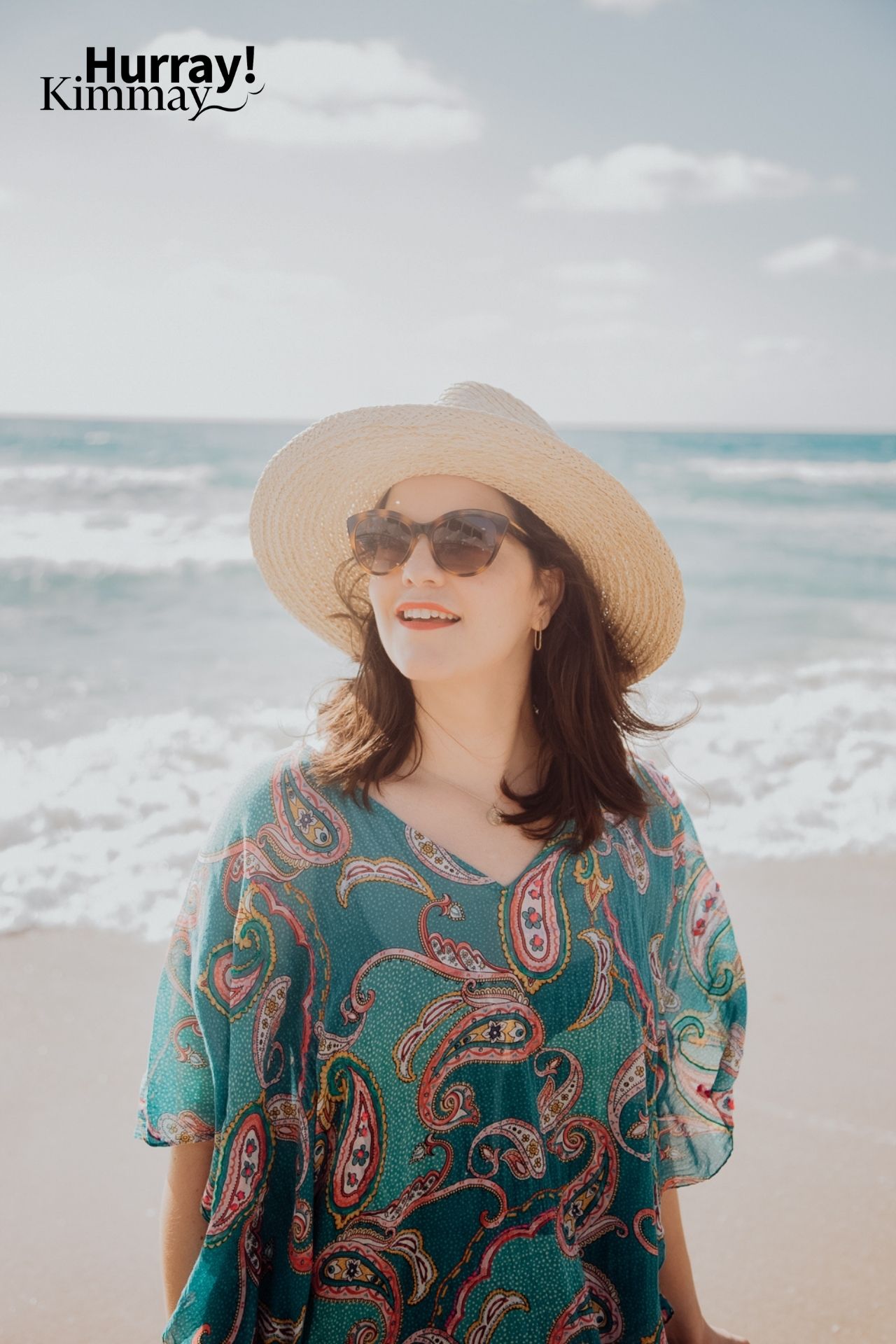 Kimmay is wearing the Anita Amini Poncho.
Be Your Kind of Brave and Beautiful 
Wearing a swimsuit out in public might not seem like a big deal to some, but for you it might be a vulnerable thing to do. Choose to be brave and dress your body with love and beauty. And that means your kind of beautiful! Instead of worrying about what's in style or on trend, wear the swimsuit you want to wear! Choose a color, cut, pattern, and coverage that helps your beauty shine. It's courageous to wear what you love even if it's not in the hottest magazines. So be courageous! Dare to wear that leopard print micro-bikini, or bravely sport the swim dress in bright yellow. Wear stripes if you like stripes! Go bold if you like color! Your swimsuit is another opportunity to wear what pleases you and helps you say hurray. Living authentically as yourself takes practice. So – let's practice at the pool!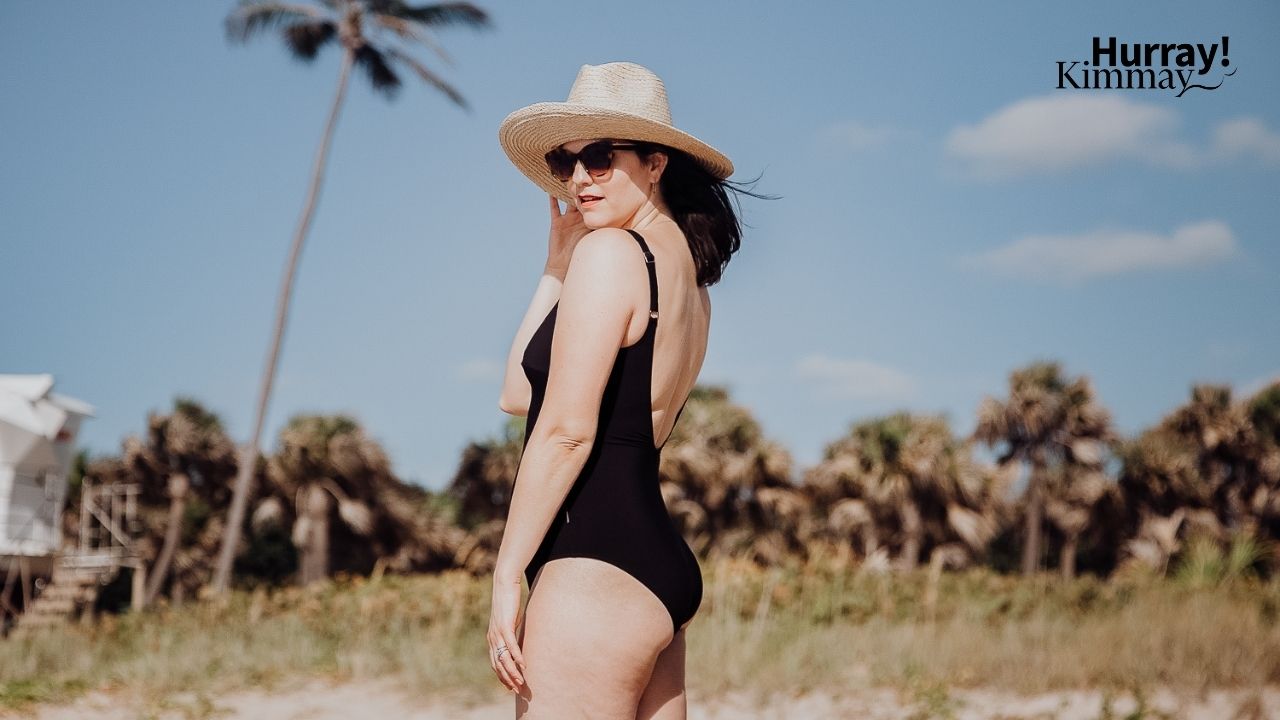 Kimmay is wearing the Anita Sauna Oversized Shirt
I'm so excited for you to take a big, beautiful step toward feeling comfortable and confident (and saying hurray!) in your swimsuit. Below you'll find some great suggestions to get you started! And remember, many local bra boutiques carry swimsuits and offer fittings! Shop in your community, online, or DIY when you buy & try. Either way, make sure you wear what fits well and feels great.
One Piece Bathing Suits to Buy & Try
Standard One Piece Swimsuits
Anita – Eloise One Piece Swimsuit
Classic, gorgeous, and well-made by Anita who has been around for over 100 years!
Adjustable tank-style straps and scoop back
Inner wire-free bust support and stunning front zipper that actually works!
Strap and back reinforcement in larger sizes/cup
Soft-Touch fabric has a supple feeling and matte finish
Swim sizes: 6-16 and European cup sizes B-H!
Karla Colleto – Low Back Plunge Front Swimsuit
Seafolly – Twist Front Soft Cup Boyleg One Piece Swimsuit
J. Crew – Rounded V-neck One Piece Swimsuit
Plus Size One Piece Swimsuit
Miraclesuit – Plus Size Illusionist Crossover Tummy Control V-Neck
ModCloth – Ava One Piece Swimsuit
Collectif – ModCloth x Collectif Rainbow Chaser One-Piece Swimsuit
Shaping One Piece Swimsuits
Miraclesuit – Escape Underwire Molded Cup Tummy Control One Piece
MagicSuit – Drew Tummy Control One Piece
Profile by Gottex – Twist Front V-Neck One Piece Swimsuit
Underwire & Bra Sized One Piece Swimsuits
Miss Mandalay – Icon Plunge One Piece
Fantasie – Women's One Piece
Freya – Sundance Underwire High Neck One-Piece Swimsuit
Skirted One Piece Swimsuits
Profile by Gottex – Classic Bandeau Swimdress
Magicsuit – Plus Size Swimwear Brynn Swimdress
Esprlia – Skirted Plus Size One Piece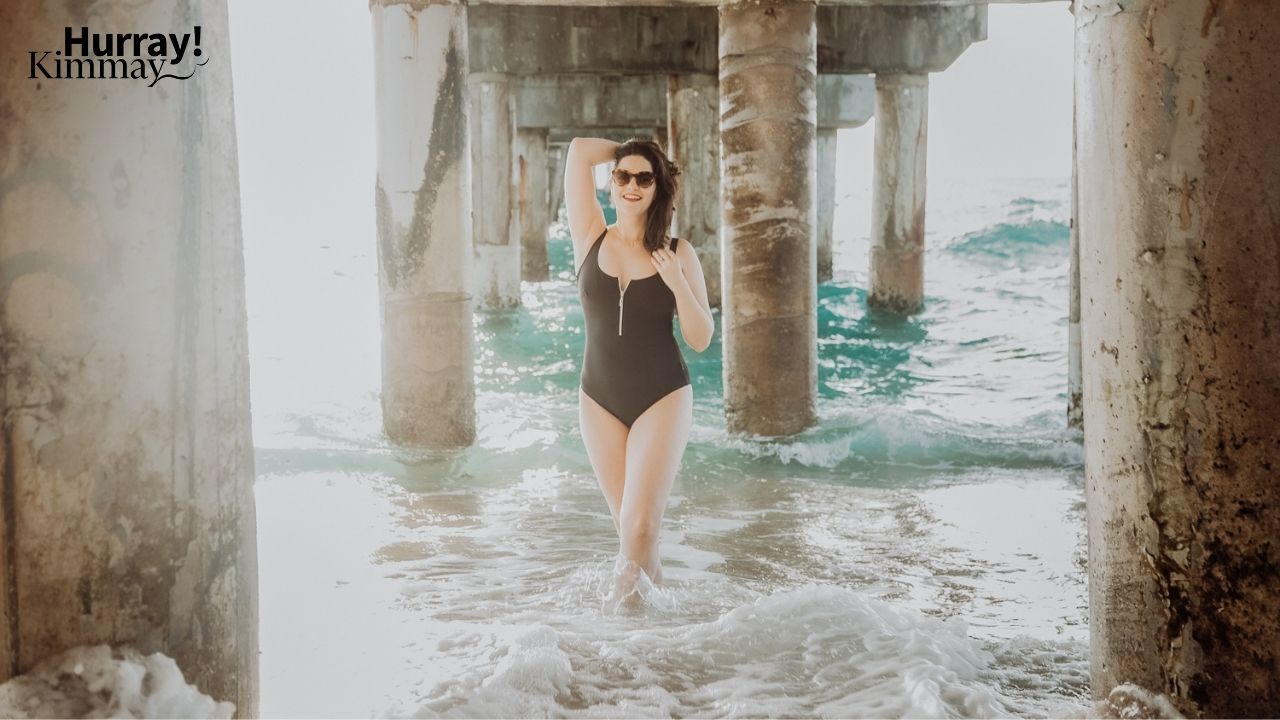 Kimmay is wearing the Anita Eloise Swimsuit.
Two Piece Bathing Suits to Buy & Try
Aerie – Tie Banded Wide Strap Scoop Bikini Top
Lulu's – Do Ya Thang Bandeau Bikini Top
Panache – Anya Strapless Underwire Bikini Top
Freya – Beach Hut Convertible Bikini Top
Body Glove – Smoothies Drew Solid D-F Cup Bikini Top
Elomi – Plain Sailing Underwire Frill Bikini Top
Anne Cole – Plus Size Over The Shoulder Underwire Bikini Top
Torrid – Mesh Triangle Swim Top
Voda – Envy Push Up String Bikini
L*Space – Lee Lee Bikini Top
Lulus – Sandy Dandy Blue Tie-Dye Tie-Front Bikini Top
Land's End – Draper James Keyhole High Neck Tankini Top Swimsuit
Pour Moi – Hot Spots Halter Underwire Tankini Top
Fantasie – Underwire Bra Sized Tankini
Crescent Bleu – Sandy Sporty Swim Top
Body Glove – Bounce Stand Up Surf Swimsuit
Seafolly – High Waisted Roll Top Boyleg Bikini Bottom
Speedo – UV Swim Shirt Long Sleeve Rashguard
Coolibar – Deep Water Swim Capris UPF 50+
Modcloth – The Clarice High-Waisted Bikini Bottom
Mirame – Cheeky High Waist Bottoms
Pour Moi – Foldover Bikini Bottom
L*Space – Jay Bitsy Bikini Bottoms
Coco Reef – Flared Hem Swimsuit Skirt with Attached Bottoms
Lulu's – Casden Blue Tie-Dye Bikini Bottom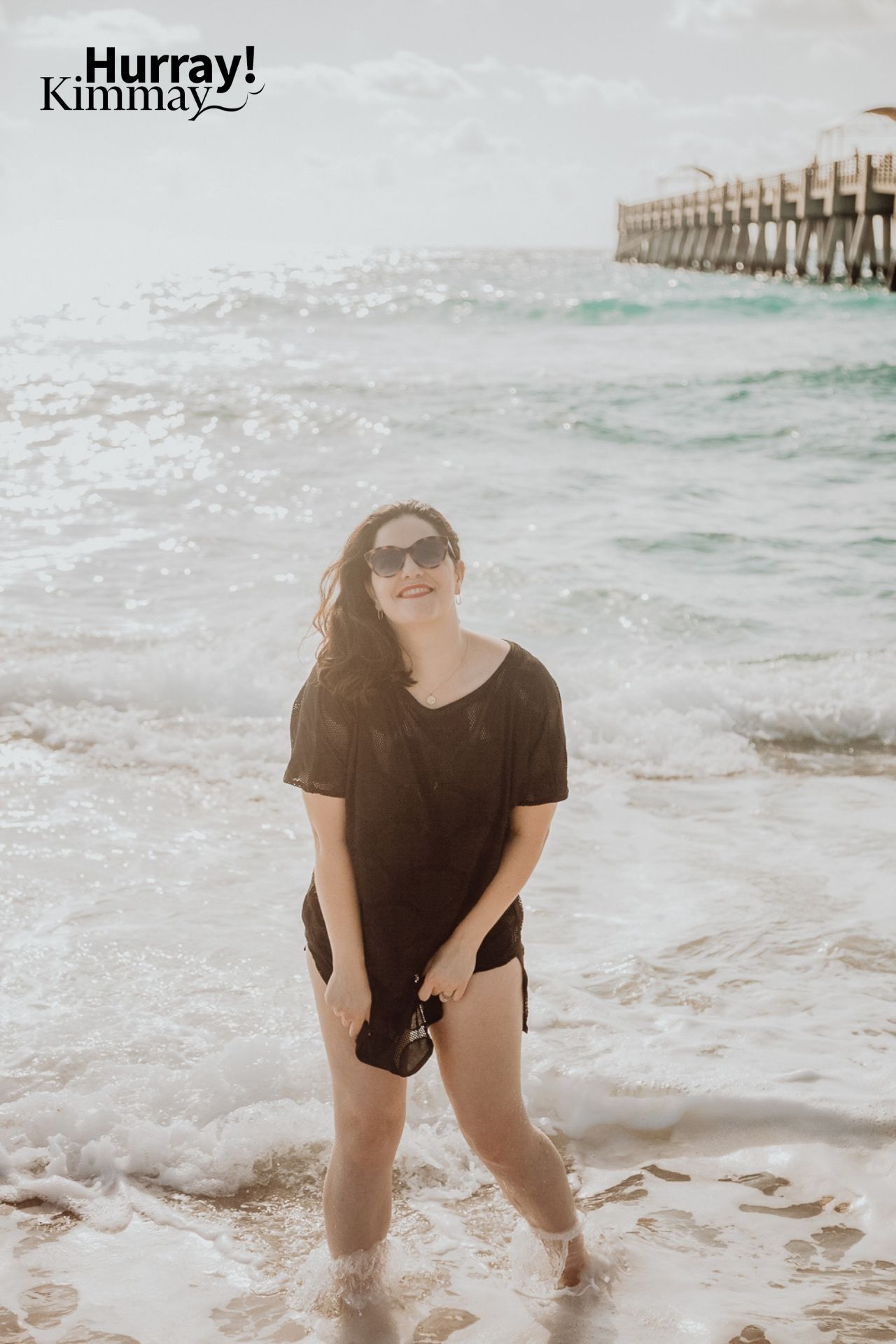 Kimmay is wearing the Anita Sauna Oversized Shirt
Anita – Sauna Oversized Shirt
Lulu's – Seaside Retreat Maxi Cover-Up
Your turn: Have you tried any of the brands listed in this blog? What kind of swimsuit coverage helps you feel your very best? Tell me your thoughts and more at @hurraykimmay on Instagram so we can say hurray together!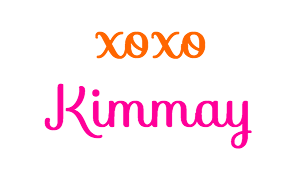 Credits: Photos by Janel Kilnisan during a #HurrayVacay trip to Florida. Special thanks to our sponsor, Anita! No airbrushing or photoshopping my body – ever.