*Trumpet sounds* It's time once again for the Dopamine (Under)dressing editorial! You can shop this look from my special collaboration with Curve's Revealed Magazine and learn how to put some hurray (aka a boost of dopamine) in your day. All with your undergarments!
The idea that color and clothing can boost your mood isn't new, but we so often rely on that dopamine hit to come via a compliment from someone else, or find joy in how we appear to others. But what about what's underneath? Join me on this exploration to find joy in what we wear under it all. And hey, if someone does see it, hurray for them. Learn more about this exciting bra and panty set (and its maker!) below, and get a special discount!
Want to see the full Dopamine [Under]Dressing editorial spread? Click below!
Psst! This post is sponsored by Madalynne Intimates. I'm so grateful to share them with you. I always share items that I truly love and can help you say hurray.
This is the 5th in this special 7 part series and it features: Madalynne Intimates! I first met it's founder, Maddie, years and years ago and we've been connected in the intimates business ever since. But this lingerie designer is really a maker! She's been known for her DIY kits, popular bra patterns, and fabulous sewing classes. Just recently, she launched her "ready made" bras and panties for folks to buy, and she's creating small batches of items for boutiques and retailers to stock and share, too!
Bras can sometimes be seen as utilitarian or pretty, and that's it. But what if you can have both? What if putting on your bra or underwear in the morning boosted your mood, your confidence, and your dopamine levels. It would start your day in a whole different way! That's what this strappy style and retro print does for me. It's so unexpected and fun, it puts an instant smile on my face. Not to mention, the monowire is pretty unique and that long band on the bra is very cozy. Add in the fact that Maddie and her crew can create custom made-to-order sizes and have fabrics galore – this set is a true hurray.
Bonus: now that I'm living in Philadelphia I got to see Maddie's studio, where everything is made by her and a small team of dedicated folks. Hurray!
Another bonus! Get 10% off if you order thet Galina bra and panty set together (it comes in various colors and a very vast size range!) with code HURRAY10 until April 1, 2023.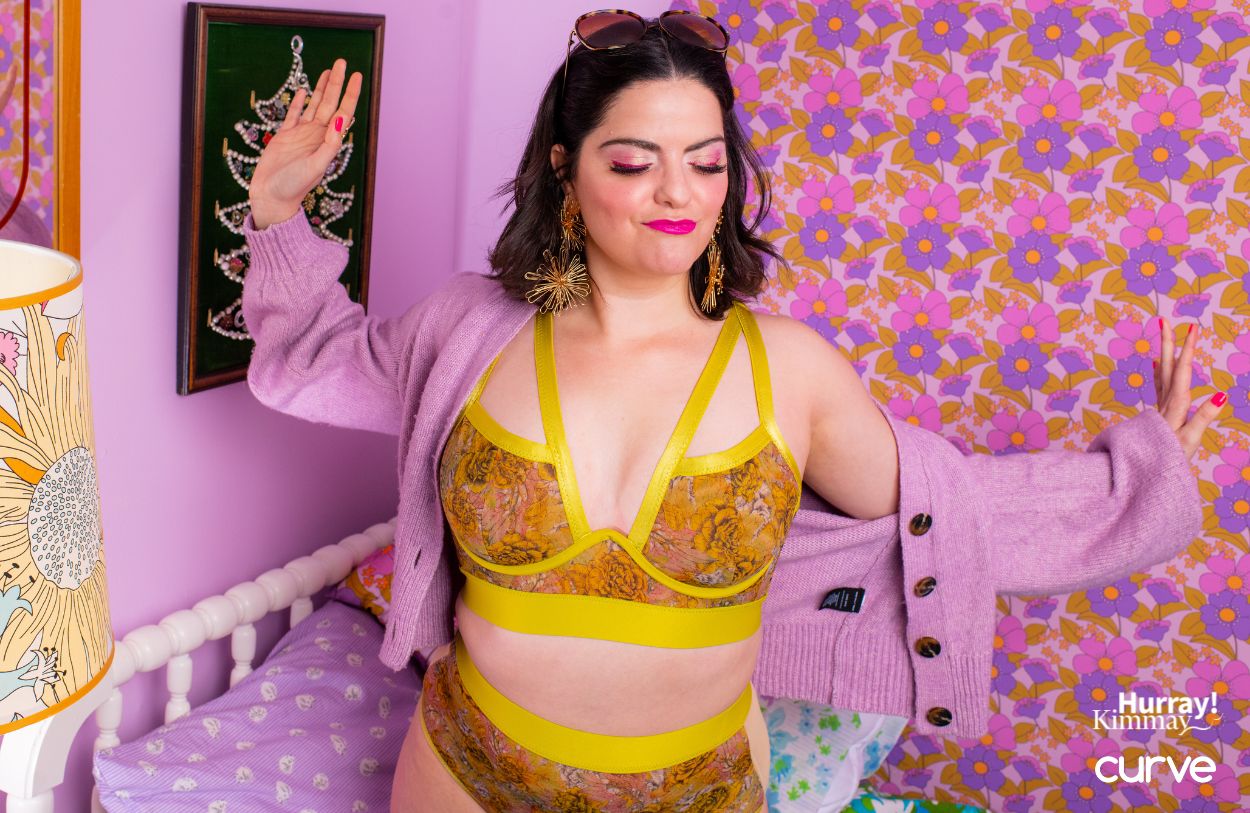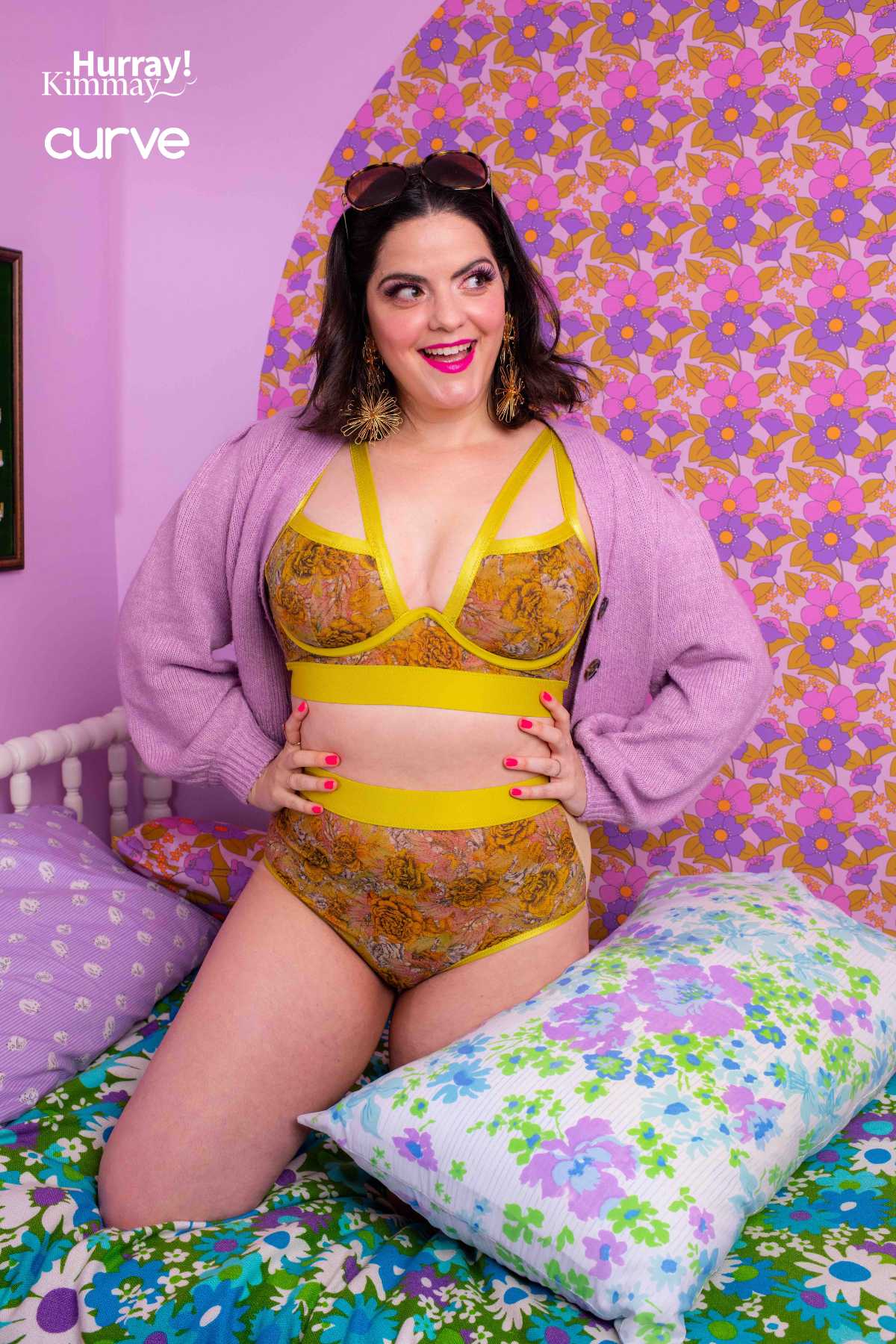 Galina Ready Made Monowire Bra: Antique Rose Citronelle
Adjustable double strap with open top for a sassy look and a great fit

Stretch mesh cups with vertical seam for a round shape

Unique monowire covered in contrasting fabric with a bust separating silhouette

Wide, semi-longline band lays flat and anchors in place for support and comfort

Made in this pretty retro print, or other colors!

Made in small batches in Philadelphia

Available in band sizes 26-44 and cup sizes A-H (up to an N cup upon request)

Retails for under $100.00

Galina Ready Made Panty: Antique Rose Citronelle
Pick your pleasure and add in a coordinating panty!
Choose from a fuller coverage style (like the one I'm wearing), a thong, or even the matching Galina panty with her surprising cut outs and funky style!
Made with soft, stretch mesh and lined for breathability and durability
Custom made for you in Philadelphia
Several colors available
Sizes XS-4XL
PS: this set is VERY popular, but don't worry if it's sold out. It's made in small batches so join the waitlist and Maddie and her team will let you know when it's ready to go!
Get 10% off if you order the Galina bra and panty set together (it comes in various colors and a very vast size range!) with code HURRAY10 until April 1, 2023.
Floral Spring Bedding Set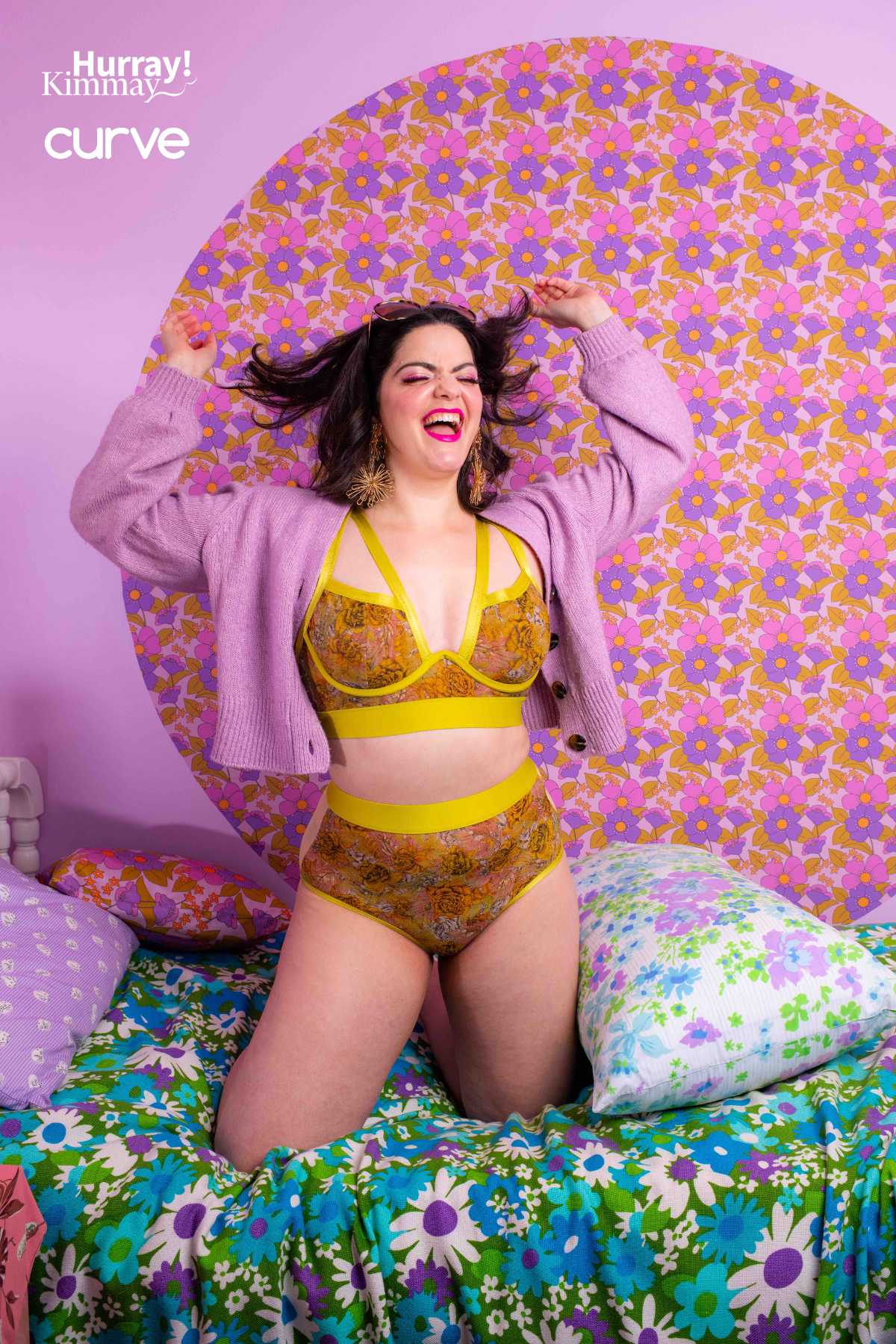 Credits:
Photos by
Holden Blanco
at the
South Philly Time Capsules
in Philadelphia, PA. Hair and make-up by
Beauty Marks Creative
. And huge thanks to Curve and Revealed magazine and the team for partnering on such an amazing project! As always, no airbrushing or photoshopping my face or body. What you see is what you get!