Ready for your dose of dopamine! Hurray! Welcome back to this special collaboration with Curve's Revealed Magazine where we're exploring "Dopamine (Under)dressing". While "dopamine dressing" was coined during the pandemic, I know that what we wear underneath has just as big (if not bigger) ability to boost our mood and change our day (or night).
In fact, with this fun set we get to explore something with the ability to be worn out and about with jeans and heels, or as a boudoir item. I love it when that happens! However you wear it, the beautiful colors, fun appliqués, and over the top sleeves on this item might have some thinking "it's too much". But I disagree. What if our world is meant to be bold, whimsical, and fun. What if joy and dressing for it was the norm? Maybe we'd all be happier, dressing for the mood we want to create in our day. What do you say? Explore with me below with this amazing set and see what I mean!
Want to see the full Dopamine [Under]Dressing editorial spread? Click below!
Psst! This post is sponsored by Empress Mimi. I'm so grateful to share them with you. I always share items that I truly love and can help you say hurray. 
This is part 4 of 7 and features: Empress Mimi! This female founded brand is newer to me, and I couldn't be more excited to get to know them. Their designs are so fun, vibrant, and sassy – truly a dopamine (under)dressing brand! Plus, all of their bra designs are completely wire-free and every piece features adjustability in its design which means they can adjust to your shape or with your body as it changes. How cool is that? They say "each piece is lovingly made to be wearable art inspiring the wearer to unleash their inner Goddess". I'm in! 
I'm so thrilled to share this UK based company and now have a treasure trove of fun things from them to wear and share. Choosing just one to share in this editorial was honestly a challenge! That said, this lilac colored bustier and built in bra top and sheer, voluminous sleeves were a stand out among the line. I was truly inspired by the over the top design and can see myself wearing this on a day when I need that extra pick me up and "I'm a goddess, just watch me" energy. Am I right? After all Madame X is their tribute to the beautiful butterfly-winged Goddess, Psyche, the goddess of the soul and married to the god of love. I'm not even a fan of butterflies (long story) and yet I felt so magical in this set. You can, too! Get the details on this sassy set below – and let me know if you wear it with pants or panties!
Here's a hurray:  Use code KIMMAY20 and get 20% off this and all Empress Mimi styles!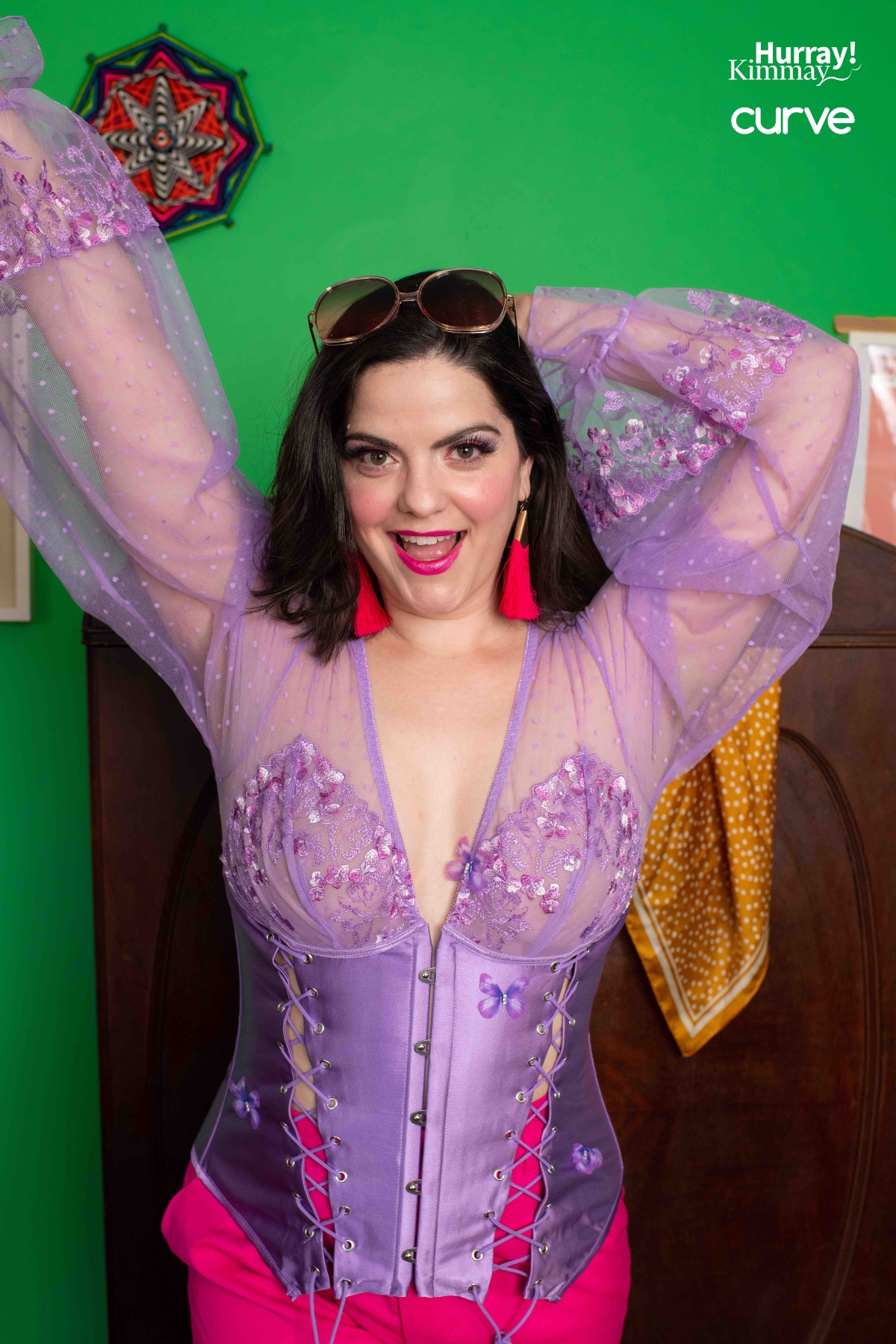 Empress Mimi – Madame X Corset in Lilac
Corset style bodice with metal front closures has just the right amount of firmness and flexibility so it can offer an hourglass shape and comfort to move and dance around

Stretchy lacing on either side makes this adjustable to fit your body 

Statement making tulle sleeves are sheer and non-itchy 

Sparkling rhinestones and sweet appiqués added for a dose of whimsy 

Also available in blue!

Unique sizing method from XS-XXL including "plus" and "minus" options
Empress Mimi –
Madame X Panties in Lilac
Adjustable straps on each side for a custom fit to your curves

Full coverage bottom made of the sweetest, lightweight and breathable polka dot mesh

Whimsical butterfly detailing, decorative straps, and intricate embroidery add together for an unforgettable addition to your lingerie wardrobe

Sizes XS-XXXL
Vintage 70s Square Sunglasses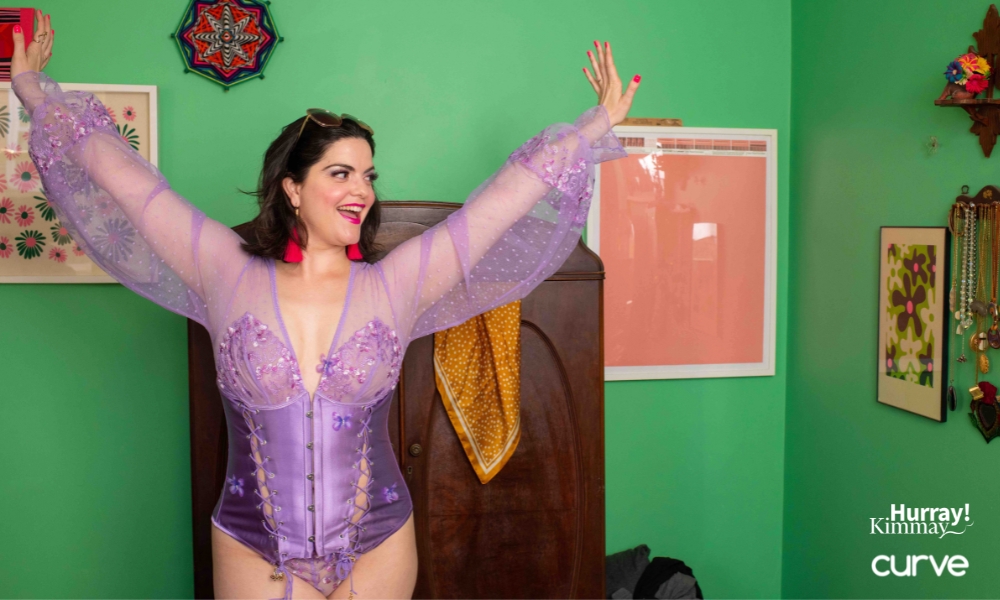 Credits: Photos by Holden Blanco at the South Philly Time Capsules in Philadelphia, PA. Hair and make-up by Beauty Marks Creative. And huge thanks to Curve and Revealed magazine and the team for partnering on such an amazing project! As always, no airbrushing or photoshopping my face or body. What you see is what you get!