Welcome back to the editorial collaboration between yours truly and Curve's Revealed Magazine! In this editorial, we're exploring what I call, Dopamine [Under]dressing. Hurray!
Like "dopamine dressing", a term coined by Fashion Psychologist, Dawnn Karen, this is the idea that dressing in mood boosting colors can up your happiness, especially when it comes to undergarments, swimwear, and sleepwear. These provide an even bigger opportunity than a bright blazer or dress to uplift your spirits. And in this case, it doesn't even have to be colorful to make a difference in your mood! Curious? Let's explore what it means to wear comfortable materials on our bodies so that we look good, feel great, and say hurray!
Want to see the full Dopamine [Under]Dressing editorial spread? Click below!
Psst!
This post is sponsored by Elila. I'm so grateful to share them with you. I always share items that I truly love and can help you say hurray. 
This is part 3 of 7 and it's time for Elila! I have had the pleasure of working with this fuller figure, fuller bust bra and lingerie brand since the very beginning of my career. They are one of the most supportive fuller brands, with an impressive style range, dedication to fit and support, and classic design. Not to mention, their size range is extremely impressive! 
It's easy to see why a bold color can kick up your dopamine levels, but in this case, it's a simple blush colored bra with gorgeous lace that does the trick. Color is one factor, but what about how it feels? Imagine slipping into comfort and joy every time you put on a bra and panty set. That's what is possible when your bra fits well and is well made. And that smooth cup is a great base layer for just about any outfit (include something funky and colorful!). Test out this smooth and lace set for yourself (or stock it in your store) and see if it makes you say hurray!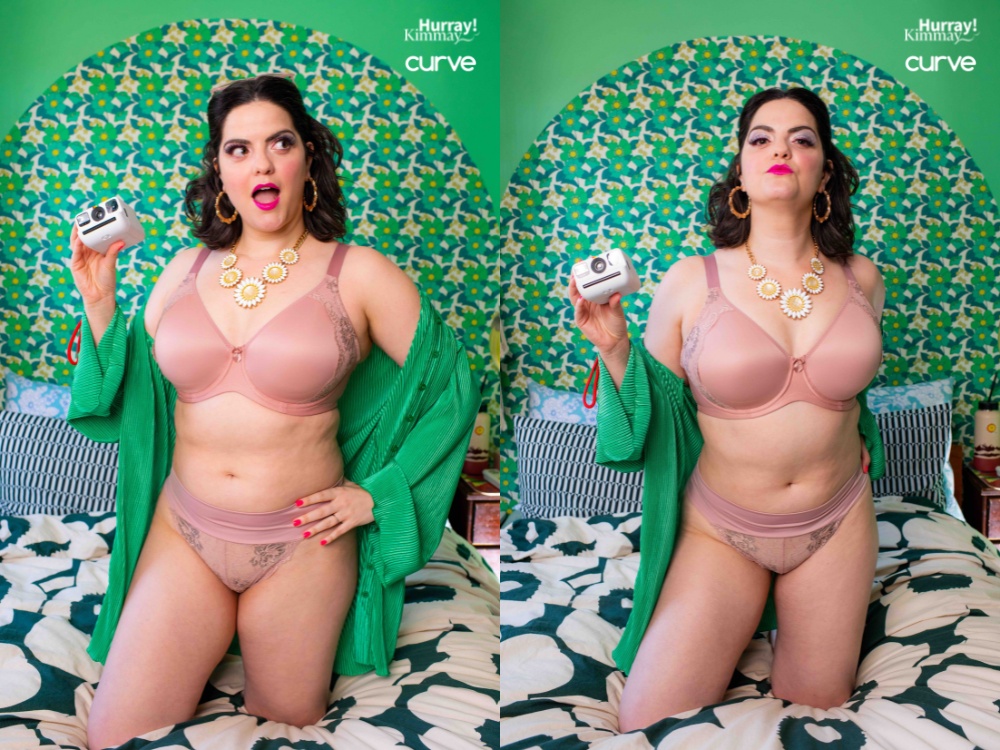 Elila –
Molded Lace Underwire Bra
Molded, smooth cup made of a very flexible spacer fabric for a clean look under clothes
Coordinating lace side panel on the outside, and inner 3/4 cup sling for extra support
High power, wide back with lace overlay is extra supportive and beautiful
Firm underwire for shape
Available in dusty rose (as seen on me) or black (so pretty!)
Band sizes 34 – 46 and US E/DD – K cups
Elila – Stretch Lace Tanga Panty
Stunning lace tanga with cheeky back coverage
High leg for a va-voom factor and sassy appeal
Sheer, stretch lace is soft and cozy and lays flat
Wide, soft band can be worn up or folded down and doesn't dig in
Sizes M-5XL
Daisy Necklace & Bee Stud Earrings
Polaroid Instant Film Camera
Pleated Button Down Dress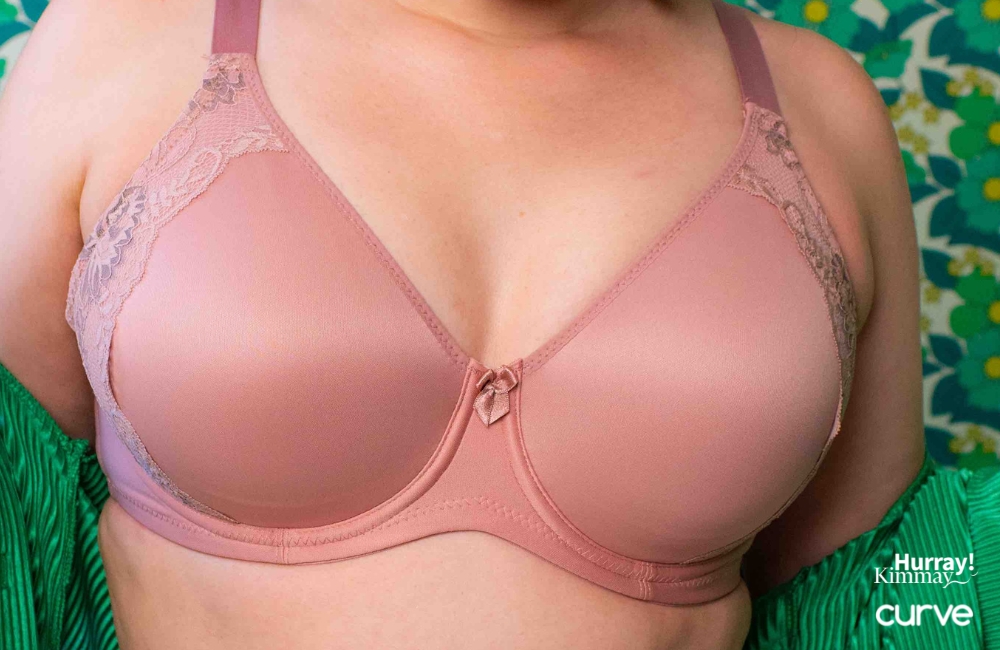 Credits: Photos by Holden Blanco at the South Philly Time Capsules in Philadelphia, PA. Hair and make-up by Beauty Marks Creative. And huge thanks to Curve and Revealed magazine and the team for partnering on such an amazing project! As always, no airbrushing or photoshopping my face or body. What you see is what you get!