Welcome to a very exciting editorial collaboration between yours truly and Curve's Revealed Magazine! This is my 4th editorial with this intimates industry magazine, and I'm so excited for the theme. Are you ready for it? It's… Dopamine [Under]dressing! Hurray!
If you've heard of "dopamine dressing", a term coined by Fashion Psychologist, Dawnn Karen, you know it's the idea that dressing in mood boosting colors can up your happiness. And while a bright dress or fun accessories can provide a dopamine hit, I realized after 18 years of working in the intimates industry that undergarments, swimwear, and sleepwear provide an even bigger opportunity to do the same. After all, these are worn during some of our most intimate moments, and are extremely personal.
So let's explore what it means to wear bold colors and comfortable materials on our bodies so that we look good, feel great, and say hurray!
Want to see the full Dopamine [Under]Dressing editorial spread? Click below!
Psst! This post is sponsored by Bambina. I'm so grateful to share them with you. I always share items that I truly love and can help you say hurray.
This is part 1 of 7 and our first exploration is from Bambina! I had the pleasure of meeting the mother-daughter duo behind this brand at a We Are Women Owned event in NYC, and was as impressed with their dedication to sustainability as by the bold colors they choose for their collections. Plus, it's always so wonderful to support women owned brands, and to get to know the people behind a small business like this. They work so hard and take great care in what they share!
Buying and wearing a swimsuit is an especially vulnerable thing for a lot of folks. After all, wearing a swimsuit in public is the closest most of us come to wearing our underwear in public, (OK, not for me, but for most people) and with that comes a lot of worry about how we'll look, and physical discomfort of trying to hide our "flaws". I know I still feel this way sometimes! So it's extra important to wear a swimsuit that makes you feel good. Dress yourself in something you love wearing! Maybe because of how it fits, the fun color or gorgeous design, the founder's story, the sustainable materials, or all of the above (like Bambina). 
By the way, I actually took the same swimsuit you see below with me on a shoot in London in a hot pink, and was so excited to share this fabulous mint color for this shoot. This swimsuit has a higher leg, gorgeous open back with tummy coverage in front, and is made in NYC at a women-owned factory from ECONYL® regenerated nylon (a fiber made from recovered fishing nets and pre- and post-consumer waste). Get to know more about this style (and save with a special code!) below.
PS: Get 20% off this bathing suit and all Bambina with code HURRAY20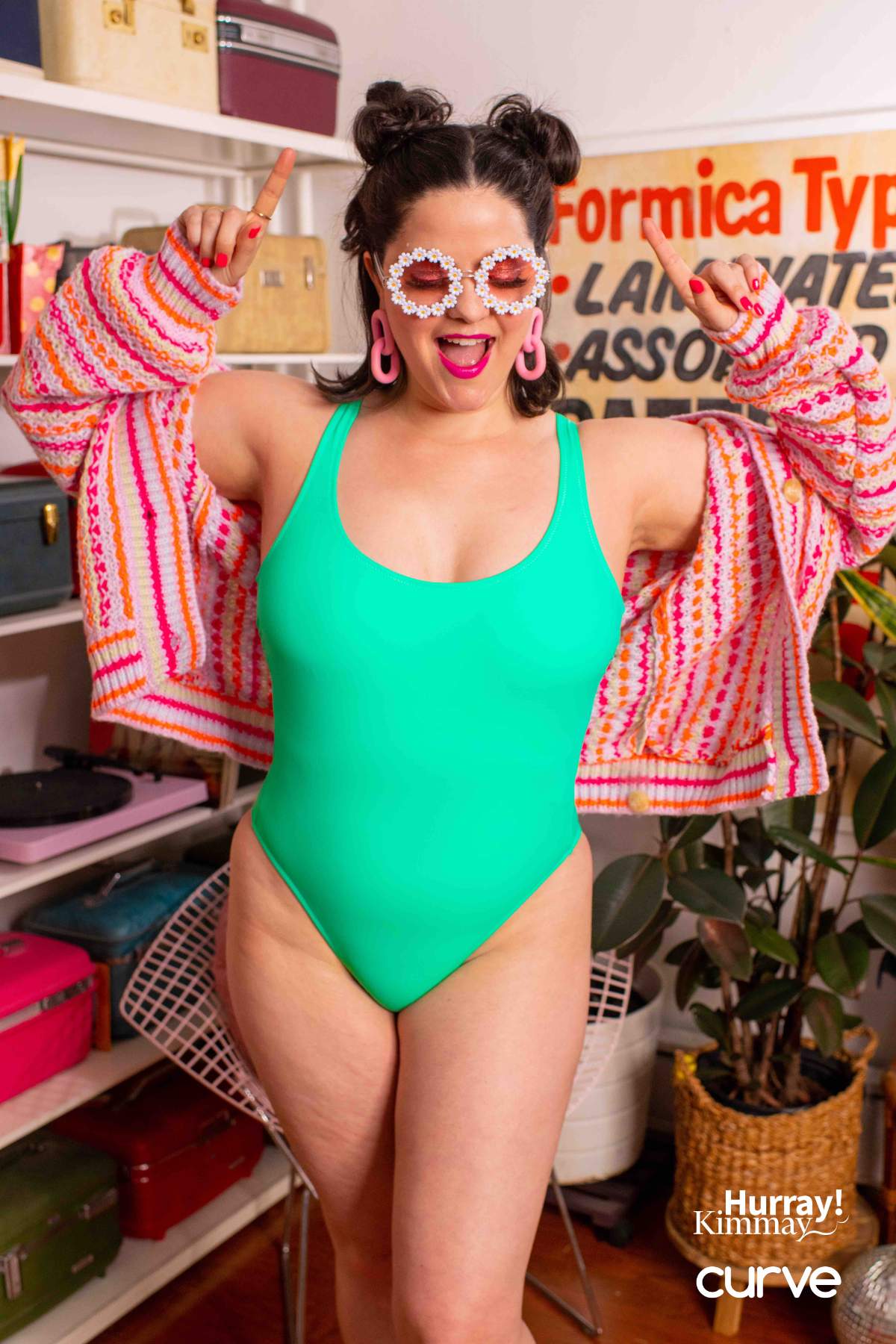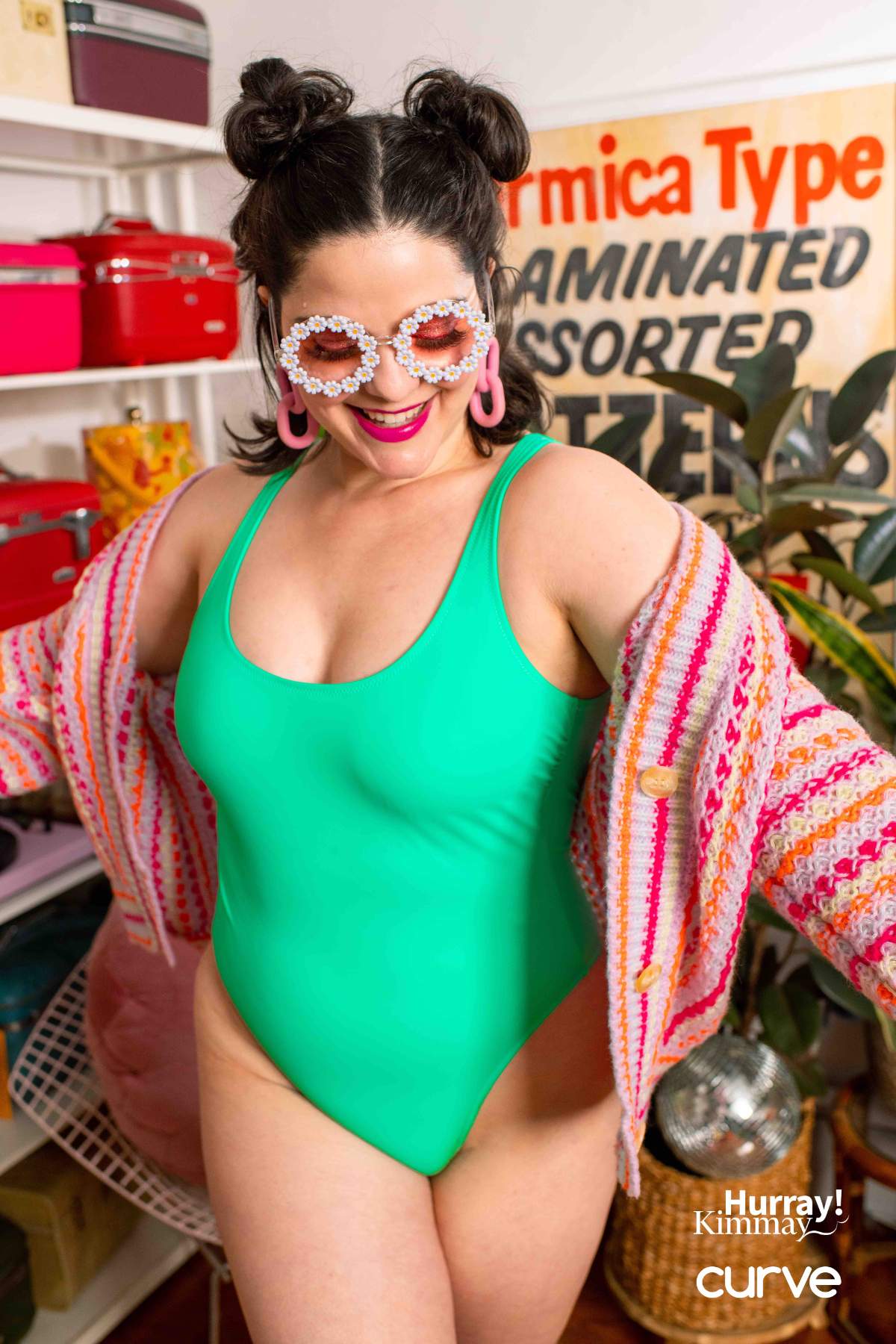 Bambina – Cari One-Piece Swimsuit Mint Chip
Head turning style with a solid front and dramatic back cut-out
Mid-coverage bottom and a high-cut leg for a tall look
Built-in shelf bra with removable padded cups
Double-lined in front for modesty and durability
Made in the USA from imported 78% ECONYLⓇ Regenerated Polyamide/ 22% Elastane
Also available in Midnight Black and Flamingo Pink
Sizes XS-XL
Color Block V Neck Cardigan
Retro Daisy Round Sunglasses
Paperclip Link Chain Earrings
Maybelline Eyeliner Pencil Ultra Pink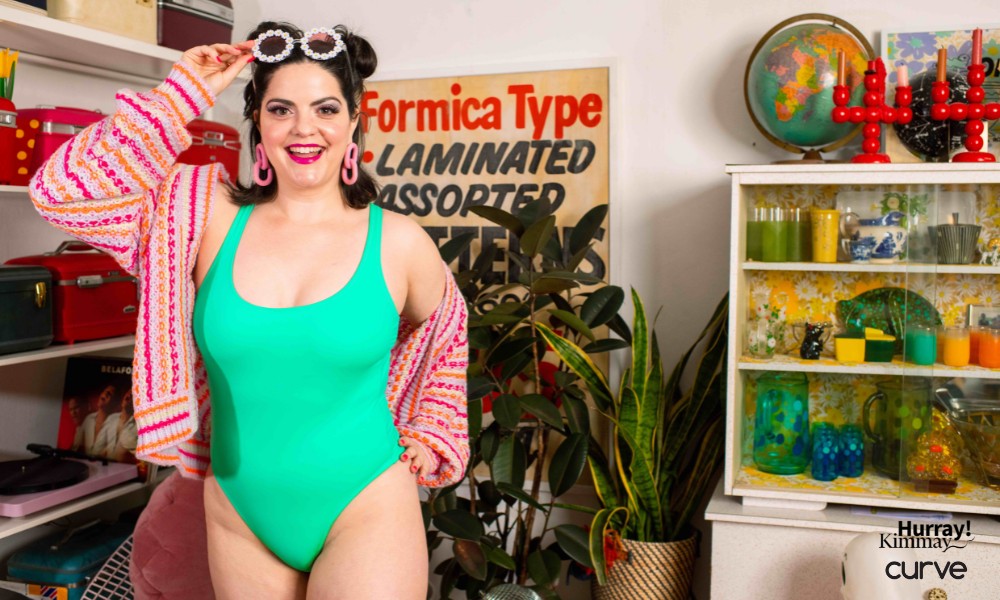 Credits: Photos by Holden Blanco at the South Philly Time Capsules in Philadelphia, PA. Hair and make-up by Beauty Marks Creative. And huge thanks to Curve and Revealed magazine and the team for partnering on such an amazing project! As always, no airbrushing or photoshopping my face or body. What you see is what you get!