Welcome to Bra Anatomy 101 with the help of my friends at Warners, one of the most accessible, effortless, everyday bra companies. 
You might be thinking "I know the parts of a bra. I've been wearing one since I was a kid!" But the truth is, most folks (even those that have been wearing bras for MANY years) don't know these basics about bra parts and how they should fit. What's the point in learning the parts of the bra? Education is power! I've been fitting and teaching folks about bras since 2005 (that's 18 years and thousands of chests at this point) and knowing the basics is key to feeling comfortable and confident every day. We just weren't taught a lot about bras, even though most of us put one on every morning! 
So, let's learn together! Below is a jumpstart guide to the different parts of a bra, along with some of my best fit tips, and a few favorite bras from Warners so you can see this advice in action. Hurray!
Psst! The brand linked here is a proud partner of mine (so grateful to share them with you!). I always share items that I truly love and can help you say hurray!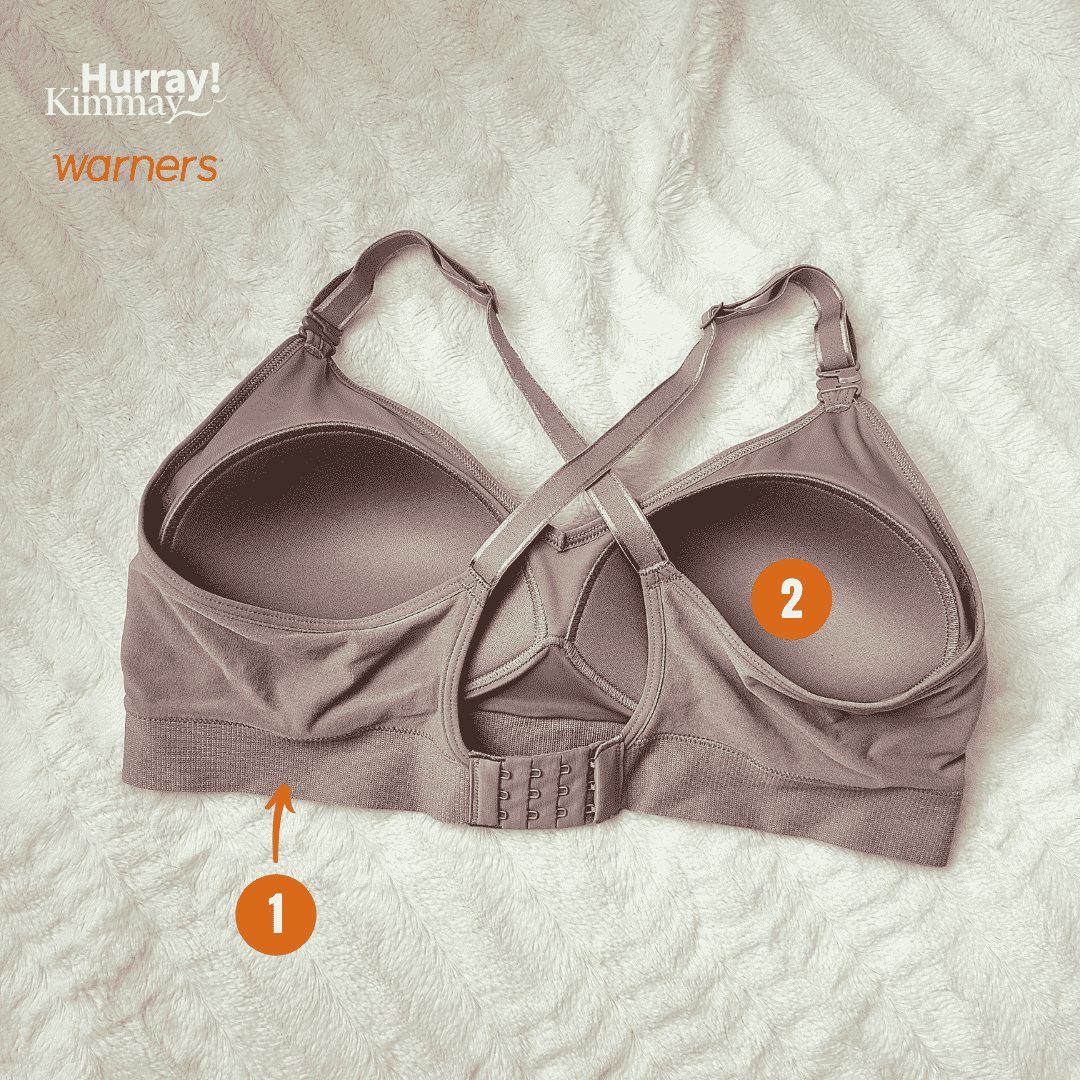 Part 1: The Band. The band of the bra is responsible for 90% of the bras support, ya'll. Pro tip: make sure this is wide and soft for a secure but cozy fit. It should fit snug like a hug! And ideally, the band should be adjustable for a custom fit. In fact, the Easy Does It® Wireless Lift Convertible Comfort Bra (RN0131A) has 4 hooks and eyes for ultimate adjustability!
Part 2: The Cups. Cups can be lined which is great for modesty, coverage, and shape. Or they can be unlined like the Signature Support Underwire Unlined Full-Coverage Bra (35002A) which is more flexible and fuller coverage. This kind of style is great for separating the bust and avoids puckering with button down shirts!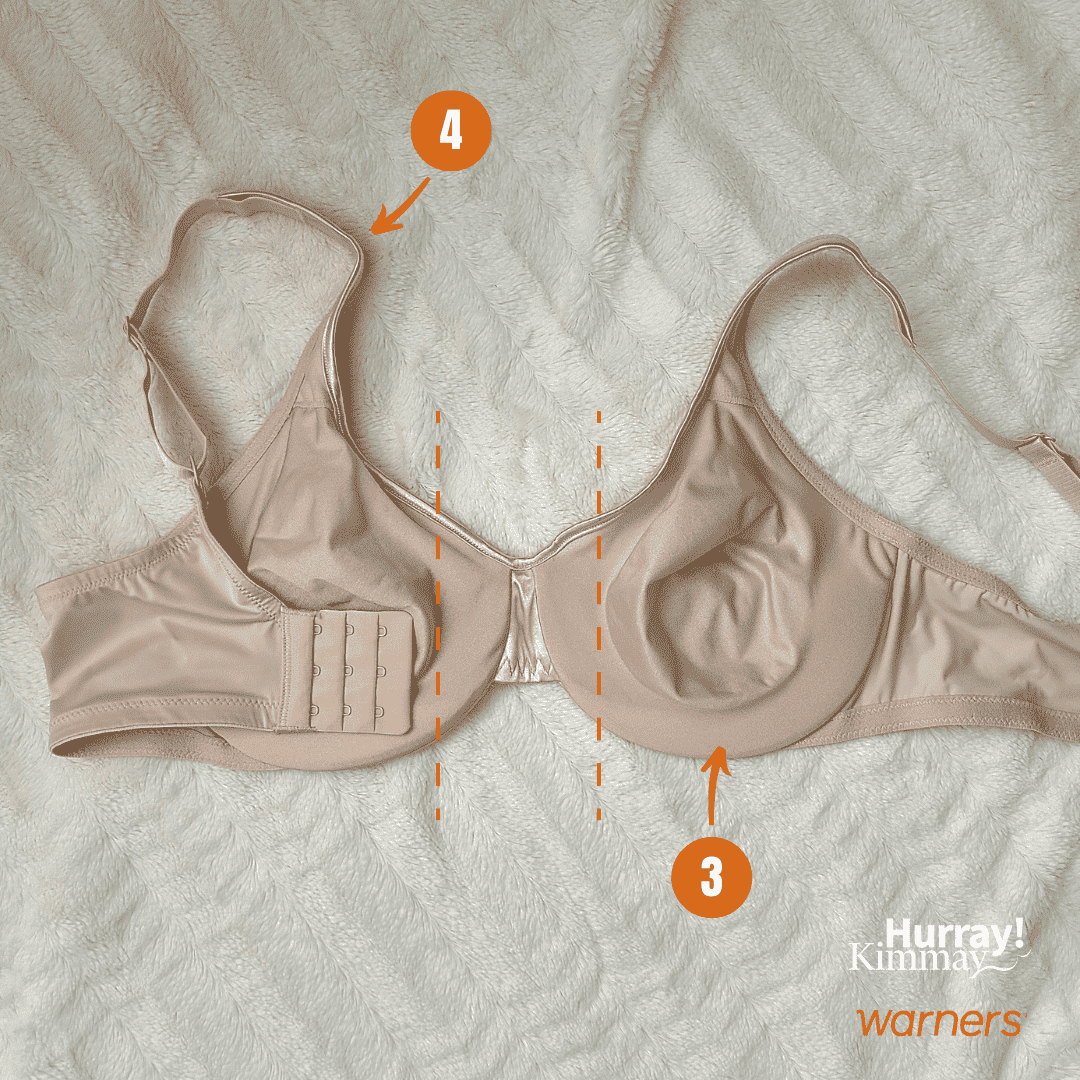 Part 3: The Underwire. Underwires offer a frame for the bra, and should tack against the front of the body right between the bust, across from the back band. This equals a great fit!
Keep in mind that bras are like shoes, and a poor fit will mean discomfort, but a great fit will equal support and comfort. An underwire bra in the right size and fit for your body will actually feel really great! Plus, some underwire bras like the one seen here even have built-in cushions around the underwire for a cozy feel. Welcome all of your bust inside that wire and let the wire rest on your body, not on your bust.
And if you do want to go wireless, your bra should still fit everything inside where the wire WOULD be, and rest against your front torso securely.
Part 4: The Straps. These offer just 10% of the support and their main job is to keep the bra cup flush against your body. A stretchy strap should only reach about 1" off your shoulder when adjusted properly. Tip: a wide cushioned strap is extra comfortable, and be on the lookout for convertible straps which work great under racerback tops!
Buy & Try
Ready to go shopping? Put your new knowledge to good use and try out some of these comfortable, goes-underneath-everything styles from Warners!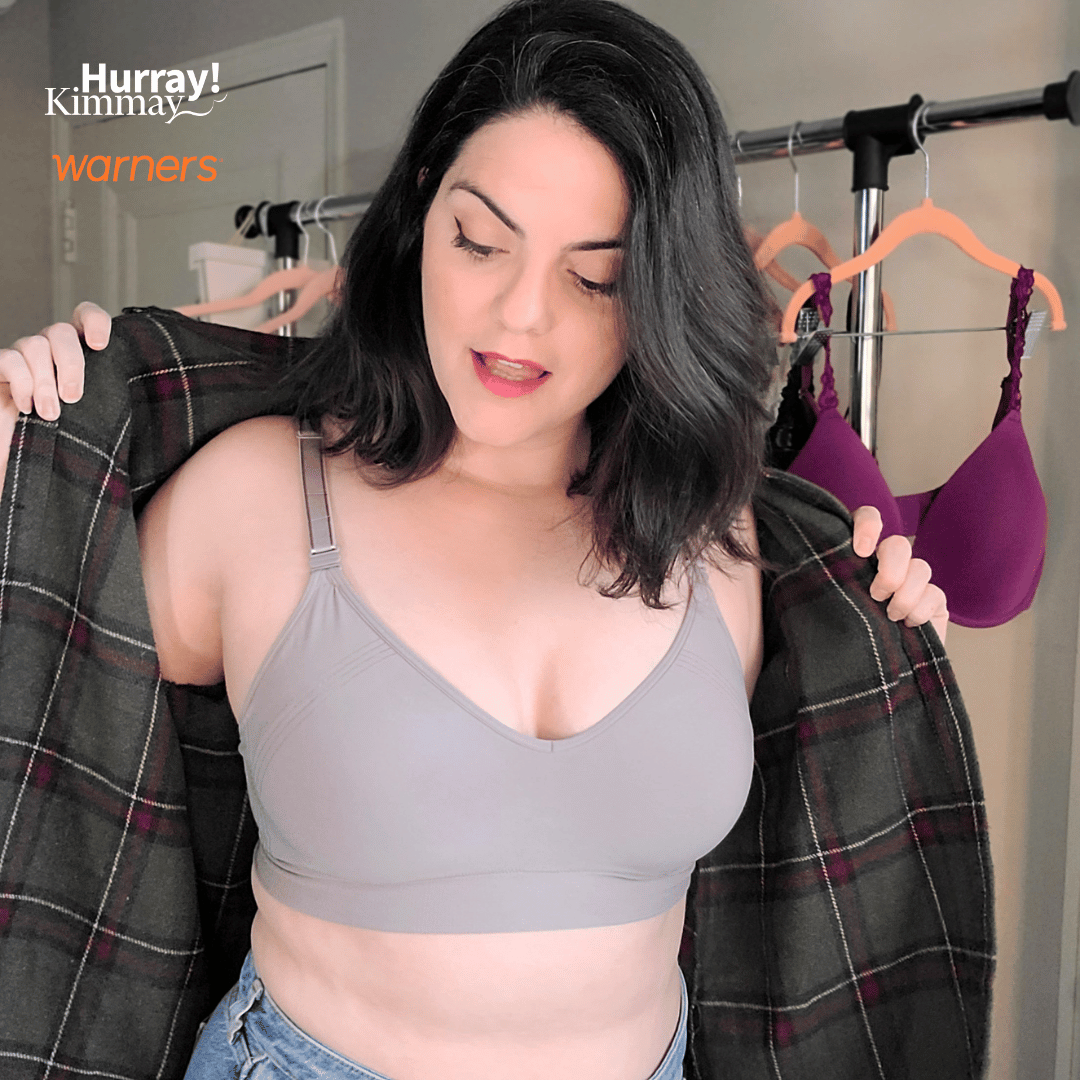 Warners – Easy Does It® Wireless Lift Convertible Comfort Bra (RN0131A)
Wireless design and built-in lined cups (no roaming around!) with a slight lift
Made of soft, comfortable allover seamless stretch fabric that moves with your body
Wide, gentle band that hugs your body and stays in place without digging in
Front adjustable and convertible straps means this is easy to adjust for a great fit, and it can work with several tops
Smooth style goes great underneath nearly any outfit
Easy Sizing XS-3XL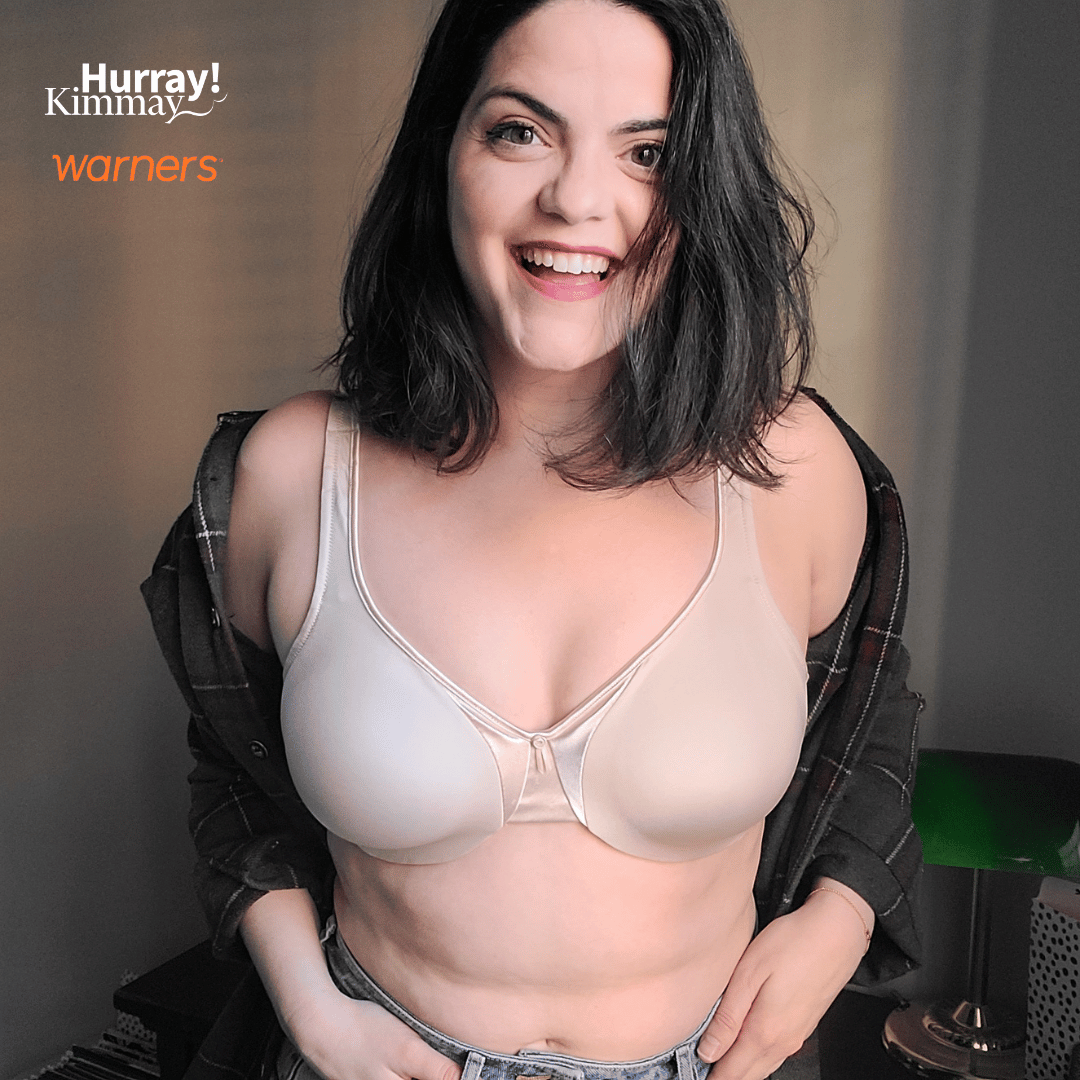 Warners – Signature Support Underwire Unlined Full-Coverage Bra
Full-coverage, unlined style with flexible cups for a great fit
Silky soft fabric inside the cups for ultimate comfort
Cushioned underwire for extra coziness and a great frame for the bra
Wide, padded straps for added ease and lay flat under most clothes
Innovative Comfort Back® back hugs the body and prevents straps from slipping
Seamless, invisible look and this style moves the bust away from the middle of the body so it's great for button ups or any other top
Size ranges: 36-42C, 36-44D-DD, 38-42DDD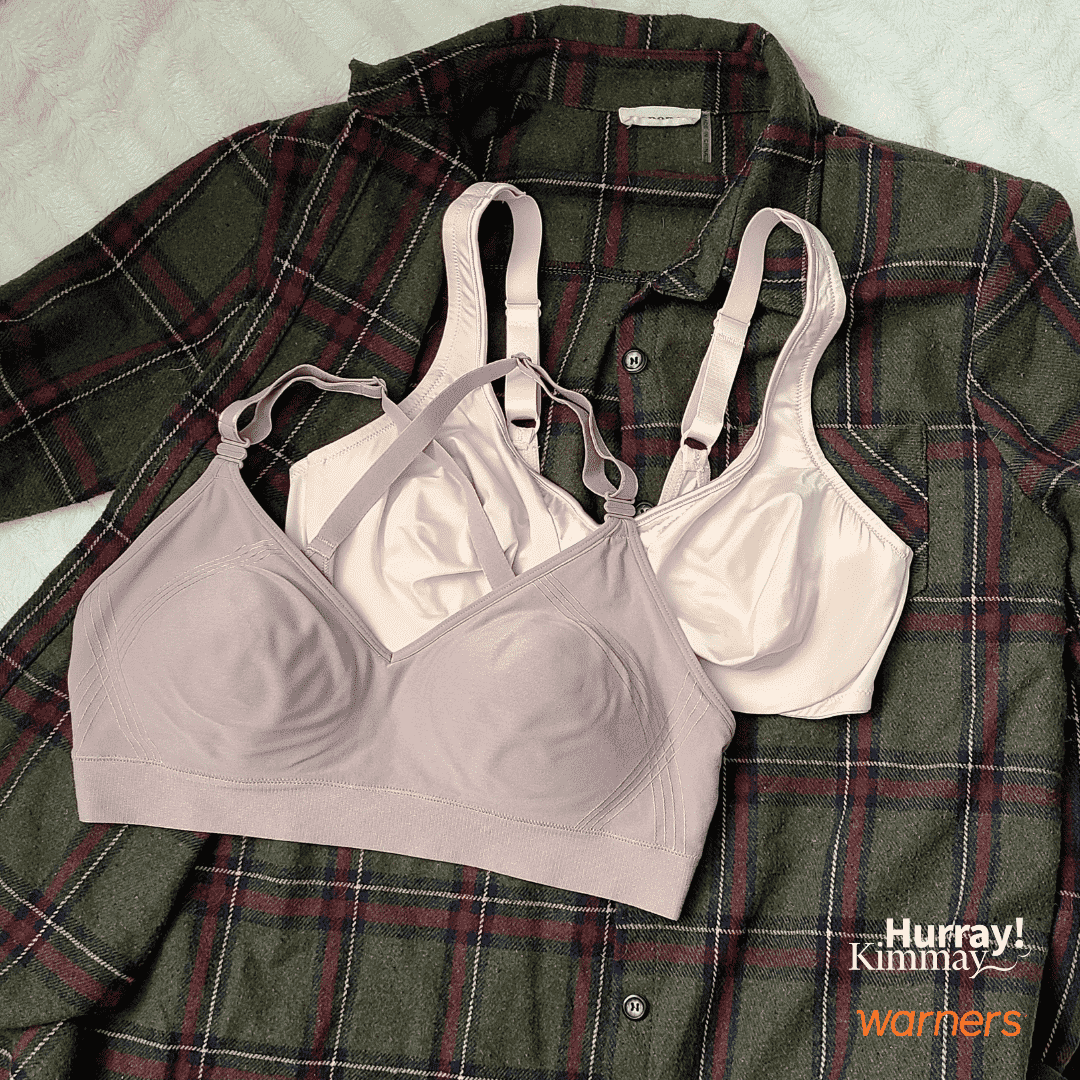 Want to try more Warners styles? Restock your bra drawer with a few fresh styles and say hurray!
Did you know that even the best bras need to fit to feel comfortable? And when you feel comfortable you'll also feel confident, all day! If you wear bras, watch my Free Bra Class (and get my free fit guide) and you'll be one step closer to saying hurray inside, outside, and underneath™!
Free Bra Class
Want to wear a bra without ripping it off at the end of the day? Watch How to Find a Comfortable Bra Fit For Your Body WITHOUT Wasting Your Money on Bras You Dread Wearing! Plus, you'll also get Kimmay's Bra Fit Guide, and a taste of Bra Confidence & Comfort™. Watch now and don't spend another minute feeling uncomfortable in your bra.
Your turn:
What did you learn? What did you already know? And what are you ready to do next? Share with me over on Instagram @hurraykimmay!

Credits:  Proudly sponsored by Warners. Images by Kimmay! No airbrushing or photoshopping my body, ever. Hurray!