What was your first bra experience? Do you remember? Was it exciting, terrifying, beautiful, traumatizing? For many young people, learning to wear a bra can be a really complicated experience. But what if wearing your first bra was empowering?
I'm thrilled to introduce you to Bleuet, a line of bras and apparel for young people! Designed by a mom, responsibly made, and in a vast size range, Bleuet makes a great first bra (and beyond!). Get to know them below and see what you think for yourself. And be sure to pass this along to the parent or guardian of a young person in your life. Hurray!
Psst! This post is sponsored by Bleuet, a proud partner of mine (so grateful to share them with you!) and I might get a commission if you purchase through these links. I always share items that I truly love and can help you say hurray!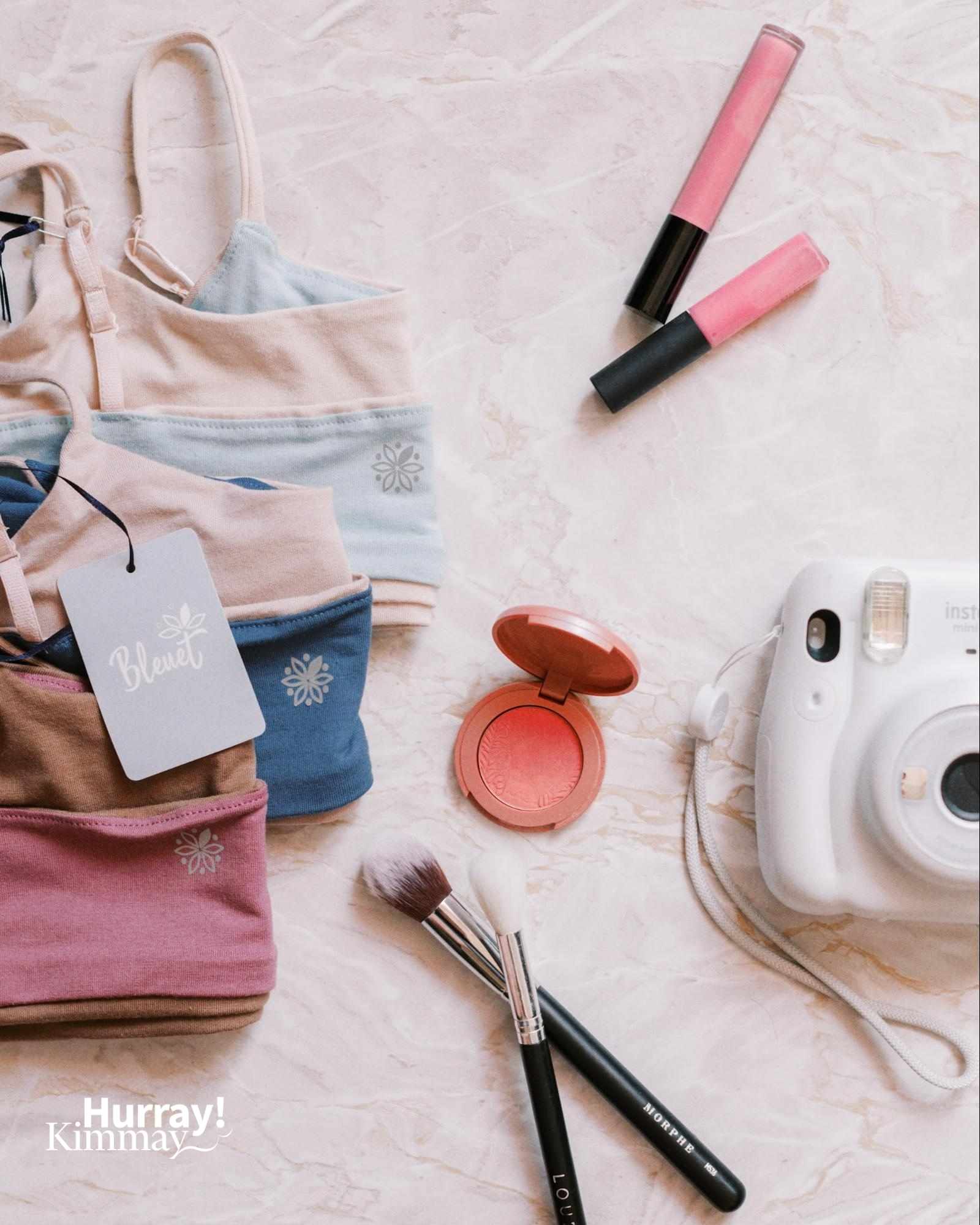 First Bras Can be Fun
Since I started to fit folks in 2005 I have had the pleasure of fitting many for their first bras. It can be a really stressful and nerve racking experience, for sure. And I've always tried my best to let these young folks know that their bodies are their partner in life, so they can learn to work with it, support it, and honor it in a new way with bras.
A few of the biggest issues I see facing young folks when it comes to bras:
Their bodies are changing so fast they can't keep up with firm, bra sized undergarments
Their bodies are tender and sensitive as it grows
They're not quite ready for a "real bra" but want or need something for their bust to look smooth under clothes and feel confident and comfortable in school
Bra sizing feels overwhelming and they need something simple
First bra options tend to come in boring solid tones or over the top cutesy patterns
These can be a bummer and make bra shopping and wearing very unfun. Luckily, Bleuet has some answers to these common issues:
Bleuet makes hardware free, soft bralettes that are designed with young, developing bodies in mind. The stretch material on the band and cup can move and adjust with their bodies, including if breasts develop at different rates from each other (so common!)
That material is extremely soft and great for sensitive skin. Plus many of their items are tagless!
Not every first bra needs to be a traditional underwire bra or molded t-shirt bra. Some young folks might want a simple, over the head bra in soft material and a fun color. For many, that means a sports bra but there are more options these days!
When it comes to fit, they carry sizes 7/8 to 22. That's a VAST size range! And their cups fit A-C cups, depending on the coverage you want. Some of their styles are even made for a more developed body, and have an optional pad/lining for modesty, shape, and coverage.
And their colors are fun without being too cutesy so they're wearable and adorable.
Bonus feature: many Bleuet bras are reversible! That means you get two bras for one! One side will have a more neutral color, such as a skin tone or a dark basic color. On the other side you'll find a fun pop of color. That way, if they need the neutral color for underneath a specific top, they have the option. Or they can flip it for fun. And whether they're wearing that fun color on the inside or the outside, they have a little colorful hurray in their day!
The other major issue I see when a young person comes in for a bra fitting is shame or embarrassment. Sometimes the parent or guardian that brought them in is helpful, and sometimes they are extending that shame. Breasts can be seen as taboo or private, and it's important to set a precedent that wearing a bra and supporting the bust is nothing to be ashamed of. And that includes all busts and bra sizes! Comparing their body to yours at their age, or to other youths their age is usually not helpful. Nor is saying things like "I just don't know what to do with these" or "she doesn't really need one but all her friends are wearing one."
Instead, make bra shopping a fun ritual that they can look forward to, ask you open questions, and where the two of you can learn together about new options, sizes, and styles. Wearing a bra is something they may do every day for years to come, so starting off on the right foot is essential for their daily lives!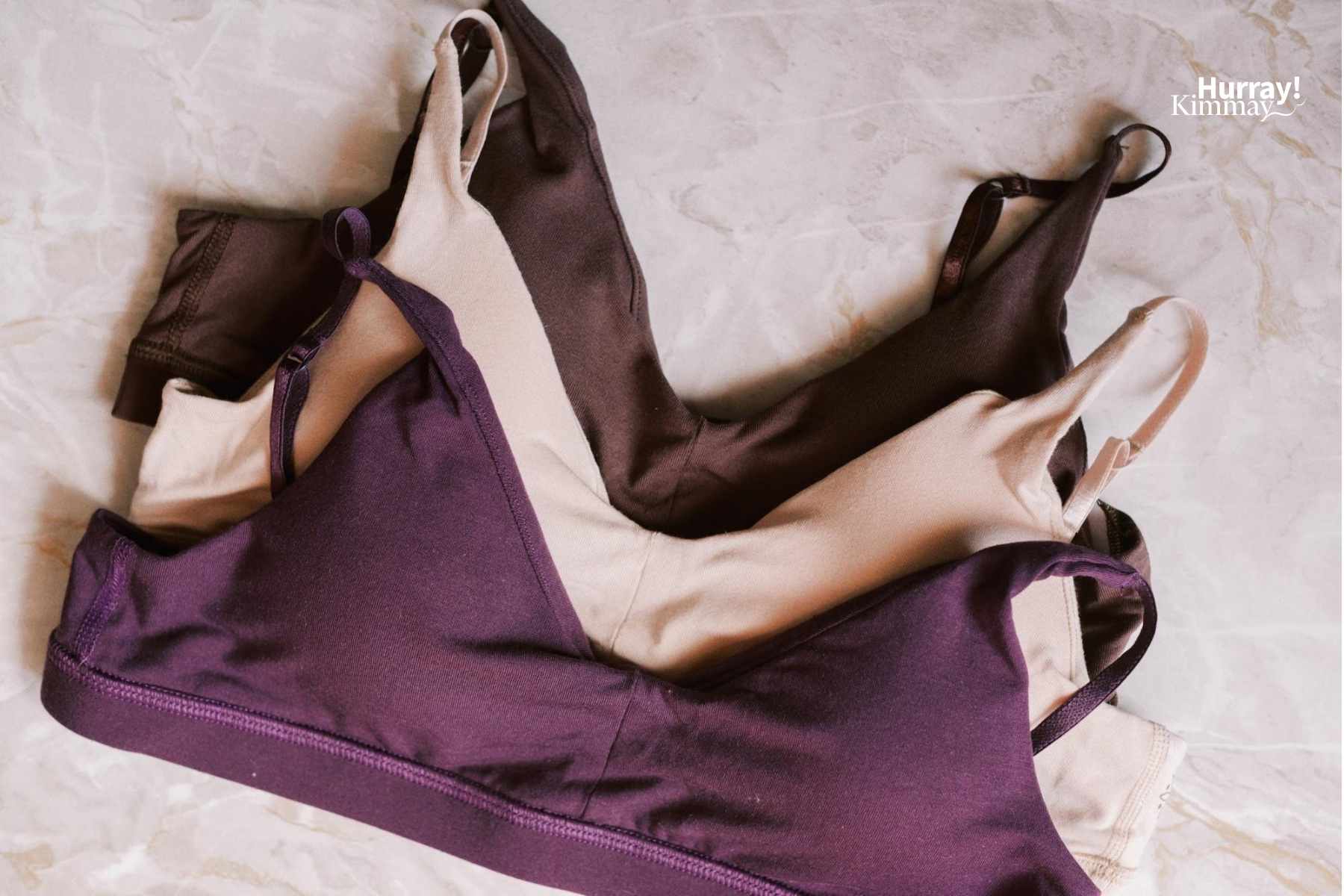 Hurray for Bleuet
On top of all the great product features (which are super important), Bleuet is also a conscious company that is making clear strides and statements toward a more environmentally friendly, empowering, and loving world.
They also support "everyday heroes" with 20% off for nurses, doctors & medical professionals, teachers, first responders, military, and veterans. And everybody can get 15% off their first purchase when you sign up for their emails.
On top of that, they have a parenting resource area with articles like how to connect with your child, daily and gratitude check ins, and emotions charts. Personally, I love the worksheet on teaching your daughter to embrace imperfection, something we hold dear here at Hurray Kimmay!
Their website states that they create "purpose driven apparel", and it shows! Their "Investing in Girls" section of the website is a true testament to the work they do to support young girls and people who wear bras. In addition, every page educates shoppers on the eco steps they take to support our plant and the whole site is a plethora of empowerment and support. In other words: HURRAY!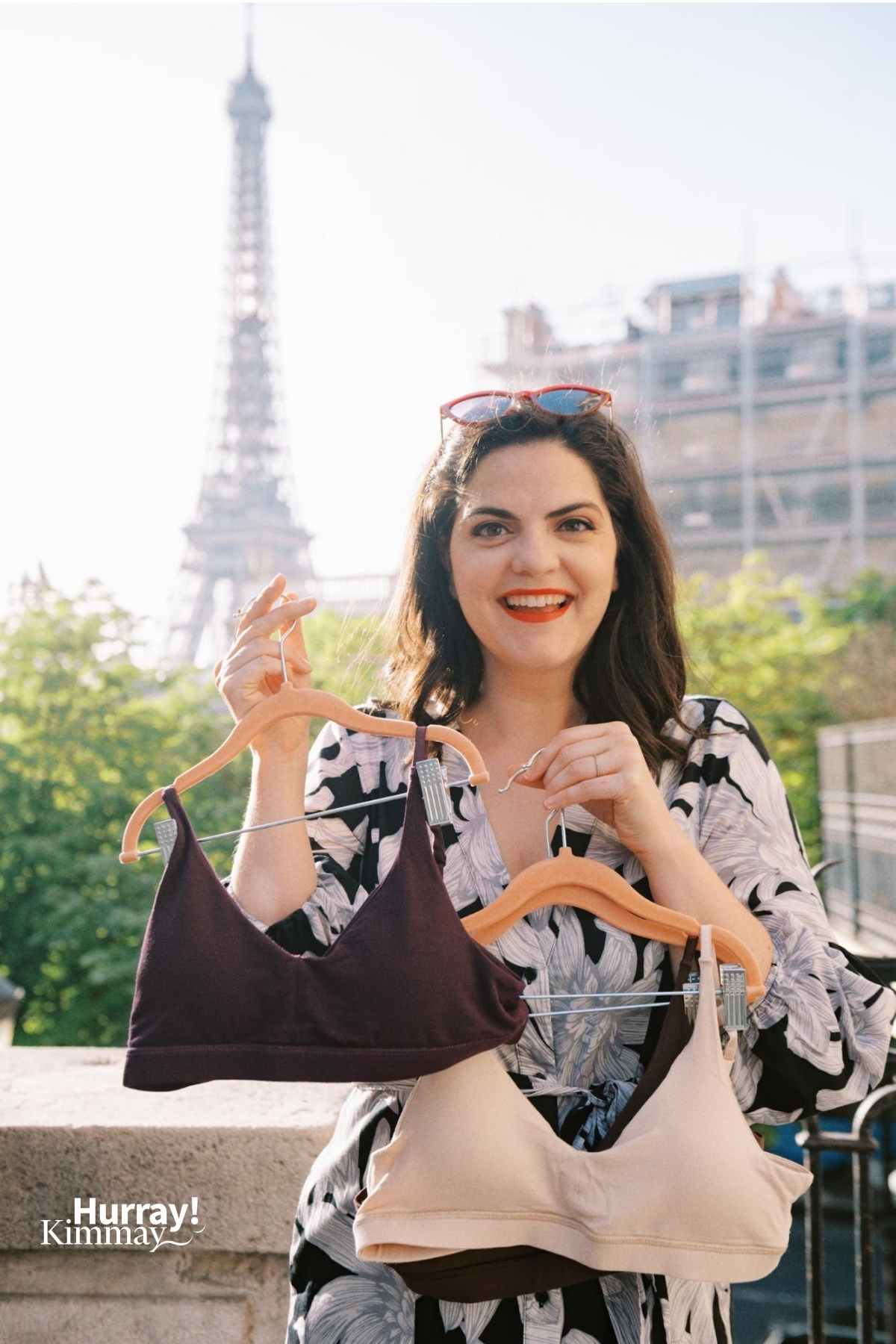 Buy & Try
Want to try Bleuet bras for yourself, or shop them for a loved one? Below I've highlighted a few of their top styles so you can get started. Whether it's a first bra or their first Bleuet bra, I say hurray.
Aster Organic Bra
Made of super soft, organic, reversible material! Wear one of two fun colors on the outside
Organic & sustainable fabric! Lyocell fibers, like TENCEL™, are derived from sustainable wood sources and sustainably managed forests.
Extra support with a wider band and more coverage
Minimal seams and no itchy tag or hardware
Wire-free and stretchy so it can work with developing bodies
Fabric keeps you cool and dry and is very gentle on skin
No elastic straps, these are made of soft fabric
Available in tank or racerback style (Note the Bleum Racerback Bra has a built-in shelf constructed with a thicker underlying fabric for extra support & coverage, which will fit more snug to the body.)
Youth sizes: 7/8 to 22 (fits A-C cups)
Bleum Neutral Bamboo Bra
Their best selling Bleum Bra now in bamboo + cotton!
Reversible, each with a skin tone on one side and a pop color on the other
So soft you'll barely notice it made of ultra-soft material & double-lined for smooth coverage
Performance, moisture-wicking fabric
Adjustable straps for a great fit
Minimal seams, wide smooth back band, no hardware, and tag free for comfort
Certification: Oeko-Tex® Standard 100
Designed in Los Angeles. Responsibly Made in Guatemala.
Youth sizes 7/8 to 22 (fits A-C cups)
Iris Soft Cup Bra
This bra is for more developed youths!
Pullover, soft cup, V-front bra with no underwire or tricky hardware
Super soft fabric keeps you cool and dry & is gentle on even sensitive skin
Optional padding/lining for coverage, shape, and modesty
Adjustable, no slip straps
Derived from nature, it's 97% TENCEL™ and 7% Modal. These fiber types have been certified as biodegradable and compostable under industrial, home, soil and marine conditions, thus they can fully revert back to nature!
Youth Sizes 10-22 (fits A-C cups)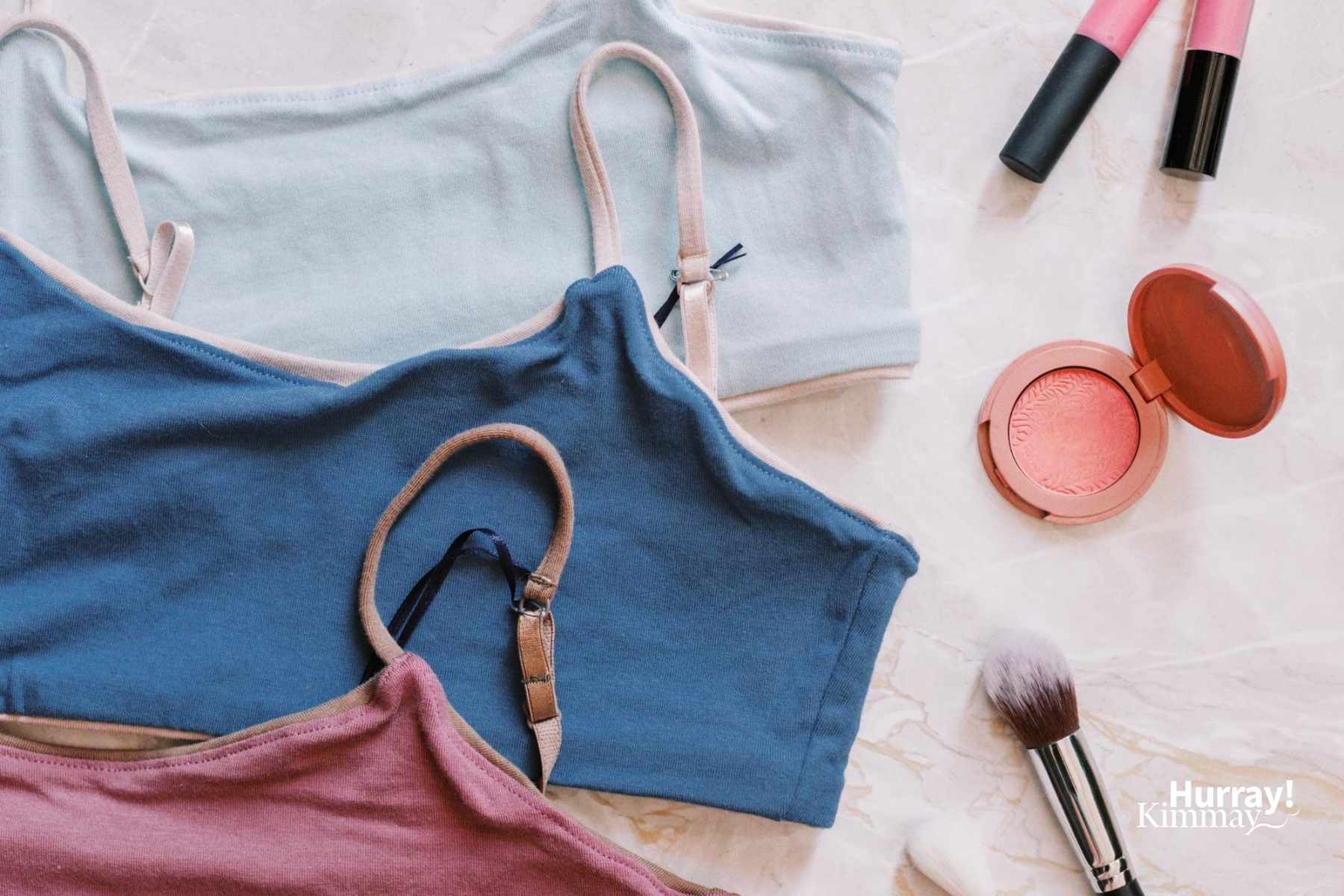 Credits: Photos by Paige Gribb during a #hurrayvacay in Paris!