Welcome to look 6 of 7 in the True to Form editorial series with Curve's Revealed Magazine! This project explores the different shapes we take – especially as women – and how we can show all of those different sides, and stay true to who we are. We can be generous, empathetic, and nurturing, we can also be fierce, firm, and seductive. The same is true for how we can shape and adorn our bodies. Thanks to shapewear, minimizer bras, push up padding, or wire-free stretch you can shape your bust and body into different forms… and still be you.
Psst! This post is sponsored by Shadowline. I'm so grateful to share them with you. I always share items that I truly love and can help you say hurray.
In this look, we explore our dark and seductive side thanks to an iconic long nightgown and matching robe. This vintage inspired peignoir set from Shadowline is surprisingly light as air against the skin, but with rich, dark, sexy vibes. The stretch lace top provides subtle support and the tulip hem allows for just a peek at what's underneath. It reminds me of our emotional side – free flowing and mysterious. It reminds me of my inner drama queen!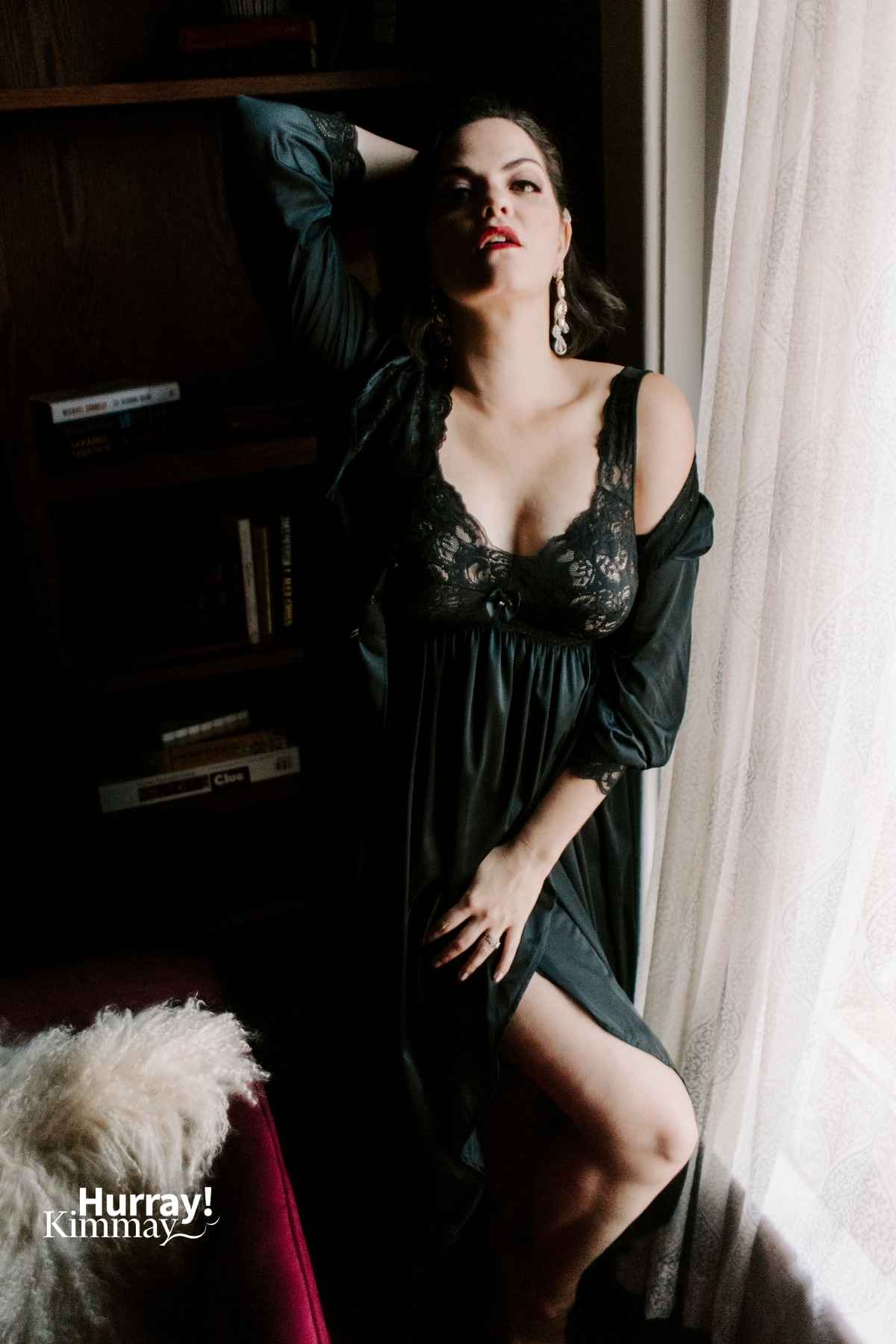 Have you ever been told you're too much, or too dramatic? I sure have. It felt like the tears, anger, and passion I felt growing up were unladylike, not presentable, and sure as heck not attractive. My advice is to own it and never apologize for it. Deep feelings are our superpower, along with seduction and a little mystery. It keeps people on their toes when they know we don't settle, we won't back down, and we get what we want. In a world where we are told to be quiet, to remain still, and to not make a fuss, this is your loving reminder to shake things up, tune into your desires, and go for what you want.
Listen, emotions can be a lot! So create a practice to regularly feel them, allow them, and let them out. You can do this in all sorts of ways like movement or exercise, journaling, screaming, talk therapy, or one of my favorites: good old fashioned crying. Finding these healthy ways to release and honor your feelings on a regular basis is so good for you! And it's not wrong to have them – even the "unpretty" emotions like anger or sadness. That being said, joy and true gratitude often get left behind so deep dive into those, too! Do not apologize for your emotions – they are vital to your connection with your heart!
And don't forget your dark, mysterious, seductive part of the emotional spectrum. Tune into her and find out what turns her on! Practice noticing what she wants and then standing firm in that desire. Asking for what you want may not always come easy (especially but not only to chronic people pleasers) so think of it as practicing a new skill like learning to play the piano. Those first few scales and "Mary Had a Little Lamb" might feel awkward at first. But as you continue to practice and lean into your secutive side, you'll be well on your way to making beautiful music!
Keywords for this look: seductive, emotional, dramatic, dark, femme fetale, myserious, coy, mischevious, fierce.
Some questions for you:
How can you strengthen your attunement to your inner desires?
When you really want something, where do you feel it in your body?
How can you practice being kind to yourself and not apologizing when you have a feeling or emotion arise?
How can you let your seductive side come out to play – either alone or with someone else?
What emotions were you taught were "ok" to express and which were "not ok"? And what do you want to decide about them now?
What are 2-4 healthy ways you can practice releasing your emotions and letting them flow?
Who do you think of when it comes to being seductive and mysterious and how can you explore or test out how they might act?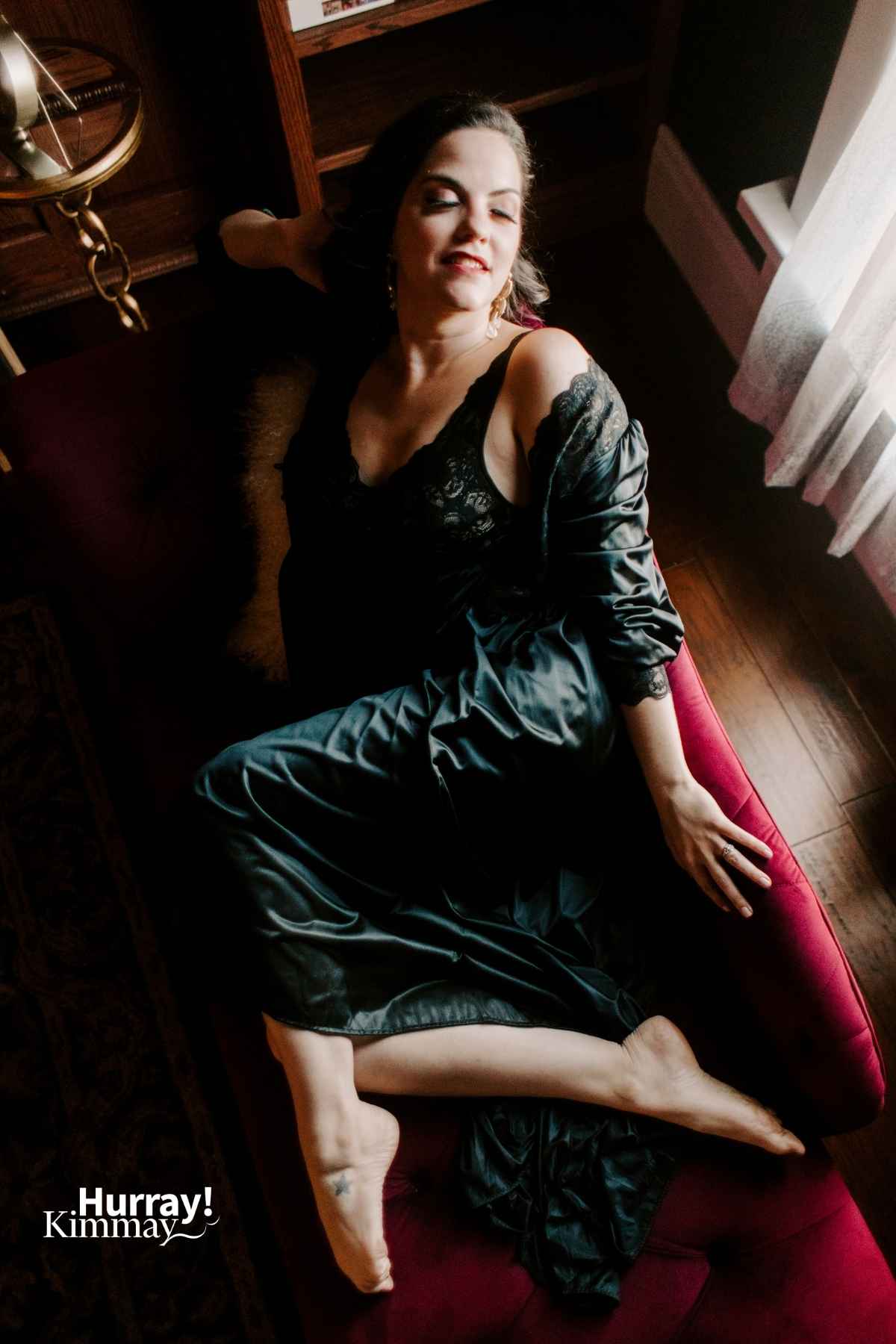 Shop the Look: Shadowline
Shadowline® – Silhouette High-Low Gown
Ultra lightweight material with a serious vavoom factor style!
Sleeveless top made of super soft European stretch lace cups with supportive seams and a spandex back
Gentle gathers at the empire waist fall into a long, flowing high-low tulip skirt with an overlapping front
USA Fabric – 100% Satintrique® Nylon Tricot
Shadowline® – Peignoir Robe
Matching robe with long sleeves and stunning, soft lace cuffs (with stretch!)
3-button front closure and trimmed in lace, princess sleeves with a slight pouf
Flowing long length in silky USA Fabric – 100% Satintrique® Nylon Tricot
Sold as a set or separately, available in ivory, navy, and black
Sizes S-3X in both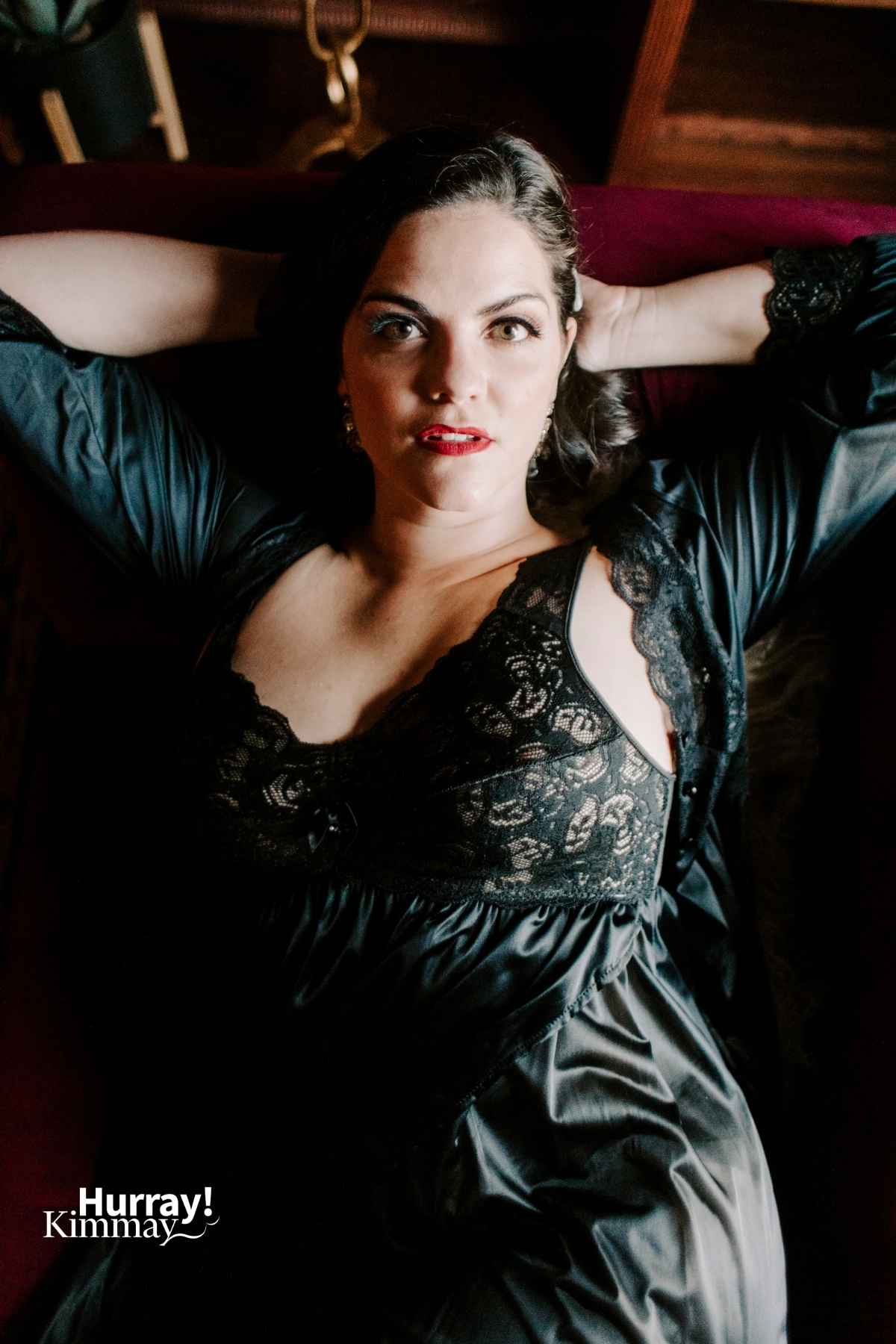 Your Turn
: So what do you think? How can you tap into your seductive side? When would you wear this gorgeous nightgown and robe? Psst! You don't need to wear it for a special occasion or someone else! Share with me over at
@hurraykimmay
on Instagram!

Credits: Photos by Juliana Rose in The Loft on Main in Woodward, OK. Special thanks to Kalie Goodwin for assisting on this shoot.  And huge thanks to Curve and Revealed magazine and the team for partnering on such an amazing project!