Got a backless dress or open back top? Need a bra that won't show straps or a band? Then an adhesive bra might be for you! Doubtful? Take a look at this stick-on bra information and some styles below before you write them off. They've come a long way these days and some are designed to support many sizes – including fuller busts. You might be surprised! My goal is to help you know your options so you can make a loving and informed decision about what you put on your body, right over your heart. Hurray! With 16+ years of experience, you're in good hands. Let's explore stick-on and adhesive bras!
Psst! Some of the brands linked here are proud partners of mine (so grateful to share them with you!) or I may get a small thank you if you purchase through me. Your purchase through those links like these helps a lot in keeping articles like this coming your way. Either way, I always share items that I truly love and can help you say hurray!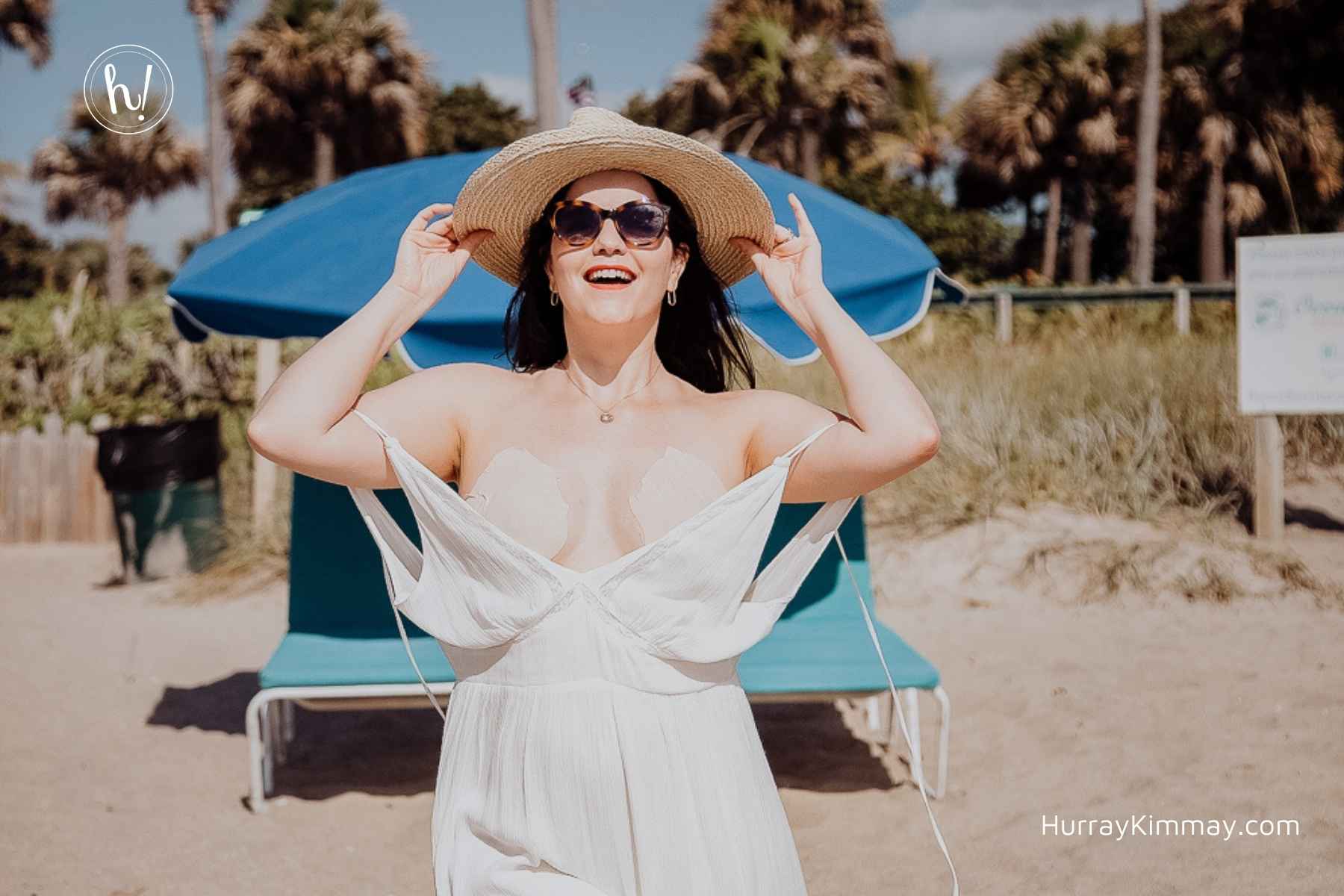 Kimmay is wearing Nood's Game Changer Lift & Shape Bra
What is an adhesive bra?
Adhesive, or stick-on, bras are bra-like items that adhere directly to your body with a sticky material or backing. They can be like a sticker, athletic tape, gel or silicone, or a molded t-shirt bra cup. Most use medical grade adhesive, sometimes similar to what you'd see used in a hospital for certain procedures! So they are usually safe and durable to use on your skin. (Though if you have sensitive skin, you should test them out first or check in with your doctor if you have allergies!)
They come in a variety of sizes and styles and the options have vastly improved over the years. In my first years as a bra fitter (way back in 2005!), there were only a few good options and now there are many. And compared to the past, adhesive bras for full busts have gotten stronger and smarter! Still, there are some that work better than others, and an adhesive bra might not be for everyone. Below you'll find the information so that you can make a loving and informed decision about what you put on your body! Hurray!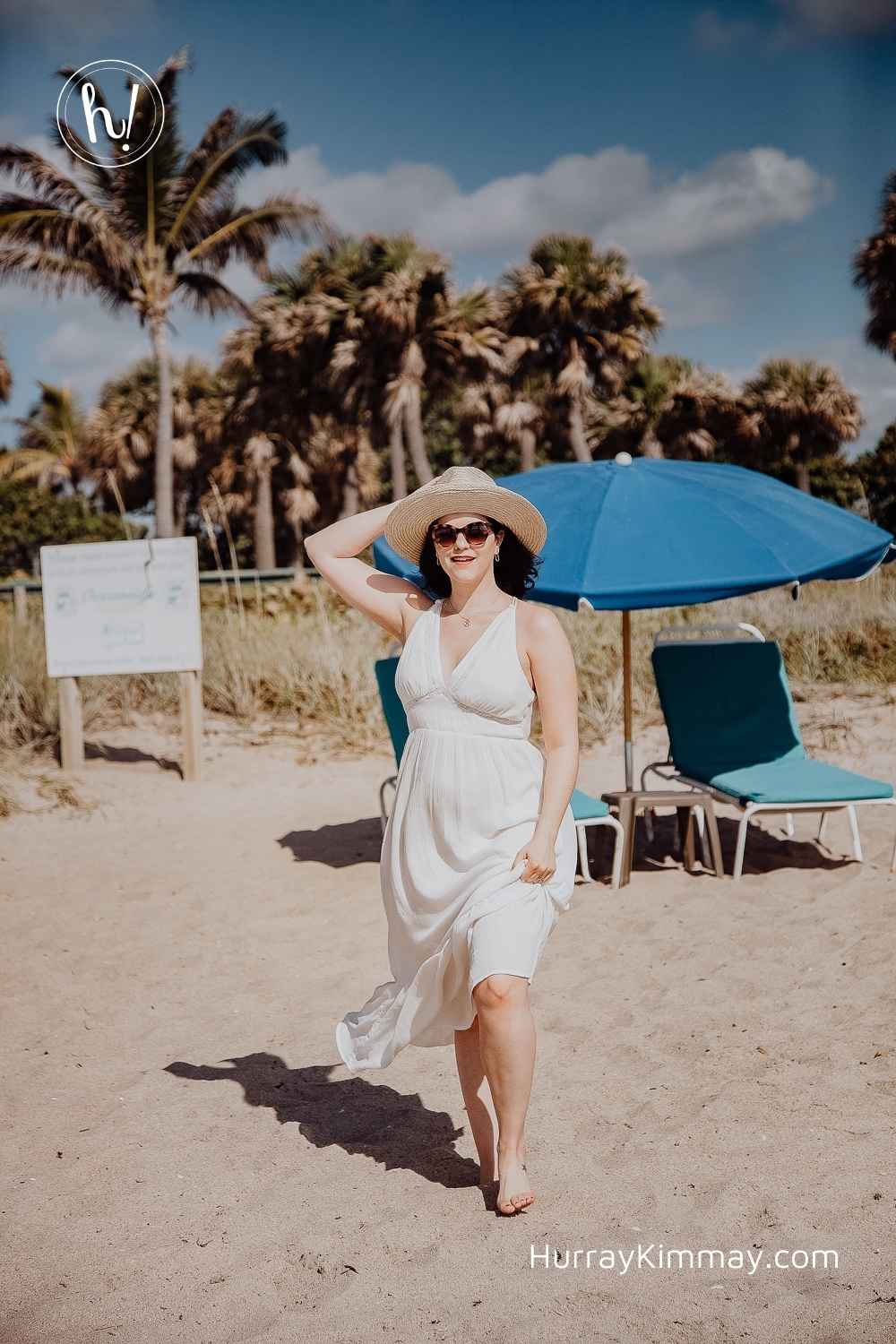 Kimmay is wearing Nood's Game Changer Lift & Shape Bra
When to wear adhesive bras?
Stick-on bras are great for wearing with tricky outfits and funky styles, but it goes beyond that! Though adhesive bras aren't meant to replace your basic everyday bras, they can come in handy for more than just a black tie affair. Here are just a few ways to wear your own adhesive bra. Let me know how you wear yours! Outfits:
Backless or open-back tops
Sheer back/side outfits
Strapless or spaghetti strap dresses
Some folks with anxiety, difficulties breathing (due to COPD, Covid, etc), may find a bra band wrapping around their body to be too constricting. A stick-on bra frees the torso from any band! If wearing a regular bra is too uncomfortable after surgery, tattoo, or an injury, a stick-on bra could help.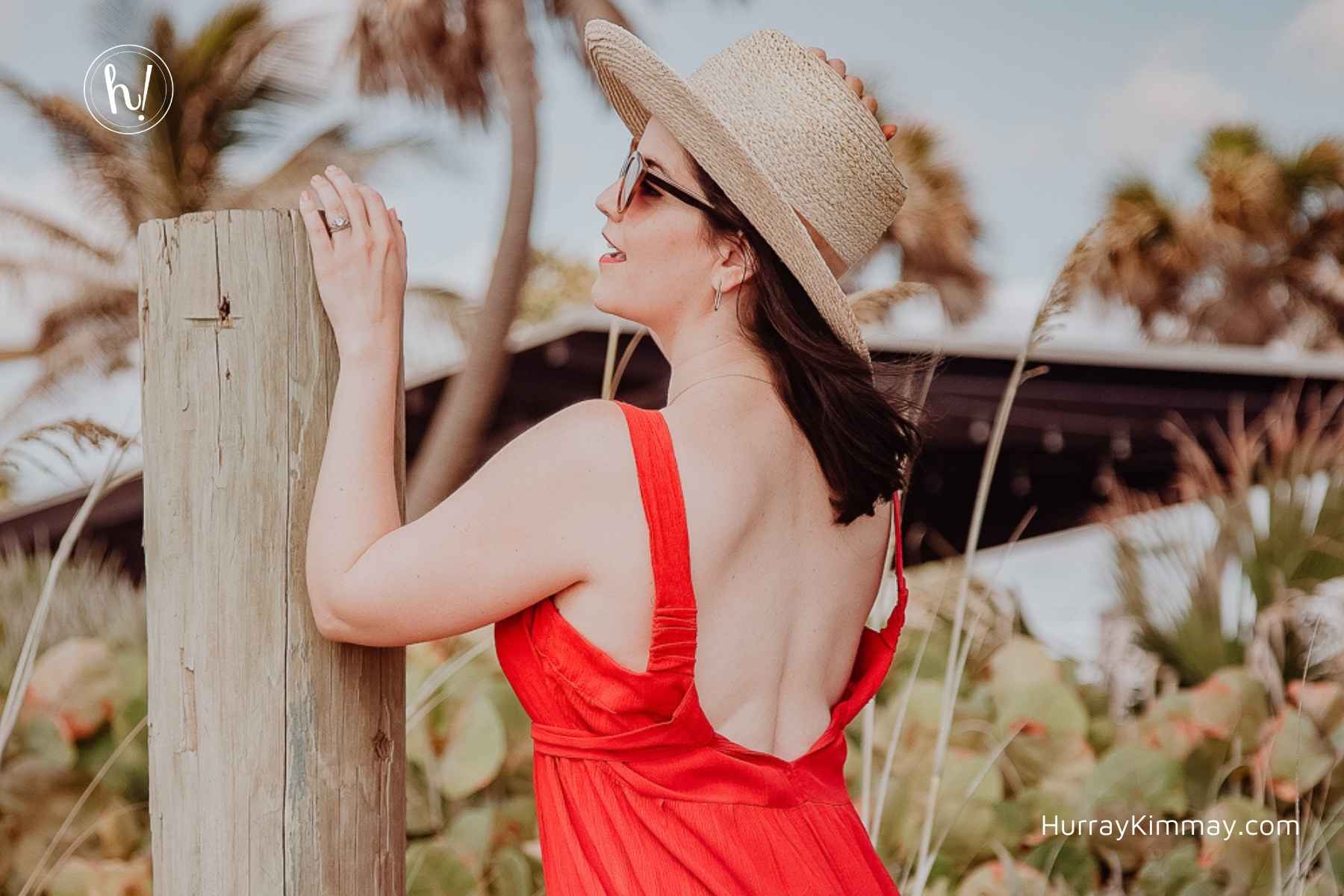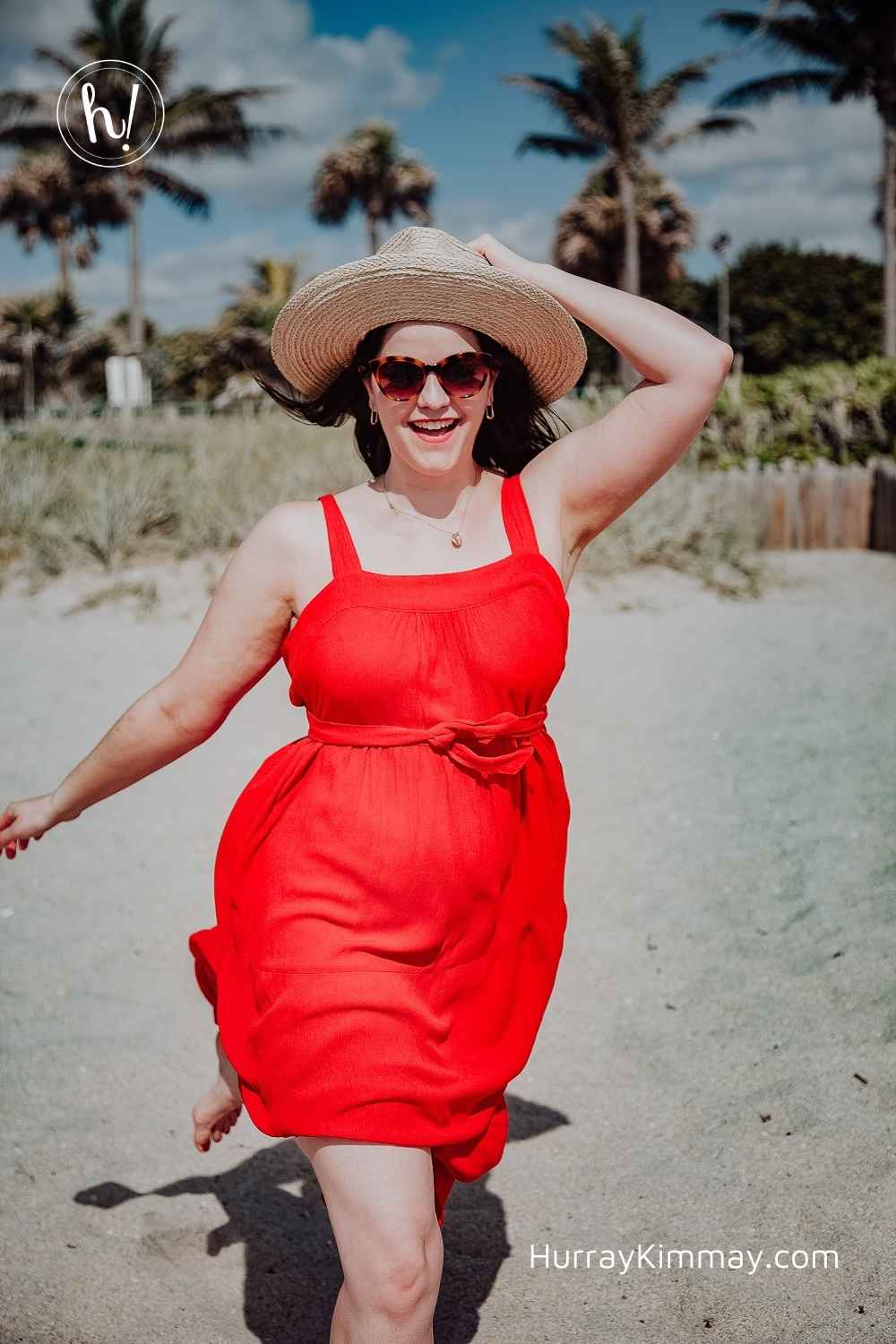 Kimmay is wearing Nood's Game Changer Lift & Shape Bra
Wearing a bra is totally up to you. You can opt to go braless, or just wear nipple covers for a more natural look. A stick-on bra is not designed to give you the same shape, lift, or support of a well-fitting, underwire bra. If you want some shape and support beyond a nipple cover, these can do the trick! You get to decide what shape you want, but make sure you go into wearing this with the right expectations.
Most stick-on bras aren't meant for everyday wear, athletics, or heavy duty work. But some newer styles are designed to be sweatproof (think dancing the night away or a hot summer day) and waterproof (meaning you can wear them underneath a swimsuit!). Experiment with your own adhesive bras and see how you like to wear them best!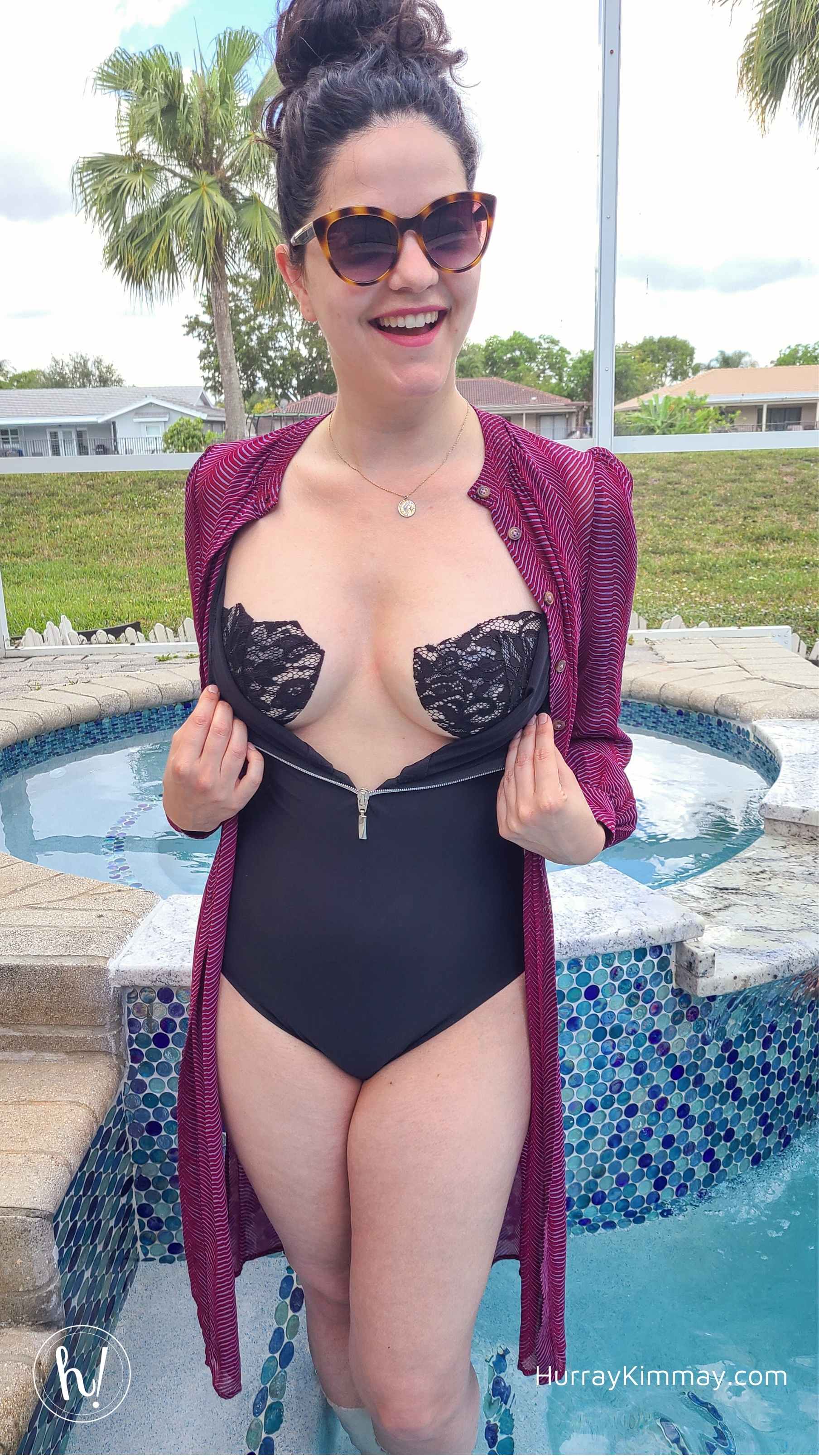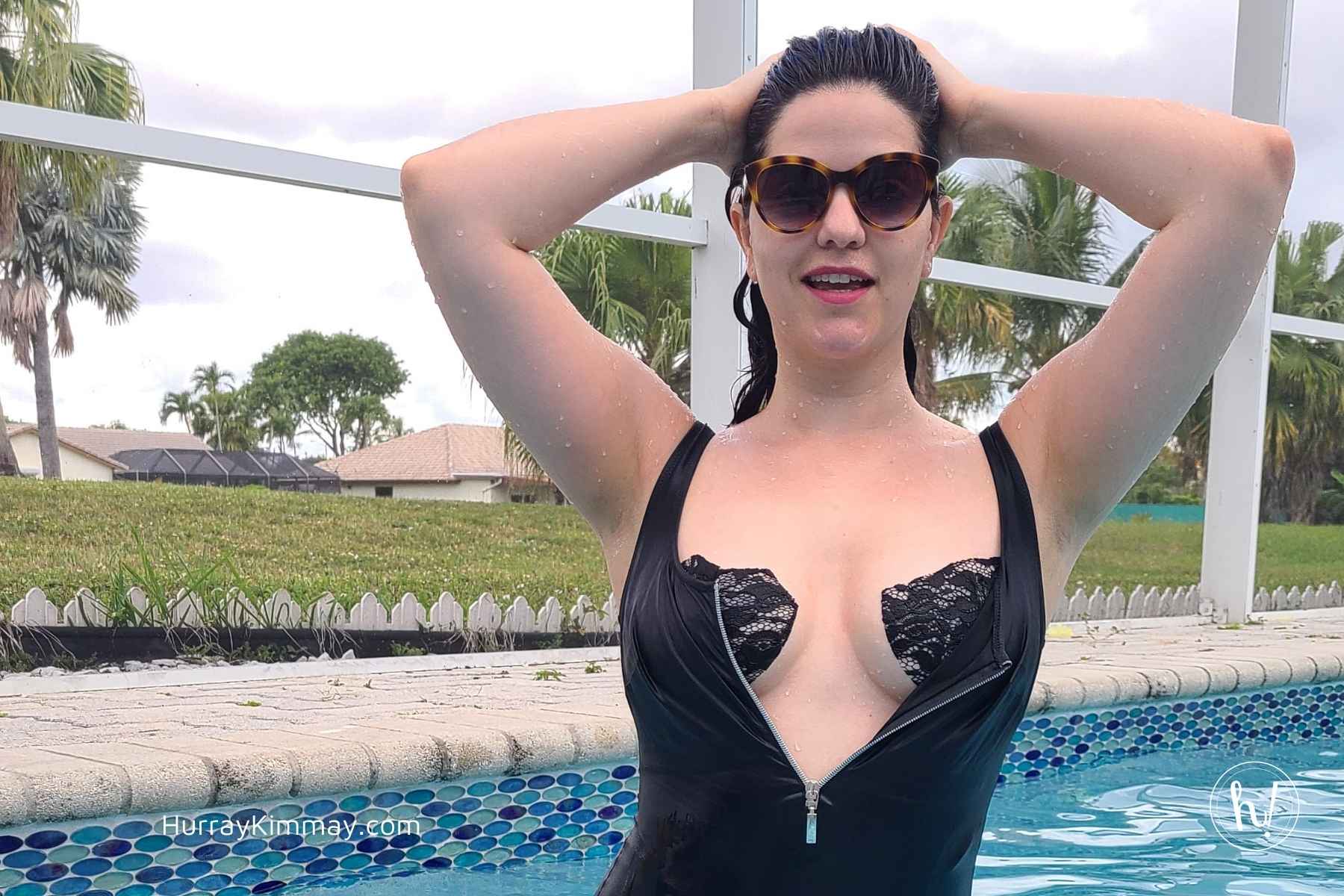 Kimmay is wearing My Perfect Pair's Luxury Breast Tape
Adhesive bra sizing
A typical bra size is made up of two parts: the band, and the cup. And the cup size is relative to the band. Meaning a D in a 34 will be a different size than a D in a 36, or 38, etc.
Many adhesive bras use cup size, but without a band size, how can you know how big it is? Often they'll use a 34 band as a baseline. So find your sister size from a 34 band and see if that cup size will work for you or use the brand's size chart.
Other brands use sizes 1, 2, 3, etc. Or Small, Medium, Large, etc. They'll often have a size chart to help you decide which is best for you. If you're buying bra tape or a bra made of tape material, size matters less than with a molded cup. You can always cut the bra down to fit your bust if you bought too big, or double up to create the size and coverage that suits your bust best if you bought too small. The BEST news is that there are more options for fuller busts these days. Hurray! Below you'll see some styles that support a 34H or more. Take a look and see for yourself.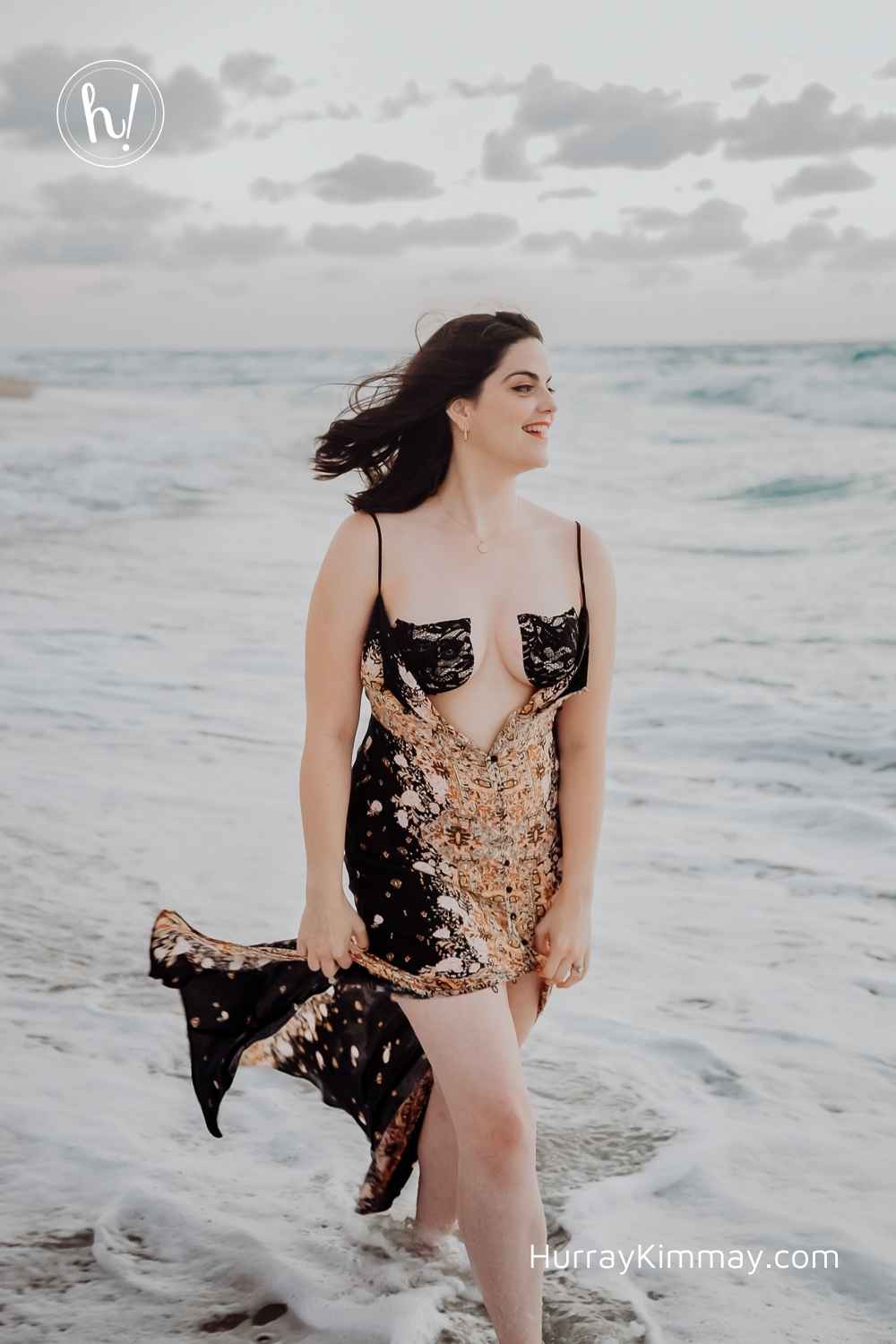 Kimmay is wearing My Perfect Pair's Luxury Breast Tape
Tips for application and removal of adhesive bras
Application: One of the biggest keys for wearing adhesive bras is the application process. This step is crucial to making sure it adheres properly and then stays in place!
Each product will have its own directions for application, so follow the suggested steps! Some brand even have helpful videos or how-to's. In general, it takes some practice to place things and get it right!
Here are a few tips:
Before applying any adhesive bra, make sure your skin is free from any oils or lotions. Clean it with gentle soap and water, towel it off, and then let it air dry completely.
Extra Tips for Applying Tape styles:
If your nipples are sensitive, I highly suggest wearing covers before applying any tape. Some kits come with covers, or you can wear your own pair.
If your skin is sensitive, try a small patch of the material around a day before wearing the entire bra out and about. Some tape kits come with test patches. If not, cut off a small piece and test it out!
Usually for tape styles you can apply the bottom portion of the material first. Place it lower at the very base of the breast for a more natural look and about an inch or more higher or more of a lift. The lift level is up to you!
Next, you'll peel off the top and slightly pull the tape and your bust up to the desired height and then smooth into place. If there are some wrinkles, it's ok. But if you need it smoother, I suggest cutting the bra down to be a bit smaller before applying so extra material doesn't wrinkle.
Some tape uses heat to activate and bond the material to your skin, but either way you'll want to rub and smooth it to make sure it'll stay put.
To shape tape you can use side strips or cut down another bra cup and apply to the side of your bust. Cut the bra to fit your unique outfit!
Removal: To remove any adhesive bra, go slow! Do not rip off or quickly peel off the bra. Though it might be similar material, this is not a band-aid and breast tissue is very sensitive so be gentle.
Most reusable silicone styles can be gently removed and then washed with soap and water and laid out to dry. You'll want to store them in their case to avoid dust from collecting on the adhesive.
For one-time use tape styles, you can use oil (coconut, baby, olive, or body oil) to help you remove it and then toss it away. If there's any extra sticky residue from the tape, use a little oil and a washcloth to gently rub it off of your skin. Then wash and dry your bust. Your skin might be a little red and sensitive afterward so avoid putting on any harsh chemicals or serums. Of course, if you sense an allergy or have a concern, consult your doctor!
Following these tips can help you have a successful stick-on bra experience. OK ready to buy and try? Let's do this!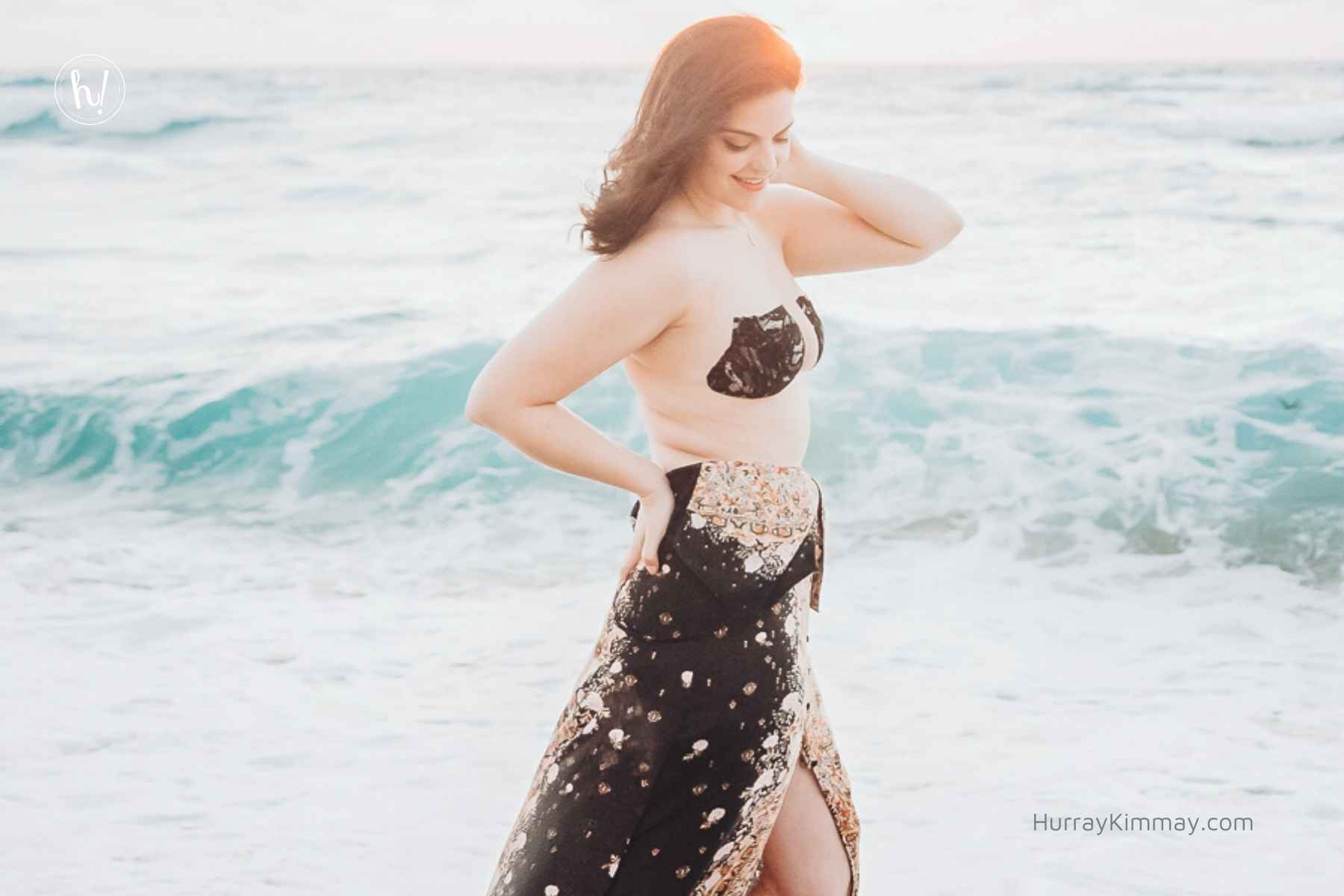 Kimmay is wearing My Perfect Pair's Luxury Breast Tape
Below you'll find some great suggestions to get you started! And remember, you can always schedule a fitting with your favorite shop, or DIY when you buy & try. Either way, make sure you wear what fits well and feels great.
Buy & Try Adhesive Bras
Ready to try some adhesive bras that actually stay put and look great? Hurray! Below are a few that I've tried myself, along with a few extra styles for you to buy and try yourself. I LOVED wearing the two featured styles during my #HurrayVacay to Florida and testing them out at the beach and in the pool. They truly are sweat and waterproof and allowed me to wear gorgeous, open-back and spaghetti strap dresses.
Note: I always share brands that I can truly stand behind, and these two brands have a special place in my heart! I fit the founder of My Perfect Pair on The Marilyn Denis Show years ago for a maternity bra, and that experience was so uplifting that she decided to create her own gorgeous line of stick-on bras…that I then got to share in another segment on that very show. Wow! I'm wearing it in this blog post in black lace with the printed dress, as well as with the bathing suit in the pool.
Meanwhile, I worked with the amazing ladies of Nood during their rebrand when they were designing this very product. I am so honored to have helped them create their size chart and work with them as they brought this amazing product into the world. I'm wearing it here in the skin tone color under the ivory dress and red dress. Here's to awesome women working together to create great things. Honored to share them both!
My Perfect Pair – Luxury Breast Tape
Made of the most gorgeous, soft lace in two colors: black and champagne
Backed by medical grade, latex-free adhesive that really stays in place
Sweat proof and waterproof! I tested these out in the pool and was amazed at how well they stayed on.
Customizable to any neckline by changing the position or cutting the bra cup
Utilize your second set to add additional coverage or shape if needed (I cut mine for a lower neckline and used the second piece for the side)
One time use per set. Each package comes with 2 sets of lace cups and 2 sets of heart shaped lace nipple covers so you get 2 wears per package.
Comes in sizes S-XXL and can support a variety of bra sizes, including full busts up to H cup in some bands!
Female owned and Canadian based and shipping includes customs for US customers!
Get 15% off with code HURRAY15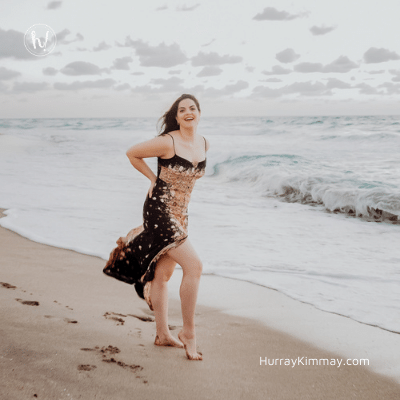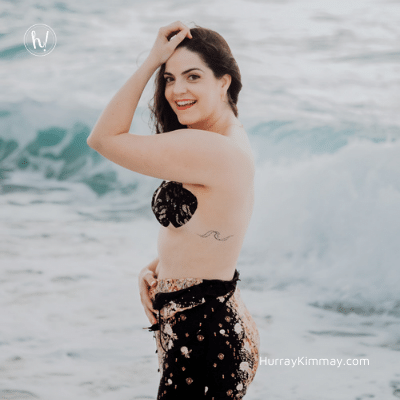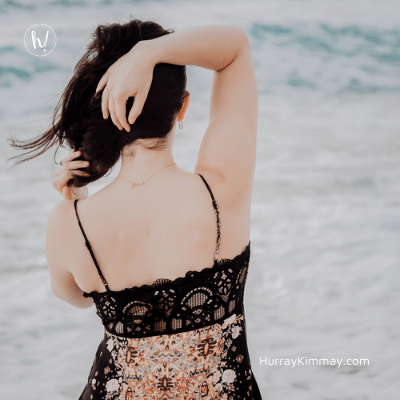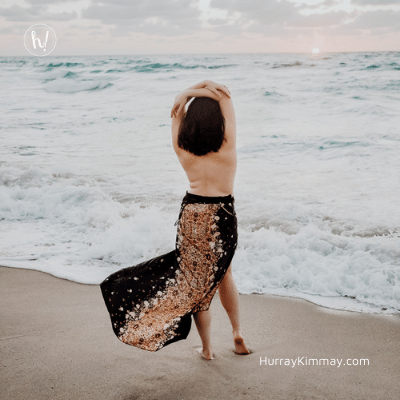 Nood – Ultimate Lift Kit
Made of soft, seamless, sustainable hemp material which uses 5x less water than cotton
Comes in several neutral "Nood" colors (I'm wearing color 3)
Medical grade latex and zinc free hypoallergenic adhesive. Comes with a test patch to try on your skin!
Lasts 8 hours+ and is guaranteed sweatproof, waterproof
Sizes 1,2,3,4 fit up to K cup in some bands! (I wore size 3 but cut it down for this dress)
FREE Shipping + 90 Day FREE Returns (see site for details)
Heat activated so use a blow dryer while rubbing it in place to get a secure bond and then trim as needed
Their Ultimate Lift Kit comes with everything you need for summer! Includes: The Game Changer Lift & Shape Bra (10 Pairs), No-Show Reusable Nipple Covers + FREE Totebag and No-Show Travel Case
Female founded company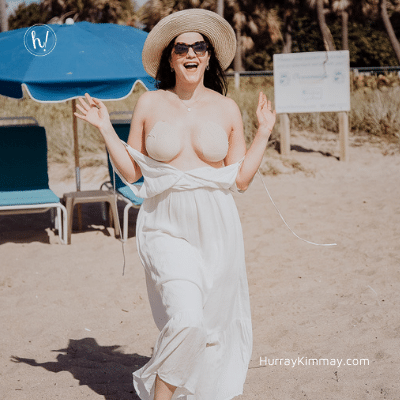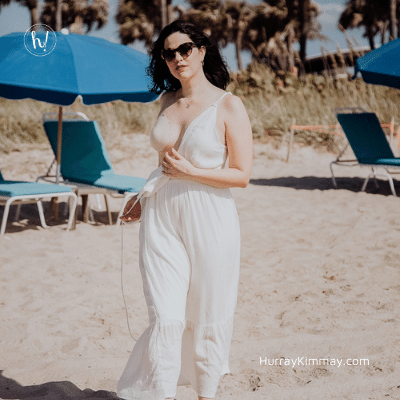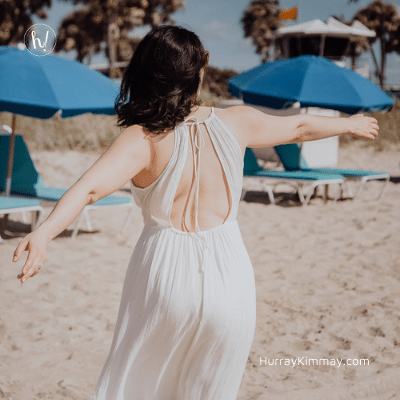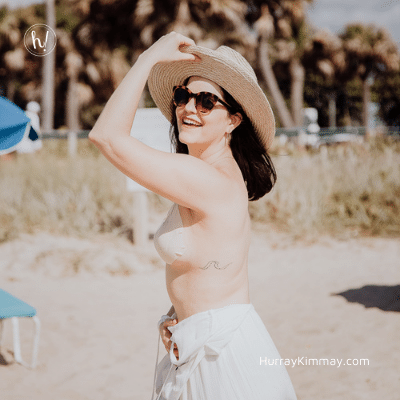 More Adhesive Bras to Buy & Try
I personally love the two options I wore on this Florida #HurrayVacay, and I want to make sure you know your options! Below are a few different options with various styles available, from a molded cup, to more skin tone options, and tapes from different brands. You are the decision maker of your body. Wear what makes you say hurray! Buy these online or ask your local store what they have in stock.
Remember that even the best bras out there need to fit in order to feel comfortable, and that comfort will provide you with all day confidence! if you wear regular bras (and not just stick-on styles) watch my Free Bra Class to check on the fit of your bras and take your first step toward saying hurray inside, outside, and underneath™!
Your turn:
Do you own any adhesive bras? Have you tried any of the brands listed in this blog? Tell me what worked for you and what questions you have at
@hurraykimmay
on Instagram so we can say hurray together!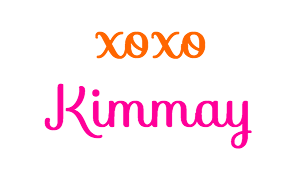 Credits:
Special thanks to our sponsors My Perfect Pair and Nood! These amazing companies not only make great products, but they are owned and operated by amazing women. I've gotten to know them personally and am honored to support them and send shoppers their way.
Photos by Janel Kilnisan during the #HurrayVacay for Florida at Lake Worth Beach, FL. Thanks to assistant Liz Nooney. As always, no airbrushing my body or changing my shape (though this photographer does have a dreamy aesthetic).
Pool photos by my lovely cousins Jessica and Nina Arce. And a special thank you to my step-brother and sister-in-law for hosting me at their house so I could even make this shoot possible! So grateful for my family.
Red dress purchased at Target. Hat and necklace purchased in Orlando at Forema boutique. Sunglasses bought in Paris at a boutique I don't remember. Ivory dress gifted by Tobi. Printed and black lace dress rented from Nuuly. Get a discount with this Nuuly link. Bathing suit from partner, Anita.