Working from home for me (before, during, and eventually after the pandemic) usually means sweats or leggings. Or let's be really real here, last night's pajamas. One evening I slept in a beautiful nightgown and just did not want to take it off the next day. It was so lovely! So, I paired it with a beautiful wire-free lace bralette and wore it for Zoom calls as if it were an elegant slip dress. I threw a cardigan over the silky material and no one was the wiser that I was working in my nightie! That inspired this look for the Out on the Range photo series. I took one of the most beautiful nightgowns from Rya, added in a contrasting lace bralette from Fleur't, and accessorized.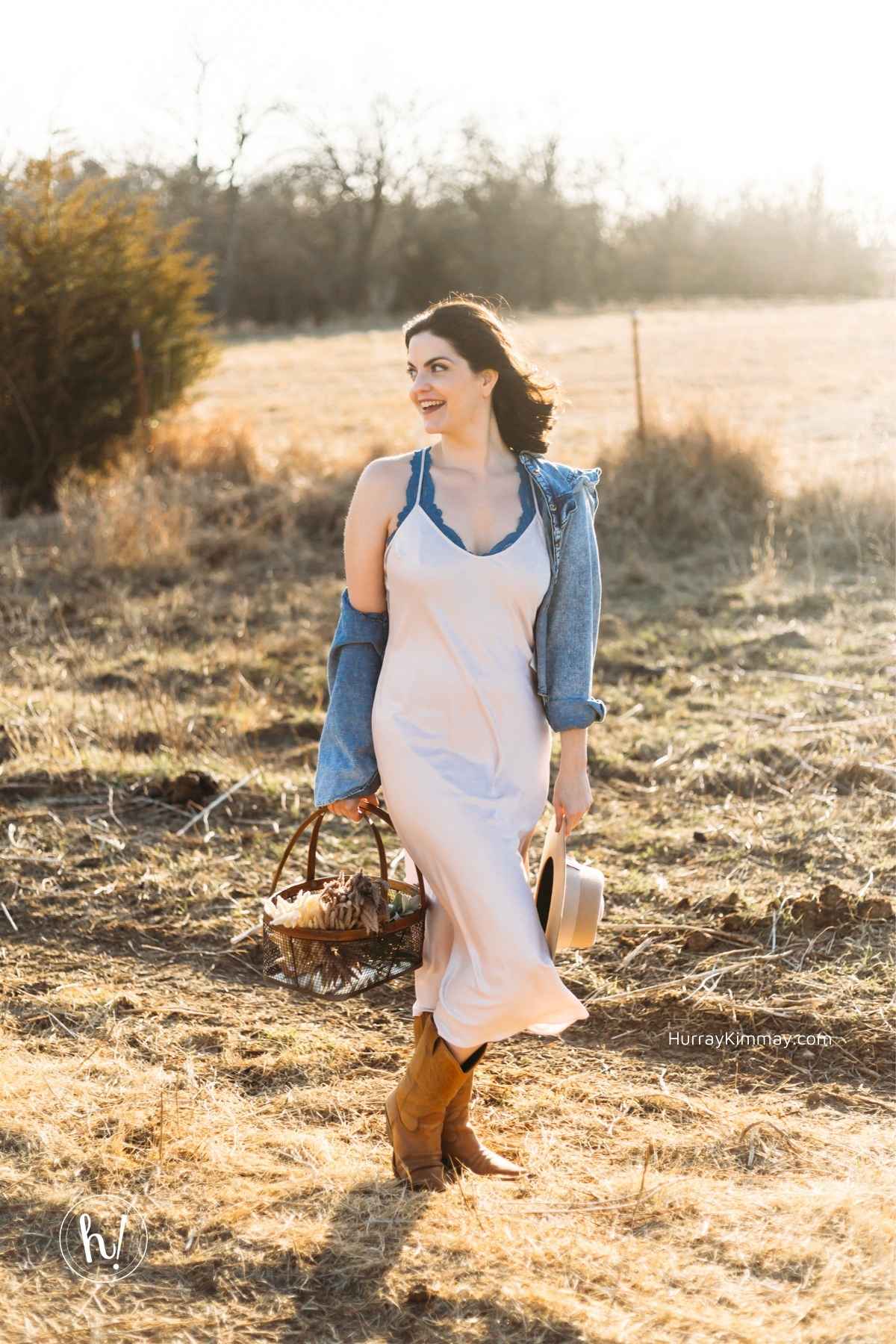 This look is more country (hello, I'm in an actual cow pasture) but you can jazz up your look or even wear something like this to a high end event. Consider wearing a velvet blazer or belted cardigan over a silky nightgown, and pairing it with heels or dressy ankle boots. You can also wear white sneakers and a loose sweater for a Parisian streetwear look. Get creative!
Fun fact: I was SO excited to shoot with some cows and it turns out the cows and I have a mutual distrust and healthy respect for the other. They are BIG and leave some big *ahem* poops. So walking through this pasture was a bit of an adventure itself. Our team had to be extra careful. And the closer the cows and I got to each other, the more hesitant we each got. Turns out they can smell a city girl a mile away, and I can smell them, too. Ha!
Enough about the cows. Enjoy this look and get to shopping!
Psst! Some of the brands linked are proud partners of mine or I may get a small thank you if you purchase through me. Your purchase through those links helps a lot in keeping articles like this coming your way. Either way, I always share items that I truly love and can help you say hurray!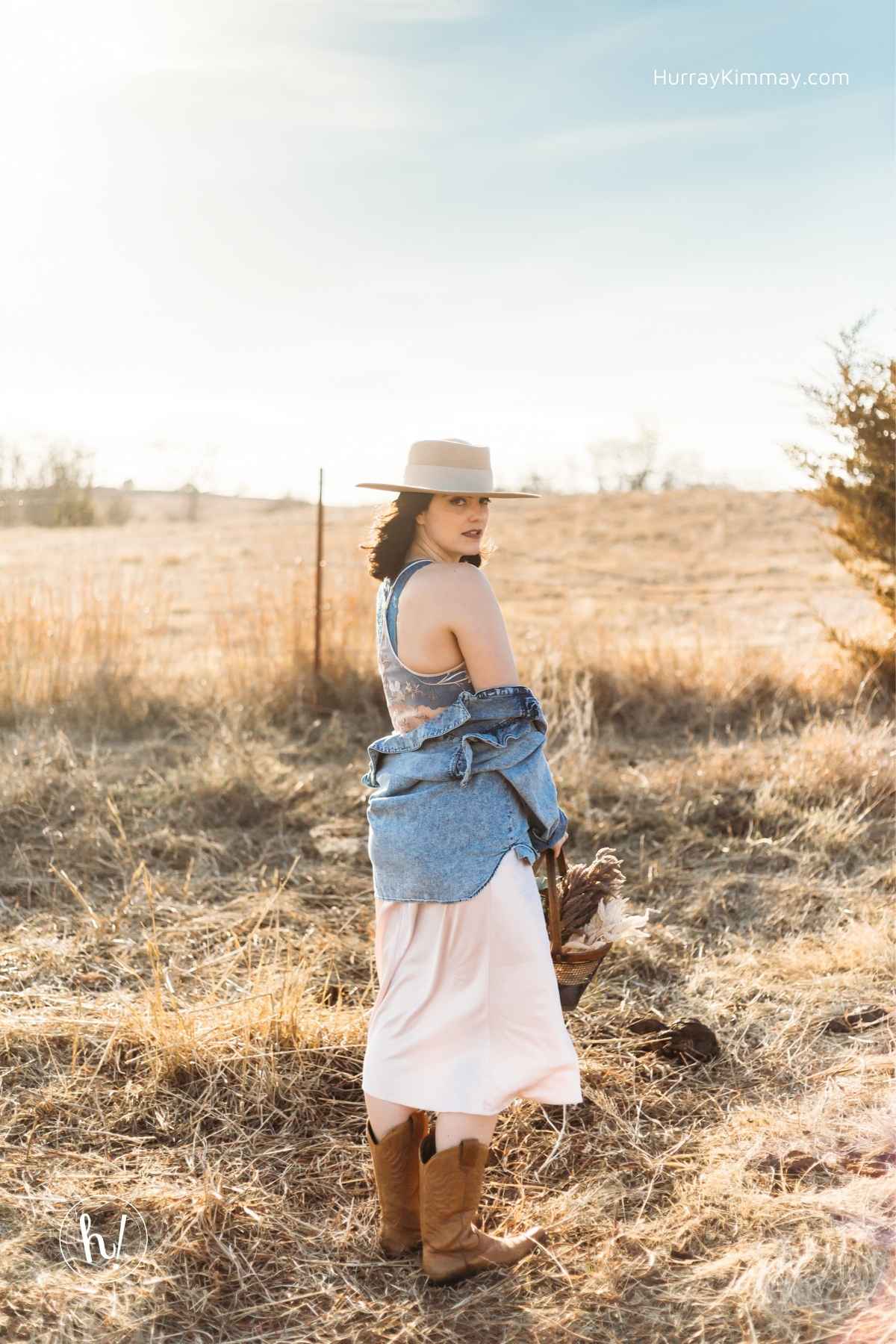 Shop This Look Featuring: Rya & Fleur't
I think I've worn this bralette in 10 colors. For real! It's so pretty and comfortable and fun to show off. Though it doesn't have adjustable straps, it does have a fair amount of stretch and is sewn in a way that can offer some support for most sizes. The relaxed look is so in right now, anyway! You get to decide what shape you want for your bust – always. I was so pleased to let this bralette show through the daring back of this nightgown. The blue contrasts with the light pink of the nightgown, and compliments the hints of blue in the floral embroidery. *chef's kiss* Try it for yourself and wear it indoors, or out!
Fleur't – Lace T-Back Bralette
Designed to be seen with stunning, all-over lace
Offers light bust support and a reinforced underbust with plush picot elastic
Cups are lined with super soft TENCEL™ Modal x Eco Soft technology lining against your skin (and for modesty)
Italian art-nouveau inspired lace
Beautiful lace T-back detail
Designed by women. Sustainably sourced and ethically made.
Sizes S-XXL (I'm wearing a Medium)
Colors update every season!
Rya – Stunning Gown
It's called "Stunning" for a reason
Luxe poly-charmeuse, long nightgown with adjustable straps
Dramatic back panel with embroidered lace on a sheer mesh netting.
Ethically made
Sizes XS-XL (I'm wearing a Medium)
Do not miss the matching robe which is honestly to die for and I also own! Makes a great duster, cover up, or sassy loungewear item.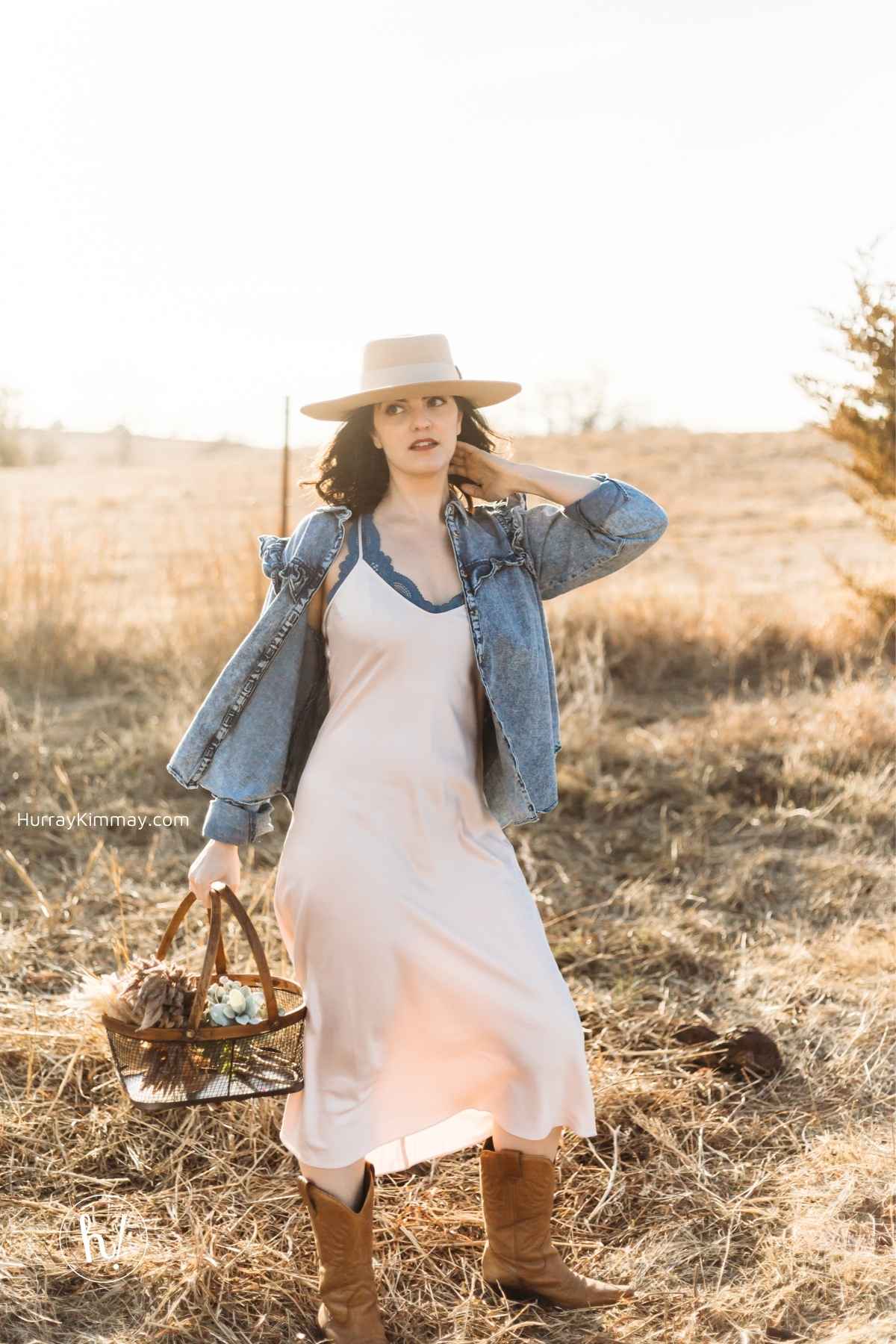 Similar Items to Buy & Try
Wearing a nightgown as a dress could be a really elegant look, or you can go more casual. For this look I was taking photos in a literal cow pasture so I went more casual! I wore some old cowgirl boots that I bought (no joking) in NYC from Nine West over 10 years ago. I borrowed this great tan hat from Across the Street boutique right here in Woodward, OK.
I rented this fun Free People denim top from Nuuly. The ruffles were so fun! Want to rent clothes, too? Use my Nuuly link to get $10 off your first rental (and I get $10 towards my next one, too!)
Free People – Samantha Ruffle Buttondown
Lulu's – Belle of the Moment Top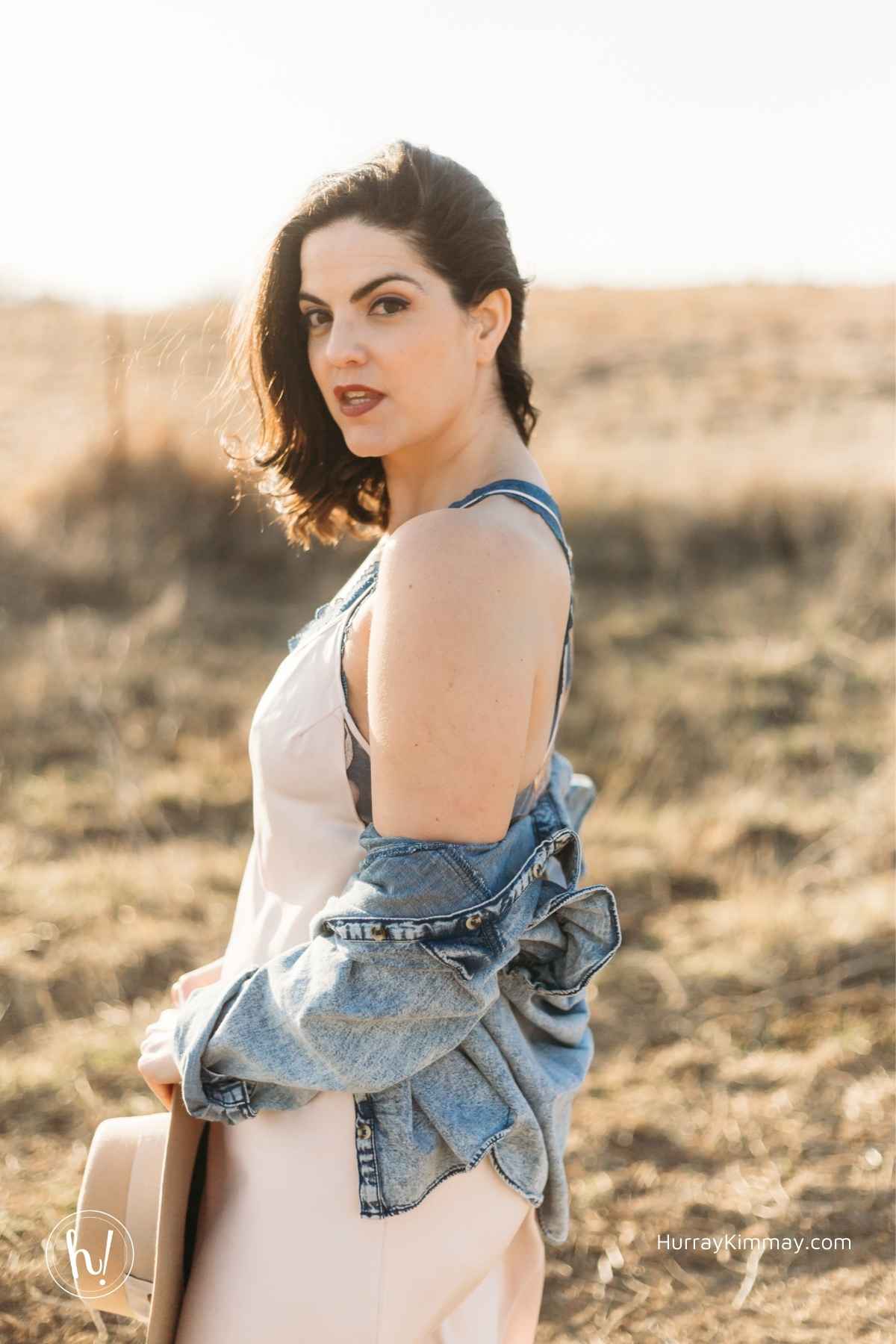 Your turn: Would you wear this nightgown as a dress? Do any of these items make you say hurray? Tell me everything over at @hurraykimmay on Instagram so we can say hurray together!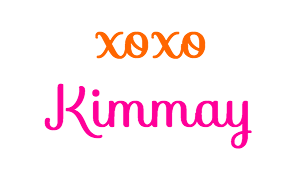 Credits: This photo shoot series was made in collaboration with Curve Expo. Production, modeling, and hair/makeup by yours truly. Photos by Brooklynn Alexander. No photoshopping or editing my face or body – ever! Special thanks to: Natalie Laverty, Across the Street Boutique, Homestead Decor + Gifts (for the cute basket and faux items), and The Ranch at Woodward.