I've been pretty casual while working from home, but getting dressed up just for me is a real treat! It's part of my self-care routine. Finding the right combination of cozy and gorgeous can be a challenge. That's why I love bodysuits and dramatic robes so much. Bodysuits are so easy to wear as a lounge outfit – especially if it has built-in bra support without an underwire. And they are so gorgeous! And robes are having a moment over here in my house. I wear them over my outfits as I prance around my living room, watch TV, or even join Zoom calls. Some look less like robes and more like stunning dusters or cardigans.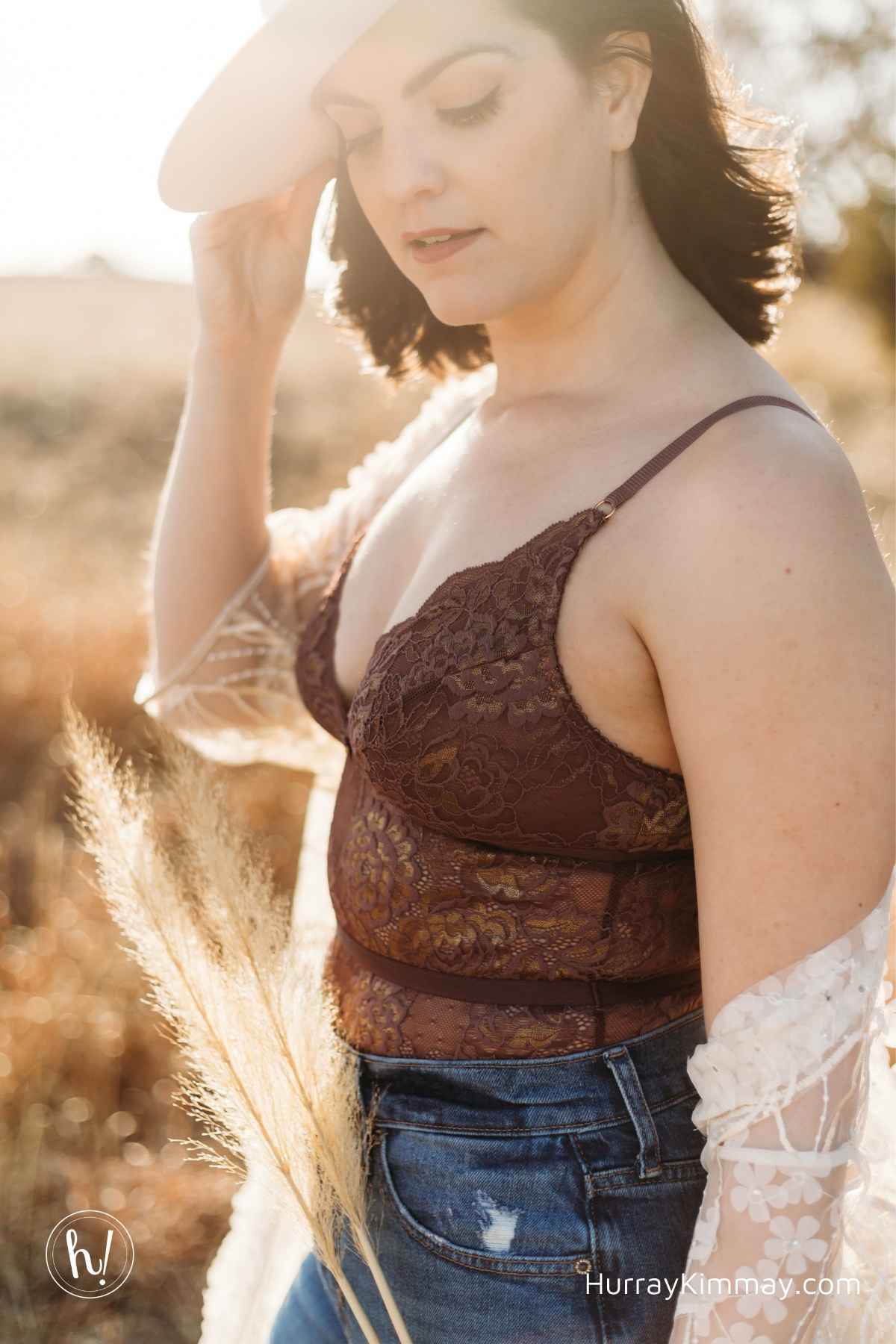 These two power pieces were the idea behind this look for my Curve Out on the Range photo shoot! I paired a bodysuit from Montelle and a robe from Rya with some items I already owned for a beautiful sunset shoot in my new-to-me hometown in rural Oklahoma. This look may be a bit much for some of the more casual gatherings coming up this year, but I may just go for it! I made a promise to myself when I moved here from NYC to always be myself – including how I dress. So maybe this robe from Rya could be perfect for brides, as a cover up, or you know, shopping at Wal-Mart! Ready to shop? Let's do this!
Psst! Some of the brands linked are proud partners of mine or I may get a small thank you if you purchase through me. Your purchase through those links helps a lot in keeping articles like this coming your way. Either way, I always share items that I truly love and can help you say hurray!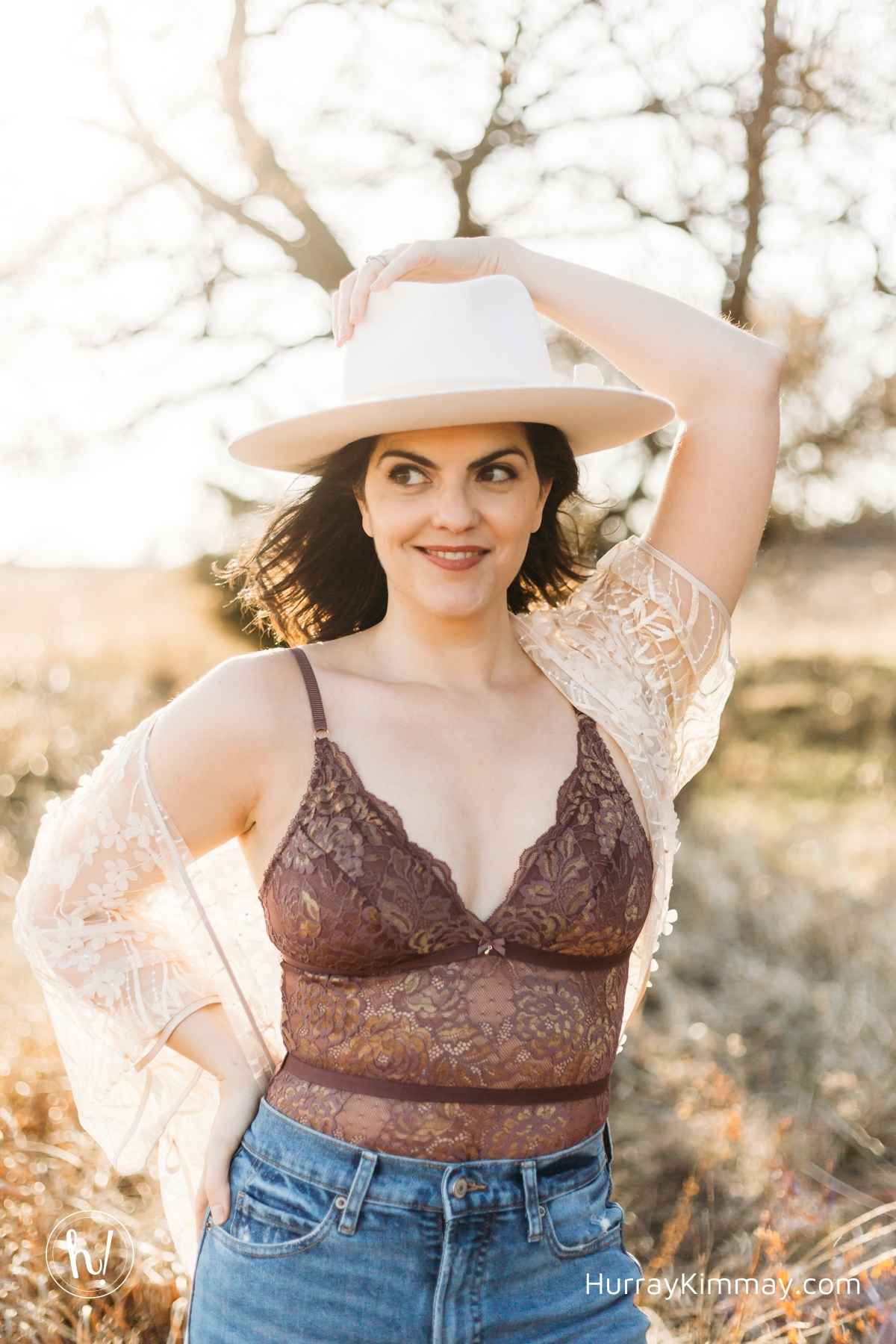 Shop This Look Featuring: Montelle & Rya
A bodysuit and jeans is a classic "lingerie as outerwear" look, but this one is especially fun. I feel like we've all been wearing bralettes and wire-free bras indoors, and this bodysuit has a built-in bralette support, including an adjustable back and straps. Plus those gold flecks in the lace are to die for. You can wear this with a cardigan or blazer to keep things simple, or go all out like I did and wear it with this amazing robe! Worn over jeans it's more like a duster or long, decorative cardigan than a robe. Add in some western style boots and a big hat to top it all off.
Montelle – Sugar 'N Spice Bodysuit
High-apex bra top with lined cups, and an adjustable back band provides bralette support
Ultra-soft and comfortable stretch floral lace with gorgeous flecks of golden thread
Hook and eye opening at crotch and stunning lace edged bottom
Charmeuse bands around underbust and waistline
Ultra-soft adjustable straps and plunging neckline
Ethically made!
Sizes XS-XXL – I'm wearing an M here
Rya – Kiss Robe
They say "the Kiss Robe will make you feel like true royalty" and I 100% agree!
Sophisticated and elegant details on ultra light fabric allows for a comfortable and dramatic silhouette
Allover embroidery with pretty 3D flowers
Optional belt (I went without for my outdoor look)
Charmeuse trim
Ethically made
Sizes XS/S, M/L, XL – I'm wearing an XS/S here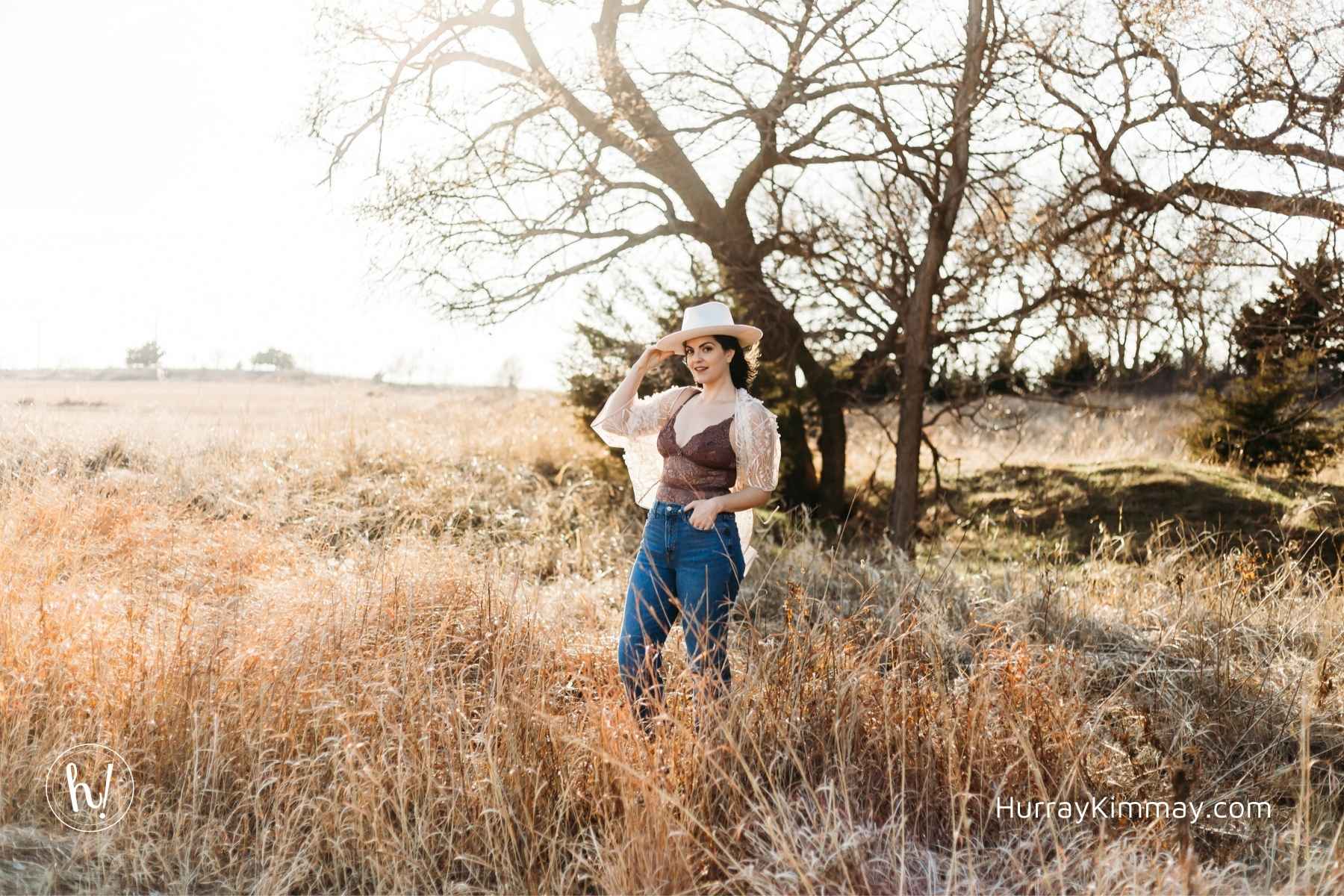 Similar Items to Buy & Try
I am a huge fan of high-waist jeans and truly hope they never go out of style. I have a naturally high waist so even the "ultra high-waist" jeans I bought from Old Navy don't actually reach my waist. Ha! They are, however, pretty darn comfortable. I also wore a pair of Liberty Black white boots that I bought at a local shop, and can't seem to find anywhere now! They were pricey and a great investment but a lower cost option is below. And this AMAZING hat was a gift from my sister-in-law for my birthday. It's soooo dreamy and pairs perfectly with the outfit.
Levi's – Ribcage Light Wash Straight Leg Ankle Jeans
Dirty Laundry – Women's Unite Boots
Old Navy – Extra High-Waisted Sky-Hi Jeans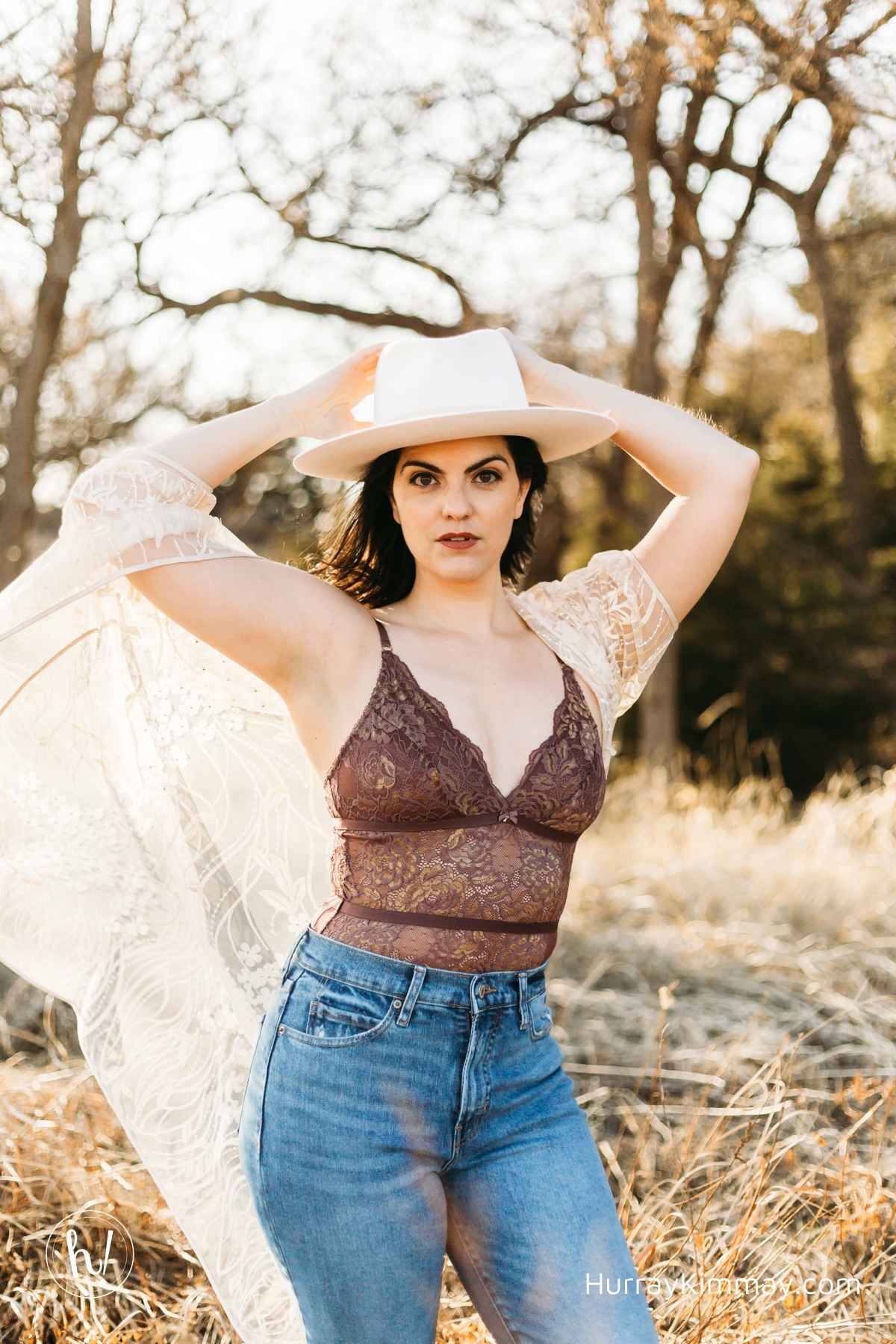 Your turn:
Do you ever pair a bodysuit with high-waist jeans? Do any of these items make you say hurray? Tell me everything over at
@hurraykimmay
on Instagram so we can say hurray together!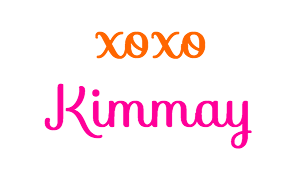 Credits: This photo shoot series was made in collaboration with Curve Expo. Production, modeling, and hair/makeup by yours truly. Photos by Brooklynn Alexander. No photoshopping or editing my face or body – ever! Special thanks to: Natalie Laverty, and The Ranch at Woodward.